Axios Space
December 20, 2022
Thanks for reading Axios Space. At 1,279 words, this newsletter is about a 5-minute read.
This is the final Axios Space of the year. Thanks for spending 2022 with me. See you back in your inboxes in 2023.
Please send your tips, questions and Hanukkah traditions to [email protected], or if you received this as an email, just hit reply.
1 big thing: The era of bespoke satellite data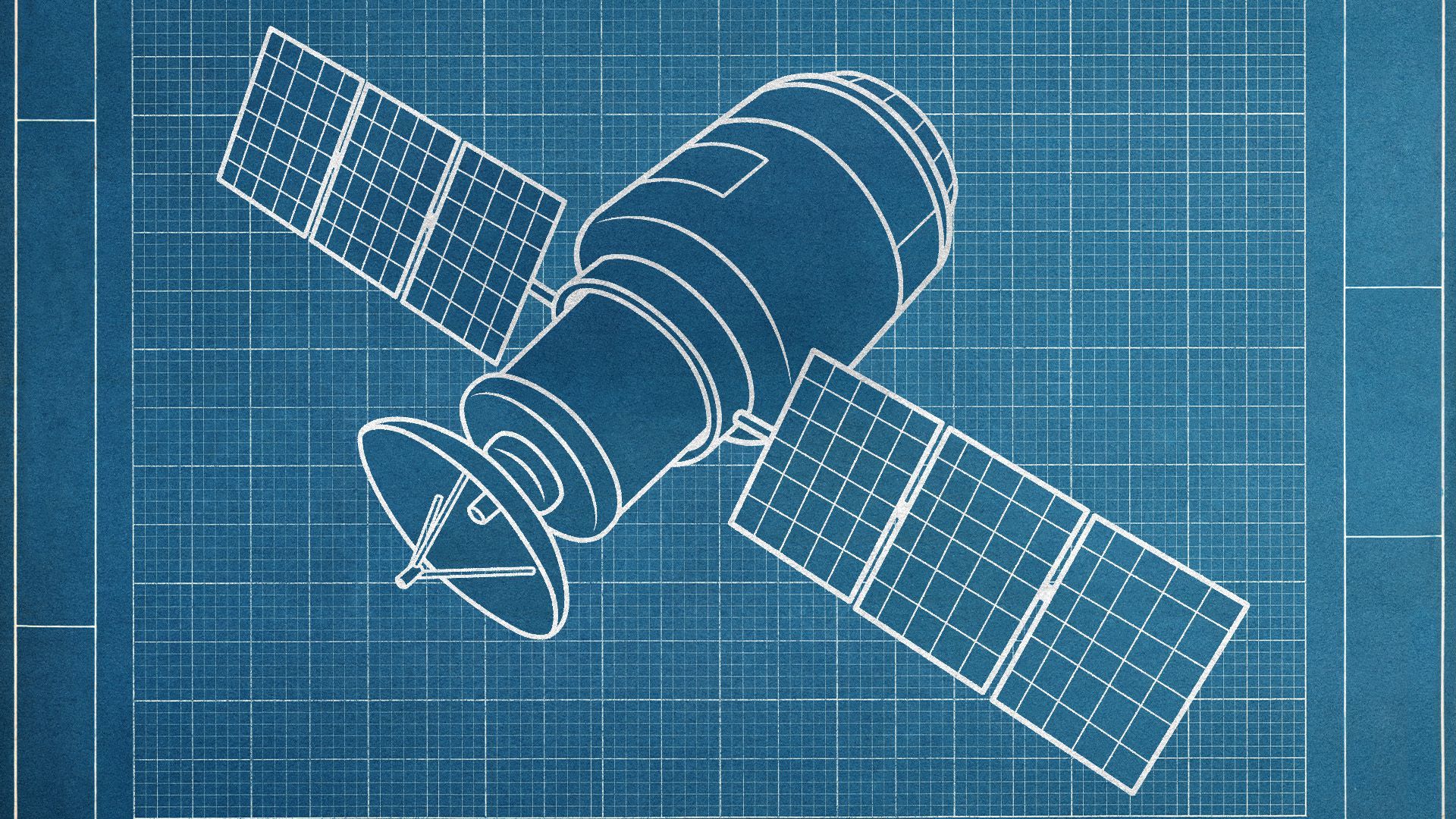 Space companies are breaking into more niche markets as tools on Earth and in orbit become more sophisticated and less expensive than ever before.
Why it matters: Earth-gazing satellites and sensors on the ground connected to satellite systems are giving researchers, governments and companies more insight into what's happening on the planet at any given time — and giving the space industry a more robust business line.
"The potential for satellite data to be used by so many industries is still quite limitless," Krystal Azelton of the Secure World Foundation tells Axios.
What's happening: Satellite systems are being pushed to new heights through powerful technology on the ground and through spacecraft in orbit that are able to gather or transmit specific data for customers about various targets from forests and lakes to shipping lanes.
The nonprofit Rainforest Connection is able to use high-powered sensors on Earth to listen for chainsaws that indicate potentially illegal logging. Those sensors relay that information to Swarm satellites — low-cost satellites that provide internet connectivity to devices around the world — in orbit, allowing customers like local governments to take action nearly in real time.
Virridy uses sensors and Swarm satellites to send data about water use, quality and other metrics to aid in environmental management. Other companies make use of sensors to keep a lookout for early signs of wildfires, to monitor shipping and for other work.
Multiple organizations and companies are aiming to build satellites to track methane being emitted on Earth, showing that highly customized satellites could help authorities track major greenhouse gas emissions.
Another IoT-focused satellite company, Sateliot, is partnering with the company Streamline to track cattle disease and theft using satellite-connected sensors.
The intrigue: Not all of the companies focused on niche markets will survive, experts say.
But the fact that they're able to find a toehold in new markets is promising for the space industry at large.
It signals an expansion of the industry brought about by diminishing launch costs, less expensive sensors and powerful tools to analyze large amounts of data.
The big picture: Having more data from a variety of different sources could also lead to a more holistic understanding of what's happening on Earth at any given time.
The promise of Earth-focused satellites and sensors has been that their data could allow scientists, companies and governments to make decisions with more robust data and analysis behind them.
Instead of just taking photos of Earth, many companies are now trying to provide specific analysis, streamlining decision-making for governments, companies and other customers.
Maps one day might give "information back to us, suggesting things and telling us where we might want to go, might want to do," Space Capital's Chad Anderson said.
What to watch: Space companies focused on Earth imaging have largely been selling their photos to governments and some other customers, but experts are starting to see them shift from providing imagery to offering more robust data analytics.
The National Geospatial-Intelligence Agency in 2020 published a strategy detailing an interest in moving from imagery to applications, in part, to maintain a tactical edge against potential adversaries.
The government could "be at the cutting edge of buying these analytic products that's going to demonstrate their usefulness," BryceTech's Carissa Christensen said.
"Satellite operators are going to learn more about what customers want, and that's going to spill over into commercial applications."
2. Leaky Soyuz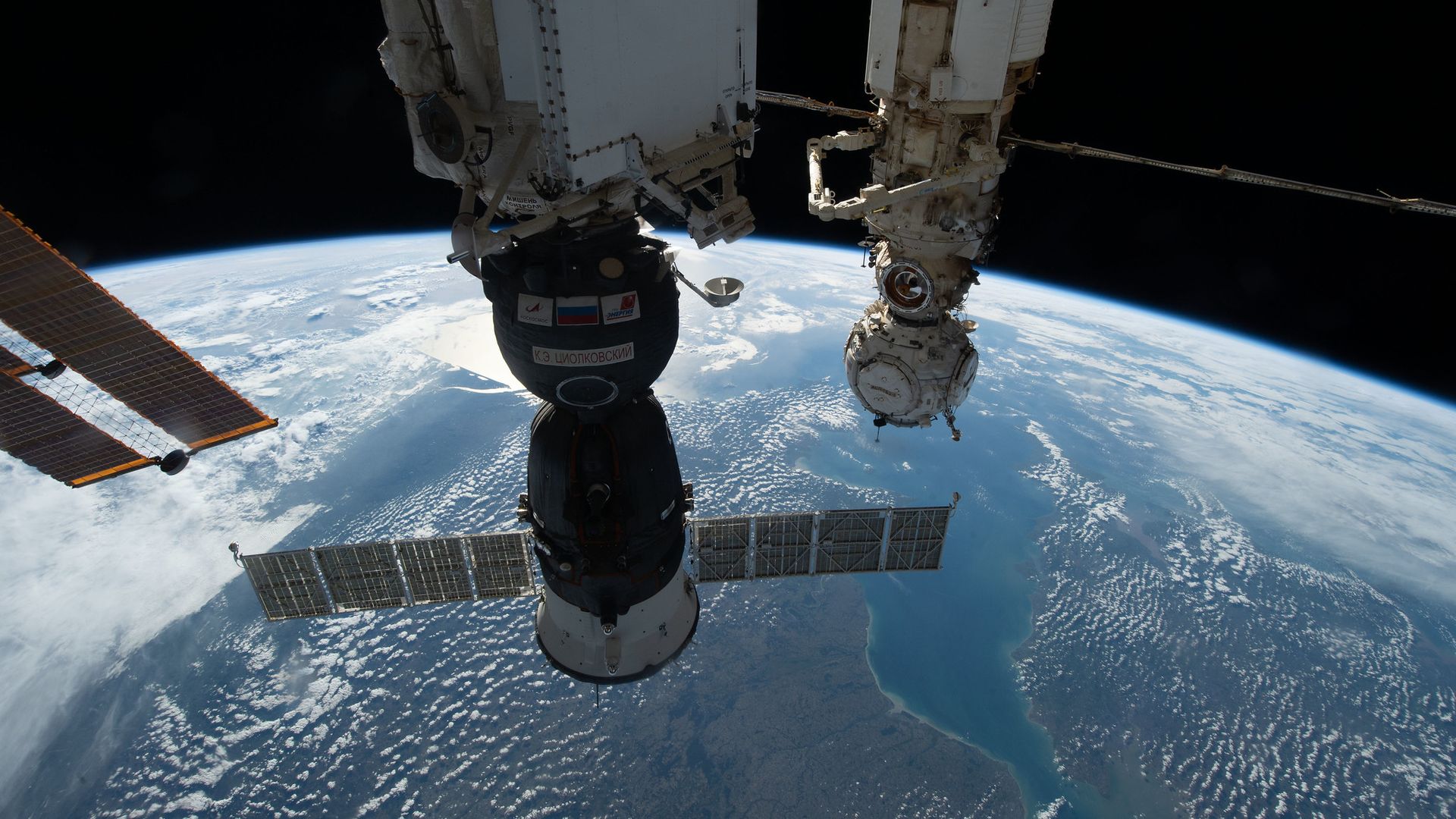 A coolant leak on a Soyuz spacecraft attached to the International Space Station may have been caused by a meteoroid impact, according to Russia's space agency.
Why it matters: Characterizing and understanding the cause of the leak is of high importance to both Roscosmos and NASA because the ship is the lifeboat for two cosmonauts and an astronaut aboard the station.
Catch up quick: The leak was first seen on Dec. 14 as two cosmonauts were getting ready to step outside of the station for a spacewalk.
The spacewalk was canceled to protect the crew members from being exposed to the leaking coolant.
Mission managers have been analyzing photos and video of the leak since it was detected. NASA said in a statement that most of the coolant leaked out by Dec. 15.
The latest: "Nothing threatens the crew now," Yury Borisov, director of Roscosmos, said in a statement via Telegram. "At the end of December, I think the experts will decide how we will get out of this situation."
The catch: It's not yet clear whether the Soyuz is safe for crew members to fly back to Earth.
If the Soyuz is deemed safe, the three crew members will be able to return to Earth in March 2023 as scheduled.
If not, another Soyuz can be launched to fetch the crew. That spacecraft is already partway through the tests it needs to pass ahead of flight, Roscosmos said.
3. A planet down the drain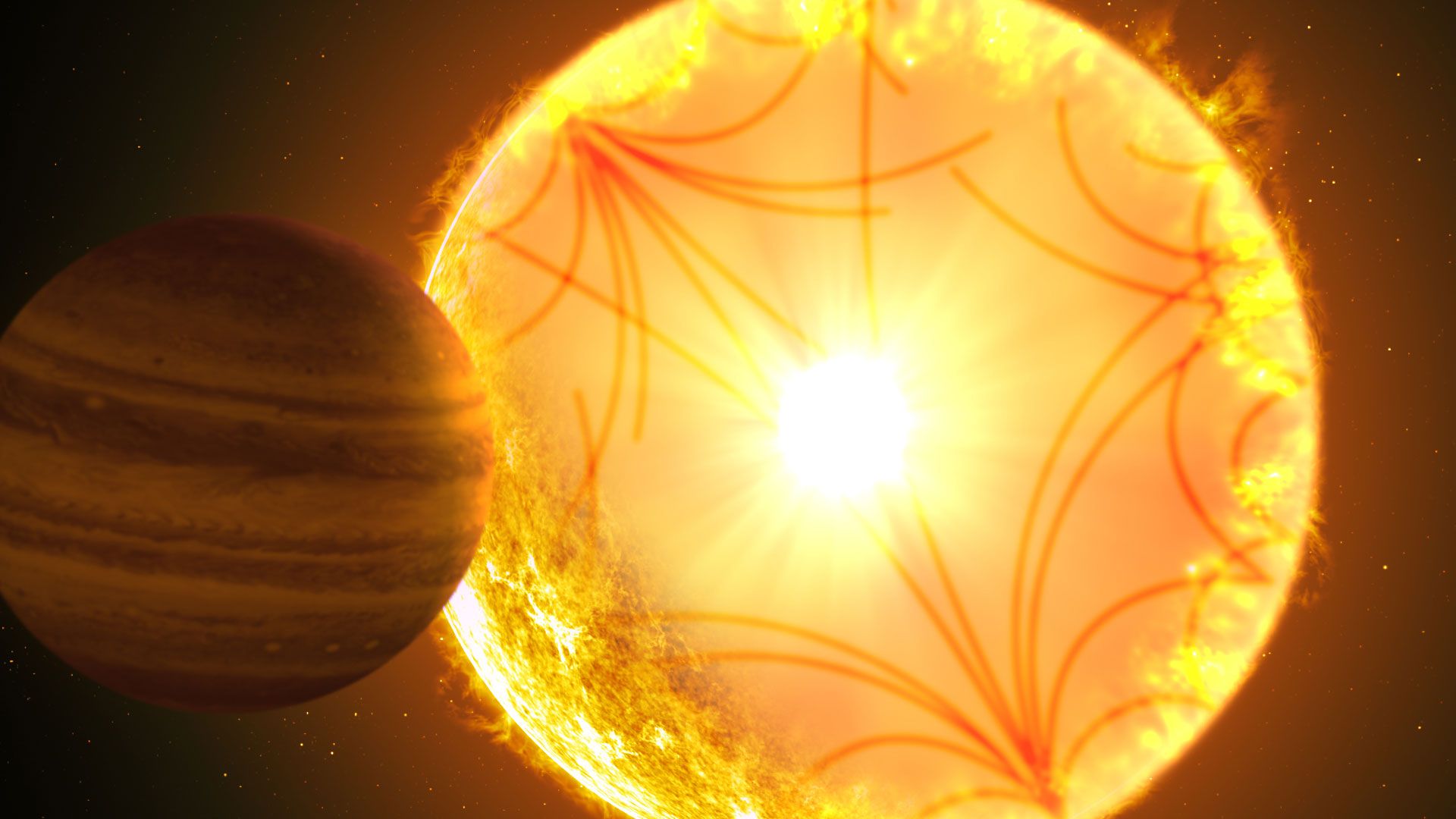 A planet has been spotted spiraling in toward its aging star on a collision course that will lead to the world's eventual end.
The big picture: This planet's fate could also be what the far future holds for our own Earth.
Driving the news: The planet, called Kepler-1658b, is about the size of Jupiter but only 1/8th of the distance from its star as Mercury is from the Sun.
Scientists have found the planet's orbital period is decreasing by about 131 milliseconds per year after years of observations from multiple telescopes on Earth and in space.
The new study in The Astrophysical Journal Letters detailing the finding suggests Kepler-1658b's shrinking orbit is due to the tides created by the interaction of the planet's gravity and its star's gravity.
The impact: "Now that we have evidence of inspiraling of a planet around an evolved star, we can really start to refine our models of tidal physics," Shreyas Vissapragada, an author of the study, said in a statement.
Learning more about how tides affect planets, stars and even moons should help scientists piece together why various star systems look the way they do.
Tidal physics is complicated, so having an example of how these worlds work could be beneficial for modeling in the future.
"The Kepler-1658 system can serve as a celestial laboratory in this way for years to come, and with any luck, there will soon be many more of these labs," Vissapragada said.
The intrigue: Kepler-1658b is hotter and brighter than expected, and scientists think it's likely because of the tidal forces warping the planet and releasing energy.
Jupiter's moon Io is similar, Vissapragada said in the statement. The moon's extreme volcanism is thought to be caused by interactions between Io's gravity and Jupiter, which causes the inside of the moon to melt.
4. Out of this world reading list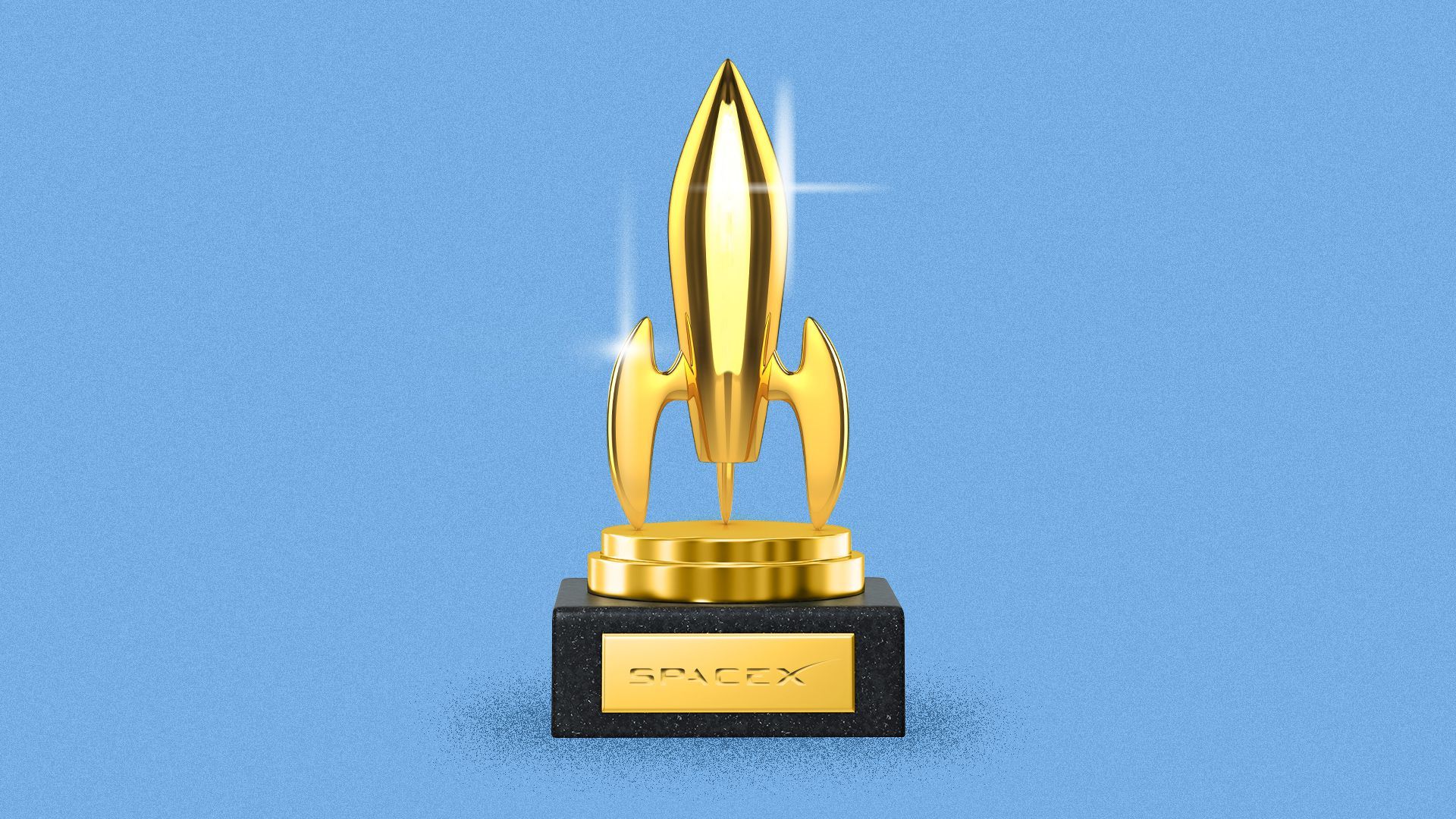 🌪 The luckiest rover (Marina Koren, The Atlantic)
🚀 SpaceX pulls off 3 orbital launches in 34 hours (Passant Rabie, Gizmodo)
💰 L3Harris to acquire Aerojet Rocketdyne for $4.7 billion (Sandra Erwin, SpaceNews)
👽 Why haven't aliens contacted Earth? (Paul Sutter, Space.com)
5. Weekly dose of awe: Depot on Mars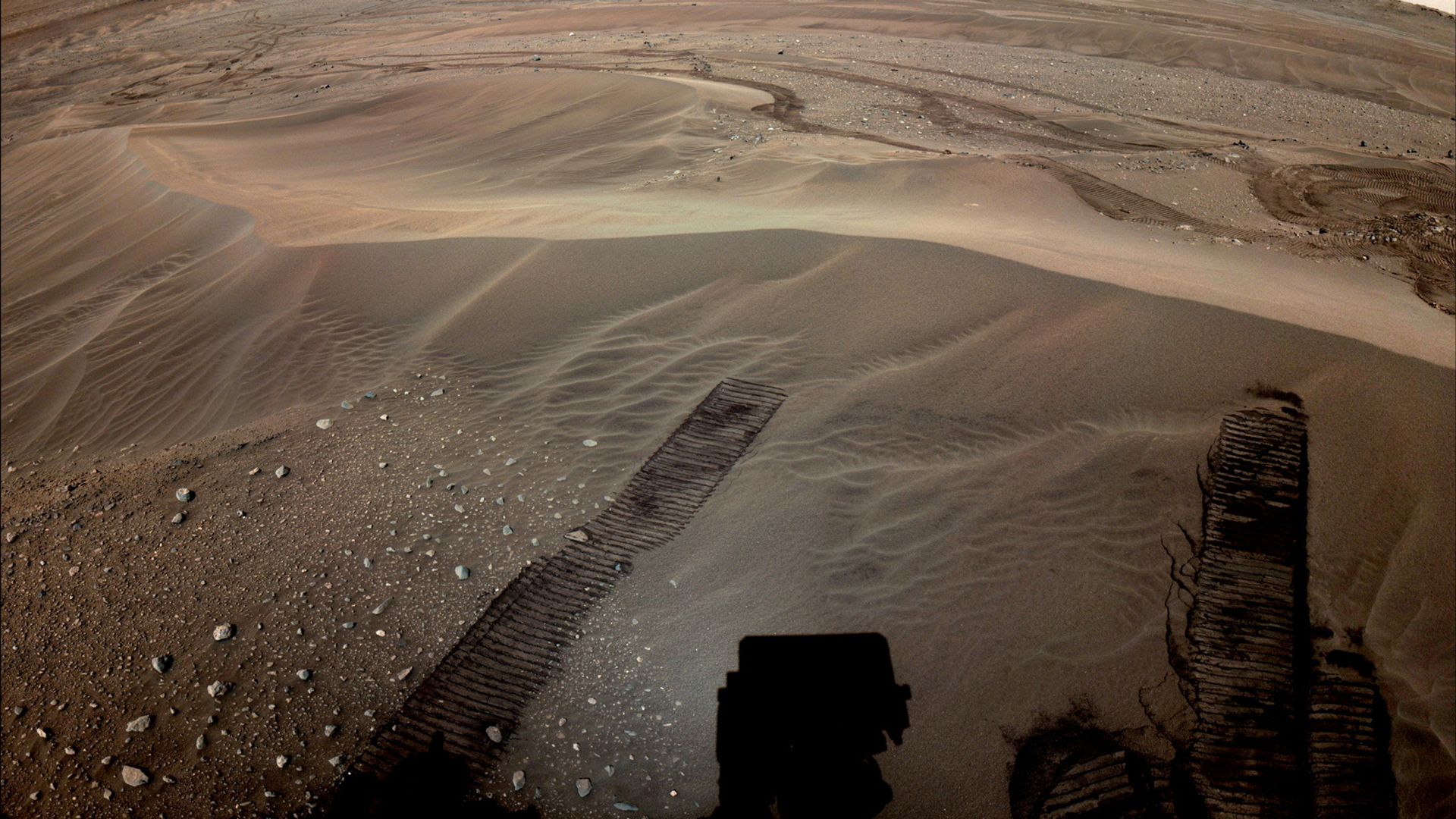 It may not look like much, but this photo represents the start of something big for the Perseverance rover on Mars.
NASA is planning to have Perseverance deposit 11 sample tubes in this area, known as Three Forks, over the course of about the next month.
The rover is effectively creating a backup depot of Martian samples that can be collected by a future mission, if needed.
How it works: Perseverance collects two sample tubes' worth of material from each target, and NASA plans to keep half of them within the rover and the other half at this depot.
The rover itself is the primary target for the space agency's future sample return mission expected to bring Martian samples back to Earth for analysis.
But this depot can be used if needed instead.
🛰 Big thanks to Alison Snyder for editing, Sheryl Miller for copy editing and the Axios visuals team for the illustrations. If this newsletter was forwarded to you, subscribe.