Axios Space
January 03, 2023
Happy New Year, and thanks for reading Axios Space. At 1,325 words, this newsletter is about a 5-minute read.
Please send your tips, questions and space-rated luggage to

[email protected]

, or if you received this as an email, just hit reply.
1 big thing: The future of private human spaceflight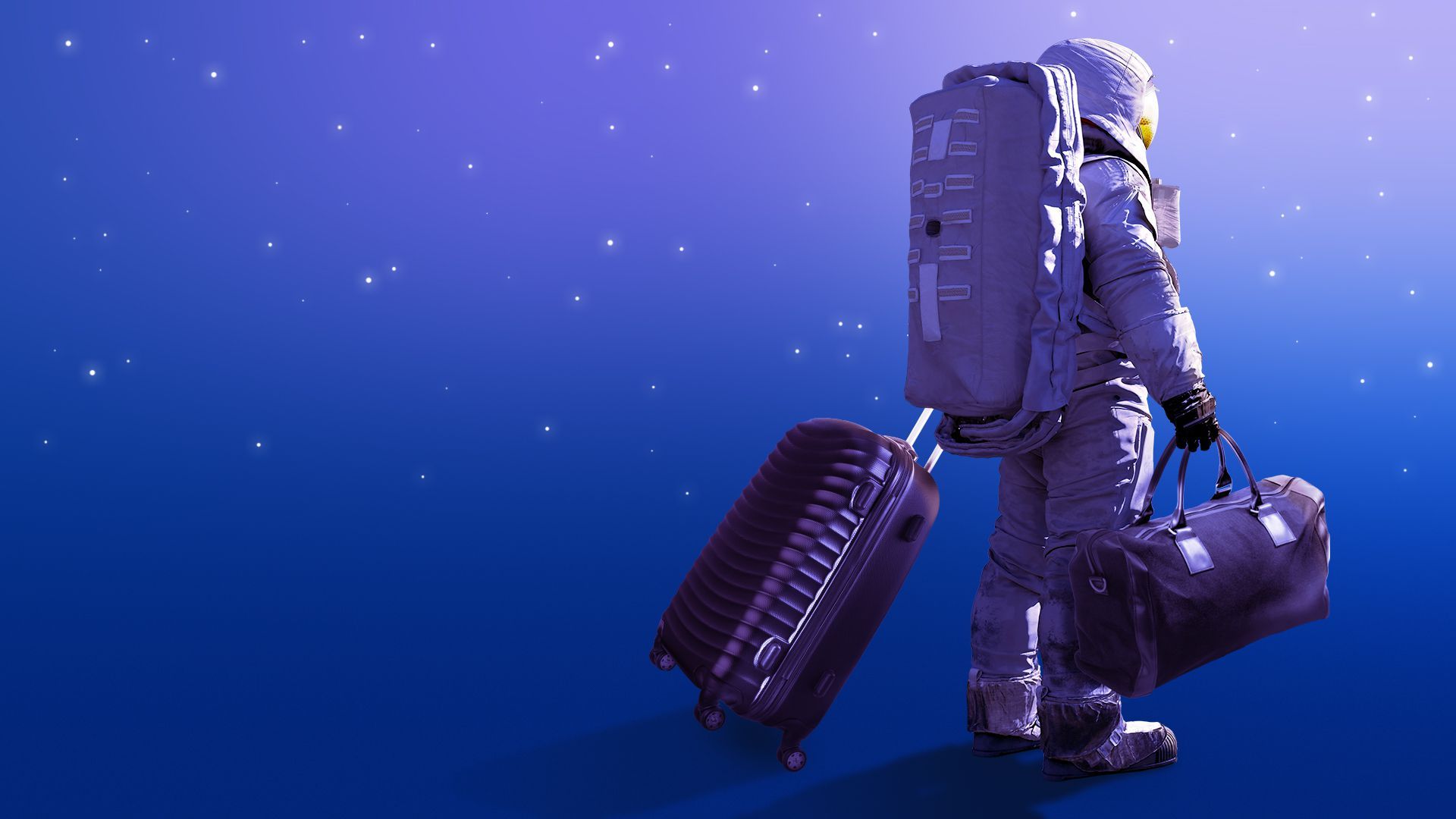 A ban on regulating private rockets is set to expire this year, opening up human spaceflight companies to safety regulations for those flying on their systems — and defining the future of the industry.
Why it matters: The human spaceflight industry is growing, and while revenue is still relatively small, it's the most visible part of the space economy and the most influential for the public's understanding of space.
Blue Origin, Virgin Galactic and SpaceX are currently sending private citizens to space, and Boeing will potentially enter human operations this year.
An accident for any of the operators could be disastrous for courting customers.
"It is very unsatisfying to just wait for an accident. There is no guarantee that a regulation or a standard can save somebody ... but it builds a foundation," Josef Koller of the Aerospace Corporation tells Axios. "Safety is in the interest of all. It should not be a proprietary thing."
What's happening: The "learning period" banning the Federal Aviation Administration from enacting regulations to protect the safety of private people flying to orbit or the edge of space absent an extreme, unplanned event like serious injury or death is set to expire in October.
If Congress allows the moratorium on regulation to expire, the human spaceflight industry will be opened up to new regulations to protect the safety of people carried to space on their rockets.
The FAA plans to create a transition plan that will move the industry toward regulation instead of enacting all regulations at once.
The big picture: The space industry's future is often compared to the aviation industry, with the potential for hundreds or even thousands of people to travel to orbit or the edge of space each year.
Some experts say human spaceflight has now reached a tipping point where establishing a regulatory framework is necessary.
"We still have a lot more to learn," George Nield, the former associate administrator for commercial space transportation at the FAA, tells Axios.
"But I think we're at a point now where it's appropriate to think about transitioning to an updated, commercial human spaceflight regulatory framework that would be more appropriate for commercial space going forward," he adds.
If a high-profile accident does happen before regulations can be put in place, it's likely Congress, the White House and the public will call on the government to enact new regulations quickly.
But "rushed regulations are not going to be good regulations. That's not how we want to do this," Nield says.
Where it stands: Right now, the industry functions under "informed consent" — companies responsible for operating the space system have to tell those who fly with them about the possible risks ahead of flight.
The FAA is only able to regulate the space systems for the safety of the public — people on the ground in the vicinity of the rocket when it flies.
The current moratorium has been extended multiple times since its establishment in 2004 to allow companies to develop their technology without the interference of potentially burdensome regulations. It's not clear if it will be extended again.
Between the lines: The types of safety regulations established by the FAA are going to be closely watched by the industry.
Prescriptive regulations — like forcing companies to install a certain type of button or lever over safety concerns — could impact the design, function and operability of a spacecraft.
However, if the FAA takes a lighter touch to regulation and focuses on already established industry rules, limiting possible human errors and creating standards for company culture around safety, experts say regulations could help support the growing industry.
2. The year in space
2022 was an extraordinary year for space science — one that brought humanity closer to understanding the very nature of our universe, I write with my colleague Alison Snyder.
Why it matters: Answers to age-old questions about the nearly 14 billion years of cosmic history are closer than ever.
Catch up quick: The year's watershed moments included the long-awaited first images sent from the James Webb Space Telescope and a portrait of the black hole at the center of the Milky Way.
JWST, which launched one year ago, delivered unprecedented images of stellar and galactic births, yielding new details about the evolving structure of early galaxies and the first stars to turn on in the universe.
"We're in a whole new era of astrophysics and planetary science," NASA scientist Stefanie Milam told Axios. "What we are seeing even in our first glimpses with the James Webb Space Telescope has just blown our minds. It surpassed our expectations in so many ways."
The Event Horizon Telescope captured images of the black hole at the center of the Milky Way that illustrated the similarities between it and the first black hole to be imaged three years ago.
"That's a good thing from the scientific perspective," said Joseph Pesce, a program officer at the National Science Foundation and astrophysicist who studies galaxy cluster formation. "It's important because if they look different, then something's wrong with our underlying theories that describe black holes."
There were also new findings about the source of elusive neutrino particles.
The bottom line: "We're going to be able to see intricate details about how and when stars die and how they interact with their dead planetary systems," Milam said.
"Our Galileo moment is seeing inside of black holes. We're studying star formation in ways that we've never been able to see."
3. SpaceX's record-setting year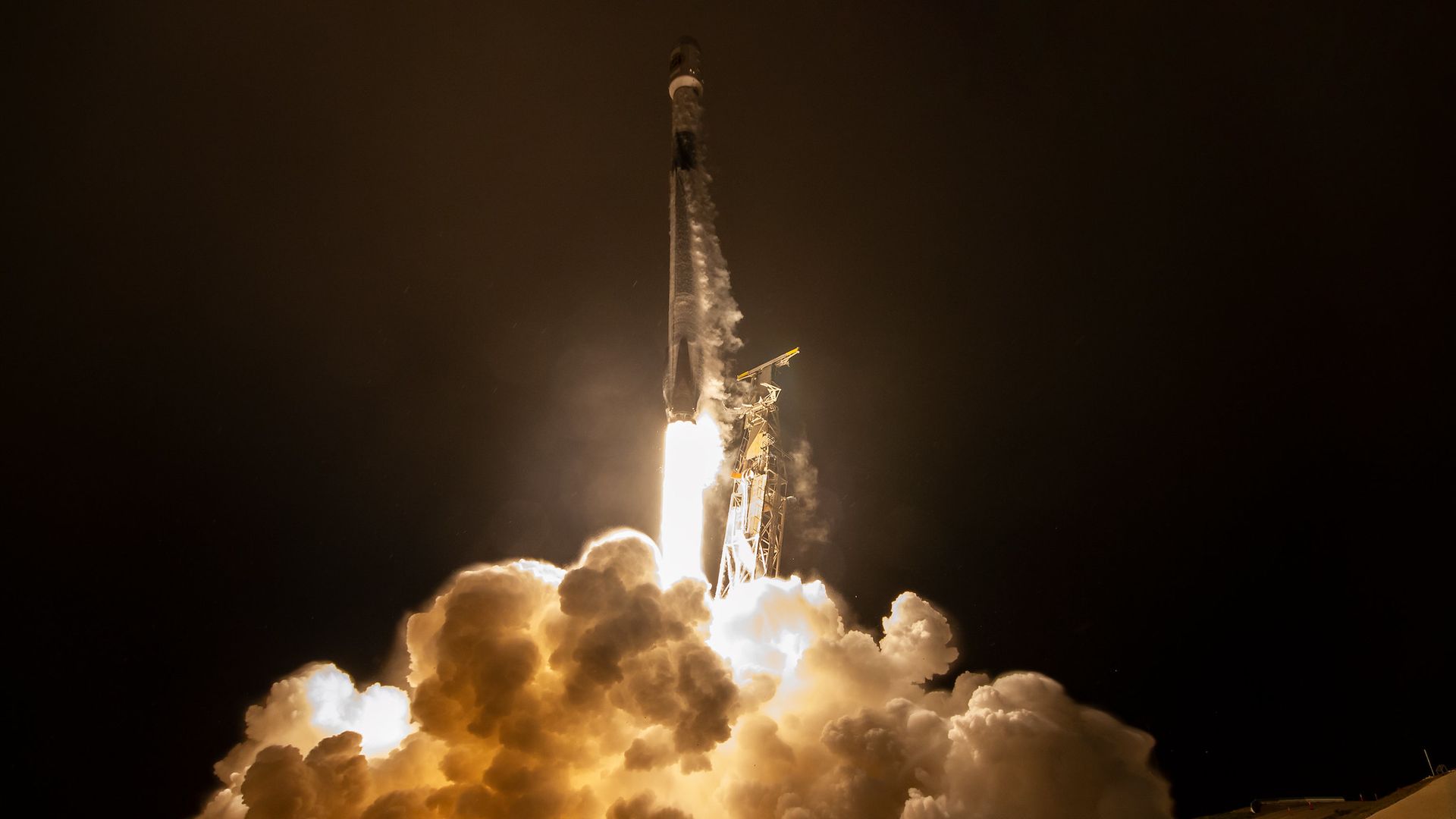 SpaceX performed 61 rocket launches in 2022, demolishing its previous record of 31 in 2021.
Why it matters: The Elon Musk-founded rocket company is arguably the most important space company operating today, and this record-breaking year further illustrates its dominance.
Driving the news: SpaceX's final launch of the year lofted an Israeli Earth-imaging satellite to orbit from California on Dec. 29.
The launch marked the 11th flight for that Falcon 9 first-stage booster.
SpaceX's Falcon Heavy rocket only launched once in 2022, with the company's Falcon 9 racking up the other 60 launches.
The big picture: SpaceX is the only U.S. company able to send NASA astronauts to orbit today.
Its Falcon 9 has become a rocket of choice for many companies and governments sending their wares (and people) to orbit.
And 34 of the launches that propelled SpaceX to its record this year sent dozens of the company's Starlink satellites to orbit, which are responsible for beaming high-speed internet to people around the world.
SpaceX is also raising $750 million at a valuation of $137 billion.
Yes, but: The company's reputation didn't make it out of 2022 unscathed.
Eight former employees have filed a complaint with the National Labor Relations Board saying SpaceX wrongfully terminated them after they helped pen an open letter criticizing Musk's behavior.
4. Out of this world reading list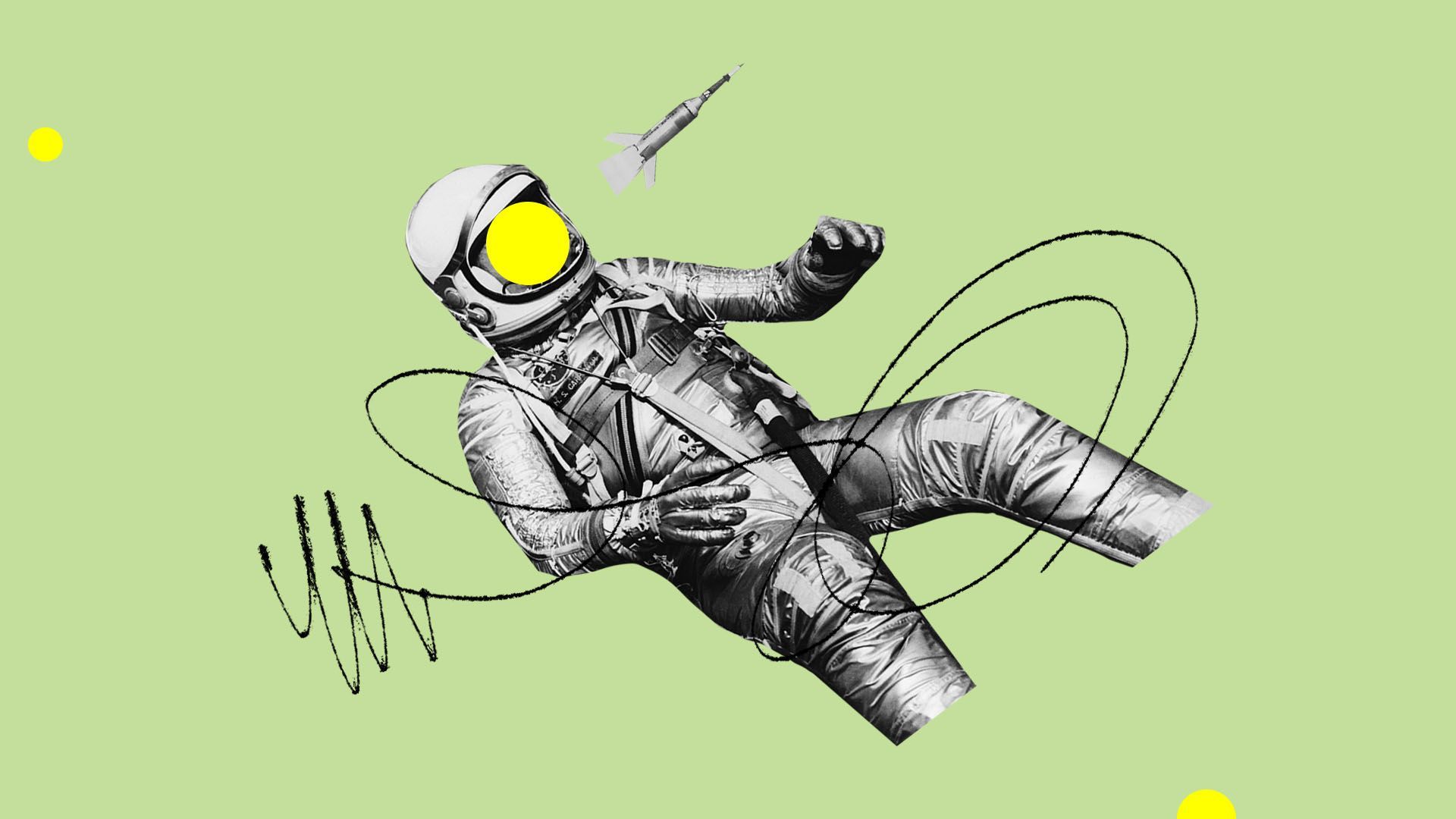 🇺🇦 Five ways the war in Ukraine is transforming the space domain (Sandra Erwin and Debra Werner, SpaceNews)
🌌 Newfound kind of supernova can tear apart a planet's atmosphere (Paul Sutter, Space.com)
🚀 Our strange new era of space travel (Marina Koren, The Atlantic)
🔭 Space and astronomy: What to expect in 2023 (Michael Roston, New York Times)
5. Weekly dose of awe: InSight's end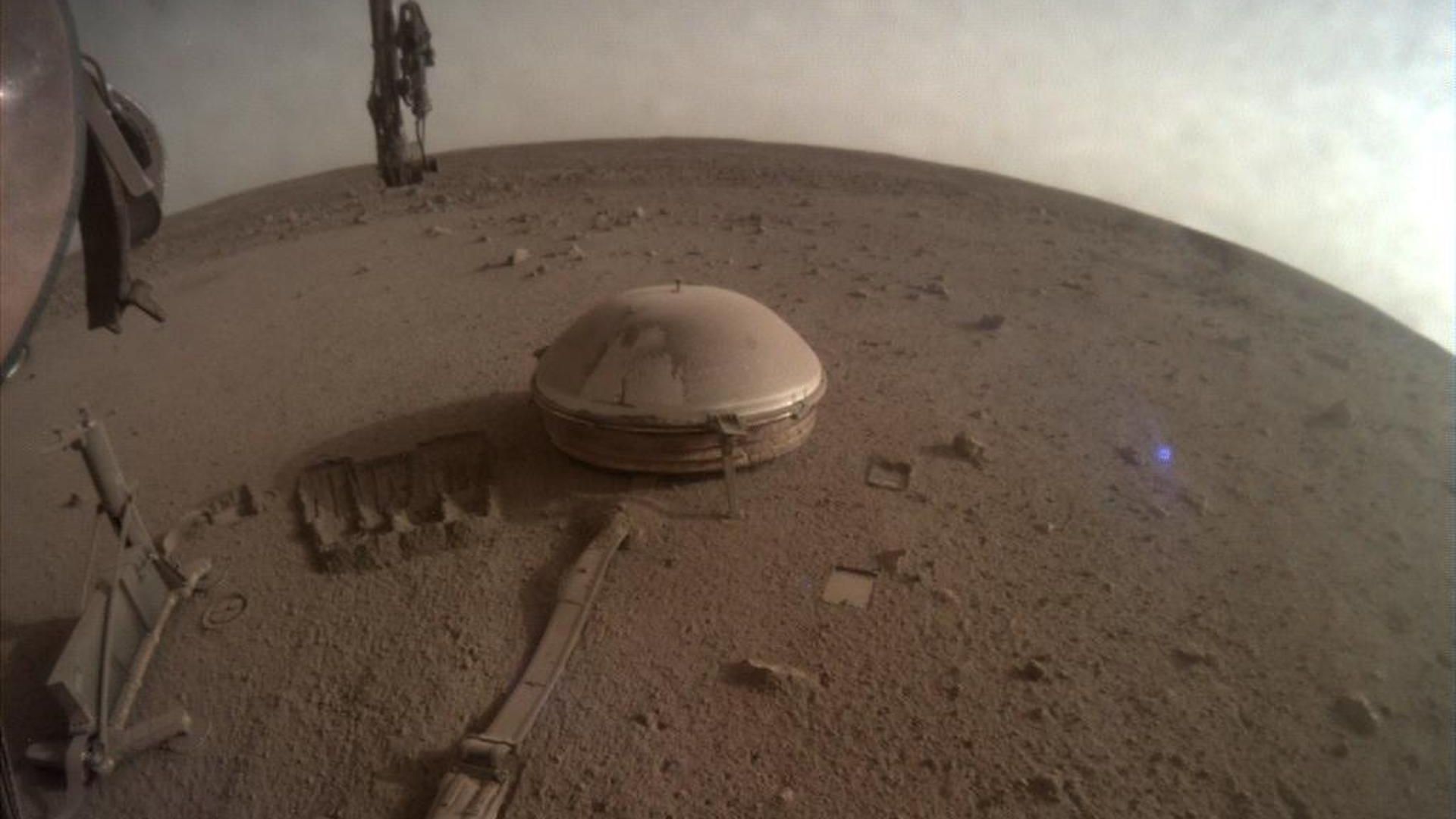 NASA's InSight lander mission on Mars ended after more than four years on the Red Planet on Dec. 21. This is one of the last images taken by the intrepid spacecraft.
InSight was designed to collect data about the Martian interior by sensing marsquakes that shook the world beneath it, allowing the spacecraft to essentially map the planet.
Rovers and landers on Mars take on outsized personalities for their operators and watchers on Earth, and InSight was no exception. (Just take a scroll through its Twitter, and you'll see what I mean.)
Rest well, InSight, and thanks for all the science.
🧳 Big thanks to Alison Snyder for editing and writing, Sheryl Miller for copy editing, and the Axios visuals team for the illustrations. If this newsletter was forwarded to you, subscribe.