Axios Space
October 27, 2020
Thanks for reading Axios Space. At 1,275 words, this week's newsletter will take you about 5 minutes to read.
Please send your tips, questions and soggy lunar regolith to

[email protected]

, or if you received this as an email, just hit reply.
1 big thing: What we know about Joe Biden's space policy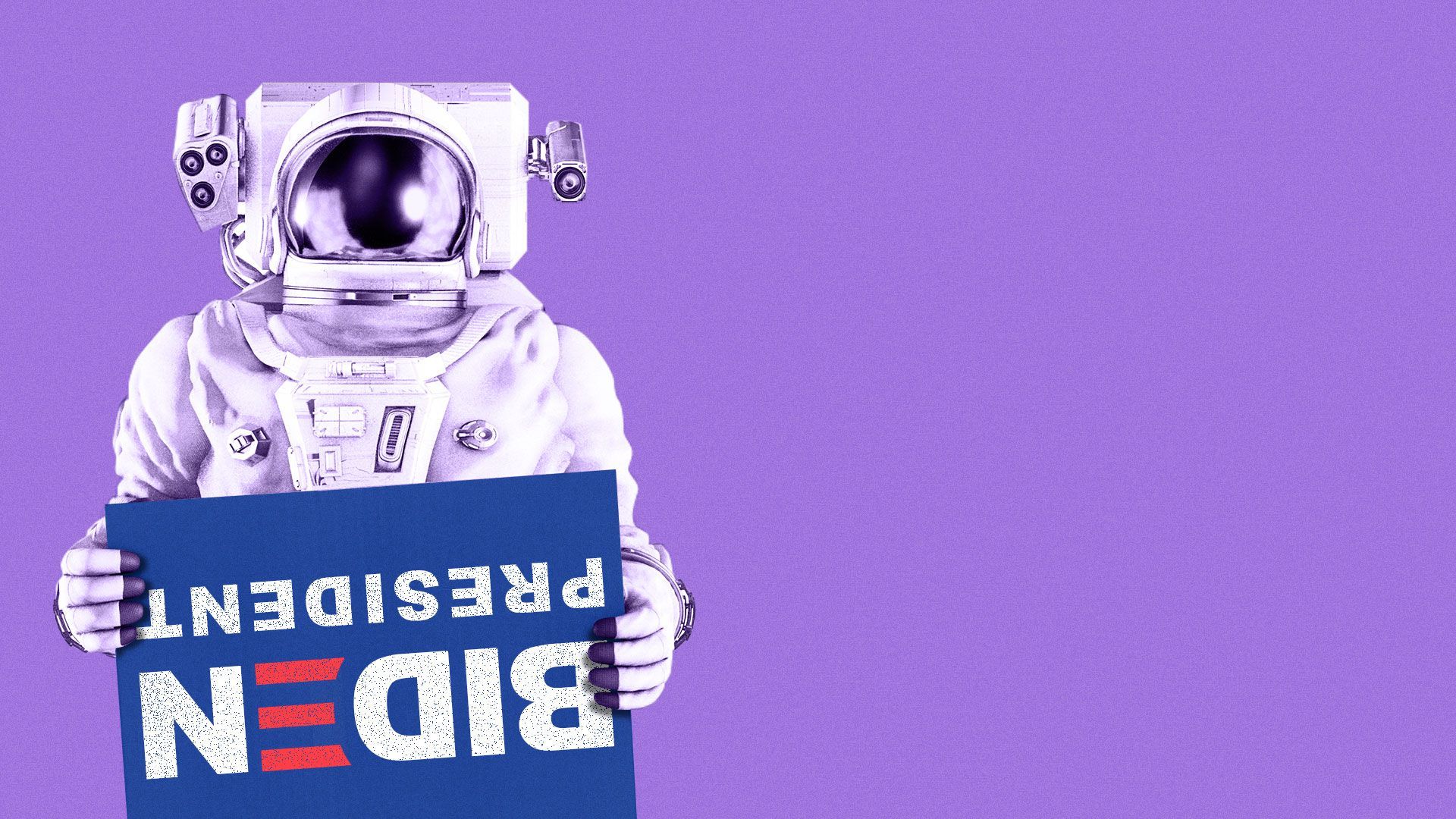 Joe Biden hasn't gone out of his way to talk about outer space during his presidential campaign. That could be bad news for NASA's exploration ambitions, but good news for the Space Force, I write with my colleague Hans Nichols.
The big picture: NASA faces two threats with any new administration: policy whiplash and budget cuts. In a potential Biden administration, the space agency could get to stay the course on the policy front, while competing with other priorities on the spending side.
The state of play: President Trump has taken a vested interest in space, directing NASA to send people back to the surface of the Moon by 2024 and standing up the Space Force.
By contrast, Biden has made few comments about the American space program during his campaign, with one of the most notable being a congratulatory statement marking SpaceX's first crewed flight for NASA in May.
The Democratic Party platform says NASA should focus on getting people back to the Moon. But the 2024 deadline would likely be scuttled in favor of a later landing date under Biden, space analysts have said.
While he has spoken broadly of the need to invest trillions of dollars in research and science, Biden's top priority will be fighting climate change on Earth, not planning new missions to the Moon and Mars.
But, but, but: Biden clearly wants to spend more on science, and that could have spillover effects for NASA, which is involved with climate change research: "We used to invest a little over 2.6% of our GDP in research and science," he said last week. "It's now down to 0.6%."
After the splashdown of SpaceX's Crew Dragon in early August, Biden said, "As president, I look forward to leading a bold space program that will continue to send astronaut heroes to expand our exploration and scientific frontiers through investments in research and technology to help millions of people here on Earth."
The other side: Biden's proposal for a $300 billion increase in funding for research and development doesn't directly mention NASA, unlike other federal agencies.
"NASA is one of those things that's oddly missing from a lot of their campaign's discussion," Casey Dreier of the Planetary Society told Axios of Biden's messaging.
Between the lines: Under Trump, the Space Force was politicized and the president forced the Pentagon to establish a separate department after protests from then-Defense Secretary Jim Mattis.
There's some optimism that under different leadership, the space domain will be treated like other operating theaters.
"People need to start listening to the war fighters and doing the war gaming the same way they do in other domains," former Air Force Secretary Heather Wilson told Axios. "Job one is to get serious about war fighting and strategy."
The backstory: The space agency Barack Obama inherited from George W. Bush was one marked by the end of the space shuttle program, but the NASA of a Biden first term or Trump second term is less defined by transition and more focused on pushing toward larger goals.
The bottom line: It remains unclear how NASA's plans for exploring the Moon and Mars might fare under a Biden presidency, but the space agency will likely need to compete with other research and development priorities if Biden is elected.
2. Mike Hopkins is heading back to space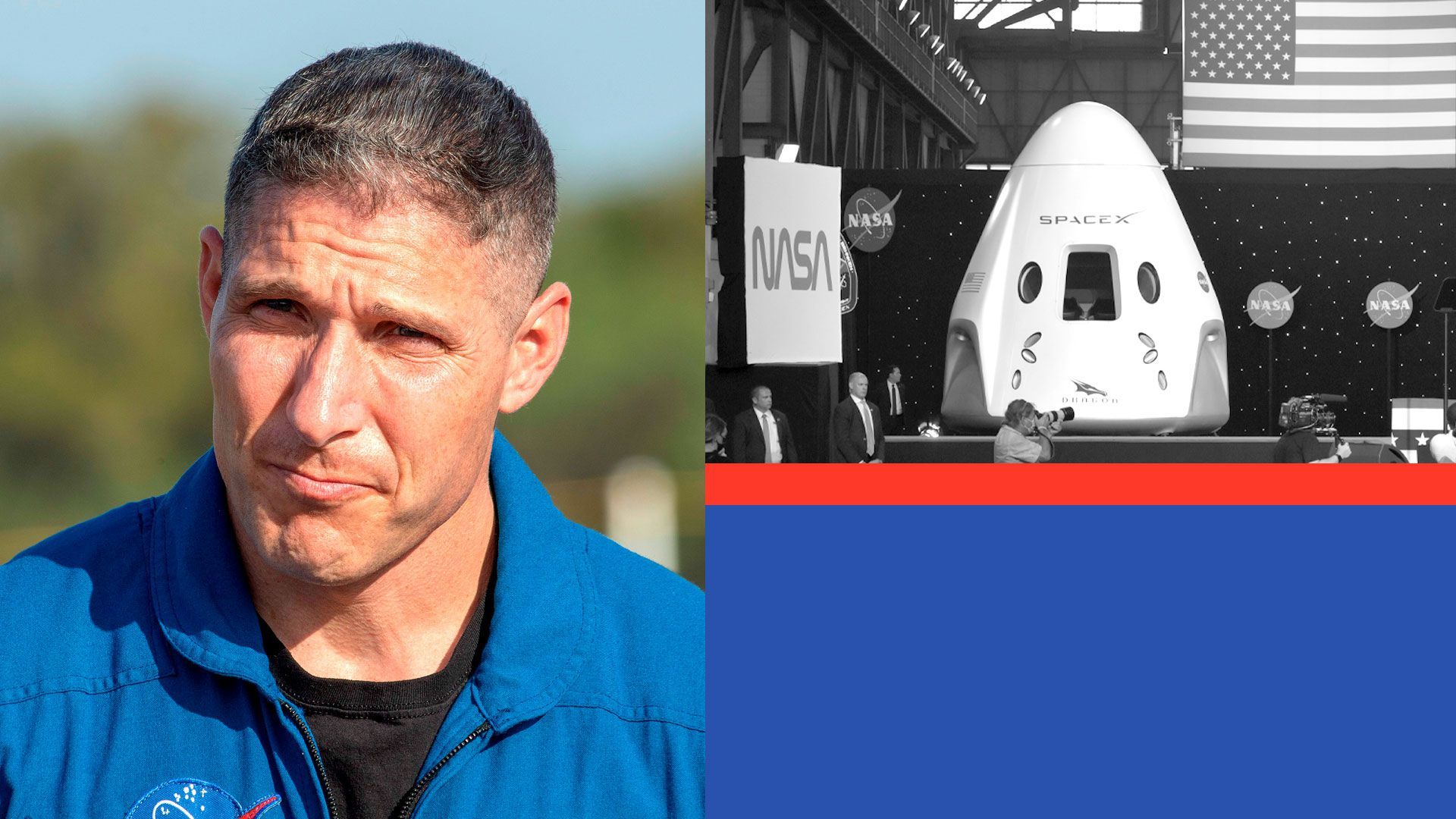 NASA astronaut Mike Hopkins is slated to head back to the International Space Station next month for his first flight to orbit since 2013.
Why it matters: Hopkins will command the SpaceX Crew Dragon spacecraft that will take him and three other crewmembers — NASA's Shannon Walker and Victor Glover and Japanese astronaut Soichi Noguchi — to the station as part of the capsule's first crewed, non-test flight to orbit.
What's happening: Hopkins has been training for months with his fellow astronauts.
The four crewmembers paid close attention to SpaceX's first crewed flight with NASA's Bob Behnken and Doug Hurley this summer to help make any changes necessary ahead of their flight.
But Hopkins and his crewmembers are effectively the first to go through a version of what will be SpaceX's training for astronauts.
"Bob and Doug had been working with SpaceX for quite a few years before they launched," Hopkins told me. "They didn't have to sit through the same classes and a number of things that we've gone through."
Between the lines: Hopkins says he's excited to see how the ISS has changed in the years since he's been gone.
One thing that's different: NASA is now allowing private companies like Estée Lauder to pay to market their products using the station.
While some say that's a misuse of astronaut crew time, Hopkins doesn't necessarily see it that way:
"There have been a lot of people that have looked at this and decided that this is the right way to go, and so our job is to execute that mission as best we can. I trust the system. I trust the people that are building our programs."
What's next: NASA and SpaceX were originally planning on launching the mission on Halloween, but technical concerns about the Falcon 9 rocket forced a delay.
Now, NASA is targeting Nov. 14 for Hopkins and his crewmates to take flight from Florida.
3. The wet Moon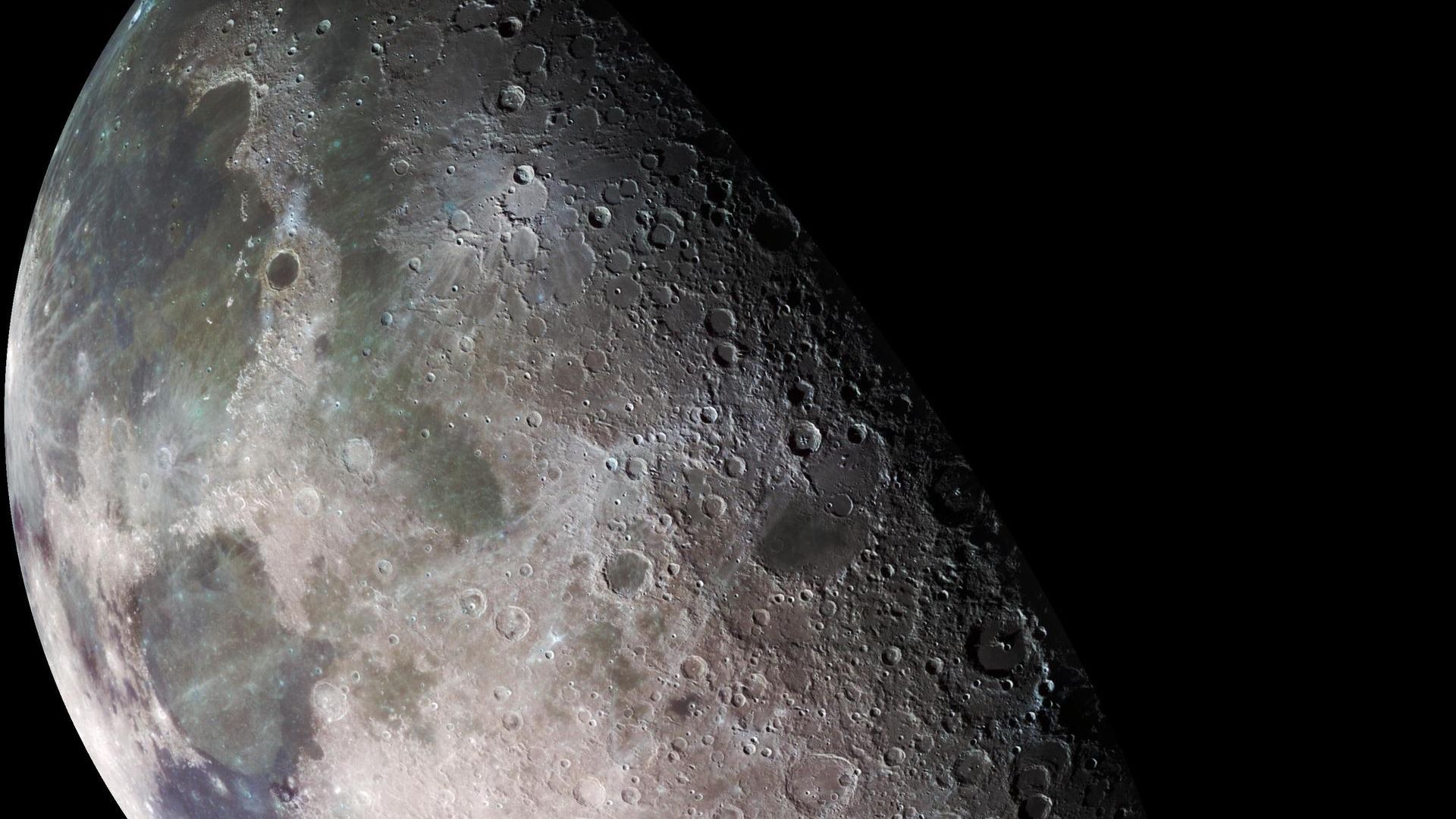 Water on the Moon might be more easily accessible than previously thought, opening up new possible avenues for future human exploration, according to a new study.
Why it matters: NASA is aiming to send people back to the Moon as part of its Artemis program, with plans to eventually create a sustainable presence on the lunar surface. That sustainability relies on mining the Moon for its resources, like water.
What they found: The new study in the journal Nature Astronomy confirmed water can persist on the sunlit parts of the Moon, meaning it's likely more easily accessible than previously expected.
"This discovery reveals that water might be distributed across the lunar surface and not limited to the cold, shadowed places near the lunar poles, where we have previously discovered water ice," NASA's Paul Hertz said during a press conference.
But this water isn't in puddles or icy patches. Instead, scientists think it may be water molecules embedded in glass created during impacts on the Moon.
Yes, but: The water found in this study might also be difficult to extract, even if it is in a relatively accessible part of the Moon.
"If it's locked into glass beads ... it may require more energy to extract it," NASA's Jacob Bleacher said. "If the water is mixed up in the soil, it might be a little easier."
Scientists and engineers also haven't figured out exactly how they might mine the Moon at some point in the future.
The bottom line: Scientists want to use water already on the Moon and out in space in order to cut back on the resources they need to launch from Earth. This new study could help them find a way to do just that.
4. Out of this world reading list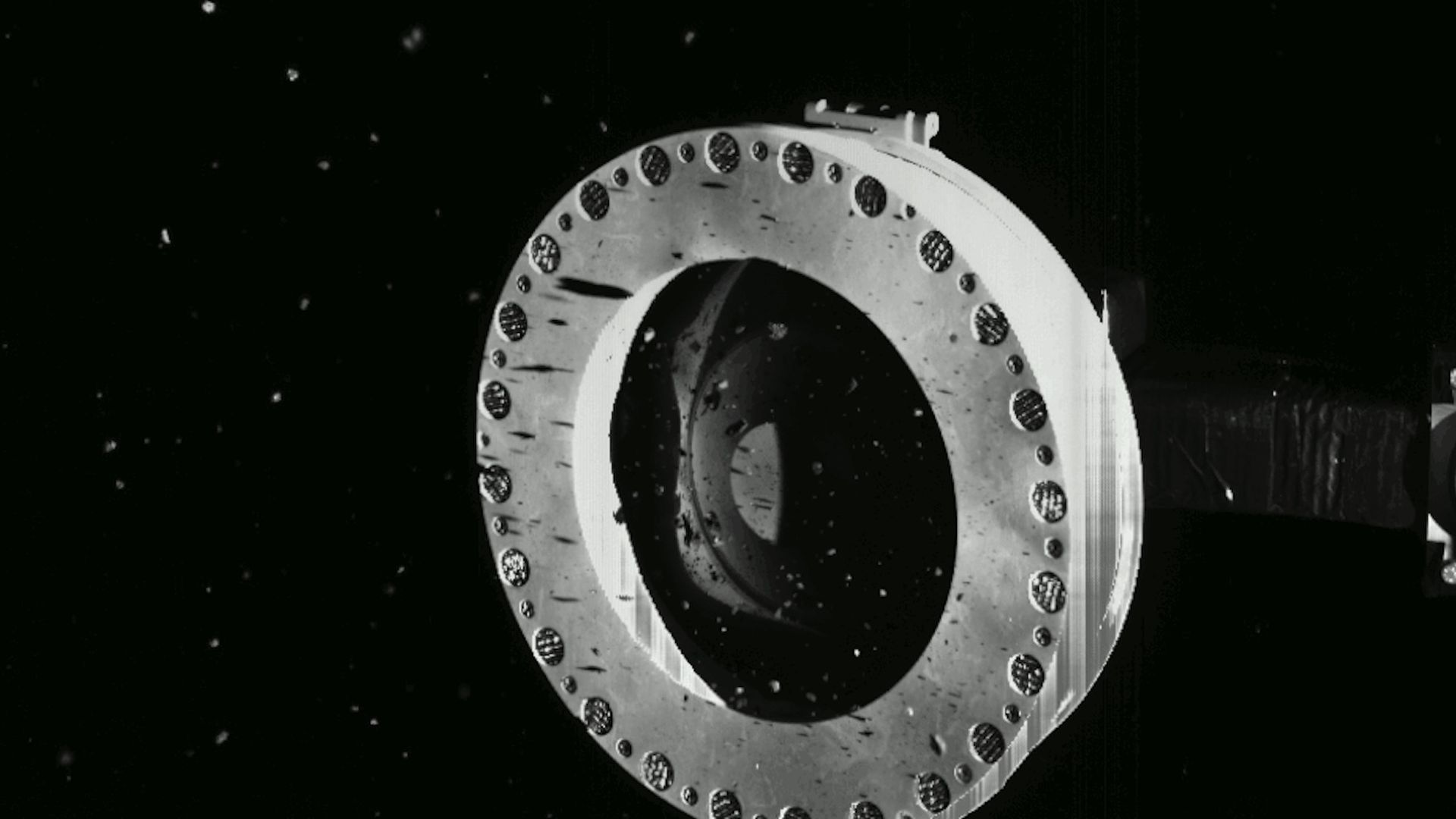 What comes after the International Space Station? (Daniel Oberhaus, Wired)
Q&A with former NASA astronaut Leland Melvin (Mike Wall, Space.com)
China launches latest trio of Yaogan-30 remote sensing satellites (Andrew Jones, SpaceNews)
SpaceX's Starlink satellite internet service is priced at $99 per month (Michael Sheetz, CNBC)
NASA got an asteroid sample, but has to move fast to keep it (Axios)
5. Your weekly dose of awe: Jupiter, Mars and Saturn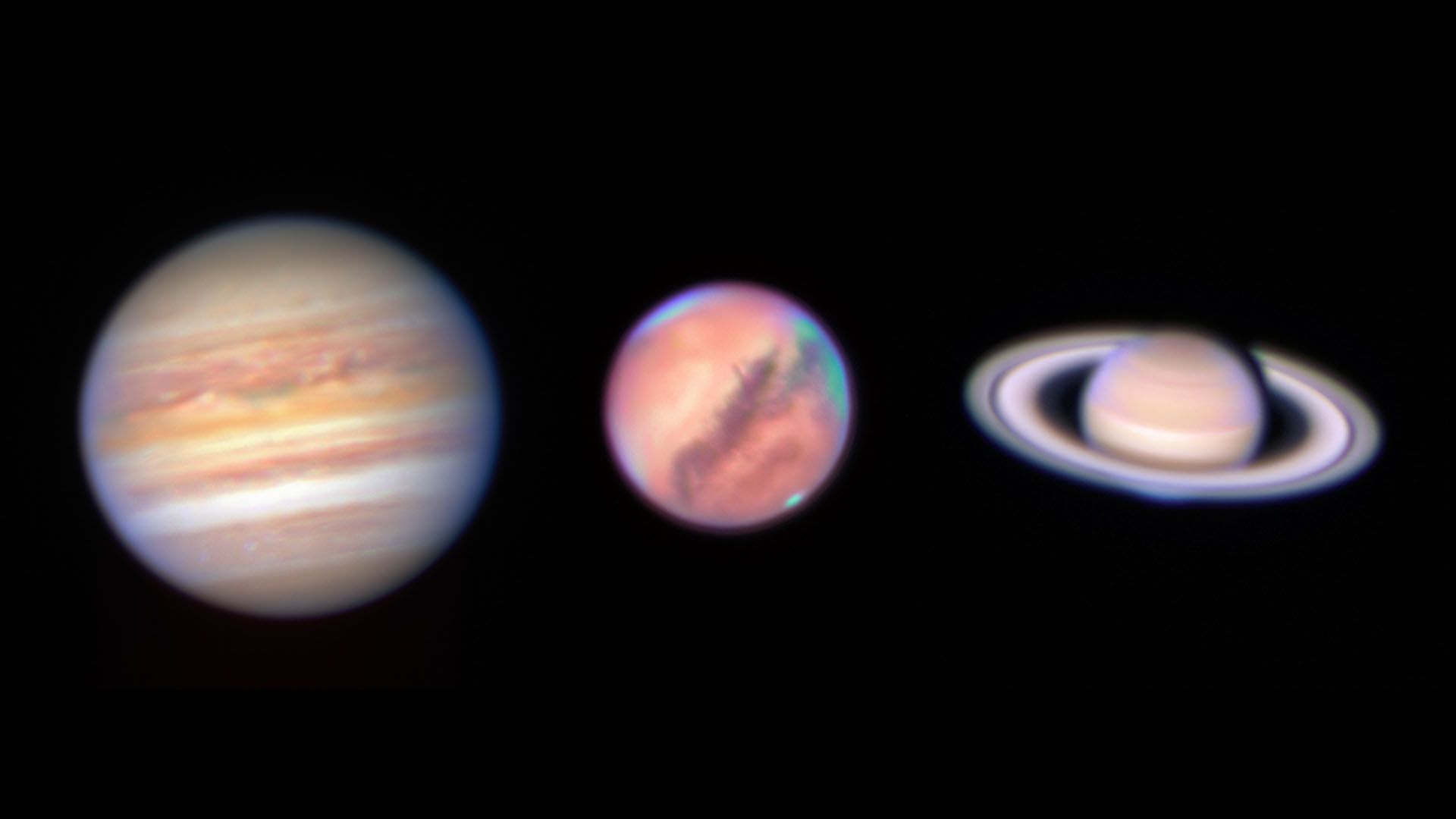 Science operations are starting up again in Chile's Atacama Desert after the coronavirus pandemic put them on hold.
This composite image, taken by a telescope at the La Silla Observatory, shows off some of the first test images of Jupiter, Mars and Saturn taken by the telescope as science operations began again this month.
"These limited operations are being conducted under strict health and safety measures by a very small team, who use special tools to interact with the astronomers observing remotely," the European Southern Observatory said in a statement.
Big thanks to Alison Snyder, Sheryl Miller and David Nather for editing this week's edition and to Hans for writing with me. If this email was forwarded to you, subscribe here. 🌕