Axios Sneak Peek
September 25, 2023
Welcome back to Sneak. Smart Brevity™ count: 1,055 words ... 4 minutes.
1 big thing: Trump's gift to Biden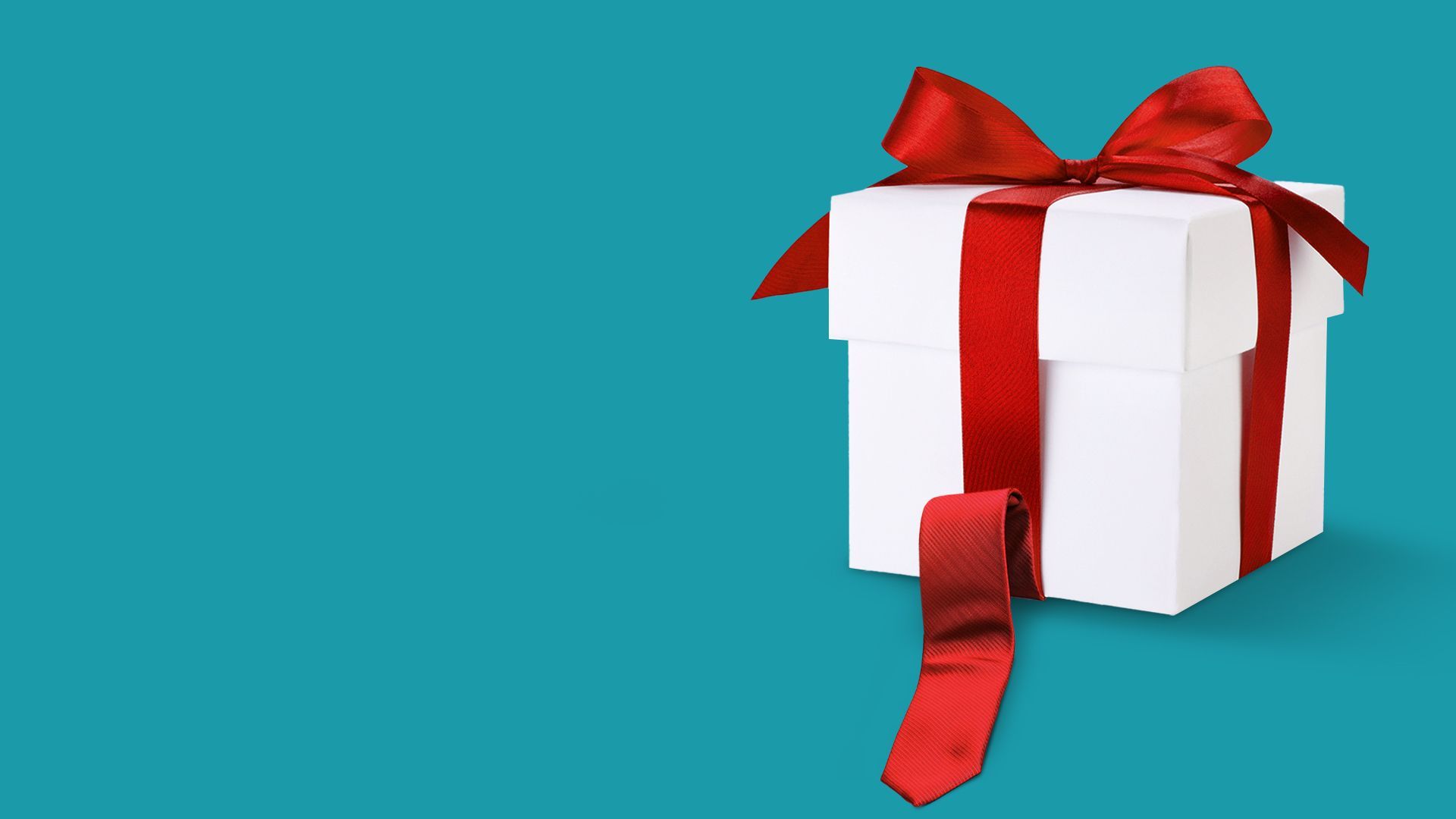 Over the last 72 hours, former President Trump's daily torrent of online grievances crossed — not for the first time — into musings about "treason" and the execution of his political enemies.
Why it matters: Despite claims of a strategic "pivot" to the general election, Trump appears committed to the same unrestrained, sometimes violent rhetoric that alienated many independent voters in 2020.
The Biden campaign, which has relentlessly sought to brand Trump and his allies as "extreme," is taking notice.
Driving the news: Trump began the weekend by accusing retiring Joint Chiefs Chairman Gen. Mark Milley of a "treasonous act," after The Atlantic published a profile detailing how the nation's top general navigated the Trump presidency.
"This is an act so egregious that, in times gone by, the punishment would have been DEATH!" Trump posted on Truth Social, referring to Milley's reassurance to his Chinese counterpart in the days after Jan. 6 that the U.S. would not suddenly attack China.
48 hours later, Trump again invoked "treason" — this time, vowing to use the presidency to investigate NBC News parent company Comcast over its "one-sided and vicious coverage."
The intrigue: The Biden White House took the rare step of responding to Trump's attack on NBC this morning, potentially previewing a more aggressive stance toward the former president's online diatribes.
"To abuse presidential power and violate the constitutional rights of reporters would be an outrageous attack on our democracy and the rule of law," White House spokesman Andrew Bates said in a statement.
The big picture: On at least three other fronts this weekend, Trump's online missives aligned to a remarkable degree with the Biden campaign's messaging about its likely Republican opponent.
Abortion: Trump boasted of his role in the Supreme Court overturning Roe v. Wade and claimed there "would be no talk of a six-week ban" on abortion "without me" — even as he criticized some Republicans for opposing exceptions to strict abortion laws.
Voting rights: Trump attacked Pennsylvania Gov. Josh Shapiro (D) for implementing automatic voter registration — calling it "a disaster for the Election of Republicans, including your favorite President, ME!"
Government shutdown: Trump urged House Republicans to embrace a maximalist position in order to change Biden's border policies and intervene in his criminal cases: "UNLESS YOU GET EVERYTHING, SHUT IT DOWN!" he demanded.
Reality check: While the Biden campaign seems content to allow Trump to assemble his own opposition file, a spate of recent polls suggests the former president's erratic rhetoric may already be priced in for many voters.
Trump's incendiary statements no longer command headlines to the extent they once did, with elected Republicans frequently waving them away as "Trump being Trump."
Perceptions of Biden's age and economic record, meanwhile, have driven his disapproval rating to the highest of his presidency.
2. ⚖️ Senators silent on Menendez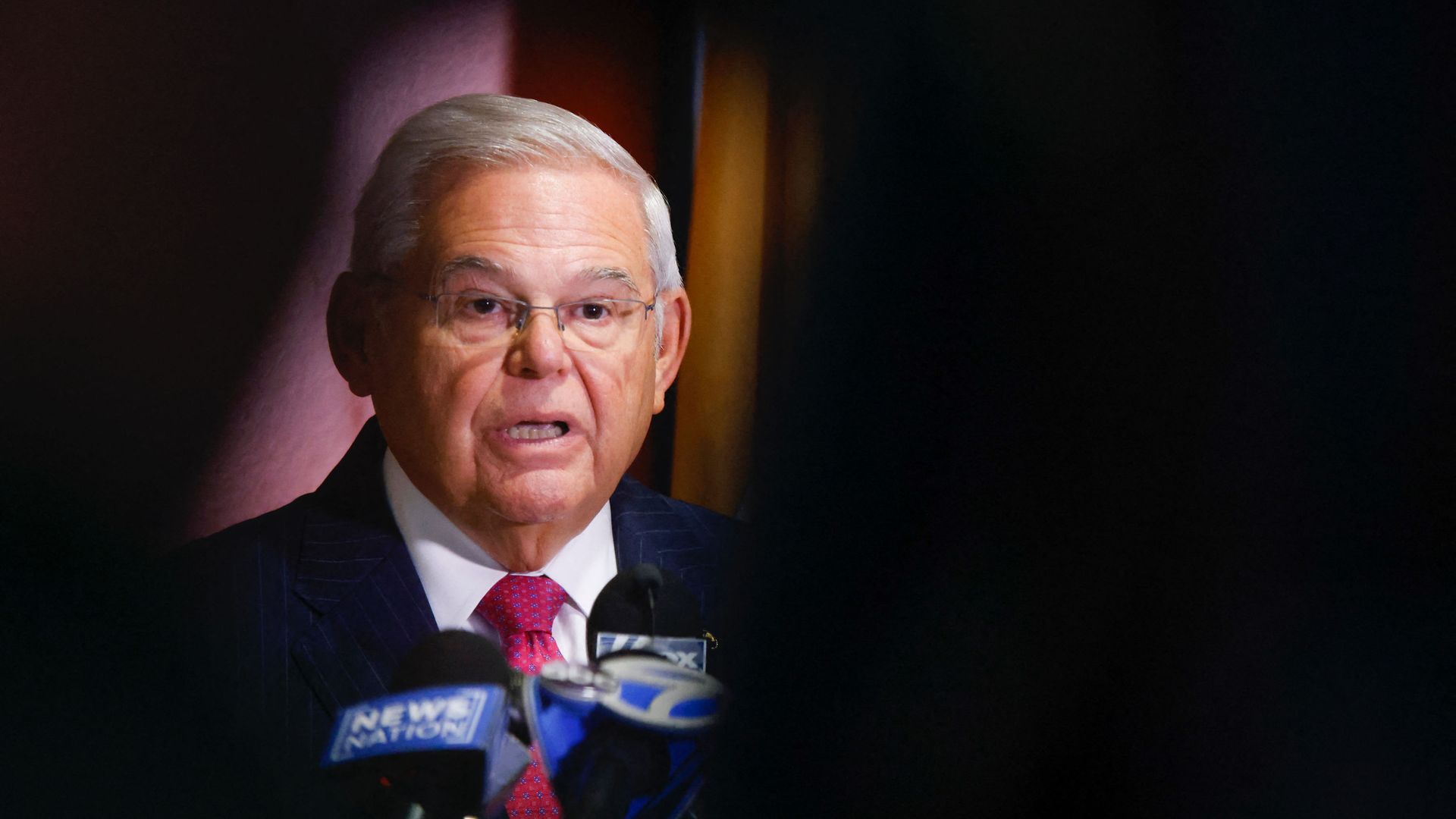 Sens. Sherrod Brown of Ohio and Peter Welch of Vermont became just the second and third senators to call on Sen. Bob Menendez (D-N.J.) to resign in the wake of his corruption indictment, joining Sen. John Fetterman (D-Pa.).
"Sen. Menendez has broken the public trust and should resign from the U.S. Senate," Brown, the chair of the Senate Banking Committee and one of the most vulnerable Senate Democrats up for re-election next year, said in a terse statement.
Why it matters: While acknowledging his right to due process, dozens of other Democrats — including New Jersey Gov. Phil Murphy — have called on Menendez to resign in light of the specificity and nature of the charges against him.
Menendez is accused of using his now-relinquished position as chair of the Senate Foreign Relations Committee to benefit Egypt's authoritarian government in exchange for cash, gold and other bribes.
In a defiant press conference today, Menendez defended his record as a human rights advocate and said the $500,000 in cash discovered at his home is lawful income that he keeps for emergencies, citing the history of his family facing confiscation in Cuba.
The intrigue: Sen. Cory Booker (D-N.J.), who testified as a character witness at Menendez's first bribery trial in 2017, is among the Senate Democrats who have remained conspicuously silent.
3. 🌵 Sinema's independent play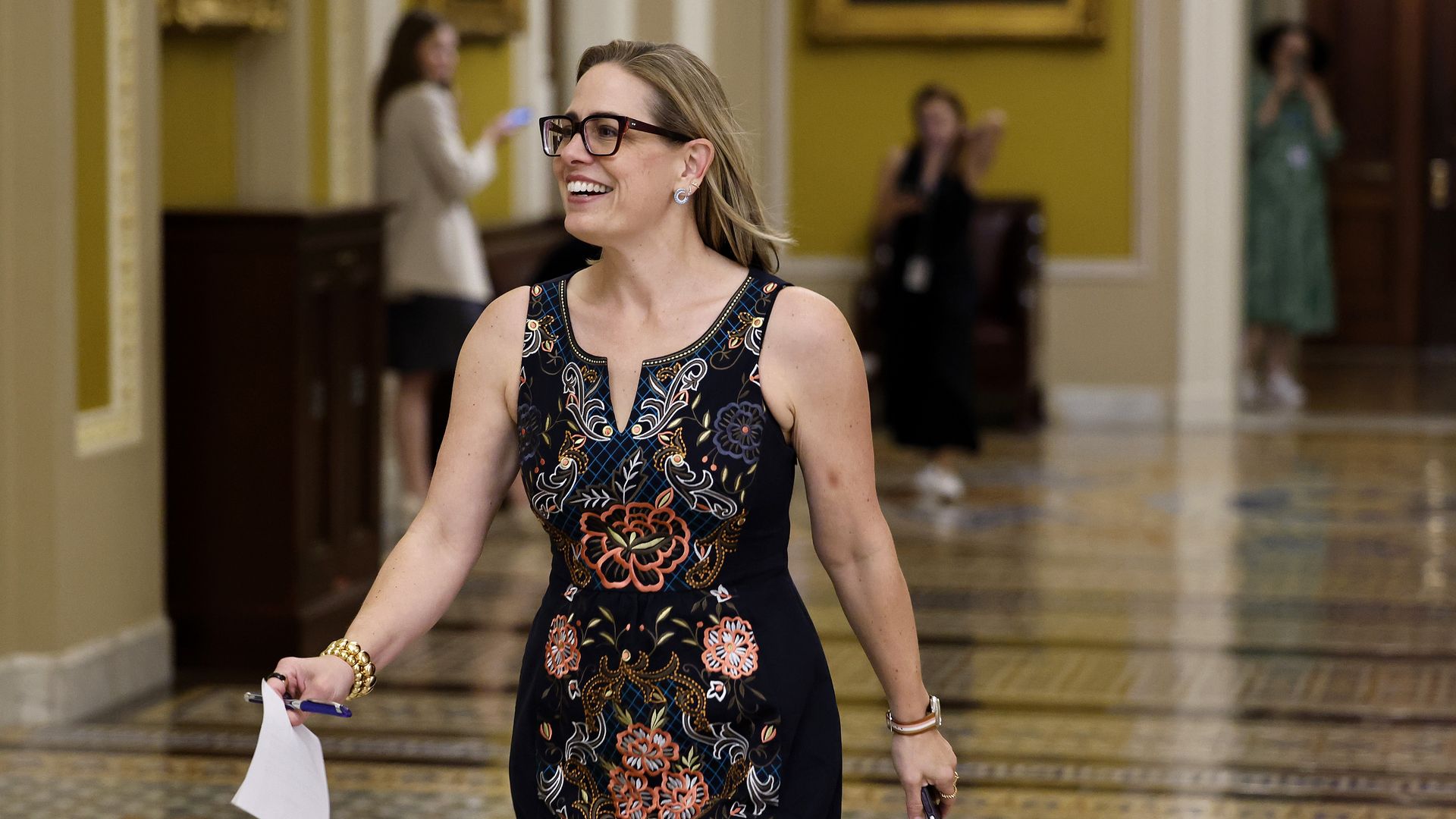 Sen. Kyrsten Sinema (I-Ariz.) is counting on winning more Republicans than Democrats in a likely re-election bid next year — but sees the vast majority of her support coming from independents, Axios' Hans Nichols reports from a new pitch to donors.
Why it matters: Team Sinema's bold strategy to prevail in a potential three-way race is the clearest indication yet that she plans to run for re-election in 2024.
Rep. Ruben Gallego (D-Ariz.) launched his campaign earlier this year, while Kari Lake, the GOP's failed candidate for Arizona governor in 2022, is eyeing an October launch.
"If the parties nominate extremists, as expected, Kyrsten will win a majority of IND and at least a third of REP and a percentage of DEM voters — making her the first Independent to win a three-way statewide race in American history," Sinema's team wrote in a two-page pitch first reported by NBC News.
By the numbers: In a potential 2024 contest, Sinema is expecting to claim between 25%-35% of Republicans and only 10%-20% of the Democrats.
But it's among independent voters, who represent more than a third of the Arizona electorate, where Sinema hopes to run up the score — eyeing 60%-70% of the vote.
4. 💰 Shutdown's credit threat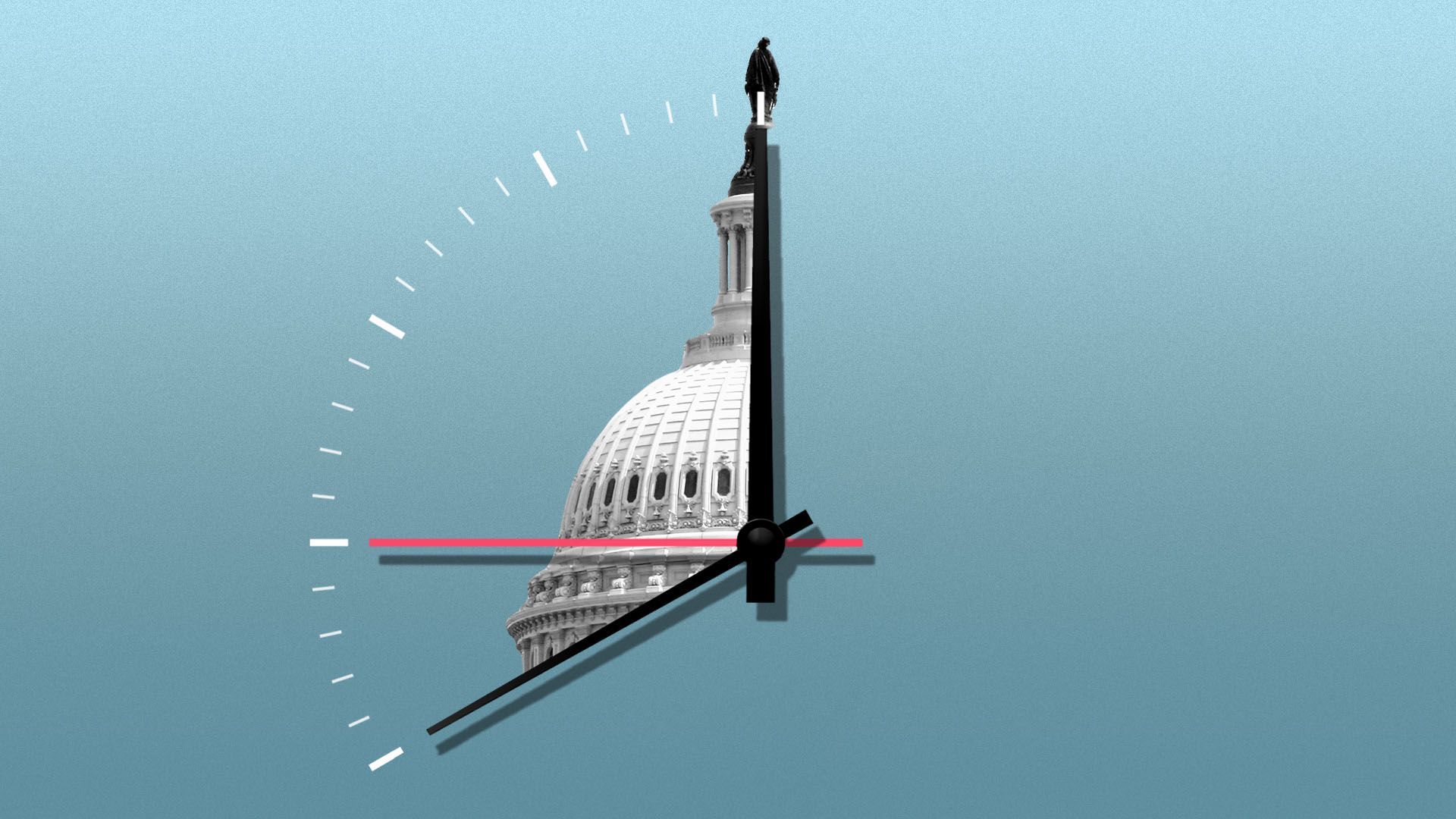 As House Republicans prepare a last-ditch effort to pass party-line spending bills this week, conversation has increasingly shifted to the costs of a government shutdown:
Moody's — the last of the big-three credit rating firms that still lists the U.S. at "triple-A" — warned today that a shutdown would be a "credit negative" event as it would underscore government dysfunction.
Nonessential federal functions — including health programs, Social Security and Medicare, SNAP benefits, FDA and small business loans — would be suspended.
Far from saving the government money, the last three shutdowns combined cost taxpayers nearly $4 billion in backpay to furloughed workers, according to a 2019 Senate report.
📬 Thanks for reading tonight. This newsletter was copy edited by Kathie Bozanich.