Axios Sneak Peek
March 24, 2023
Welcome back to Sneak. Smart Brevity™ count: 1,042 words ... 4 minutes.
1 big thing: TikTok's time in the barrel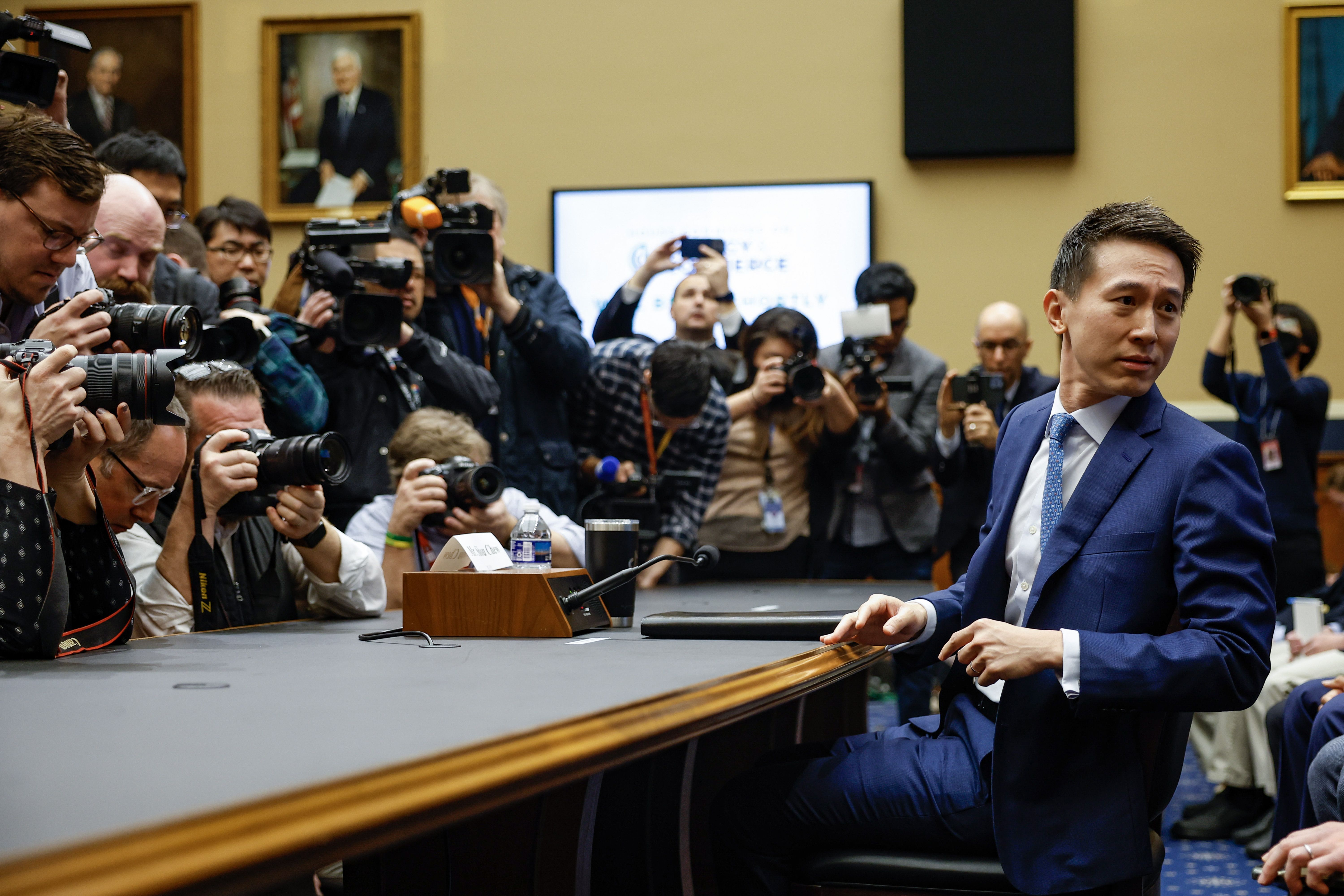 TikTok CEO Shou Zi Chew joined the illustrious club of Big Tech CEOs paraded before Congress for a public flogging, producing a viral spectacle that has hardened lawmakers' animus toward the Chinese-owned app.
Why it matters: The Singapore-born, Harvard-educated Chew faced a near-impossible task as he was grilled by the House Energy and Commerce Committee on TikTok's ties to the Chinese government, data practices and harmful effects on children.
Some of Chew's answers seemed likely to accelerate a U.S. ban of the immensely popular app, even as the Biden administration prefers to force a sale by TikTok parent ByteDance.
"If this committee gets its way, TikTok's time is up," Rep. Randy Weber (R-Texas) told Chew, a comment that reflected the absence of friendly faces — Democratic or Republican — throughout the hearing.
Zoom in: Some lawmakers used their time to challenge Chew on the same health and safety issues that plague all social media platforms, but questions about the Chinese Communist Party's ability to obtain user data or promote propaganda produced the most striking answers.
"I have seen no evidence that the Chinese government has access to [TikTok user] data. They have never asked us. We have not provided," Chew told Rep. Anna Eshoo (D-Calif.). "I find that actually preposterous," the Democrat shot back.
Asked about a Forbes report that ByteDance planned to use TikTok to spy on individual Americans, Chew told Rep. Neal Dunn (R-Fla.): "I don't think 'spying' is the right way to describe it."
And when pressed three times by Rep. Debbie Lesko (R-Ariz.) whether the Chinese government is persecuting Uyghur Muslims, Chew declined to answer specifically and said he was there to discuss TikTok.
Context: The House China Select Committee is holding a hearing tonight featuring Uyghur witnesses who spent time in Chinese "re-education camps," which the U.S. government says are central to Beijing's campaign of genocide.
The big picture: The army of lobbyists and staffers deployed by TikTok — including people close to House Speaker Kevin McCarthy (R-Calif.) and other powerful members of Congress — appear to have done little to swing momentum on Capitol Hill.
McCarthy told reporters he supports Congress moving forward with a TikTok ban, citing the "bipartisan concern" on display at the hearing.
"Nothing we heard from Mr. Chew today assuaged" U.S. national security concerns about TikTok, said Sens. Mark Warner (D-Va.) and John Thune (R-S.D.), co-sponsors of a bill that would give President Biden greater power to regulate and sanction China-affiliated companies.
Sen. Thom Tillis (R-N.C.) issued a statement demanding all members of Congress stop using TikTok, calling it "beyond reckless."
The bottom line: "You have, in fact, been one of the few people to unite this committee," Rep. Tony Cárdenas (D-Calif.) told Chew, before comparing him — unfavorably — to Facebook CEO Mark Zuckerberg.
2. 🐘 GOP wary of lengthy McConnell absence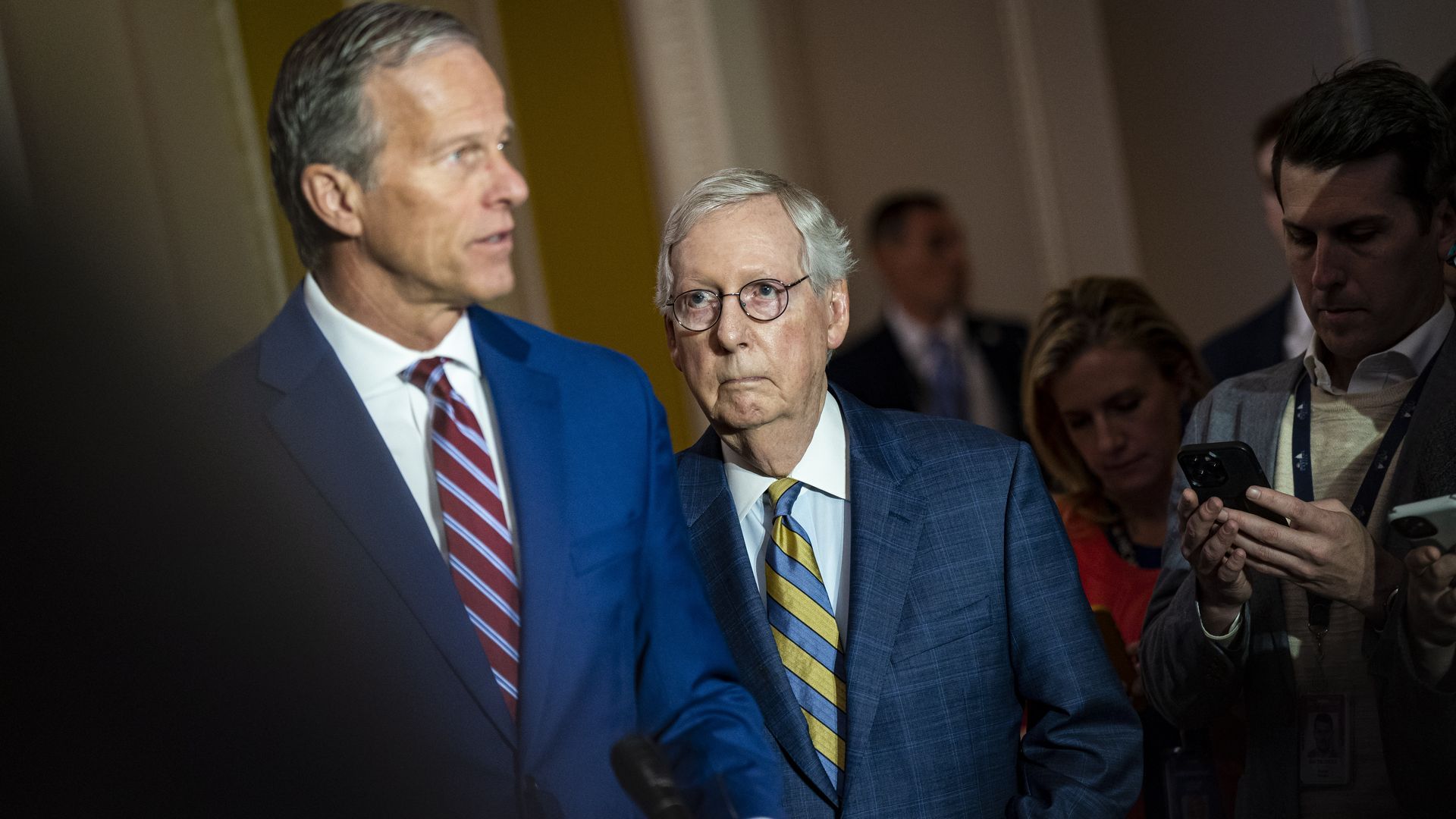 Some of Senate Minority Leader Mitch McConnell's (R-Ky.) Republican colleagues say his absence from the Senate could be a problem if he doesn't return in the coming weeks, Axios' Andrew Solender reports.
Why it matters: In a chamber with 48 Democrats, 49 Republicans and three Democratic-leaning independents, every vote counts.
"I wish we had one more vote on some of the CRAs coming up," said Sen. Roger Marshall (R-Kan.), referring to resolutions aimed at overturning Biden administration regulations that can pass the 100-member Senate with 51 votes.
McConnell, who is undergoing therapy after a fall at a fundraiser this month, isn't the only senator who's missed time recently: Dianne Feinstein (D-Calif.) has battled shingles, and John Fetterman (D-Pa.) is being treated for depression.
Zoom in: McConnell's lieutenants have been steering the ship this month, with his No. 2, Senate Minority Whip John Thune (R-S.D.), presiding over leadership lunches and press conferences.
3. ⚖️ Trump's muddy indictment timeline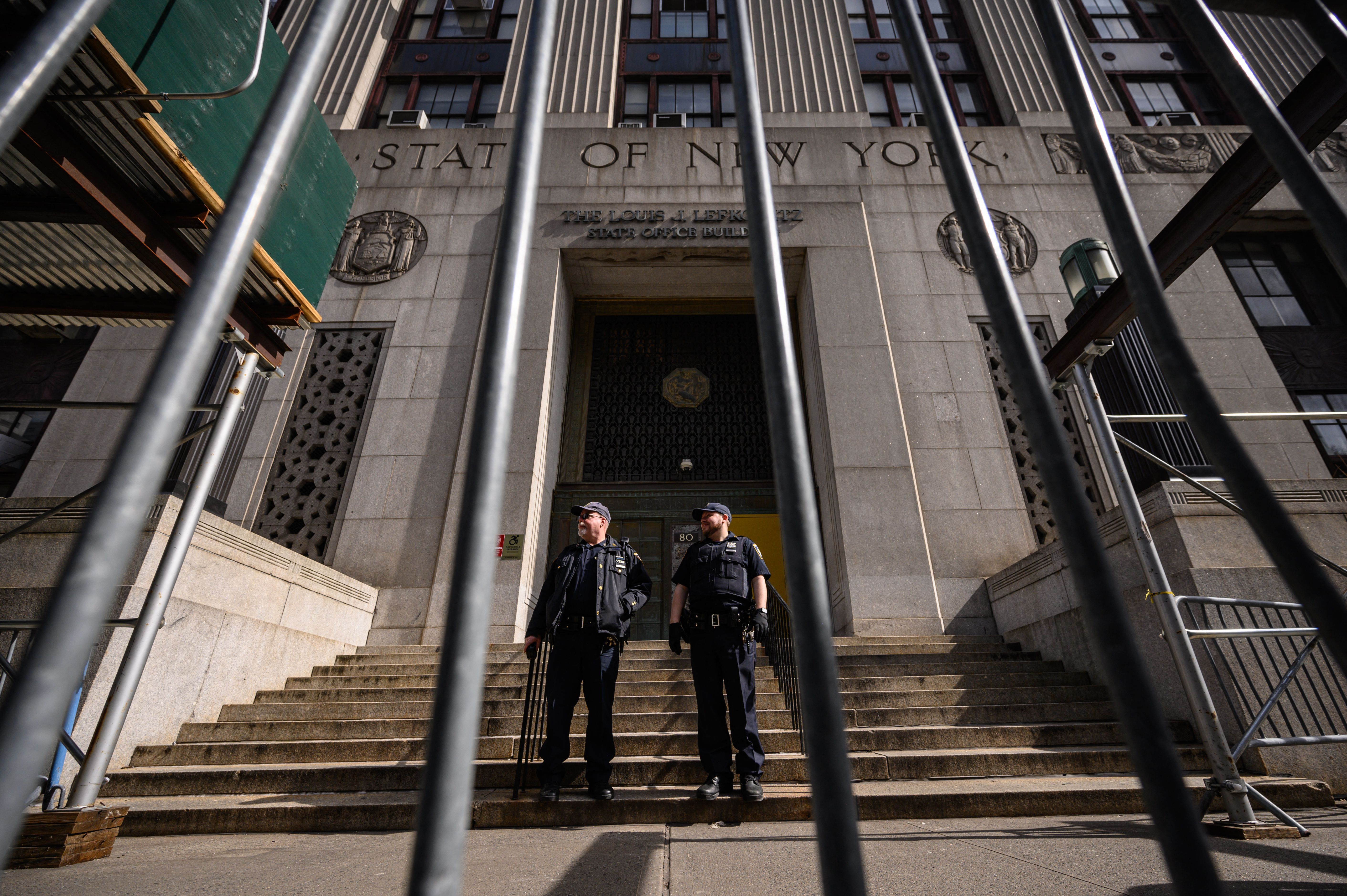 In a letter rebuffing House Republicans' request for testimony, Manhattan District Attorney Alvin Bragg's office accused former President Trump of creating a "false expectation" that he would be arrested on Tuesday.
Why it matters: The country has been waiting with bated breath ever since Trump posted last Saturday that he expected to be indicted, triggering the GOP's unprecedented demand for details on an ongoing investigation by a state prosecutor.
The suggestion of a specific date appears to have been baseless, but Trump has used the possibility of an imminent indictment to raise millions of dollars from his supporters.
The Manhattan grand jury weighing Trump's case is not expected to meet again until at least Monday, the Washington Post reports.
In the meantime, Trump has been going ballistic on Truth Social: He's posted about the investigation more than 30 times in the last 24 hours, calling Bragg an "animal" who is "doing the work of Anarchists and the Devil."
"OUR COUNTRY IS BEING DESTROYED, AS THEY TELL US TO BE PEACEFUL!" Trump wrote today, appearing to suggest that peaceful protests would be an inadequate response to his arrest.
4. 👀 Dems join Jan. 6 jail visit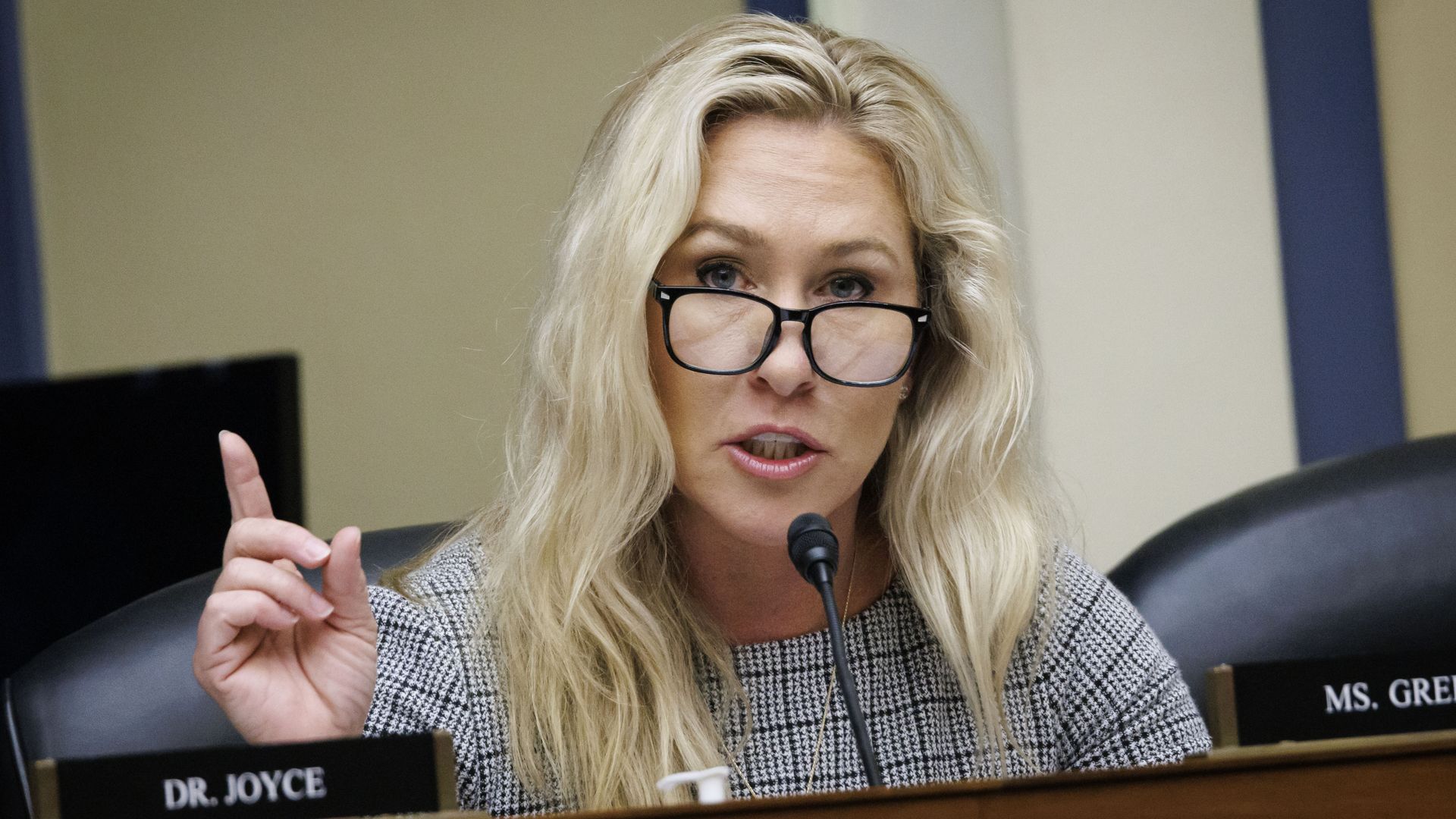 Two freshman House Democrats — Reps. Summer Lee (D-Pa.) and Jasmine Crockett (D-Texas) — will join Rep. Marjorie Taylor Greene's (R-Ga.) congressional delegation to the D.C. jail tomorrow to visit Jan. 6 riot defendants, Andrew reports.
A spokesperson for House Oversight Democrats said the two progressives "will cut through Republicans' attempts to whitewash the dangerous realities of Jan. 6."
The big picture: Speaker McCarthy met today with the mother of Ashli Babbitt, the Trump supporter shot and killed by Capitol Police while attempting to force her way into the speaker's lobby on Jan. 6.
And in another sign House Republicans are forging ahead with their controversial push to re-litigate the insurrection, Rep. Barry Loudermilk (R-Ga.) told Politico he's aiming to release the first "findings" from his investigation into the Jan. 6 committee next Tuesday.
5. 🍽️ Tweet du jour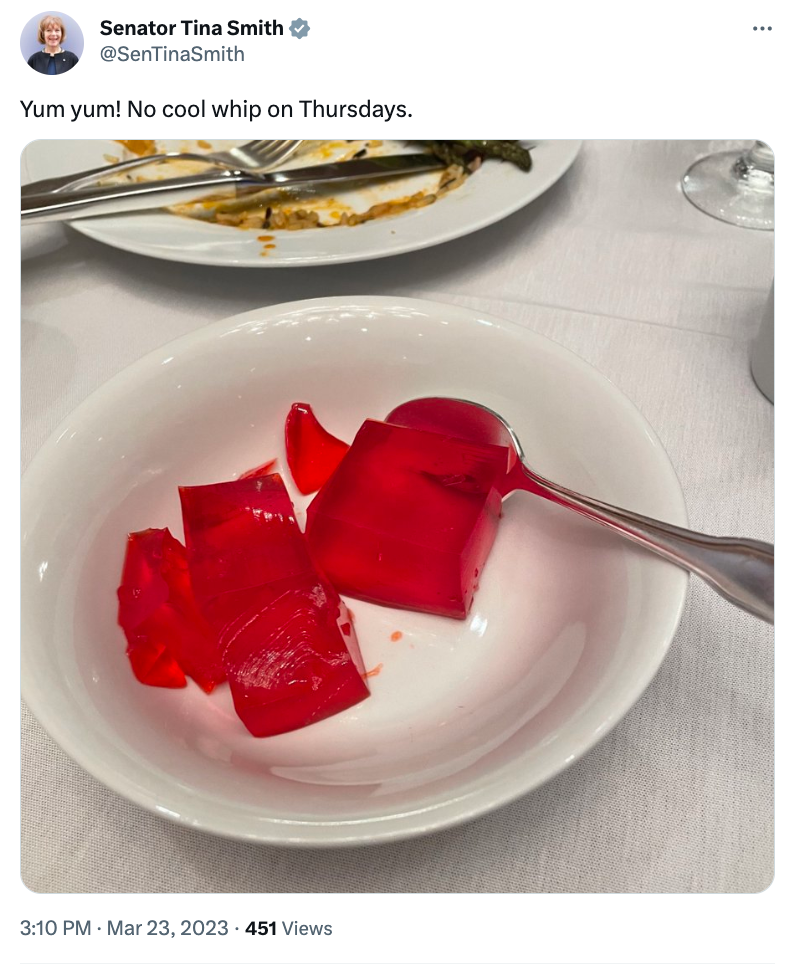 Sen. Tina Smith (D-Minn.) poked fun at a newsy Politico profile this morning that reports Sen. Kyrsten Sinema (I-Ariz.) has frequently trashed Senate Democrats since leaving the party in December.
"Old dudes are eating Jell-O, everyone is talking about how great they are," Sinema reportedly told Republican lobbyists about caucus lunches.
"The Northerners and the Westerners put cool whip on their Jell-O, and the Southerners put cottage cheese."
📬 Thanks for reading this week. This newsletter was copy edited by Kathie Bozanich.