Axios Sneak Peek
December 08, 2023
🕎 Welcome back to Sneak, and Happy Hanukkah to all our Jewish brothers and sisters.
Smart Brevity™ count: 1,041 words ... 4 minutes.
🚨 Situational awareness: Federal prosecutors have filed unspecified new charges against Hunter Biden, CNN reports.
1 big thing: House punishment factory works overtime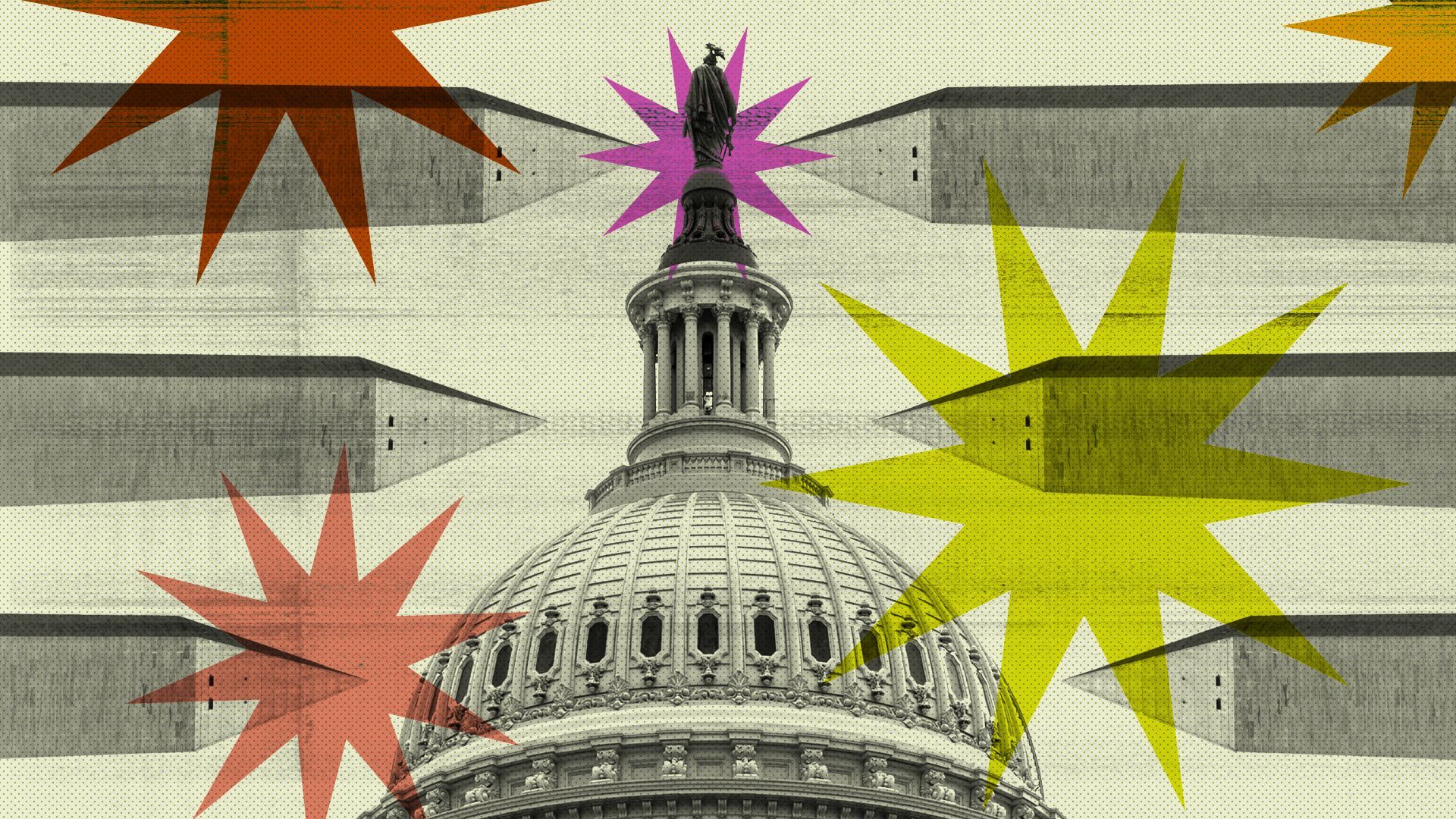 The holidays are approaching, but Congress isn't sending good tidings:
Why it matters: Personal animus has defined the first year of the House GOP's majority, with rank-and-file lawmakers forcing votes on censures, impeachment and a historic expulsion — often without the support of leadership.
Driving the news: Bowman, who pleaded guilty to pulling a fire alarm Capitol Hill fire alarm in September, is the third lawmaker to face the symbolic rebuke this year.
Rep. Rashida Tlaib (D-Mich.) was censured last month for her criticism of Israel and Rep. Adam Schiff (D-Calif.) was censured in June for his promotion of Trump-Russia allegations.
The House also voted to expel former GOP Rep. George Santos this month after a bombshell Ethics Committee report accused him of a "complex web" of criminal wrongdoing.
It was the first successful expulsion vote since 2002 and made Santos only the sixth House member in U.S. history to be expelled.
And who could forget the unprecedented ouster of former Speaker Kevin McCarthy (R-Calif.) from his post? He announced this week he will resign from Congress at the end of the month.
The big picture: The rise in punitive actions this congressional session doesn't exist in a vacuum — it's part of a years-long trend of Congress devolving into a vessel for open partisan warfare.
The 118th Congress in particular has been a powerhouse for these fights, with 2023 seeing easily the most censure, impeachment, expulsion and contempt resolutions of any year at least since 1989, according to data from Quorum.
The number of these measures has risen precipitously since several high-profile fights over impeachment and censure in June.
What we're hearing: Lawmakers in both parties who want to work across the aisle and pass legislation are growing impatient with the continued dominance of partisan fights on the House floor.
"We should be focused on getting stuff done," said one House Republican. "We are hopeful the deck has been cleared and we return to our regular broadcast."
"All they do is vacate the chair, expulsions, censures, reprimands, impeachment," said Rep. Jamie Raskin (D-Md.).
"There is no positive agenda for America. They don't even pretend that they have one anymore," Raskin continued. "It's a politics of spectacle that they got from Donald Trump. ... Every day we walk in here it's just another version of 'The Apprentice.'"
2. 👀 Fox News piles on Vivek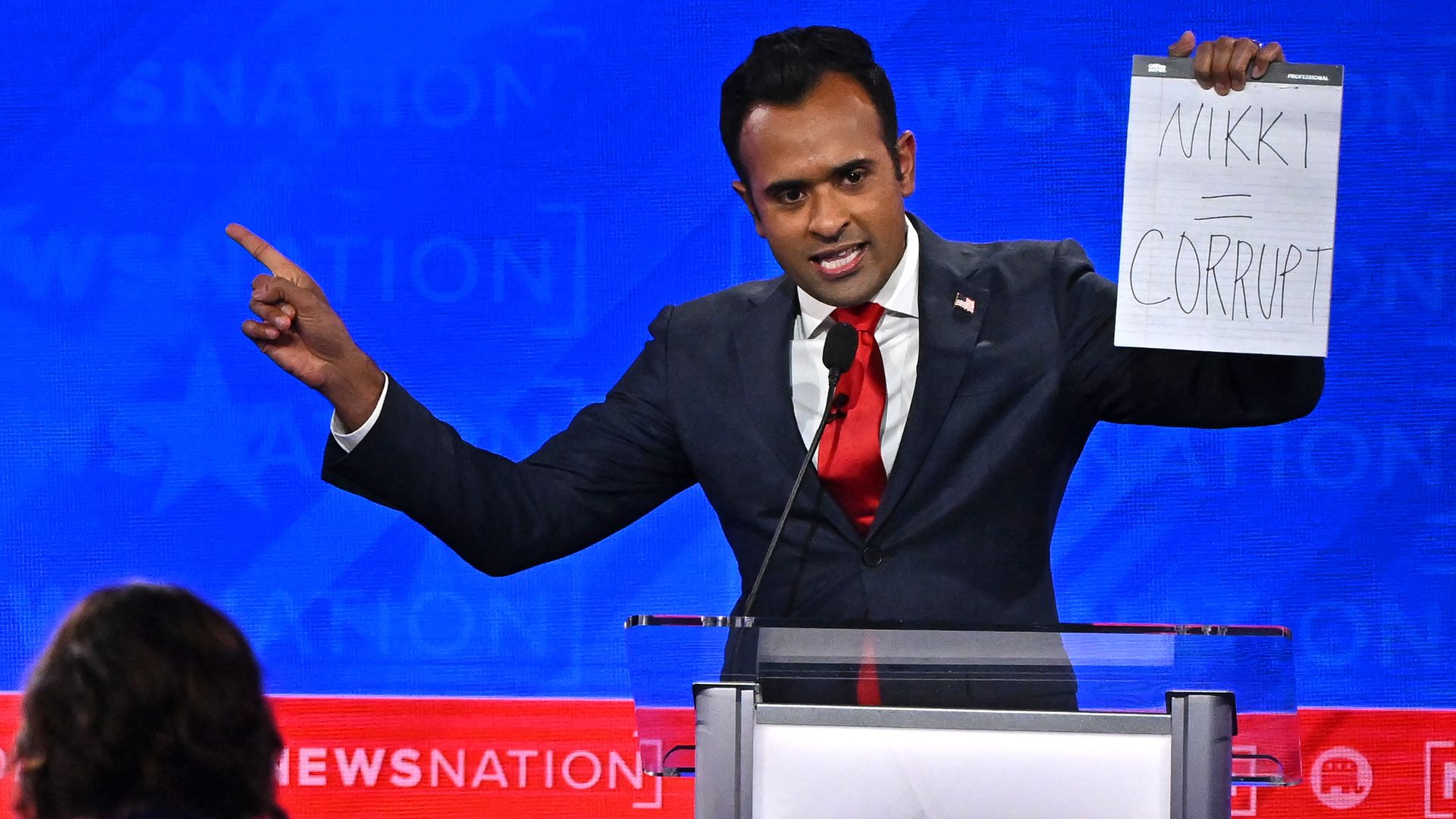 Vivek Ramaswamy's theatrical, conspiracy-laden performance at last night's Republican debate exhilarated fringe elements of the online right, but drew outright disgust from conservative commentators on Fox News.
Why it matters: Ramaswamy's increasingly radical debate stunts have coincided with a slide in his favorability ratings. Polling criteria unveiled today for the next two debates — at least 10% in Iowa and New Hampshire — could threaten the viability of his candidacy over the next month.
Driving the news: In a heated interview with Ramaswamy on "Fox & Friends" this morning, co-host Brian Kilmeade slammed the candidate's position on giving Ukrainian territory to Russia as "so naive."
The other side: Pro-Trump surrogates celebrated Ramaswamy's labeling of fellow GOP candidate Nikki Haley as a "fascist neocon." Notorious white nationalist Nick Fuentes encouraged Ramaswamy to run again in 2028 after the candidate endorsed the racist "great replacement theory" and suggested Jan. 6 was an "inside job."
3. ⛰️ Dems eye Montana abortion vote to boost Tester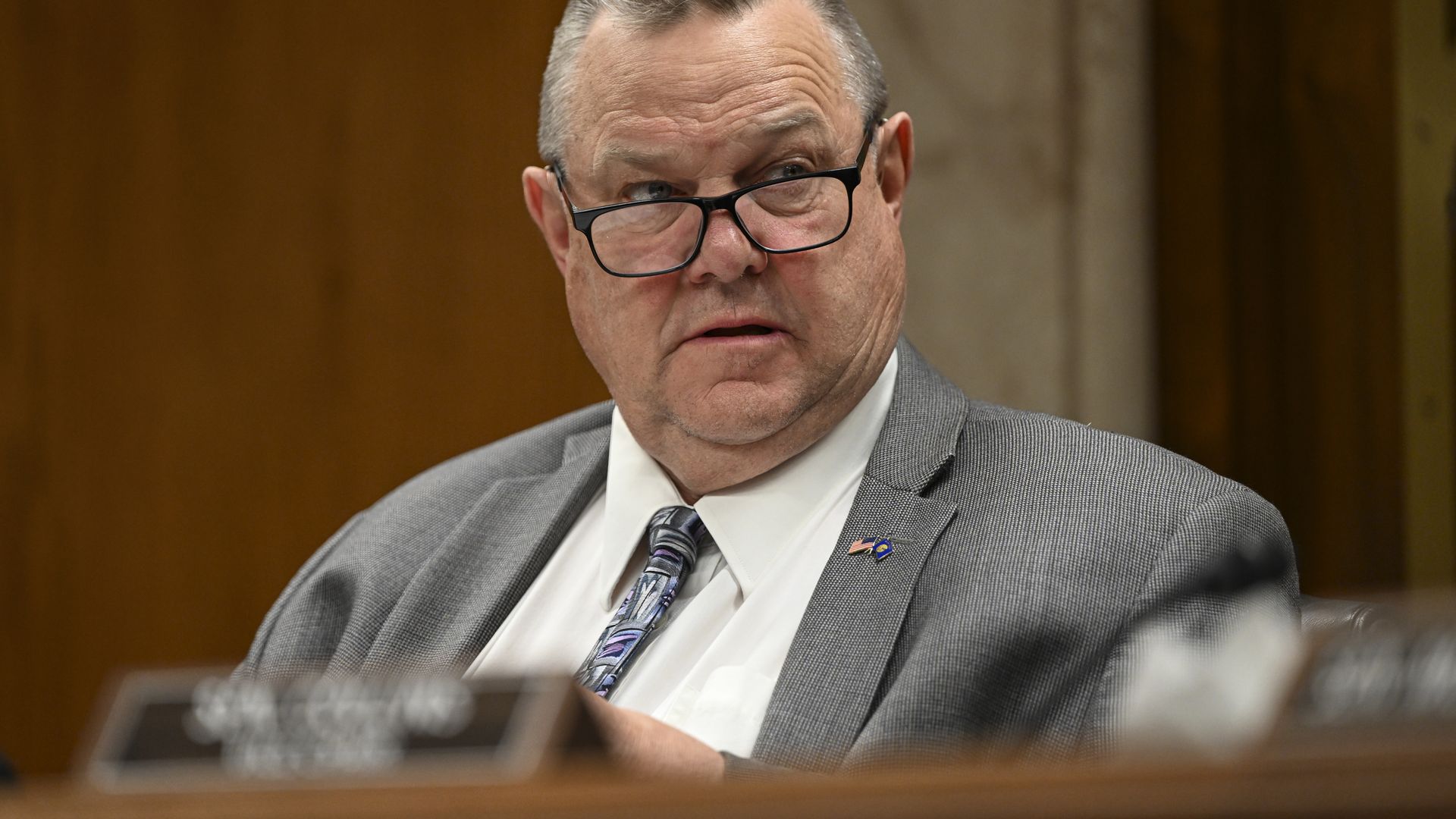 In late November, Democrat-aligned groups filed paperwork in Montana to begin the lengthy process of getting a constitutional amendment protecting abortion rights on the state's ballot, Axios' Alex Thompson and Stef Kight report.
Why it matters: The effort in Montana would boost vulnerable Democratic Sen. Jon Tester's re-election bid, and is part of a national strategy by Democrats to put abortion issues on the ballot in as many critical states as possible.
The proposed amendment — which is not final — would prohibit "the government from denying or burdening the right to abortion before fetal viability."
Tester, a longtime advocate of abortion rights, has been pushing the effort behind the scenes, a person familiar with the effort to Axios.
The intrigue: Illinois Gov. J.B. Pritzker, a potential future presidential candidate who has been funding efforts to protect abortion rights across the country, is likely to make a financial and strategic investment in the Montana effort, according to a spokesperson.
Pritzker, a billionaire, and his pro-abortion rights group Think Big America donated $1 million to support the recent abortion-rights referendum in Ohio and $1 million to a campaign in Nevada to put a similar measure on the ballot there next year.
Nevada is a presidential swing state with a key Senate race as well.
4. 🕯️ Parting shot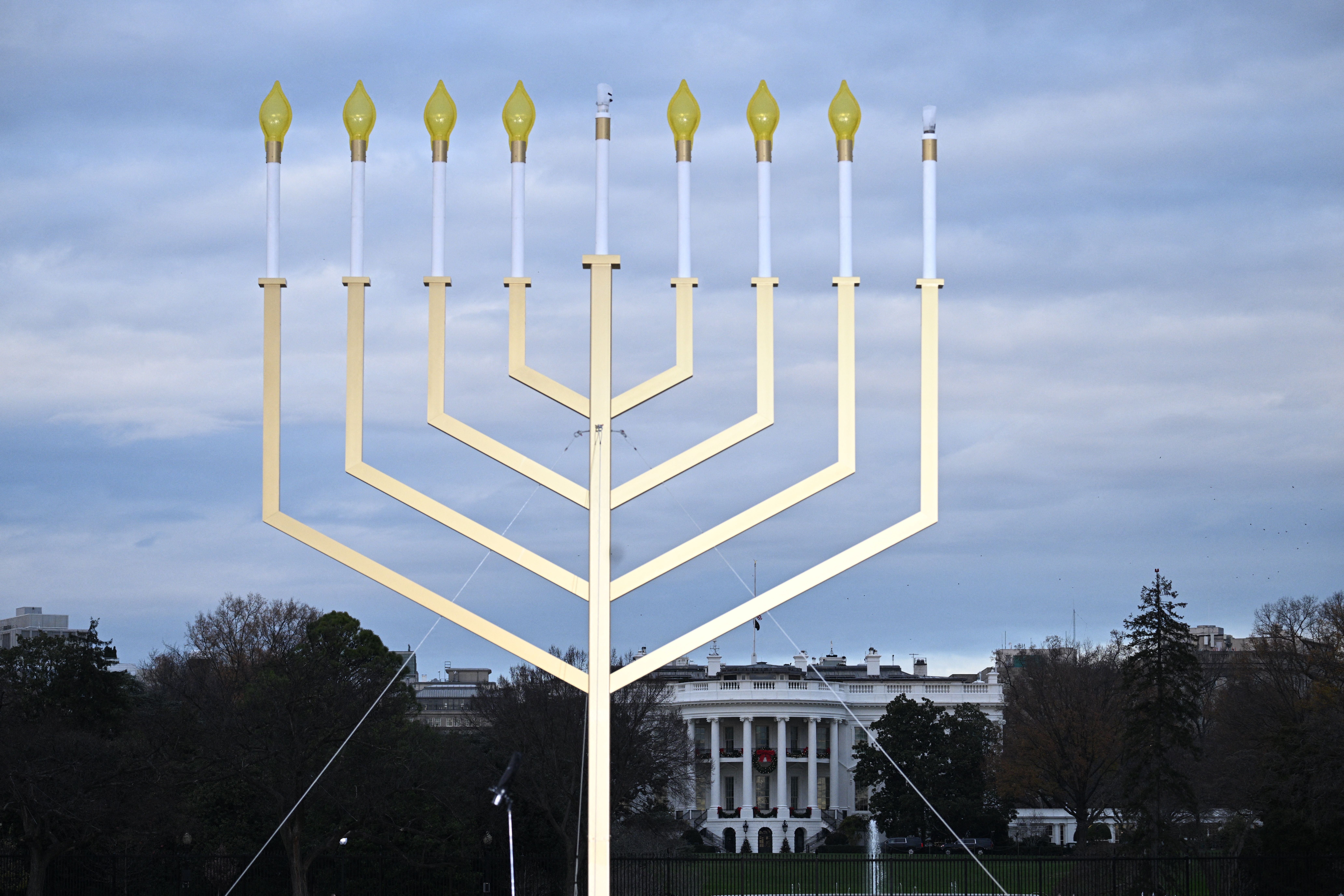 Second gentleman Doug Emhoff forcefully condemned the rise of antisemitism at the lighting of the National Menorah this evening — singling out the presidents of Harvard, MIT and Penn for their recent comments at a congressional hearing.
"Normally this is a time of celebration and joy. I want us to celebrate Hanukkah," Emhoff, the first Jewish spouse of a president or vice president, told the crowd gathered on the Ellipse.
"And I know right now that might seem a little far-fetched to some of you. I know you're in pain. I'm in pain."
📬 Thanks for reading this week. This newsletter was edited by Kathie Bozanich.