November 30, 2022
Welcome back to Sneak. Smart Brevity™ count: 1,048 words ... 4 minutes.
⚡ Situational awareness: The Senate voted 61-36 on a bill to codify same-sex marriage rights, with 12 Republicans joining Democrats to send it to the House.
🚨 Breaking: Former Trump adviser Stephen Miller testified today to the federal grand jury investigating Jan. 6, CNN scooped, making him the first known witness to testify since special counsel Jack Smith's appointment.
1 big thing — Scoop: Biden eyes border overhaul
Top U.S. officials are considering drastic measures — including barring some asylum seekers and surging prosecutions of illegal border crossings — in preparation for an end to the pandemic-era Title 42 border policy, Axios' Stef Kight has learned.
Why it matters: Some of the ideas under serious consideration echo controversial policies from the Trump administration. Others could expand legal avenues for migrants and asylum seekers in the region to enter the U.S.
That some of these approaches are being considered at the highest levels of government reflects the Biden administration's desperation to get a handle on unprecedented efforts to cross the U.S.-Mexico border.
Top officials from the White House National Security Council, Department of Homeland Security, State Department and Justice Department have been involved in the discussions.
Driving the news: A federal judge is forcing border officials to stop using Title 42 on Dec. 21.
The Trump-era policy — continued under the Biden administration — cites public health concerns to allow Border Patrol to immediately expel migrants at the border without the chance for asylum.
U.S. officials anticipate the loss of the tool and the narrative that there are "open borders" will lead to a jump in the already high number of border crossings. Preparations for this scenario have been underway.
Details: Officials are moving toward a multi-pronged approach involving both carrot-and-stick domestic measures and continued diplomatic requests for countries to do more on asylum and border controls.
Two measures being considered appear similar to controversial Trump policies:
One asylum proposal would bar single adults who illegally cross the border and have not first applied for legal pathways offered by the U.S. or protection in other countries they traveled through.
Another proposal calls for a surge in criminal prosecutions for single adults who have done nothing other than illegally cross the border. A similar move initiated the infamous family separation crisis in 2018. One source, however, said this would be a tough sell for the Justice Department.
2. 👀 Dems in ... array
House Democrats will meet tomorrow to coronate a new leadership triumvirate — capping years of meticulous planning that united a fractious party and defied stereotypes about Democratic infighting, Axios' Andrew Solender writes.
Why it matters: Outgoing House Speaker Nancy Pelosi (D-Calif.), Majority Leader Steny Hoyer (D-Md.) and Majority Whip Jim Clyburn (D-S.C.) reigned over the caucus for a generation.
The new troika of Reps. Hakeem Jeffries (D-N.Y.), Katherine Clark (D-Mass.) and Pete Aguilar (D-Calif.) — average age 51 — is poised to shape the party for years to come.
Democrats' uncharacteristically harmonious process stands in stark contrast to the infighting that has engulfed House Minority Leader Kevin McCarthy's (R-Calif.) bid for speaker.
What they're saying: More than a half-dozen House Democrats, in interviews with Axios, described a trio that has spent years building trust and support across diverse factions while planning their ascensions to the top.
"Any time I'm watching my calories, I get a cheesecake from Hakeem ... he's always checking in," said Rep. Ro Khanna (D-Calif.). "And Katherine Clark will text and check in, as will Pete Aguilar."
Rep. Jared Huffman (D-Calif.), who entered Congress in 2012 along with Jeffries and Clark, said of Jeffries' leadership style: "He does at least as much listening as he does talking, and I can't say that about every other leader."
Another House Democrat from the class of 2012 said Jeffries and Clark have been preparing for years to ascend in the leadership ranks, with Aguilar joining in later.
"They have been laying the groundwork for this for a long, long time," they told Axios. "I think people have known for quite a while that Hakeem and Katherine were going to be the ones to move up."
Between the lines: Members across the caucus' ideological spectrum see the changing of the guard as a rare moment in which power will be delegated more to the rank-and-file.
"I think [Jeffries] ... really appreciates that we have a diverse caucus with lots of perspectives," said Rep. Josh Gottheimer (D-N.J.), a powerful centrist who co-chairs the bipartisan Problem Solvers Caucus.
Khanna, a prominent progressive, said: "I think it'll be a decentralization of influence in the House and you're going to have many voices speaking out for the House Democrats."
3. 🐘 GOP leaders break silence
Nearly a week after news broke of former President Trump's dinner with antisemitic rapper Ye and white nationalist Nick Fuentes, House GOP Leader Kevin McCarthy (R-Calif.) was finally forced to respond today to reporters' questions:
"I don't think anybody should be spending any time with Nick Fuentes. He has no place in this Republican Party," McCarthy said at a press conference after meeting with President Biden at the White House.
McCarthy went on to falsely claim Trump had condemned Fuentes "four times," while insisting the former president didn't know who he was.
Senate GOP Leader Mitch McConnell (R-Ky.), meanwhile, opened his leadership press conference with a clear denunciation:
"There is no room in the Republican Party for antisemitism or white supremacy, and anyone meeting with people advocating that point of view, in my judgment, are highly unlikely to ever be elected president of the United States."
The intrigue: McConnell declined to answer whether he would support Trump if he was the 2024 GOP nominee — a notable shift from his position in an Axios interview earlier this year.
4. ⚽ Tweet du jour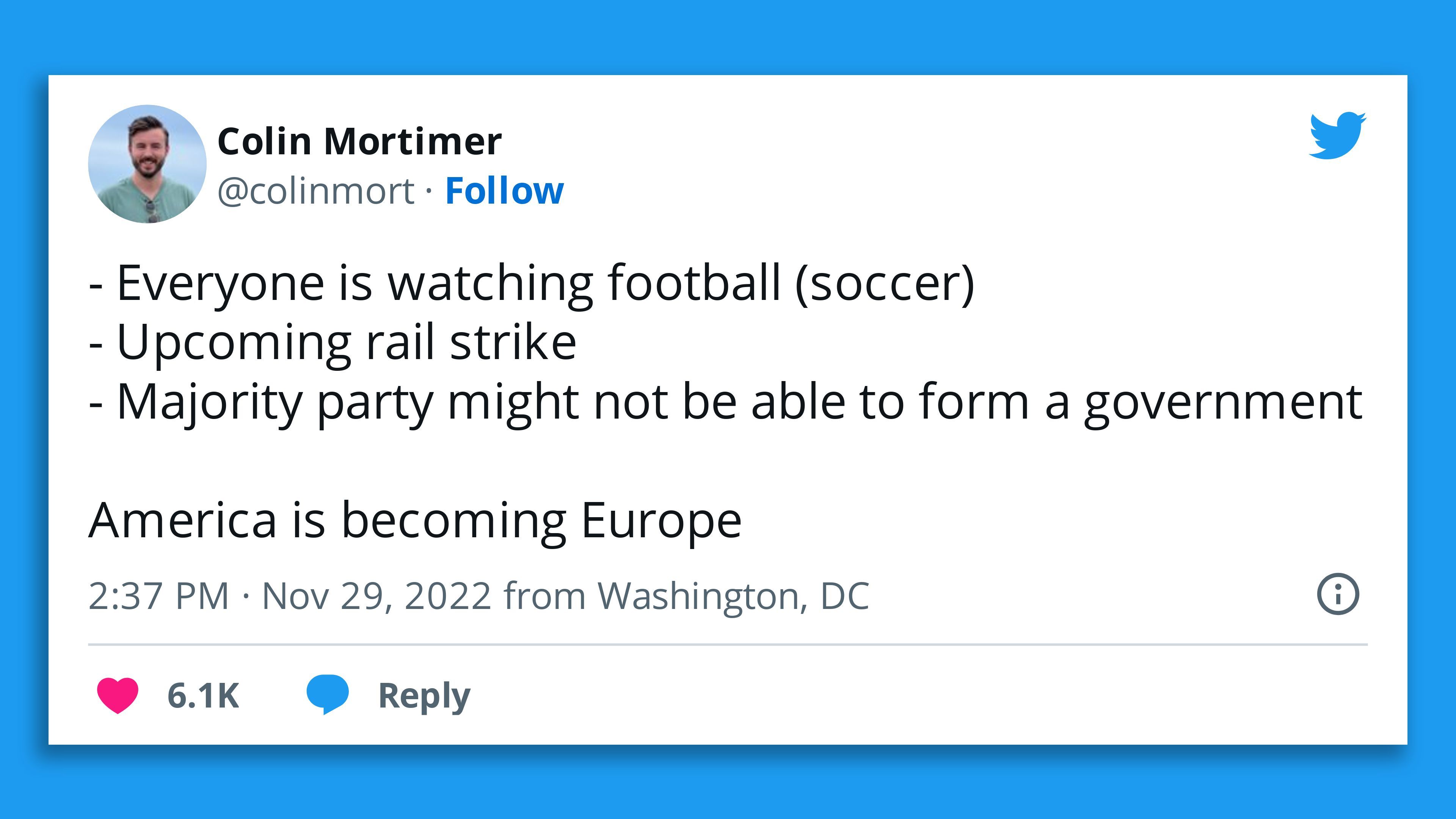 President Biden jumped back onstage after his speech in Michigan today to announce the U.S. men's soccer team had defeated Iran, 1-0, to advance to the knockout stage of the World Cup: "That's a big game, man!"
5. 📸 Worth 1,000 words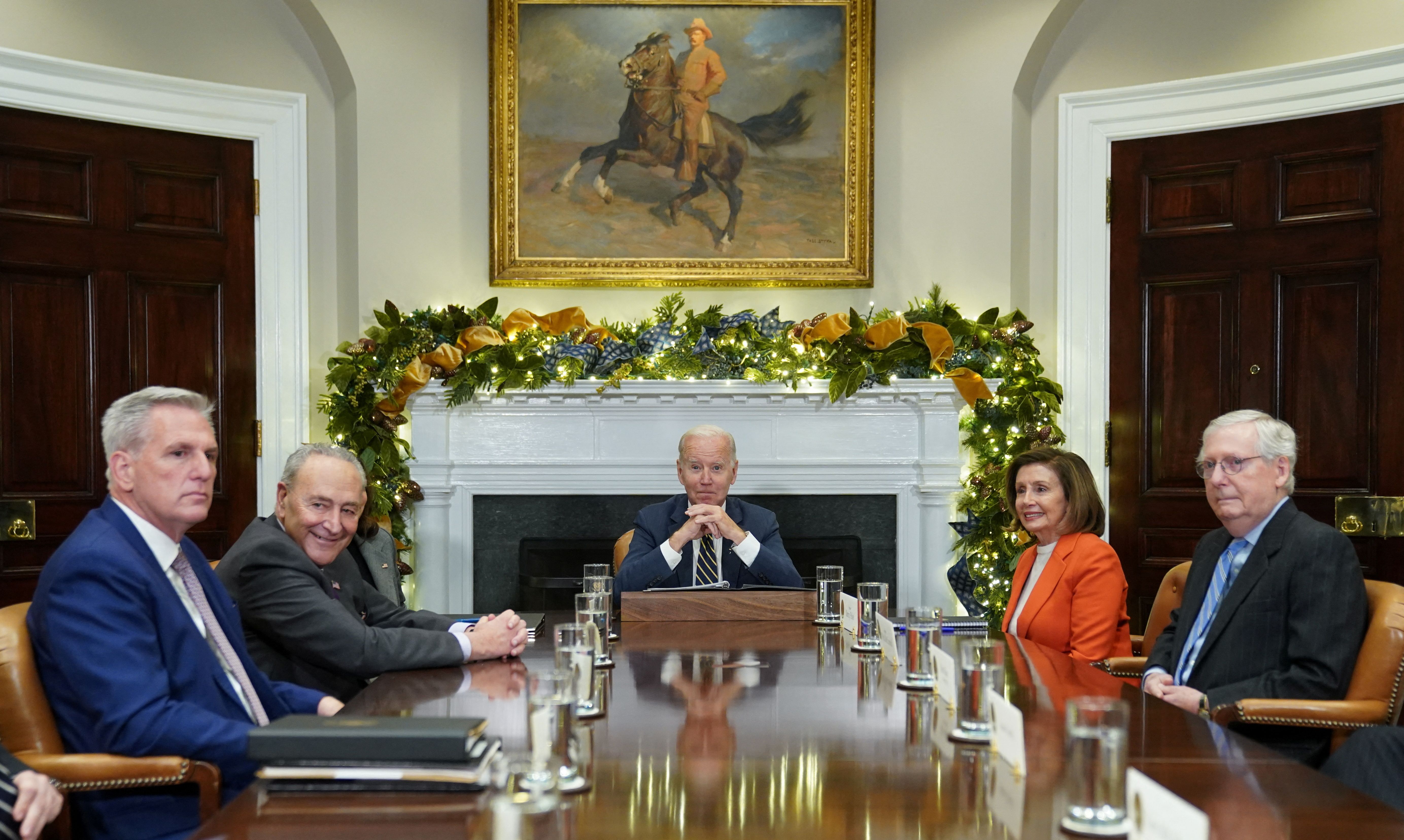 President Biden met with the top four leaders in Congress today to discuss funding the government and averting a national rail strike ahead of December deadlines.
Caption contest ... Hit reply to this email to send us your wittiest lines.
📬 Thanks for reading. This newsletter was edited by Zachary Basu and copy edited by Kathie Bozanich.