Welcome to the launch edition of Sneak Peek, our weekly lookahead for both ends of Pennsylvania Avenue, plus all you need from the Sunday shows. I'd love your tips and feedback: jonathan@axios.com.
And please urge your friends and colleagues to join the conversation by signing up for Sneak Peek and the other Axios newsletters. See you all week in the Axios STREAM, and next Sunday evening in Sneak Peek.
https://www.axios.com/newsletters/axios-sneak-peek-f7793e6b-d1f1-47d4-b215-9a9703720283.html?chunk=0#story0
1 big thing: Money for nothing
Conservative House Republicans, after spending eight years threatening to shut down the government over deficits, are flirting with an idea sure to increase the national debt.
We hear a growing number of the most conservative lawmakers are seduced by the idea of cutting taxes for corporations and individuals — but without paying for it with a tax hike, like Speaker Ryan's trillion-dollar border adjustment plan.
Who lit the fire: Stephen Moore, the Heritage economist and top economic advisor on Trump's campaign, pushed the idea recently to conservative Republicans behind closed doors in New York. Moore argued they should take the short-term hit on higher deficits — and bet economic growth will erase them, with time.
Who's for it: Some conservatives — including a notable number of the hardline Freedom Caucus, and some (but not most) of a larger conservative caucus, the Republican Study Committee — are embracing the idea as the only sure way to nail a massive tax overhaul while they have the chance. Influential conservative groups like Heritage and the Club for Growth will back them. Club President David Macintosh describes revenue neutrality as a "red herring" argument made by Republicans who refuse to shrink government.
Who's against it: We're told that Speaker Ryan and House Majority Leader Kevin McCarthy are sticking with their insistence that rate cuts have to be offset with the border-adjustment tax, which would hurt retailers by making imports more expensive.
Where's Trump? The president loved to leverage debt as a businessman, and has no plans to cut entitlement spending. He remains skeptical about the border-adjustment tax, so we could easily see him backing Moore on this one. Expect a collision with his budget director, Mick Mulvaney.
https://www.axios.com/newsletters/axios-sneak-peek-f7793e6b-d1f1-47d4-b215-9a9703720283.html?chunk=1#story1
2. Faking it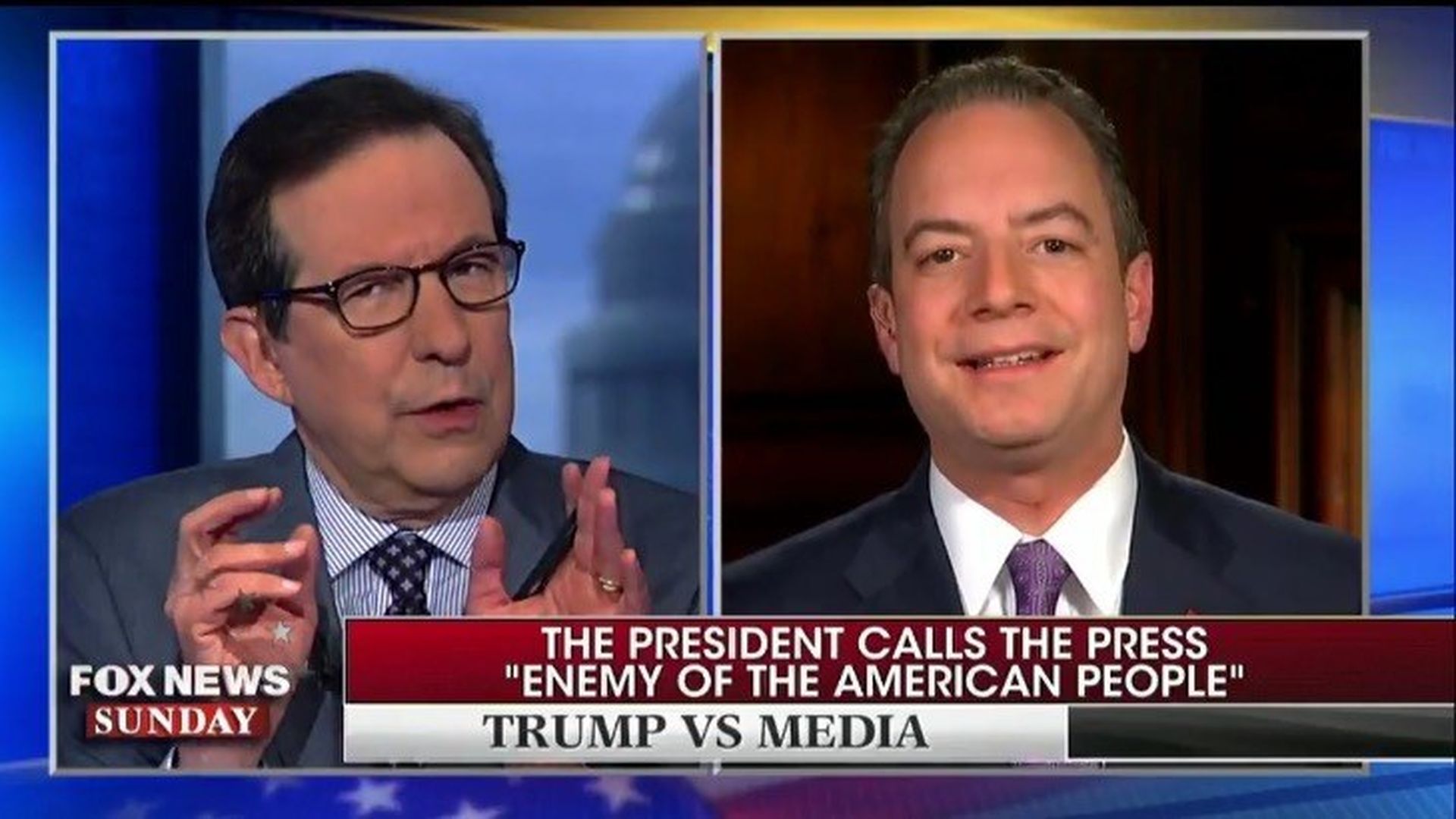 Reince Priebus hit three Sunday shows with a very specific strategy designed to echo into the coming week: distance the White House from allegations of a Russian scandal, and hit specific stories as "fake news" to drive home the point.
On "Fox News Sunday," Priebus was more emphatic than even the president in saying there had been no collusion during the campaign between anybody involved with Trump and anybody involved with Russia. Priebus told Chris Wallace that he had been authorized by higher-ups to say this publicly, suggesting the all-clear came from top intelligence officials.
Why this matters: The White House has set a very high bar of nothing-to-see-here on the Russian front. Priebus will surely see his comments used against him in the court of public opinion if concrete evidence surfaces.
We will know more soon: Dozens of investigative reporters, the Democratic Party and several key Republicans (John McCain and Marco Rubio, among them) are on the case, and congressional hearings of some sort seem certain.
McCain's war
John McCain is Trump's most consistently tough Republican critic in the Senate. He told NBC's Chuck Todd on "Meet the Press" that without a free and adversarial press, "we would lose so much of our individual liberties over time. That's how dictators get started."
Rand Paul, of all people, came to Trump's defense on ABC's "This Week," telling Jon Karl: "It should be taken with a grain of salt because John McCain is the guy that has advocated for war everywhere."
This might be the clearest illustration yet of what Paul thinks about foreign interventionists. Given a choice between the hawkish McCain and the man he once called "a delusional narcissist and an orange-faced windbag," he's opting for the latter.
https://www.axios.com/newsletters/axios-sneak-peek-f7793e6b-d1f1-47d4-b215-9a9703720283.html?chunk=2#story2
3. The do-over
Trump insists the first executive order rollout went marvelously. Most others — with some notable exceptions like senior policy adviser Stephen Miller — think it was a flop.
Either way, it's clear White House officials are trying to get it right this week, rolling out a new executive order with more prep and agency-level input.
They're doing three things they should have done the first time around:
Seeking broader legal input on how to craft the order so it can't be easily stopped by the courts.
Letting the public know it's coming. Trump broke the news a week ago, and it's been discussed at length ever since.
Working more openly with Congress so members aren't blinded-sided.
But, but, but ... We hear paranoid White House officials continue to keep the specifics secret, fearful of last-minute pushback.
https://www.axios.com/newsletters/axios-sneak-peek-f7793e6b-d1f1-47d4-b215-9a9703720283.html?chunk=3#story3
4. Inside the resistance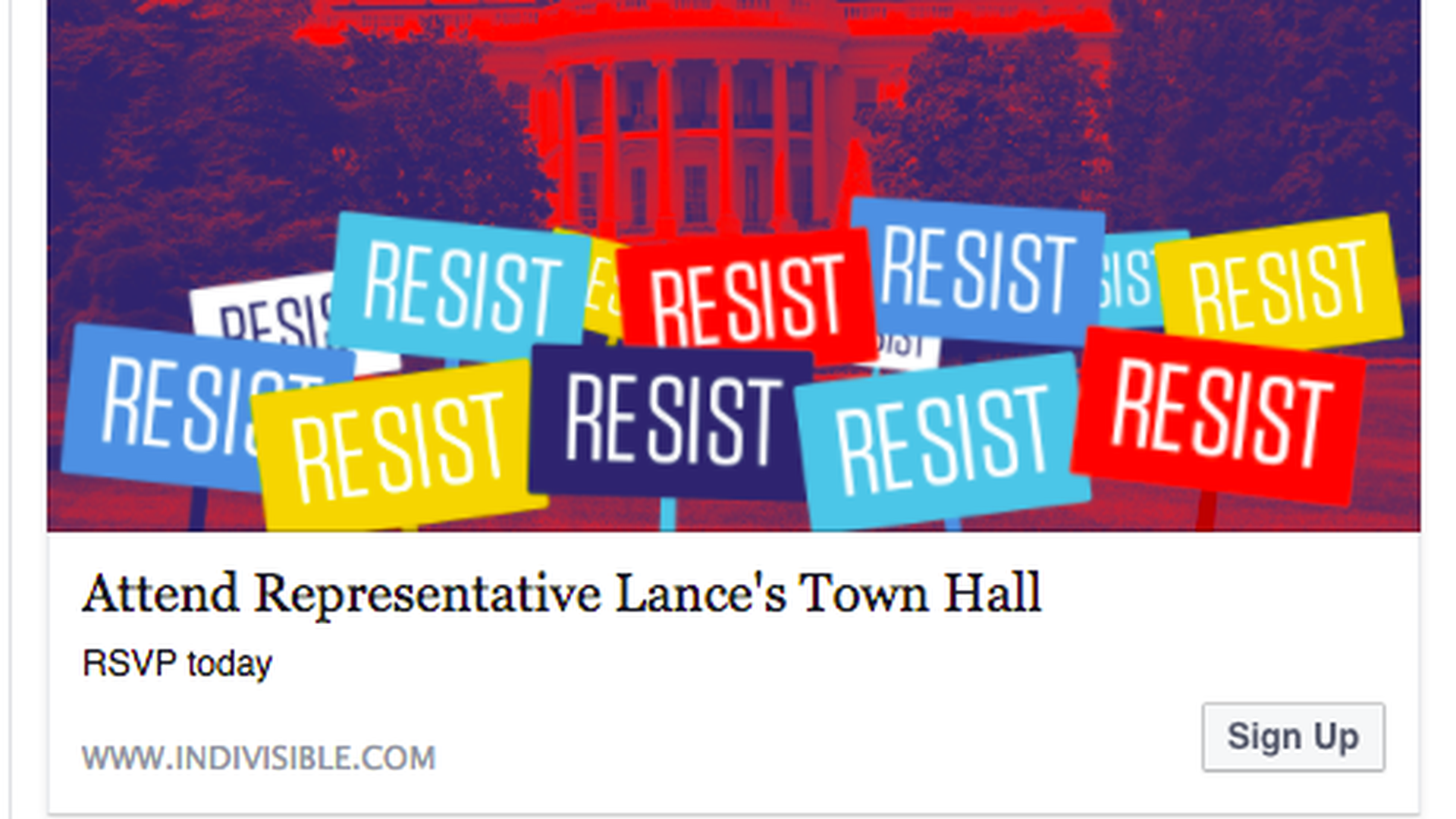 Republican members are in for one hell of a recess week. Progressive groups are circulating information about town hall meetings on a MoveOn.org-powered website, "Resistance Recess."
More than a dozen major groups in the institutional left are involved, with groups like Planned Parenthood and unions like SEIU organizing protests. The former Hillary Clinton super PAC Priorities USA is running localized digital ads — its first paid ads since the election — to spotlight Republican town halls. Democratic leaders like Bernie Sanders and Chuck Schumer will lead events.
What's in store:
"Resistance Events" will target everyone from Arkansas Sen. Tom Cotton (Wednesday evening) to Indiana Rep. Jackie Walorski (Tuesday morning) to Utah Rep. Jason Chaffetz (Saturday morning). Protesters can find them by locale or ZIP code on resistancerecess.com.
Nobody is safe. Not even the members ducking town halls. Our Revolution, the group that spun off from Bernie Sanders' presidential campaign, will launch a map tomorrow showing every congressional district in the country that they intend to swarm next Saturday.
Shannon Jackson, Our Revolution's executive director, says they've already got close to 200 events planned around the country and will be rallying outside nearly every Republican congressional office.
Resisting the resistance: House Republicans have been intensely prepping for these confrontations. At least 175 members attended Obamacare "listening sessions" — which were really detailed policy briefing sessions — convened by House Majority Whip Steve Scalise.
https://www.axios.com/newsletters/axios-sneak-peek-f7793e6b-d1f1-47d4-b215-9a9703720283.html?chunk=4#story4
1 fun thing: Shots fired!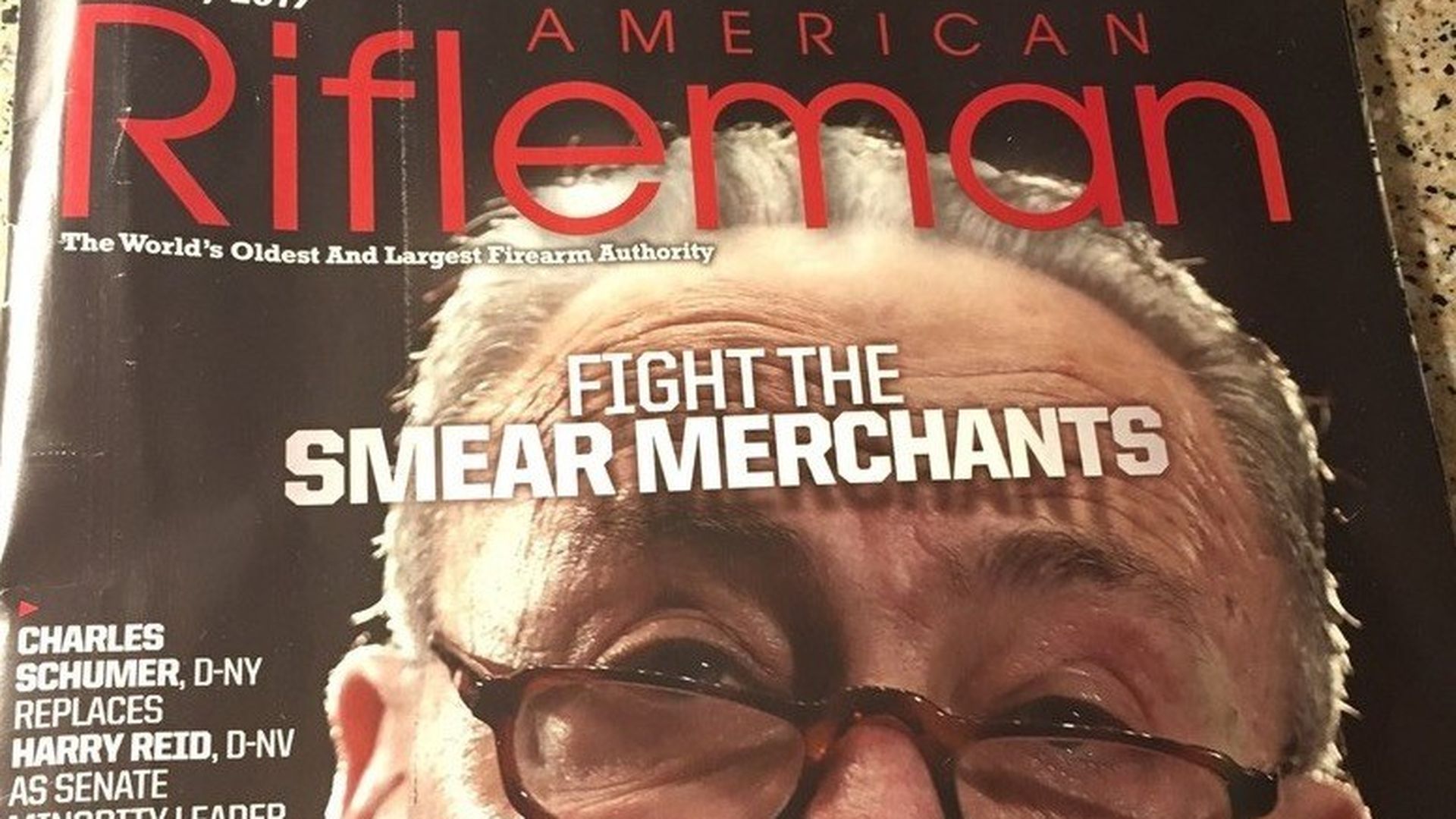 Sen. Chuck Schumer is a cover boy ... on this month's issue of American Rifleman, the NRA's member magazine. The group says the Senate Democratic leader is among the "Smear Merchants."
Not the most flattering photo, either. But that's what you get when you take over from Harry Reid.