Axios Sneak Peek
January 29, 2023
Josh Kraushaar here. Thanks for joining Sunday Sneak Peek, our weekly look ahead at the forces shaping American politics.
Smart Brevity™ count: 1,318 words ... 5 minutes.
1 big thing: Trump's sleepy start to 2024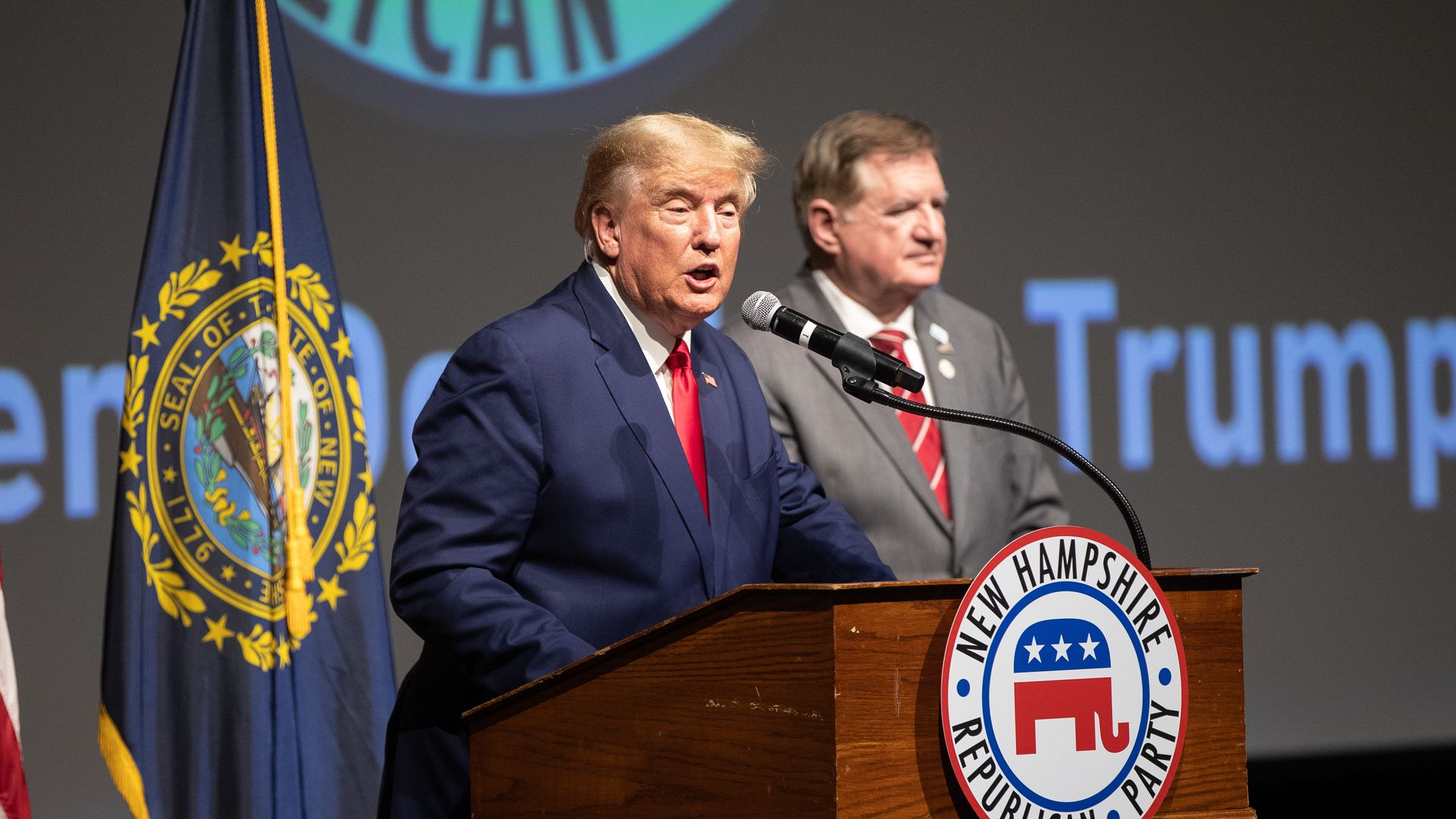 SALEM, New Hampshire — Former President Trump's first campaign swing of the 2024 campaign generated little of the excitement that has long defined his glitzy political rallies.
Why it matters: From party officials to state legislators, there wasn't a visible show of support for Trump's 2024 bid among rank-and-file New Hampshire Republicans in attendance.
In contrast to the large rallies that propelled him in 2016 and 2020, the New Hampshire event — timed to the state party annual meeting — was held in a compact high school auditorium, with about 400 people in attendance.
The most organized show of Trump support was about a dozen fans standing outside the parking lot, who weren't credentialed for the event.
Driving the news: In a long-winded, hourlong address, Trump recalled what he says are his greatest successes as president — from cracking down on illegal immigration to stunting the spread of ISIS and launching the Space Force.
About one-third of the crowd loudly applauded as outgoing state party chairman Stephen Stepanek introduced Trump by endorsing his campaign. (He will be serving as Trump's top New Hampshire adviser.) But the speech overall drew a lukewarm reaction from the attendees.
Trump's biggest applause came 45 minutes into his speech, when he introduced a new proposal to crack down on critical race theory in public school classrooms. He also drew an enthusiastic response when he proposed a constitutional amendment for congressional term limits.
Noting that pundits have panned the former president's low-key schedule since announcing his 2024 presidential campaign, Trump responded: "I have two years. I'm more angry now and I'm more committed than ever."
What they're saying: "Trump has not been mortally wounded but was damaged by the results in the midterm election," said former Republican state party chairman Wayne MacDonald, a state lawmaker. "Trump lost the 2020 election, and the number of people who still hold onto the belief that he didn't are a dwindling minority."
Between the lines: Signs of enthusiasm for Florida Gov. Ron DeSantis were notable throughout the event. The pro-DeSantis efforts were led by the super PAC Ron To the Rescue, which set up shop inside the GOP meeting. A second DeSantis supporter was selling T-shirts at a stand.
A life-sized cutout of DeSantis stood just outside the auditorium. Only a smattering of visible signs of Trump enthusiasm — red MAGA hats from his most devoted supporters — were present in the high school's hallways.
Reality check: Trump's base of support has always been with ordinary Republican voters who don't participate in grassroots political events. Last year, Republican primary voters rejected candidates backed by popular GOP Gov. Chris Sununu in favor of MAGA-oriented candidates.
The bottom line: Polls indicate Trump's support is soft in New Hampshire. The widespread sentiment among Republicans there is that Trump served the country well, but he's unelectable in 2024.
2. 🔥 California's battle lines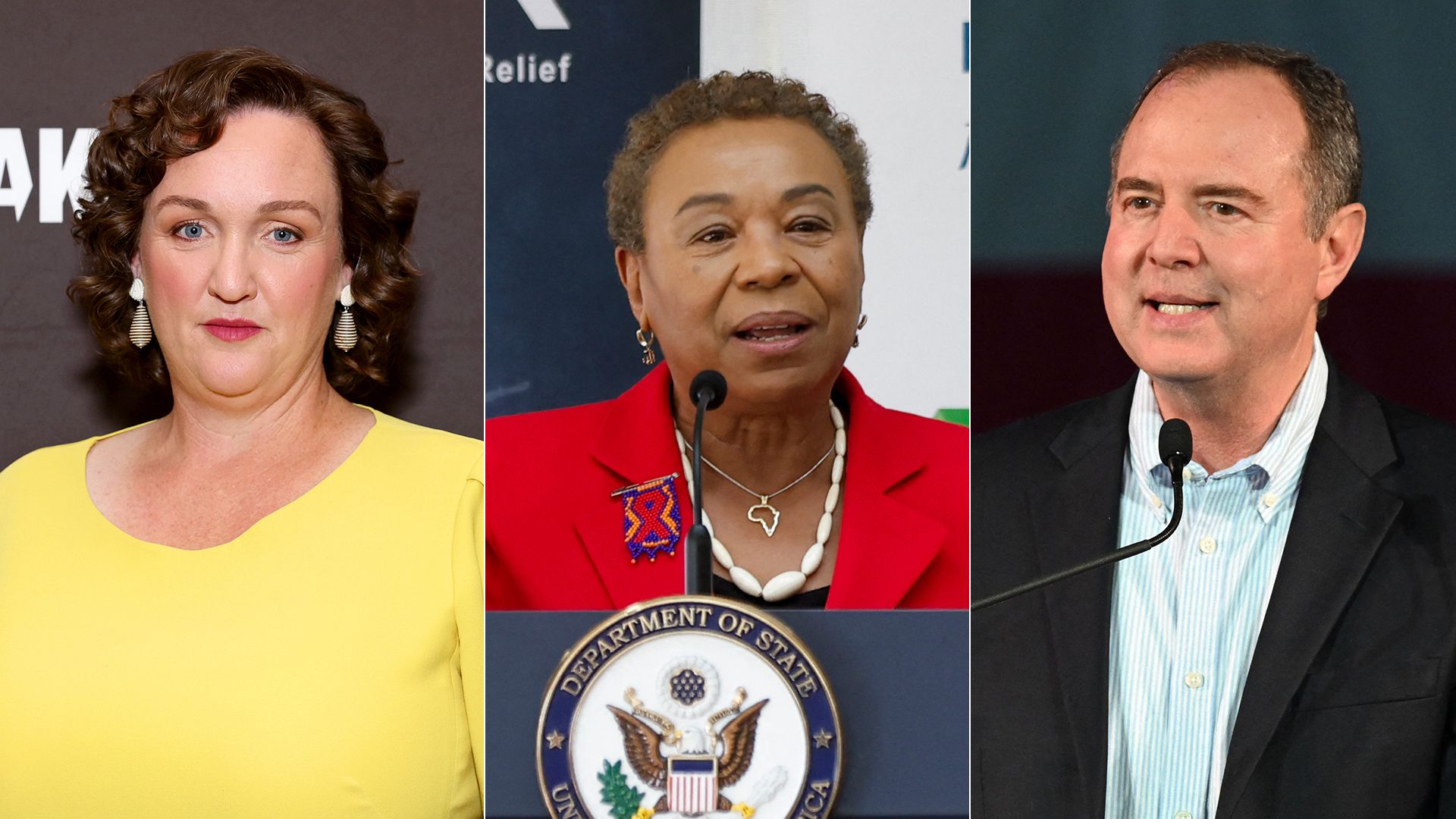 Rep. Adam Schiff's (D-Calif.) prospects in the hotly contested California Senate race are directly related to how relevant Trump remains in 2024, a California-based Democratic strategist tells Axios.
Why it matters: Schiff benefits if Trump is the GOP's presidential front-runner, given how much of his political identity is rooted in his anti-Trump credentials.
Schiff's launch video leans heavily into his fights with Trump, including impeachment. "When a dangerous demagogue tried to undermine our democracy, I wasn't about to let him," Schiff says in the spot.
Rep. Katie Porter (D-Calif.) has also declared her candidacy, and Rep. Barbara Lee (D-Calif.) is expected to run too, among others. Sen. Dianne Feinstein (D-Calif.) is widely expected to retire but hasn't announced her plans.
State of play: Porter, Schiff's leading rival, has received national attention for her dressing down of corporate executives at congressional hearings.
Porter's opening campaign video doesn't mention Trump but tags Senate Minority Leader Mitch McConnell (R-Ky.) as the biggest threat to democracy.
"It's a battle between a Trump fighter and a corporate fighter. Is this election cycle about taking on big banks or about saving democracy?" the strategist said.
By the numbers: Schiff starts out the race with a financial advantage, banking $20.6 million at the end of November.
Porter is one of her party's top fundraisers but had to drain her coffers for a competitive House re-election, ending November with $7.7 million on hand.
She announced she raised $1.3 million in the first 24 hours of her Senate kickoff, while Schiff raised $1.6 million.
Go deeper: Lee, another top progressive in Congress, is also poised to be a factor in the race. Her lone vote against authorizing military force against Afghanistan post-9/11 marks her as a progressive profile in courage to left-wing activists.
3. 📉 Poll of the week: Cracks in the Granite (state)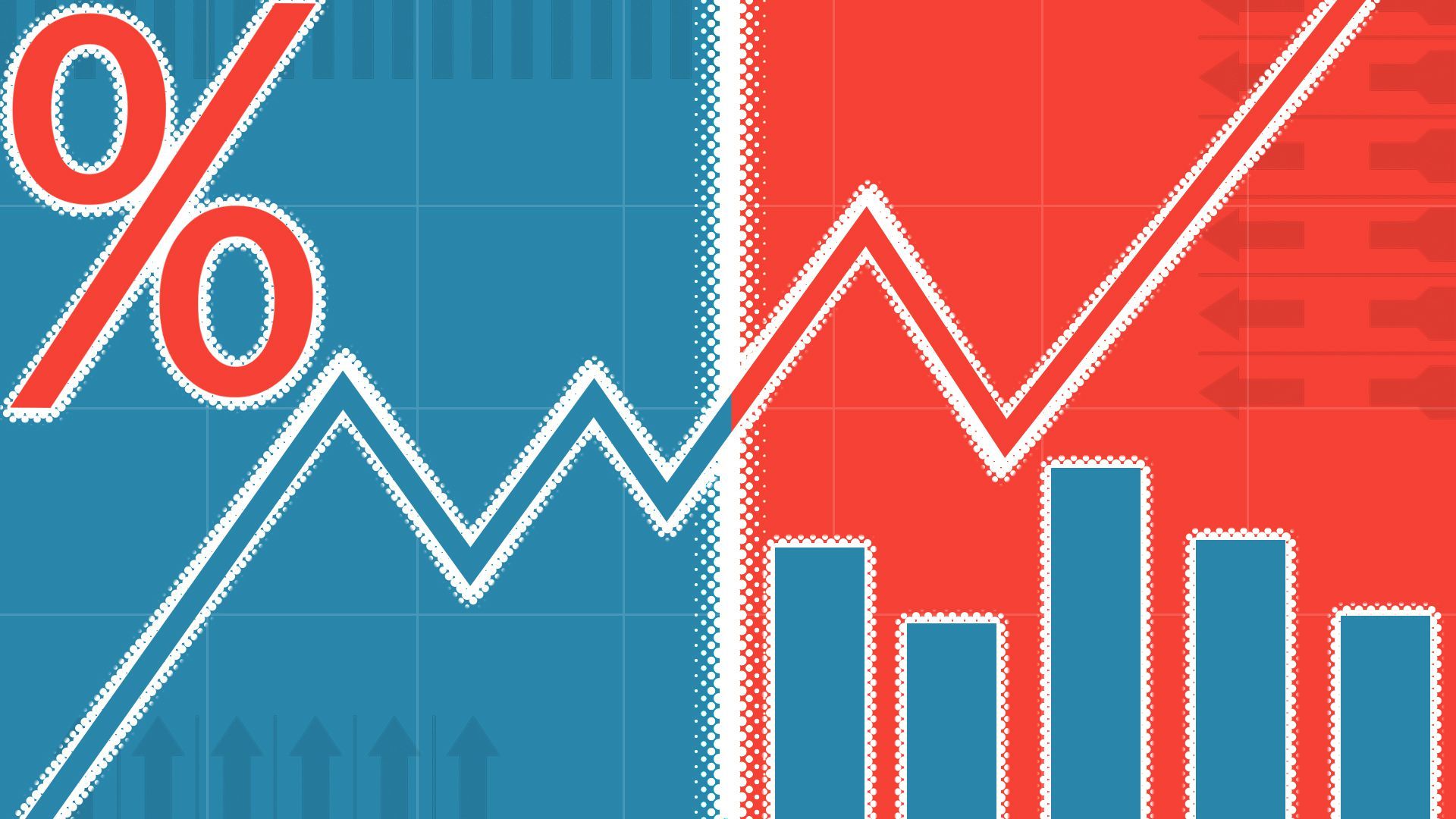 New Hampshire Democratic voters overwhelmingly don't want President Biden to run for re-election and would seriously consider voting for an alternative, according to a University of New Hampshire poll.
Why it matters: There's a good reason why Biden, with his allies at the DNC, have worked to diminish New Hampshire's importance in the 2024 nominating process.
If the election was held today, Biden would be seriously vulnerable to a progressive primary challenger in New Hampshire — a threat that's not as serious in the ascendant and more diverse early primary states of South Carolina and Michigan.
Biden finished in fifth place in New Hampshire's 2020 primary — his worst showing of any state.
By the numbers: Two-thirds of New Hampshire Democrats don't want Biden to run for a second term — up five points since the last UNH survey in July.
Biden would only win a paltry 18% of the primary vote in a hypothetical primary matchup that includes Vice President Kamala Harris, Transportation Secretary Pete Buttigieg, Sen. Elizabeth Warren (D-Mass.), Sen. Bernie Sanders (I-Vt.) and Rep. Alexandria Ocasio-Cortez (D-N.Y.).
What we're watching: The DNC is set to vote next month on Biden's proposal to revamp the calendar.
The DNC plan would move New Hampshire to second in the country along with Nevada on Feb. 5. New Hampshire would need to repeal a state law guaranteeing its spot as the first primary in the country — which state party leaders have said is an impossibility.
If the gridlock persists, several New Hampshire Democratic strategists told Axios they anticipate the party will still hold a first-in-the-nation primary — unsanctioned by the DNC — without allocating any delegates.
4. 📖 Reads of the week: Retirement watch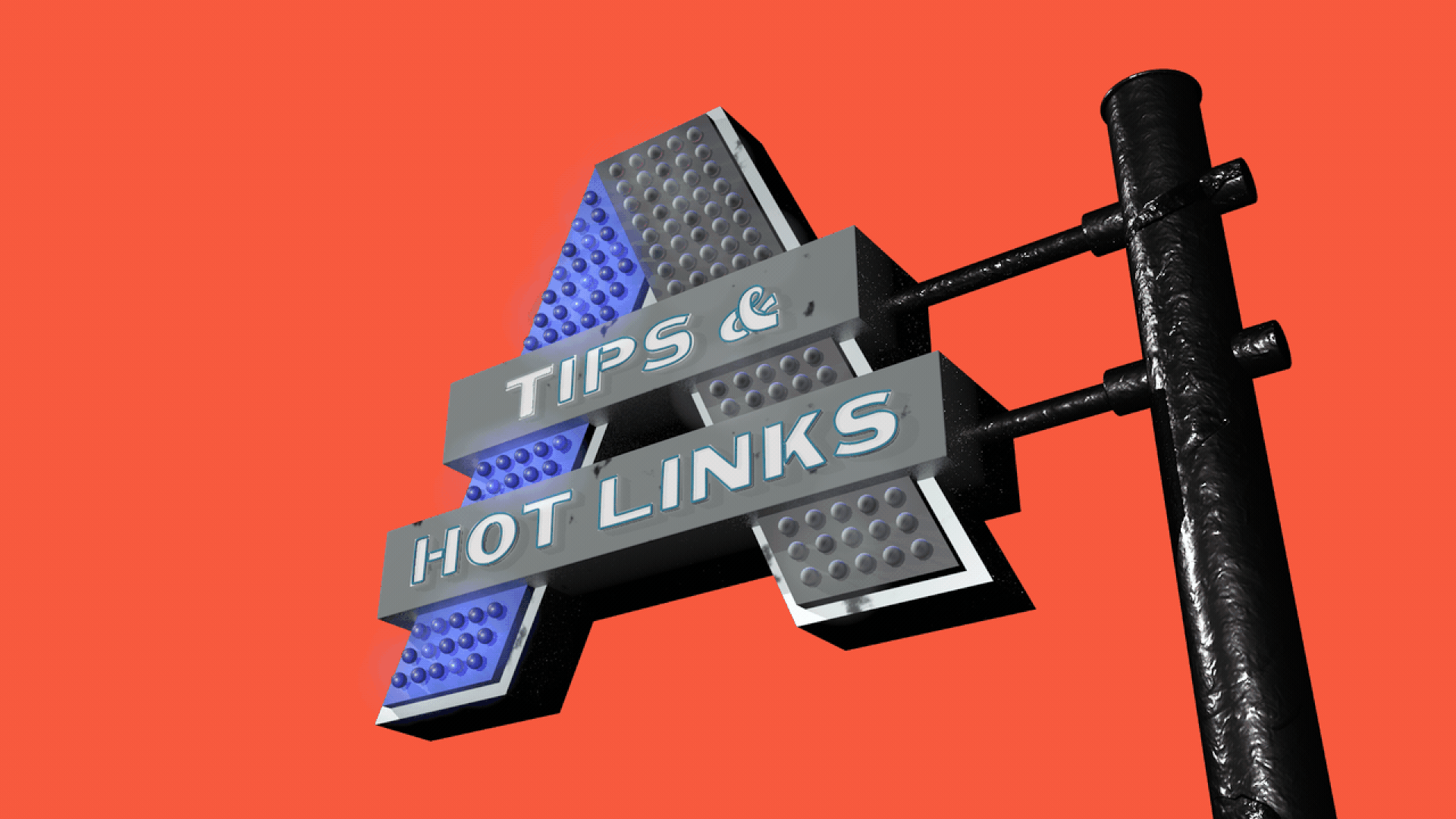 1. "Possible retirements before 2024 have Senate Democrats on edge" (The Washington Post)
Why it matters: The Democratic senators up for re-election in red states — like West Virginia's Joe Manchin and Montana's Jon Tester — garner the most attention, given the high political stakes.
But just as noteworthy is that two pragmatists in safe seats — Utah Republican Mitt Romney and Maryland Democrat Ben Cardin — are also on the retirement watch list. If they step down, the Senate would lose more veterans with a moderating influence on the upper chamber.
2. "Poll: Andy Beshear tops 4 key Republican candidates in 2023 Kentucky governor's election" (Louisville Courier-Journal)
Why it matters: Republicans expecting to win back the governorship in a solidly red state won't have an easy time unseating Gov. Andy Beshear (D-Ky.). He holds an enviable 61% approval rating and leads all of his prospective GOP opponents by at least nine points.
3. "Gallego's early Sinema challenge squeezes Senate progressives" (Politico)
Why it matters: Rep. Ruben Gallego is the lone Democrat who's announced a challenge to now-independent Arizona Sen. Kyrsten Sinema, but progressive senators aren't (yet) rushing to endorse his candidacy. Gallego raised eyebrows when he told CNN this week that he didn't talk to Senate Majority Leader Chuck Schumer (D-N.Y.) or DSCC chairman Gary Peters (D-Mich.) before jumping in the race.
📬 Thanks for starting your week with us. This newsletter was edited by Zachary Basu and copy edited by Kathie Bozanich.