Axios Sneak Peek
January 27, 2023
Welcome back to Sneak. Smart Brevity™ count: 1,029 words ... 4 minutes.
🎂 Situational awareness: Happy birthday to Axios editor Justin Green and House Speaker Kevin McCarthy. One of them received a celebratory visit from Elon Musk.
1 big thing: The evolution of Mitch McConnell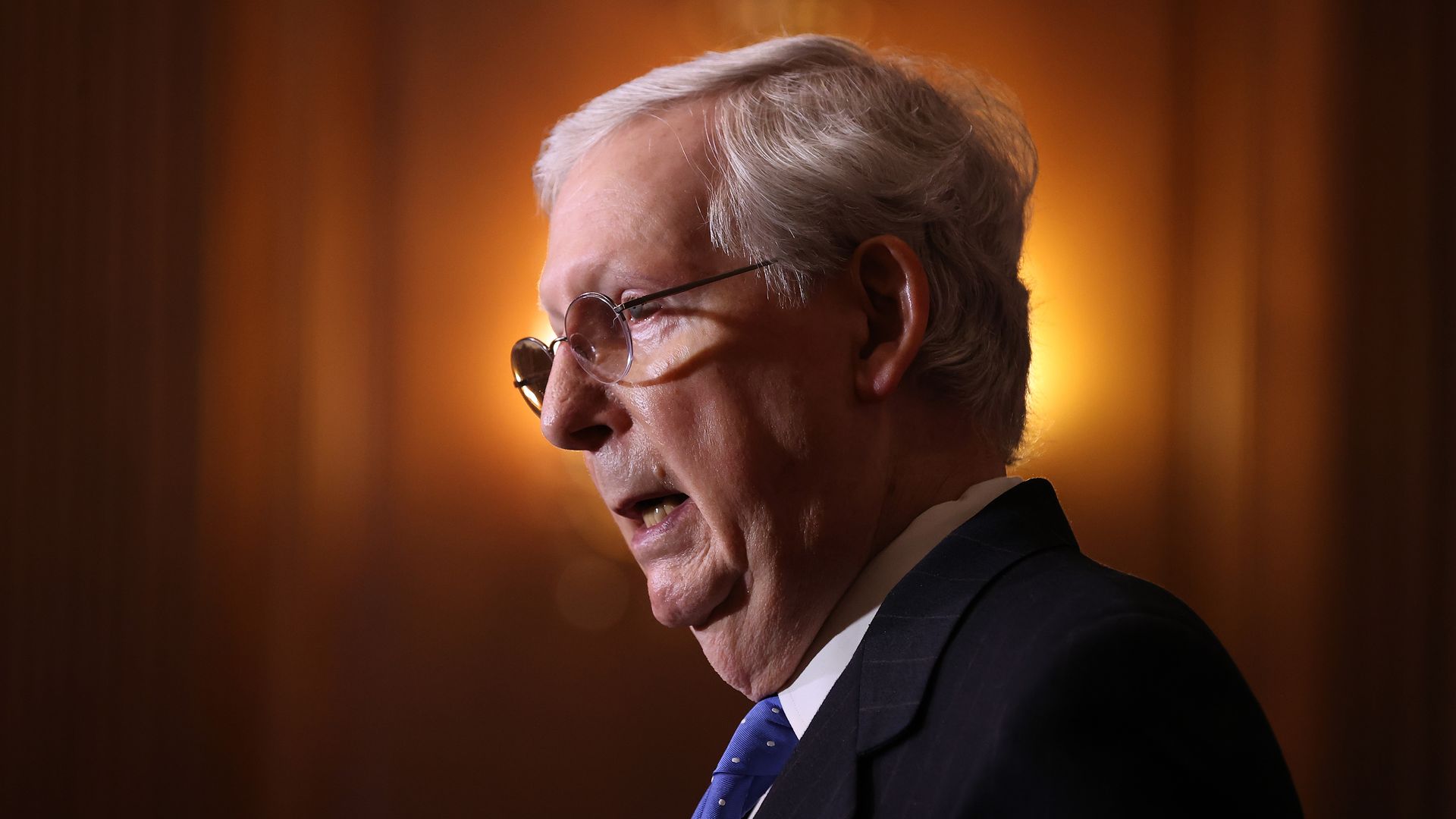 Senate Minority Leader Mitch McConnell (R-Ky.) has spent the last year forging a new path as a bipartisan dealmaker, an understated — but unmistakable — shift in strategy for a man who was Democrats' chief foil for more than a decade, Zach and Axios' Eugene Scott report.
Why it matters: The self-described "Grim Reaper" of progressive policy has a reputation for ruthlessness. Now the longest-serving Senate leader in U.S. history, the 80-year-old McConnell is changing tack at a time when a string of election defeats has fueled a civil war within the GOP — and made it tougher to attract moderate candidates.
What's happening: McConnell said this week he'll take a back seat to House Speaker Kevin McCarthy (R-Calif.) on debt-ceiling negotiations, publicly deferring one of the messiest partisan clashes of the year.
Flashback: McConnell infuriated right-wing Republicans in December by supporting a $1.7 trillion omnibus package in the lame-duck session, taking spending negotiations out of the hands of the incoming House GOP majority.
On Jan. 4, McConnell appeared with President Biden in Kentucky to celebrate the $1.2 trillion bipartisan infrastructure law — a photo op that drew further outrage from the right, including from former President Trump.
With McConnell's blessing, Senate Republicans also worked with Democrats in 2022 to pass the first major gun safety legislation in nearly 30 years, reforms to the Electoral Count Act and a $280 billion China competition bill.
Between the lines: McConnell's evolution can be chalked up in part to the realities of life in the Senate minority, longtime McConnell political adviser Scott Jennings told Axios.
McConnell sees protecting the filibuster as a legacy-defining mission; key to his strategy has been showing that the Senate can still be a model of bipartisanship.
Zoom in: McConnell has loudly attributed Republicans' election woes to their failure to recruit quality Senate candidates, indicating that prospects like New Hampshire Gov. Chris Sununu have been scared off by chaos and dysfunction.
After the 2022 midterm debacle, McConnell vowed not to let a "diminished" Trump hand-pick Senate candidates, citing the need to win back independents and moderate Republicans.
The latest: Former Indiana Gov. Mitch Daniels is the latest moderate Republican to weigh a Senate bid. He visited Washington yesterday to sniff out whether he wants to risk life in partisan purgatory.
"I'm not the least bit worried, honestly, about losing an election. I'm worried about winning it and regretting it for six years," Daniels told Politico.
What to watch: Democrats could feasibly win the White House, flip the House, and lose the Senate in 2024 because of the GOP's historically favorable Senate map. If McConnell were to emerge as the sole barrier to a Biden second-term agenda, expect a return of the Grim Reaper.
2. 🐘 RNC's identity crisis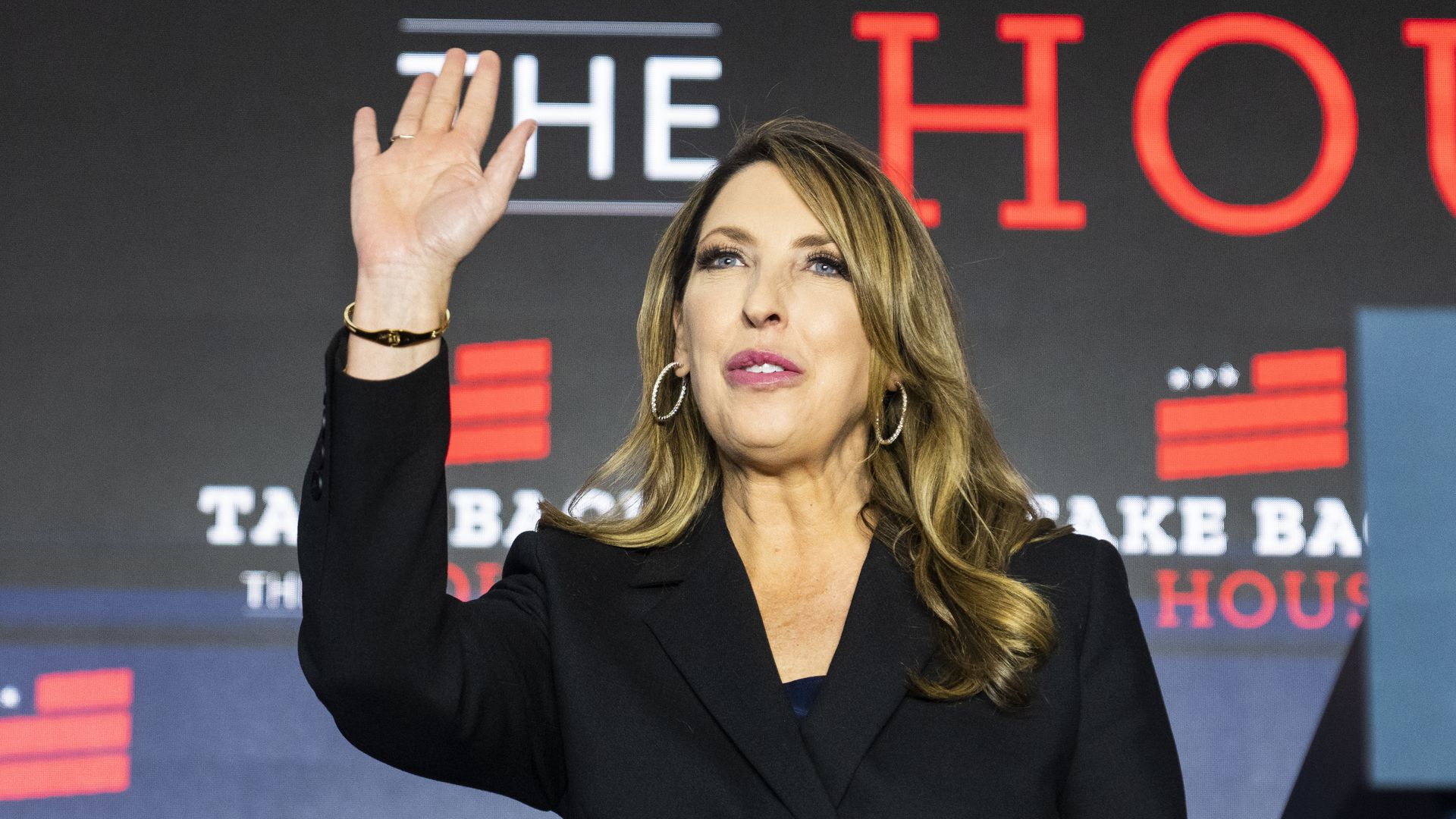 Ronna McDaniel has believed for months that she has the votes to glide to a fourth term as RNC chair, citing a public show of support in November from more than 100 of the committee's 168 members.
But last-minute momentum from challenger Harmeet Dhillon, a California lawyer — including a surprise endorsement today from Florida Gov. Ron DeSantis — has shaken up the race a day before the election.
"I think we need a change. I think we need to get some new blood in the RNC," DeSantis — the only potential Republican challenger to Trump polling in double-digits — told conservative activist Charlie Kirk today.
Why it matters: The RNC is suffering from an identity crisis after a midterm election that saw Republicans underperform for the third straight cycle. Members of Congress openly wonder how it fits in the modern ecosystem.
"I don't know what the RNC does. I really don't," Sen. Cynthia Lummis (R-Wyo.) told Politico this week.
Other GOP senators are equally apathetic about McDaniel, who was hand-picked by Trump in 2017 but now faces intense criticism from prominent conservatives.
The intrigue: The New York Times reached out to all 168 RNC members to ask whether they would support Trump in 2024.
Just four fully endorsed Trump, compared to 20 who oppose him and 35 others who want a contested race (Others didn't reply).
"This isn't 2016," said J. McCauley "Mac" Brown, the chairman of the Republican Party of Kentucky. "People have moved on."
3. 🌴 Senate's California showdown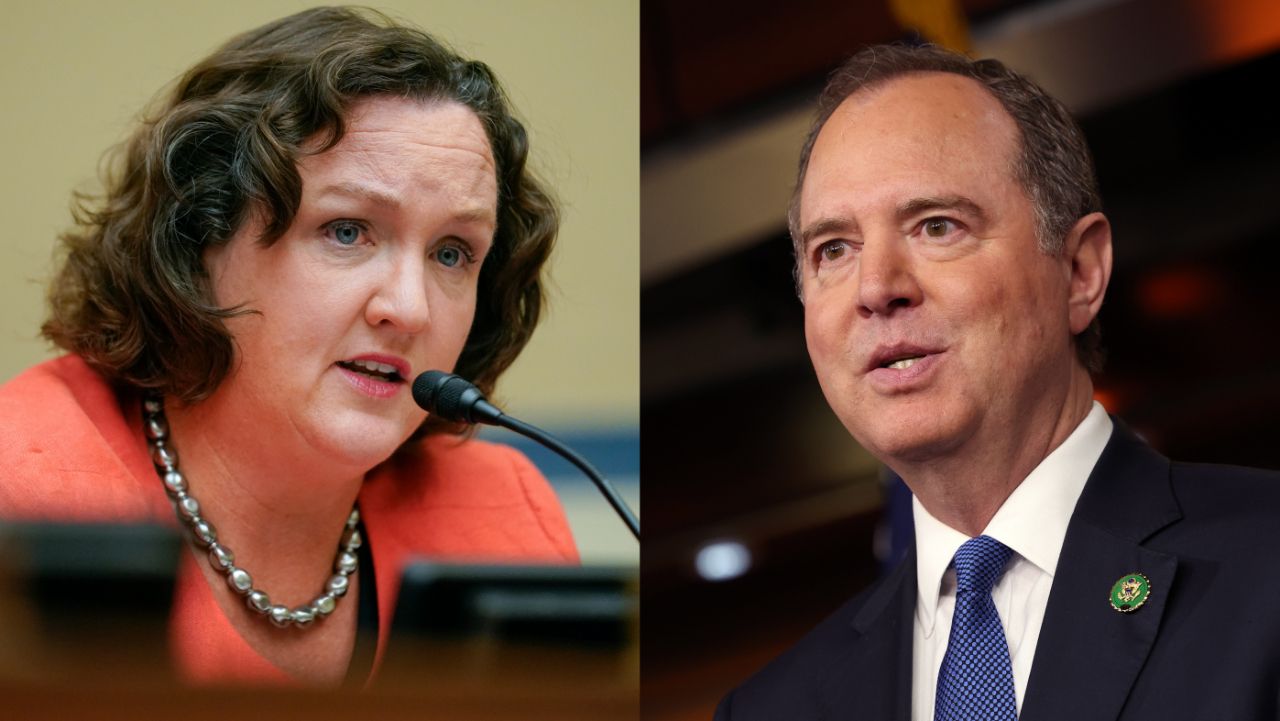 The decision by Rep. Adam Schiff (D-Calif.) to run for Senate sets up an epic clash against a potentially deep roster of Democratic stars — starting with Rep. Katie Porter (D-Calif.), a progressive darling who launched her campaign earlier this month.
Rep. Barbara Lee (D-Calif.), the only member of Congress to vote against the 2001 Authorization for Use of Military Force after 9/11, has told colleagues she plans to run as well.
89-year-old Sen. Dianne Feinstein (D-Calif.) has not announced whether she's retiring.
Why it matters: This will be the first highly competitive California Senate primary since 1992, when Feinstein and former Sen. Barbara Boxer were elected in what's widely known as the "Year of the Woman."
Schiff's announcement came just two days after McCarthy formally removed him as the top Democrat on the House Intelligence Committee, a move he's already using to juice his fundraising and anti-Trump credentials.
Nearly half of Schiff's launch video is dedicated to clashes with Trump and other MAGA figures, while Porter's focuses on her fight against corporations and special interests.
4. 📊 Charted: Senate slow-walk
President Biden's appointees were facing slow Senate confirmation even before Sen. Tom Cotton's (R-Ark.) threatened to stall all nominations over the classified documents controversy, Axios' Stef Kight reports.
5. 🐦 Coming attractions: Twitter hearing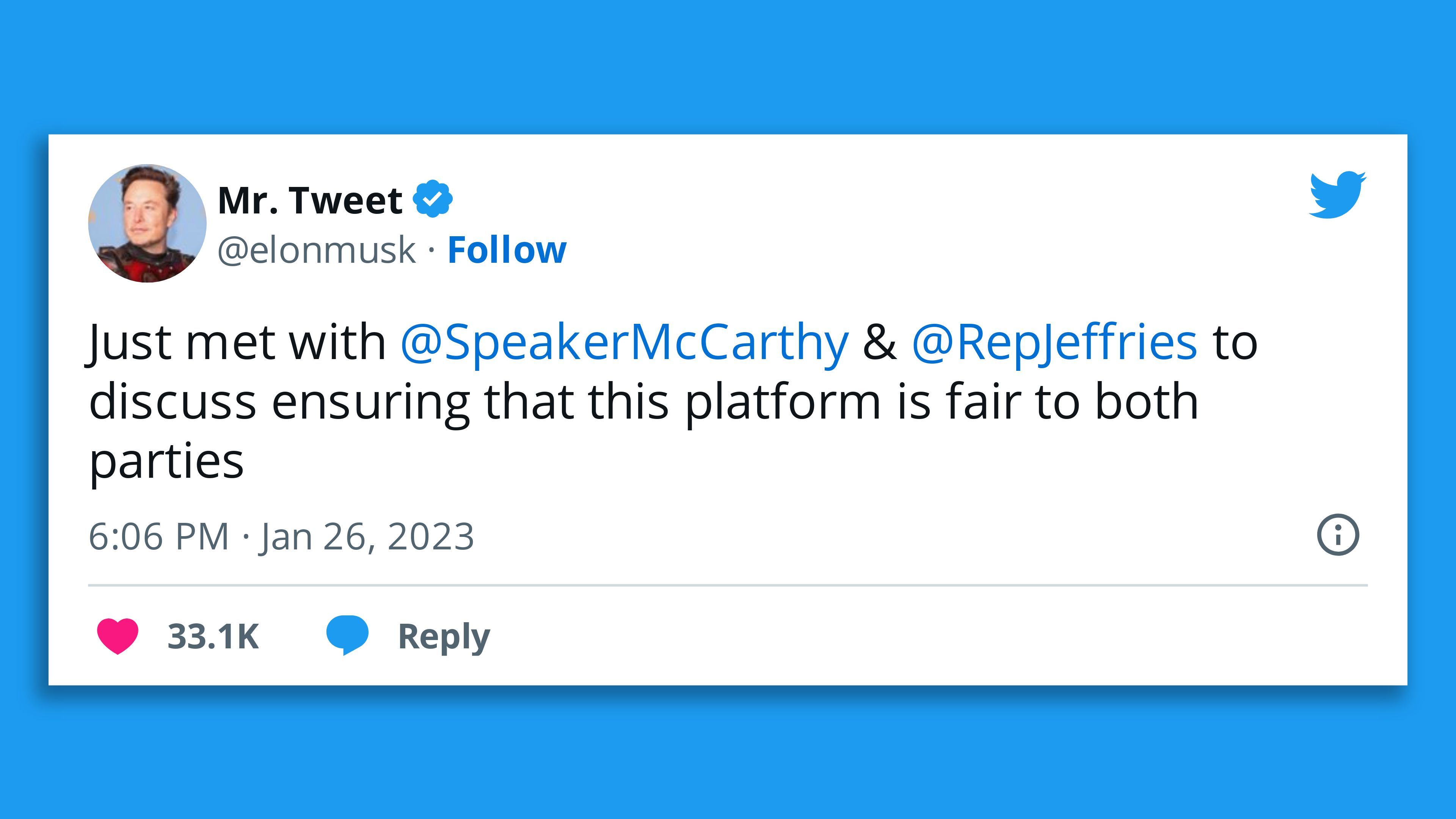 Musk, a longtime friend to McCarthy, visited the Capitol as the House Oversight Committee prepares to hold a hearing next month on Twitter's handling of the Hunter Biden laptop story.
An aide to House Minority Leader Hakeem Jeffries (D-N.Y.) said he did not have a scheduled meeting with Musk but was introduced to the billionaire when they crossed paths in McCarthy's office.
📬 Thanks for reading this week. This newsletter was edited by Zachary Basu and copy edited by Kathie Bozanich.