May 24, 2020
Welcome to Sneak Peek, our weekly lookahead from both ends of Pennsylvania Avenue, plus our best scoops.
🎬On Monday's "Axios on HBO": Axios national political reporter Alexi McCammond interviews Michigan Gov. Gretchen Whitmer about her state's coronavirus response, being a potential Biden VP pick and her complicated relationship with President Trump. 
Plus Mike Allen speaks with Palantir co-founder and CEO Alex Karp about what it means to take big data contracts from the government. And Margaret Talev talks with Brown University President Christina Paxson about how colleges could reopen in the fall.
See a clip, then catch the full episode on Monday, May 25, at 11 p.m. ET/PT on all HBO platforms.
Tonight's newsletter 1,686 words, a 6-minute read.
1 big thing: Scoop — Inside the secret talks to overhaul the GOP platform
For the past six months, top Trump campaign officials, reporting to Jared Kushner, have been working on a radical overhaul of the Republican Party platform.
Driving the news: The Trump campaign's Bill Stepien has been leading the process, working with campaign colleagues and the Republican National Committee. As with all significant campaign matters, they've been reporting back to Kushner.
The president's son-in-law and top adviser has told confidants he wants to shrink the GOP's extensive platform of policy beliefs and principles down to a single card that fits in people's pockets. That's a huge change. The 2016 platform runs 58 pages — the product of extensive debate and heated negotiations.
Kushner told colleagues he wanted "something like the 10 principles we believe in," per two sources familiar with his comments. He asked Stepien to find historical examples of Republican platforms that look more like a "mission statement," per a source familiar with one of their meetings.
Another source familiar with the discussions pointed to the GOP platform of 1856 as an example of a platform that is similarly short. The source used this example to argue that the idea of a one-page platform isn't so new or radical after all.
Behind the scenes: At noon on Dec. 19, 2019, Kushner shared some of his thinking with colleagues in the Secretary of War Suite in the Eisenhower Executive Office Building next to the West Wing of the White House.
From his seat at the center of a long table, Kushner told senior White House and campaign staff that more of their policies should be drawing people to the party, so they ought to eliminate alienating language.
As an example of language that would alienate voters, Kushner said that he didn't want to see anything about "gay conversion therapy" in the 2020 Republican platform.
The 2016 Republican platform did not explicitly mention gay conversion therapy, but it included this line: "We support the right of parents to determine the proper medical treatment and therapy for their minor children."
Gay Republicans were furious because they viewed it, accurately, as a coded endorsement for the widely condemned practice that's rejected by major medical associations and whose use on minors is banned in many states and some other countries.
Kushner also argued against rebranding "School Choice" as "Education Freedom Scholarships," because he said the latter phrase doesn't resonate with African Americans.
Two sources said they recalled Kushner making a more sweeping point — that they should rethink using the word "freedom" altogether in the GOP platform because polling showed it doesn't appeal to African Americans. But another source familiar with the Dec. 19 meeting pushed back adamantly against this.
The source said the only context in which Kushner argued against using the word "freedom" was in the context of rebranding "school choice." The source added that "freedom's a great word" and "should be smartly utilized" in the 2020 Republican platform.
(The Trump administration had been using the phrase "Education Freedom Scholarships" since at least February 2019 — more than nine months before this meeting.)
Between the lines: In developing their ideas for the new GOP platform, the Trump team has kept the information flow to an extremely tight circle. It's unclear who, if any, of the state party leaders — whose delegates will ultimately need to vote on the platform — have visibility of the discussions. And most White House officials have no idea these talks have been happening.
A one-page platform has been drafted, but only a few people have seen it.
Sources familiar with the discussions stressed that this is far from a final product and that ultimately it will be up to the 112 delegates on the platform committee to decide on its language at the Republican National Convention in late August. Then the whole slate of delegates will vote on it.
The sources also added that multiple options have been drafted.
The big picture: Overhauling the platform is no easy feat. Representatives from disparate and well-funded factions of the Republican Party live for their quadrennial fights over what goes into it, language for everything from hot-button social issues to America's relationships with allies and adversaries. And outside interest groups aggressively lobby to shape its contents.
The Republican Party's 2016 platform is an unwieldy document, outlining the party's positions on topics ranging from "protection against an electromagnetic pulse" to "our tax principles" to the declaration that "the cornerstone of the family is natural marriage, the union of one man and one woman."
The bottom line: "This is a concept that has been driven by the campaign. A more concise platform is just one of many options being discussed, and it is in fact not a new idea," said Tim Murtaugh, the campaign's director of communications. 
"As recently as 2016, a more focused platform was considered. Ultimately, the platform committee of the convention will make the decision, but as is the case with all national conventions, the President's campaign will play a major role. In any event, we expect the 2020 platform to be the most conservative in history and one which will reflect the President's conservative imprint on the Republican Party," Murtaugh said.
Our thought bubble: Trump has enormous sway over the party, and his campaign has hustled to ensure states send Trump-friendly, compliant delegates to the convention. His team obviously has a far better chance than it did in 2016 to get their way.
2. Trumpworld's plan to brand Biden
Trump's advisers relish the contrast between his public appearances and Joe Biden's lack thereof. The former vice president, following the guidance of public experts, has eschewed public events and stayed home for months now. Trump, meanwhile, is out and about — masks be damned.
What we're hearing: Watch for plenty more mask-free outings from Trump, hyping the reopening of the economy and avoiding discussions of social distancing and death counts.
And watch for a visual contrast between the two party conventions in August. Two sources close to the president said they hope to have a boisterous, live crowd.
They want to have more people there physically than at the Democratic convention the week earlier, which will likely involve significant virtual elements.
Go deeper: The Wall Street Journal's Ken Thomas and Michael Bender have a detailed piece on this theme.
The key point: Team Trump and Team Biden are making vastly different bets on where the electorate will be in November.
While most Americans tell pollsters they're nervous about reopening too quickly, Trump is betting that economic concerns will overtake health concerns by late summer.
Biden, who leads Trump in national and key swing state polls, has said the economy won't come back until people feel safe. He's prioritized public health recommendations and followed his state's stay-at-home order, doing media hits from his home in Wilmington, Delaware.
The bottom line: As Thomas and Bender write, "The danger for the president's strategy is the potential for a national relapse: the economy would suffer another blow if states reopen too quickly and trigger a jump in cases and deaths."
3. Trump poised for sanctions if China moves ahead with Hong Kong law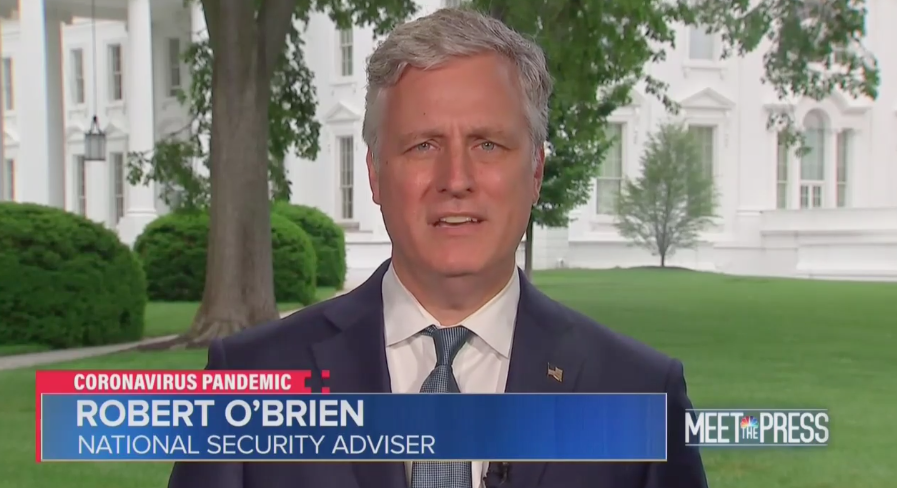 White House national security adviser Robert O'Brien said on NBC's "Meet the Press" Sunday that the U.S. government will likely impose economic sanctions on Hong Kong and China if Beijing moves ahead with a proposed national security law for Hong Kong that could constrain the special region's autonomy, Axios' Jacob Knutson reports.
Why it matters: O'Brien said the U.S. could revoke a special status that allows Hong Kong to function as an international financial hub, stating that it's "hard to see" how the financial community can remain in the city if the law is enacted.
The backdrop: The Chinese Communist Party proposed an amendment to Hong Kong's independent legal system last week that would prohibit acts of sedition, subversion and secession, as well as foreign interference, though Beijing tends to define those crimes broadly.
What he's saying: "It's hard to see how Hong Kong could remain the Asian financial center that it's become if China takes over," O'Brien said.
Asked whether China would be threatened by sanctions, O'Brien responded: "China is dependent on capital from the rest of the world, to build their economy and grow their middle class. They're dependent on liquidity in financial markets. If they lose access of that through Hong Kong, that's a real blow to Xi Jinping and the Chinese Communist Party. "
4. Quote du jour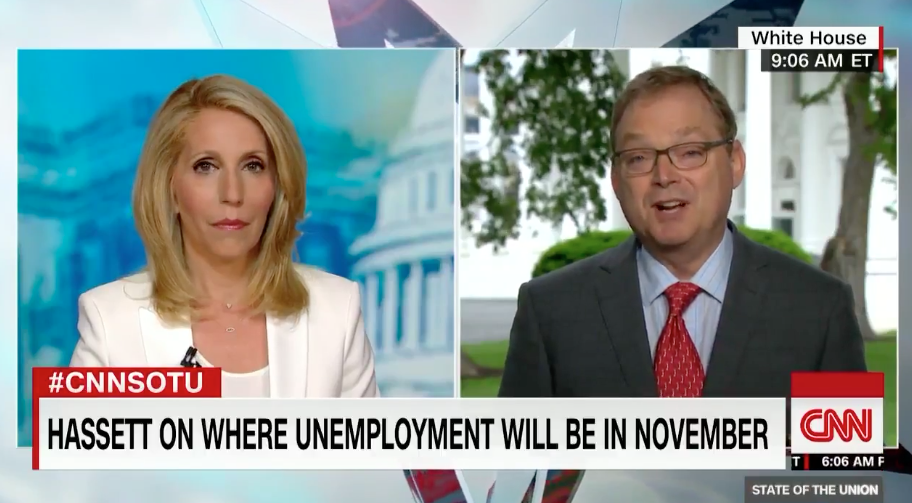 On CNN's "State of the Union," Dana Bash asked Trump's senior economic adviser Kevin Hassett whether he thinks it's possible that unemployment will still be in double digits in November.
Hassett's reply: "Yes, I do."
"But I think that all the signs of economic recovery are going to be raging everywhere," Hassett continued. "And the only thing we're going to really be debating as economists is, are we going to get back to where we were or is it going to be kind of a long haul to get there?"
A sobering statistic: Hassett also predicted America's unemployment rate will be "north of 20% in May."
5. Sneak Peek diary
The House is expected to vote on a measure that would extend the coverage period for the small business Paycheck Protection Program, Axios' Alayna Treene reports.
The law would allow businesses who took PPP loans from the government more time to spend the money. Currently, a business must spend the PPP money in eight weeks and keep all staff employed for the government to fully forgive the loan. (Loans can be partially forgiven if a business only meets some of the guidelines).
The new bill proposes an extension to 24 weeks for businesses to spend the money, which was the amount of time that restauranteurs requested during a recent White House roundtable.
The bill also includes other changes, such as relaxing a provision that requires businesses use 75% of the loan toward payroll expenses.
The House is also expected to vote on Senate-passed legislation that would overhaul parts of the Foreign Intelligence Surveillance Act and reauthorize three intelligence programs that lapsed earlier this year.
On Wednesday: The House Ways and Means Committee will hold a hearing on the impact of COVID-19 on communities of color.
Note: House Speaker Nancy Pelosi announced this week that members now have the option to hold remote hearings and vote by proxy. This is the first time in U.S. history that congressional members will be able to vote remotely, Alayna writes.
The Senate is on recess through June 1.
However, they could hold a vote on their own separate extension of PPP during a pro forma session. Their version would give recipients 16 weeks to spend their loans and would extend the June 30 deadline for applying to Dec. 31. The bill would need to pass via unanimous consent.
President Trump's schedule, per a White House official:
Monday: Trump and first lady Melania Trump participate in a wreath-laying ceremony at Arlington National Cemetery and a Memorial Day Ceremony at Fort McHenry in Baltimore.
Tuesday: Trump participates in the ceremonial swearing-in of John Ratcliffe as the director of National Intelligence, and he'll deliver remarks on "Senior Savings Model — Protecting Americans with Diabetes."
Wednesday: Trump and the first lady travel to Kennedy Space Center in Florida for the SpaceX launch.
Thursday: Trump receives a briefing on the 2020 hurricane season.