Axios Sneak Peek
September 27, 2022
Welcome back to Sneak, and Shana Tovah to those celebrating. Smart Brevity™ count: 1,111 words ... 4 minutes.
🎤 You're invited: Join us virtually for the inaugural Axios Latino Visionarios event Thursday at 6pm ET, featuring conversations with White House senior adviser Julie Chavez Rodriguez, Rep. María Elvira Salazar (R-Fla.), Rep. Ruben Gallego (D-Ariz.), Siete Family Foods co-founder and CEO Miguel Garza and "The View" co-host Ana Navarro-Cárdenas. Register here.
⚡ Situational awareness: The National Archives has been asked to notify the House Oversight Committee by tomorrow whether any documents from the Trump White House are still unaccounted for, the Wall Street Journal reports.
1 big thing: Mark Meadows' inbox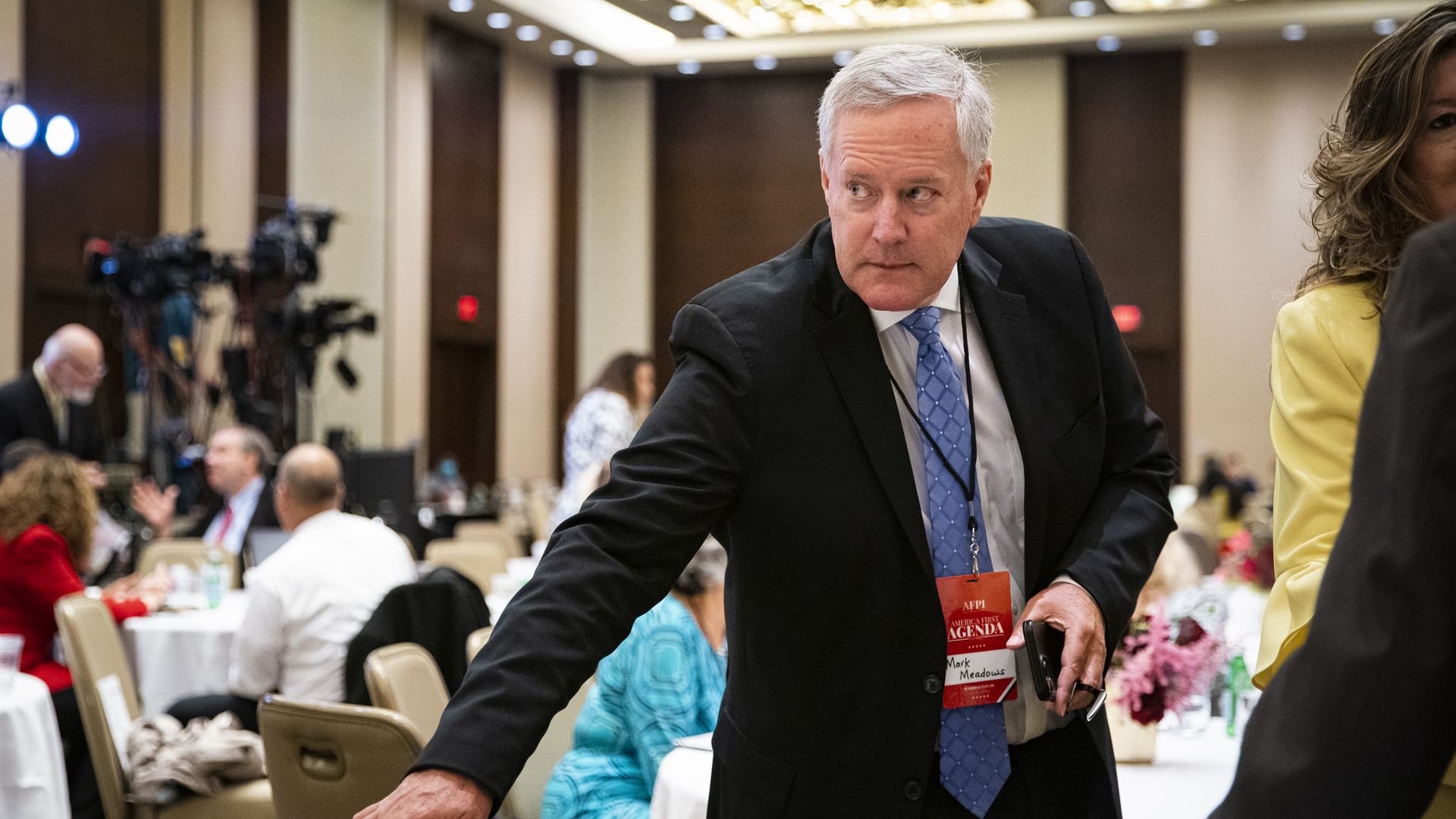 Between Nov. 3, 2020, and President Biden's inauguration, Mark Meadows' cellphone became a key channel for dozens of elected officials as well private citizens to convey outlandish conspiracy theories and last-ditch ideas to overturn the election, Axios' Sophia Cai reports.
Driving the news: A new book by former Rep. Denver Riggleman (R-Va.) — an ex-adviser to the Jan. 6 committee — claims that former President Trump's chief of staff received texts from 39 House members and five U.S. senators.
"The Breach" cites texts from GOP lawmakers to paint a picture of how invested many were in Trump's effort to overturn the election.
The book, which has not been authorized by the committee, is set for release tomorrow and was obtained in advance by Axios. Riggleman left his position as a senior technical adviser to the committee in April.
Why it matters: The Meadows texts are the "crown jewels" that "gave us keys to the kingdom," Riggleman writes.
The timing of the book's release gives it a narrow window to impact the committee's work and the public's understanding.
Wednesday's hearing is perhaps the last public one before the release of a final report on the committee's findings and recommendations.
Details: The book reveals Sen. Kevin Cramer (R-N.D.) sent Meadows a forwarded note from North Dakota Attorney General Drew Wrigley, who shared his own idea for a "last-ditch effort" to demand statewide recounts of absentee and mail-in ballots in crucial states.
Other examples:
Meadows received texts in late 2020 from Rep. Paul Gosar (R-Ariz.) about "dead voters" and Dominion voting machines. Riggleman notes that one of Gosar's texts included a link to a movie about "cyber warfare" from an anti-vaccine conspiracy blog called "Some Bitch Told Me."
On Nov. 5, 2020, Rep. Louie Gohmert (R-Texas) touted his experience as an attorney and offered to come to the White House, to which Meadows responded: "Most of this is being handled at the campaign. Would love your help and would love you going on TV."
Republican Reps. Chip Roy and Brian Babin, both of Texas, also reached out to Meadows for direction on how to challenge the election on the morning of Nov. 5.
Between the lines: Riggleman's headline-grabbing book and accompanying media tour have rankled some members of the committee, which has sought to downplay his insight into the panel's investigation.
"I am an intelligence officer by training," Riggleman writes in the book's introduction. "There is nothing more valuable than raw data. ... I am not asking you to like me or even to trust me. I want to let the data do the talking."
2. 🌵 Sinema's Republican booster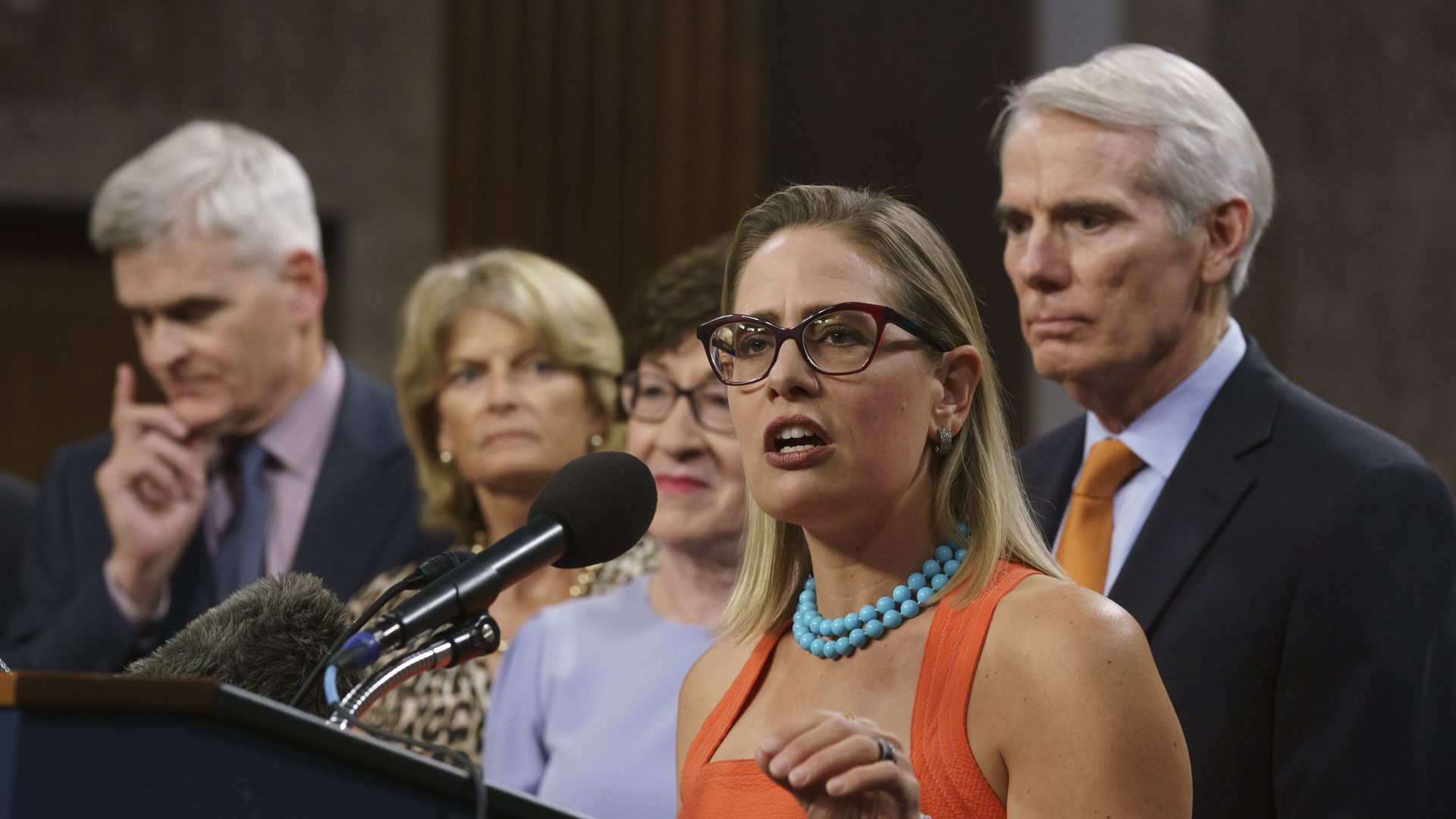 Senate Minority Leader Mitch McConnell (R-Ky.) and Sen. Kyrsten Sinema (D-Ariz.) shared nothing but praise for one another in remarks today at the University of Louisville's McConnell Center:
"She is, in my view, one of the most effective first-term senators I've seen in my time in the Senate," the venue's Republican namesake said in his introduction.
"Arizonans understand that while we may not agree on every issue, we do share the same values," Sinema countered as she described her "friendship" with McConnell.
Why it matters: In reinforcing her brand of independence and Republican-friendly deal-making, Sinema also delivered reams of new campaign material for a potential 2024 primary challenger.
What they're saying: "If you don't fit in in today's Washington, trust me, they want to kick you out. But I've never really wanted to fit in. Not in Washington and not anywhere else," Sinema said.
Calling for the 60-vote filibuster to be safeguarded and even restored for judicial nominations, Sinema quipped: "Those of you who are parents in the room know, the best thing you can do for your child is not give them everything they want."
Between the lines: It's not clear who Sinema's audience is. Favorability ratings in a recent Arizona poll show the senator is 20 points underwater among Democrats, 10 points with independents and 18 points with Republicans — a rare trifecta of unpopularity.
3. 💰 Data du jour: 2022's cash bonanza
Federal candidates, parties, committees, PACs and outside groups are projected to spend more than $9.3 billion on this year's midterms — crushing the $7.1 billion record set in 2018, according to an "early, conservative estimate" by OpenSecrets.
Republicans are so far outspending Democrats, with nearly 56% of the $4.8 billion in total spending reported so far coming from GOP candidates and the groups supporting them.
On the other hand, Democrats and those supporting them have outraised Republicans, with $1.3 billion combined now on hand compared to $1.1 billion available for GOP candidates.
4. 🐘 GOP cavalry abandons Mastriano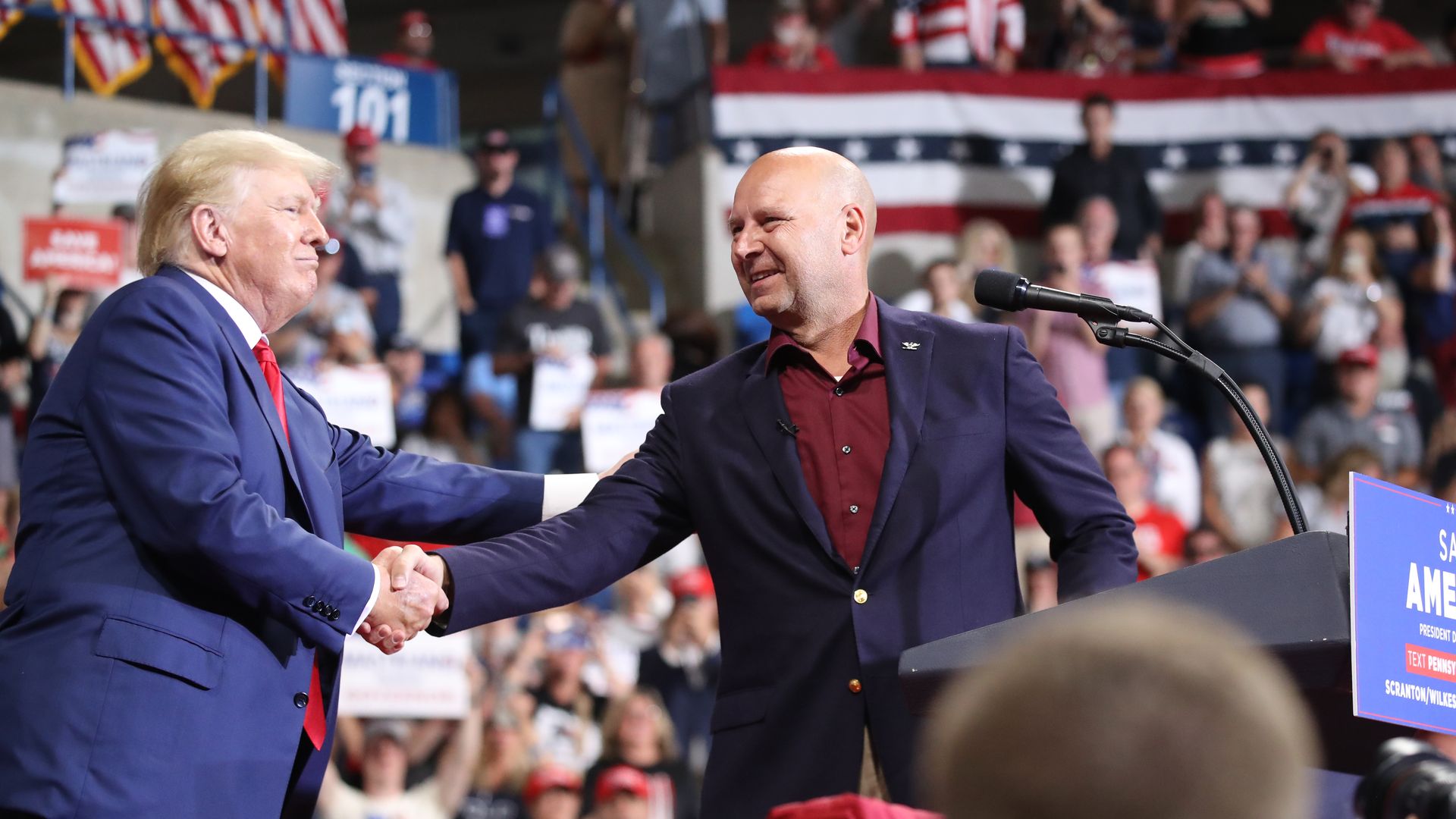 The Republican Governors Association currently has no intention of spending to support Doug Mastriano, the party's Trump-endorsed nominee in Pennsylvania, the New York Times' Reid Epstein reports.
What they're saying: "We don't fund lost causes and we don't fund landslides," Arizona Gov. Doug Ducey, the chair of the RGA, said at a Georgetown event this month. "You have to show us something, you have to demonstrate that you can move numbers and you can raise resources."
👀 What we're (not) watching: Mastriano and Trump-backed gubernatorial nominees in Arizona, Illinois, Maryland, Massachusetts and Michigan "have combined to air zero television advertisements since winning their primaries," according to the Times.
5. ⚾ Parting shot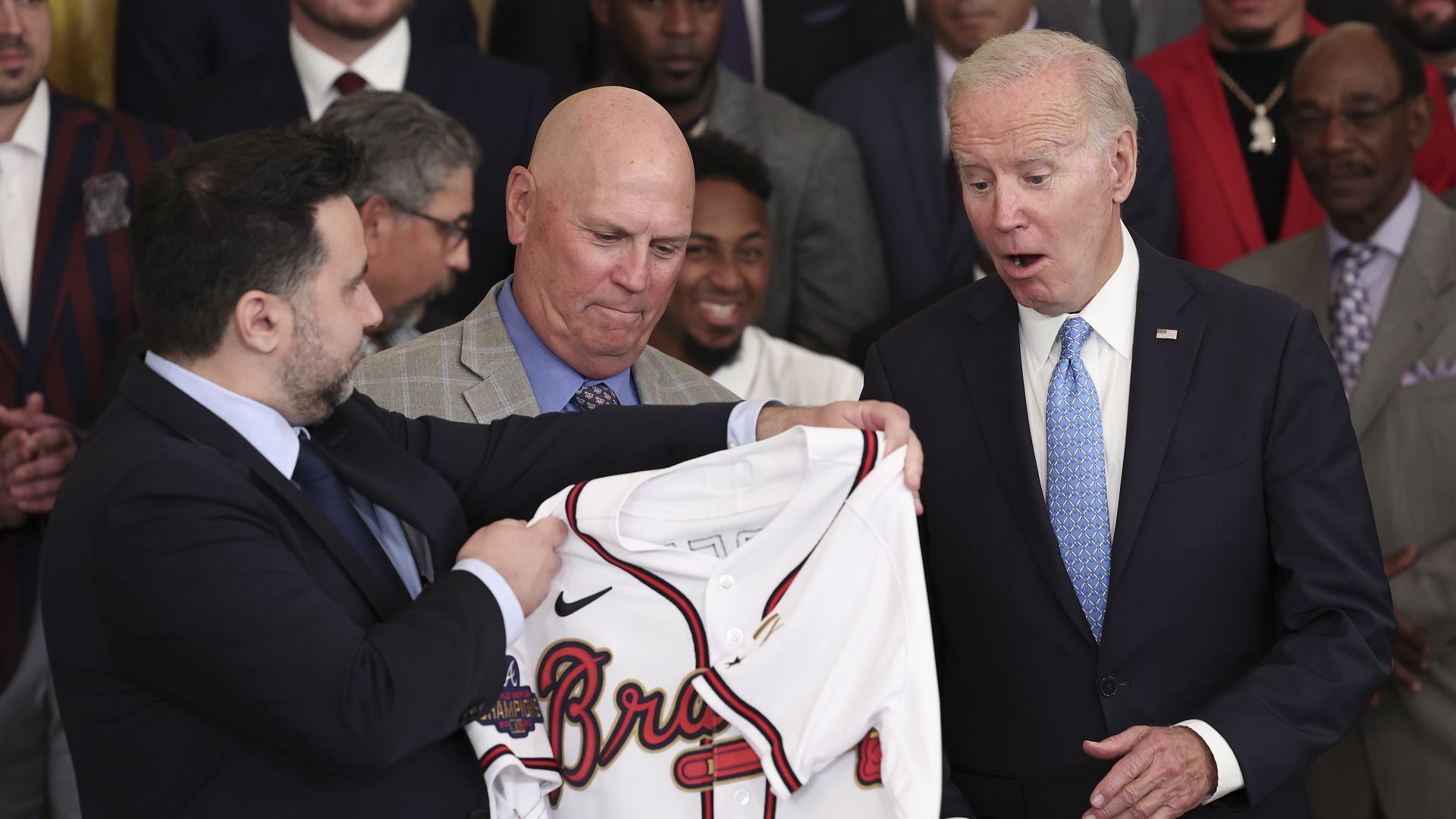 President Biden welcomed the World Series-winning Atlanta Braves to the White House with a playful analogy to his own "rough start" in the 2020 election.
"People counted you out. Heck, I know something about being counted out — and I know in Georgia, you show up when it counts."
📬 Thanks for reading. This newsletter was edited by Zachary Basu and copy edited by Kathie Bozanich.