Axios Sneak Peek
May 31, 2020
Welcome to Sneak Peek, our weekly lookahead from both ends of Pennsylvania Avenue, plus our best scoops.
Tell your friends to sign up free for their weekly Sneak Peek.
Tonight's newsletter is 1,794 words, a 7-minute read.
1 big thing: Trump privately scolded, warned by allies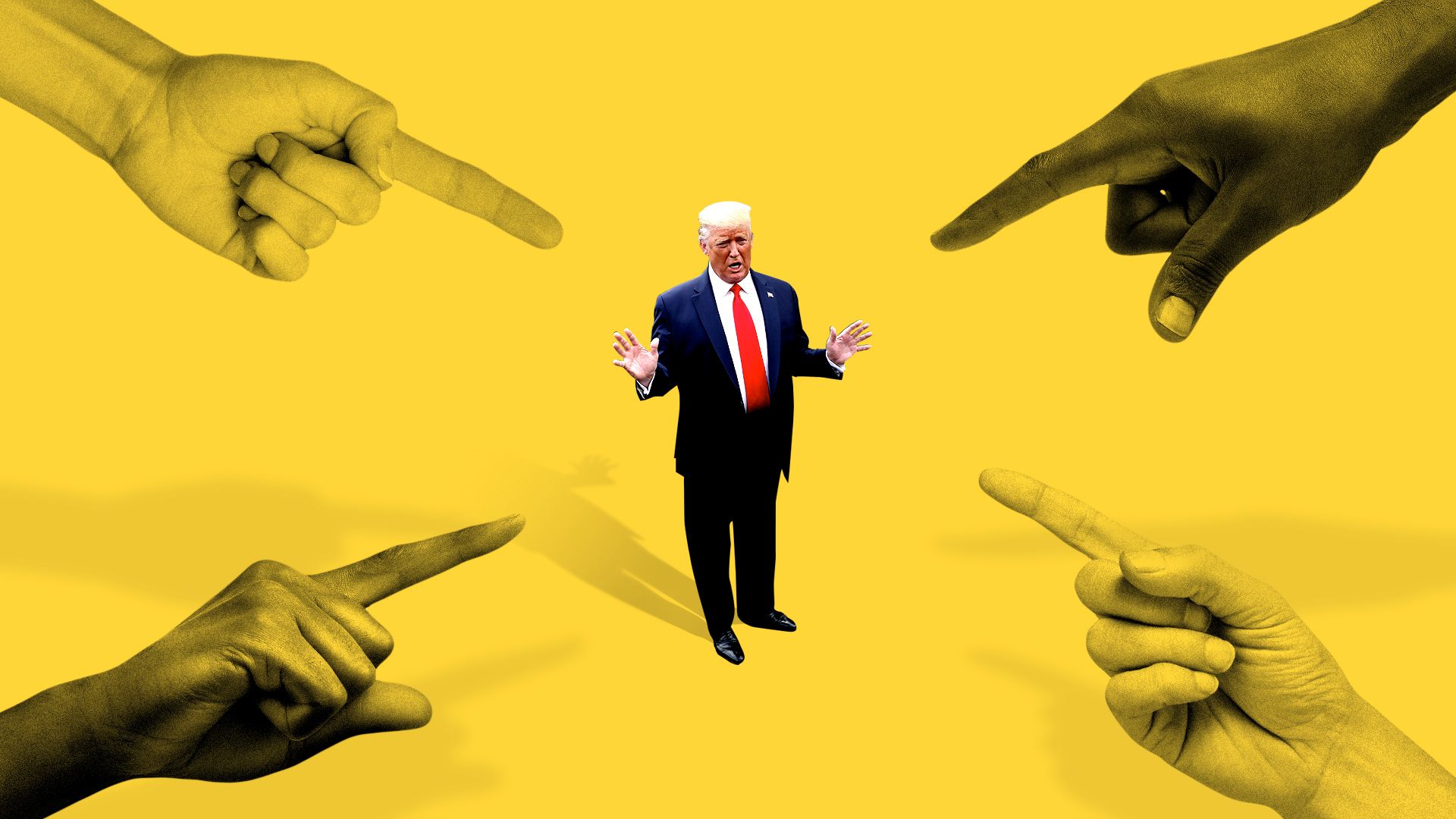 Over the past couple of days, numerous advisers both inside and outside the White House have urged the president to tone down his violent rhetoric, which many worry could escalate racial tensions and hurt him politically.
The biggest source of internal concern was Trump's escalatory tweet, "when the looting starts, the shooting starts." Some advisers said it could damage him severely with independent voters and suburban women.
Behind the scenes: After not going to sleep until the early hours of Friday morning, President Trump woke to a string of conversations with advisers who told him he had a problem.
Some of Trump's most trusted aides, including Hope Hicks, expressed concern about a tweet he sent shortly before 1am Friday, in which he used a violent phrase with a racist history rooting back to police brutality against African Americans in the 1960s: "When the looting starts, the shooting starts."
A number of people outside the White House weighed in over the course of the day. On Friday morning, Facebook raised concerns to the White House about Trump's incendiary message and urged them to make a change even if it did not violate Facebook's policies, according to a source familiar with the outreach.
Later that day, Trump phoned Facebook CEO Mark Zuckerberg. During the call, Zuckerberg "expressed concerns about the tone and the rhetoric," according to a source familiar with the call.
Zuckerberg "didn't make any specific requests," the source said. A second source familiar with the call said the Facebook boss told Trump that he personally disagreed with the president's incendiary rhetoric and that by using language like this, Trump was putting Facebook in a difficult position.
Between the lines: Even aides who usually laugh or shrug their shoulders at Trump's more outrageous tweets considered this one a problem. Some said they saw direct political implications.
People close to the president, including several senior White House officials, have privately expressed concerns that his incendiary response to the Minneapolis riots will hurt him with two groups that could remove him from office in November: independents and suburban women. These are groups who already tell pollsters they don't like Trump's tone, even if they like some of his policies.
One adviser said they saw it as the president's worst moment since Charlottesville.
A senior White House official, who typically likes it when Trump takes tough law-and-order positions, described the tweet as "stupid." The official described Trump's ultimate cleanup, in which the president claimed he wasn't suggesting that law enforcement should shoot rioters, as "pretty creative."
Why it matters: After so long working for him, Trump's inner circle usually shrugs at his tweets. So it's a rare moment when they sound the alarm.
Yes, but: After walking back his looting/shooting tweet, Trump tripled down on this incendiary tone in a series of Saturday morning tweets, suggesting that protesters outside the White House would have been "greeted with the most vicious dogs, and most ominous weapons" if they breached the fence.
Trump added: "Tonight, I understand, is MAGA NIGHT AT THE WHITE HOUSE???" — a tweet that seemed to encourage a clash between his supporters and the predominantly African American protesters outside the White House. Trump later denied this was his intention.
What to watch: Over the past 24 hours, there's been a vigorous debate in Trump's inner circle about whether the president should do an Oval Office address to the nation. 
2. The reset — and what's next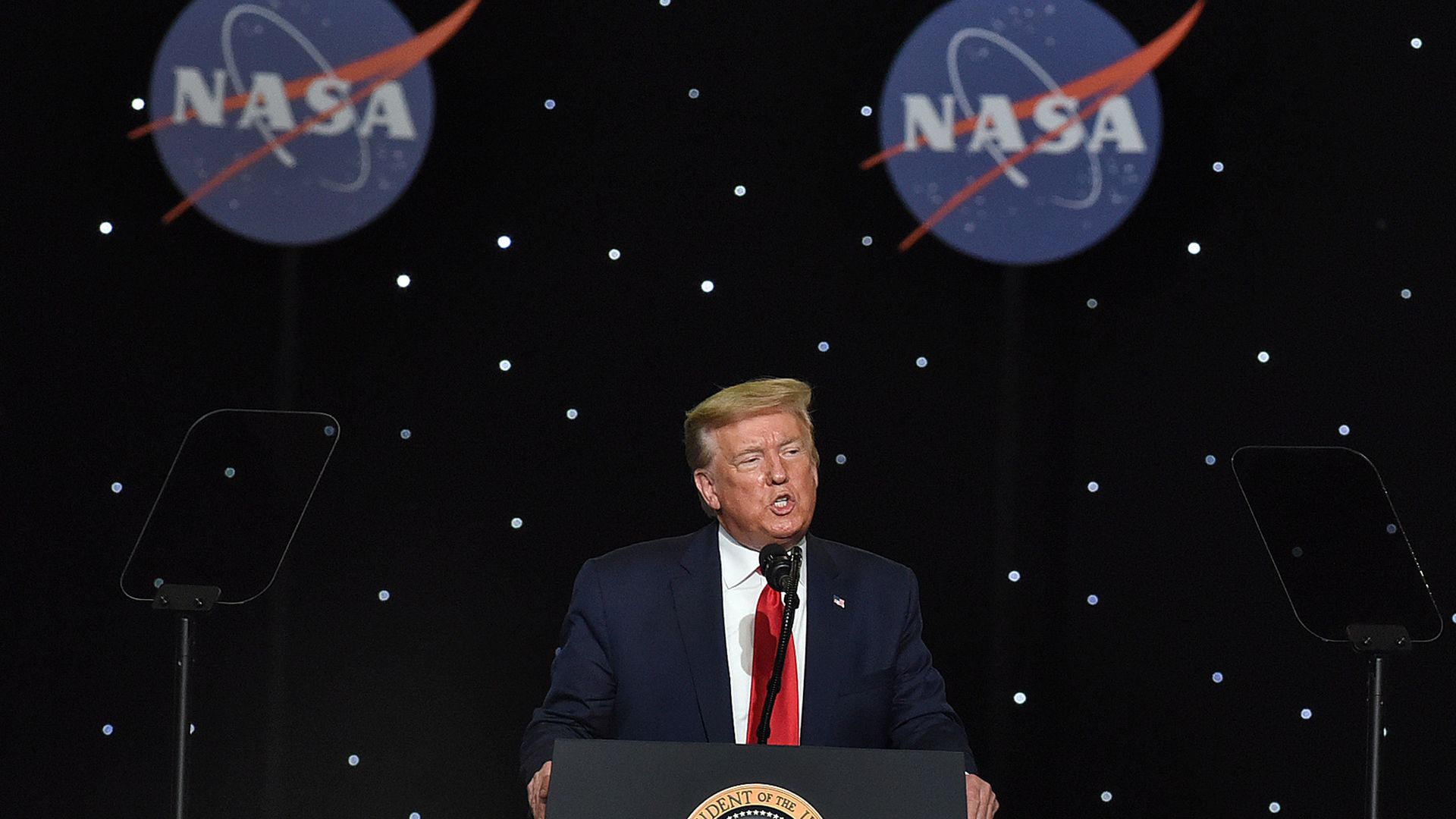 Trump's aides saw the president's trip to Florida to watch the SpaceX-NASA launch as an opportunity to reset his message and to distinguish between righteous protests of the murder of George Floyd and senseless riots.
Trump said, "The death of George Floyd on the streets of Minneapolis was a tragedy. It should never have happened. It has filled Americans across the country with horror, anger, and grief."
"I understand the pain that people are feeling. We support the right of peaceful protestors, and we hear their pleas. Unfortunately, what we are now seeing on the streets of our cities has nothing to do with justice or peaceful protests. The memory of George Floyd is being dishonored by rioters, looters, and anarchists."
His advisers were relieved — at least temporarily.
"I think most everyone is satisfied with where things landed [in Saturday's space launch speech] and with the tone of his remarks," a White House official told me. "The president's mind always goes to the place of law and order. He's a tough guy, and his instincts are 'I want to be with the police, I want safety and security, I don't want lawlessness.'"
"But there have been key voices in his ear who have been consistently saying 'Be that guy because we need that. What's happening in Atlanta and Minneapolis is not acceptable,' but also be empathetic and continue to show extreme sympathy for what happened with Floyd. And I think he navigated that very well" on Saturday.
What's next: "You're definitely going to see the law and order, tough guy rhetoric amp up in the coming days," the official continued. "But you're also going to see that laced with sympathy for legitimate protesters and for those actually mourning Floyd's death."
Yes, but: Nobody who knows Trump would pretend the tone of these scripted remarks is sustainable on a daily or even hourly basis. Trump always reverts to his instincts — which are to bluntly call for law enforcement to take "tough" actions against protesters.
3. Inside Trump's antifa tweet

As recently as Saturday night, senior administration officials told me that the designation of a violent cohort of far-left activists, antifa, as a terrorist organization was not being seriously discussed at the White House. But that was Saturday.
Behind the scenes: The situation changed dramatically a few hours later, after prominent conservative allies of the president, such as his friend media commentator Dan Bongino, publicly urged a tough response against people associated with antifa (short for "anti-fascist").
A senior White House official told me that on Sunday morning, President Trump discussed the move with White House Chief of Staff Mark Meadows and Attorney General Bill Barr.
Then, at 12:23pm, Trump tweeted: "The United States of America will be designating ANTIFA as a Terrorist Organization."
Yes, but: There currently is no law under which Trump could formally designate antifa, a loosely defined and domestic movement, as a terrorist organization. Only the State Department can designate foreign groups as terrorist organizations.
Mark Bray, author of "Antifa: The Anti-Fascist Handbook," wrote of Trump's tweet: "To explain a little: it's like calling bird-watching an organization. Yes, there are bird-watching organizations as there are Antifa organizations but neither bird-watching nor antifa is an organization."
About an hour after Trump's tweet, Barr said in a statement that antifa protesters were engaged in domestic terrorism.
"To identify criminal organizers and instigators, and to coordinate federal resources with our state and local partners, federal law enforcement is using our existing network of 56 regional FBI Joint Terrorism Task Forces."
"The violence instigated and carried out by Antifa and other similar groups in connection with the rioting is domestic terrorism and will be treated accordingly."
4. What's next: WH to pressure states to ramp up nursing home testing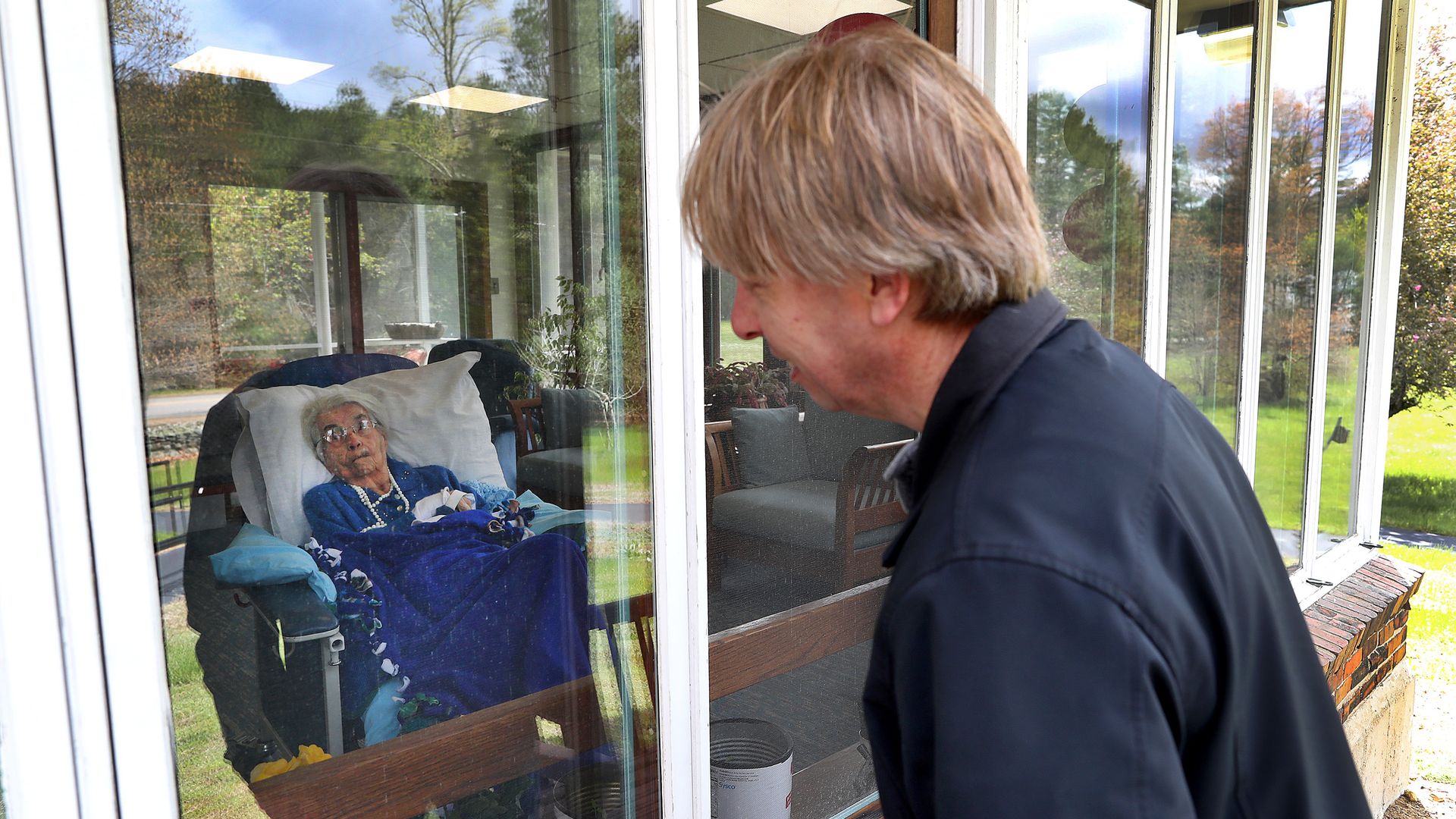 Watch for the Trump administration to pile more pressure on states to increase COVID-19 testing in nursing homes.
Behind the scenes: Sources familiar with the internal deliberations said this will likely be a focus of the White House's call with governors on Monday.
There have been internal administration discussions about ways to condition different forms of funding to states on their level of testing in nursing homes.
Why it matters: "A New York Times analysis as of May 21 showed that more than 34,000 deaths — 37 percent of the nation's fatalities from Covid-19 — occurred among residents and staff in long-term care facilities. In 15 states, long-term care accounted for more than half of all Covid-19 deaths."
5. First look: Small business anxiety persists amid reopening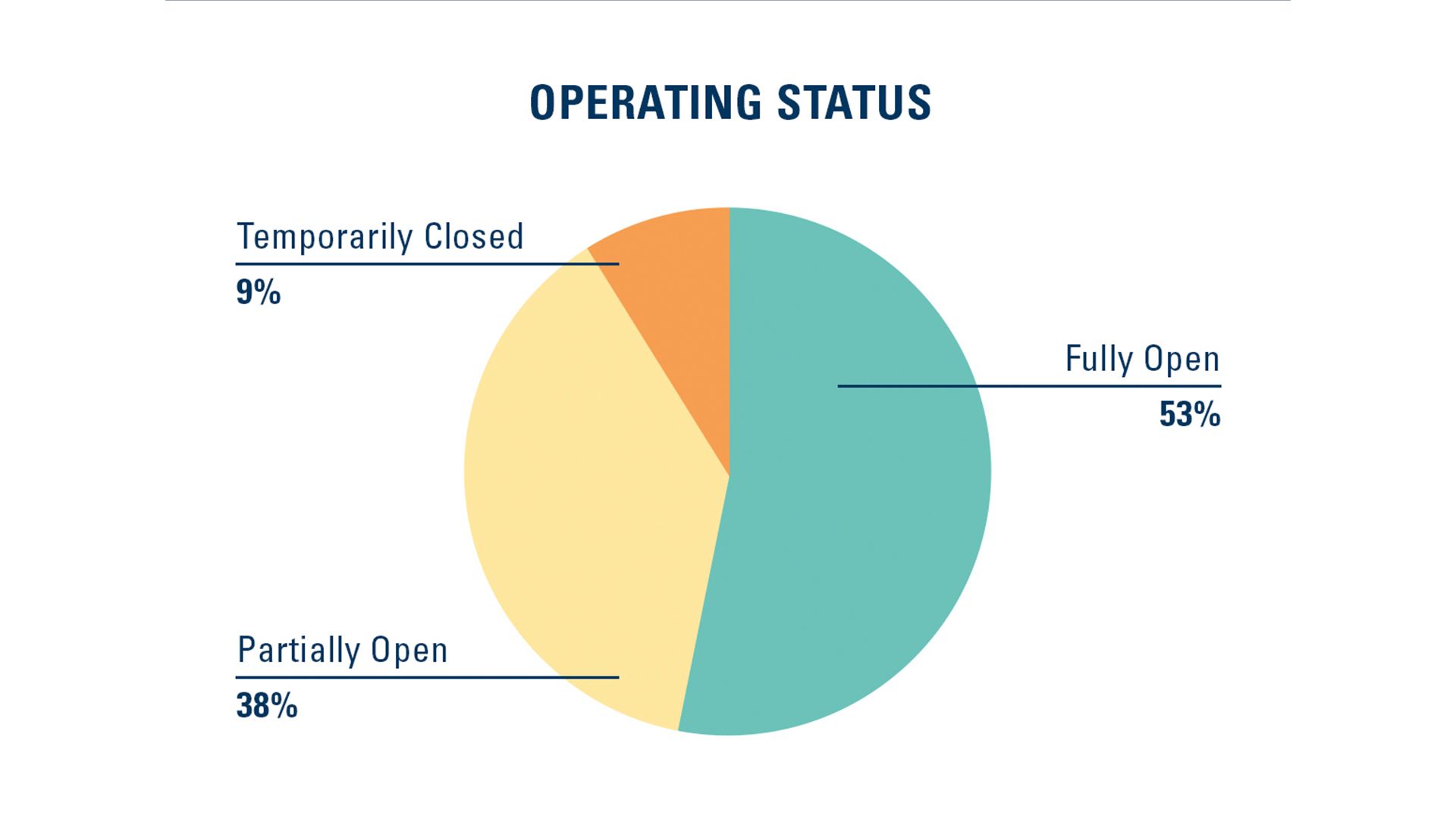 A Goldman Sachs survey of 1,447 participants (55% women) in the firm's 10,000 Small Businesses program, conducted by Babson College and David Binder Research, found that 53% of their small businesses are now fully open (compared to 39% in the same survey a month ago).
The small business owners surveyed "believe that only 63% of their revenue will return over the next six months."
Other noteworthy findings:
88% of the small businesses surveyed say they've been approved and received Paycheck Protection Program (PPP) loans from the federal government.
44% of small business owners who received PPP loans said that after the two-month period they won't be able to keep their staff on payroll for more than three months if they don't get more money from the government,
91% of the small business owners surveyed support a liability shield to protect themselves against lawsuits from their employees if they return to work and get sick.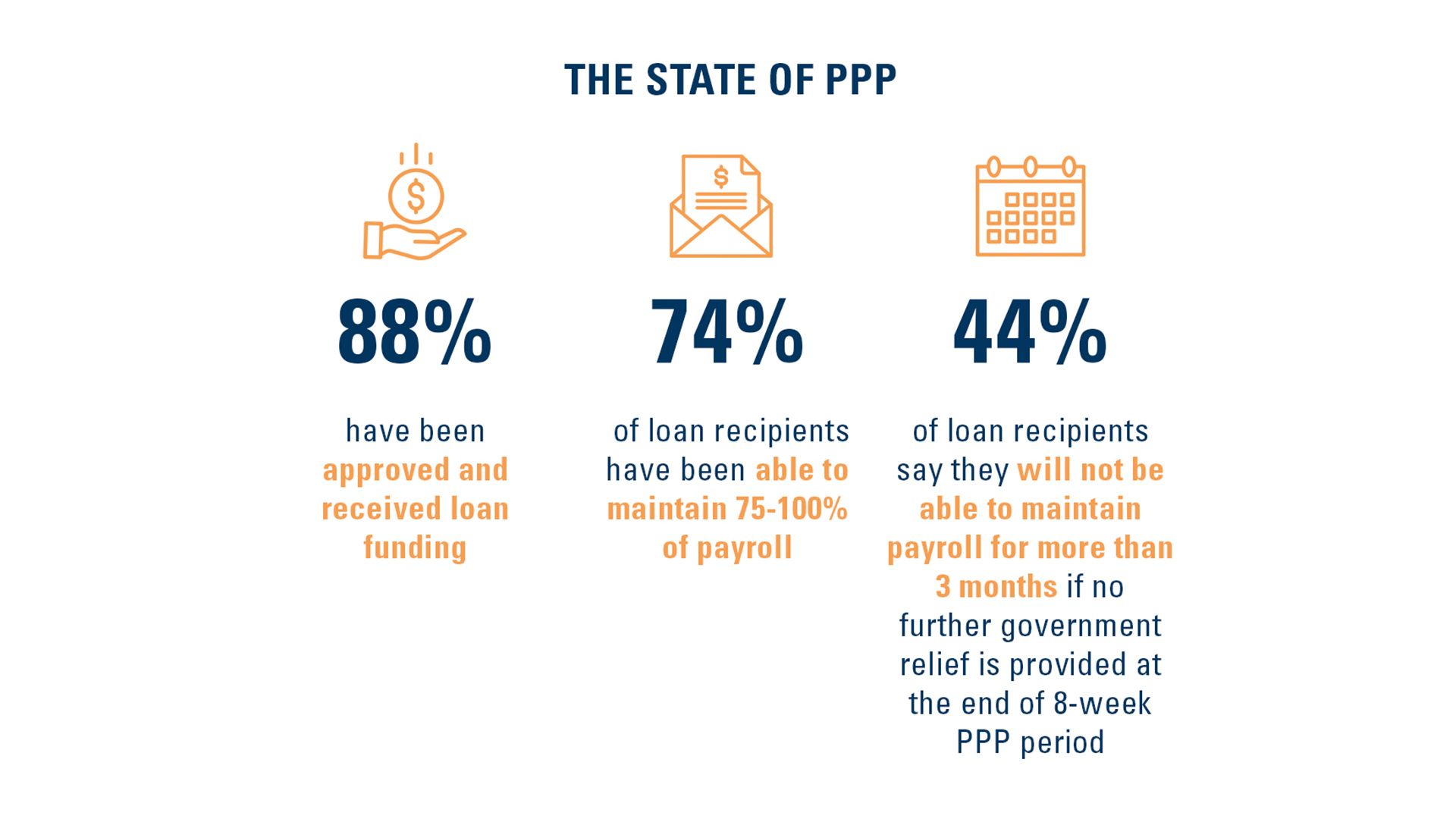 What's next: From June 10 to 11, more than 2,000 of the small business owners involved in the program are expected to meet virtually with members of Congress to discuss its COVID-19 response.
6. Sneak Peek diary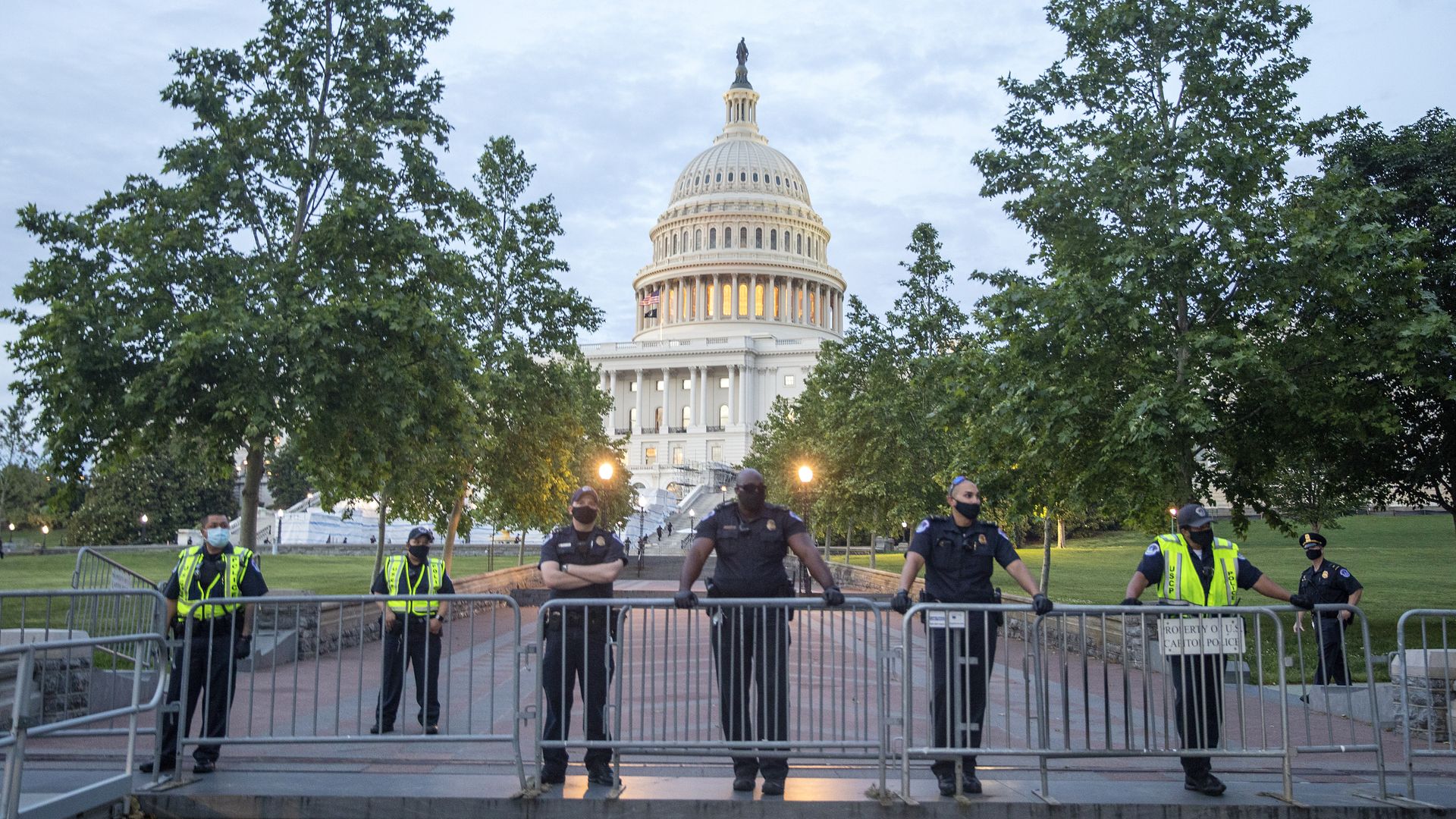 The House will hold remote hearings and committee meetings throughout June. Members are not scheduled to meet again for votes until June 30, but that could change for legislation to respond to COVID-19, Axios' Alayna Treene reports.
Members will be given at least 72 hours' notice of any floor action.
Tuesday: Govs. Jared Polis (D-Colo.), Gretchen Whitmer (D-Mich.) and Asa Hutchinson (R-Ark.) will participate in a remote House Energy and Commerce Committee hearing on how governors are battling the COVID-19 pandemic.
Wednesday: The House Judiciary Committee will hold a hearing on voting rights during COVID-19.
Thursday: CDC director Robert Redfield will testify before the House Appropriations Committee.
Friday: The Congressional Black Caucus will host a town hall titled "Living while black in America."
The Senate will vote on the following nominees, per a spokesperson for Senate Majority Leader Mitch McConnell:
John Leonard Badalamenti as a judge for the Middle District of Florida
Victor G. Mercado as Assistant Secretary of Defense
Brian D. Miller as Special Inspector General for the coronavirus pandemic
James H. Anderson as Deputy Undersecretary of Defense
Drew B. Tipton as a judge for the Southern District of Texas
Tuesday: The Senate Banking Committee will hold a hearing to examine the implementation of Title IV of the CARES Act, which provides $500 billion in emergency funding to eligible businesses, states, municipalities and tribes.
Thursday: The Health, Education, Labor and Pension Committee will hold a hearing on going back to college safely.
The White House did not provide a week-ahead schedule for President Trump.
7. 1 fun thing: 103-year-old celebrates COVID-19 recovery with ice-cold Bud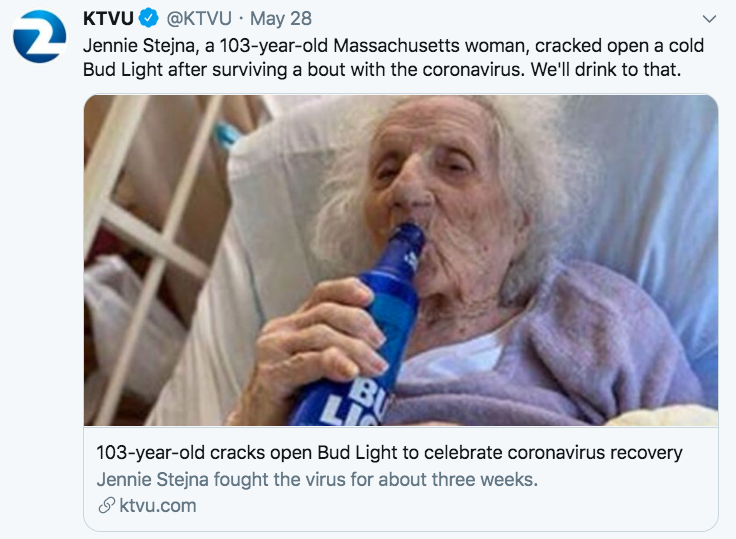 Some happy news ... because Lord knows we need it.
"A 103-year-old Massachusetts woman who recovered from COVID-19 celebrated with a favorite drink — a cold beer, her family told CNN."
Driving the news: "When Jennie Stejna tested positive for coronavirus in late April, her family began preparing for the worst, granddaughter Shelley Gunn said."
"At one point, her family was told that Stejna had stopped eating and drinking and might not make it through the night. They called her for one last goodbye, Gunn said."
"When Gunn's husband, a Navy retiree, asked Stejna if she was ready to pass away, she responded 'Hell yeah,' according to the family."
The twist: "But instead of a grim phone call from Stejna's nursing home, on May 8 they received the news that she had tested negative, and was symptom-free, the family said."
"The nurses came into her room, and she said, 'I'm not sick anymore, Get the hell out,' Gunn said."
"The nursing home staff honored Stejna's perseverance with one of her favorite treats — an ice-cold beer."