Axios Sneak Peek
October 24, 2021
Welcome back to Sneak. We hope you're having a good weekend.
⚡Situational awareness: The White House readout of today's meeting involving President Biden, Senate Majority Leader Chuck Schumer and Sen. Joe Manchin said it "was a productive discussion."
Smart Brevity™ count: 2,027 words ... 7.5 minutes. Edited by Glen Johnson.
1 big thing: Schlapps see '24 Trump run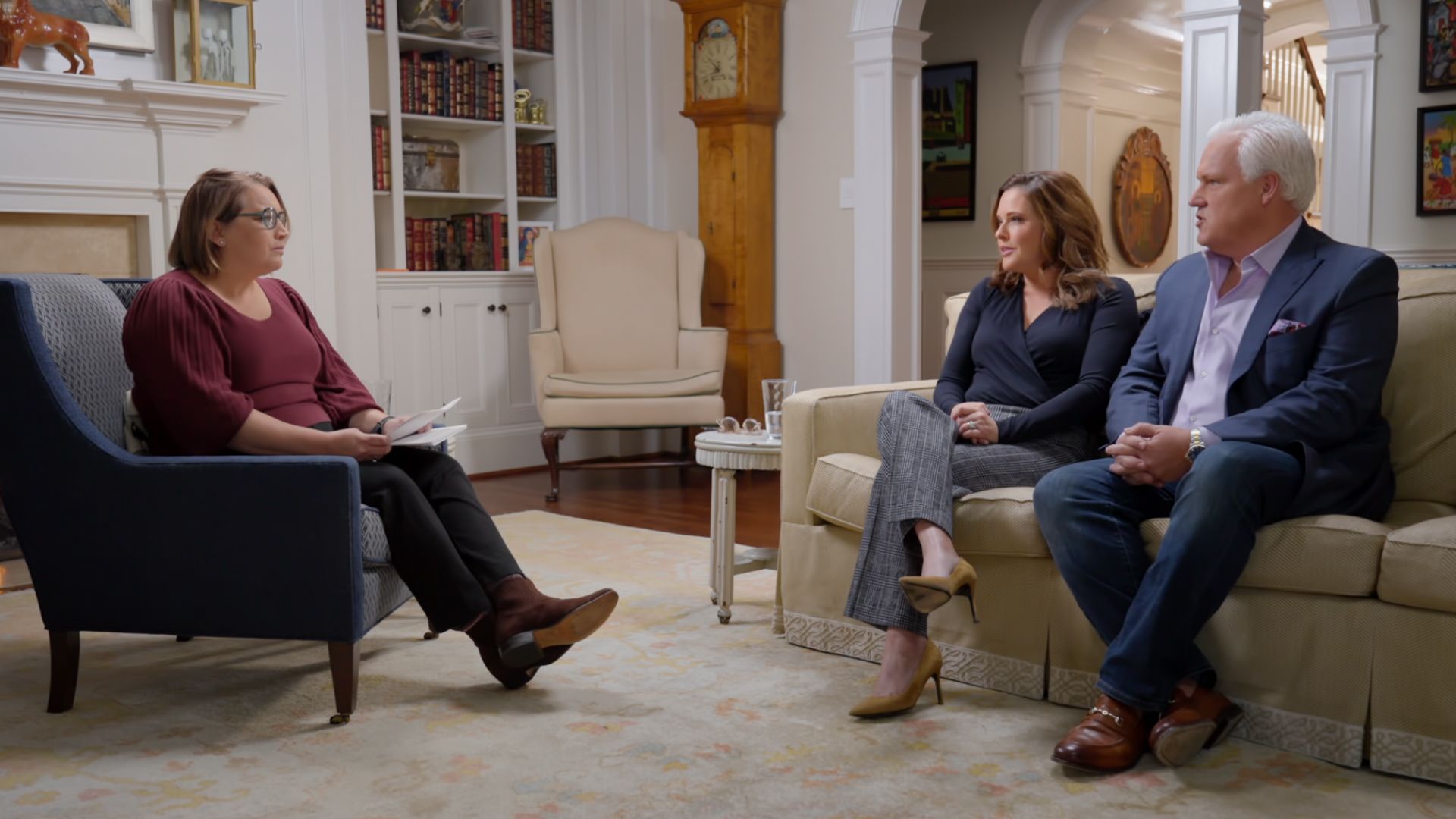 The chairman of the American Conservative Union told Margaret Talev for "Axios on HBO" he accepts "Joe Biden is my president, and I want him to succeed," but predicted Republicans retake the House and Senate in 2022 — and greater than 50% odds Donald Trump runs in 2024.
The big picture: In a joint interview with his wife, Mercedes, Matt Schlapp also refused to share their vaccination status. And he told corporate America "you blew it" by embracing vaccine mandates and liberal social stances that have alienated GOP voters and politicians.
"It's offensive to those who support the Republican Party and the conservative movement," he said. "They thought that they could appease the left and that the people, this broad midsection of this country would just go along with it, and they're not going to."
Why it matters: The Schlapps, who once served together in George W. Bush's White House and remain close with Trump, are influential figures in the Republican Party.
The ACU hosts the annual Conservative Political Action Conference, a mandatory stop for upwardly mobile Republican political figures.
What they're saying: "He won the election," Matt Schlapp said of President Biden.
"You also have to acknowledge that we had a presidential election, an election generally, unlike any we had ever had, because we suspended the rules because of the terrible pandemic. And that resulted in us not following the verification of voters in these states.
"Joe Biden is my president, and I want him to succeed," Schlapp said. "And I want him to project strength overseas. ... We have never participated in any kind of rhetoric that would undermine that."
"I don't believe it would change the outcome of the election," Mercedes Schlapp said of calls for audits or investigations of alleged fraud. "But I will tell you a lot of people out there are very concerned ... about election integrity."
Matt Schlapp said he leaves each conversation with Trump asking himself, "Is he gonna run or is he not gonna run?" but after their most recent interaction a week earlier, "I think it's a greater than 50% chance that he runs.
"I think, for him, he wants to know that it's a doable thing, to win the presidency again," Schlapp said.
Mercedes Schlapp said Trump's thinking may be influenced by "how well the Republicans do" next year. If they win back control of both chambers, a Trump run is "more likely."
2. Pelosi: Wealth tax probable
House Speaker Nancy Pelosi said today she expects the House to pass the bipartisan infrastructure plan by week's end, and alternatives to corporate tax hikes and a "billionaires tax" will be used to finance Biden's promised expansion to the social safety net.
Why it matters: Pelosi's comments come as House and Senate leaders try to wrap up a deal. What will get cut — and how the remainder will be paid — are linchpins to a final agreement, Axios' Alayna Treene writes.
A formal deal on the roughly $2 trillion plan also will allow a House vote on the Senate-passed $1.2 trillion infrastructure bill before surface transportation funding runs out on Oct. 31 — a week from today.
The big picture: Democrats hope these two potentially transformational developments will give them a lifeline heading into the 2022 midterms.
They also hope for a boost to their candidates in two pivotal gubernatorial races in Virginia and New Jersey on Nov. 2.
What she's saying: "We have 90% of the bill agreed to and written. We just have some of the last decisions to be made," Pelosi told Jake Tapper on CNN's "State of the Union."
"I think we are pretty much there now," she said when asked if the deal would be cinched before the president leaves for Europe on Thursday.
Pelosi also said international taxes, a wealth tax and stepped-up IRS tax enforcement could be part of the final package now that tax rates on corporations and wealthy individuals have been nixed over opposition from Sen. Kyrsten Sinema (D-Ariz.)
"We probably will have a wealth tax," Pelosi said on CNN. "But, again, it's only 10% of what we — you need."
The speaker acknowledged the new package will likely be far less than the $3.5 trillion Democrats initially hoped for but added it will still be "transformative" when added to the $1.2 trillion infrastructure bill and the $1.9 trillion COVID-19 relief bill enacted in March.
"It is less than we had projected to begin with, but it is still bigger than anything we've ever done in terms of addressing the needs of America's working families," she said.
The latest: Democrats are still debating a top-line price tag for the bill, revenue raisers and key policies.
The president hosted Senate Majority Leader Chuck Schumer and Sen. Joe Manchin (D-W.Va.) at his home in Delaware this morning to continue negotiating key sticking points.
Manchin has held firm on a $1.5-trillion cap, while Biden and Schumer are pushing for something closer to $2 trillion.
Two potential cuts as the package gets smaller are paid leave for families and Medicare expansion for dental, vision and hearing.
Manchin also opposes key climate provisions, including the Clean Energy Performance Program.
Meanwhile, Senate staffers are working behind the scenes on a tax proposal they plan to introduce as early as tomorrow. The proposal will serve as the outline for how to pay for the bill.
Biden conceded during a CNN town hall meeting on Thursday that he doesn't have the votes to raise corporate taxes — a pillar of his package that's widely popular in polls.
Sinema is instead pushing for a minimum tax on corporations and taxing billionaires' assets.
Between the lines: Gaining the support of Manchin and Sinema is crucial to clinching a deal.
Each Senate Democrat has veto power over the bill due to the body's 50-50 split.
"When you're in the United States Senate and you're president of the United States and you have 50 Democrats, everyone is a president," a laughing Biden told CNN last week.
3. McAuliffe pivots to schools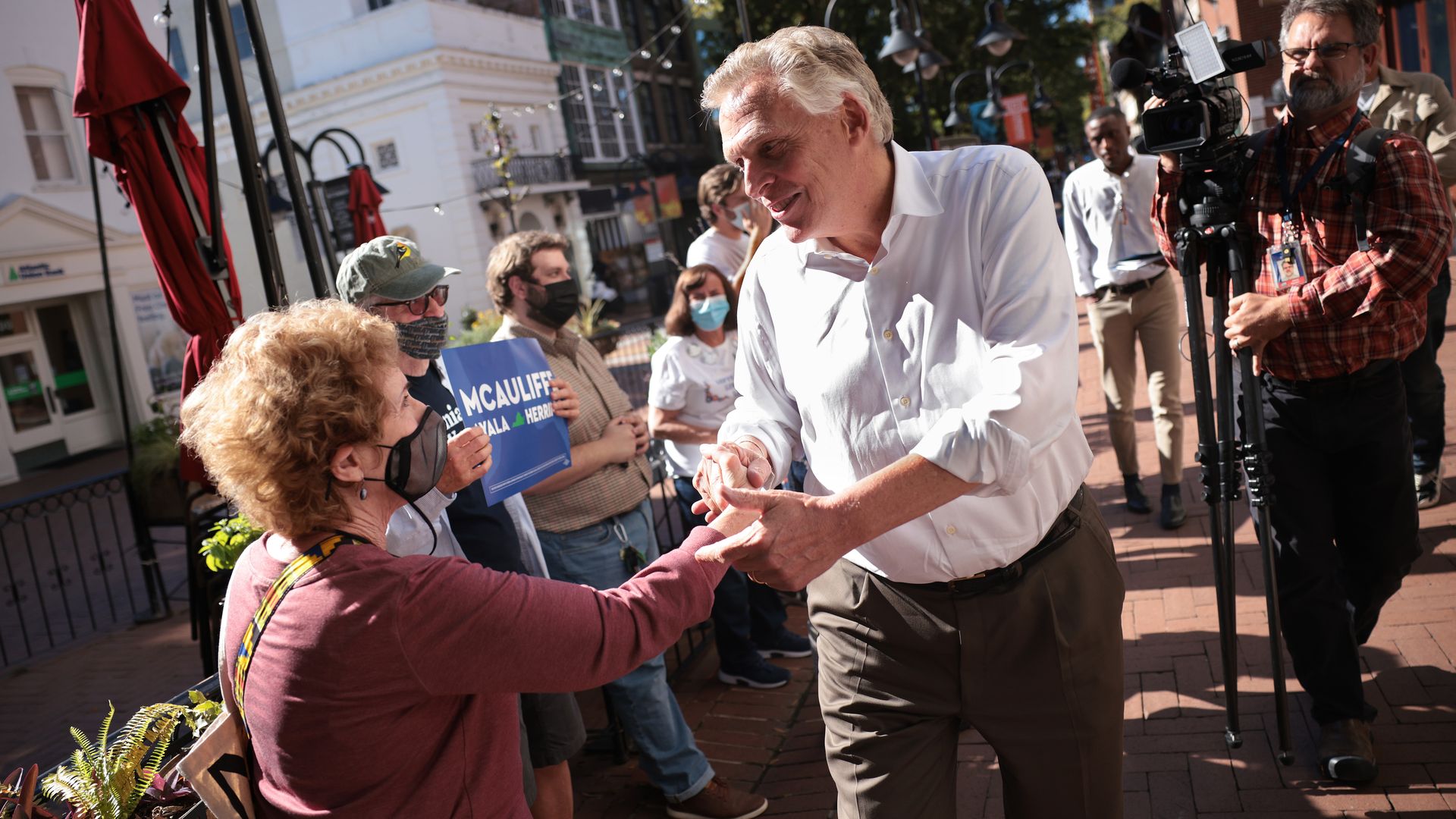 In the closing weeks of their closely watched Virginia gubernatorial race, Terry McAuliffe is challenging Glenn Youngkin on unlikely ground — public education — as he tries to reverse the Republican's surprisingly strong challenge, Axios' Sarah Mucha writes.
Why it matters: McAuliffe and his fellow Democrats are in danger of losing a bellwether election in a must-have presidential state. He's brought in the president, Vice President Kamala Harris and former President Obama as his own efforts to make the race a referendum on Donald Trump have faltered.
By focusing on education, McAuliffe is trying to shift the debate on a topic that resonates especially with pivotal suburban women.
The past and would-be future governor is warning parents that plans pushed by Youngkin will quietly cut thousands of teaching jobs — and this should be a bigger concern than the tonality of lesson plans around systemic racism.
"Listen, he's got an economic plan that 43,000 teachers will be cut. $10 billion hole in education. So, I want to rebuild, and that's what I'm excited to do," McAuliffe said about Youngkin.
Youngkin rapid response director Christian Martinez said in a statement, "All-talk, no-action career politician Terry McAuliffe has been exposed for rolling out the same old failed promises, failed policies and misleading lines of attack that he's been repeating for 12 years."
"Virginians have taken notice and are overwhelmingly throwing their support behind a new kind of leader in Glenn Youngkin."
Driving the news: Axios caught up with McAuliffe on Wednesday in Charlottesville, Virginia, where a deadly 2017 rally by white supremacists marked an early low point in the Trump administration.
Biden says it also provided the spark for him to challenge Trump in the 2020 presidential race.
Despite his own efforts to tie Youngkin to Trump, McAuliffe said, "You know, I don't think y'all should be putting all this national stuff on me. I'm just trying to run this little governor's race here in the capital of Virginia."
Youngkin himself told Axios during a similar interview last month, "I brought together Forever-Trumpers and Never-Trumpers, sitting in the same audience, excited about what we're doing."
4. First look: Jill Biden's troops trip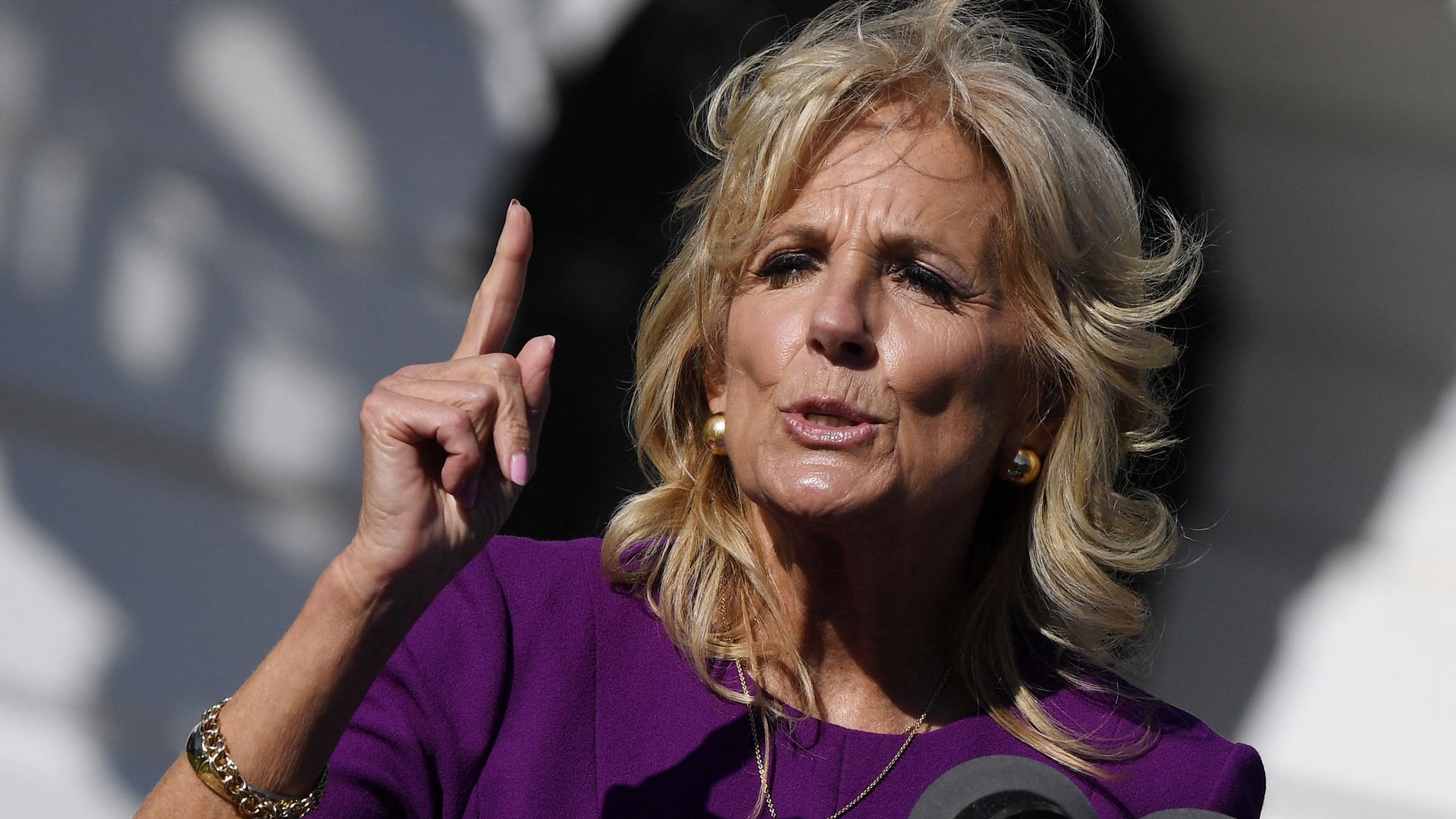 First lady Jill Biden tomorrow will visit the military base that's home to pilots and aircrews who helped conduct the airlift out of Kabul to thank the service members and their families for their support in ending the 20-year war in Afghanistan, reports Sarah, who's traveling with the first lady.
Why it matters: When she stops at the crews' home at Joint Base Charleston in South Carolina, the first lady will be their most high-profile member visitor from the Biden administration since the airlift ended Aug. 31.
President Biden and his national security team were heavily criticized for the chaos surrounding the evacuation, which included leaving American citizens behind and the deaths of 13 U.S. service members in a suicide bombing.
Jill Biden will use the trip to highlight resources available for the service members and their families relating to mental health and beyond.
The last official to visit the base following the airlift was Army Gen. Mark Milley, chairman of the Joint Chiefs of Staff.
The details: Biden is expected to visit with the 437th Air Wing at the tail end of a trip taking her to Michigan and South Carolina today and tomorrow.
The 437th provided over 30 air crews to support the airlift. Some were among the last people to evacuate from Kabul.
Joint Base Charleston is home to two dozen C-17 transport aircraft, which were predominantly used in the mission. The first lady is likely to view some.
Biden also is expected to address the troops and their families.
Go deeper: "Generals contradict commander."
5. Vote fight draws Kennedy, MLK kin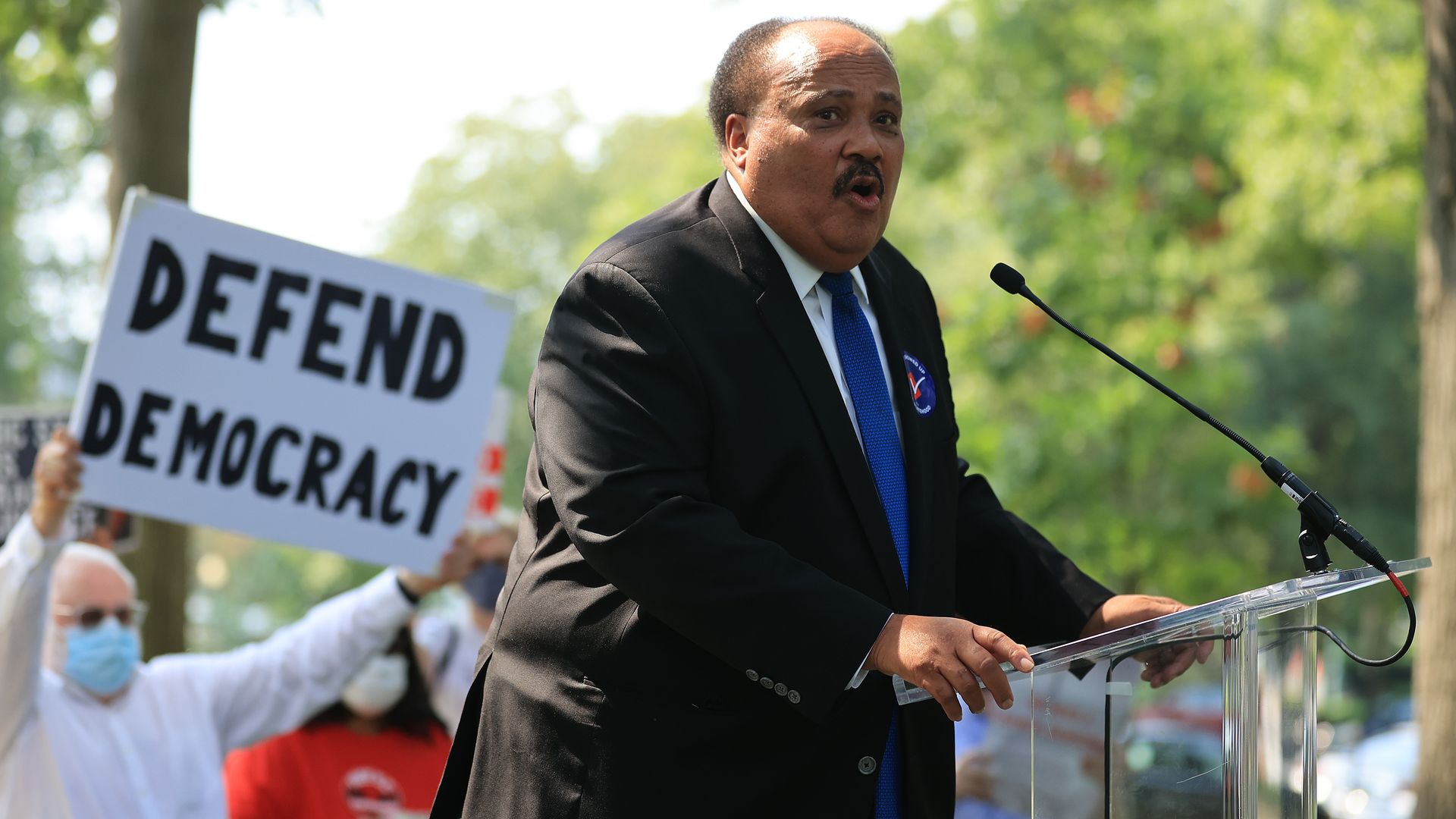 Martin Luther King III, Joe Kennedy III and other prominent figures have raised more than $1 million from small, daily donations to fight voting restrictions in a handful of Republican-controlled states, writes Axios' Stef Kight.
Why it matters: Decades after the 1960s civil rights movement, two of its most prominent legacies — the King and Kennedy families — are still fighting to expand voting access. Nineteen states have enacted 33 new laws this year adding hurdles for some voters.
King, 64, an activist and the eldest son of Martin Luther King Jr., told Axios that voting rights restrictions threaten the Democratic majorities in the House and Senate, as well as Biden's ability to follow through on his campaign promises.
Kennedy, 41, a former Massachusetts congressman and grandson of Robert F. Kennedy, said part of the campaign's goal is to provide more resources for groups in Republican areas, where there's traditionally less political incentive for the Democratic Party to invest in voter-protection efforts.
Joining them in their fundraising efforts are others including singer John Legend and NBA star Russell Westbrook.
Funds raised from the "Give Us the Ballot" campaign have already gone toward various voting rights organizations in Arizona, Mississippi, Georgia, Texas, New York, Alabama and West Virginia.
All but New York have Republican-controlled state legislatures and governorships.
Organizations that have received the funding include New Georgia Project, Black Voters Matter and Mi Familia Vota.
Supporters are asked to provide micro-donations of up to $2 per day.
What they're saying: "This is not, by the way, to tell everybody who to vote for. ... It's about making sure people have the opportunity," King said.
Kennedy said it's no accident that states have been passing laws that advocates say will make it more difficult to vote for some people.
"This is the direct consequence of literally a decades-long effort by conservatives to continue to tilt the playing field," he said.
What to watch: While the Senate failed last week to pass the Freedom to Vote Act pushed by Sen. Joe Manchin (D-W.Va.), both King and Kennedy told Axios the fight in Congress for expanded federal voter protections isn't yet over.
King compared the need for 6o votes to overcome the Senate filibuster to confederate statues, saying it's "a relic, and it needs to go."
6. Pic du jour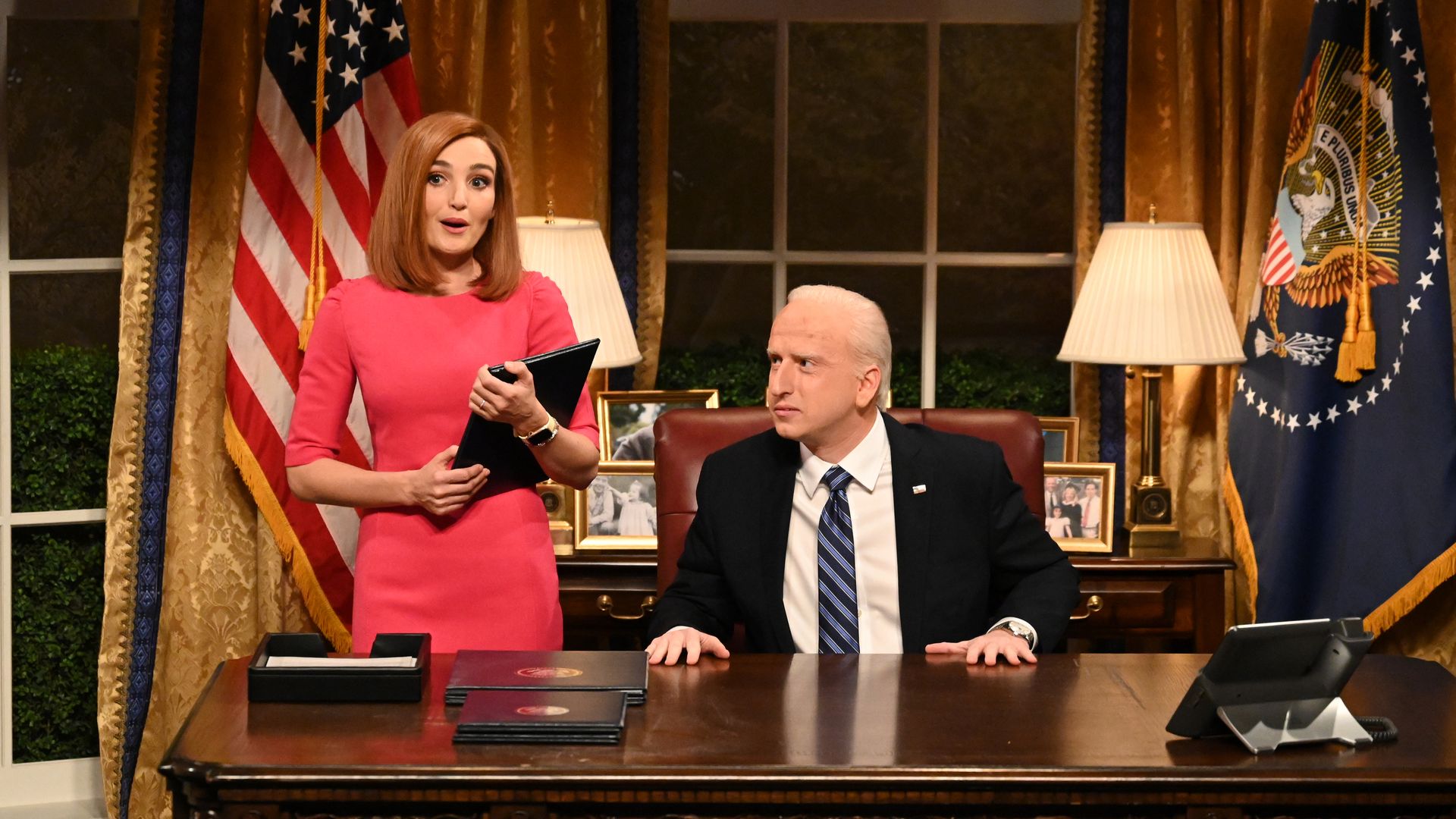 Chloe Fineman portrays Jen Psaki as James Austin Johnson does President Biden during last night's episode of "Saturday Night Live."
Guest host Jason Sudeikis also portrayed Biden during the skit.
📬 Thanks for starting your week off with us. A reminder that your family, friends and colleagues can subscribe to Sneak or any of Axios' other free local and national newsletters through this link.