Axios Sneak Peek
July 28, 2022
Welcome back to Sneak. Smart Brevity™ count: 1,073 words ... 4 minutes.
⚡ Situational awareness: Nevada's bid to be the Democrats' first-in-the-nation primary state is getting a big boost from several prominent minority political groups, days before DNC officials meet to vote on a new calendar, Axios' Alexi McCammond reports.
1 big thing: Paging Kyrsten Sinema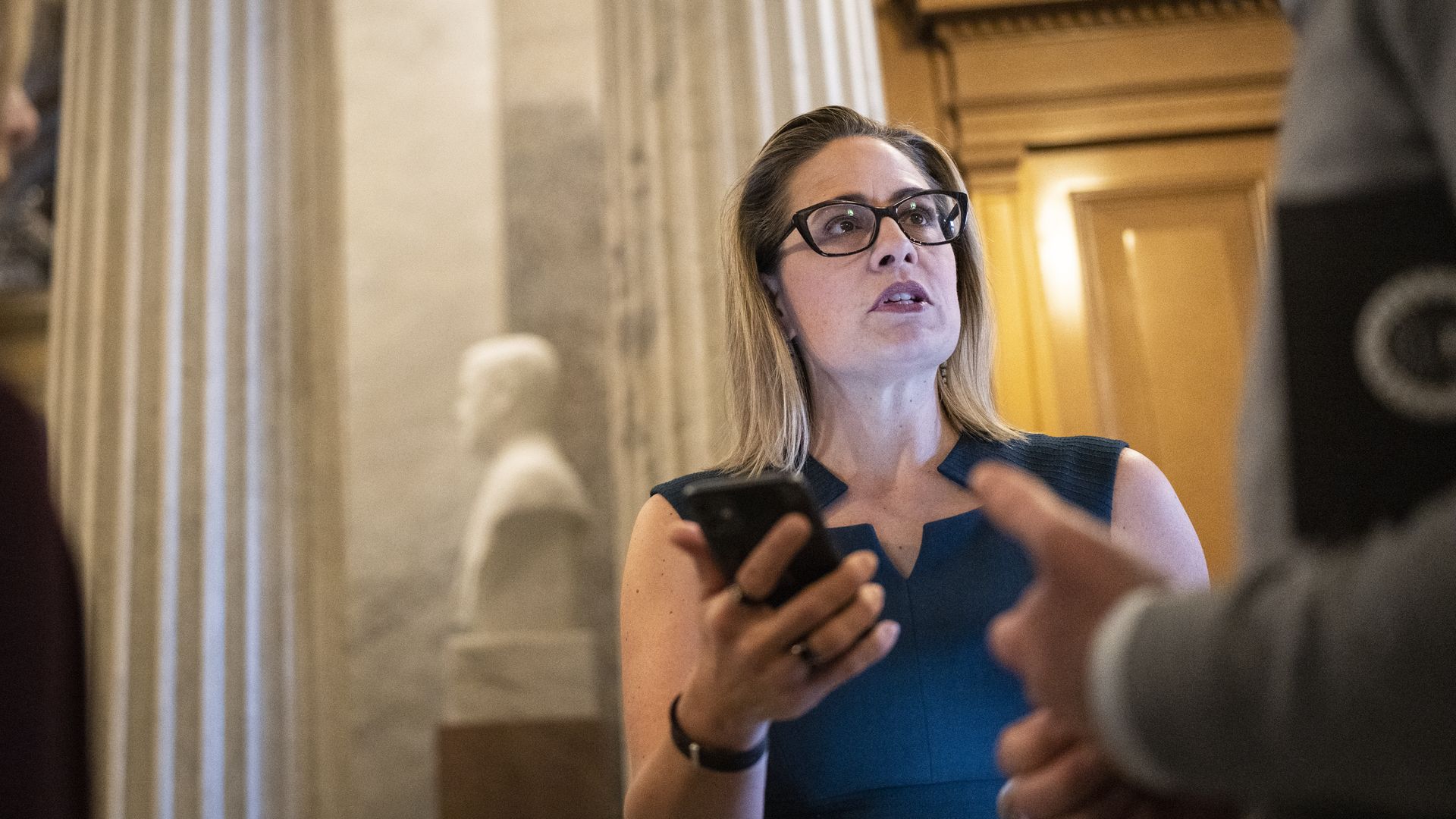 Sen. Kyrsten Sinema (D-Ariz.) has spent the summer out of the spotlight. That's now going to change, Axios' Alayna Treene and Hans Nichols report.
Why it matters: Solving the Democrats' tax and spending puzzle in the Senate — where President Biden's agenda has stalled for over a year — has always involved two key pieces: Sinema and Sen. Joe Manchin (D-W.Va.).
But as they hammered out the details of their $740 billion reconciliation package — which they rechristened the "Inflation Reduction Act of 2022" — Manchin and Senate Majority Leader Chuck Schumer didn't include Sinema in their secret talks.
That decision may not be fatal to winning her support. But much of Washington is flying blind on whether she'll back spending $369 billion on climate and another $64 billion on health care by raising the corporate minimum tax rate to 15%.
"We do not have a comment, as she will need to review the text," a Sinema spokesperson said in the hours after news broke of Manchin's stunning reversal.
One of the first signs Sinema wasn't consulted on the Schumer-Manchin agreement was that it included some $14 billion in new revenue from taxing carried interest, which she has indicated she opposes.
Between the lines: Sinema was on record last December supporting the 15% corporate tax rate, which will raise an estimated $313 billion to fund the Democrats' climate priorities.
But that was before inflation took off and constant chatter about a potential recession subsumed Washington.
Since Manchin initially killed Biden's Build Back Better agenda in December, corporate America — which is close to Sinema — didn't see a need to take her temperature on taxes.
And throughout the spring, Sinema shared and encouraged the view that Build Back Better — and any corporate tax increases — was dead.
The big picture: While Manchin's colleagues were fed up with him for killing every attempt so far at passing a major, Democrats-only spending bill, the party can taste a potential legislative victory.
"The good news here is that it is Sen. Manchin who is announcing a deal. Not that they're close to a deal, not that there are some parts to a deal," a giddy Sen. Elizabeth Warren (D-Mass.) told reporters. "That makes me very hopeful."
2. 👀 Part II: Dems' high-wire act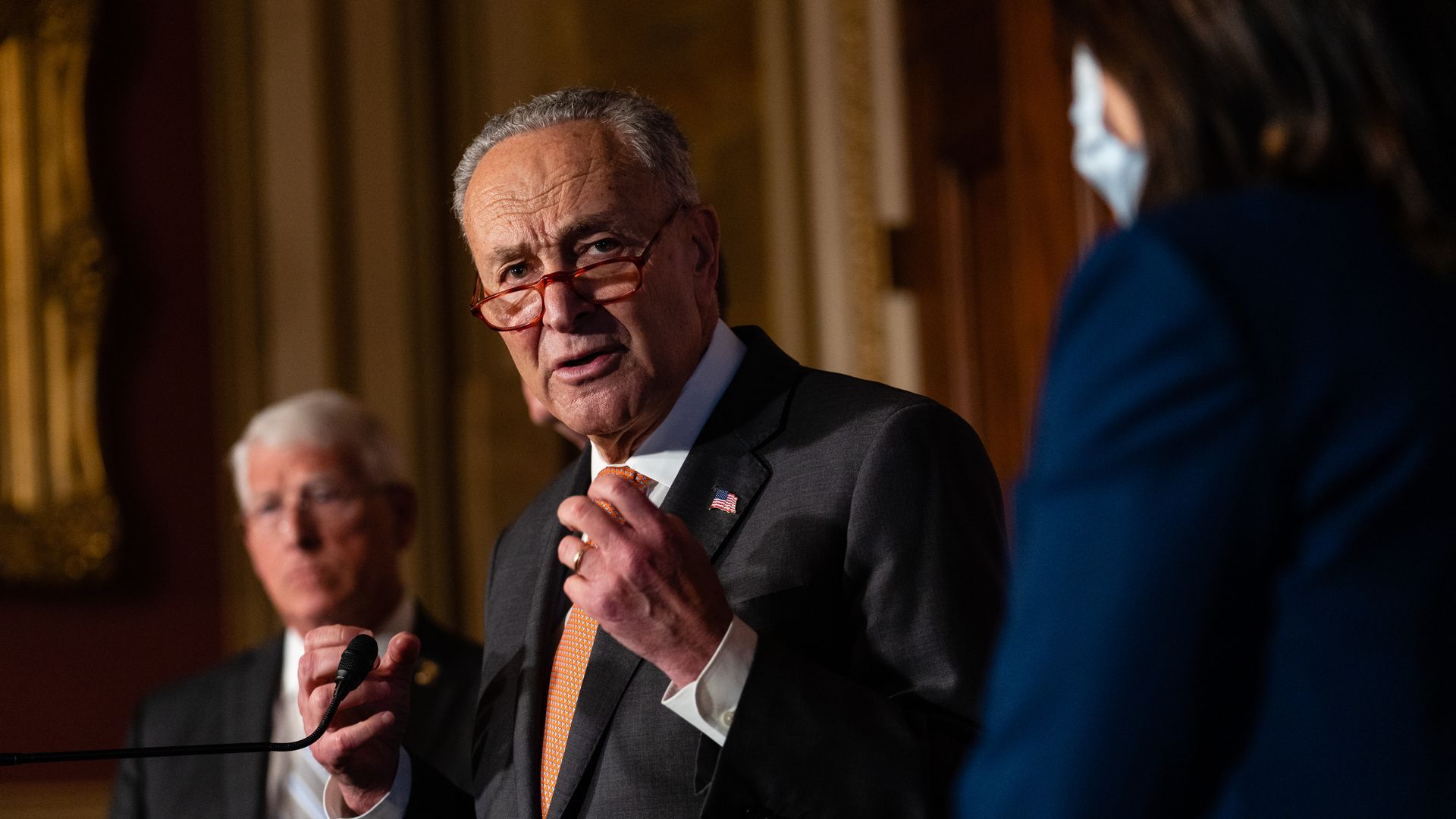 The revival of Build Back Better comes at a crucial time for Democrats, who have been desperate to notch a win on these priorities for over a year now.
If they can successfully get this legislation over the finish line, it'll be a massive victory they can campaign on before November — serving as a possible distraction from the economy and rising inflation.
The intrigue: The timing of this announcement, which came just hours after the Senate passed a $280 billion China competition and chips manufacturing bill, shows how Schumer and Manchin turned the tables on Minority Leader Mitch McConnell.
Remember: McConnell threatened to tank "CHIPS-plus" if Democrats pursued a robust reconciliation deal with Manchin.
The bill ultimately passed today with huge GOP support after most members thought a sweeping reconciliation bill was doomed, paving the way for Democrats to push ahead with a more ambitious package.
"You think we got sucker-punched?" Sen. John Cornyn (R-Texas) asked Axios' Andrew Solender, adding: "I don't think it's a done deal yet."
"I think they might want to count their chickens before they start popping champagne corks," he said.
Schumer is taking a huge risk by doing this now, as it jeopardizes House passage of the China bill.
A huge chunk of the House GOP conference, including leadership, was already planning on voting against the measure. Now, many other House Republicans may also revolt given the Senate leader's sleight-of-hand approach.
House Speaker Nancy Pelosi will have to get nearly every single House Democrat on board to ensure it passes, corralling progressives who have suggested they oppose some provisions that would provide a boost to corporations.
And while blindsided by the surprise agreement, Republicans are now preparing to hit Democrats for raising taxes as the country potentially heads into a recession.
Behind the scenes: The majority of Senate Democrats were stunned upon learning of the news this evening, including Majority Whip Dick Durbin (D-Ill.). Many were informed of the deal and its contents by reporters.
They later met virtually with Schumer to discuss the details and will meet in person for a full, caucus-wide meeting tomorrow morning.
What they're saying: "I want to thank Sen. Schumer and Sen. Manchin for the extraordinary effort that it took to reach this result," Biden said in a statement. "This is the action the American people have been waiting for."
3. 🗳️ What's new in Georgia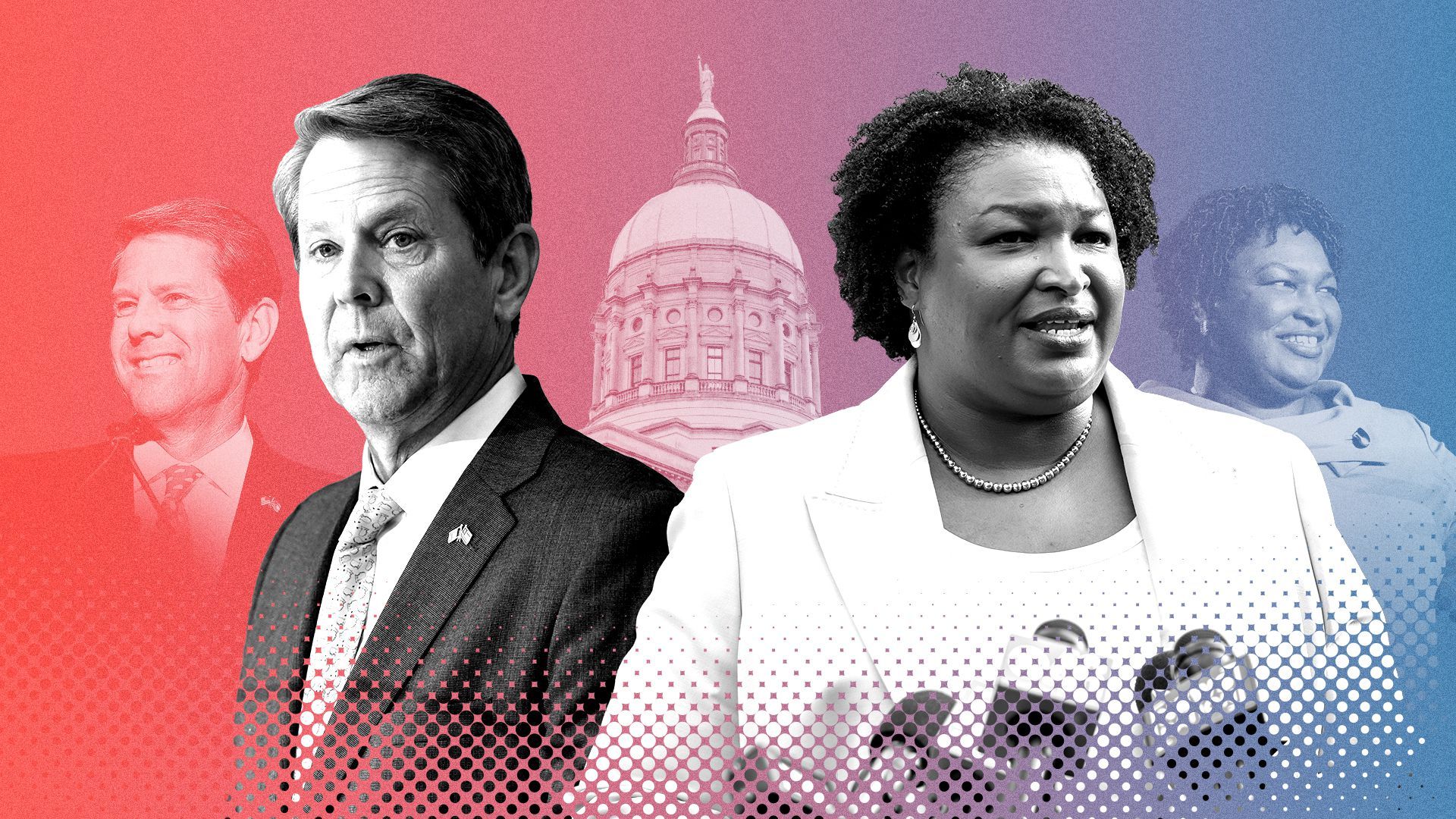 Four years ago, Democrat Stacey Abrams came within 1.4% of defeating Republican Brian Kemp in a governor's race now viewed as an opening salvo in the fight to turn Georgia blue, Axios Atlanta's Emma Hurt writes.
Why it matters: The political winds shaping this fall's highly anticipated rematch between popular incumbent Kemp and Abrams — a fundraising juggernaut with national name recognition — are remarkably different.
The big picture: The pandemic, the racial reckoning over the killing of George Floyd, and inflation unleashed by the war in Ukraine and recovering global economy have fundamentally changed the debate over top election issues.
Georgians voted for a Democratic president and two Democratic senators in the historic 2020 election — transforming expectations about what can be achieved in the longtime Republican state.
Former President Trump's false claims of voter fraud have catalyzed a new Republican focus on "election integrity," including through new voter restrictions in Georgia championed by Kemp and vilified by Abrams.
Driving the news: Despite Georgia swinging blue in 2020, Republicans are feeling confident about their chances in November — Kemp is maintaining a narrow lead over Abrams in a new poll out today, and Cook Political Report rates the governor's race "Lean R."
4. ✈️ Newest Capitol statue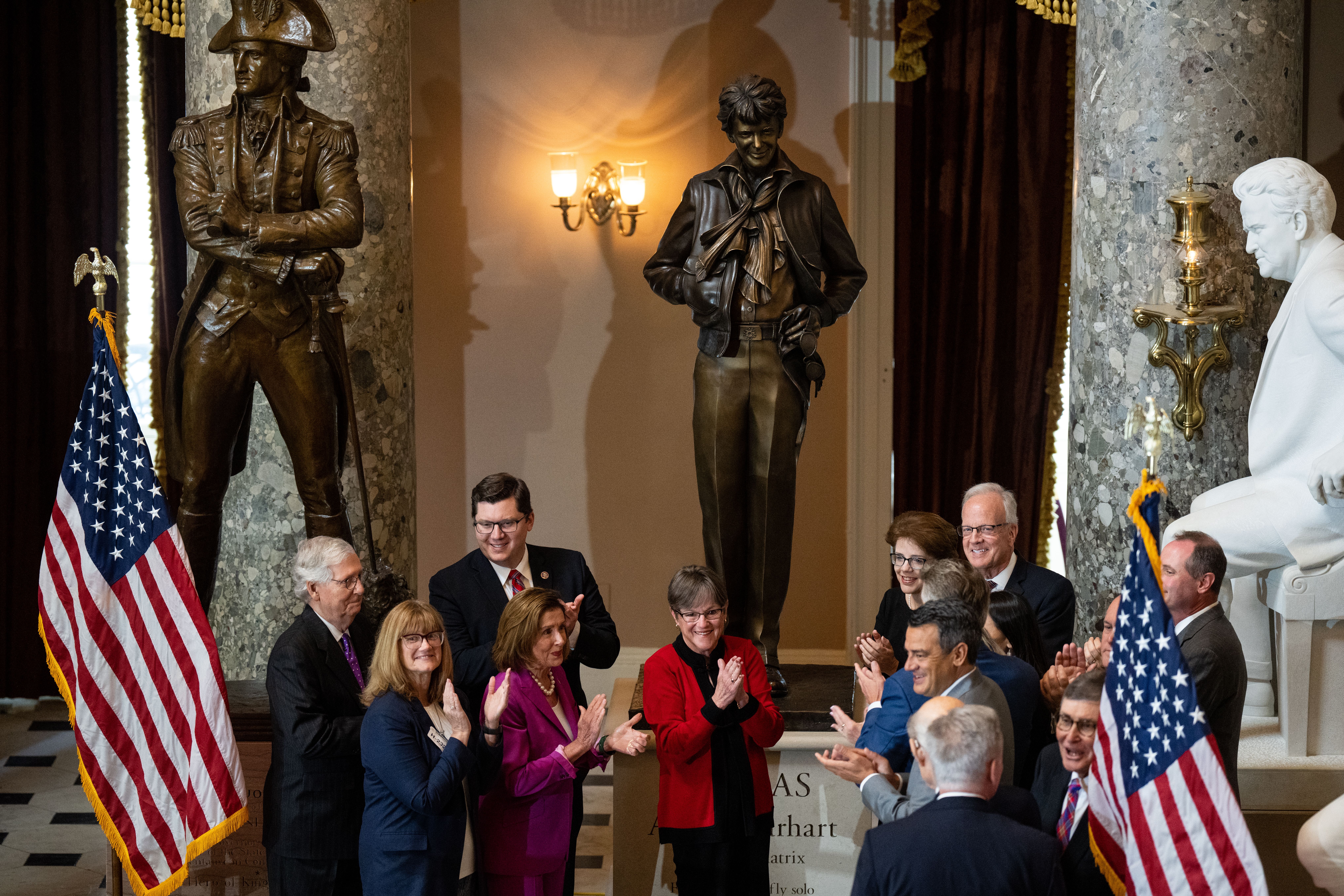 House Speaker Nancy Pelosi unveiled a new statue in the National Statuary Hall to honor Amelia Earhart, the first woman pilot to fly solo across the Atlantic.
📬 Thanks for reading! Tell your friends and family to sign up here for any of Axios' free national and politics newsletters.