Axios Sneak Peek
December 11, 2022
Josh Kraushaar here. Thanks for joining Sunday Sneak Peek, our weekly look ahead at the forces shaping American politics.
Smart Brevity™ count: 1,186 words ... 4.5 minutes.
1 big thing: Sinema's mutually assured destruction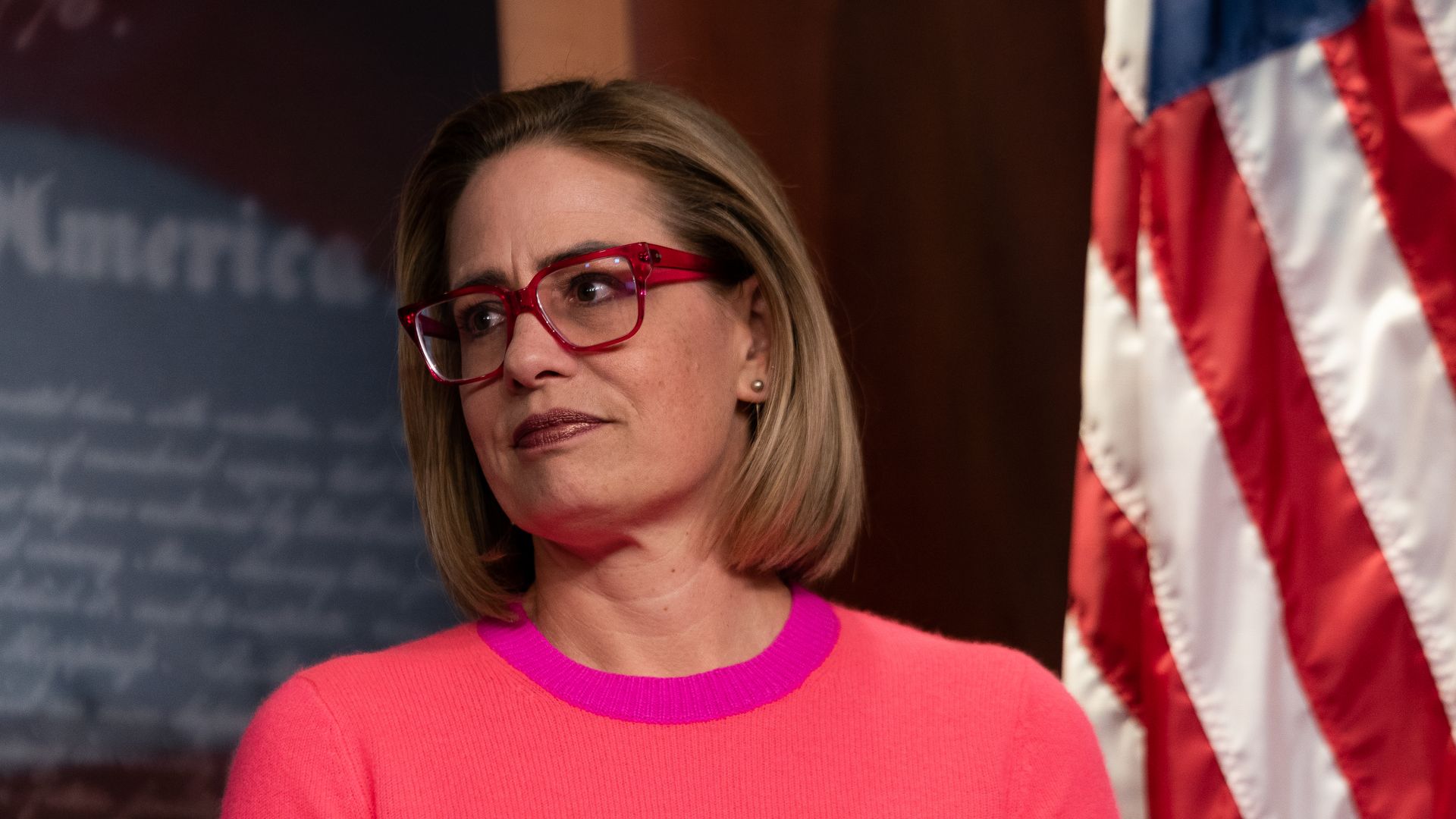 Arizona Sen. Kyrsten Sinema's stunning decision to become an independent has triggered the possibility of a blue-on-purple civil war that could cost Democrats a must-win Senate seat in 2024.
The big picture: In the last three elections, Democrats have won unlikely victories in traditionally red Arizona because a critical mass of independents and moderate Republicans couldn't stomach MAGA-aligned GOP nominees.
Sinema would have had difficulty winning a primary. But she can win a general election — and might even be the favorite — if no Democrat of consequence runs.
But if moderate and progressive Democrats split, her move risks handing the Senate seat to a Republican nominee — potentially a right-wing candidate like Kari Lake.
What to watch: The White House and Democrats' Senate campaign arm will have two crucial decisions to make:
If Sinema runs for re-election, will they endorse her independent candidacy, preempting a serious Democratic challenger?
Or will they rally behind a Democrat like Rep. Ruben Gallego, risking a messy general election that could hand her seat over to a Republican?
If Democrats take the first path, Sinema will be treated like Sen. Angus King, a Maine independent who caucuses with the Democrats and draws only nominal Democratic opposition in his campaigns.
Utah Senate candidate Evan McMullin also ran competitively as an independent this year, and his candidacy was tacitly embraced by Democrats.
If Democrats take the second path, party leaders will work all-out to oppose her re-election (assuming she runs).
But it's tough to see how Democrats hold the seat if both Sinema and Gallego are on the general election ballot.
Sinema isn't conservative enough to secure support from most Republicans, and she'd likely split enough Democratic votes to allow a GOP candidate to win with a plurality.
In other words, Sinema is essentially daring Democrats (and Gallego) to get in, knowing it comes with the threat of mutually assured destruction.
By the numbers: Democrats only make up 31% of registered voters in Arizona, lagging behind Republicans (35%) and independents (34%).
"If Democrats nominated a progressive and Republicans nominated a MAGA candidate, that's the scenario where Sinema could pull off a victory," said former Arizona House Speaker Kirk Adams, who served as GOP Gov. Doug Ducey's chief of staff.
"I have a long track record of telling my colleagues not to underestimate Kyrsten Sinema. And I've been right every time. She's never done anything half-baked," Adams added.
What they're saying: "I know this will probably disappoint folks, but I'm actually not even thinking about electoral politics or talking about that at all right now," Sinema said coyly when asked about her 2024 plans on CNN.
2. 👀 Data dive: Democrats show signs of life in rural America
A new analysis of the midterms by centrist Democratic think tank Third Way finds that most Democratic candidates improved on President Biden's 2020 performance in rural America — with some notable exceptions.
How it works: Third Way's data dive labeled counties as rural, suburban/exurban or urban and aggregated the countywide results. The analysis covered 10 states (Arizona, Colorado, Georgia, Kansas, Michigan, Nevada, North Carolina, Ohio, Pennsylvania and Wisconsin) and 16 races.
By the numbers: Pennsylvania Sen.-elect John Fetterman was one of the party's top rural success stories. He outdistanced Biden by seven points in the state's rural counties — overperforming Democrats more in the state's rural counties than in the suburban and urban centers.
The four Black Senate and gubernatorial nominees in the biggest battlegrounds (Georgia, North Carolina and Wisconsin) all underperformed Biden in their states' rural counties. Only one other Democrat in the analysis (defeated Nevada Gov. Steve Sisolak) did worse than Biden in rural counties.
In the Georgia runoff, Sen. Raphael Warnock underperformed Biden by 1.8% in the state's rural counties, even as he overperformed the president by 5.3% in the urban counties.
Among Senate candidates, the party's top overperformer in the suburbs was Arizona Sen. Mark Kelly, who ran 4.7% ahead of Biden.
Between the lines: Biden's rural performance in 2020 was a low point for Democrats, so there was plenty of room to improve. Only 33% of rural voters backed Biden in the last presidential election, according to a Pew Research Center analysis, a worse showing than Hillary Clinton in 2016.
On the flip side, 10 of the 16 candidates outperformed Biden in the suburbs, reinforcing their status as Democrats' new sweet spot.
Biden already dominated in the suburbs by 11 points over former President Trump, according to the Pew analysis, making the continued Democratic gains all the more consequential.
3. ⚖️ Check-and-balance politics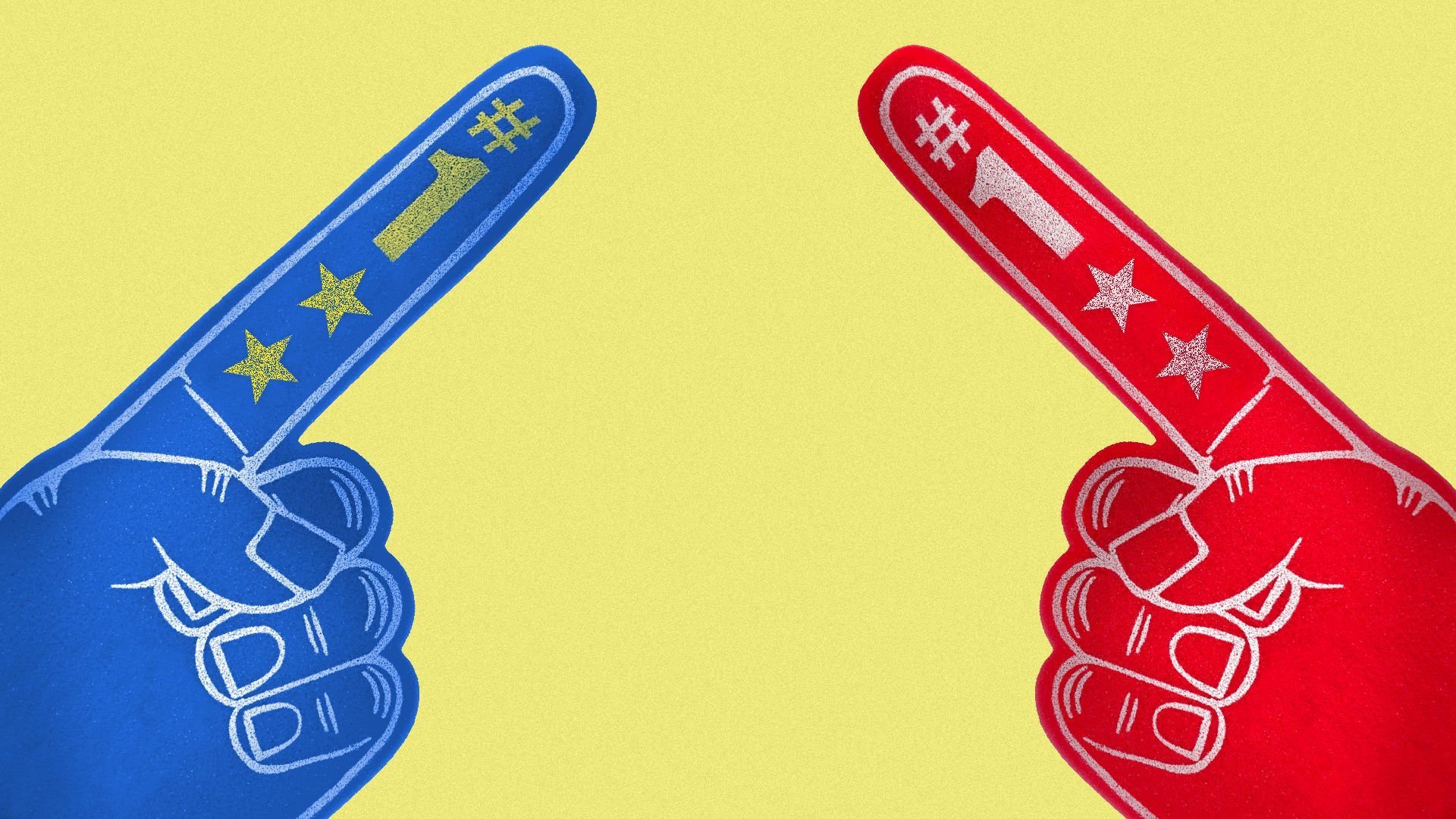 The split outcome in the midterms won't just mean divided government for the next two years — but in all likelihood for the foreseeable future.
State of play: Looking at the political map for 2024, Democrats have a fighting chance to win back control of the House.
Republicans hold just a nine-seat majority (222-213), and there will be 18 House Republicans defending districts that Biden carried.
Only five House Democrats represent districts that voted for Trump in 2020.
But the Democrats' narrow majority in the Senate is awfully vulnerable too. The party will be defending three seats in states that Trump won — West Virginia, Montana and Ohio.
Democrats will also be defending seats in battlegrounds Arizona, Nevada, Pennsylvania and Wisconsin.
The most competitive state for Senate Republicans is increasingly conservative Florida, where Sen. Rick Scott is up for re-election.
Why it matters: No matter who wins the 2024 presidential election, the next occupant of the White House will likely have to work across the aisle to get things done.
In a divided America, we'll either see a new spirit of bipartisanship or — more likely — endless gridlock.
With neither party positioned to hold a structural advantage, you won't be hearing much about blowing up filibusters or jamming through spending bills.
4. 📊 Poll of the week: Biden's bounce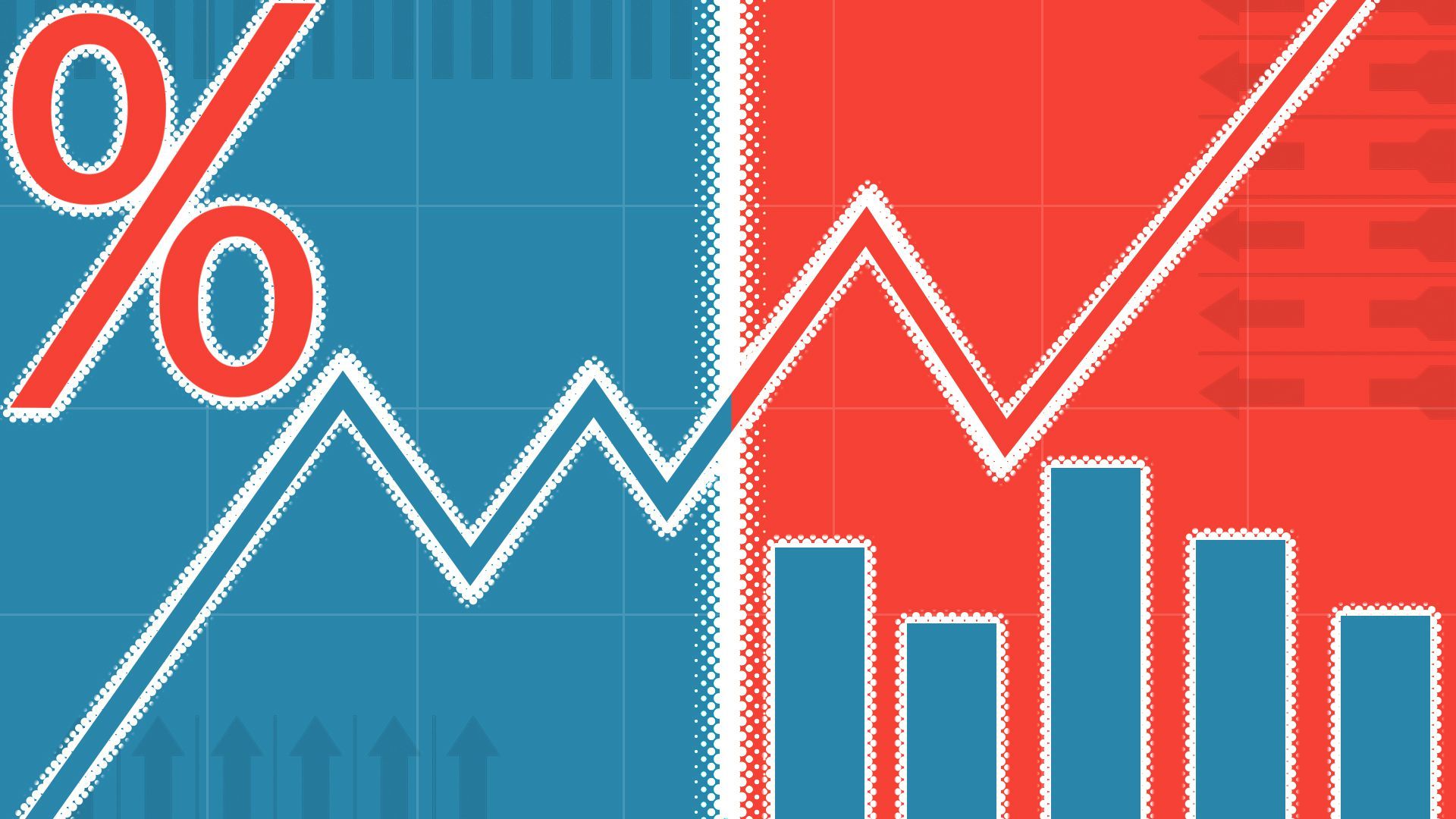 Fresh off his party's better-than-expected performance in the midterms, Biden saw his approval rating jump up to 46% in a new CNN/SSRS poll — up five points from late October.
It's Biden's highest job approval rating in the CNN poll since December 2021 — a full year ago.
Reality check: There are still plenty of underlying problems for the White House. Just 35% of Americans think things are going well in the country, and Biden's approval rating on the economy is still hovering at a lowly 36%.
5. 😬 Trump PAC goes 1-6 in midterms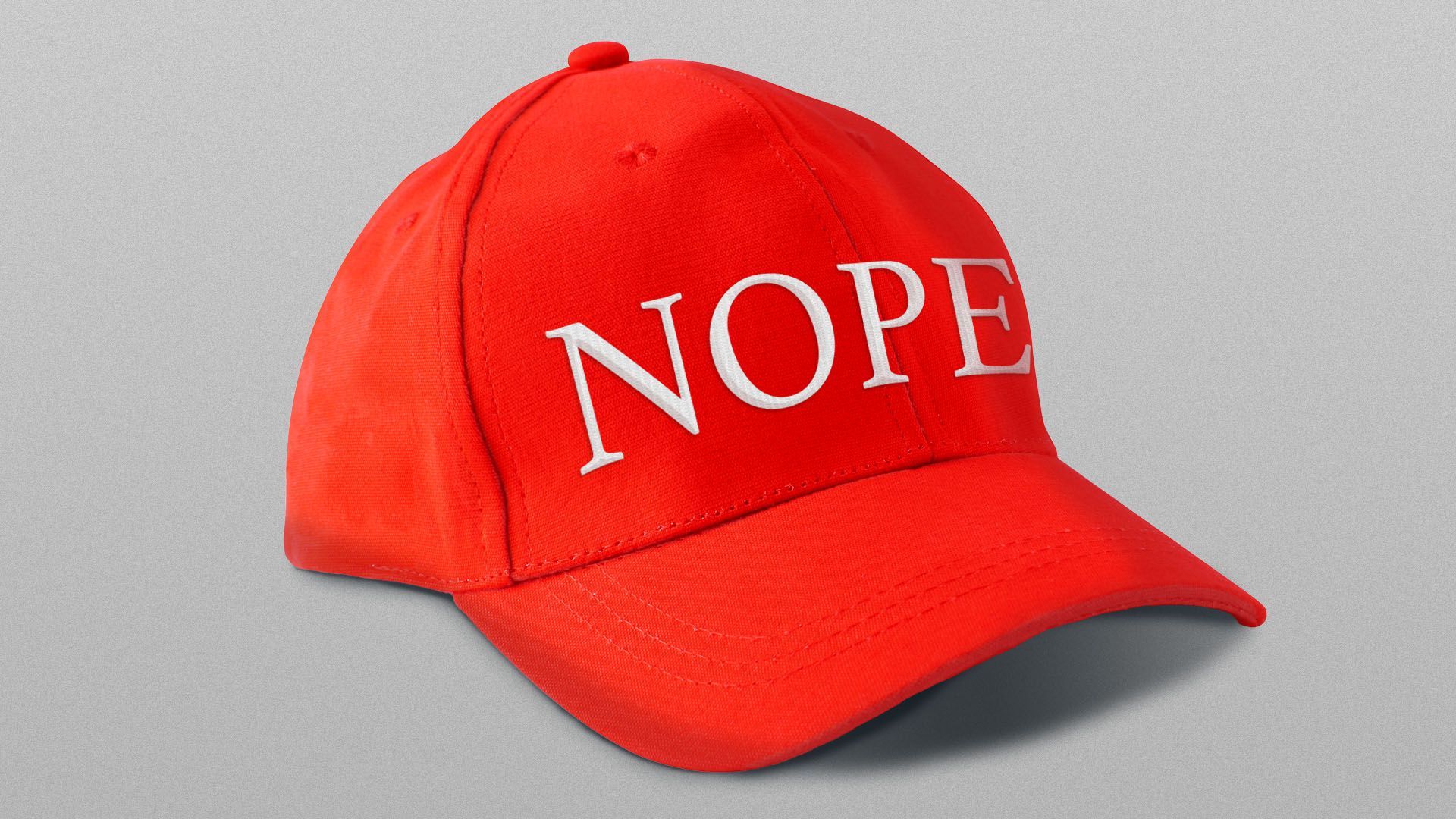 It's official, now that the Georgia Senate runoff is over: In the seven races in which Trump's super PAC (MAGA Inc.) spent money, the former president's candidates won just one race.
The only victor was Ohio Senate candidate J.D. Vance.
The six unsuccessful candidates were Kari Lake (governor, Arizona), Blake Masters (Senate, Arizona), Herschel Walker (Senate, Georgia), Tudor Dixon (governor, Michigan), Adam Laxalt (Senate, Nevada) and Mehmet Oz (Senate, Pennsylvania).
By the numbers: Post-midterms, MAGA Inc. is still sitting on $55 million in its coffers, according to Fox News.
📬 Thanks for starting your week with us. This newsletter was edited by Zachary Basu and copy edited by Kathie Bozanich.