September 20, 2020
Welcome to Sneak Peek, our weekly look ahead from both ends of Pennsylvania Avenue, plus our best scoops.
I'm Hans Nichols, filling in for new dad Jonathan Swan. Most of the emails I got from you this week weren't about Trump, Biden or RBG — but about Jonathan and Betsy's baby. It's a good reminder of what matters.
Situational awareness: In Philadelphia this afternoon, Joe Biden appealed to Senate Republicans to resist jamming through a Supreme Court justice before Nov. 3: "Please follow your conscience." Go deeper with Alexi McCammond.
Today's newsletter is 1,439 words, a 5-minute read.
1 big thing: Inside Biden's Supreme Court plan
Joe Biden's closing argument will shift to a dominant emphasis on health care, turning the looming Supreme Court fight into a referendum on coverage and pre-existing conditions, officials tell Axios.
Why it matters: Biden aides believed they were winning when the race was about the coronavirus pandemic. Now they plan to use the Supreme Court opening as a raucous new field for a health care fight, returning to a theme that gave Democrats big midterm wins in 2018.
Here's the case Biden will make: The new justice could have a deciding vote on protections for pre-existing conditions.
Biden said in Philly today: "There is so much at stake — the right to health care, clean air and water, and equal pay for equal work. The rights of voters, immigrants, women and workers."
The Biden campaign will coordinate closely with House and Senate Democratic leaders on how to link the Supreme Court fight to Trump's coronavirus response.
Like House Democratic challengers in suburban seats in 2018, Biden will constantly remind voters that Trump's stated goal has always been to replace the Affordable Care Act.
Don't forget: An Affordable Care Act case will be heard by the Supreme Court a week after the election. A decision is expected in June 2021.
Between the lines: Biden advisers view the court vacancy as a rare last-minute chance to get a second look from independents.
The campaign will use the coming fight to appeal and motivate younger voters who want to protect Roe v. Wade.
"If you want something to fire up young people who weren't all that interested this year, this is it," John Anzalone, a Biden pollster, told the New York Times.
The other side: Republicans see the court vacancy as a new chance to hold the Senate by juicing GOP turnout in states like North Carolina, where Sen. Thom Tillis has been trailing in public and private polls, officials tell Axios' Alayna Treene.
Trumpworld now believes a fired-up Republican base diminishes Democrats' hopes of flipping Texas and Georgia.
But nothing appears easier for Cory Gardner in Colorado or Susan Collins in Maine.
Republicans view the SCOTUS fight as a battle of the bases: They think they can demoralize Democrats, and depress turnout, if they quickly fill RBG's seat.
2. Journeys with Joe: Behind the scenes to Minnesota
Traveling with Joe Biden's press corps shows how the campaign juggles an intense focus on protecting his health, with an imperative to keep the coronavirus at the top of voters' minds.
I got to see this firsthand on Friday, when it was Axios' turn to serve as the print pooler for his trip to Minnesota to visit a carpenters training center outside Duluth.
The timing meant I also happened to be in the bubble when Biden learned of and reacted to the death of Ruth Bader Ginsburg.
In the air: The Gulfstream IV that flew Biden to Duluth had an air cabin refresh rate of three minutes.
There were only 11 passengers in the main cabin, with a total capacity of 16.
On board, everyone was required to wear an N95 mask.
All staff and security in close proximity to Biden are tested regularly.
The press: Instead of dozens of reporters crowded in the back of a candidate's plane, the rotating press pool, which shares its reporting with other news organizations, traveled in a separate plane.
For the 2½-hour flight to Duluth, 12 of us were spread out in a 36-seat Embraer 135, giving everyone their own row.
Reporters took temperature tests before boarding a press bus in the morning.
On the ground: Tape marked up the shop floor, letting press, carpenters and the candidate know where they could go. "I want to stand on my x," Biden said at one point.
The shop was cleaned by multiple crews, with at least two sanitizing sessions.
Chairs for reporters were encircled by plastic rings, twice the size of hula hoops.
But there wasn't much social distancing during a tarmac gaggle, with reporters elbow-to-elbow together, straining to hear Biden through his mask over the jet engines.
Why it matters: Biden has staked his campaign on how he would have handled COVID-19 differently than President Trump, and he makes a point of strictly adhering to CDC safety protocols and individual state guidelines.
The mask is more than cosmetic for Biden: When his cloth mask kept slipping down his nose, he excused himself and changed to a surgical one.
Between the lines: A critique of Biden's social distancing on the campaign trail has been that it minimizes his interactions with the press corps.
For Biden's statement on RBG, advance staff asked the press to back up more than usual, so that he could speak with his mask off.
3. Trump campaign goes all-in on Pennsylvania
The president's campaign is placing more importance on Pennsylvania amid growing concern that his chances of clinching Wisconsin are slipping, Trump campaign sources tell Alayna.
Driving the news: Pennsylvania, which has 20 electoral votes, twice Wisconsin's number, actually has been trending higher in recent public and internal polling, a welcome development for the campaign.
"We used to think Pennsylvania would be harder to secure and Wisconsin was in the bag. Now it's vice versa," a Trump campaign adviser said.
But remember: Trump won both in 2016. If Wisconsin slips, he has to make up the numbers elsewhere.
What we're hearing: The campaign sees the "path of least resistance" running through Florida, North Carolina, Pennsylvania, and some combination of Wisconsin, Michigan, Arizona, Minnesota and Nevada, sources close to the campaign tell Axios.
The apparent gains in Pennsylvania come amid Trump's anti-Biden messaging on fracking and trade, as well as law-and-order rhetoric that aides believe plays well with the state's white, working-class voters.
A smart analysis from FiveThirtyEight's Nathaniel Rakich details how the entire election could hinge on Pennsylvania:
"Pennsylvania is so important that our model gives Trump an 84 percent chance of winning the presidency if he carries the state — and it gives Biden a 96 percent chance of winning if Pennsylvania goes blue."
In September alone, six of the Trump campaign's top surrogates have been deployed to Pennsylvania, including Ivanka Trump, Eric Trump, Donald Trump Jr. (twice) and Vice President Mike Pence.
Trump will make his third visit to the state this month on Tuesday, for a rally in Moon Township.
"Wisconsin and Pennsylvania are both in our plans, which you can tell by the travel schedules of both the president and vice president," Trump campaign communications director Tim Murtaugh told Axios. "Just like in 2016, President Trump will win Wisconsin and Pennsylvania despite what pundits and prognosticators spout."
4. RBG dominates social media
Ruth Bader Ginsburg-related social media interactions dwarfed all other topics this week — a departure from a run of weeks where, other than the coronavirus, violence in cities was the dominant storyline.
In just two days, there were 41 million interactions (likes, comments or shares) on stories about the late Supreme Court justice, Axios' Neal Rothschild writes from exclusive NewsWhip data.
That compares with a recent average of 62 million coronavirus interactions per week — and more than five times the number of weekly social media interactions over violence and rioting.
Why it matters: Until now, coverage of violence in cities (17.1m per week) has been getting way more traction and eyeballs on social media than other stories dominating the news — including Trump revelations from Bob Woodward's new book and devastation from the wildfires in the West.
5. Sneak Peek diary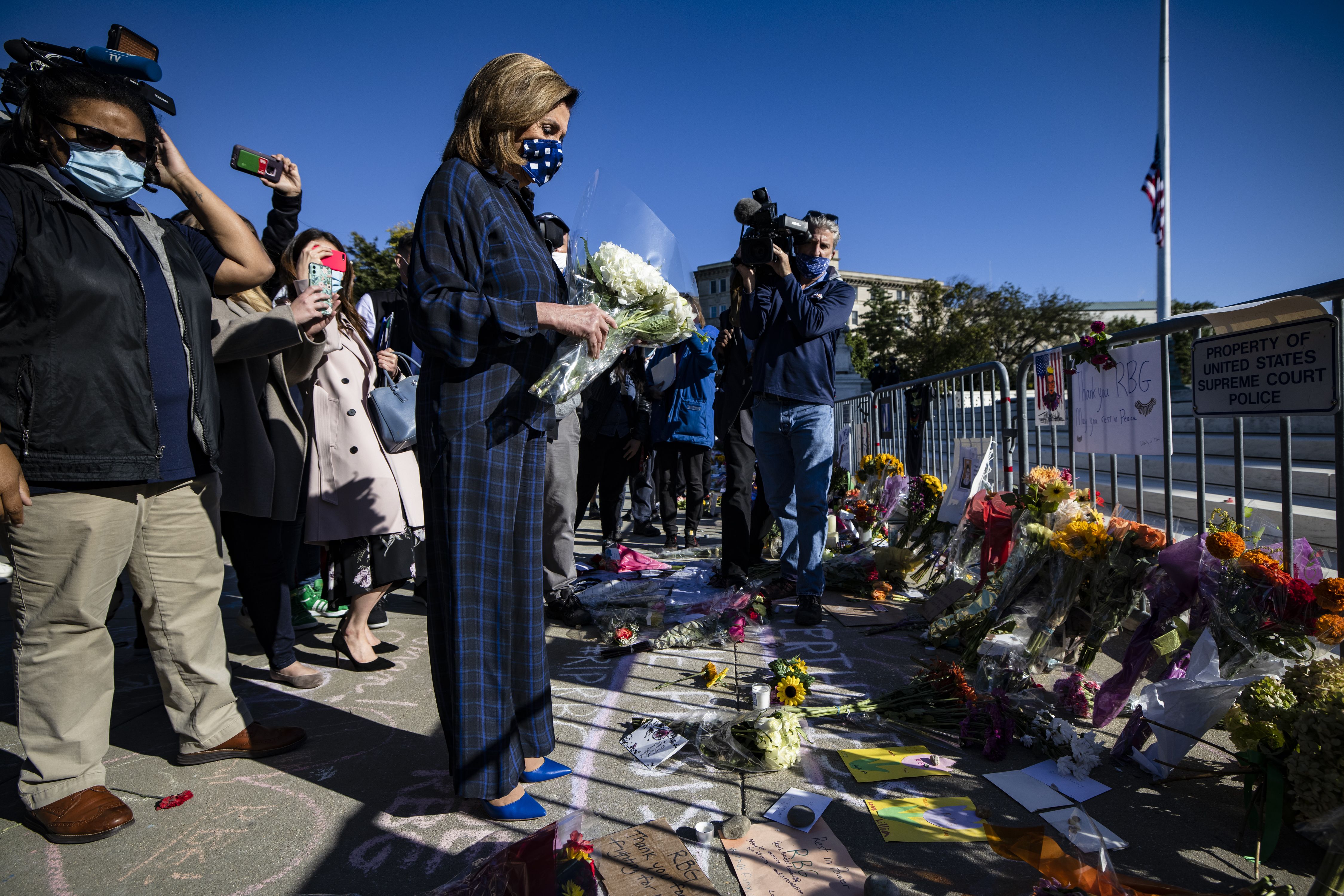 The House will continue negotiations on a continuing resolution to keep the government open beyond Sept. 30, Alayna reports.
The House is also expected to consider the Clean Economy Jobs and Innovation Act, which would "boost green infrastructure and energy efficiency in buildings, and invest in renewable technologies, energy sources, and workforce training," per Bloomberg Law.
The House will also consider a pair of bills — the Uyghur Forced Labor Disclosure Act and the Uyghur Forced Labor Prevention Act — which would force companies to disclose when they use forced labor from Uighurs in China's Xinjiang region.
Tuesday, Ambassador Zalmay Khalilzad, special representative for Afghanistan reconciliation, and David Helvey, acting assistant secretary of defense for Indo-Pacific security affairs, will appear before the House Oversight Committee for a hearing on the Trump administration's Afghanistan policy.
Wednesday, Fed Chair Jerome Powell will appear before the House Select Subcommittee on the Coronavirus.
The Senate Homeland Security Committee will hold a confirmation hearing for acting DHS Secretary Chad Wolf.
The Armed Services Committee will receive a closed-door briefing on the Pentagon's cyber operations to protect the integrity of U.S. elections.
NASA administrator Jim Bridenstine will testify before an Appropriations subcommittee.
Thursday, Elliott Abrams, undersecretary of state for political affairs, and David Hale, U.S. special representative for Iran and Venezuela, will appear before the Senate Foreign Relations Committee.
President Trump's schedule:
Monday: Trump will speak on "Fighting for the American Worker" in Dayton. He will also speak at a rally in Swanton, outside Toledo.
Tuesday: Trump will deliver remarks at a campaign rally Pittsburgh.
Wednesday: Trump will speak at an event honoring veterans of the Bay of Pigs, and he'll meet with state attorneys general about social media.
Thursday: Trump will speak at a campaign rally in Jacksonville.