November 22, 2022
Welcome back to Sneak. Smart Brevity™ count: 1,013 words ... 4 minutes.
⚽ Situational awareness: The U.S. men's national soccer team scored its first World Cup goal since the Obama presidency, drawing 1-1 with Wales.
1 big thing: Pelosi throws down gauntlet
Like a seasoned CEO, House Speaker Nancy Pelosi (D-Calif.) handled her party's succession plan seamlessly — anointing a new generation of Democratic talent at a moment other aging leaders are reluctant to give up power, Axios' Josh Kraushaar writes.
Why it matters: President Biden's 80th birthday on Sunday was a fresh reminder that Democrats do not have anything close to a coherent plan for their presidential hopes.
But they're not alone: 76-year-old former President Trump is again seeking the Republican nomination, threatening to burn down the party if it abandons him and daring younger challengers to step into the fire.
80-year-old Sen. Mitch McConnell (R-Ky.), meanwhile, just secured an extended tenure as Senate GOP leader.
Driving the news: The percentage of Democratic voters who believe Biden should be the nominee in 2024 ticked up six points after the party's strong showing in the midterms — but 50% still believe he should be replaced, according to a new USA Today/Ipsos poll.
The big picture: Unlike the House Democratic caucus, which had a popular trio of leaders ready to replace Pelosi, Majority Leader Steny Hoyer (D-Md.) and Majority Whip Jim Clyburn (D-S.C.), the field of potential Biden successors is wide open.
Vice President Kamala Harris would normally be the obvious candidate-in-waiting, but party leaders are deeply skeptical she has what it takes politically to win the presidency.
Double-digit victories this month by Michigan Gov. Gretchen Whitmer and Pennsylvania Gov.-elect Josh Shapiro showcased their ability to win in crucial battleground states and vaulted them into the national spotlight.
But Biden still sees himself as uniquely qualified to defeat Trump in a rematch, and Democrats' expectation-defying performance in the midterms has only hardened that view.
Yes, but: Biden may learn the wrong lessons from his party's overperformance. If he runs for re-election, he may not end up facing Trump — but a younger conservative like Florida Gov. Ron DeSantis who matches up much more favorably.
The other side: Trump has boxed out a new generation of GOP leaders not just by announcing a third presidential bid, but by publicly attacking two of his party's rising stars on social media — DeSantis and Virginia Gov. Glenn Youngkin.
The bottom line: Heading off the prospect of a messy civil war in an open Democratic primary — much like the one currently roiling the GOP — may be the best argument for Biden to run again.
2. 👀 The new anti-Trumpers
Former Attorney General Bill Barr is out with a 1,500-word diatribe laying out in detail why he believes the GOP must move on from former President Trump in 2024:
The threat is simple: unless the rest of the party goes along with him, he will burn the whole house down by leading "his people" out of the GOP. Trump's willingness to destroy the party if he does not get his way is not based on principle, but on his own supreme narcissism. His egoism makes him unable to think of a political party as anything but an extension of himself — a cult of personality.
Why it matters: Barr, former Vice President Mike Pence and former chief of staff Mick Mulvaney are among the leading voices in a potent new strain of anti-Trumpism — ex-administration officials and loyalists who now believe Trump is actively damaging their party.
Some, like Pence and former Secretary of State Mike Pompeo, have been more circumspect — throwing thinly veiled jabs while insisting they haven't "turned on" Trump.
Others, like former New Jersey Gov. Chris Christie, have been more blunt: "[T]he reason we're losing is because Donald Trump has put himself before everyone else," Christie said at a Republican event this weekend.
Yes, but: Unlike the original "Never Trumpers" in 2016, these Republicans have largely refused to rule out voting for the former president if he wins the nomination.
"I really do believe that's a decision for the American people," Pence told NBC's "Meet the Press" when asked whether Trump was "fit to serve."
Even Barr — moments after telling PBS the Justice Department "probably" has "legitimate basis" to indict Trump — said he would not rule out voting for the former president.
3. 🗳️ Embracing Kemp
Ahead of the Dec. 6 Georgia Senate runoff, both Republican Herschel Walker and the Democratic incumbent, Sen. Raphael Warnock, are tying themselves to GOP Gov. Brian Kemp, Axios Atlanta's Emma Hurt reports.
Why it matters: Both campaigns are targeting the estimated 200,000 voters who split their tickets in November, crossing party lines to choose Kemp and Warnock.
Driving the news: Warnock's campaign recently released a statewide TV ad featuring a Republican voter who supported Warnock and Kemp. "I just can't get past Herschel Walker's lack of character," says the voter, Lynn Whittenburg.
Kemp, meanwhile, is now campaigning for Walker after keeping his distance from the troubled fellow Republican through the Nov. 8 general election.
⚡ Latest: Former President Obama will head back to Georgia to headline a rally with Warnock for the second time.
4. 🗣️ Quoted: Surprise Biden endorsement
Rep. Pramila Jayapal (D-Wash.), chair of the Congressional Progressive Caucus, told Politico in a story out today:
"[Biden] was not my first or second choice for president, but I am a convert. I never thought I would say this, but I believe he should run for another term and finish this agenda we laid out."
Why it matters: While the right-wing House Freedom Caucus causes massive headaches for GOP Leader Kevin McCarthy in his bid to become speaker, the left-wing CPC is enjoying a post-midterm détente with a president many members view as a moderate.
5. 🦃 Parting shots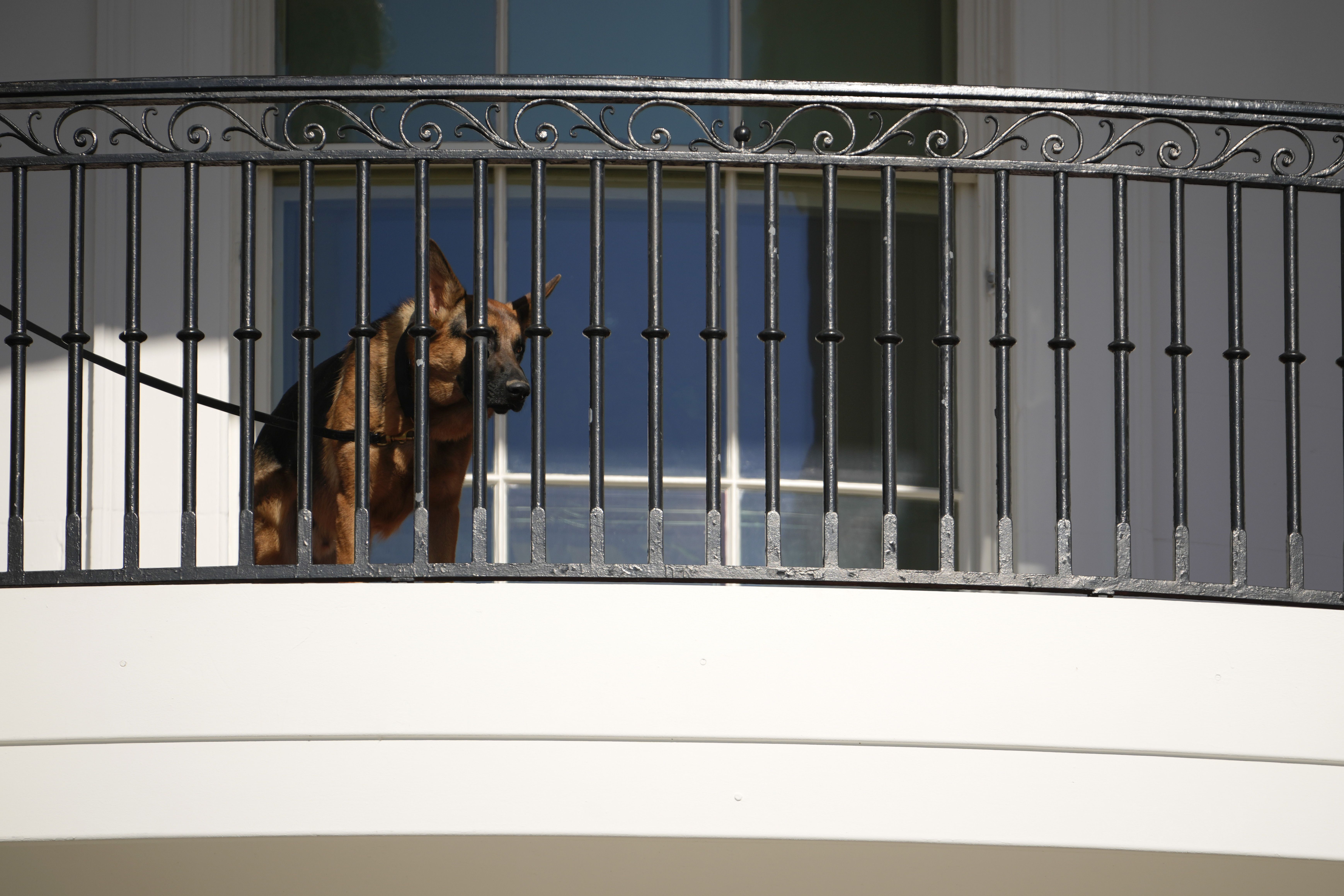 Above: President Biden's dog Commander looks out from the White House balcony before today's pardoning ceremony for the national Thanksgiving turkeys.
"The only red wave this season's gonna be if German shepherd Commander knocks over the cranberry sauce," Biden quipped.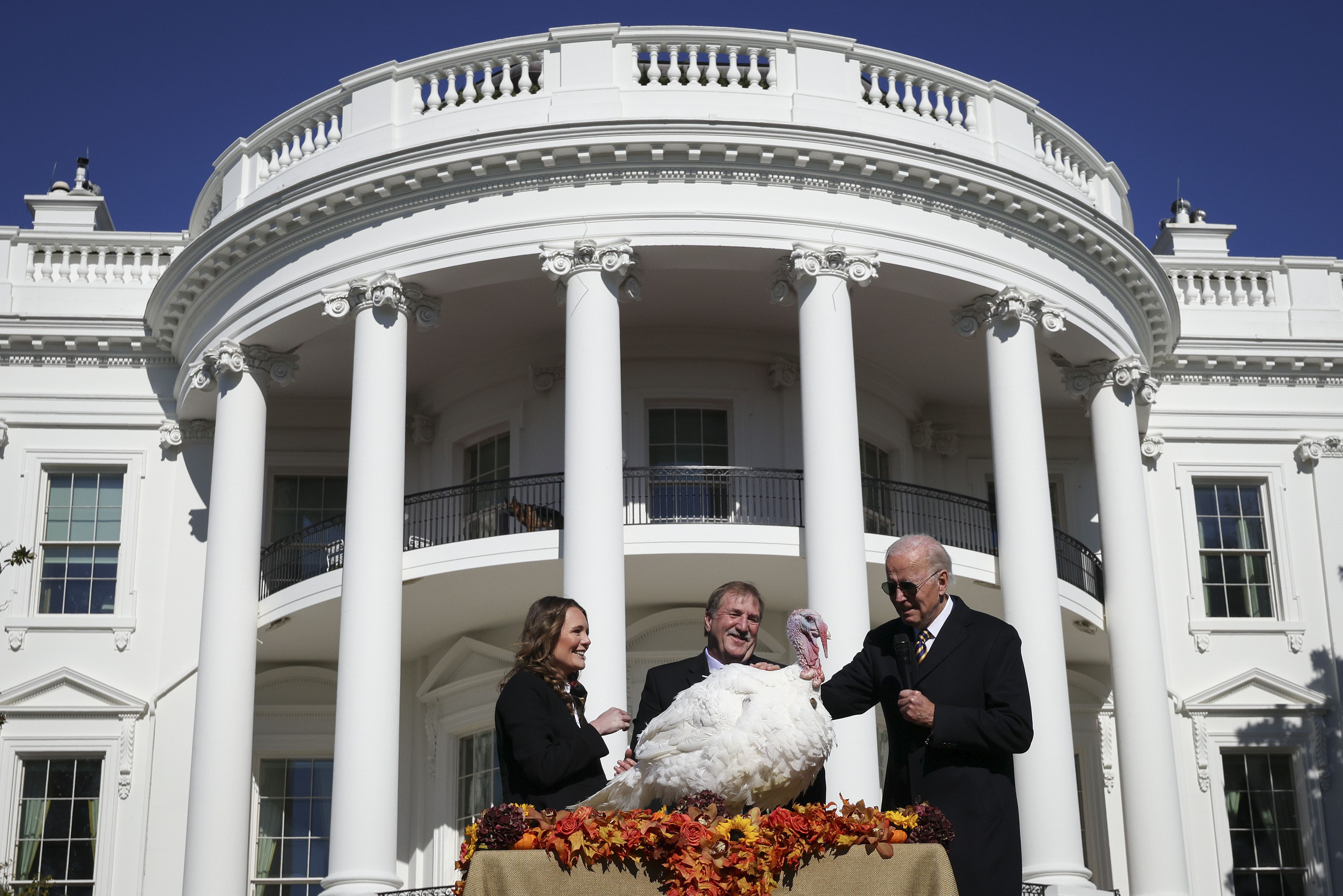 📬 Thanks for reading. This newsletter was edited by Zachary Basu and copy edited by Kathie Bozanich.