Axios Sneak Peek
September 02, 2018
🏖 Hope you're savoring this holiday weekend — thanks for pausing to catch up with us. Jonathan Swan is taking some well-deserved time (mostly) off the grid.
1 big thing ... Scoop: How Omarosa secretly taped her victims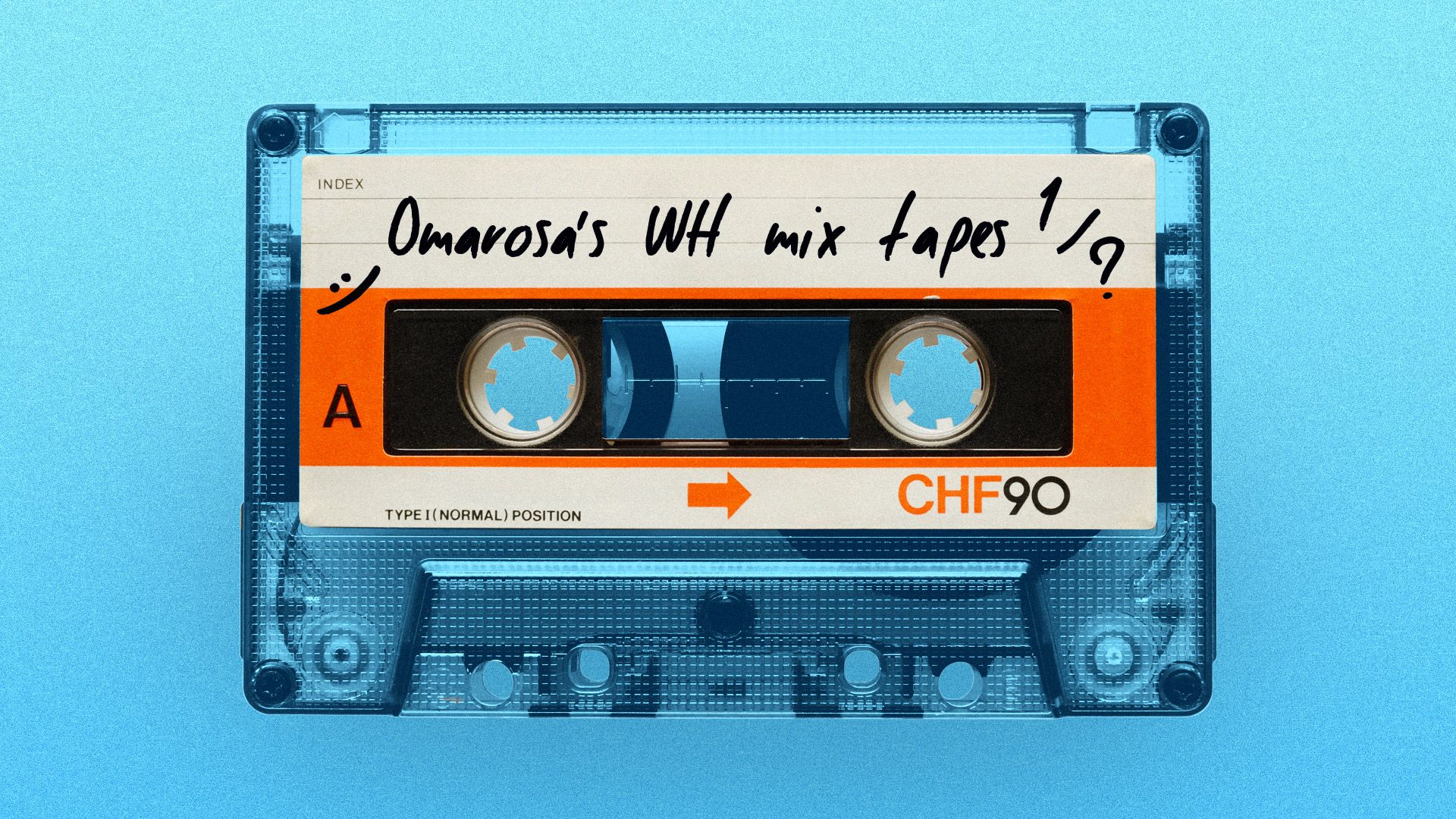 Omarosa taped nearly every conversation she had while working in the White House, including ones with "all of the Trumps," a source who watched her make many of the tapes tells Axios' Alayna Treene.
Omarosa did this with a personal phone, almost always on record mode.
Why it matters: Omarosa is far from the only White House staffer to exploit lax internal oversight and loose loyalties to collect damaging info on Trump and others.
We know of several staffers who took careful notes for future deployment.
Omarosa, whose book became a New York Times bestseller after she was fired from the White House, was also (perhaps rightly) paranoid:
The source said Omarosa "wouldn't write me on email or text me — many [conversations] happened on Facebook Messenger (she didn't want what happened to Hillary Clinton and her emails to happen to her)."
How Omarosa made the tapes, according to the source:
She carried two phones, her personal phone and her government-issued one.
She would often put conversations she had on her work phone on speaker, then record those with her personal phone.
Before heading into meetings, she would often press "record" on her personal phone — which she carried in her pocket or in a small purse.
Omarosa said she recorded people so she could go back and refer to them later, the source said. But she also wanted to "cover her own butt."
Why it was so easy: People in the White House paid much less attention to personal phones before leaking became ubiquitous.
In January, chief of staff John Kelly instituted a ban on personal devices in the West Wing on weekdays between 6 a.m. and 8 p.m.
Go deeper:
2. Trump's stunning consistency
For all the four-alarm fires around President Trump this summer — Putin, Mueller and Cohen, oh my! — his approval ratings have barely moved, as you can see from this remarkable chart of SurveyMonkey's weekly tracking poll.
Be smart: Trump's narrow trading range is both the reason he messages only to his base (no one else is gettable), and the reason he has to keep amping up for the volume for his true believers (he has nowhere else to go).
There are danger signs:
The high approval for Mueller in Friday's Washington Post-ABC News poll (63% support his investigation) was sobering for Trump strategists.
Only 18% support a pardon for Paul Manafort, despite Trump's tweeting on behalf of his former campaign chairman: "I feel very badly for Paul Manafort ... Such respect for a brave man!"
MSNBC analyst Matt Miller said 18% is therefore the base of the base — the "stand in the middle of Fifth Avenue and shoot somebody" number.
Axios managing editor David Nather unpacks the SurveyMonkey numbers:
They're not good: He hasn't cracked 50% approval in this poll since the day he took office. But other than a few dips along the way, he has rarely fallen below 40%, even with the recent crises.
His negatives are stronger than his positives — the people who don't like him really don't like him.
The percentage of people who strongly disapprove of him in the SurveyMonkey polls — generally in the low to mid-40s — is remarkably close to the 44% who said in the most recent Axios-SurveyMonkey poll that they're ready for Congress to begin impeachment proceedings.
Between the lines: The Post-ABC poll Friday appeared to show movement, with a record 60% disapproval rating for Trump that had jumped four points since April.
But the numbers look more stable when you compare it to previous Post polls, and nearly all of the movement is within the margin of error, since the Post's sample size is smaller than SurveyMonkey's.
3. Obama plans to roar in fall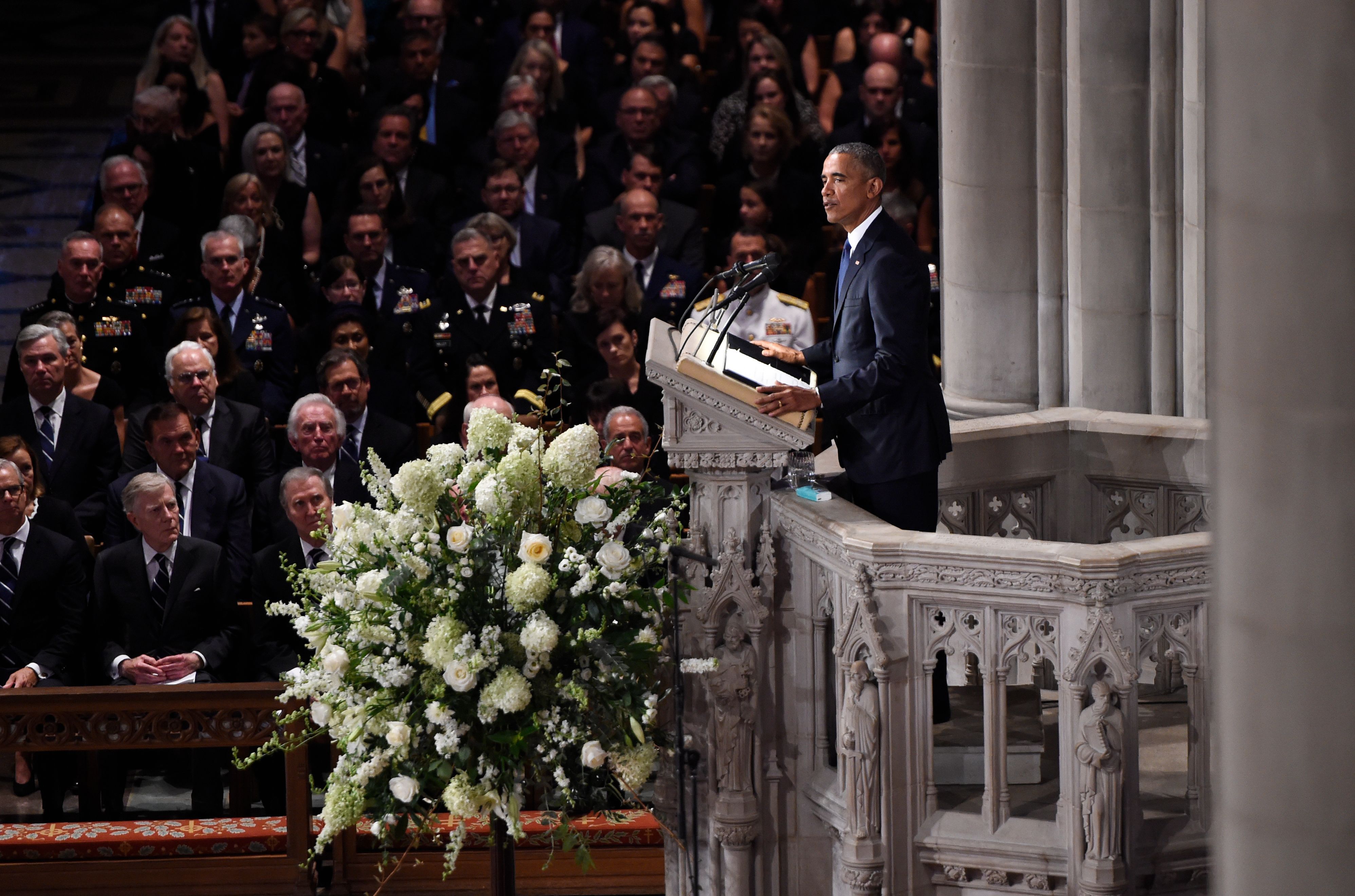 President Obama, after mostly staying out of the spotlight since leaving office, plans to campaign in coming weeks in California, Illinois, Ohio and Pennsylvania — meaning there'll be a frequent fall contrast between Presidents 44 and 45.
Look for other travel and more endorsements.
During a speech in Illinois on Friday, Obama will preview top themes for the campaign trail.
These include the importance of turning out to vote at this particular moment, especially given that Dems are notorious for sitting out during midterms or when Obama isn't on the ballot.
On Friday at the University of Illinois at Urbana-Champaign, Obama will receive the Paul H. Douglas Award for Ethics in Government and deliver remarks on the state of our democracy.
Obama communications director Katie Hill said: "President Obama will offer new thoughts on this moment and what it requires from the American people."
"He will echo his call to reject the rising strain of authoritarian politics and policies."
"His post-presidency is the next chapter in the cause of his life — bringing people together to change the world for the better."
Obama will also headline a fundraiser in New York City this month for the National Democratic Redistricting Committee (NDRC), which is chaired by Eric Holder, his former attorney general.
4. Senator McCain laid to rest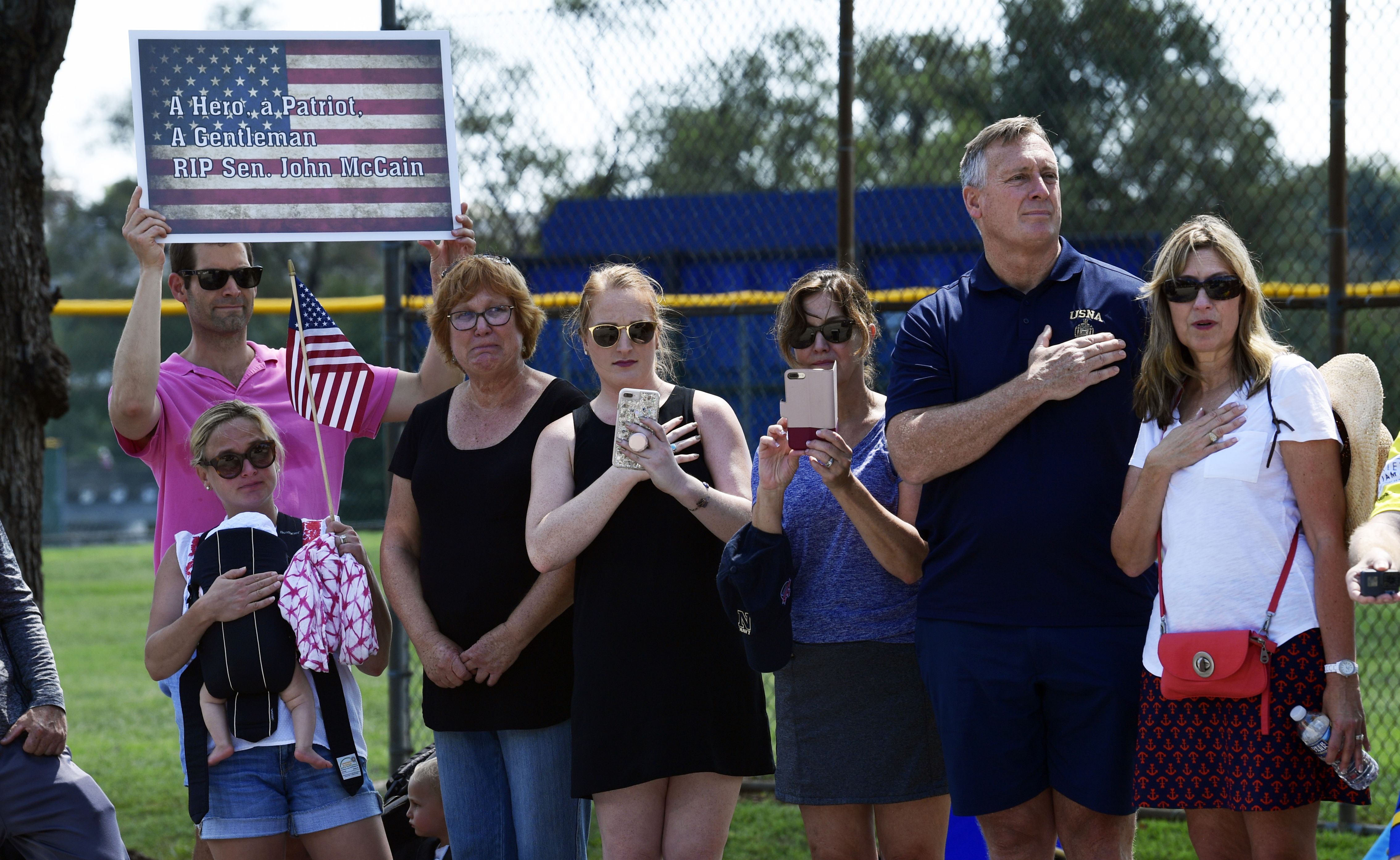 "John McCain's final journey from his Arizona ranch is ending on a grassy hill at the U.S. Naval Academy within view of the Severn River and earshot of midshipmen present and future," AP's Susan Walsh reports:
"Invited along with family and friends were members of McCain's Class of 1958, military leaders and Brigade of Midshipmen."
Tributes were expected from Sen. Lindsey Graham; retired general and former CIA director David Petraeus; and one of McCain's sons, Jack, a naval aviator who was to wear his father's Navy wings.
5. Data du jour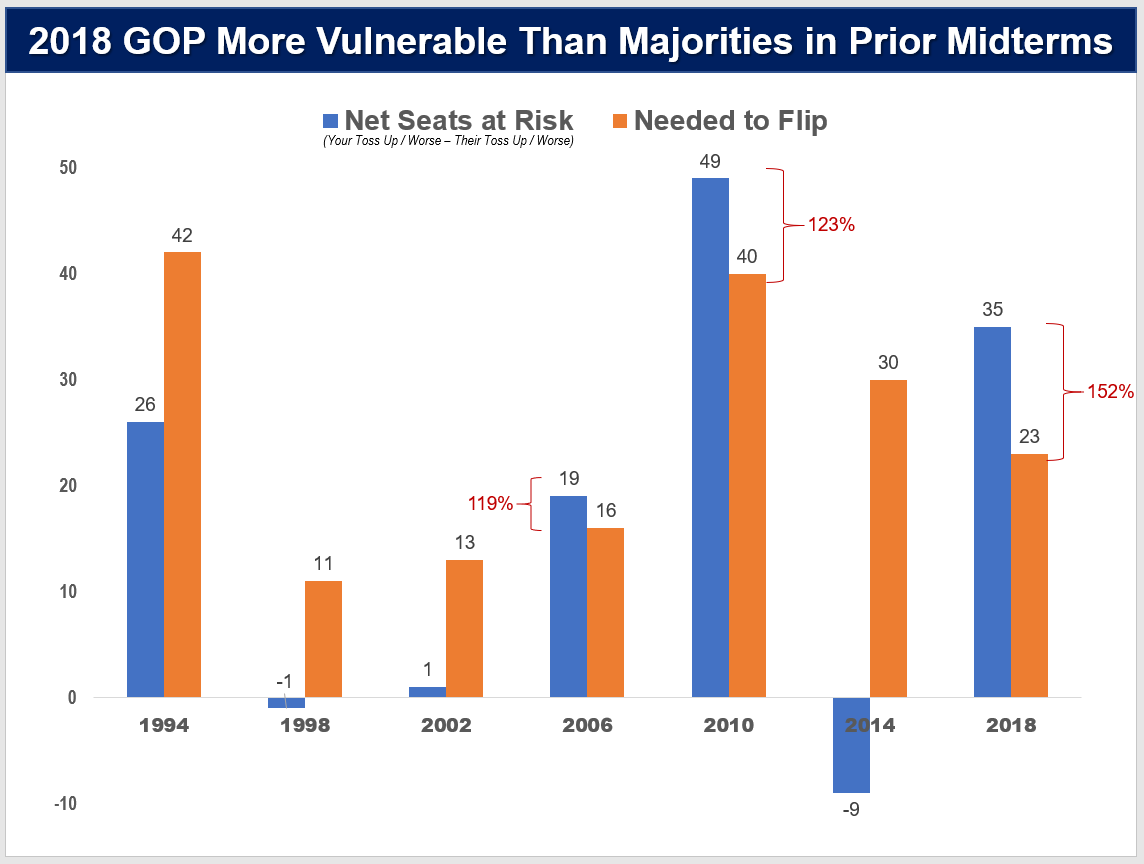 Bruce Mehlman of Mehlman Castagnetti Rosen & Thomas has found a new way to measure House Republicans' peril: "vulnerability ratio" (net number of seats at risk vs. number needed to flip).
Mehlman, a former lawyer for House Republicans, fears that measure is worse for the majority party than it was in 2006 or 2010, when the House flipped. His explanation:
With 38 GOP House seats rated toss-up or worse by Cook Political Report, to only three Dem Seats, 2018 Republicans have net 35 seats at risk, significantly more than they can afford to lose (23). 
With 152% of Repubicans' margin vulnerable, they're in a more perilous position than Democrats in 2010 (when 123% of their margin was vulnerable) or Republicans in 2006 (119%).
The Cook data for each year is from the House ratings closest to Labor Day for each cycle.
6. Lead of the week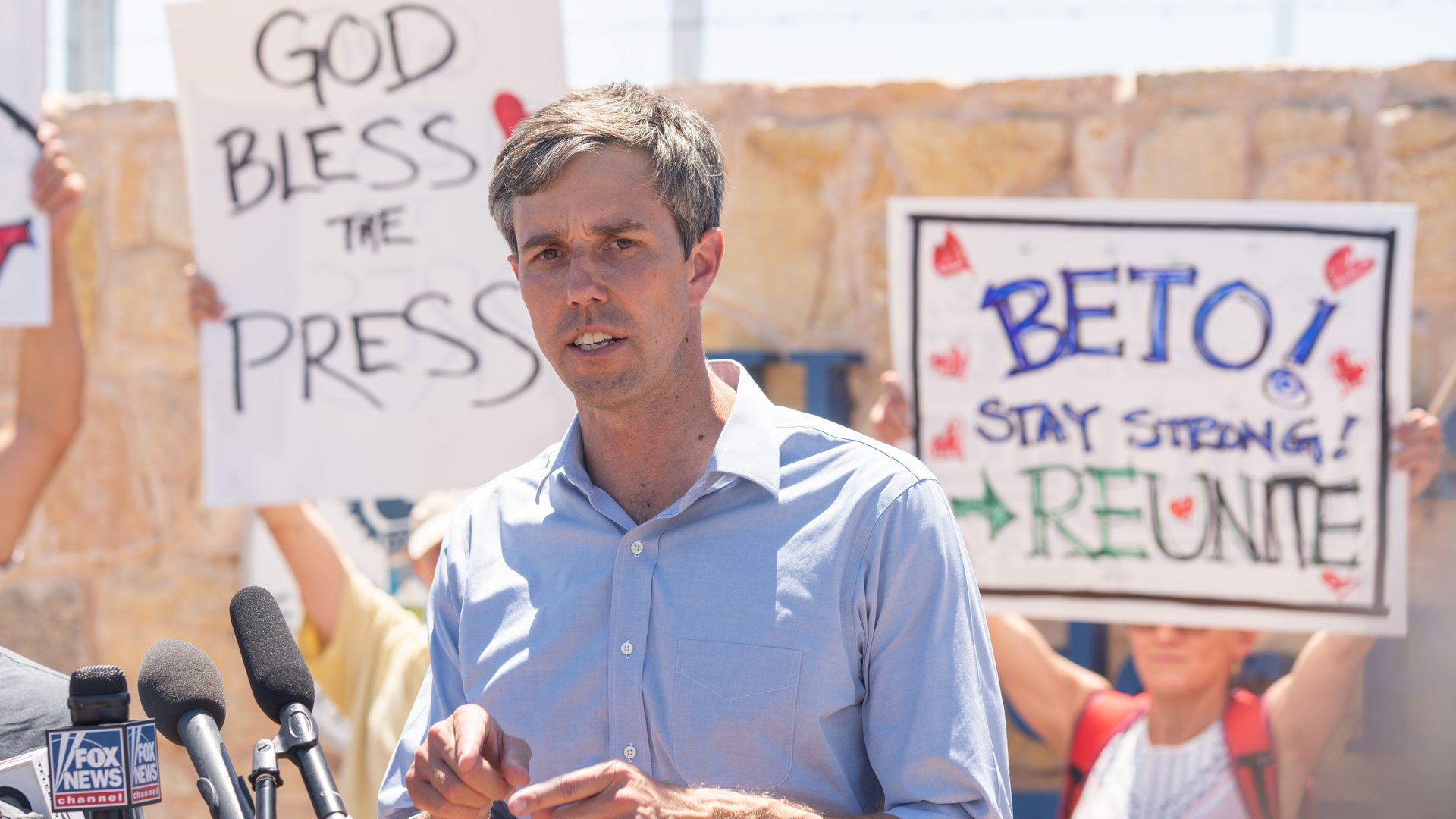 AP's Will Weissert, writing from Austin:
"If elections were decided by viral videos and fawning media profiles, Democrat Beto O'Rourke would win Texas' Senate race in a landslide."
7. Sneak diary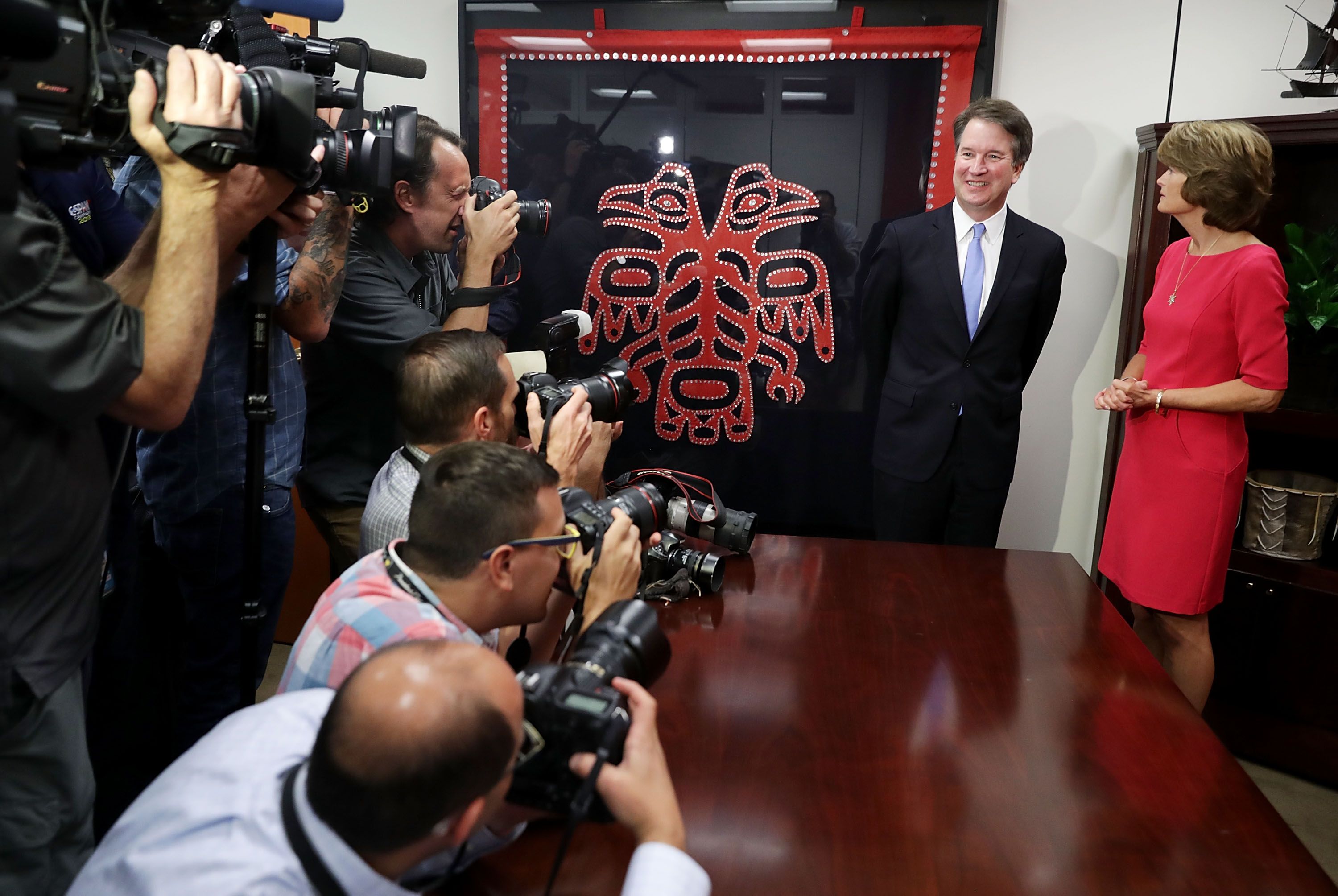 So much for summer ... Epic Washington week ahead:
Tuesday: Senate Judiciary Committee begins Brett Kavanaugh confirmation hearing, expected to last three or four days. Witness list ... How to attend the hearing.
Wednesday: Senate Intelligence Committee hearing, "Foreign Influence Operations' Use of Social Media Platforms," with Facebook COO Sheryl Sandberg and Twitter CEO Jack Dorsey.
On Wednesday afternoon, Dorsey heads over to the House Energy and Commerce Committee to testify at a hearing called, "Twitter: Transparency and Accountability." Committee background memo.
Thursday: Trump holds a rally in Billings, Mont.
Friday: Jobs day! Trump stops in Fargo, N.D., and Sioux Falls, S.D.
8. Groundhog Day @ 1600
How Trump's political team handles him, per AP's Zeke Miller:
"There's a constant effort to keep him on best behavior."
9. 1 Trump trick
How to handle Trump ... A lesson from "Mr. Trump's Wild Ride," by CBS News chief White House correspondent Major Garrett (out Sept. 18 from All Points Books):
After Trump attacked Major on Twitter in January 2016 ("Total agenda, bad reporter!"), Major had to try to get a sound bite from Trump in the spin room after a GOP debate in South Carolina.
"He saw me and his face soured. He was going to walk right past me. 'You're not truthful,' he said in a low whisper. ... 'What are you talking about?' I asked. Trump slowed. 'You are terrible. You are terrible.'
"He kept moving. 'That is not true,' I said. 'You really are terrible,' Trump said ... I had him stopped. 'You don't mean that,' I said. ... 'I think you are very unprofessional. But go ahead.' We did the interview."
"Lesson learned. Don't give Trump an inch. He's always testing you ... If you back down, you can lose the moment and possibly more. If you stand up, you have a chance. But he knows he can set the terms."
🍁 Thanks for reading. Have your friends and colleagues start the fall right with a subscription to Sneak Peek. Sign up free here.