Axios Sneak Peek
June 11, 2021
Welcome back to Sneak. A jacket eclipsed a new Atlantic Charter.
Smart Brevity™ count: 1,218 words ... 4.5 minutes. Edited by Glen Johnson.
1 big thing: Swing voters fear inflation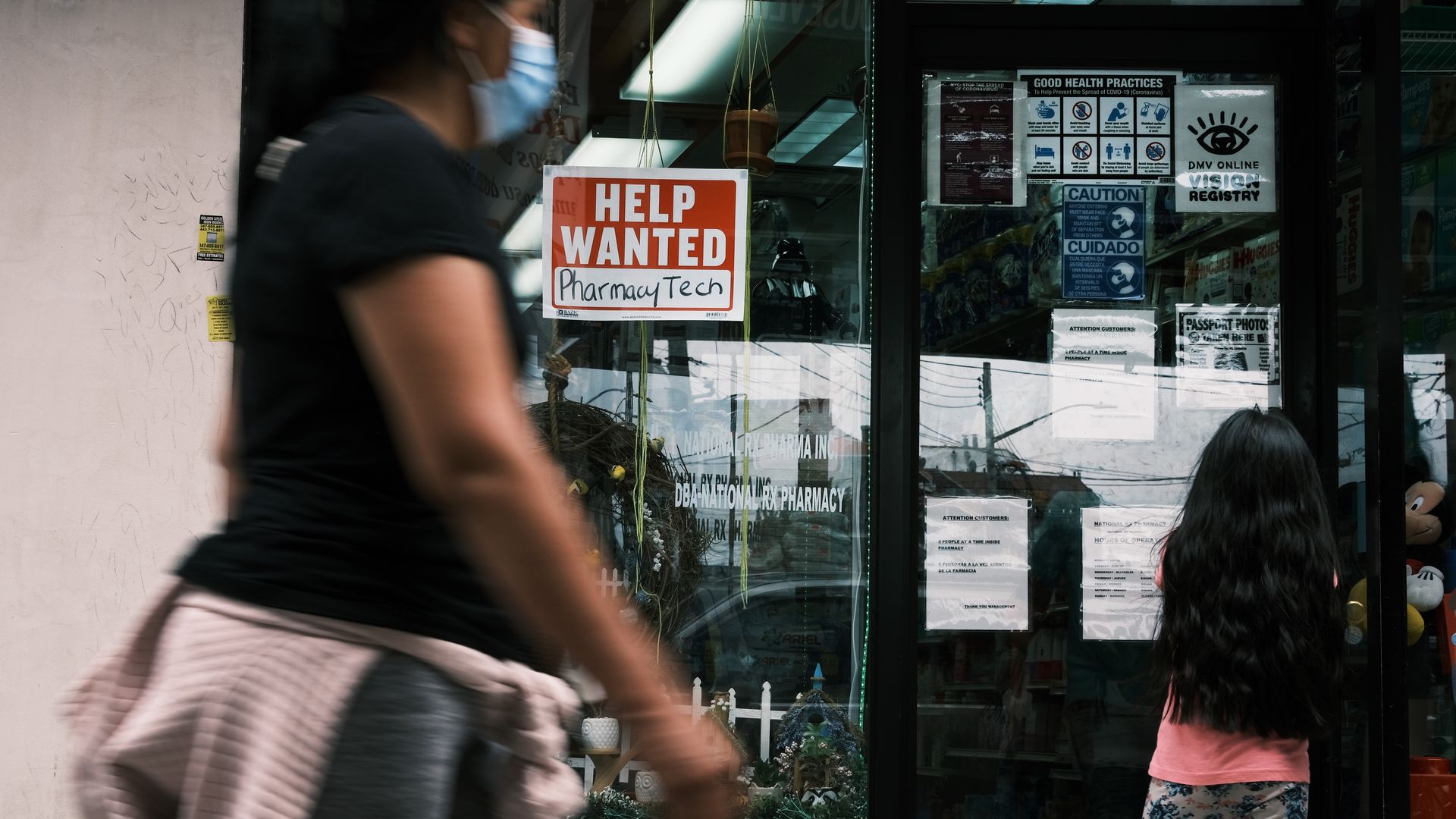 Though restaurants are bustling and signs of life are returning across a nearly post-pandemic United States, swing voters in Axios' latest Engagious/Schlesinger focus group say they feel anxious about the current state of the economy, Axios' Sarah Mucha and Hans Nichols write.
Why it matters: Main Street is living a debate being fought in the ivory tower and among economists. Only 3 out of 13 voters said they felt the U.S. economy is "booming." The rest expressed fear of an impending crash following the injection of federal stimulus money during the pandemic.
Nearly all the voters (11 of 13) also found believable an assertion made by many businesses: that people are not looking for jobs because they make more from claiming unemployment benefits.
What they're saying: Kelli V. from Seminole County, Florida, was laid off during the pandemic. She resumed work after her employer offered her job back but said it wasn't an easy decision.
"It was really tempting to say 'no,' because I made more from unemployment than I do from my part-time job," she said.
"I know a couple people who didn't lose their jobs but were talking about how they wish they could. They were hoping they would get laid off (to collect unemployment)," said Holly M. from Gwinnett County, Georgia.
By the numbers: Some of voters' inflation concerns are born out in Thursday's data from the monthly Consumer Price Index, which showed that gasoline prices jumped 56.2% from last May.
The increase in the price of food was more modest, rising 2.2%.
The other side: The White House is arguing that most of May's inflation, with the CPI up 5% from last year, appears much scarier than it really is because of the so-called "base effect."
The theory is that today's number compares prices to what they were 12 months ago, when the country was in a pandemic lockdown and many things were cheaper.
Go deeper: Two back-to-back focus groups were conducted on June 8 with 13 adults who voted for Donald Trump in 2016 — then Joe Biden in 2020 — and live in the most competitive 2020 swing states.
While a focus group is not a statistically significant sample like a poll, the responses show how some voters in crucial states are thinking and talking about current events.
2. By the numbers: The price of gas, beer, booze and makeup
While a 5% increase in the Consumer Price Index grabbed headlines Thursday, a third of it was driven by higher prices for used cars and trucks, which jumped 29.7% from a year ago. And the gas index was up 56.2%.
Why it matters: Underneath the hood of the CPI numbers, it's clear that not all items moved in tandem, Hans also writes.
Cosmetics, perfume, bath, nail preparations and implements were down 0.7%.
While beer, ale and other malt beverages increased 2.4% when consumed away from home, those same items enjoyed at home were up only 0.4%.
Similarly, the cost of wine sipped away from home increased 1.8%; at home, it was up 1.2%
Whiskey is only measured at home (three fingers is best!), where it was up 3.7% from last year.
3. The best infrastructure deal Biden's gonna get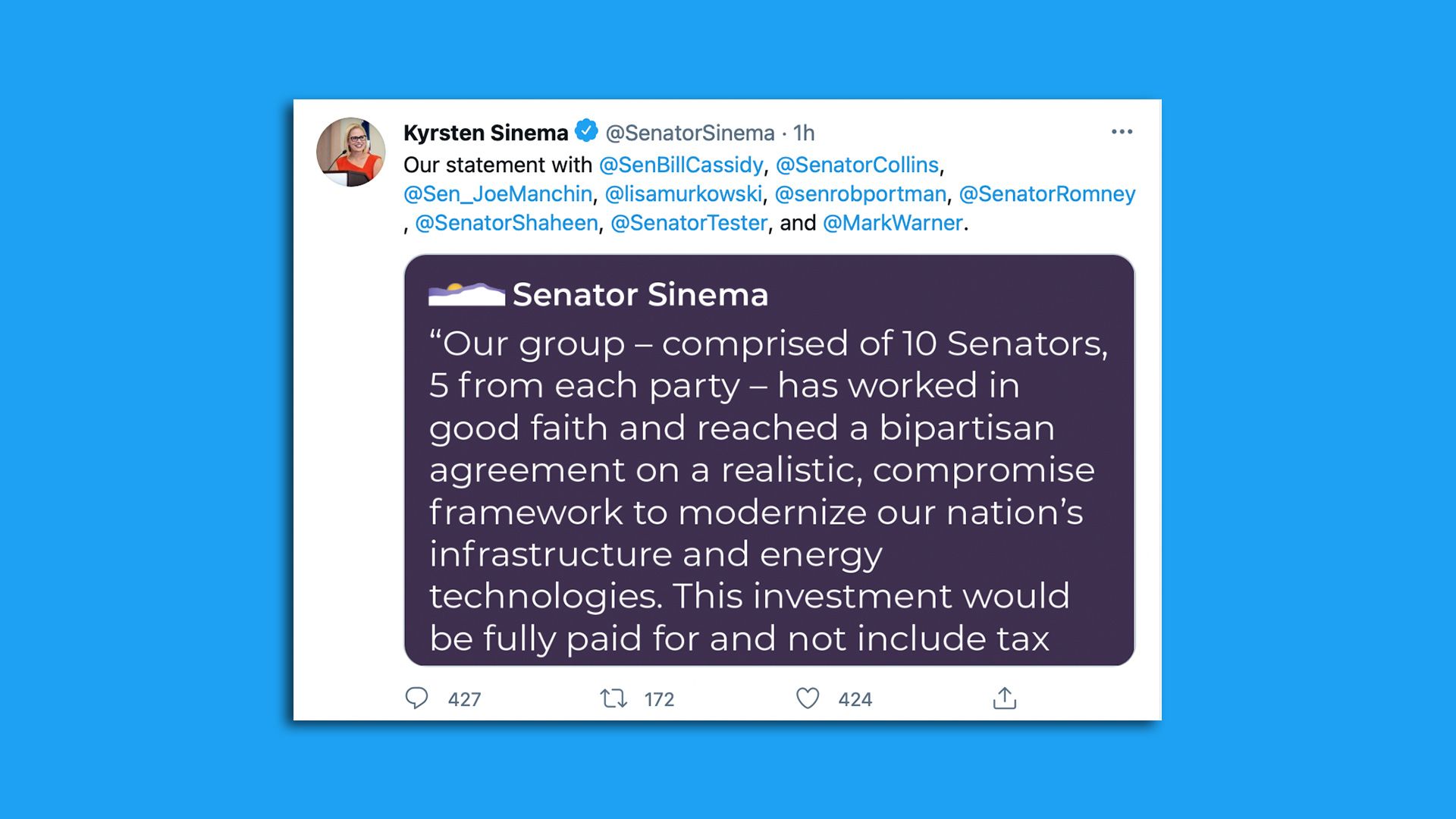 The infrastructure deal announced tonight by a group of 10 Democratic and Republican senators is likely the best bipartisan bill President Biden is going to get, Axios' Alayna Treene writes.
Why it matters: It has the backing of Democrats' most rebellious party members — Sens. Joe Manchin (D-W.Va.) and Kyrsten Sinema (D-Ariz.) — as well as the support of key Republican senators. The question now is whether the group can convince progressives and the broader GOP conference to get on board, too.
Our thought bubble: It's going to be very hard to sell this package to the rest of Congress.
Even with five Republican senators, it's still not the group of 10 GOP members they need to garner the 60 votes required to pass major legislation.
Driving the news: The proposal from a splinter group of the so-called G20 bloc of bipartisan senators focuses on "hard" infrastructure and doesn't touch on the more ambitious parts of Biden's package — the provisions outlined in the American Families Plan.
It would cost $974 billion over five years, or $1.2 trillion if extrapolated over eight years. About $579 billion of the total would be new spending.
The biggest sticking point remains how to pay for it. As of now, the plan would cover the cost of the entire bill without raising taxes.
The group proposes paying for it through unspent coronavirus relief aid, public-private partnerships, indexing the gas tax to account for inflation and allowing states to borrow necessary money through a revolving loan fund.
The remaining challenge:
For Republicans: It's a very open question whether the Republican senators in this group (all considered moderates) represent the rest of their conference.
Sen. Shelley Moore Capito (R-W.Va.) had the backing of Senate Minority Leader Mitch McConnell (R-Ky.) when trying to negotiate her own agreement with Biden.
McConnell has yet to say he'll support this new group's efforts. Without his blessing, most Republican senators won't go for it.
But, but, but: Agreeing to the deal would insulate Republicans from criticism they'd surely face if they just blocked such popular legislation.
That's also a danger for progressives who might want to vote against it because it's not big enough for them or their Democratic constituencies.
For Democrats: Biden promised progressives a big, bold, once-in-a-generation infrastructure package that would bring about transformational change not only for roads, bridges and highways but also climate change, child care and education.
This package doesn't do that, and the progressive wing of the party is already chafing to go the partisan route and pursue a reconciliation bill that would be far more ambitious.
4. AZ Senate candidate poured millions into voter registration group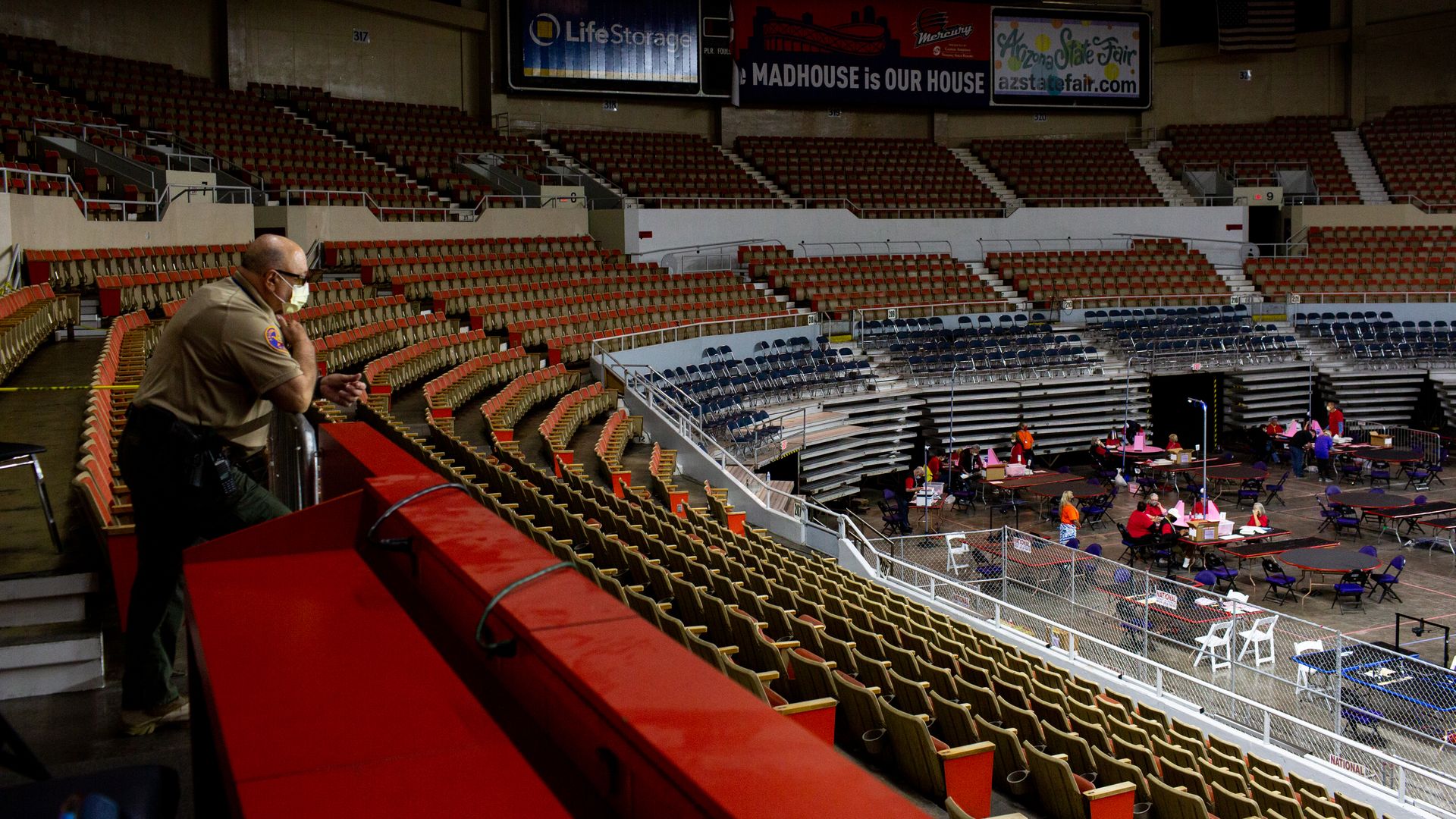 Days before the first Republican candidate jumped into next year's Arizona Senate race, he poured millions into an ostensibly nonpartisan voter registration operation affiliated with prominent election fraud conspiracy theorists, Axios' Lachlan Markay reports.
Why it matters: GOP candidate Jim Lamon embraces many of these theories, and a drive to register voters with the same inclination has the potential to benefit his candidacy. Lamon also stands to get a substantial tax break from his $2 million effort to turn out conservative voters.
What's happening: In late April, Lamon, a renewable energy executive, announced his donation to the nonprofit Look Ahead America, designed to help register "tens of thousands of new conservative voters."
A week later, Lamon officially entered the race to challenge Sen. Mark Kelly, a Democrat.
Records indicate Lamon had been laying the groundwork for his run by the time he donated to LAA: his campaign website's domain was registered in March, and its social media pages were created in April.
LAA is officially a nonpartisan charity and can legally engage in voter registration activities as long as they're not geared toward benefitting a specific candidate or party.
The group said it planned to use Lamon's $2 million to register and turn out "America First patriots."
The big picture: LAA was formed as a 501(c)(3) nonprofit in 2017 but had its tax-exempt status revoked last year for a persistent failure to file annual reports with the IRS.
LAA executive director Matthew Braynard told Axios the group is in the process of reapplying for tax exemption. If it's granted, Lamon's donation to the group will be retroactively tax-deductible.
"We take our nonpartisan obligation extremely seriously," Braynard said in an email. "We do not have any direct contact with Mr. Lamon or anyone working with him regarding our activities in AZ other than sending the reminders for payment to his accountant (it's a monthly commitment)."
5. Pics du jour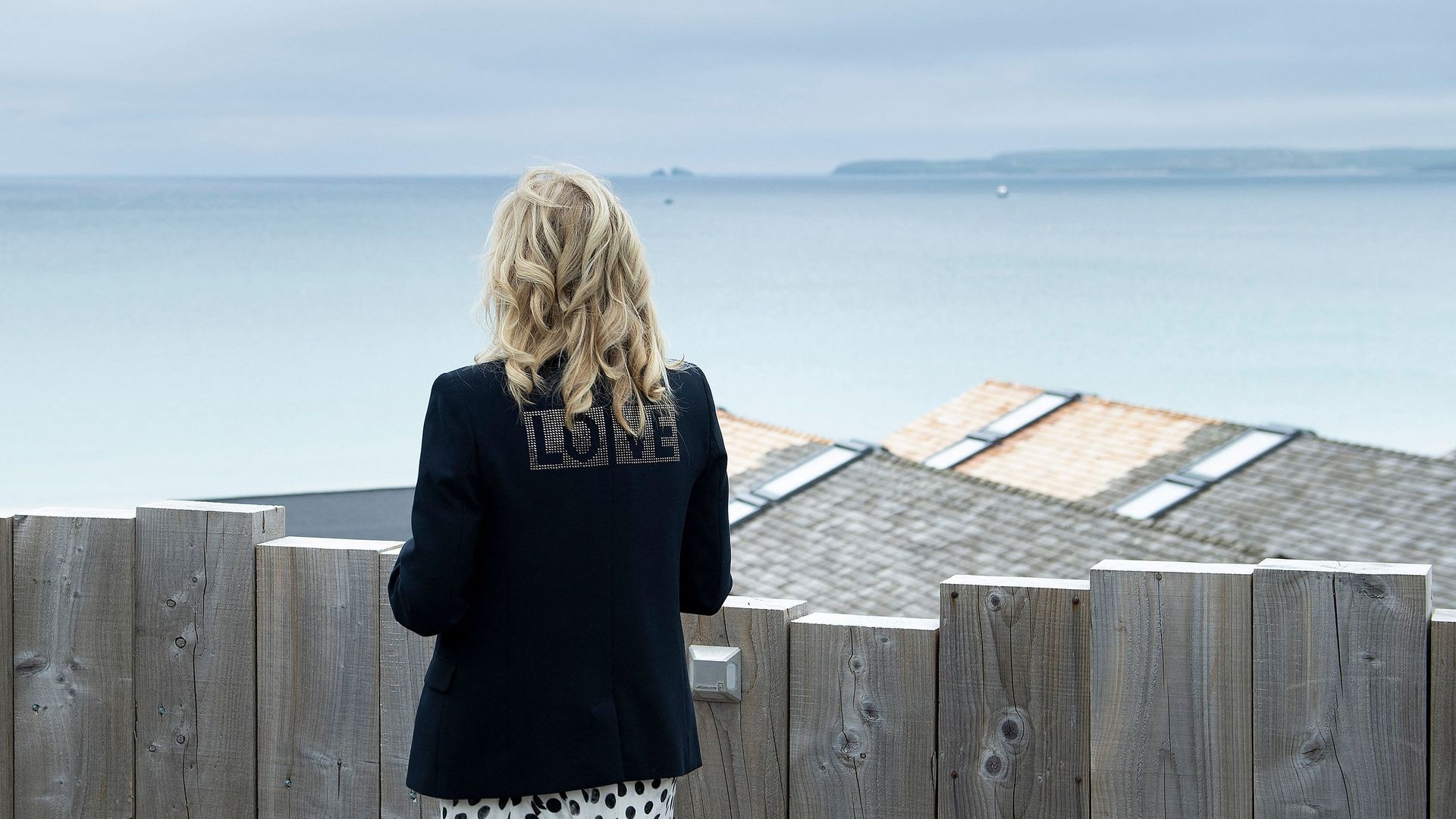 Fashion statements.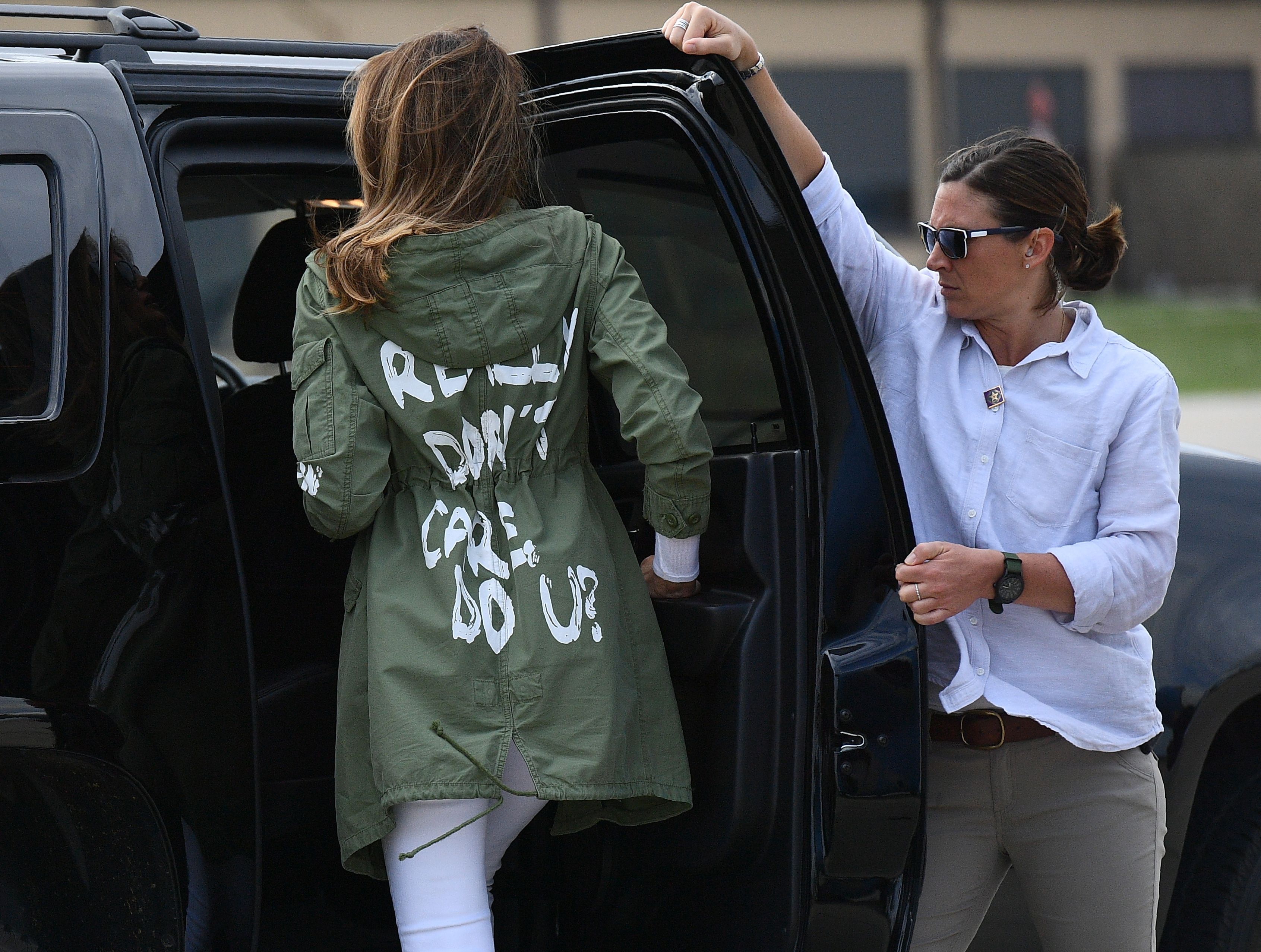 🔮Our newest newsletter, Axios What's Next, launches Monday. Sign up now.
😀 Thanks for reading our work this week! We'll be back Sunday evening. Please ask any family, friends or colleagues who may be interested in email delivery of this or any of Axios' other free newsletters to sign up through this link.