Axios Sneak Peek
December 18, 2020
🎄🕎 This is the last Sneak of 2020. We'll be back Jan. 3.
This completes the third week of our new Sunday-Thursday Sneak.
We'd love your feedback, including your preferred evening delivery time for the newsletter:

[email protected]

.
I hope you and your loved ones have a happy and healthy holiday season.
🚨Breaking: HHS Secretary Alex Azar, who has been leading the nation's coronavirus response, announced tonight his wife has tested positive for COVID-19.
⚡ Situational Awareness: Sen. Mitt Romney, during an interview today on SiriusXM's "The Big Picture With Olivier Knox," said of the apparent Russian computer attack:
"What I find most astonishing is that a cyber hack of this nature is really the modern equivalent of almost Russian bombers reportedly flying undetected over the entire country."
Today's newsletter — edited by Axios contributor Glen Johnson — is 1,043 words, a 4-minute read.
1 big thing ... Scoop: Biden privately pushes first big deal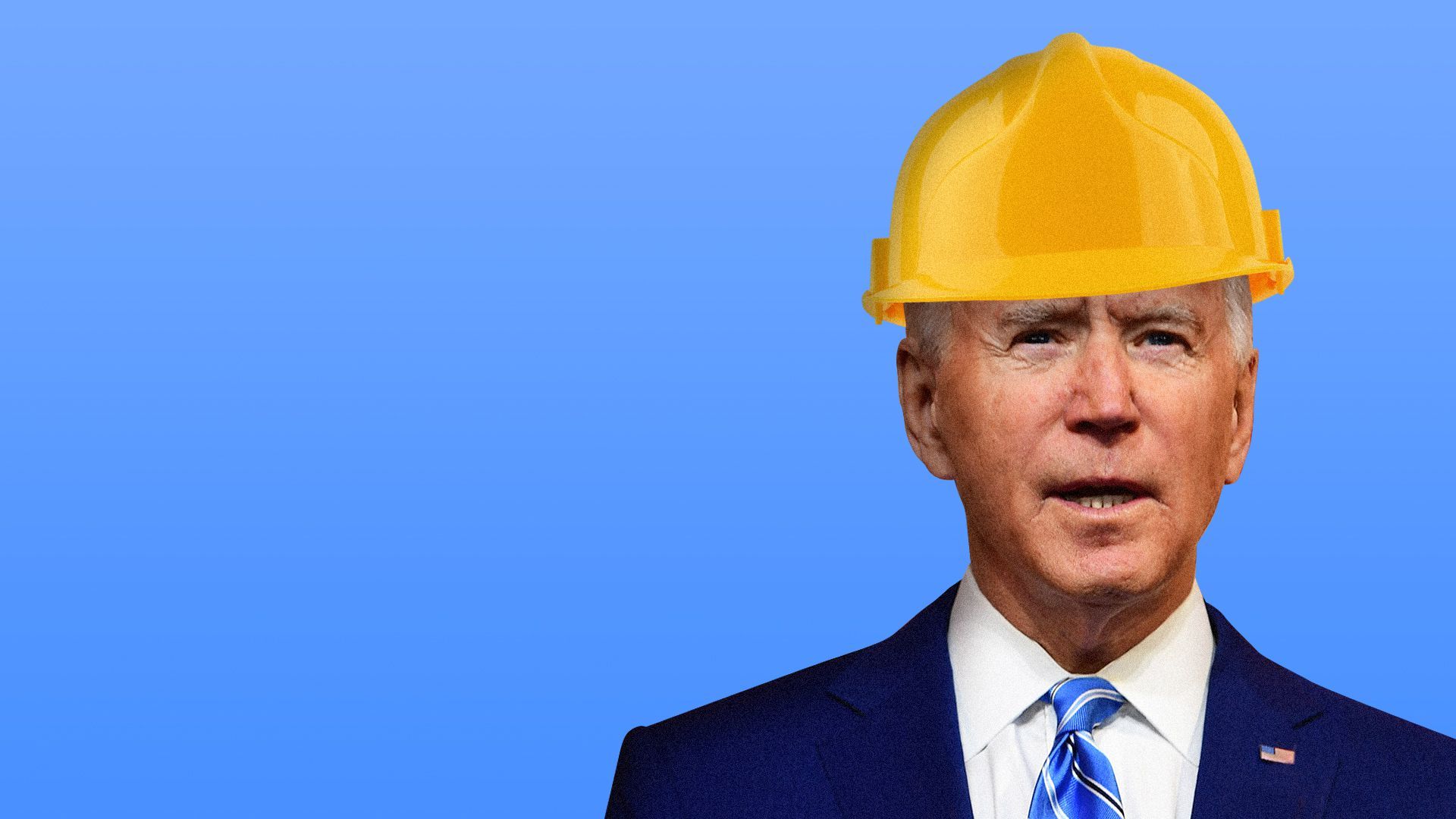 President Trump's now infamous "infrastructure week" may finally get a shovel in the ground ... during the Biden administration.
Why it matters: If Mitch McConnell keeps control of the Senate, a bill to finance all sorts of public construction projects may be one of the few big pieces of legislation Joe Biden can realistically achieve within a divided government, given its broad, bipartisan support.
What we're hearing: The president-elect's transition team has privately begun laying the groundwork to strike a bipartisan infrastructure deal during the first year of his term.
The team has indicated to business leaders it sees an opening to use it as a driver for more economic and job relief as the country emerges from the coronavirus pandemic.
Neil Bradley, chief policy officer for the U.S. Chamber of Commerce, tells me: "We've certainly had conversations with them. ... They're extremely interested in pursuing an infrastructure package, as is the Chamber and the business community."
He added, "Of all the issues that are out there, this one can form one of the widest possible coalitions to help get something through Congress."
2. Democrats fret about Garland for A.G.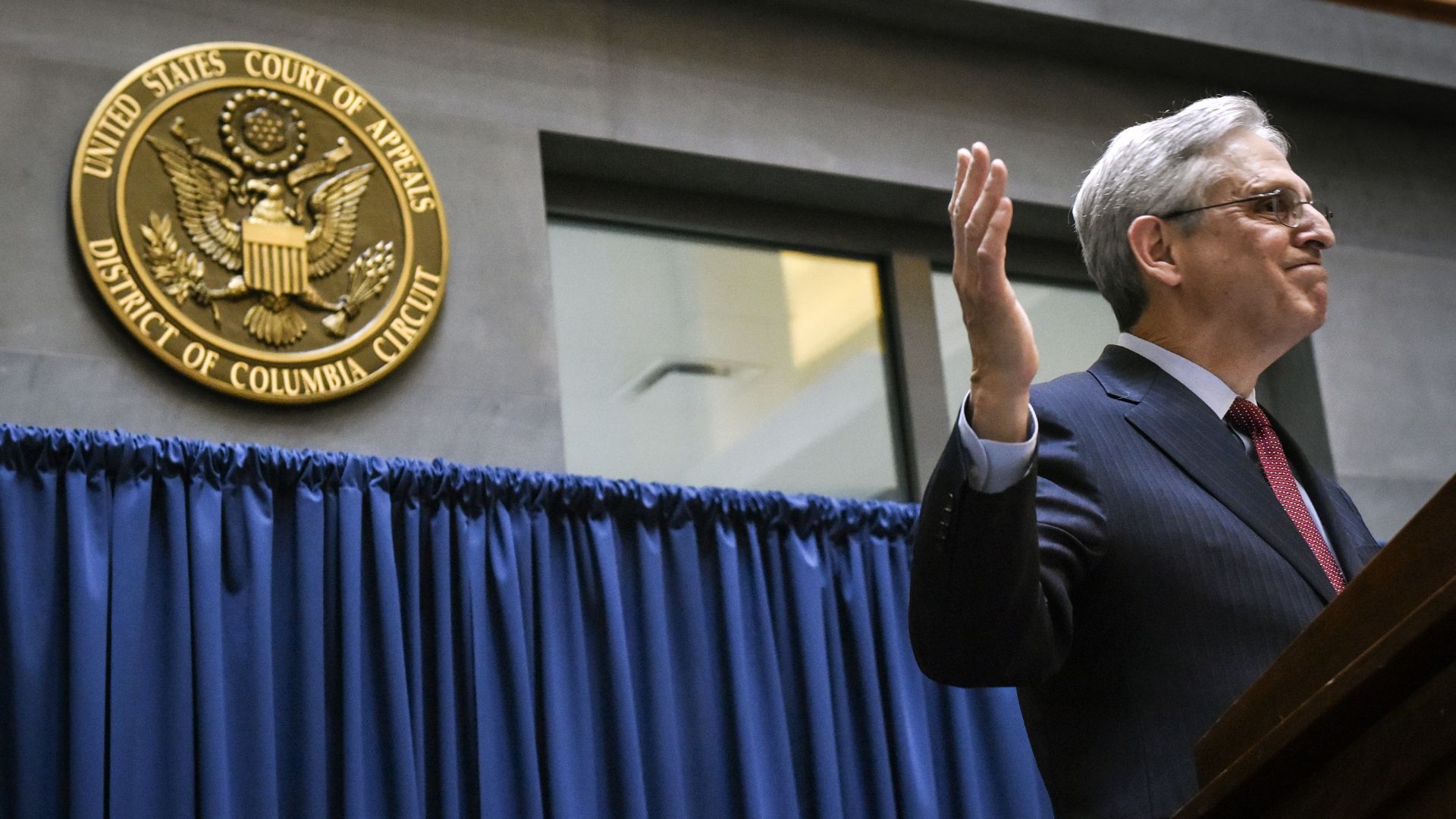 If Joe Biden picks Merrick Garland to be his attorney general, he could cost his party control of one of the most important judicial appointments in America — and many Democrats do not want him to take that chance, Axios' Sam Baker and I hear.
How it works: Biden still hasn't named his choice to lead the Justice Department, and if he taps Garland, it would open up his seat on the D.C. Circuit Court of Appeals. If Democrats don't win both Georgia Senate runoff elections next month, Mitch McConnell would almost surely prevent the president-elect from filling it.
If Democrats do manage to get a 50-50 Senate, Republicans would still have a lot of leverage — and this would be a seat worth fighting over. The D.C. court is considered second only to the Supreme Court in national importance.
Democrats are leery of the risk, given the broader drubbing they have taken at McConnell's hands over court appointments during the past 12 years.
3. Scoop: Ben Carson to launch think tank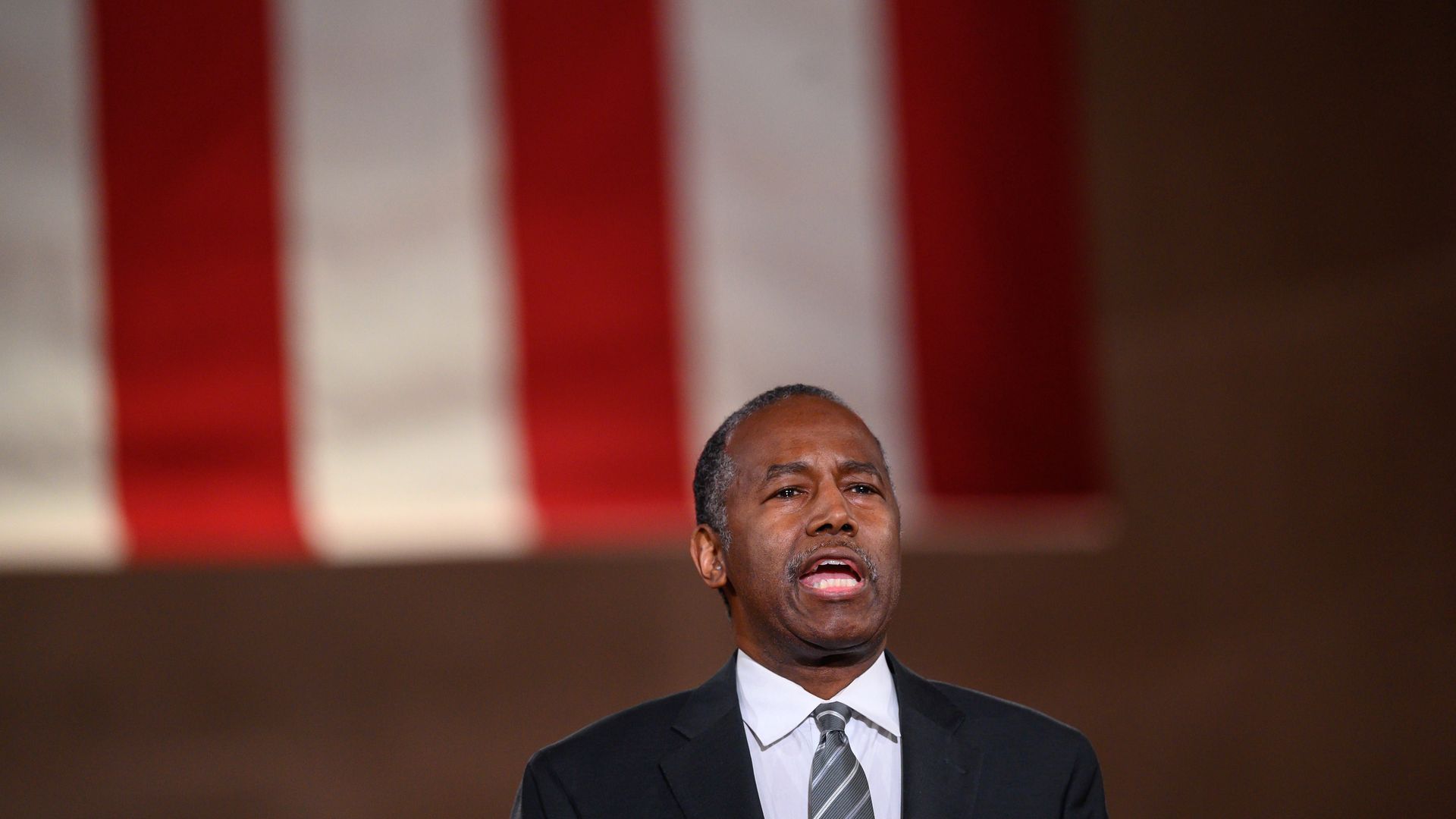 Ben Carson, the secretary of Housing and Urban Development, has told confidants he wants to start a think tank after President Trump leaves office next month, Axios' Jonathan Swan reports.
Why it matters: Carson's planning signals his private recognition of what many Trump loyalists won't say publicly: Donald Trump will not serve a second term — at least not consecutively. The secretary has not publicly acknowledged Joe Biden's election win but is preparing for a future outside the federal government.
The backstory: Carson, a neurosurgeon by trade who competed with Trump for the Republican Party's 2016 presidential nomination, wants to start an organization that will promote Trump's policies and foster bipartisan dialogue, a source in his inner circle told Axios.
It's unclear how any such group would be funded or mesh with any entity Trump launches in exile. The closest the source came to defining policy focuses was to say they would include "increasing self-sufficiency" and "promoting religious freedom."
4. Climate squad is win for progressives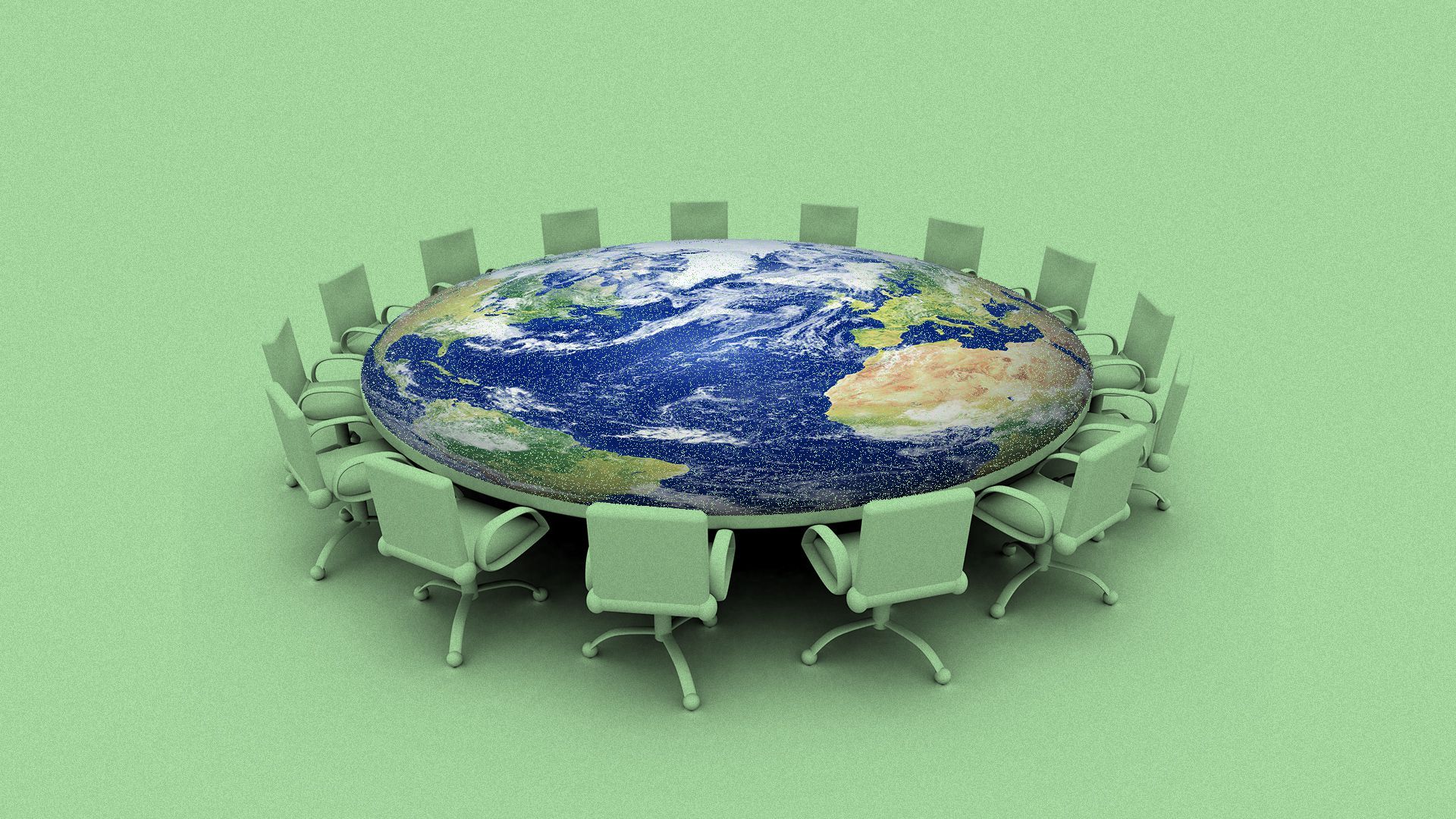 Our thought bubble, from Axios' Amy Harder, on Biden's six picks for his energy and climate team:
He's selected several Obama-era officials — including former EPA administrator Gina McCarthy, who'll be his national climate adviser — to immediately enact aggressive executive branch policy, given the low chances Congress will do anything major on the problem anytime soon.
He's leaning into diverse candidates and addressing concerns about environmental injustice: Rep. Deb Haaland of New Mexico will be the first Native American to lead the Interior Department, which oversees tribal lands.
The progressive arm of the Democratic Party notched big wins with the nominations, especially Haaland at Interior and Michael Regan at the EPA.
The bottom line: These victories will likely embolden progressive groups even more when it comes time to actually make policy. They'll be more optimistic for ambitious policy — and more willing to pressure Biden to pursue it if he doesn't.
🔋 Go deeper: More tomorrow from Ben Geman in Axios Generate.
5. Trump's judicial legacy may block Biden's
Trump's astounding record of judicial appointments will not only reshape the judiciary for a generation, but it will likely deny Biden the chance to put much of his own stamp on the courts, Sam writes.
By the numbers: Trump came into office with 17 vacancies on federal circuit courts of appeals, plus an open Supreme Court seat. Ultimately, he filled three Supreme Court seats and appointed 54 circuit-court judges in just one term — the Senate confined the 54th,  a replacement for Judge Amy Coney Barrett on the 7th Circuit, just this week. President Obama got a grand total of 55 during his two terms.
The appointments will be the outgoing president's most lasting, substantive legacy.
What's next: There are now only two appellate vacancies awaiting the president-elect, and he will have no realistic chance of changing the ideological balance on the Supreme Court, currently split with a 6-3 conservative majority.
There are 47 vacancies in federal district courts. If Democrats control the Senate, Biden may be able to fill many of those openings.
But those judges' rulings would then be appealed to circuit courts now stocked with Trump appointees, and from there to the Supreme Court, with its expanded conservative majority.
Between the lines: If Republicans end up controlling the Senate, Biden can forget about filling almost any important judgeships, especially with progressive or polarizing nominees. But his judicial legacy will be constrained even if Democrats take the Senate.
Without a backlog of vacancies to begin with, Biden will only be able to fill openings that arise while he's president.
That means he'll probably be largely limited to replacing liberal judges — and in a 50-50 Senate, he'll have to make safe picks to avoid losing the support of moderate Democrats.
6. Congress' long weekend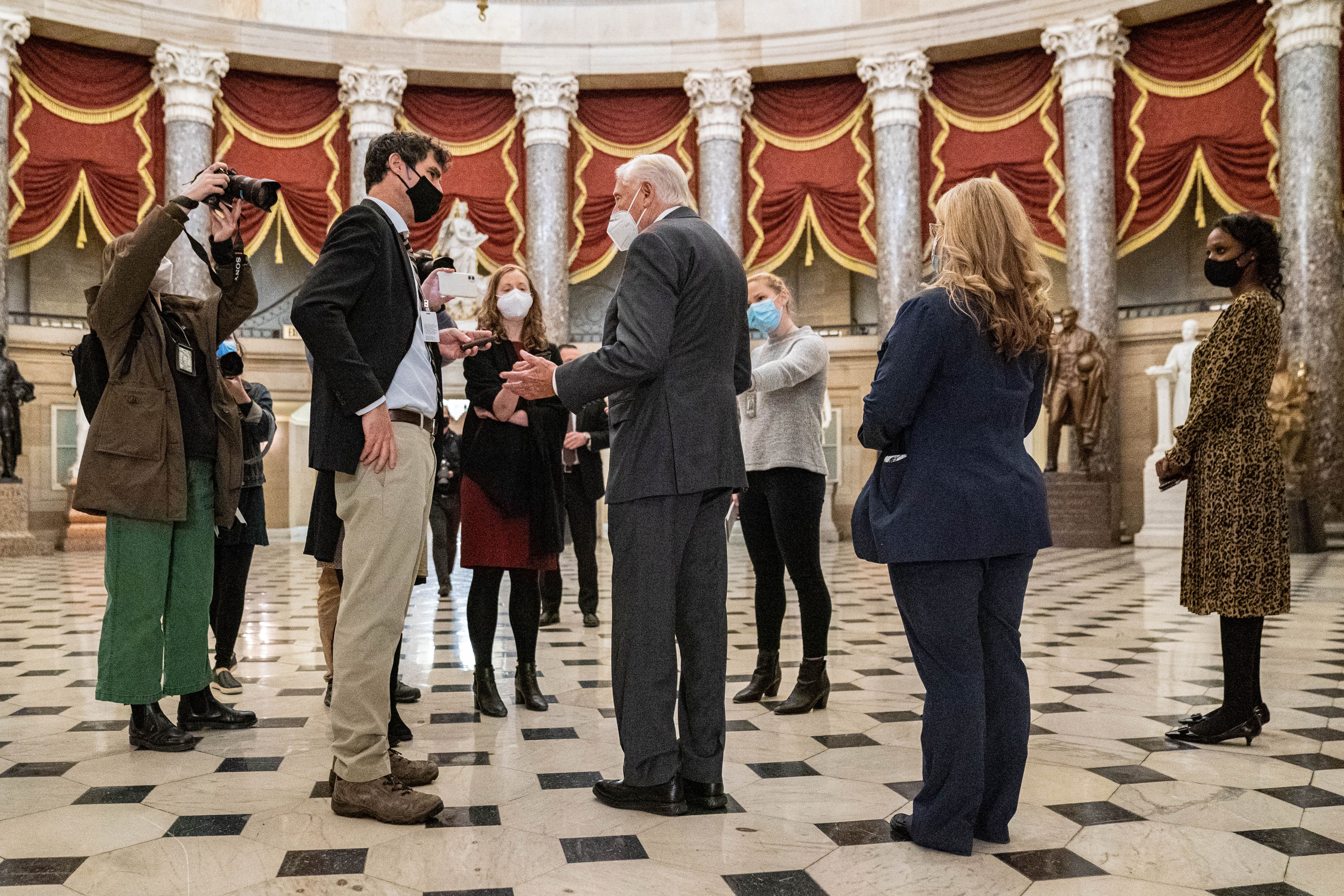 Even as members are chafing to get home for the holidays, Congress is expected to spend the weekend on Capitol Hill in a last-minute crunch to pass a government spending bill and coronavirus relief package.
The government is ticking toward a shutdown Friday night, so the House and Senate will likely have to pass a short-term continuing resolution — we're told roughly 48 hours — to buy them extra time to complete their negotiations.
The bottom line: Congressional leaders are confident they'll be able to deliver desperately needed aid to Americans before the holidays.
7. Photo de l'année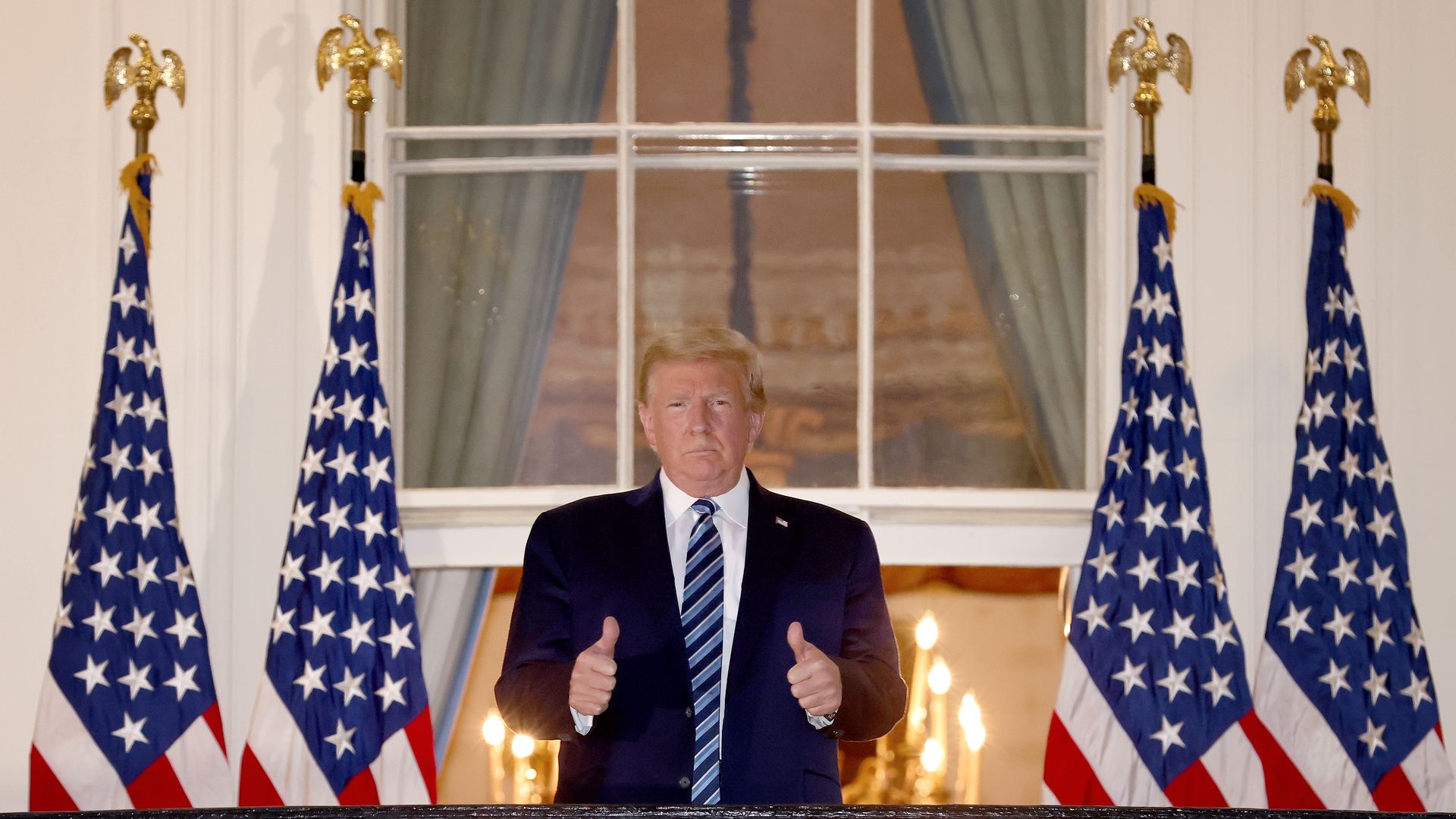 Amid a yearlong debate about his handling of the virus, Donald Trump peeled off his mask and defiantly gave a made-for-TV double thumbs-up in October, after returning to the White House following his own treatment for COVID-19.
Thanks for reading! Please share us with your friends, and let them know they can sign up here.