June 24, 2022
Welcome back to Sneak. Smart Brevity™ count: 926 words ... 3.5 minutes.
1 big thing: DOJ's last stand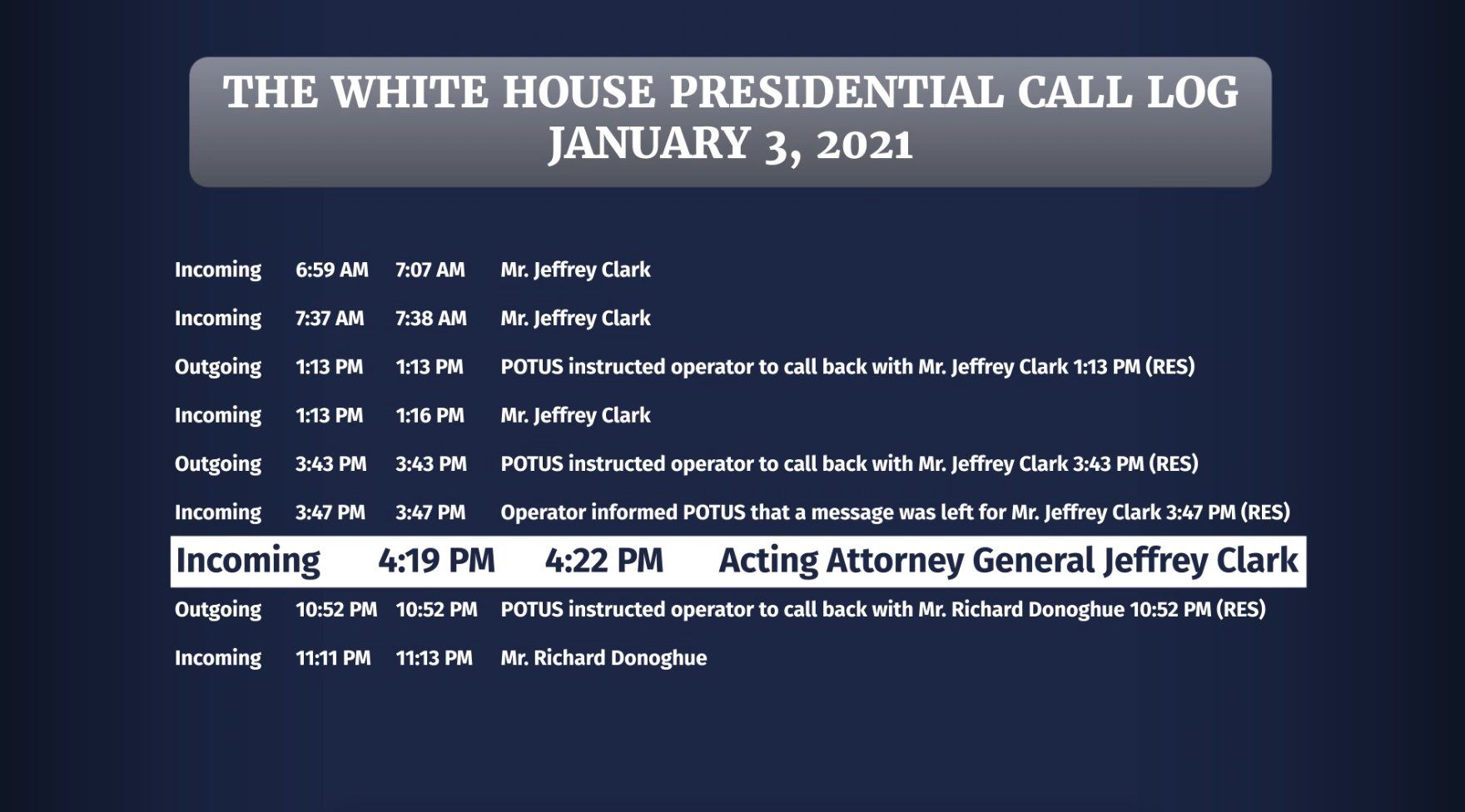 By the afternoon of Jan. 3, 2021, the White House presidential call log had begun referring to election denier and little-known Justice Department lawyer Jeffrey Clark as the "acting Attorney General," the House Jan. 6 committee revealed in its explosive fifth hearing today.
Why it matters: Had former President Trump followed through on his scheme to install Clark atop the Justice Department in the waning days of his presidency, America's top law enforcement agency may have officially thrown its weight behind his false claims of election fraud.
It was only the threat of mass resignations by DOJ leadership — including the three witnesses who testified at today's hearing — that prevented the chaos that would have ensued.
👀 Meanwhile: The FBI carried out a pre-dawn raid of Clark's house yesterday, seizing his electronic devices and leaving him out on the street in his pajamas, the New York Times reports.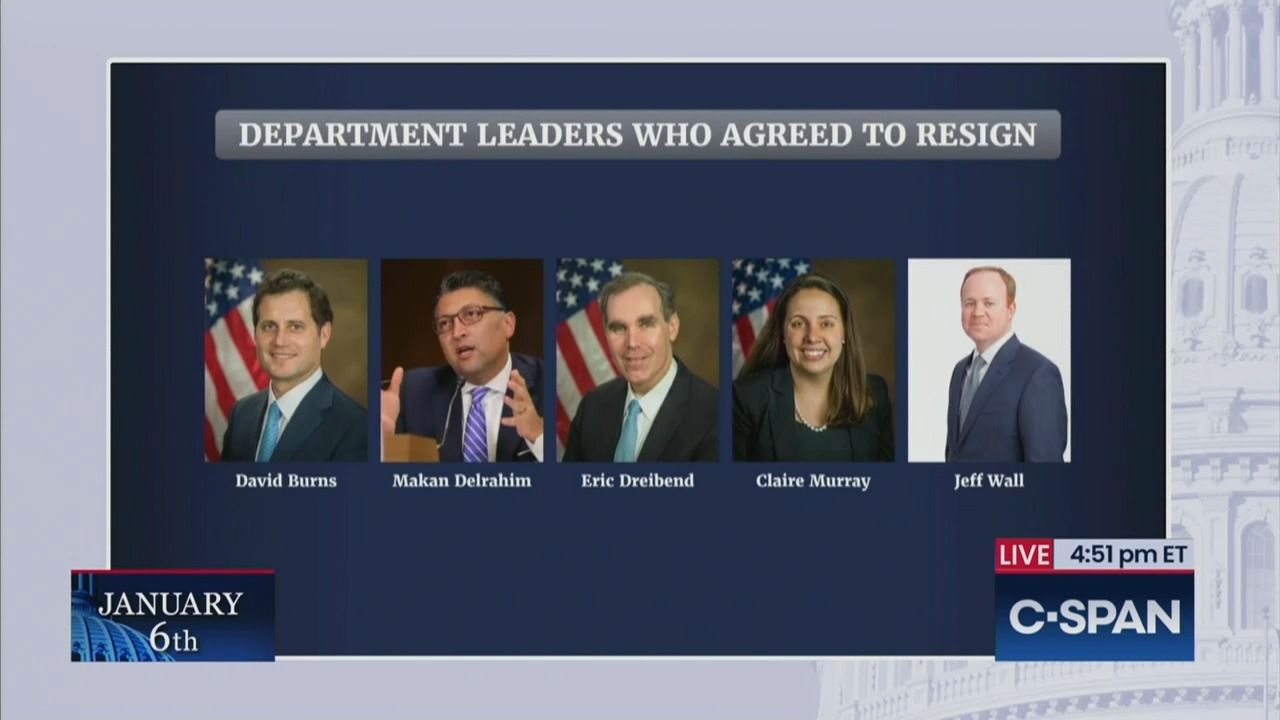 4 hearing takeaways
1. Barr's fear.
Former Attorney General Bill Barr testified in a taped deposition that the "responsible thing to do" was to investigate Trump's claims of voter fraud directly after the election, rather than allow the president to use them as a pretense for staying in office.
"I sort of shudder to think what the situation would have been if the position of the department was 'we're not even looking at this until after Biden's in office.' I'm not sure we would have had a transition at all," Barr said.
2. Clark's "murder-suicide pact."
Clark proposed sending a letter to Georgia officials saying DOJ had "significant concerns" about voting irregularities, and that the Georgia state legislature should call a special session to consider changing its electors.
"Congratulations, you just admitted your first step or act you'd take as attorney general would be committing a felony," Trump White House lawyer Eric Herschmann replied in disgust, according to his testimony to the committee.
Former acting deputy attorney general Richard Donoghue testified that White House counsel Pat Cipollone called the letter a "murder-suicide pact" and said it would "damage everyone that touches it."
3. U.S. government investigated Italy-gate.
White House chief of staff Mark Meadows forwarded DOJ officials a convoluted YouTube conspiracy theory that alleged Italian satellites were switching votes from Trump to Joe Biden.
After Donoghue and acting attorney general Jeffrey Rosen agreed the video was "pure insanity," acting Defense Secretary Christopher Miller reached out to a high-ranking official in Italy to ask about the claims.
Trump suggested seizing voting machines from state governments and was "agitated" when told DOJ did not have that authority, Donoghue and Rosen testified.
4. Sunday night massacre.
On Sunday, Jan. 3, DOJ leadership effectively staged an intervention after finding out that Trump had offered Clark — an environmental lawyer with no apparent qualifications besides being a Trump loyalist — the job of acting attorney general.
"Mr. President, within 24, 48, 72 hours you could have hundreds and hundreds of resignations of the leadership of your entire Justice Department because of your actions. What's that going to say about you?" Donoghue said he told Trump, who eventually agreed to abandon the plan.
2. 👀 House Republicans sought Jan. 6 pardons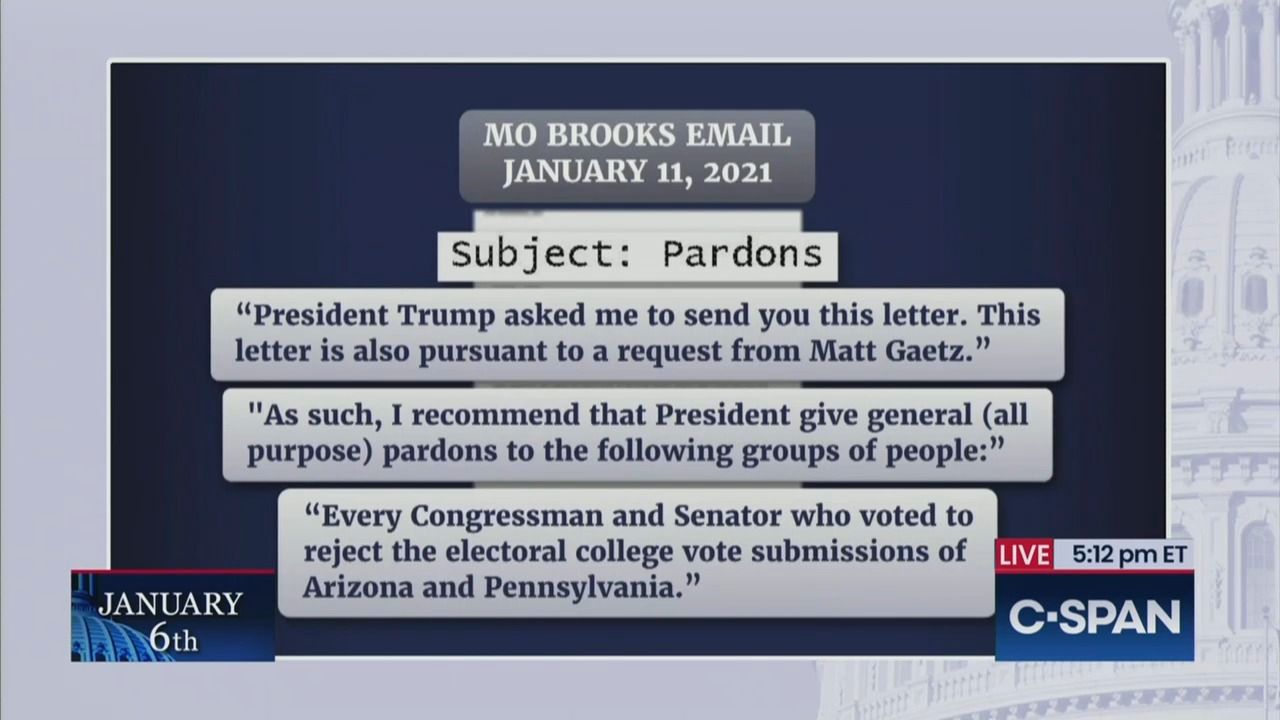 At least five House Republicans sought presidential pardons in the aftermath of Jan. 6, former White House aides testified to the committee:
Matt Gaetz (R-Fla.)
Mo Brooks (R-Ala.)
Andy Biggs (R-Ariz.)
Louie Gohmert (R-Texas)
Scott Perry (R-Pa.)
Worth noting: Former White House aide Cassidy Hutchinson said she "heard" Rep. Marjorie Taylor Greene (R-Ga.) asked for a pardon through the White House counsel's office.
Hutchinson also testified Rep. Jim Jordan (R-Ohio) asked whether Trump was considering pardoning members of Congress but never requested one himself.
What they're saying: "The pardon that [Gaetz] was discussing, requesting, was as broad as you can describe — from the beginning of time up until today, for any and all things," Herschmann said in a taped deposition.
"He mentioned Nixon, and I said Nixon's pardon was never nearly that broad."
3. 🔥 Progressives turn up heat on Dem campaign chair
A trio of progressive groups today endorsed a primary challenger to Rep. Sean Patrick Maloney (D-N.Y.), escalating a campaign of retribution against the man in charge of salvaging House Democrats' majority in November, Axios' Andrew Solender writes.
Why it matters: Maloney, the chair of the Democratic Congressional Campaign Committee, stoked anger from the left with his decision to run in a redrawn district mostly represented by progressive freshman Rep. Mondaire Jones (D-N.Y.).
Jones, who is now running for an open seat in New York City miles away from his home district, says Maloney did not tell him about the decision ahead of time.
Driving the news: The Progressive Change Campaign Committee, New York Progressive Action Network and Democracy for America endorsed state Sen. Alessandra Biaggi, who won her own state legislature seat by taking out a longtime Democratic incumbent.
10 days earlier, the progressive Working Families Party narrowly voted to rescind its endorsement of Maloney and back Biaggi instead.
Biaggi also has the support of the most high-profile progressive member of New York's congressional delegation: Rep. Alexandria Ocasio-Cortez (D-N.Y.).
4. 🌎 Biden sinks globally
A Pew Research Center poll of 17 countries, most of them U.S. allies in Europe and Asia, finds confidence in President Biden to "do the right thing regarding world affairs" fell everywhere but South Korea between 2021 and 2022, Dave Lawler writes in tonight's Axios World.
5. 💻 Parting shot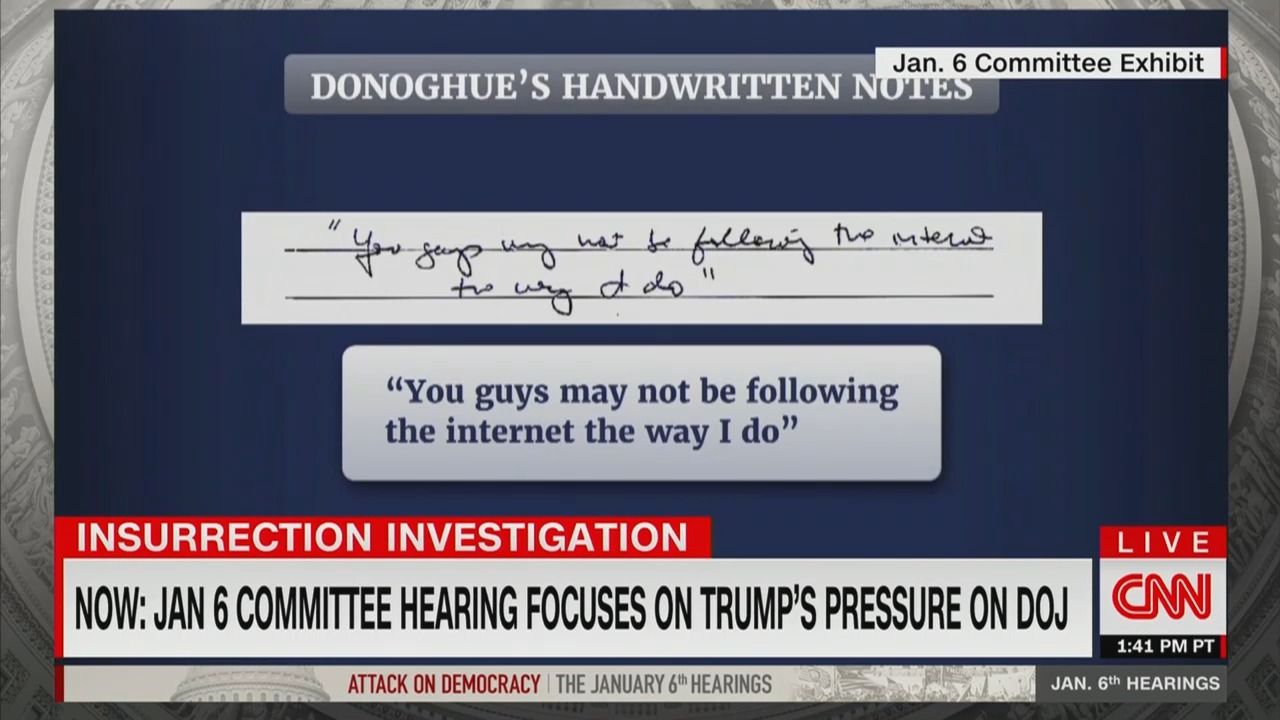 Donoghue took handwritten notes during his calls with Trump, who was frustrated with DOJ officials for their lack of receptiveness to online conspiracy theories about the election.
📬 Thanks for reading Sneak! We'll be back on Sunday.