Axios Sneak Peek
April 05, 2020
Welcome to Sneak Peek, our weekly lookahead from both ends of Pennsylvania Avenue, plus our best scoops.
💁🏻‍♂️Tell your friends to sign up free for their weekly Sneak Peek!
Tonight's newsletter is 1,635 words, a 6-minute read.
1 big thing: Scoop — Inside the epic White House fight over a virus drug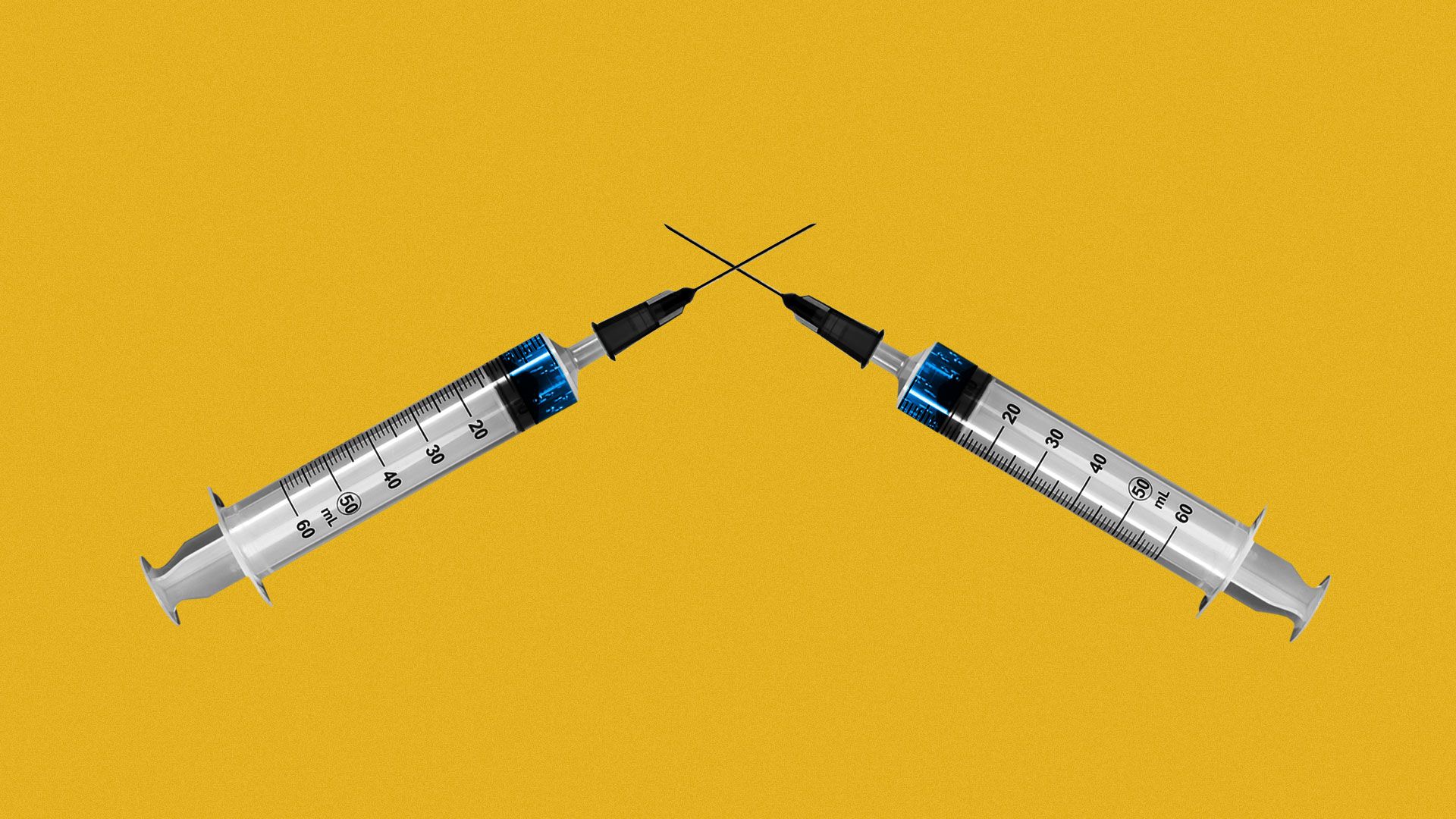 The White House coronavirus task force had its biggest fight yet on Saturday, pitting economic adviser Peter Navarro against infectious disease expert Anthony Fauci. At issue: How enthusiastically should the White House tout the prospects of an antimalarial drug to fight COVID-19?
This drama erupted into an epic Situation Room showdown.
Behind the scenes: Trump's coronavirus task force gathered in the White House Situation Room on Saturday at about 1:30pm, according to four sources familiar with the conversation. Vice President Mike Pence sat at the head of the table.
Numerous government officials were at the table, including Fauci, coronavirus response coordinator Deborah Birx, Jared Kushner, acting Homeland Security Secretary Chad Wolf, and FDA Commissioner Stephen Hahn.
Behind them sat staff, including Peter Navarro, tapped by Trump to compel private companies to meet the government's coronavirus needs under the Defense Production Act.
Toward the end of the meeting, Hahn began a discussion of the malaria drug hydroxychloroquine, which Trump believes could be a "game-changer" against the coronavirus.
Hahn gave an update about the drug and what he was seeing in different trials and real-world results.
Then Navarro got up. He brought over a stack of folders and dropped them on the table. People started passing them around.
"And the first words out of his mouth are that the studies that he's seen, I believe they're mostly overseas, show 'clear therapeutic efficacy,'" said a source familiar with the conversation. "Those are the exact words out of his mouth."
Navarro's comments set off a heated exchange about how the Trump administration and the president ought to talk about the malaria drug, which Fauci and other public health officials stress is unproven to combat COVID-19.
Fauci pushed back against Navarro, saying that there was only anecdotal evidence that hydroxychloroquine works against the coronavirus.
Researchers have said studies out of France and China are inadequate because they did not include control groups.
Fauci and others have said much more data is needed to prove that hydroxychloroquine is effective against the coronavirus.
As part of his role, Navarro has been trying to source hydroxychloroquine from around the world. He's also been trying to ensure that there are enough domestic production capabilities inside the U.S.
Fauci's mention of anecdotal evidence "just set Peter off," said one of the sources. Navarro pointed to the pile of folders on the desk, which included printouts of studies on hydroxychloroquine from around the world.
Navarro said to Fauci, "That's science, not anecdote," said another of the sources.
Navarro started raising his voice, and at one point accused Fauci of objecting to Trump's travel restrictions, saying, "You were the one who early on objected to the travel restrictions with China," saying that travel restrictions don't work. (Navarro was one of the earliest to push the China travel ban.)
Fauci looked confused, according to a source in the room. After Trump imposed the travel restrictions, Fauci has publicly praised the president's restriction on travel from China.
Pence was trying to moderate the heated discussion. "It was pretty clear that everyone was just trying to get Peter to sit down and stop being so confrontational," said one of the sources.
Eventually, Kushner turned to Navarro and said, "Peter, take yes for an answer," because most everyone agreed, by that time, it was important to surge the supply of the drug to hot zones.
The principals agreed that the administration's public stance should be that the decision to use the drug is between doctors and patients.
Trump ended up announcing at his press conference that he had 29 million doses of hydroxychloroquine in the Strategic National Stockpile.
Between the lines: "There has never been a confrontation in the task force meetings like the one yesterday," said a source familiar with the argument. "People speak up and there's robust debate, but there's never been a confrontation. Yesterday was the first confrontation."
In response to a request for comment on Axios' reporting, Katie Miller, a spokesperson for the vice president, said: "We don't comment on meetings in the Situation Room."
The bottom line: The way to discuss the drug's potential has become a fraught issue within the Trump administration.
Most members of the task force support a cautious approach to discussing the drug until it's proven.
Navarro, on the other hand, is convinced based on his reading that the drug works against the coronavirus and speaks about it enthusiastically.
Some of Trump's favorite TV hosts, including Fox's Sean Hannity, and friends including Rudy Giuliani, have also been touting the malaria drug for the coronavirus. Trump has made no secret who he sides with.
"What do you have to lose? Take it," the president said in a White House briefing on Saturday. "I really think they should take it. But it's their choice. And it's their doctor's choice or the doctors in the hospital. But hydroxychloroquine. Try it, if you'd like."
2. 🚨 The surgeon general's warning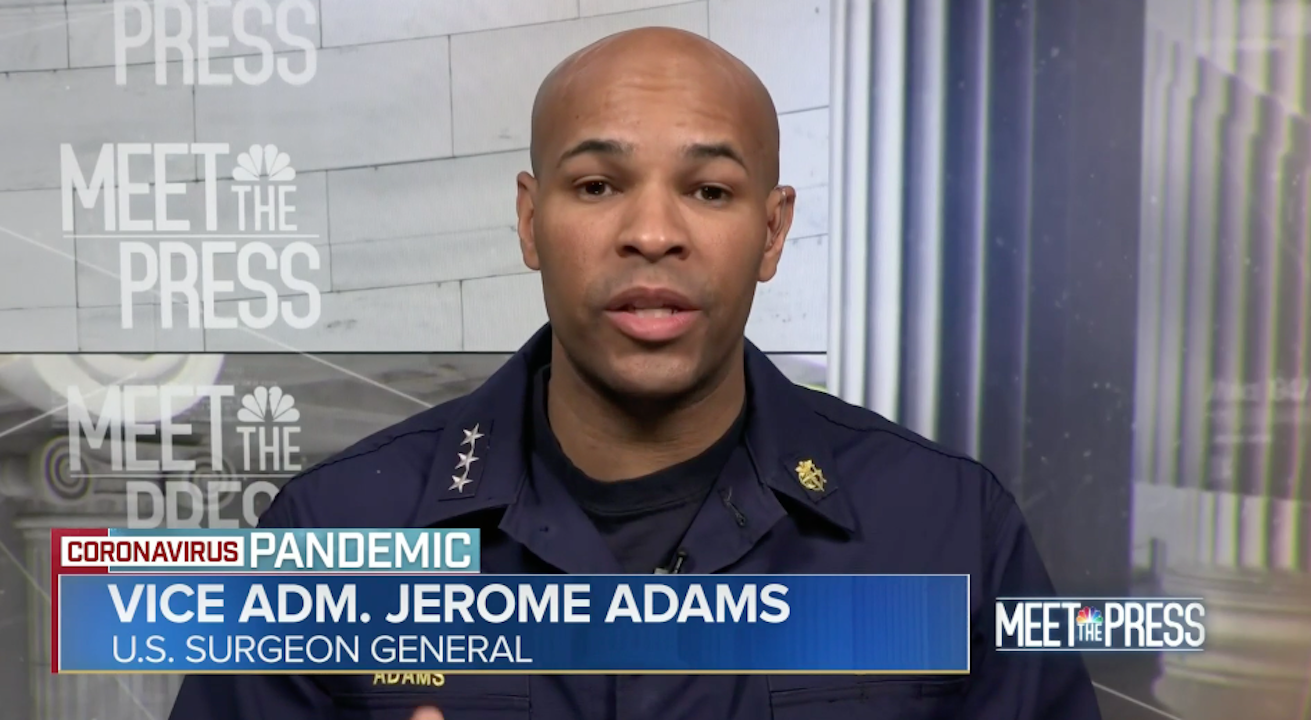 Surgeon General Jerome Adams made a chilling statement on "Meet the Press" and "Fox News Sunday" today:
"The next week is going to be our Pearl Harbor moment. It's going to be our 9/11 moment. It's going to be the hardest moment for many Americans in their entire lives."
3. Inside Trump's virtual campaign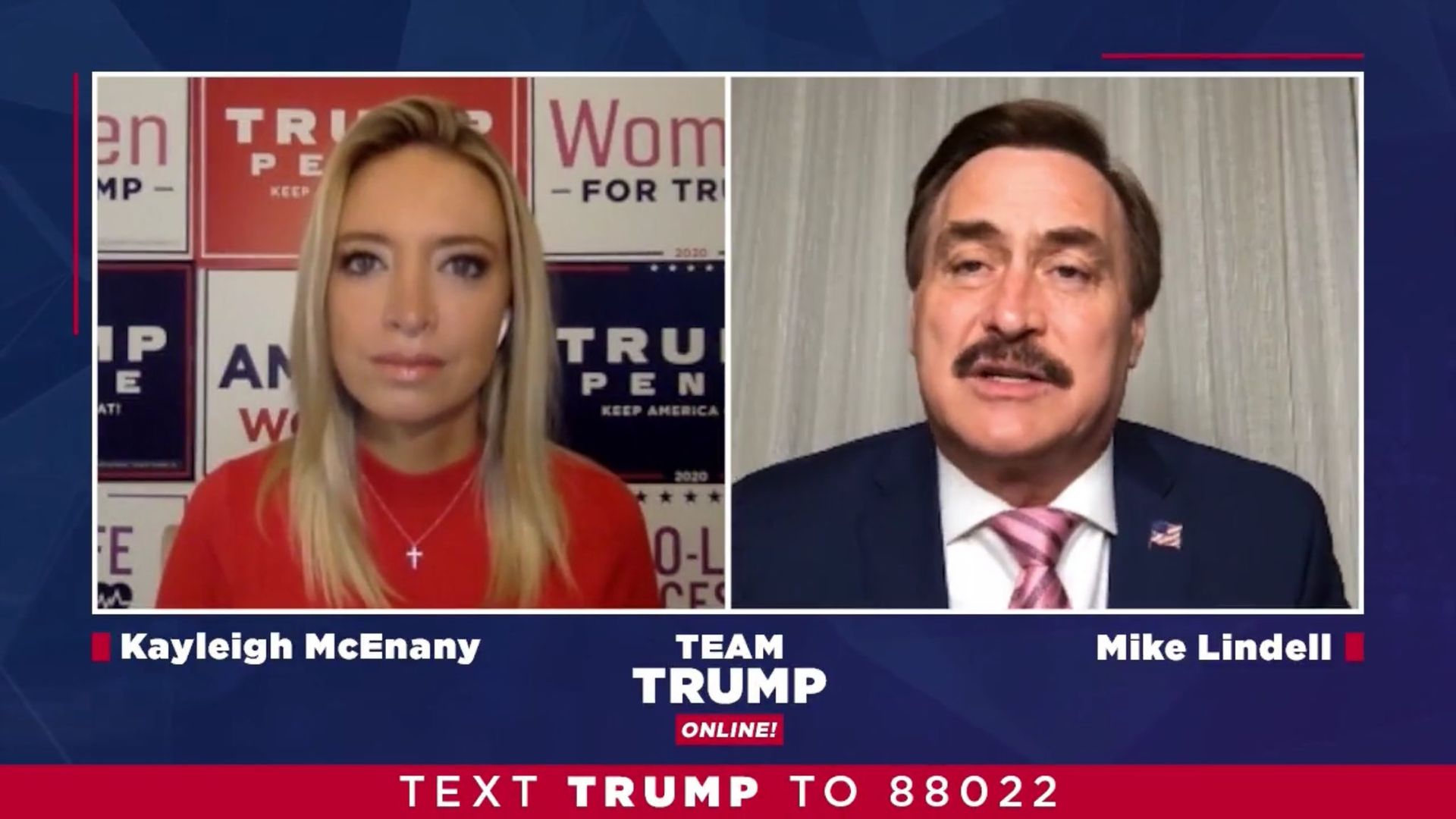 The Trump campaign is now doing online broadcasts seven nights a week — filling a void in physical events and field organizing due to the coronavirus.
Why it matters: So far, these online broadcasts, which have not yet featured the president, have regularly gotten more than 1 million views across all social platforms, according to the campaign.
Trump's rallies were the center of his campaign and in the age of the coronavirus, they can't be done. It's not clear when Trump will be able to hold another rally, so they're hustling for alternatives.
Sources on the campaign said they are doing a mixture of live streaming and pre-recorded videos. Their plan is to broadcast every night on Trump's social media channels at 8pm ET to create the effect of a nightly show.
Broadcasts so far — they began on March 26 — have been linked to Trump coalitions ("Women for Trump," etc.). They feature members of the Trump family, like Lara Trump and prominent Trump surrogates including the campaign's communications director Tim Murtaugh, campaign spokesperson Kayleigh McEnany, campaign adviser Mercedes Schlapp, senior campaign adviser Katrina Pierson and pillow merchant Mike Lindell.
Behind the scenes: On a conference call on March 13, top Trump campaign officials decided they needed to move to an all-virtual campaign, according to two senior campaign officials. That decision affects more than 1,000 staff around the country, they said.
Trump's political director Chris Carr has worked on six presidential campaign, but he is now tasked with running his — and anybody's — first-ever virtual field operation, a senior official said.
Carr had to move entirely to virtual in 24 hours because the campaign was heading into a "national week of training." The Trump campaign does a week of training volunteers each month and ends with a national "day of action."
That's where they test their capacity in the field — finding out how many volunteers they can sign up to do a training session and how many volunteers will do what they've been trained to do, which is contact voters through an app, by phone, or door-knocking.
A senior campaign official said they made the snap decision to move away from door-to-door campaigning and do the whole week online and through teleconferences.
The campaign's field team made more than 3.1 million phone calls between March 13 and 21, according to senior campaign officials. That's more calls than the campaign's field team has made in any week since October 2018, just before the midterm elections, said a senior campaign official.
The stats: The campaign says it has signed up more than 275,000 new volunteers since the switch to all-virtual on March 13. A senior campaign official said this is significantly higher than normal.
To put that number in perspective, the official said that in all of 2016, the total number of volunteers between the RNC and the Trump campaign was about 750,000.
Asked why he thought the campaign had seen a boost in volunteers during a pandemic, a senior campaign official said people were at home, had extra time on their hands and wanted to interact with like-minded people.
The official said the campaign's goal is to have 2 million volunteers engaged for this "and currently we're at 884,857."
4. How the virus could shield Trump's tax returns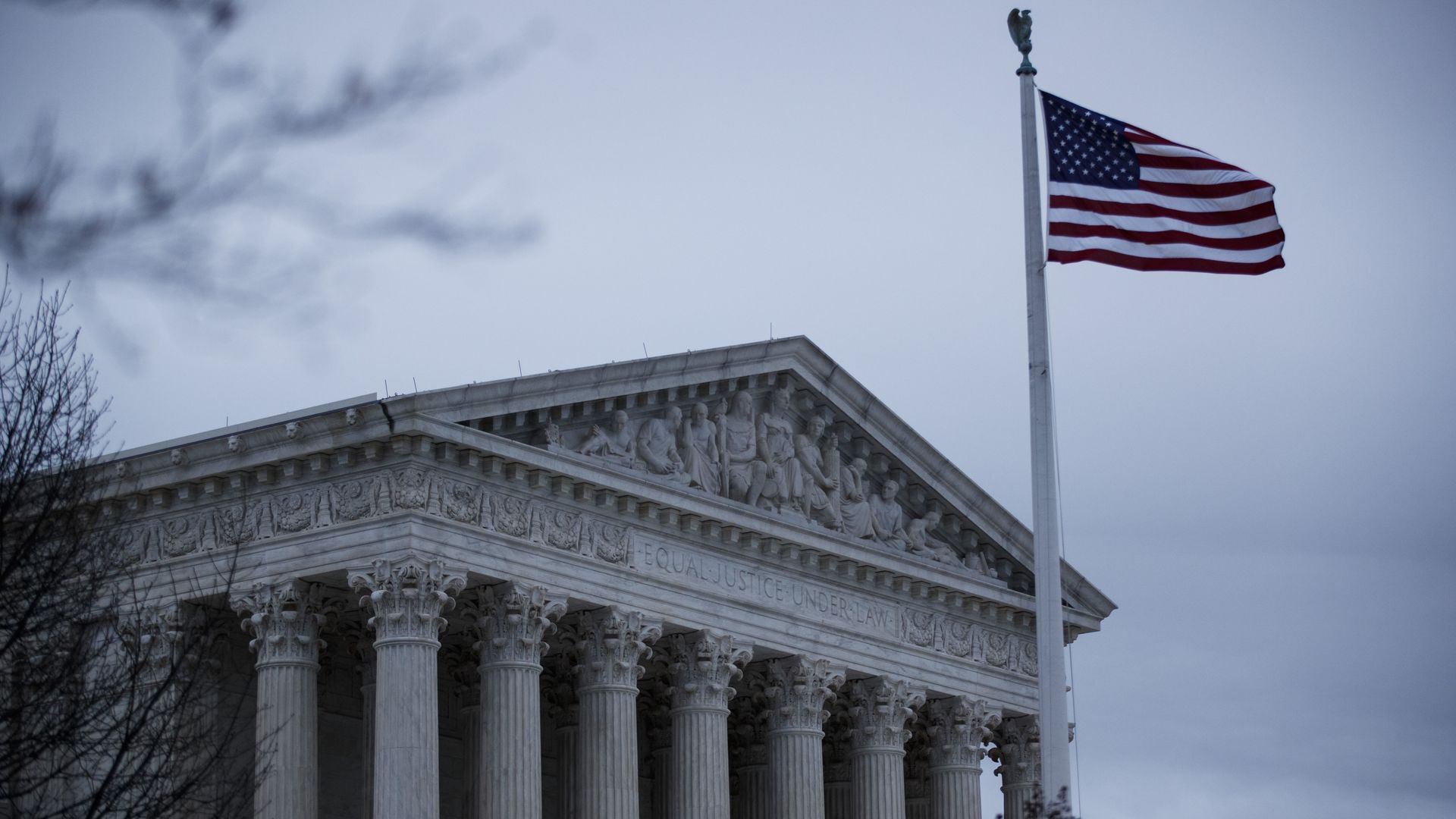 Here's an under-the-radar side effect of the coronavirus pandemic: It might spare President Trump from having to release his tax returns before the election, Axios' Sam Baker writes.
Why it matters: The Supreme Court was supposed to hear arguments last month over whether House Democrats had the legal authority to subpoena Trump's financial records.
Those subpoenas were delivered to Trump's banks and accounting firms, not Trump himself. If the court ultimately rules that they were legal, the banks would likely have to turn over the relevant records almost immediately.
Those arguments had been scheduled for March 31 — which, on the court's usual timeline, would most likely set up a ruling in the last few days of June.
But the court postponed some of its March arguments as the coronavirus lockdown began, and on Friday it postponed all oral arguments for the rest of the term.
What happens next is unclear. The court said it would "consider" rescheduling some of these postponed arguments for later this term, if circumstances allow, and would "consider a range of scheduling options and other alternatives" if the court building isn't available.
The other option, though, and maybe the logistically easiest one for the tech-averse Supreme Court, would be to simply push this term's arguments into the next term, which doesn't start until October.
Either way, the case on Trump's taxes was in line to be one of the last big rulings on the court's calendar before the election. And so these delays create at least some possibility that it could slide until after Election Day.
5. Sneak Peek diary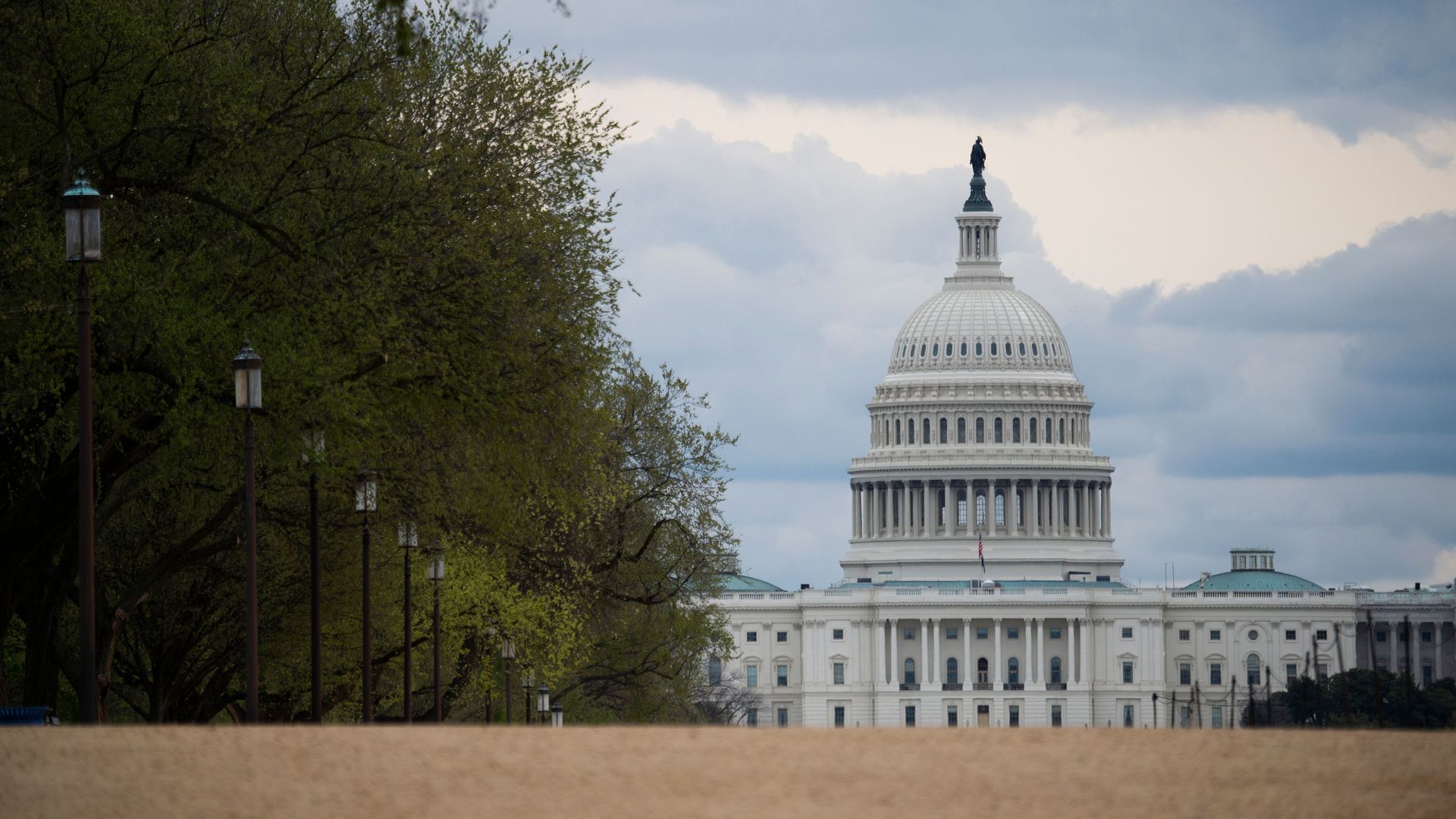 The House and Senate are on recess, Alayna Treene writes.
The White House did not provide a copy of President Trump's schedule, but the coronavirus task force is expected to continue its daily briefing through next weekend, Easter weekend.