Axios Sneak Peek
November 29, 2022
Welcome back to Sneak. Smart Brevity™ count: 1,026 words ... 3.5 minutes.
1 big thing: Trump's own goal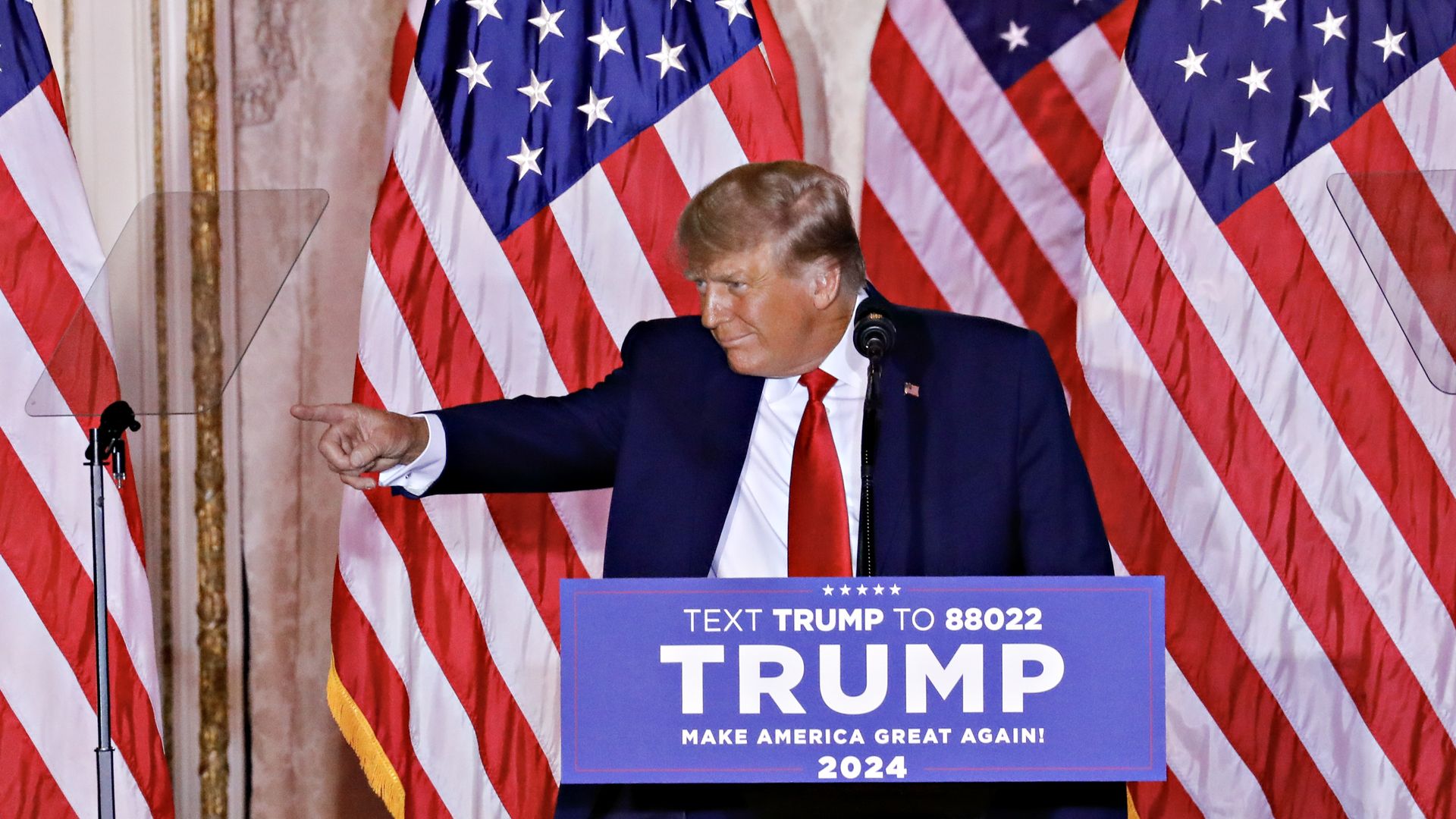 A stream of Republicans today forcefully condemned Donald Trump's dinner with antisemitic rapper Ye and white nationalist Nick Fuentes, twisting the knife at the most perilous moment in the former president's political career since Jan. 6.
Why it matters: The guardrails that Trump ditched in the final days of his presidency — when conspiracy theorists descended on the Oval Office to feed him lies about the 2020 election — haven't returned, Axios' Zachary Basu writes.
Own goals like hosting one of the nation's most prominent racists at his Mar-a-Lago home are likely to accelerate the Republican Party's move away from Trump in 2024 — and toward an alternative like Florida Gov. Ron DeSantis.
"Mr. Trump isn't going to change, and the next two years will inevitably feature many more such damaging episodes," the Wall Street Journal's editorial board wrote today. "Republicans who continue to go along for the ride with Mr. Trump are teeing themselves up for disaster in 2024."
Driving the news: Former Vice President Mike Pence today became the most prominent Republican to condemn the dinner, telling NewsNation that his old boss should "apologize."
"I don't believe Donald Trump is an antisemite," Pence added, however. "I don't believe he's a racist or a bigot. I would not have been his vice president if he was."
In Congress, where Republicans returned from break bracing for the media onslaught, the chorus of condemnations was near universal. A sampling:
Senate Minority Whip John Thune (R-S.D.): "Well, that's just a bad idea on every level. I don't know who was advising him on his staff, but I hope that whoever that person was got fired."
Sen. Mitt Romney (R-Utah): "There's no bottom to the degree which he's willing to degrade himself and the country for that matter. Having dinner with those people was disgusting."
Sen. Bill Cassidy (R-La.): "President Trump hosting racist antisemites for dinner encourages other racist antisemites. These attitudes are immoral and should not be entertained. This is not the Republican Party."
The intrigue: Georgia's Republican Gov. Brian Kemp criticized the Mar-a-Lago meeting as "un-American" in an interview with the Atlanta Journal-Constitution.
Trump-endorsed Senate candidate Herschel Walker, meanwhile, declined to comment — breaking the united front the two Georgia Republicans had sought to convey in the weeks before the Dec. 6 Senate runoff.
Yes, but: Republicans didn't fully abandon Trump even after his years-long flirtations with extremism culminated in a physical attack on the Capitol.
For some of them, this will just be another bump in the road — if that.
"The meeting was bad, he shouldn't have done it. But again, you know, there's a double standard about this kind of stuff," Sen. Lindsey Graham (R-S.C.) said. "And I don't think it'll matter in terms of his political future, but I do believe we need to watch who we meet with."
2. 🏃 Hill's marathon December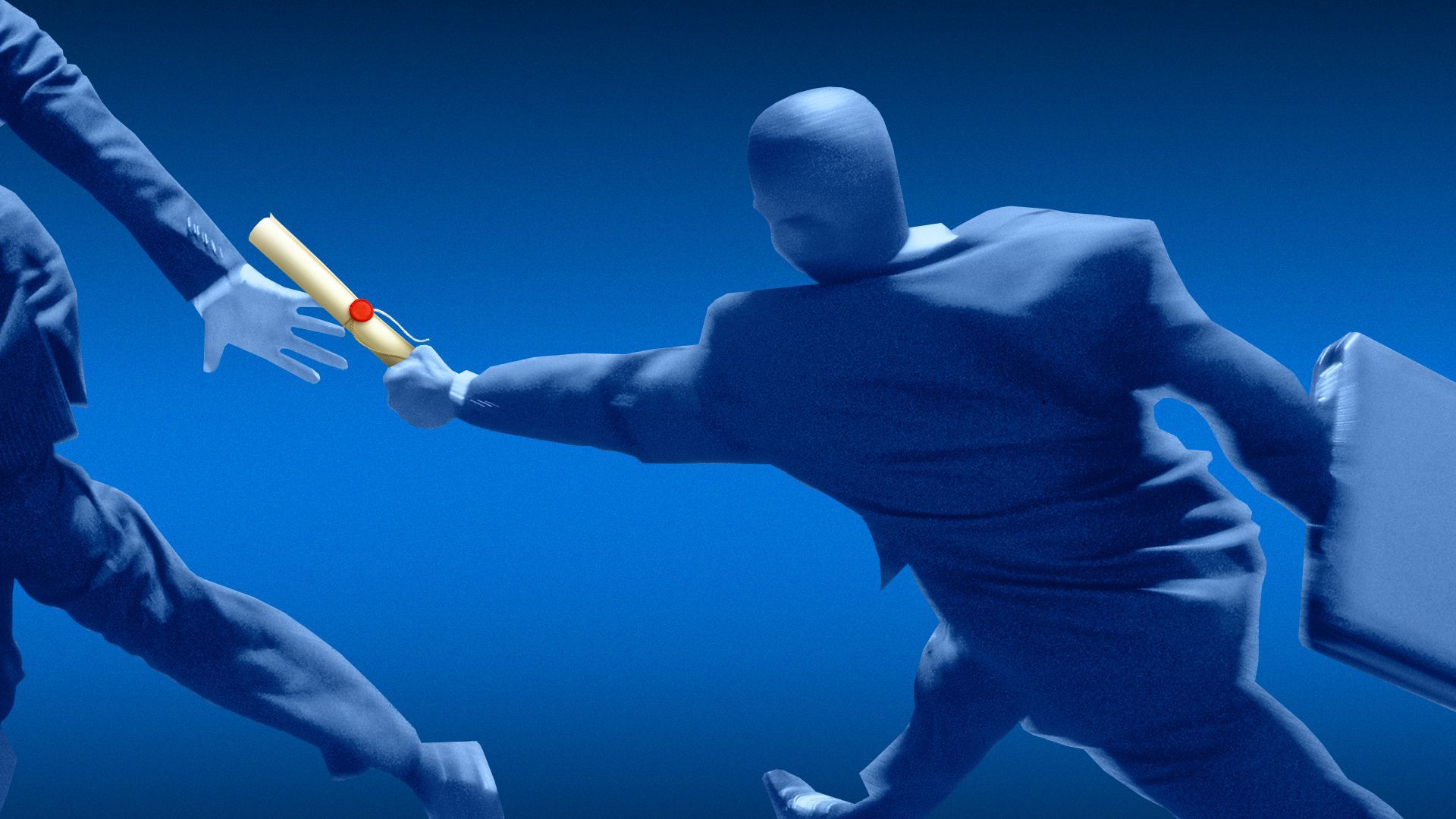 With just 36 days until the House majority changes hands, the 117th Congress still has a sprawling laundry list of legislative priorities to get done before the new year, Axios' Andrew Solender reports.
On the agenda: Landmark legislation to codify the rights to gay and interracial marriage and reform the Electoral Count Act of 1887.
Driving the news: The Respect for Marriage Act is scheduled for final Senate approval tomorrow. A dozen Republican senators are supporting the bill — more than is needed to bypass the 60-vote filibuster threshold — with aides in both parties telling Axios that number may grow.
What's next: The Electoral Count Act reform bill has more bipartisan backing, but a lack of precious Senate floor time could be an obstacle.
It would raise the threshold for objecting to Electoral College votes, clarify the vice president's role in the certification process as purely ceremonial and crack down on states sending competing electoral slates to Congress.
Between the lines: Both measures are a legislative response to two of the most explosive political developments of the last two years.
The Jan. 6 attack on the Capitol revealed how the archaic language of the Electoral Count Act could be hijacked in an effort to overturn a presidential election.
And Supreme Court Justice Clarence Thomas' concurring opinion in Dobbs v. Jackson, the decision that overturned landmark abortion ruling Roe v. Wade, spurred Democrats to push to codify gay marriage rights.
3. 🚂 Biden asks Congress to stave off rail strike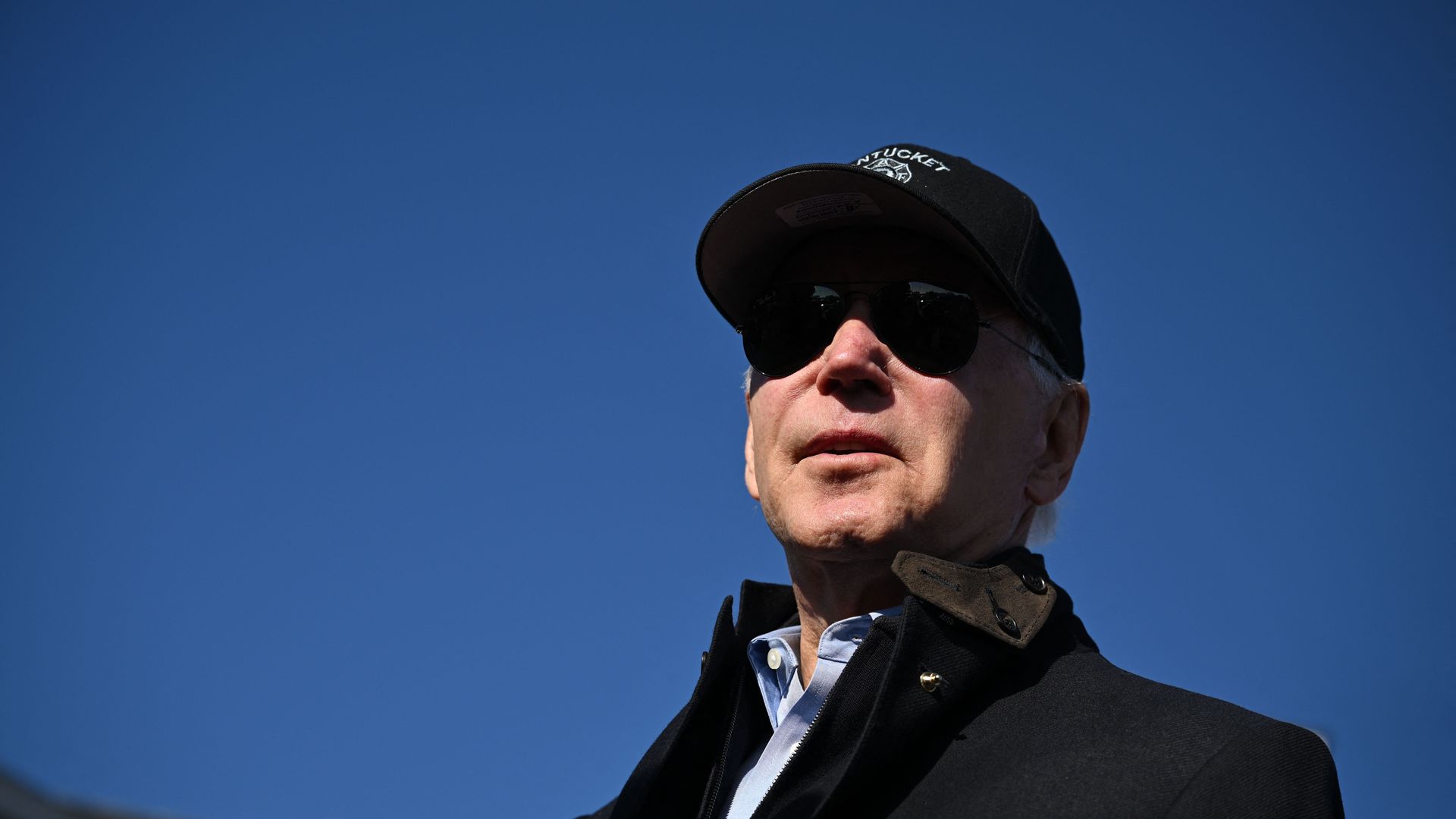 President Biden called on Congress today to immediately pass legislation imposing an agreement that his administration helped broker between rail companies and their unionized workers, Axios' Emily Peck writes.
Why it matters: Negotiations appear to have stalled. If both sides don't reach a deal by Dec. 9, rail workers could strike — an economically devastating move that could cost an estimated $2 billion a day and wreak havoc during the holiday season.
"As a proud pro-labor President, I am reluctant to override the ratification procedures and the views of those who voted against the agreement," Biden said in a statement.
"But in this case — where the economic impact of a shutdown would hurt millions of other working people and families — I believe Congress must use its powers to adopt this deal."
4. 🏛️ Supreme Court's lawyer defends Alito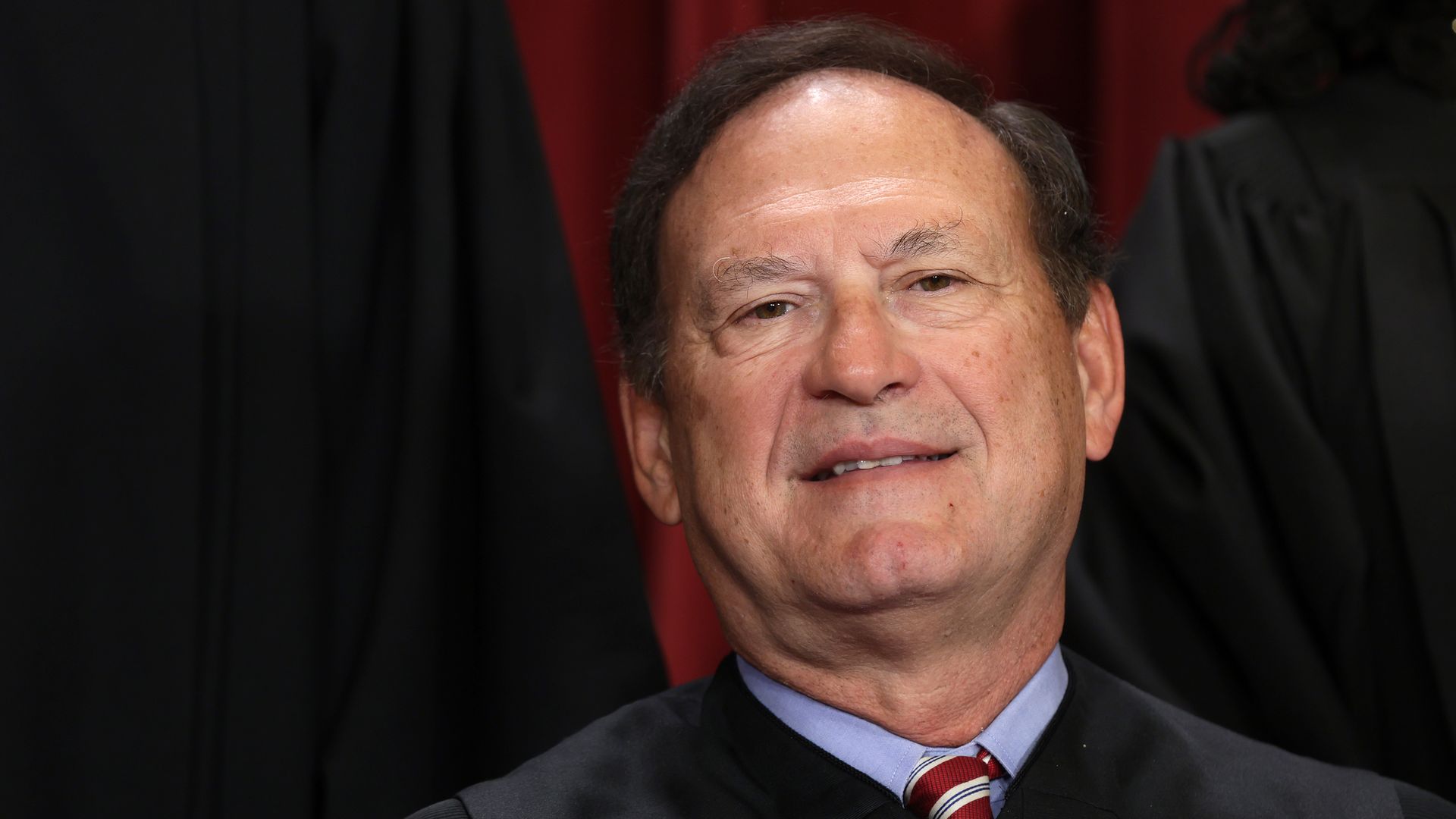 The Supreme Court's legal counsel — yes, even justices get lawyers — sent a letter to two members of Congress who had demanded answers on allegations Justice Samuel Alito leaked a religious rights ruling to an anti-abortion activist in 2014.
"There is nothing to suggest that Justice Alito's actions violated ethics standards," Supreme Court legal counsel Ethan Torrey wrote.
Why it matters: "I've been covering the Supreme Court for only about a decade but I don't recall seeing a letter from the legal office or seeing a Justice effectively lawyer up in response to allegations. It's remarkable Justice Alito saw the need to do so here," Economist reporter Steven Mazie tweeted.
5. 🎄 Parting shot: Christmas at the White House
First lady Jill Biden unveiled the White House's 2022 holiday decor today with the theme "We the People," featuring 77 Christmas trees, 83,615 holiday lights and a massive gingerbread White House.
📬 Thanks for reading. This newsletter was edited by Zachary Basu and copy edited by Kathie Bozanich.