February 09, 2021
Today's newsletter — edited by Glen Johnson — is 591 words, a 2-minute read.
1 big thing: Scoop - Trump team cut ads too outrageous even for him
Donald Trump is going on trial tomorrow for outlandish behavior culminating with his alleged incitement of the Capitol riot, but some newly surfaced ads his campaign considered for the 2020 election were so far-fetched even he vetoed them, Axios' Alayna Treene reports.
Driving the news: One ad portrayed Joe Biden as a predator. Another took aim at his health, showing Biden coughing repeatedly at his podium. A third mocked CNN anchor Don Lemon, showing him slowly morph into a clown.
The television and digital ads obtained by Axios ultimately were discarded for being "too hot," according to sources familiar with their history.
A White House butler would bring Trump a Diet Coke "every five minutes" during the viewing sessions, one of the sources told Axios.
The former president never ended up paying for the spots he rejected, the sources said.
2. Impeachment 2.0: A tale of the tapes
House impeachment managers and Donald Trump's defense team both plan to rely heavily on video during the former president's trial this week, and will try to use the opposing party's words against them, sources familiar with their plans tell Alayna.
What we're hearing: Trump's team, which will consist of four lawyers present on the Senate floor, is expected to make the First Amendment a focal point of their defense. Meanwhile, the House Democratic managers plan to show a series of videos designed to shock the Senate chamber and play on members' emotions.
Why it matters: With even President Biden saying he does not expect Trump to be convicted, both sides will play to a jury outside the Capitol — the court of public opinion.
What's next:
The trial will begin Tuesday with a debate about the trial's constitutionality.
On Wednesday, the House impeachment managers will begin presenting their evidence.
Trump's defense team's presentation will follow.
Both sides get 16 hours — over two days — to make their respective case, but neither is expected to use all of their allotted time.
3. Democrats weigh axing election deniers from bills
Some House Democrats are seizing new ground in their protest against Republicans who challenged the 2020 election results, refusing to add them as sponsors of their bills and discussing removing their affiliation with past legislation now being refiled, Axios' Kadia Goba writes.
Why it matters: This legislative "deplatforming" undercuts the bipartisanship President Biden seeks for the next four years. It also could harm Democratic bills needing Republican support.
"They still don't get it, so I still won't be co-sponsoring," said Rep. Veronica Escobar (D-Texas).
At least one staffer who works for one of the 10 Republicans who voted for impeachment told Axios their office has received an outsized number of requests from Democrats looking to pair up on possible legislation.
"Any of the 10 that voted for the impeachment, they've been getting a lot of requests to partner with Democrats as leads on those bills," the staffer said.
4. "Centrist" group paid for right-wing influencers' support
A self-professed centrist organization has quietly sought a boost from right-wing social media influencers and consultants for the conspiracy theory-prone Rep. Marjorie Taylor Greene, Axios' Lachlan Markay found.
Why it matters: The Capitol siege focused attention on conservatives making false claims about the 2020 election. Groups such as Purple America now are having to address their veiled associations with politically toxic figures.
What's happening: The nonprofit Purple America Coalition and a sister political group were founded in December, and within days had dropped more than $300,000 on behalf of the Republican candidates in each of Georgia's two Senate runoff contests.
It's also paid for social media promotion from a network of right-wing personalities, many of whom encouraged or participated in the Jan. 6 pro-Trump demonstrations in Washington.
Jack Posobiec, a popular Twitter personality who boosted Purple America content, heavily promoted social media groups affiliated with the rally's organizers.
5. COVID skunks Super Bowl beer pours
Americans heeding advice to skip their usual Super Bowl celebrations triggered the latest COVID ripple effect, with the amount of beer poured from taps nationally Sunday plummeting 46% from last year — and nearly 70% in a Tom Brady-less Boston, Axios' Hans Nichols reports.
The big picture: Data from the Beer Board, a New York tech company that helps optimize beer flows in some 1,300 locations across the country, provided insight into which cities had the most liberal crowd policies and free-flowing taps.
In Tampa, host of Super Bowl LV, pours were down just 28% from last year.
In Kansas City, they were off 55%.
In Boston, where New England fans largely watched the game from home, pour volume was poor: down 69%.
6. Pics du jour
A pair of leaders arrive for Senate business — including an impeachment trial.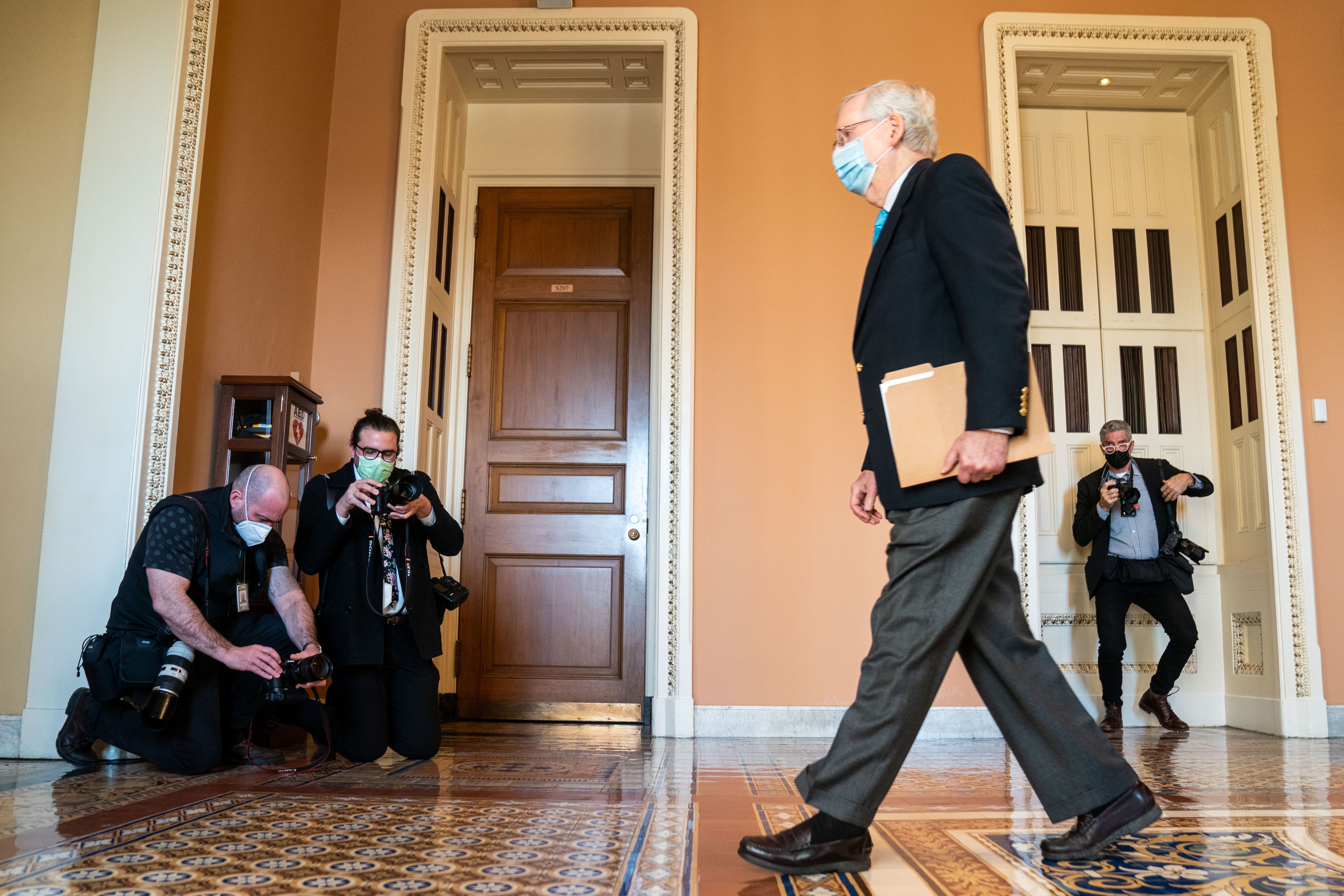 🙏 Thank you for reading tonight's Sneak. A reminder that you can sign up for this and all of Axios' other free newsletters at this link.