September 22, 2022
Welcome back to Sneak. Smart Brevity™ count: 1,058 words ... 4 minutes.
⚡ Situational awareness: An appeals court will allow the Justice Department to resume reviewing classified documents seized from former President Trump's Mar-a-Lago as part of its criminal investigation.
👀 Breaking: A former Trump official tapped to lead the Inter-American Development Bank allegedly threatened to "burn" or "bring" the bank down over an investigation into a rumored affair he had with a female staffer, Axios' Hans Nichols reports.
1 big thing: McCarthy's speaker threat
The House Freedom Caucus is so far refusing to back GOP Leader Kevin McCarthy (R-Calif.) for speaker should its party win back the majority — testing what commitments it can leverage in exchange for its members' support, Axios' Alayna Treene and Andrew Solender report.
Why it matters: The ultra-conservative group, which has a history of dislodging Republican leaders whom members didn't see as properly representing the conservative movement, is plotting a return to relevance after years of seeing its influence fade.
If Republicans regain the House majority with tight rather than wide margins, it could give the caucus more power.
Driving the news: The group's chairman, Rep. Scott Perry (R-Pa.), and other members are pushing for the GOP conference to vote on a new House rules package before electing the new leadership, as The Washington Examiner and Punchbowl News have reported.
It's one of several leverage points the caucus is discussing.
What they're saying: Perry told Axios "it's a different game" when a party is in the majority, compared to when they're in the minority and totally unified on opposing the other party.
"Somebody has to be the conscience of the conference and actually do the things we said we were going to do on the campaign trail," Perry said.
As for aligning behind McCarthy, Perry said: "Talk to me on Nov. 9." For now, Freedom Caucus members have adopted an official stance of neutrality in leadership elections, Rep. Ken Buck (R-Colo.) told Axios.
Between the lines: There was a time when the caucus — which often served as a check on party leadership and the GOP establishment overall — largely dictated conservative messaging and activism.
But the group's star power has weakened in recent years for key three reasons:
1. The minority: House Republicans have been more unified — and less involved in policymaking decisions — in their last four years in the minority.
2. Donald Trump's rise: The caucus was once viewed as the beacon of the right, but was overtaken in 2016 by a larger-than-life figure who preached many of the same ideals and principles.
3. Leadership shakeup: Former Rep. Mark Meadows (R-N.C.) and Rep. Jim Jordan (R-Ohio) — original co-founders of the Freedom Caucus — were once the frontmen.
But Meadows left Congress in late 2020 to become Trump's chief of staff, while Jordan has since landed a spot within House Republican leadership and endorsed McCarthy for speaker.
What to watch: Some members want to adopt more scorched-earth tactics toward President Biden.
Rep. Bob Good (R-Va.) told Axios he wants to "force this president to sign bills that would rescind some of the harm" of Democratic policies and "shut it down if necessary. Gridlock is a good thing compared to the alternative."
2. 🔎 Mueller's dominos
Trump reflexively casts every allegation of wrongdoing against him as the continuation of a partisan "witch hunt" that began the moment he launched his political career.
Motivations aside, there is in fact a clear investigative through-line that led to today's $250 million lawsuit and criminal referral by New York Attorney General Letitia James, Axios' Zachary Basu writes.
How we got here: Former special counsel Robert Mueller — an original Trump antagonist whose Russia investigation dominated headlines in the first years of his presidency — referred former Trump lawyer Michael Cohen to the Southern District of New York after uncovering his financial crimes in 2018.
Cohen pleaded guilty to making hush-money payments on Trump's behalf and soon became one of the president's most vocal critics.
On Feb. 27, 2019, Cohen delivered 10 hours of voluntary public testimony to the House Oversight Committee in which he revealed — under questioning from Rep. Alexandria Ocasio-Cortez (D-N.Y.) — that Trump artificially inflated and deflated the value of his assets to obtain favorable tax treatment.
"I will remind everyone that this investigation only started after Michael Cohen ... shed light on this misconduct," James said in her press conference today.
What to watch: Trump is expected to respond in full to today's developments in an interview with Fox's Sean Hannity at 9pm ET.
3. 🏛️ Sign of the times
Nine House Republicans voted with all Democrats to pass a bill reforming the Electoral Count Act, a 135-year-old law Trump sought to exploit by pressuring then-Vice President Mike Pence to overturn the results of the 2020 election.
Stunning stat: None of the nine Republicans will be on the ballot in November's elections.
They include Reps. Liz Cheney (R-Wyo.), Adam Kinzinger (R-Ill.), Peter Meijer (R-Mich.), Jaime Herrera Beutler (R-Wash.), Fred Upton (R-Mich.), John Katko (R-N.Y.), Chris Jacobs (R-N.Y.), Anthony Gonzalez (R-Ohio) and Tom Rice (R-Okla.).
Eight voted for Trump's impeachment after Jan. 6 and are retiring or were defeated by right-wing primary challengers. Jacobs announced his retirement after drawing GOP backlash for supporting gun control legislation in the wake of the Buffalo mass shooting.
⚡ Latest: The Jan. 6 committee has reached an agreement to interview Ginni Thomas, conservative activist and wife of Supreme Court Justice Clarence Thomas, in the coming weeks.
4. 🗳️ House majority math
The Cook Political Report moved three more House seats in Democrats' direction, the latest welcome sign for a party facing historical and geographic headwinds in its quest to hold onto its majority:
Why it matters: Republicans now need to win six out of 31 toss-ups to secure the majority, while Democrats need 26 out of 31, according to Cook's Dave Wasserman.
Go deeper: Visualizing the GOP's path to the majority (N.Y. Times)
5. ⛽ Tweet du jour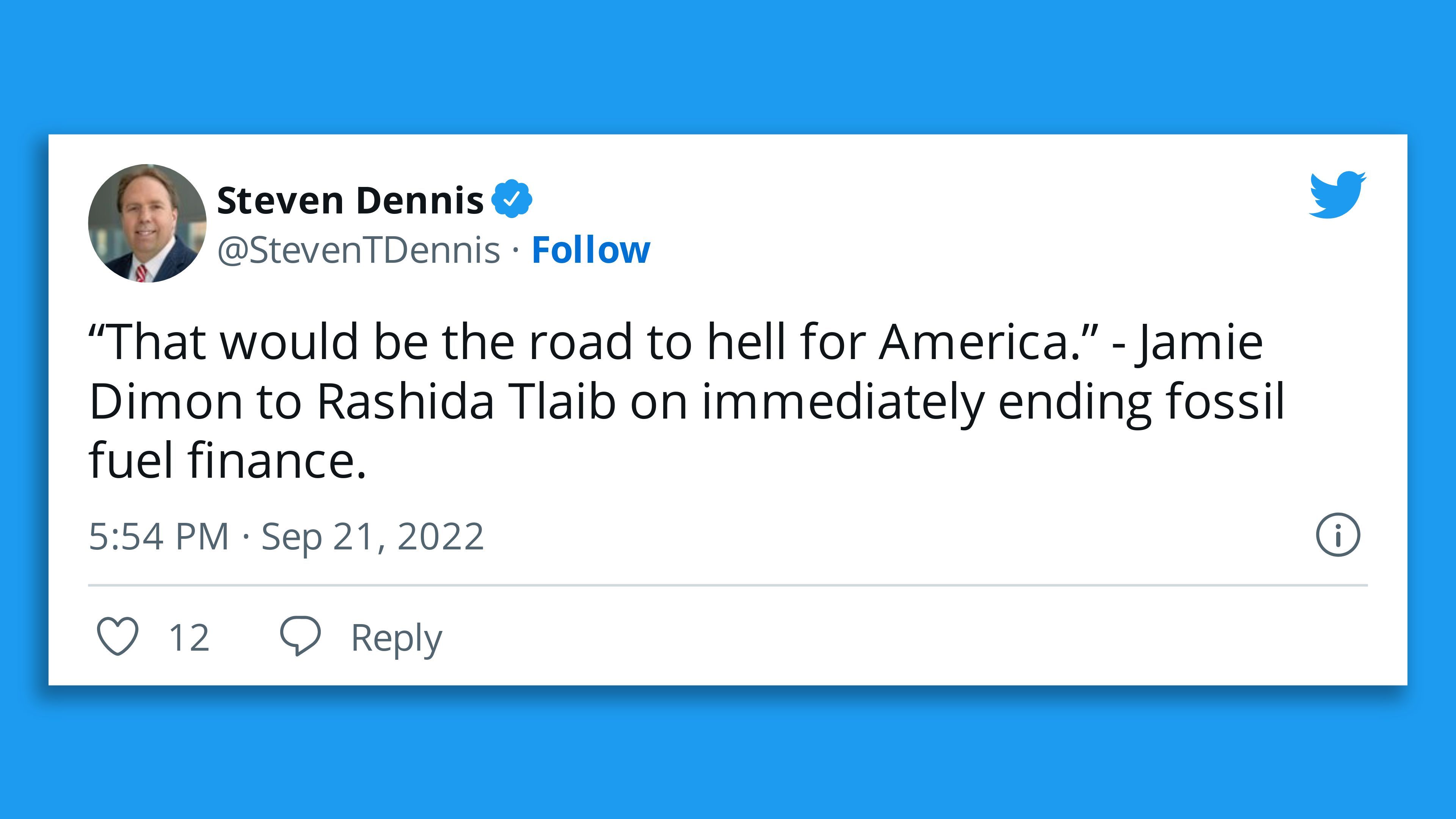 Context: JPMorgan, whose CEO Jamie Dimon testified today before the House Financial Services Committee, is the world's largest financier of fossil fuels.
📬 Thanks for reading tonight. This newsletter was edited by Zachary Basu and copy edited by Kathie Bozanich.