July 29, 2022
Welcome back to Sneak. Smart Brevity™ count: 971 words ... 3.5 minutes.
🇺🇦 Worthy of your time: Axios' Niala Boodhoo interviewed a 21-year-old Ukrainian who survived Russia's "filtration" system — a harrowing process of interrogation, detention and forced deportation that U.S. officials have said amounts to a war crime.
1 big thing: New York's hottest club
New York's hottest club has it all: a former congresswoman who served during the Nixon administration, an incumbent who is actually from another region of the state and roughly a dozen other Democratic candidates no less colorful, Axios' Andrew Solender reports.
Why it matters: The newly drawn 10th Congressional District, which covers parts of lower Manhattan and Brooklyn, has attracted a crowded primary field that encapsulates the generational, racial and ideological divisions of the modern Democratic Party.
The big picture: It wasn't supposed to be this way — the plan was for House Judiciary Committee Chair Jerrold Nadler to keep representing the district, as he had since 1993. But a court-appointed mapmaker with an eye for compactness had other plans, and a new open district was born.
That means most voters in the district are getting a rare chance to elect their first new representative in decades.
Be smart: Voters, operatives and community leaders who spoke to Axios all agreed that the race remains wide open in the final stretch before the Aug. 23 contest.
"Absolutely nobody knows who is going to win," said Allen Roskoff, the president of the Jim Owles Liberal Democratic Club.
Zoom in: The district looks a lot like the Democratic base — there are sizable Puerto Rican, Mexican, Black, Orthodox Jewish, Dominican and Asian communities, in addition to neighborhoods of predominantly white and highly educated voters.
"This is a district that is both homogenized and completely Balkanized," said New York-based Democratic consultant Eric Koch, "in a way that only New York City can truly do."
The front-runners:
Dan Goldman, who served as the lead counsel for Democrats in the first Trump impeachment trial and has emphasized the need to address "existential threats" to democracy in the wake of Jan. 6.
Elizabeth Holtzman, who was in Congress from 1973 to 1981 before serving as district attorney in Brooklyn and later as New York City comptroller.
Mondaire Jones, a Squad-adjacent progressive who currently represents the city's northern suburbs and made history in 2020 as one of the two first Black, openly gay members of Congress.
Yuh-Line Niou, a state assemblywoman from Manhattan who has the backing of powerful progressive groups and politicians and would be the first openly autistic member of Congress.
Carlina Rivera, a city councilwoman from the Lower East Side who has racked up support from powerful local unions, party clubs and politicians.
Jo Anne Simon, a city councilwoman from Brooklyn who represents some of the most politically active neighborhoods in the district.
2. 🌎 Full steam ahead on Manchin deal
House leaders are preparing to call lawmakers back to Congress the week of Aug. 8 to pass the Senate's $740 billion climate and deficit reduction package, Axios' Hans Nichols reports.
Why it matters: The current timeline speaks to the Democrats' confidence that they can pass a reconciliation package this August and hand President Biden a victory on some — but not all — of his priorities.
But the velocity also betrays an unspoken concern in the party that if they wait too long, the delicate deal between Senate Majority Leader Chuck Schumer and Sen. Joe Manchin (D-W.Va.) will turn to dust.
What they're saying: "It's been a momentous 24 hours here in Congress. A legislative 1-2 punch that the American people rarely see," Schumer gleefully told reporters.
The big picture: Passing a reconciliation bill that addresses climate change, prescription drug reform and health insurance still faces obstacles and isn't a foregone conclusion.
As it has been for 18 months, the Democrats' biggest challenge is math. Sen. Kyrsten Sinema (D-Ariz.), who has yet to announce her support or opposition, can still scuttle the deal — like any single Senate Democrat.
In the House, the margin is so narrow that four Democrats could also sink the package. But lawmakers who had previously threatened to vote against any package that didn't address state and local tax reform (SALT) signaled they were unlikely to oppose the bill.
The emerging package, which raises more than $300 billion by setting a minimum corporate tax rate at 15%, will likely face a barrage of last-minute attacks from the business community.
The pharmaceutical industry is also fighting the plan to wring $288 billion from drug companies by allowing Medicare to directly negotiate the price of prescription drugs.
3. 🐘 Republican rebels
24 House Republicans voted to send the $280 billion CHIPS and Science Act package to Biden's desk, defying GOP leadership's orders last night to oppose the bill in response to Democrats' reconciliation reversal.
Between the lines: Eight of those Republicans represent Ohio, where Intel has plans to spur massive economic development with a new factory that will be subsidized by the new semiconductor funding.
Nine are retiring — including Ohio Reps. Anthony Gonzalez and Bob Gibbs — or have already lost their primaries, freeing them from leadership's discipline.
Three are facing "toss-up" races in November's midterms, while Rep. Liz Cheney (R-Wyo.) is projected to lose in her primary next month against a Trump-backed challenger.
4. 👀 Jan. 6 probe expands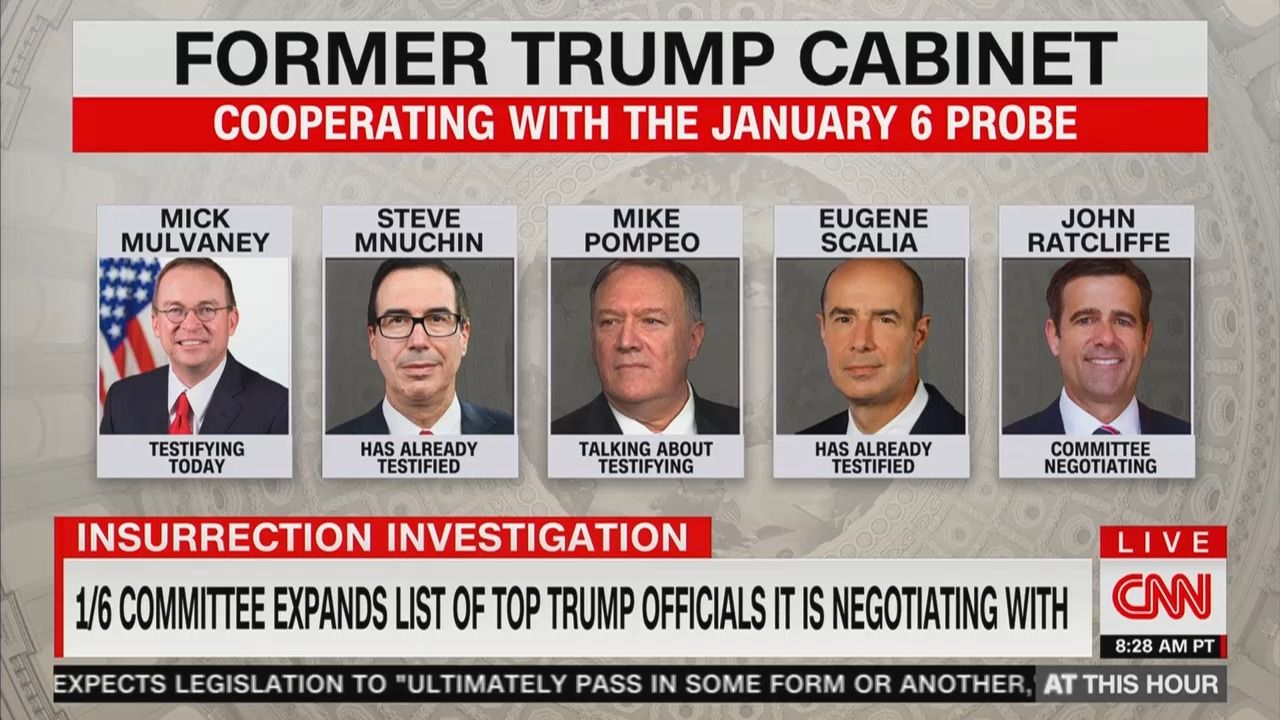 The House Jan. 6 committee's blockbuster summer hearings may have wrapped up, but its work appears far from over:
The committee is hauling in former Trump Cabinet officials as part of an expanded inquiry into conversations about invoking the 25th Amendment on the day of the Capitol attack, CNN reports.
5. 🏆 Parting shot
President Biden was slipped a note during his remarks on the economy this afternoon: "Sir — We are over 217 'yes' votes for the CHIPS bill in the House. It has passed."
📬 Thanks for reading this week! We'll be back Sunday.