Axios Sneak Peek
December 04, 2022
Josh Kraushaar here. Thanks for joining Sunday Sneak Peek, our weekly look ahead at the forces shaping American politics.
Smart Brevity™ count: 1,191 words ... 4½ minutes. Copy edited by Brad Bonhall.
1 big thing: Georgia is Warnock's to lose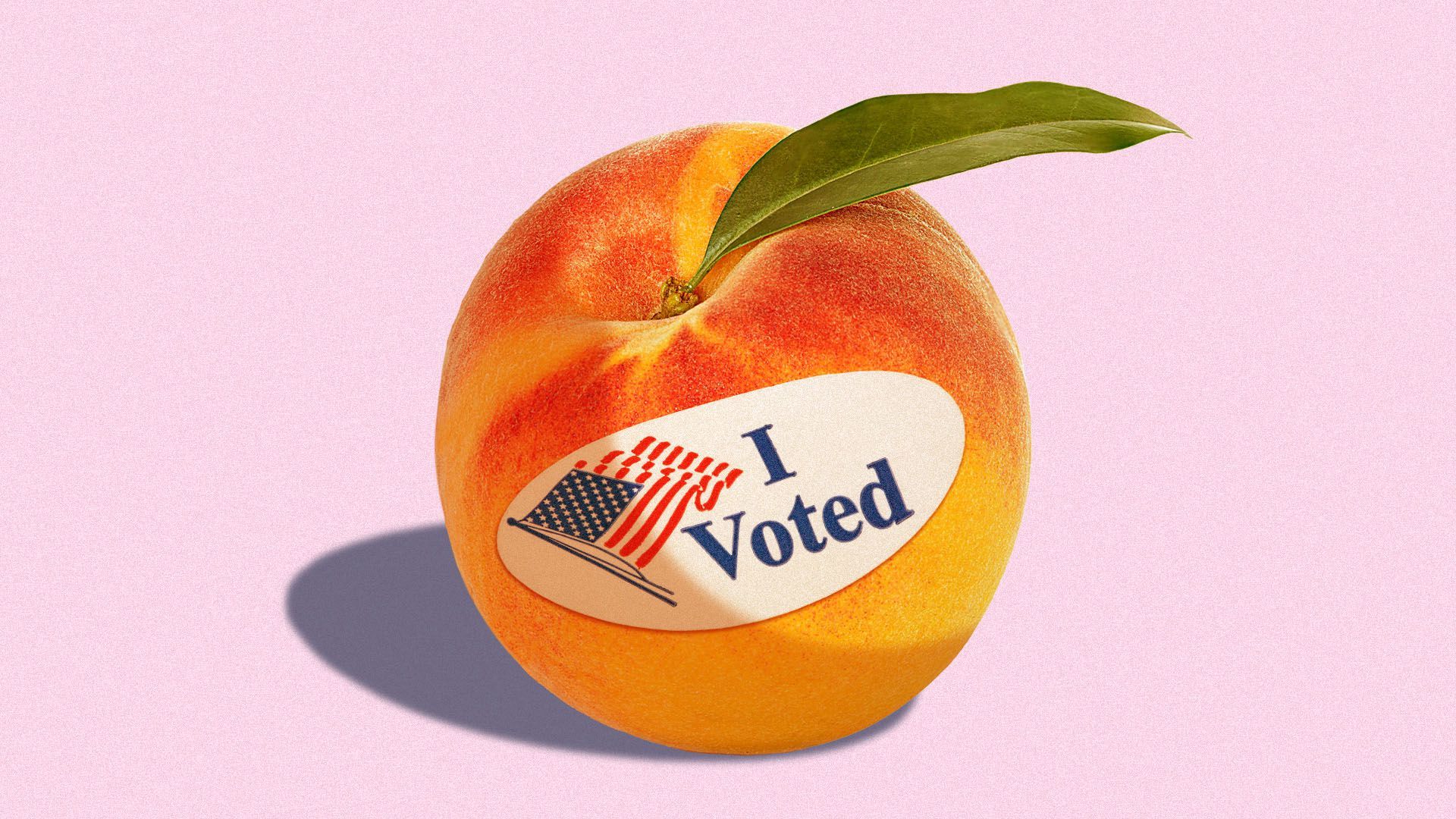 Polls and conversations with top strategists in both parties suggest Tuesday's Georgia runoff will be close — but that Sen. Raphael Warnock (D-Ga.) holds a small but resilient advantage over Herschel Walker.
Why it matters: Runoffs are typically about turning out your base a second time. But in Georgia, both are targeting a critical mass of swing voters — independent-minded suburbanites just outside Atlanta.
What's happening: Walker's ties to former President Trump — and struggles communicating his positions on the campaign trail — have made him uniquely ill-suited to win over swing voters, who have made the difference in recent closely contested Georgia elections.
A closing ad from the Warnock campaign features footage of Walker speaking about vampire movies, pregnant cows and how "our good air decided to float over to China's bad air."
The ad shows voters with stunned facial reactions, side by side with Walker's comments.
🧮 By the numbers: On Election Day, Walker underperformed the rest of the Georgia Republican ticket, running 7 points behind Gov. Brian Kemp in Cobb County, an affluent and fast-diversifying county in the Atlanta suburbs.
Among white college-educated voters, Kemp tallied 63%, according to the Edison Research exit poll — a 5-point edge over Walker with that traditionally Republican voting bloc.
Between the lines: The Republican strategy for the runoff is to use Kemp as Walker's leading surrogate on the airwaves, appealing to Republican voters to stick to their partisan instincts.
In November, about 203,000 voters backed Kemp for governor but not Walker.
That big-tent strategy was undermined by Trump's dinner with antisemitic rapper Kanye West (who changed his named to Ye) and Holocaust denier Nick Fuentes.
Kemp got ahead of other leading Republicans in issuing a full-throated denunciation of the dinner: "Racism, antisemitism and denial of the Holocaust have no place in the Republican Party."
At the same time, the Walker campaign was declining to comment — and has remained silent ever since, even as leading GOP figures including Mike Pence and Kevin McCarthy have made public statements denouncing antisemitism, Holocaust denial and white supremacy.
Our thought bubble, with Axios Atlanta's Emma Hurt: Walker is using Kemp in TV advertising and mailers, but rarely mentions the governor on the campaign trail.
2. 🗳️ Play of the week: Surrogate warfare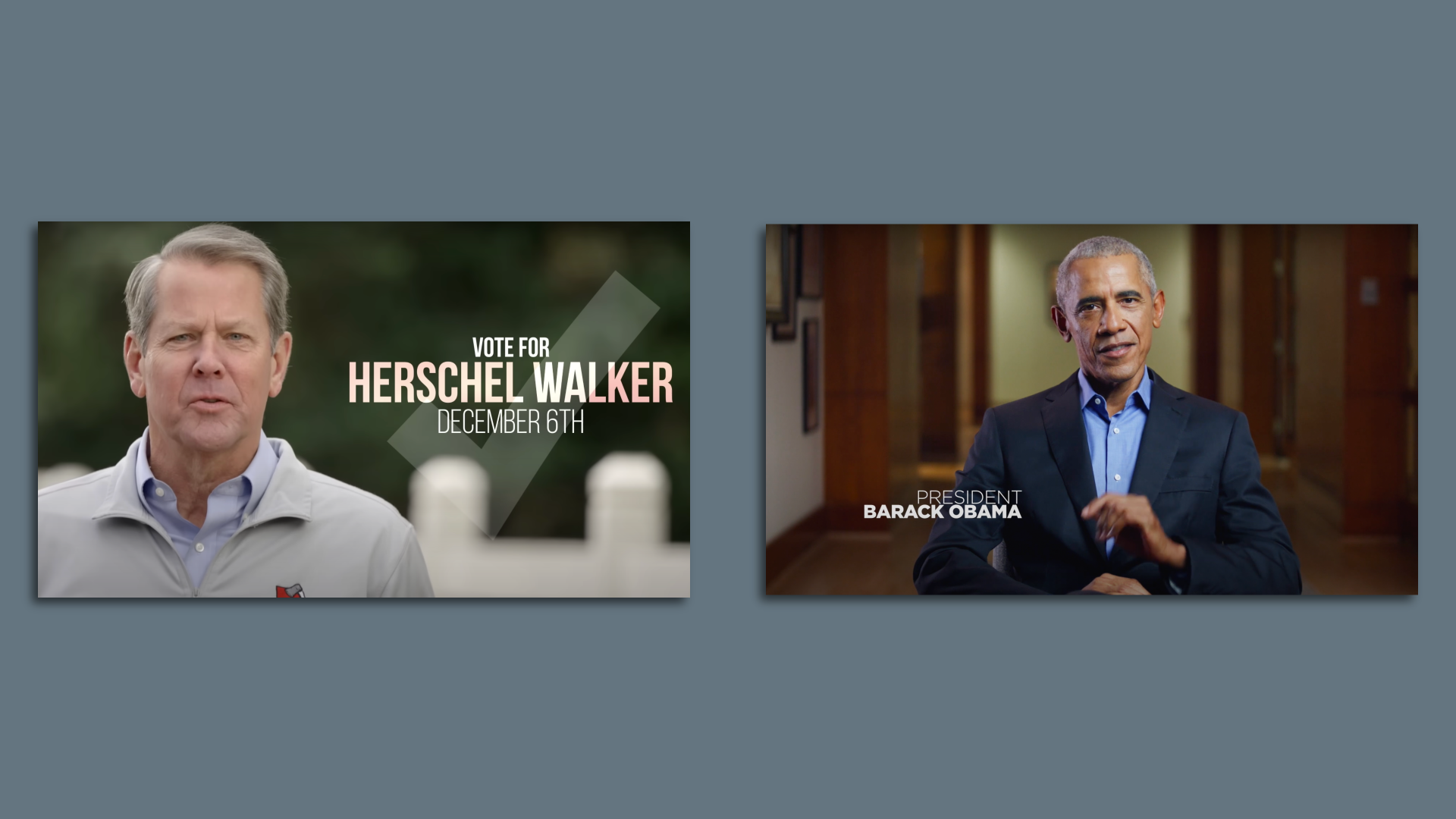 Warnock is continuing to use former President Obama as his top surrogate. Obama returned to Atlanta on Thursday to campaign for Warnock, and he cut a closing ad for the senator this week.
"Georgia, serious times call for special leaders," Obama says in the ad. "That's why you need to re-elect my friend and your senator, Rev. Raphael Warnock. I've known Rev. Warnock for years."
At the campaign rally for Warnock, Obama mocked Walker as someone who is patently unprepared to serve in Congress.
"Since the last time I was here, Mr. Walker has been talking about issues that are of great importance to the people of Georgia," Obama said. "Like whether it's better to be a vampire or a werewolf."
The other side: Gov. Brian Kemp (R) is the star of the closing ad from the Mitch McConnell-aligned Senate Leadership Fund, and is also featured in one of Walker's campaign ads.
"Herschel Walker will vote with Georgia, not be another rubber stamp for Joe Biden," Kemp says in the SLF ad.
Look who hasn't campaigned in Georgia for the two Senate candidates: President Biden and former President Trump.
3. Midterm surprise: Low Black turnout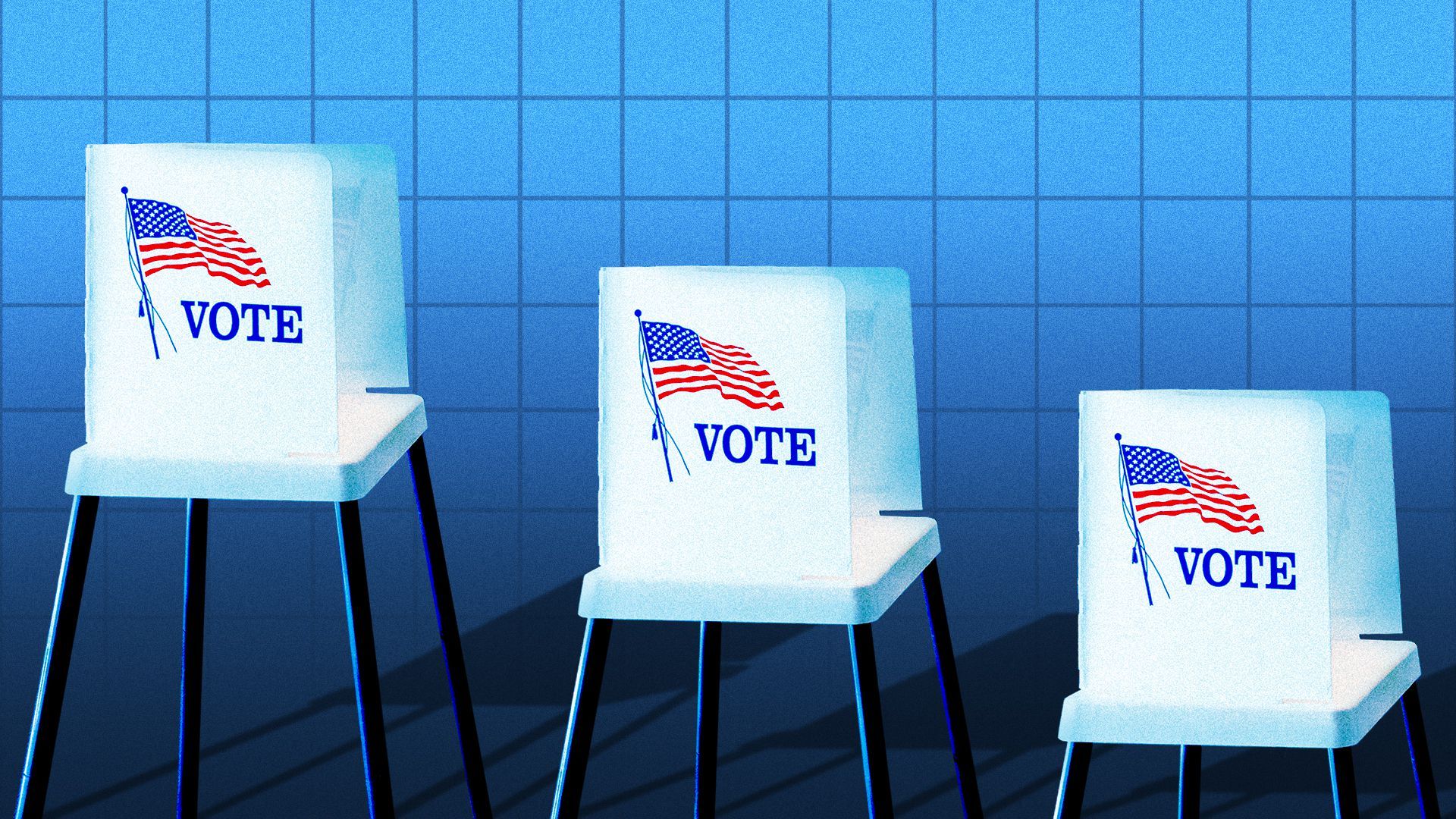 A record number of Black Democrats ran for Senate in battleground states — but many of them failed to energize African American voters.
Why it matters: One of the most important stories in American politics is the Democratic Party's increasing reliance on white voters, as they lose ground with nonwhite voters.
"[T]he evidence so far raises the distinct possibility that the Black share of the electorate sank to its lowest level since 2006," The New York Times' Nate Cohn writes. "It certainly did in states like Georgia and North Carolina, where authoritative data is already available."
Cohn says that can be seen as a reversion to Black turnout before the Obama era — but warns that it's consistent with a pattern of nonwhite voters trending a bit more to the Republican Party since 2018.
🧮 By the numbers: Mandela Barnes, Wisconsin's progressive lieutenant governor, was one of the biggest Democratic underperformers in Senate races. He came up 26,718 votes short — a margin that nearly matched the Democratic dropoff in the city of Milwaukee, compared with 2018.
By contrast, turnout in largely white and progressive Dane County (Madison) increased by about 7,000 votes from 2018 to 2022.
Barnes was the only Democratic Senate candidate to lose a state that Biden carried in the previous election.
🥊 Reality check: Even as Black turnout sagged in Georgia for the November election, African American voters are showing up in larger numbers for early voting in the Georgia Senate runoff.
4. 📊Poll of the week: Trump slump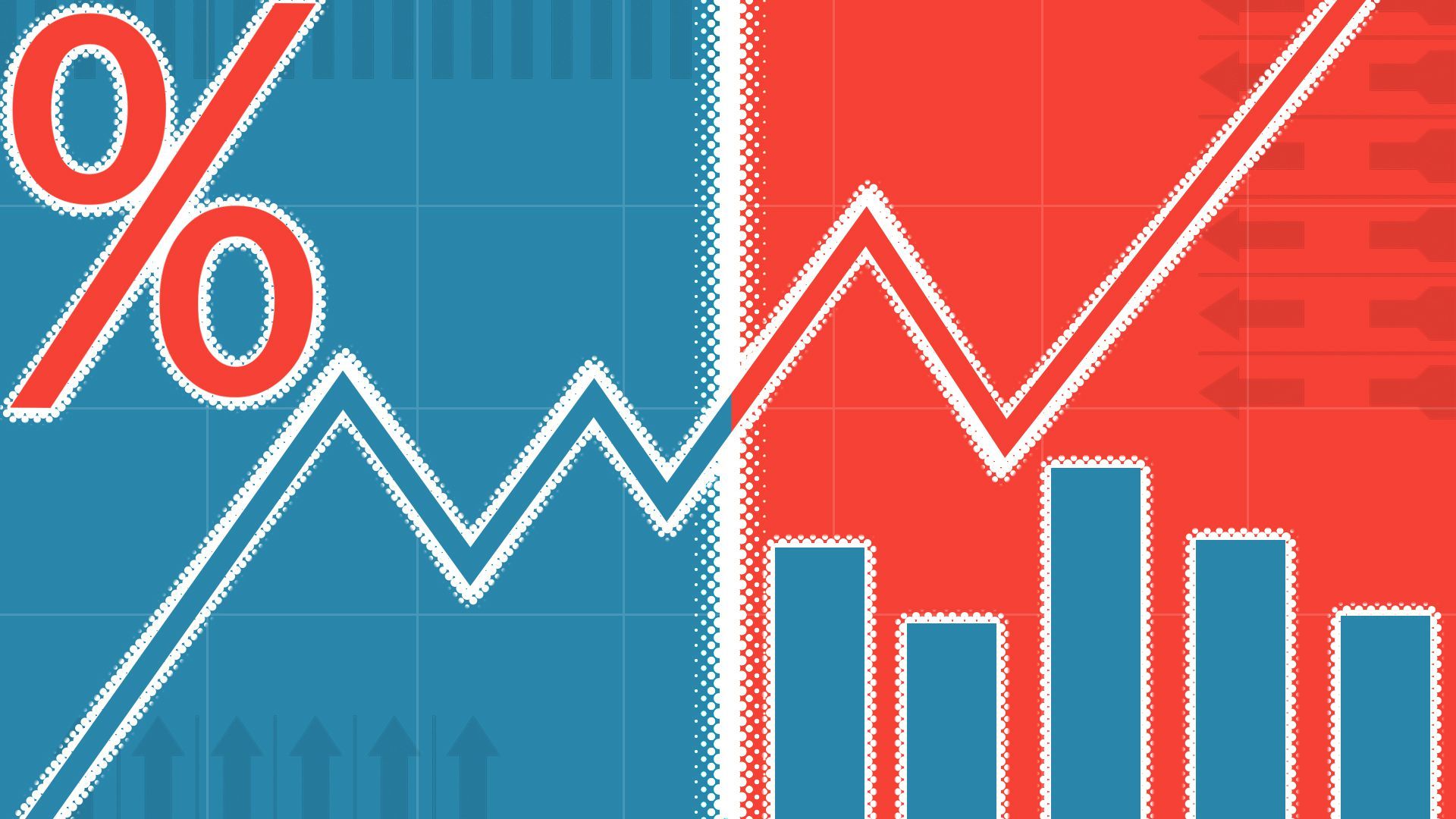 Trump's unfavorable rating has surged to 67% among registered voters, with one-third of Republicans and GOP-leaning voters now viewing him negatively, according to a Marquette Law School national poll.
Why it matters: This is the latest in a series of post-election polls that show Trump losing altitude after his party's midterm disappointment.
In a head-to-head GOP matchup, Florida Gov. Ron DeSantis leads Trump by 20 points (60%-40%) among Republicans and independent-leaning Republicans.
Testing 2024: Biden ties with DeSantis in a head-to-head matchup, 42-42.
Trump loses to Biden by 10 points, 44-34.
5. Dem govs' victory lap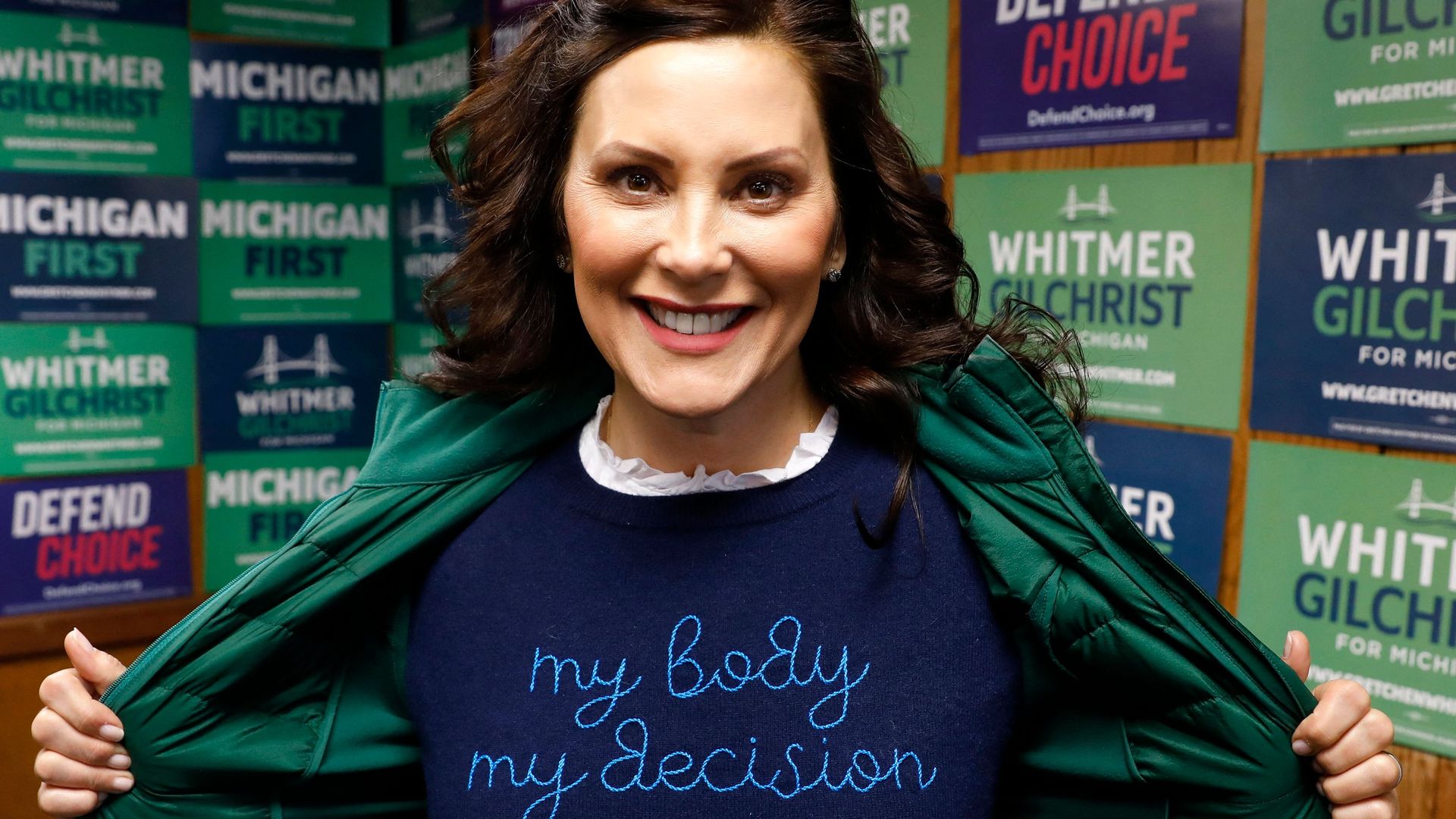 Democratic governors and governors-elect celebrated their midterm victories in New Orleans this weekend at the Democratic Governors Association winter meeting, Axios' Alexi McCammond reports.
Dems picked up three Republican-held seats — in Arizona, Maryland and Massachusetts — while losing the governorship in Nevada.
They now hold 24 of the 50 governorships.
North Carolina Gov. Roy Cooper, the DGA chair, said pandemic regulations cost Nevada Gov. Steve Sisolak his job.
"That state is so reliant on tourism," Cooper said. "Republicans were somewhat successful in blaming him for this."
Michigan Gov. Gretchen Whitmer, a possible future presidential candidate, said her midterm takeaway was that "people want problem-solvers — not culture warriors."
"I frequently got the question 'Should we be talking about the economy or abortion?' " she said. "Anyone who thinks that those two issues are not aligned doesn't have a uterus."
Pennsylvania Gov.-elect Josh Shapiro said he made the case that "freedom isn't telling women what they're allowed to do with their bodies."
"Freedom isn't telling people they can work a 40-hour workweek but can't be a member of a union."