January 18, 2023
Welcome back to Sneak. Smart Brevity™ count: 969 words ... 3.5 minutes.
1 big thing: Establishment strikes back
The 2024 election is set to draw a flood of Senate candidates built in the traditional Republican mold — with several leading contenders eyeing campaign launches just weeks into the new year, Axios' Josh Kraushaar writes.
Why it matters: The emergence of establishment figures so early in the recruitment process is a sign of the McConnell wing of the party seeking to regain its foothold over MAGA forces after November's disappointing midterms.
Trump-endorsed celebrities Herschel Walker of Georgia and Mehmet Oz of Pennsylvania — as well as right-wing rabble-rousers Blake Masters of Arizona and Don Bolduc of New Hampshire — were among the top Republican Senate candidates in 2022.
None prevailed in the battleground states that determined the Senate majority, frustrating GOP Leader Mitch McConnell (R-Ky.) and dealing a blow to former President Trump's endorsement credentials.
Driving the news: Ohio state Sen. Matt Dolan, a moderate who came in third in the 2022 GOP Senate primary, today became the first Republican to announce he would challenge Sen. Sherrod Brown (D-Ohio) in 2024.
Between the lines: Sen. Steve Daines (R-Mont.), the newly minted chairman of the National Republican Senatorial Committee, has signaled he's willing to get more involved in shaping GOP primaries than his predecessor, Sen. Rick Scott (R-Fla.).
Daines has already started to aggressively identify top recruits and urge them to run in targeted states. "Recruitment is a top priority for us," said a source familiar with Daines' thinking.
Reality check: Just because Republicans are looking for more credentialed candidates for the Senate doesn't mean they'll be able to win over a MAGA-oriented electorate.
Daniels, for example, would face a tough challenge against Rep. Jim Banks (R-Ind.), who announced his own campaign today and has leaned into the culture wars that have driven GOP politics in the Trump era.
The right-wing Club for Growth has already aired ads slamming Daniels as insufficiently conservative.
Zoom out: The Senate is shaping up as the last vestige of establishment influence in the post-Trump era.
McConnell today tapped Sen. Thom Tillis of North Carolina, one of the last remaining bipartisan dealmakers in the upper chamber, as a counselor to the Senate Republican leadership team.
The House, meanwhile, is turning into the epicenter of the MAGA world, with Speaker Kevin McCarthy's narrow majority being leveraged by the most hardline conservatives in his caucus.
2. 🔥 Plum postings for House firebrands
Members of the right-wing House Freedom Caucus are seeing the first dividends from the deal they struck to give House Speaker Kevin McCarthy (R-Calif.) his gavel: prime committee assignments.
Why it matters: The plum postings for Republican rebels fulfill a key concession McCarthy made, handing conservatives greater influence over the GOP conference's congressional probes and legislative agenda, Axios' Andrew Solender writes.
Driving the news: The powerful House Oversight Committee, which is set to be the clearinghouse for many of the GOP's marquee investigations into the Biden administration, is adding half a dozen Freedom Caucus members and McCarthy rebels to its ranks.
That includes Reps. Byron Donalds (R-Fla.), Paul Gosar (R-Ariz.), Scott Perry (R-Pa.), Anna Paulina Luna (R-Fla.) and Lauren Boebert (R-Colo.).
Another addition is Rep. Marjorie Taylor Greene (R-Ga.), a right-wing McCarthy ally who, like Gosar, was booted from her committees by Democrats and a handful of Republicans in 2021.
👀 Also notable: Serial liar Rep. George Santos (R-N.Y.) won seats on the Small Business Committee and Science, Space and Technology Committee — despite ongoing investigations into his fraudulent resume.
3. 💰 MAGA group's real-estate spree
An influential conservative nonprofit led by former Trump chief of staff Mark Meadows is buying up millions of dollars worth of office space on Capitol Hill, Axios' Lachlan Markay and Sophia Cai report.
Why it matters: The Conservative Partnership Institute is the backbone of a policy and advocacy apparatus aligned with hard-right legislators such as Gaetz and Greene.
The real-estate purchases are a sign of the conservative nonprofit's growing clout — and grandiose plans — as it tries to steer the direction of Republicans' new House majority and prepare for the next GOP administration.
Just this month, several right-wing lawmakers who opposed McCarthy's bid for speakership — including Gaetz, Donalds, Gosar, Perry and Ralph Norman (R-S.C.) — met at the CPI offices, according to Yahoo News.
4. ⛷️ High-fiving in Davos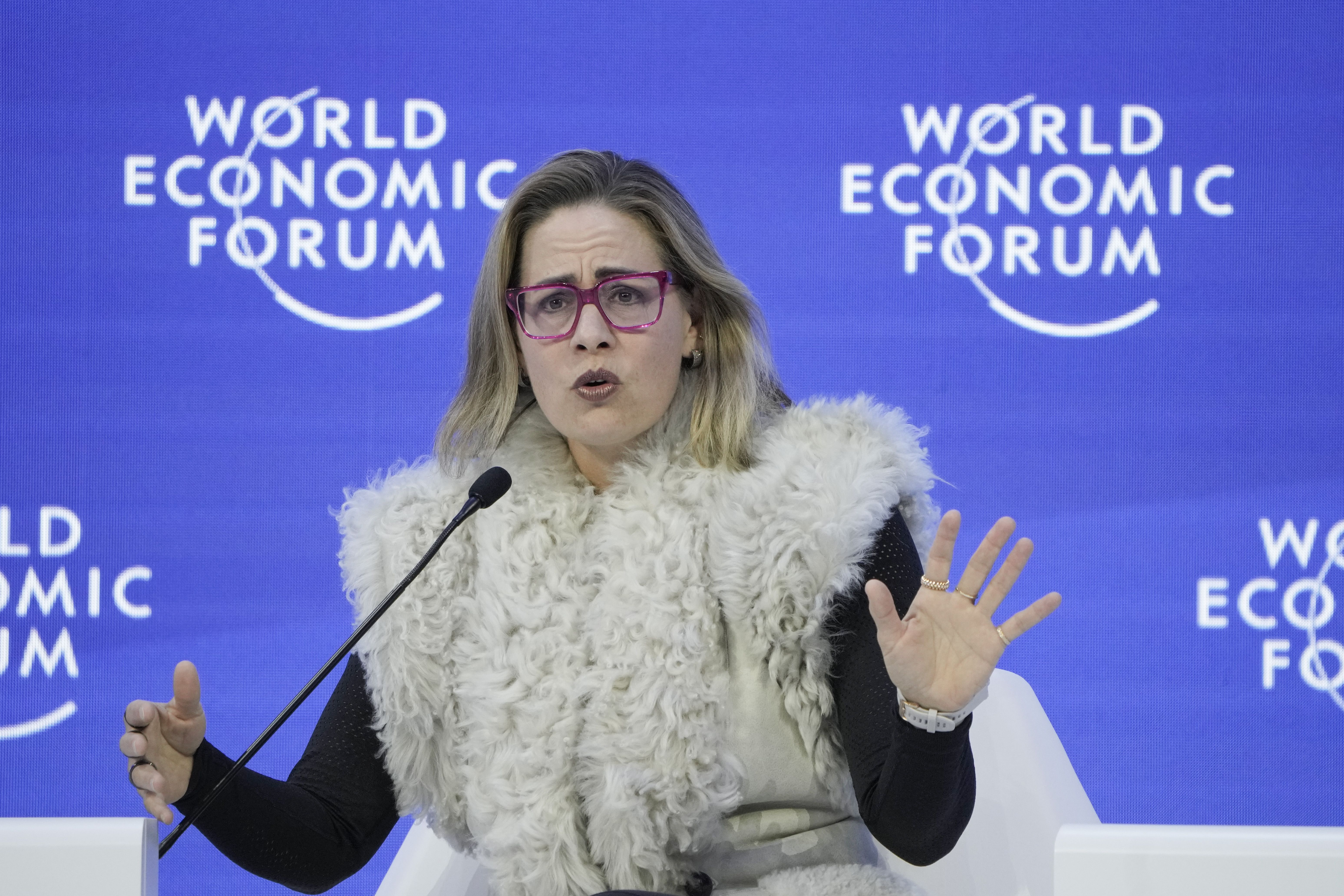 Onstage at the World Economic Forum in Davos, Switzerland, Sens. Kyrsten Sinema (I-Ariz.) and Manchin reaffirmed today that they're still opposed to eliminating the Senate filibuster.
Why it matters: The symbolism of two centrist senators celebrating the stifling of Democrats' agenda while surrounded by global elites is already infuriating progressives.
Sinema pointed specifically to a Democratic "narrative" that in the wake of the Jan. 6 Capitol riot, there would be no more "free and fair elections" if the Senate didn't kill the filibuster and pass voting rights protections.
"We had a free and fair election. So one could posit that the push by one political party to eliminate an important guardrail ... may have been premature and overreaching, in order to get the short-term victories they wanted," the newly independent senator argued.
5. 🏀 Parting shots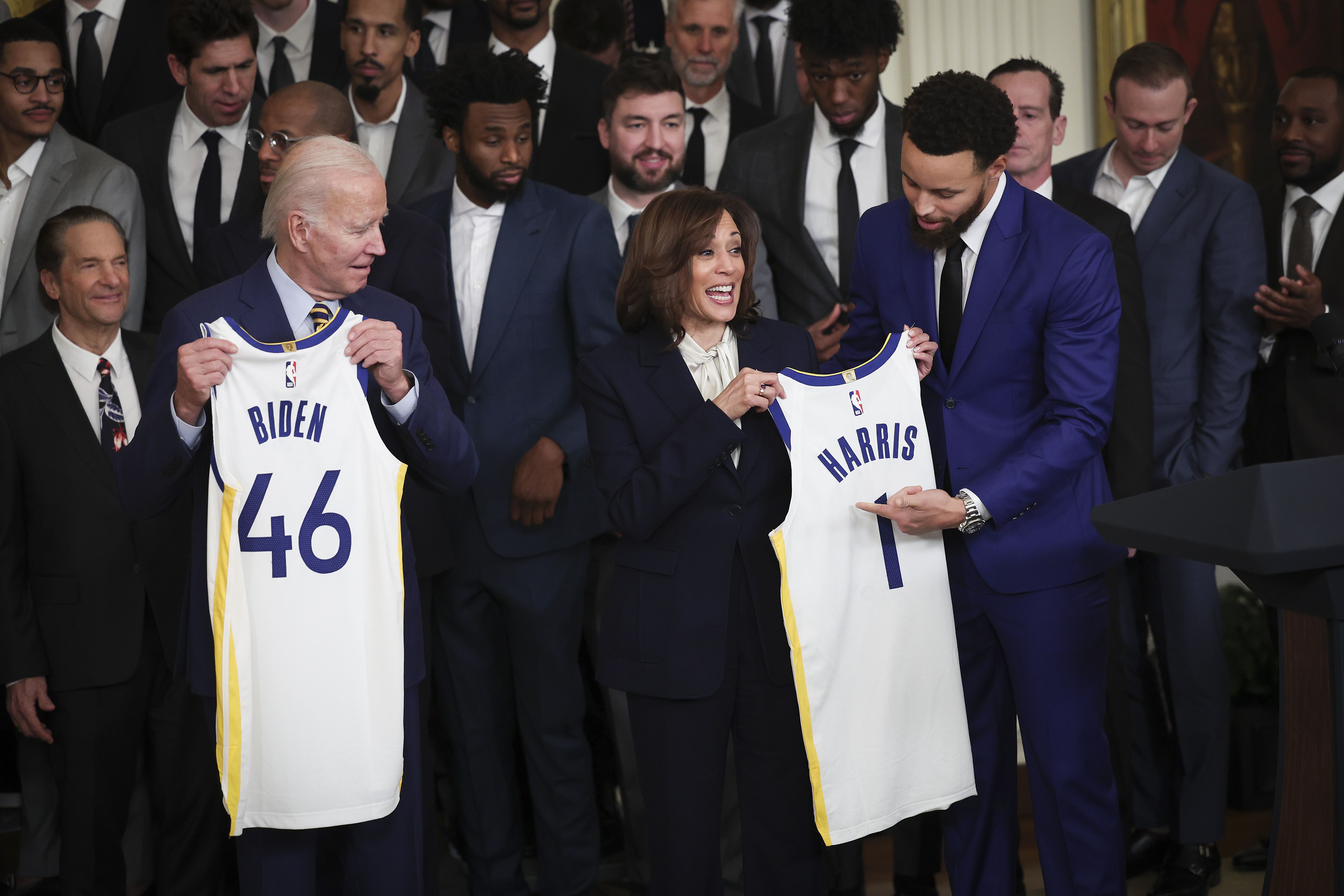 The Golden State Warriors — who never visited the Trump White House despite winning the NBA Finals in 2017 and 2018 — celebrated their 2022 championship with President Biden and Oakland native Vice President Kamala Harris at the White House.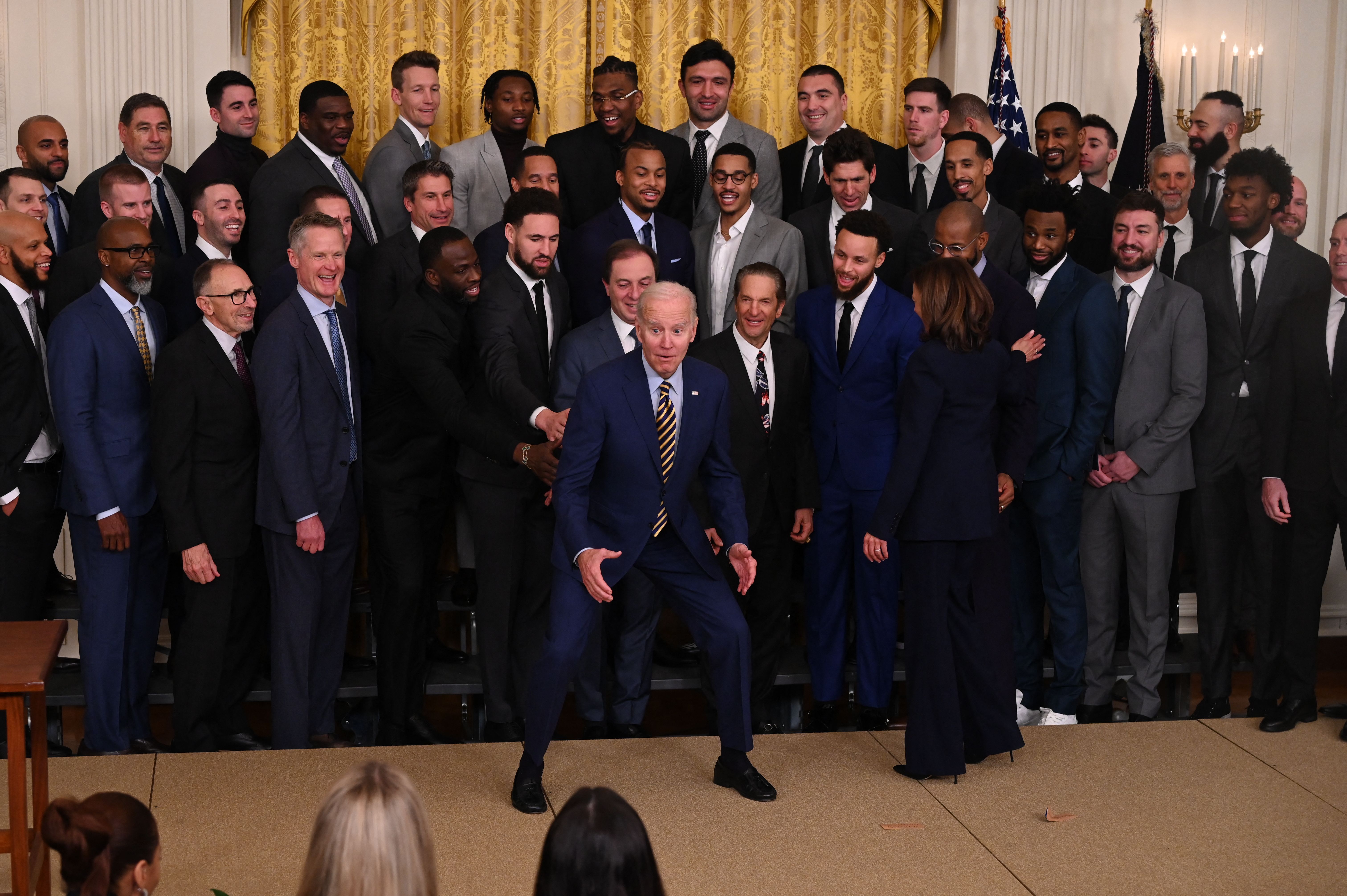 📬 Thanks for reading tonight. This newsletter was edited by Zachary Basu and copy edited by Kathie Bozanich.