Axios Sneak Peek
August 30, 2020
Welcome to Sneak Peek, our weekly look ahead from both ends of Pennsylvania Avenue, plus our best scoops.
🎬 Next on "Axios on HBO": At Eli Lilly HQ in Indianapolis, CEO David Ricks shares what he thinks of pressure from President Trump to rush coronavirus treatments and cures. See a clip.
Catch the full interview Monday at 11pm ET/PT on all HBO platforms.
Today's newsletter is 1,828 words, a 7-minute read.
1 big thing: Trump offered FBI director job to Kelly, asked for loyalty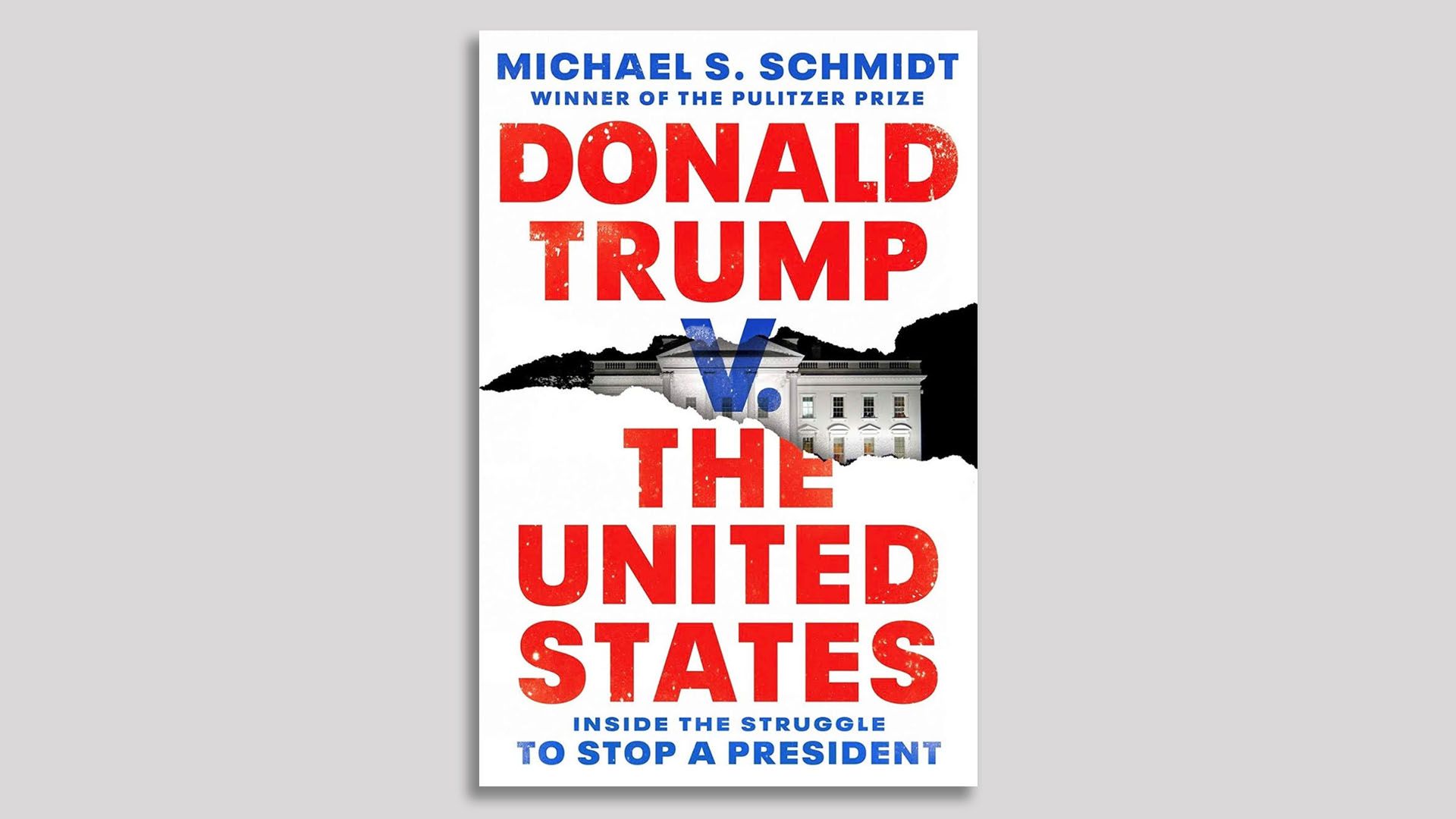 The day after President Trump fired FBI boss James Comey, the president phoned John Kelly, who was then secretary for the Department of Homeland Security, and offered him Comey's job, the New York Times' Pulitzer Prize-winning reporter Michael Schmidt reports in his forthcoming book, "Donald Trump v. The United States."
Driving the news: "But the president added something else — if he became FBI director, Trump told him, Kelly needed to be loyal to him, and only him."
"Kelly immediately realized the problem with Trump's request for loyalty, and he pushed back on the president's demand," Schmidt writes.
"Kelly said that he would be loyal to the Constitution and the rule of law, but he refused to pledge his loyalty to Trump."
Why it matters: This previously unreported conversation sheds additional light on the president's mindset when he fired Comey. Special counsel Robert Mueller never learned of this information because the president's lawyers limited the scope of his team's two-hour interview with Kelly.
"In addition to illustrating how Trump viewed the role and independence of senior officials who work for him, the president's demand for loyalty tracked with Comey's experience with Trump," Schmidt writes.
Behind the scenes: Schmidt reports that "throughout Kelly's time working directly with Trump, Kelly was repeatedly struck by how Trump failed to understand how those who worked for him — like Kelly and other top former generals — had interest in being loyal not to him, but to the institutions of American democracy."
"Kelly has told others that Trump wanted to behave like an authoritarian and repeatedly had to be restrained and told what he could and could not legally do."
"Aside from questions of the law, Kelly has told others that one of the most difficult tasks he faced with Trump was trying to stop him from pulling out of NATO — a move that Trump has repeatedly threatened but never made good on, which would have been a seismic breach of American alliances and an extraordinary gift to Putin."
Quote of the book: "Kelly has said that having to say no to Trump was like 'French kissing a chainsaw.'"
Another revelation: Schmidt reports that Mueller's prosecutors made near real-time requests to McGahn's lawyer, Bill Burck, to find out what the president was telling the White House counsel in their private conversations.
In a summary of the reporting, Schmidt tells me, "This was a highly invasive tactic. Mueller's team wanted to know whether Trump had a role in the firing of the acting FBI director Andrew McCabe and whether Trump was saying anything about prosecuting Comey."
"Trump was indeed discussing prosecuting Clinton and Comey, and McGahn had written a memo to Trump detailing why he should not be pressing the Justice Department for such a prosecution."
My thought bubble: This kind of activity from Mueller's team was far more invasive, in terms of information-gathering from the president's inner circle, than any investigating that happened on the 2016 campaign.
The White House, Kelly and McGahn did not respond to requests for comment.
2. Leaked memo on Jared Kushner's security clearance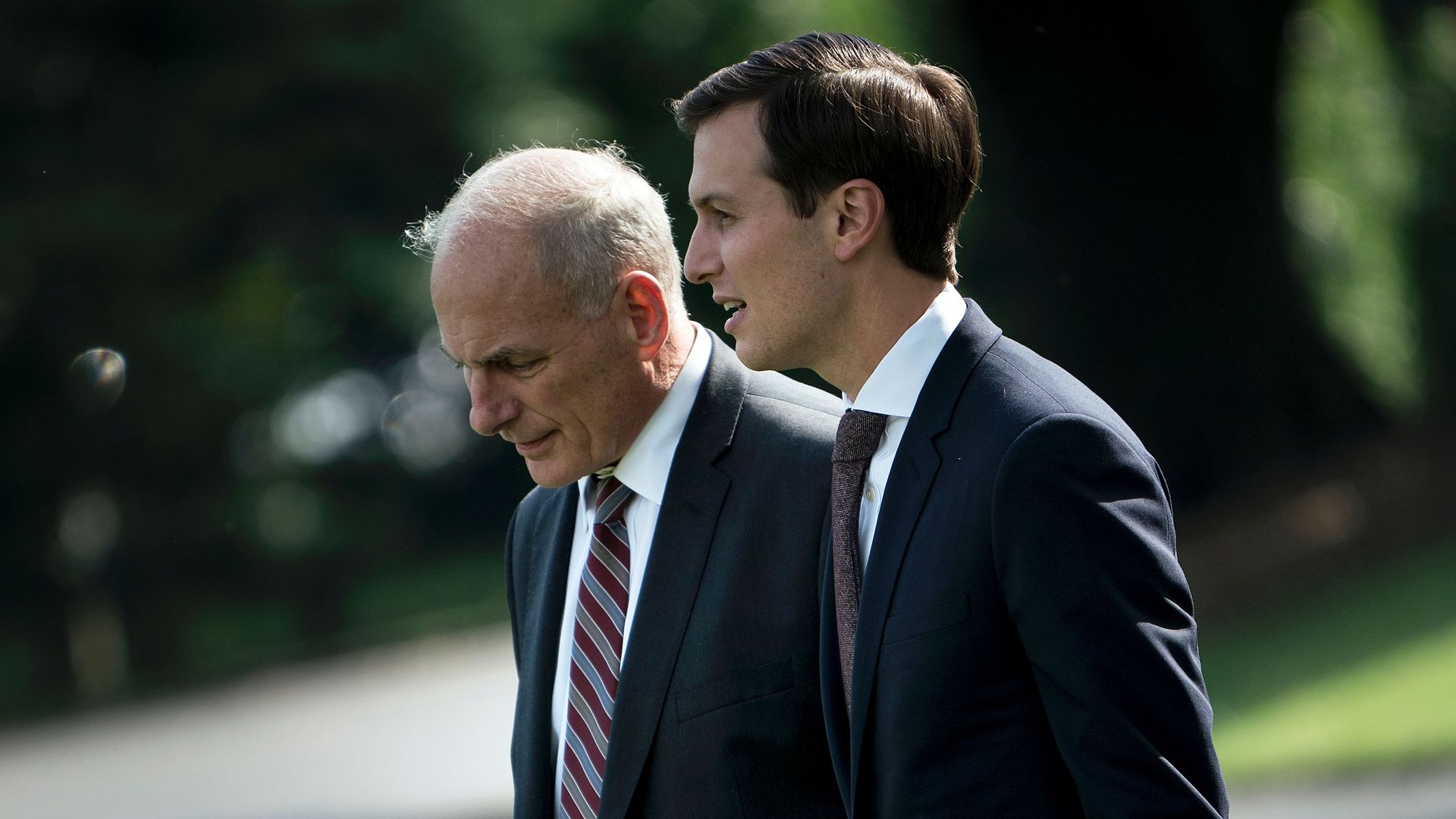 On Feb. 23, 2018, White House counsel Don McGahn sent a two-page memo to Chief of Staff John Kelly arguing that Jared Kushner's security clearance needed to be downgraded, Schmidt reports in his book.
Driving the news: Schmidt reports directly from the confidential McGahn memo for the first time, describing how Kelly had serious concerns about granting Kushner a top-secret clearance in response to a briefing he had received related to the routine FBI investigation into Kushner's background.
"The information you were briefed on one week ago and subsequently relayed to me, raises serious additional concerns about whether this individual ought to retain a top security clearance until such issues can be investigated and resolved," McGahn wrote in the memo to Kelly.
The details of the highly sensitive intelligence that raised alarms with Kelly are not revealed in the McGahn memo or in Schmidt's book.
McGahn wrote that he had been unable to receive the briefing or "access this highly compartmented information directly" about Kushner, Schmidt reports.
"Interim secret is the highest clearance that I can concur until further information is received," McGahn concluded, referring to the level of classified information Kushner would be able to access.
Between the lines: "By reducing Kushner's clearance from top secret to secret, McGahn and Kelly had restricted Kushner's access to the PDB, the closely held rundown provided by the intelligence community six days a week for the president and his top aides, and other highly sensitive intelligence that exposed sources and methods."
"McGahn did note that there was a possibility that when the background check was complete, it could be resolved in Kushner's favor, or there could be a recommendation that he not receive a clearance," Schmidt writes.
"McGahn conceded [in the memo] that Trump could if he chose simply disregard any security concerns and circumvent any standard procedures and grant Kushner the security clearance himself."
The bottom line: President Trump ultimately intervened to ensure Kushner got his top-secret security clearance. In his book, Schmidt also quotes for the first time from a memo, written by Kelly, in which the former White House chief of staff records that Trump ordered him to give Kushner and the president's daughter, Ivanka, their top-secret clearances.
Schmidt reviewed more than 1,000 pages of federal government documents that have not been previously reported on. These include sensitive materials from Mueller's office, former White House Chief of Staff John Kelly's office, the White House counsel's office, the president's legal team and the FBI.
The White House, Kelly and McGahn did not respond to requests for comment.
3. Team Biden eyes a trillion-dollar January stimulus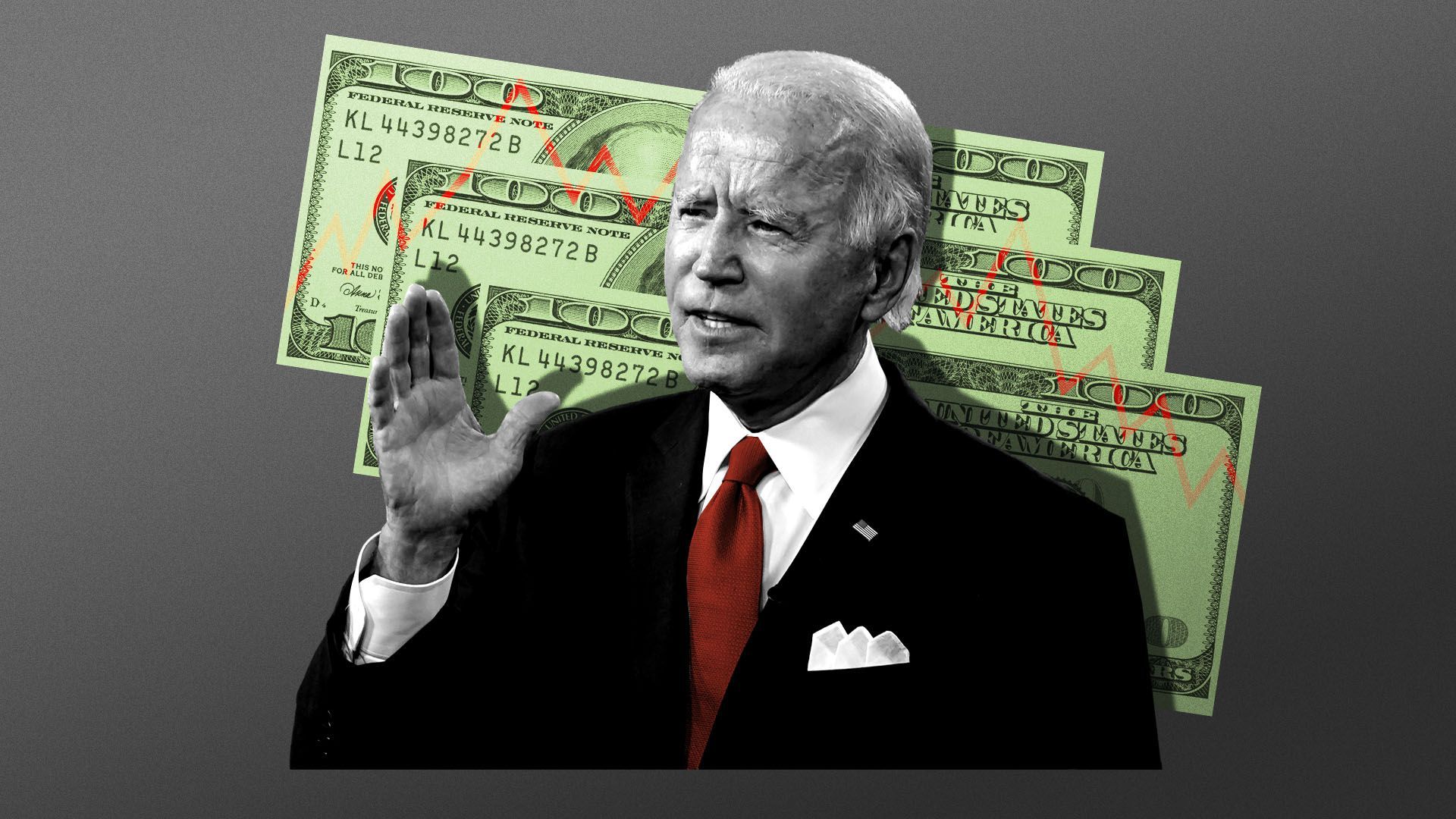 If Joe Biden wins the presidency, he might need a trillion-dollar stimulus bill in January, just to buy enough time to push through his nearly $3 trillion "Build Back Better" plan later in spring 2021, Axios' Hans Nichols and Felix Salmon report.
That's according to Biden advisers who are growing increasingly worried that the economy is deteriorating by the day.
The big picture: Congress and the White House are locked in a stalemate on additional spending to soften the blow of the pandemic. Every day that extra stimulus is delayed only serves to increase the ultimate size of the final cost to the economy.
Economists advising the Biden campaign are privately warning that problems can compound and cascade — including business bankruptcies, supply chain disruptions, mass evictions, and huge shortfalls in state and local budgets.
"We have always contemplated the need for additional stimulus," Jake Sullivan, a senior policy adviser to Biden, tells Axios. "We will confront the situation we find in January."
Between the lines: Biden's signature economic stimulus plan is an ambitious attempt to recover from the pandemic while tackling income inequality, climate change and structural racism. The plan would pump $2.7 trillion into American manufacturing, clean energy technology and infrastructure over just four years.
He wants to spend an additional $775 billion for working parents and caregivers over 10 years.
Reality check: In a crisis, the most important aspect of any stimulus is speed — getting cash out the door as quickly as possible.
Even if Democrats win the Senate, Biden's advisers know that it will be difficult to pass such a plan within weeks of the inauguration.
By the numbers: Officially, Biden aides are reluctant to commit to a January price tag, given uncertainties about the virus and congressional action this fall. But many economists on his advisory committees privately put it between $1 trillion and $2 trillion, depending on what Congress passes (if it passes anything).
The other side: Trump would also spend big in January, if not before, if he's re-elected.
Senate Majority Leader Mitch McConnell wants to spend $1 trillion this fall, but he's warned Trump about going much higher.
Trump's call for a $2 trillion infrastructure bill back in March would be a starting point for a 2021 stimulus.
4. Team Trump's era of good feelings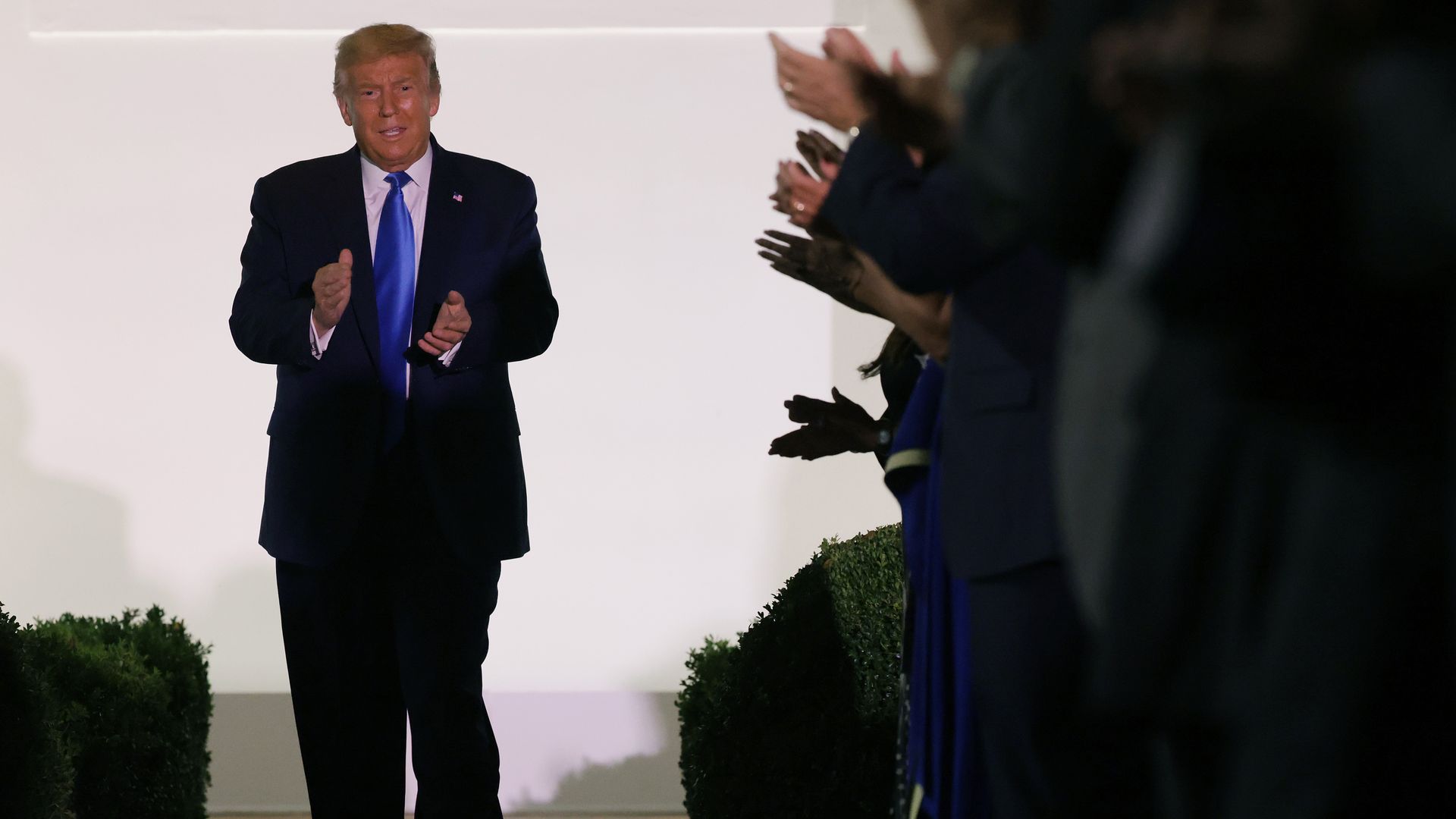 Here are some reasons why President Trump's top advisers say they feel better today than they did three weeks ago:
Some early data suggests the Republican National Convention was a success and gave Trump more of a bounce than Joe Biden got from the Democratic National Convention.
A new Morning Consult poll has Trump getting a 4 percentage point bounce out of the RNC, whereas Biden got no immediate bounce from the DNC the week earlier. (According to the latest Morning Consult poll, Biden leads Trump 50% to 44% among likely voters nationwide).
A new Yahoo News-YouGov poll has Biden's lead over Trump shrinking to 6 percentage points after the RNC — the vice president's smallest lead in months.
Fundraising performed well during the RNC. Trump's communications director Tim Murtaugh says the campaign raised $76 million during the RNC.
Biden announced he would resume campaign travel after Labor Day, including a trip to Minnesota. Minnesota last voted Republican during Richard Nixon's landslide victory in 1972.
COVID-19 cases have been trending down off of the late July peak.
Between the lines: A central goal of the RNC was to win back suburbanites who view Trump as racist and devoid of morals. That's why you saw so many Black speakers offering character testimonials for the president.
To that end, Trump aides are encouraged by the Morning Consult poll, which showed that "Trump cut into Biden's lead among voters in the suburbs: Before the convention, Biden led by 14 points (54 percent to 40 percent), but after the convention, he led by 8 points (50 percent to 42 percent)."
5. Sneak Peek diary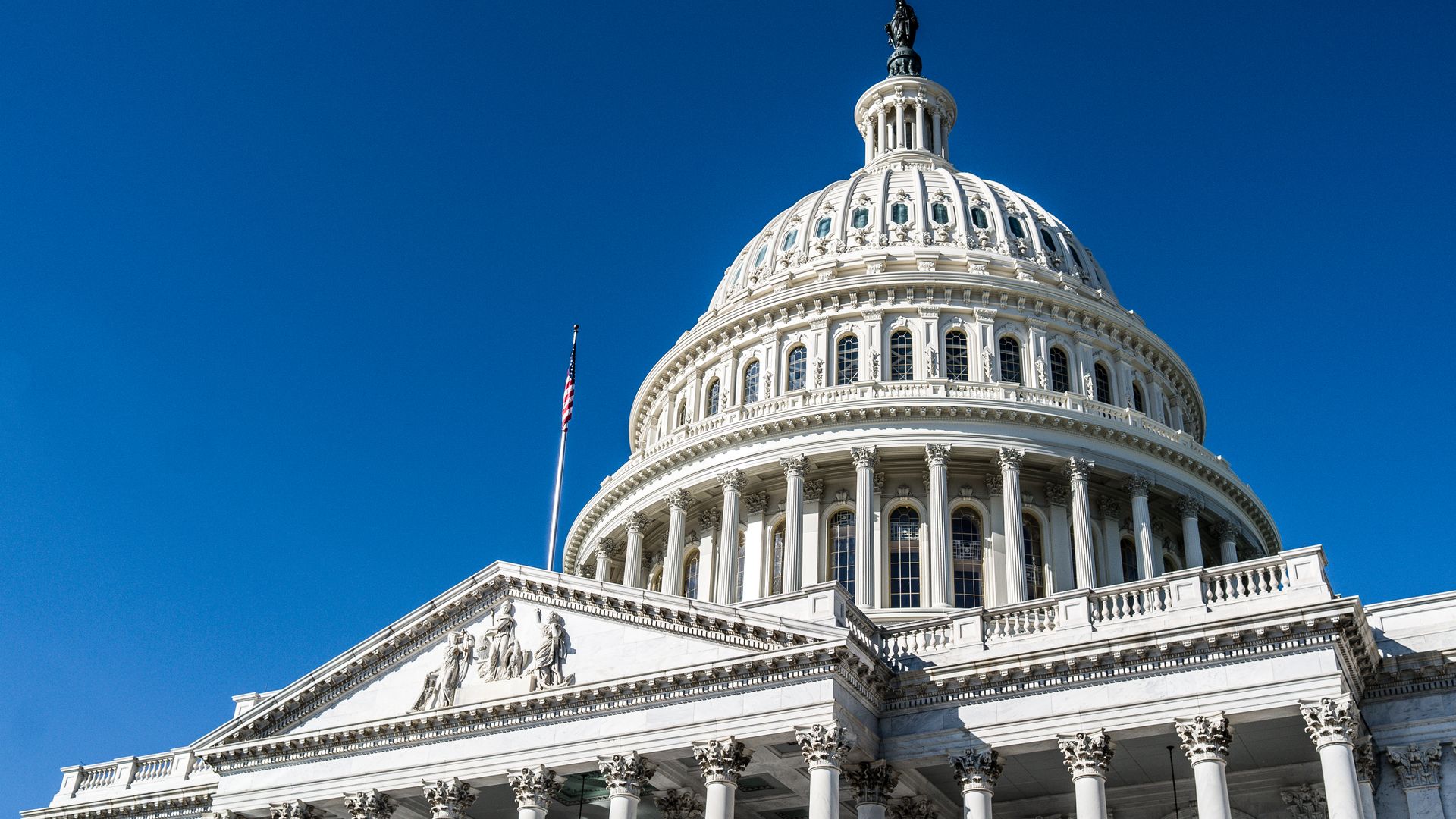 The House and Senate are on recess this week, but leaders of both parties have reserved the right to call members back to Washington for a vote on potential stimulus funding, Axios' Alayna Treene reports.
On Tuesday, the House Select Committee on the Coronavirus will hold a hybrid hearing with Treasury Secretary Steven Mnuchin about the administration's response to the economic impact of the pandemic.
President Trump's schedule, per a White House official:
Monday: Trump will have lunch with Vice President Mike Pence. He will also meet with Attorney General Bill Barr and acting Secretary of Homeland Security Chad Wolf.
Tuesday: Trump will travel to Kenosha, Wisconsin.
Wednesday: Trump will deliver remarks designating Wilmington, North Carolina, as an American World War II Heritage City.
Thursday: Trump will have lunch with Secretary of State Mike Pompeo.
6. First look: A former Trump aide's apocalyptic new book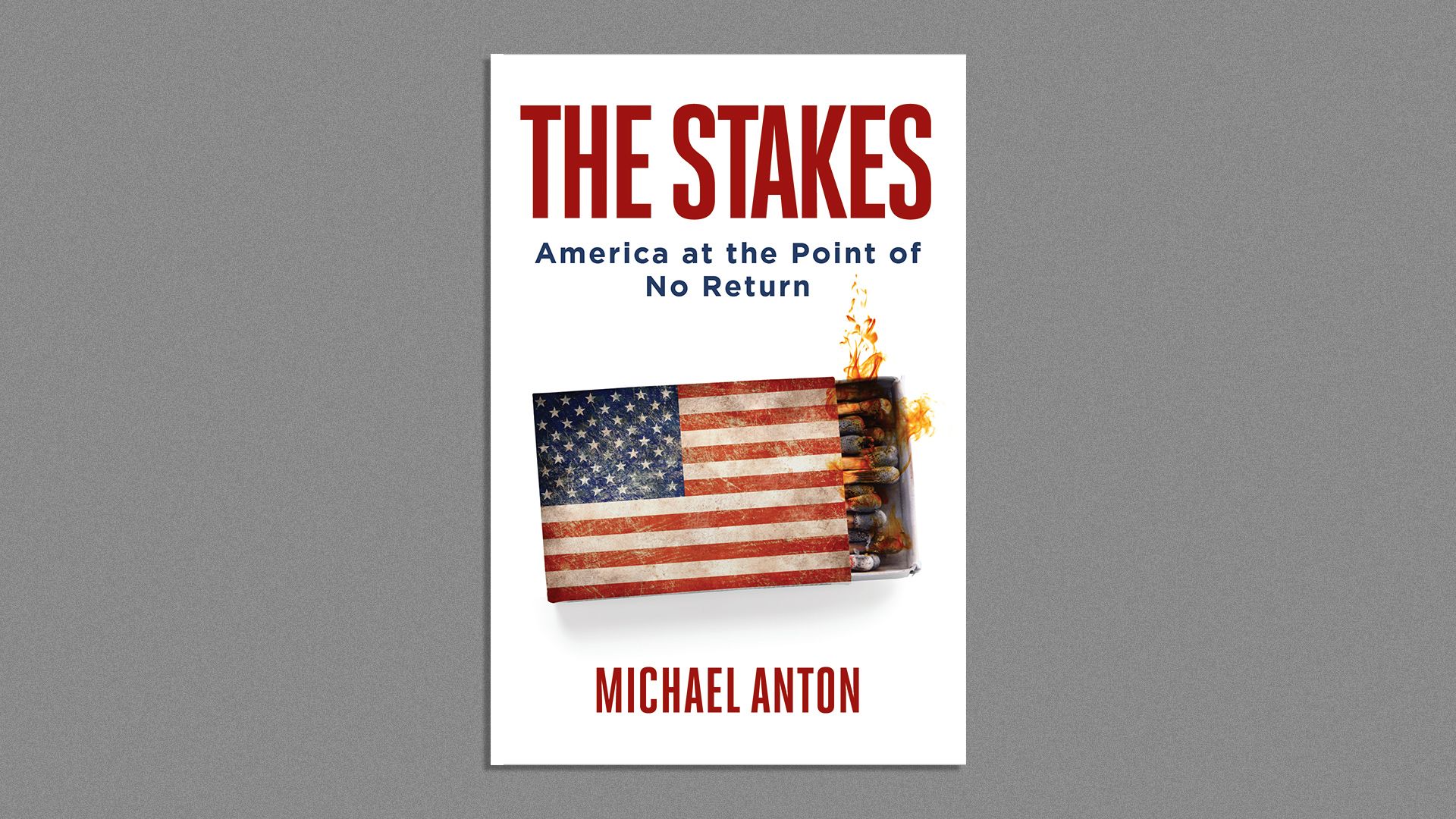 Michael Anton, a former senior official on President Trump's National Security Council, is out Tuesday with a new book, obtained by Axios, titled, "The Stakes: America at the Point of No Return."
The big picture: The heading of the book's first chapter captures the tone and tenor of Anton's polemic: "Be afraid, very afraid: California as case study of America's possible future."
In the ensuing 407 pages, Anton imagines a future America under total Democratic Party control. He bombards the reader with scene after dystopian scene of what he describes as leftist authoritarianism, rampant crime and the policing of all non-"woke" thought.
"Blue-state politics from coast to coast," he writes, "could, once established, last a very long time and might end only with the country itself."
In a later chapter, Anton muses about secession.
Why it matters: Anton's incendiary writings don't live on the fringes of modern conservatism. They have influenced a president and some of the most powerful figures in the movement.
In 2018, Trump used Anton's Washington Post opinion piece, "Citizenship shouldn't be a birthright," as a basis for asking administration lawyers to draft an executive order to overturn birthright citizenship. (The White House counsel's office dismissed the idea.)
During the 2016 election, under the pseudonym Publius Decius Mus, Anton wrote a widely circulated piece titled "The Flight 93 Election," comparing a vote against Hillary Clinton to rushing the cockpit on a 9/11 flight hijacked by terrorists.
Some of the most powerful conservatives promoted Anton's piece as a rallying cry to persuade Never Trumpers to hold their noses and vote for Trump.
The bottom line: Anton's book elaborates on Trump's re-election campaign playbook — and likely foreshadows what's to come.