Axios Sneak Peek
July 13, 2022
Welcome back to Sneak. Smart Brevity™ count: 925 words ... 3.5 minutes.
⚡ Situational awareness: The House Jan. 6 committee is expected to hold its eighth hearing a week from Thursday, choosing to delay it after new testimony from former White House counsel Pat Cipollone, Axios' Andrew Solender scooped.
1 big thing: 🇺🇸 "American carnage"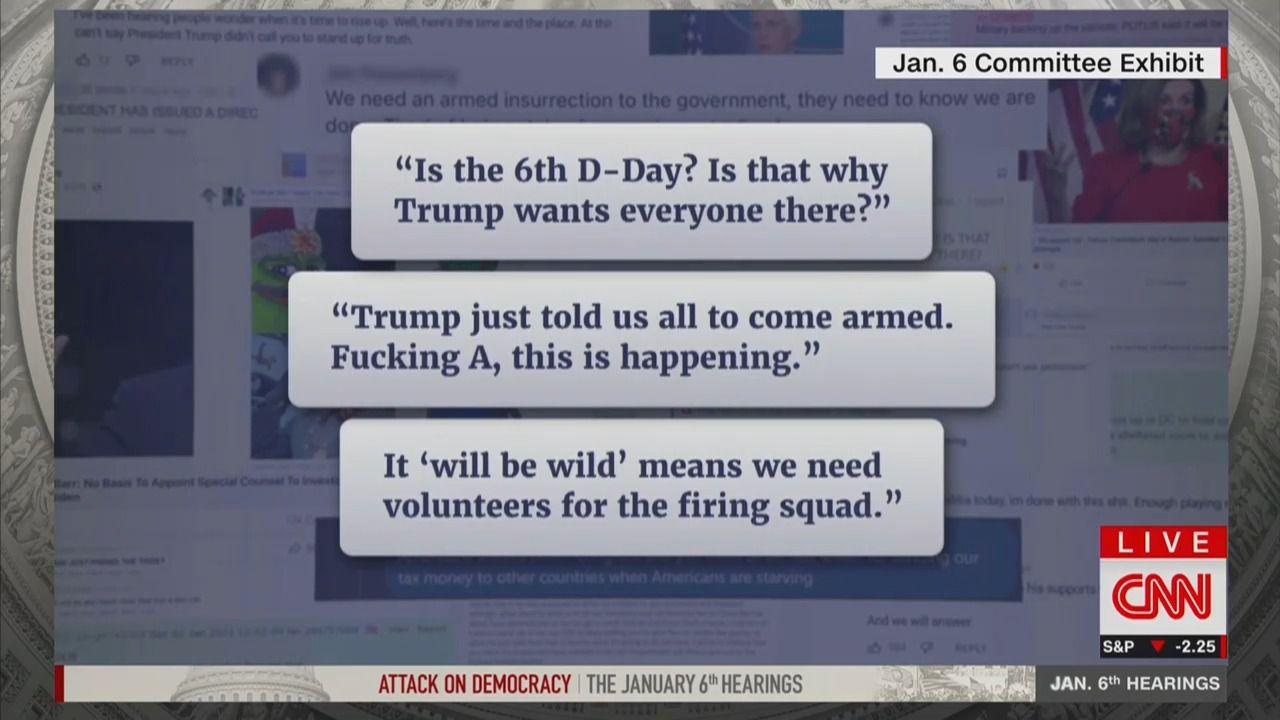 The Jan. 6 committee delivered another flood of revelations in its seventh hearing today, the first to feature a witness who participated in the Capitol attack and another who spent years as the spokesman for a far-right militia whose leader was charged with seditious conspiracy.
The big picture: "American carnage, that's Donald Trump's true legacy," Rep. Jamie Raskin (D-Md.) argued at the end of the three-hour presentation, hearkening back to a famous line from the former president's 2017 inauguration speech.
4 takeaways
1. "Civil war" threat: The committee revealed pro-Trump online spaces went into overdrive after Trump's Dec. 19 tweet calling for a "big protest" in D.C. on Jan. 6, with Raskin reciting a stream of "openly homicidal" and "white nationalist" rhetoric related to rally planning.
On forums like TheDonald.win, users called on Trump supporters to bring body armor, bats, bear spray, zip ties and other weapons that Capitol rioters would later be charged with carrying.
"I think we need to quit mincing words and just talk about truths: What it was going to be was an armed revolution. ... This could have been the spark that started a new civil war," Jason Van Tatenhove, the former spokesman for the far-right Oath Keepers, testified to the committee.
2. Trump's "ad libs": A draft tweet memorialized in the National Archives indicated Trump had long planned to tell his followers to "march to the Capitol" after his speech at the Ellipse, which the committee claims undermines the defense that the rally simply "got out of hand."
Rep. Stephanie Murphy (D-Fla.) revealed that Trump ad-libbed numerous lines during his speech — placing repeated emphasis on the call to march, the role of Vice President Mike Pence in "stopping the steal," and the need for his supporters to "fight" and "have courage."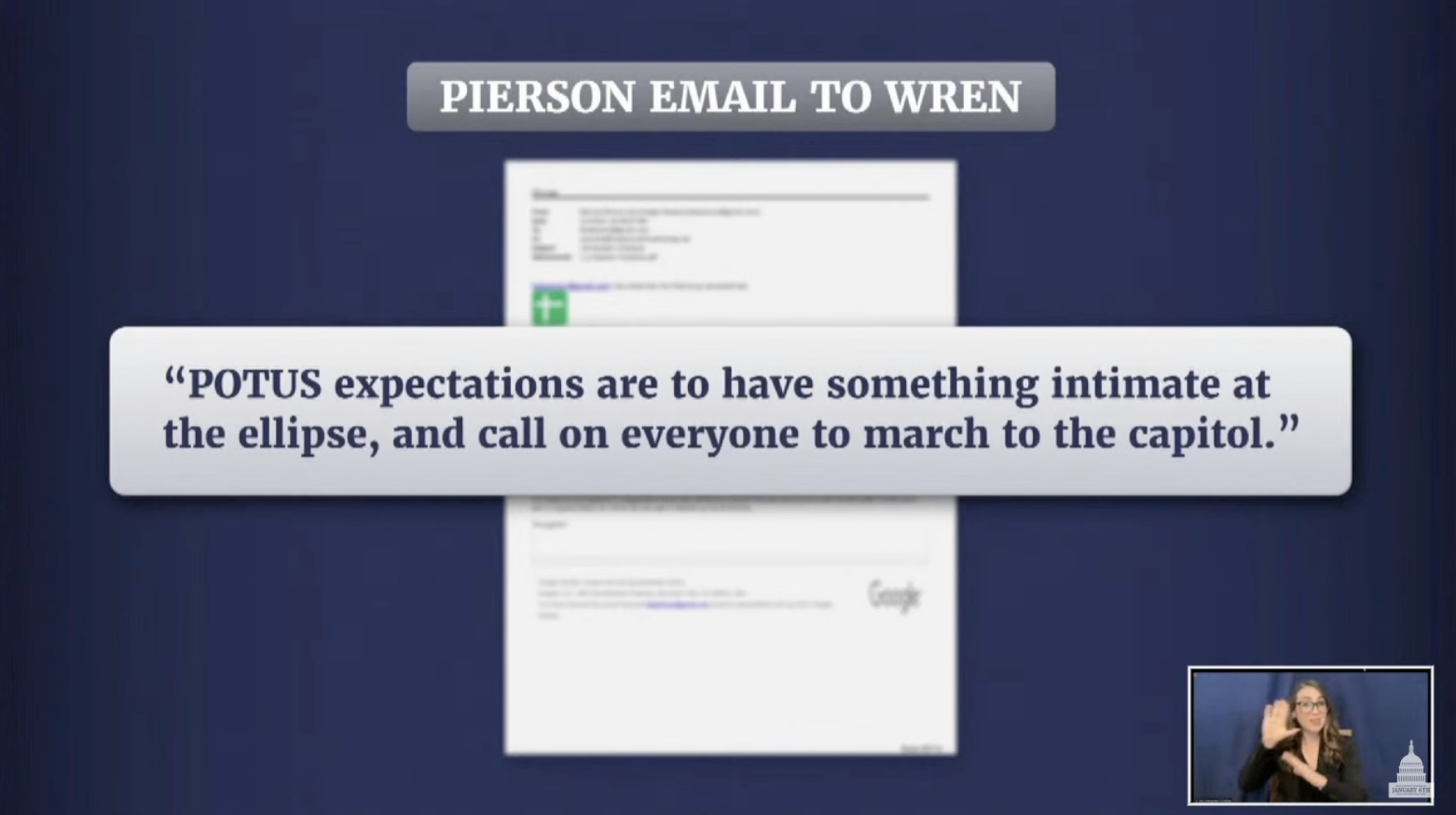 3. Controlling the mob: Stephen Ayres, a former Trump supporter who pleaded guilty in June to disorderly and disruptive conduct in a restricted building, testified that he and his associates hadn't planned to go to the Capitol until Trump's speech at the Ellipse "got everyone riled up."
In addition, it was only after Trump's video telling protesters to "go home" — hours into the riot — that the crowd dispersed: "I was hanging on every word he was saying," Ayres said.
4. Cheney's kicker: After the most recent hearing, Trump "tried to call" a witness who has not yet been heard from publicly, committee vice chair Rep. Liz Cheney (R-Wyo.) revealed in one last bombshell at the close of her remarks.
The witness's lawyer reached out to the committee, which subsequently supplied the information to the Justice Department, Cheney said — potentially escalating Trump's exposure to a witness intimidation investigation.
Go deeper: Full recap, via Axios' Alayna Treene
2. 💬 Texts worth 1,000 words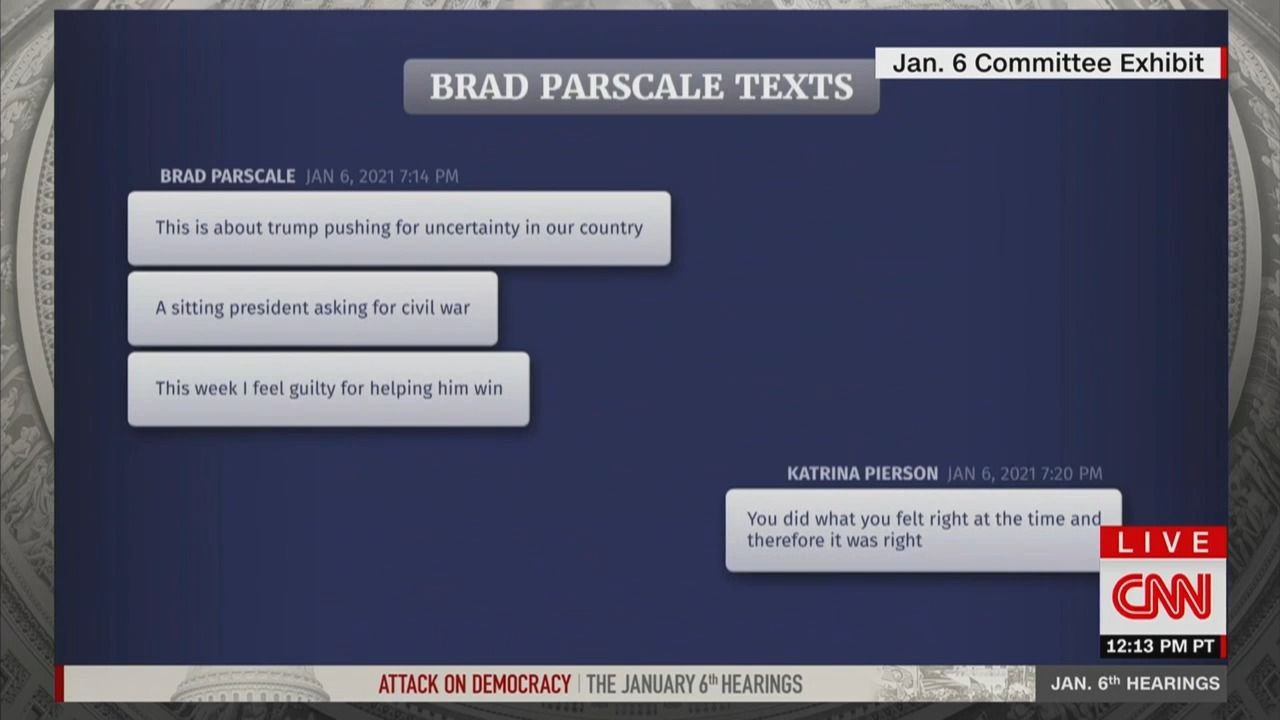 Explosive text messages from Brad Parscale, Trump's former campaign manager, paint a vivid portrait of his distress and guilt over the violence committed by the president's supporters on Jan. 6.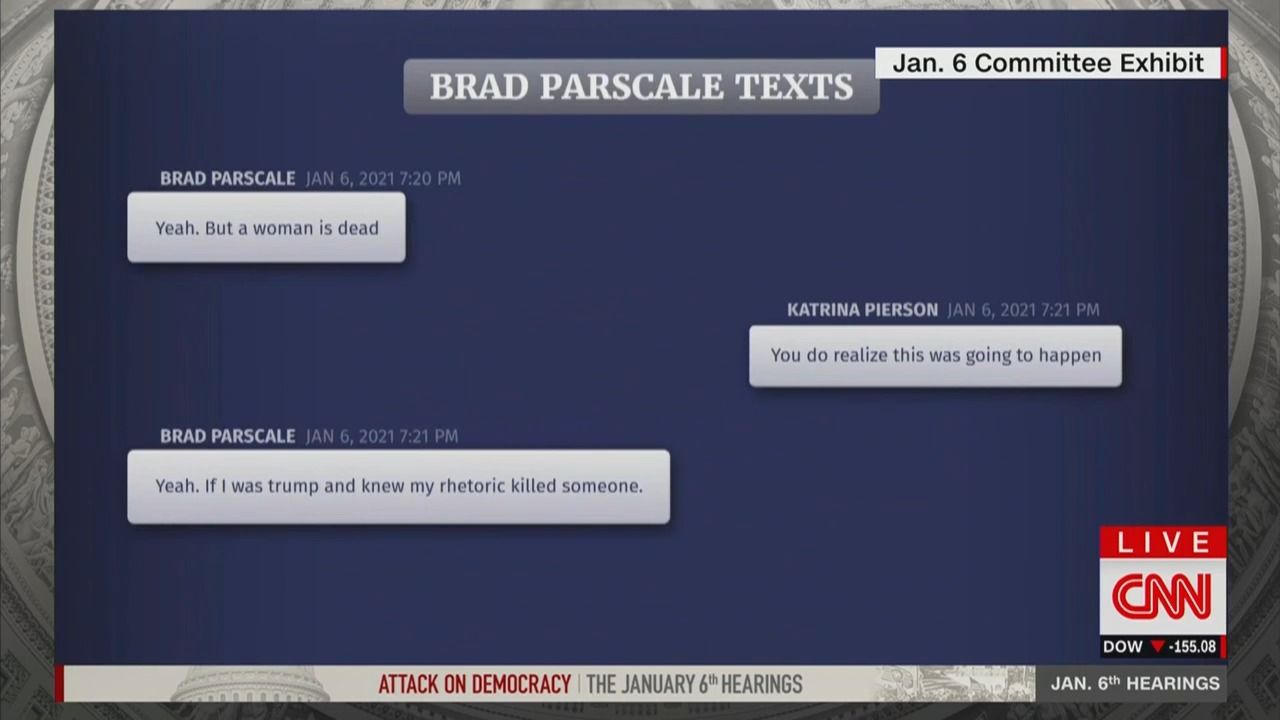 But not that guilty: Parscale's firm has been paid $150,000 by Trump's leadership PAC for "digital consulting" since March 2021, according to FEC filings, and he has urged Trump to run again in 2024.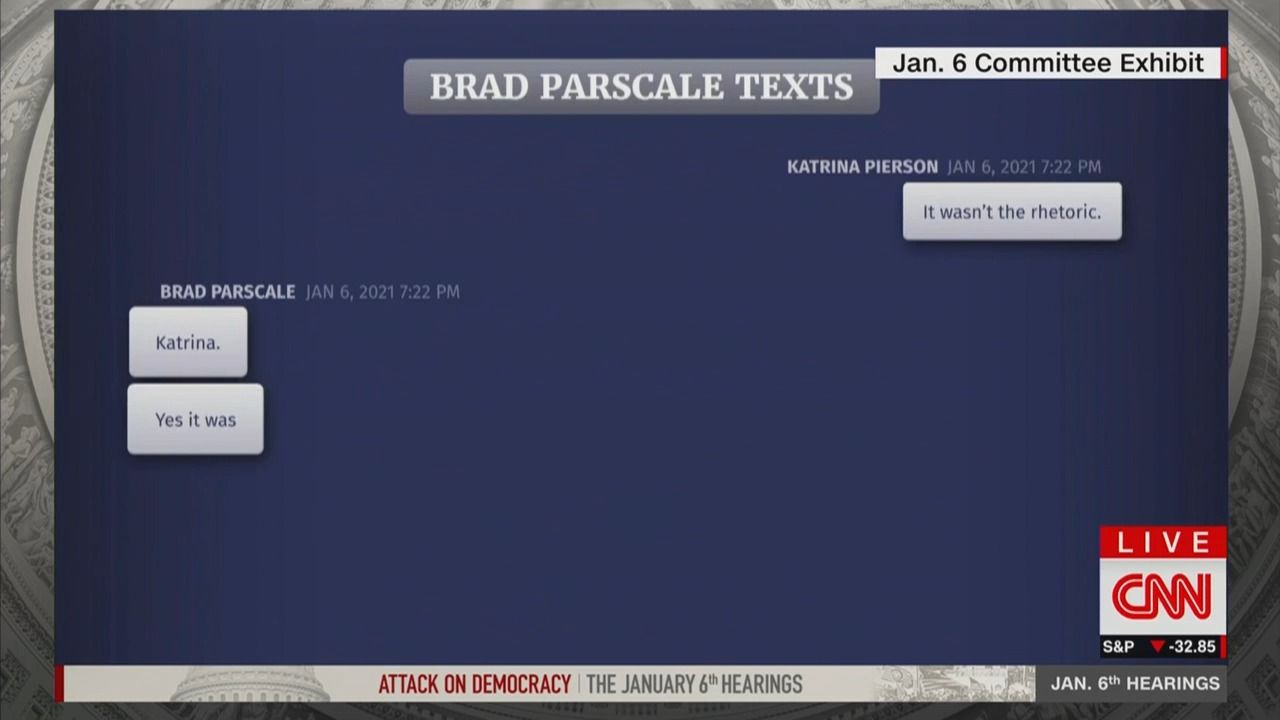 3. 👀 House centrists could derail Manchin deal
Rep. Josh Gottheimer (D-N.J.) is gauging support among House centrists for a counteroffer to the emerging Senate reconciliation package, with one big clause: No new taxes, Axios' Hans Nichols reports.
Why it matters: Any attempt to modify a deal that Senate Majority Leader Chuck Schumer may reach with Sen. Joe Manchin (D-W.Va.) could scuttle the entire package. That could deprive President Biden — and vulnerable lawmakers — of a pre-election win at a time of real weakness.
Gottheimer's discussions target a small group that includes Reps. Carolyn Bourdeaux (D-Ga.), Ed Case (D-Hawaii), Tom Suozzi (D-N.Y.), Susie Lee (D-Nev.) Dean Phillips (D-Minn.) and Mikie Sherrill (D-N.J.).
The big picture: Manchin has been adamant he wants higher taxes on corporations to bring down the deficit and help fight inflation.
But early House discussions led by Gottheimer don't envision any new taxes on corporations or wealthy individuals. The Trump tax cuts on corporations and individuals would remain in place.
Between the lines: There have long been questions about how Democratic leaders and the White House could finesse the House's "No SALT, No Deal" caucus.
With Democrats currently sitting on a 220-210 margin in the House, Gottheimer would need five votes to extract concessions from the Senate or House leaders.
4. 💰 First look: House GOP leaders drive record fundraising
The National Republican Congressional Committee (NRCC) raised $16.5 million in June, bringing its fundraising total for the cycle to $215 million, according to data shared exclusively with Axios' Lachlan Markay.
Why it matters: Its total fundraising haul, and the $109 million the NRCC says it had in the bank at the end of June, are committee records for this point in the cycle.
A huge chunk came from House Republican leadership: nearly $50 million from Leader Kevin McCarthy, more than $20 million from Whip Steve Scalise and $2.4 million from conference chair Elise Stefanik.
5. 📸 Parting shots: Rioter's repentance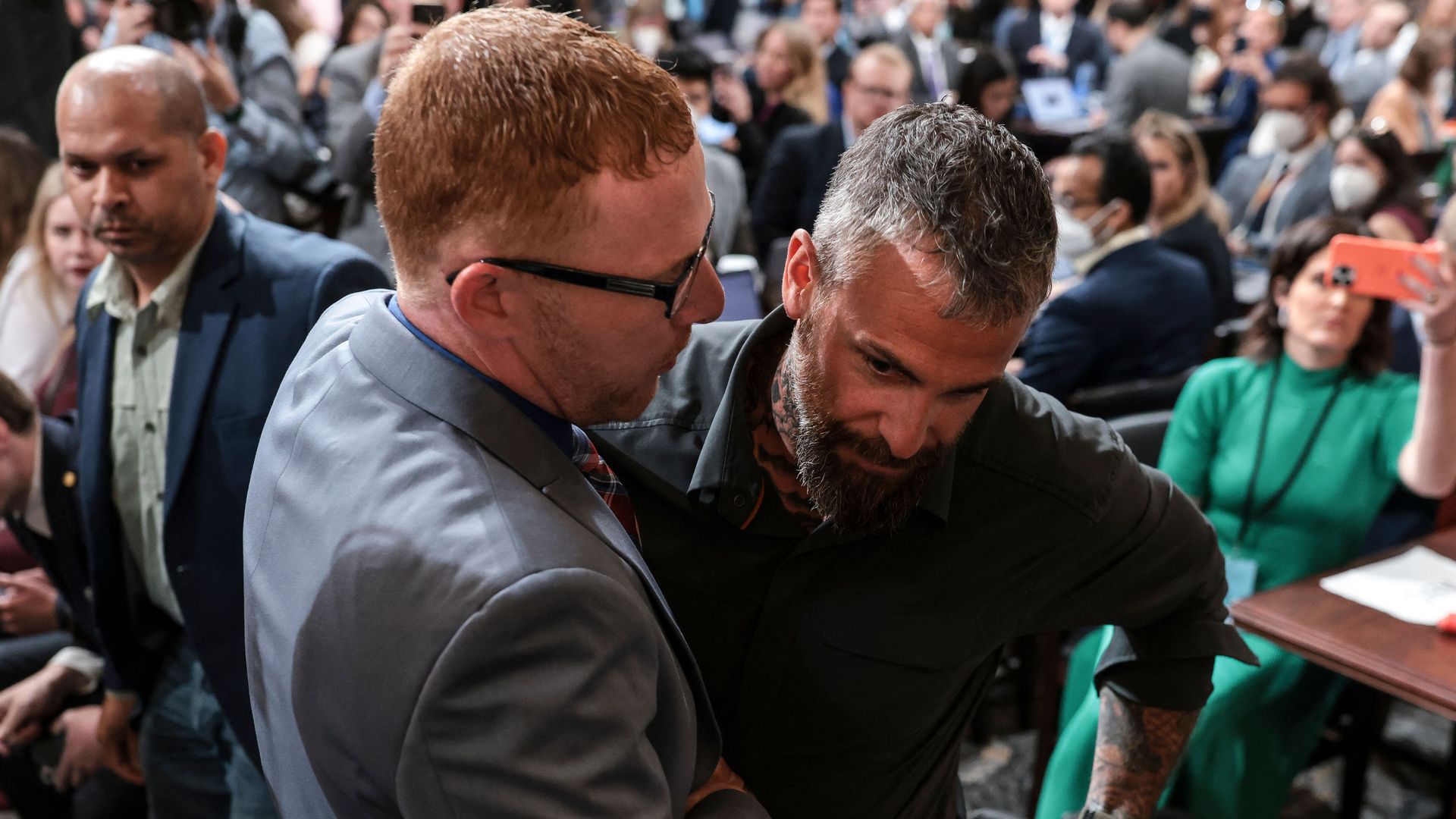 In a remarkable moment after the hearing, Ayres embraced and apologized to former Capitol Police officers Michael Fanone (above) and Harry Dunn (below) for his participation in the insurrection.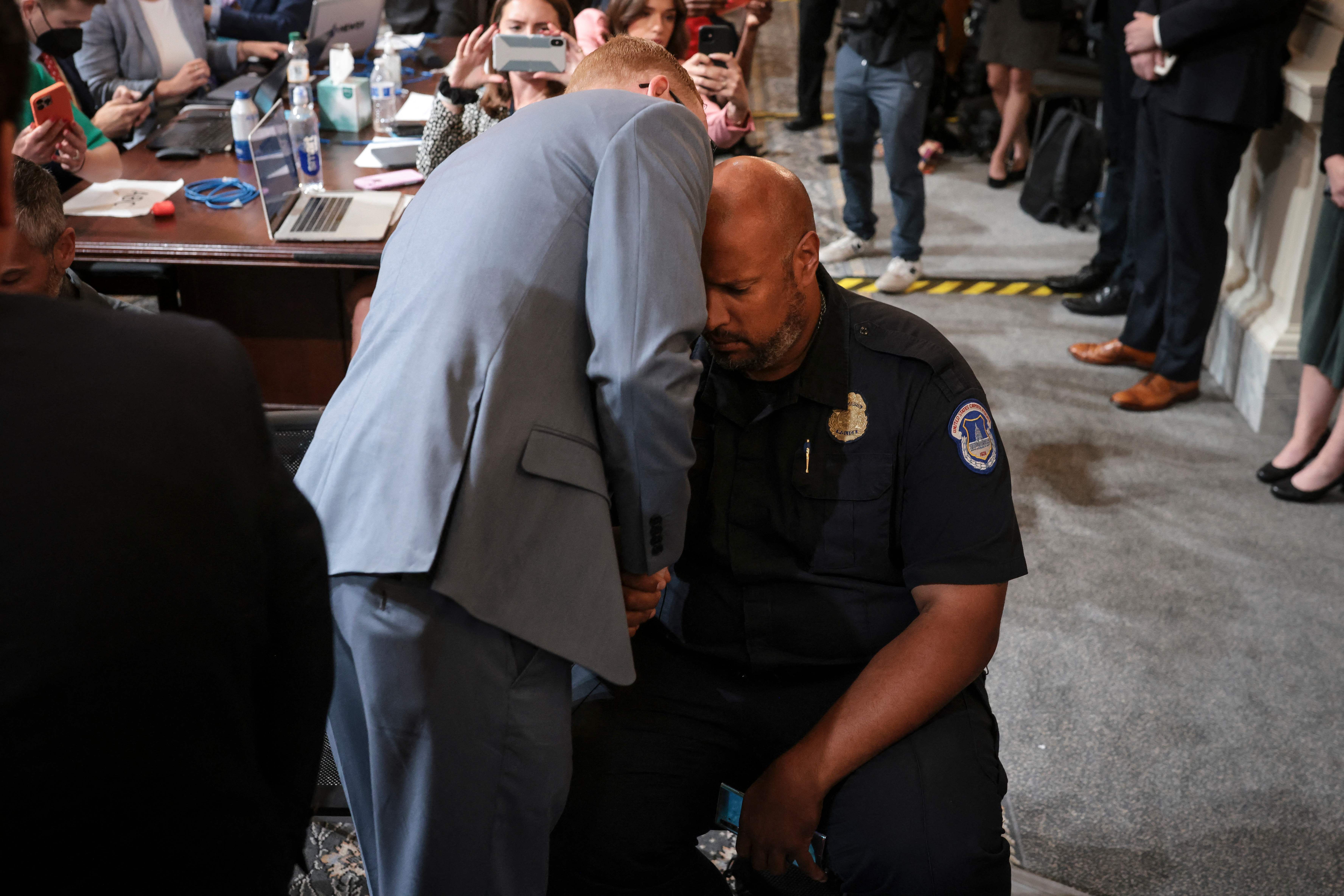 📬 Thanks for reading! Tell your friends to sign up here for Sneak or any of our free local and national newsletters.