June 22, 2022
Welcome back to Sneak. Smart Brevity™ count: 956 words ... 3.5 minutes.
🏛️ Situational awareness: The Senate is voting to begin debate on the long-awaited legislative text for a bipartisan gun bill crafted in the wake of the Uvalde, Texas, school shooting. Details.
1 big thing: Jan. 6 bombshells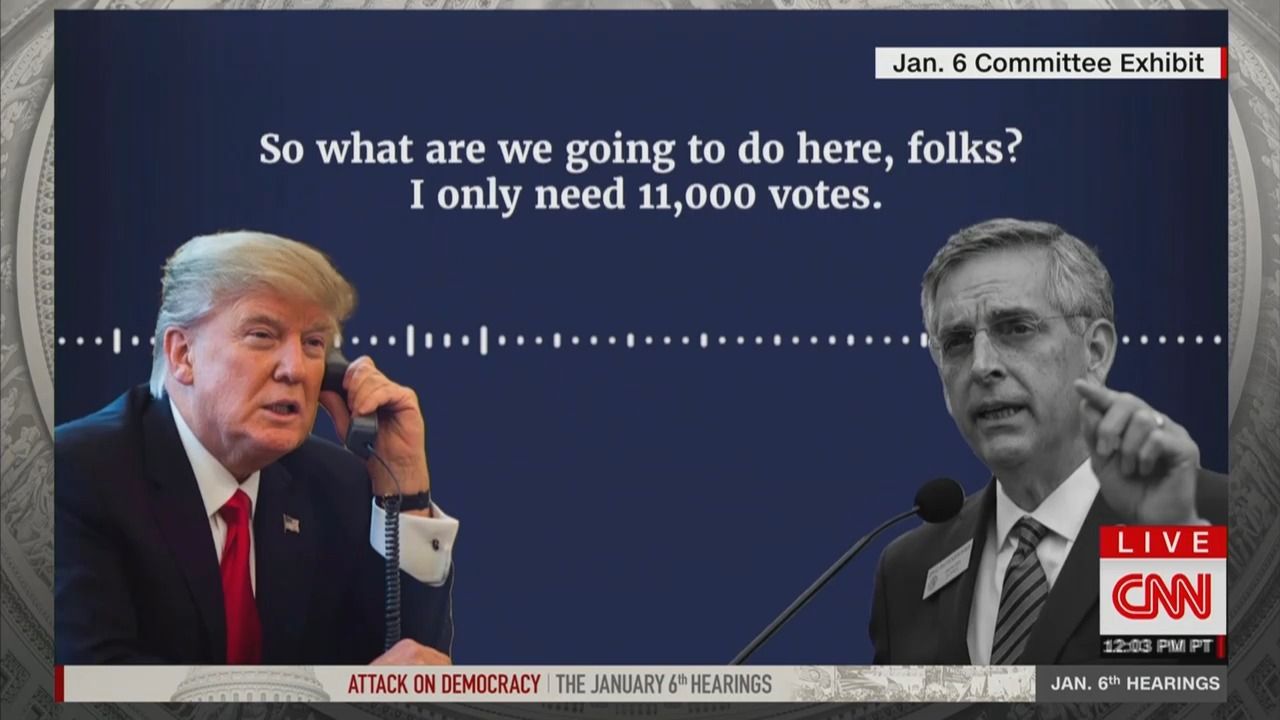 The House Jan. 6 committee carefully laid out today the stunning extent of former President Trump and his allies' campaign to pressure election officials to act on their false claims of voter fraud, Axios' Alayna Treene writes.
The big picture: Yet again, it was conservative Republican witnesses — Arizona House Speaker Rusty Bowers, Georgia Secretary of State Brad Raffensperger, top Georgia elections official Gabriel Sterling and a host of Trump associates testifying behind closed doors — that provided the most damning testimony.
Four key takeaways
1. Trump's direct involvement.
2. Key figures knew plan was illegal.
3. GOP lawmakers implicated.
4. Outlandish gambits.
What to watch: Members of the committee are now discussing upending the hearing schedule, citing a flood of new evidence.
2. Part II: The human toll
Wandrea "Shaye" Moss and her mother, Ruby Freeman, former election workers in Georgia, recounted in devastating detail the racist harassment and death threats they received after being named in a Trump-backed conspiracy theory about vote-rigging:
"It's turned my life upside down. I no longer give out my business card. I don't transfer calls. I don't want anyone knowing my name. ... I've gained about 60 pounds. I just don't do nothing anymore. I don't want to go anywhere. I second-guess everything that I do. It's affected my life in a major way. In every way. All because of lies. For me doing my job. Same thing I've been doing forever."
— Shaye Moss at Jan. 6 hearing
"There is nowhere I feel safe. Nowhere. Do you know how it feels to have the president of the United States target you? The president of the United States is supposed to represent every American. Not to target one."
— Ruby Freeman in taped deposition
3. 🏛️ Charted: Lawmaker threats surge
Capitol Police investigations related to threats against members of Congress increased by 144% between the first year of former President Trump's term and the first year of President Biden's, Axios' Andrew Solender writes.
In the first three months of this year alone, Capitol Police have opened cases into more than 1,800 threats.
4. 👀 Oz drops Trump branding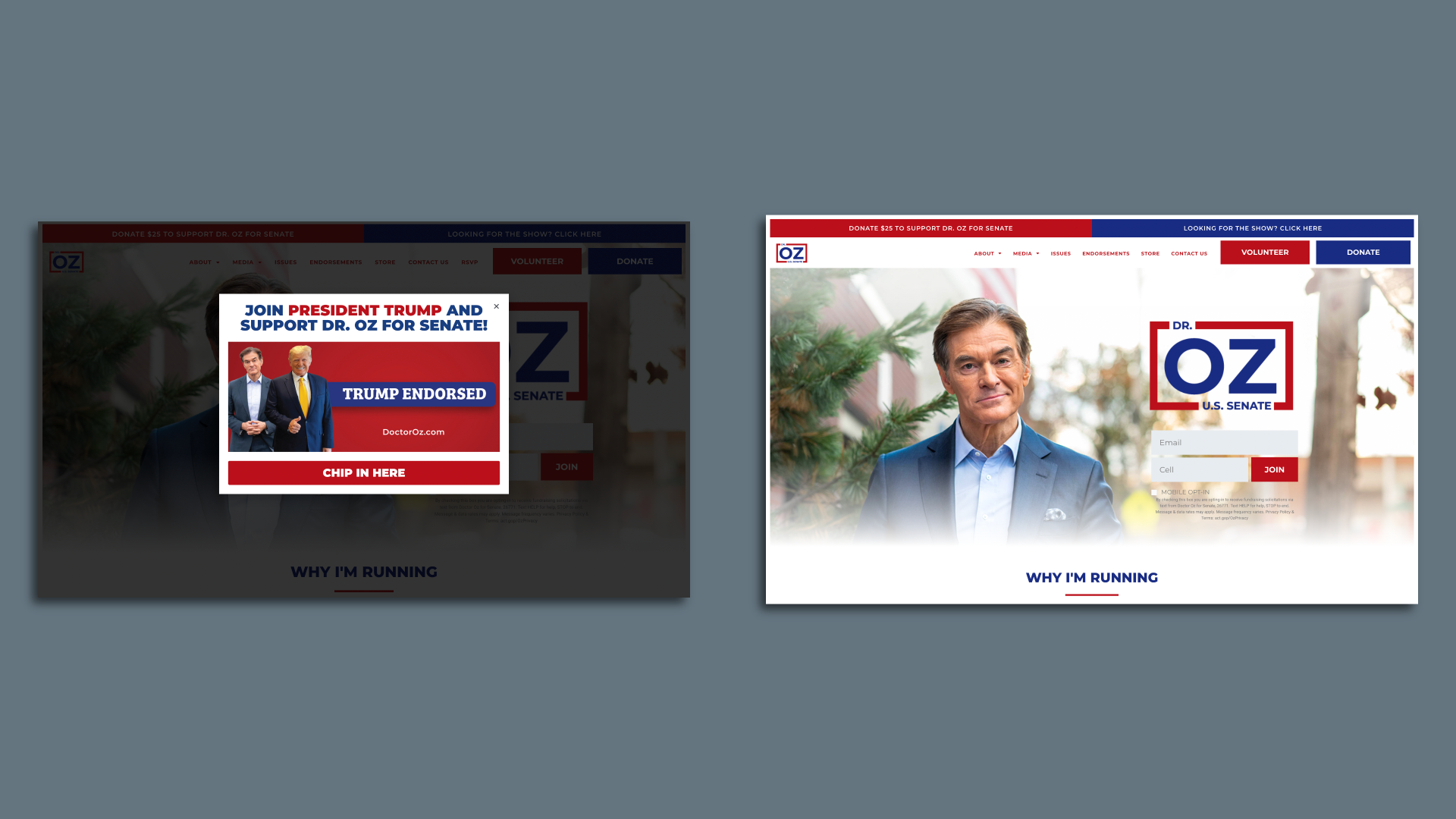 Mehmet Oz, the Republican nominee for U.S. Senate in Pennsylvania, is quietly shifting his campaign messaging away from former President Trump after narrowly winning his GOP primary, Andrew reports.
Why it matters: Oz's transition for the general election highlights the tightrope many Trump-endorsed candidates have attempted to walk — embrace the former president where it counts, while keeping him at arm's length in situations where his brand is toxic.
That same strategy was employed by Virginia's Republican governor, Glenn Youngkin, during his successful campaign last year.
Flashback: Trump was a heavy staple of Oz's primary campaign, showing up frequently in his ads run even before the former president endorsed him in mid-April.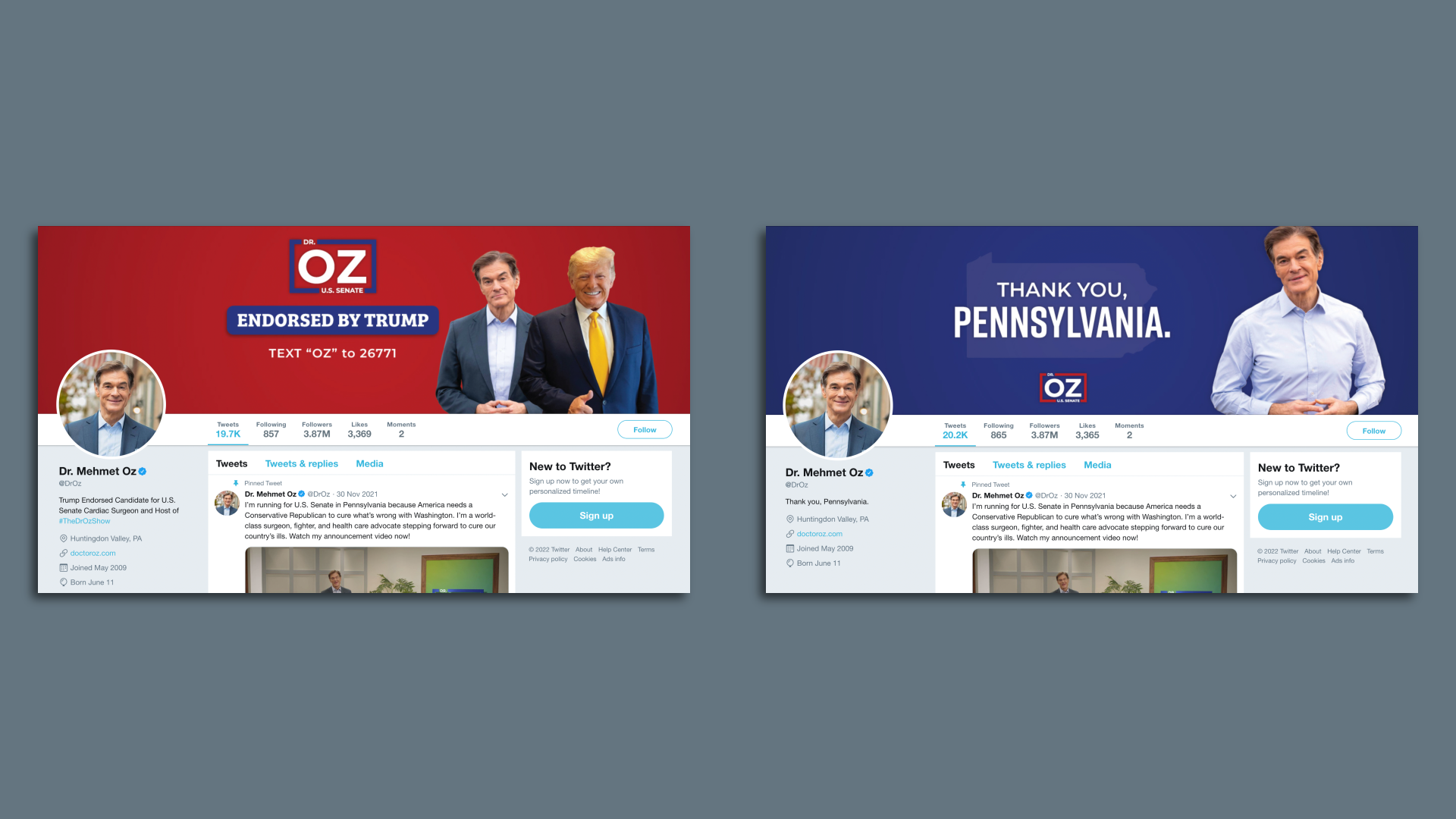 Flash forward: The ad Oz's campaign ran after winning the Republican nomination didn't mention or include footage of Trump.
Oz's social media banners now say "Thank you, Pennsylvania," and feature a solo photo of him without Trump. His website no longer has a pop-up fundraiser appeal touting his Trump endorsement.
Oz's Twitter bio no longer advertises him as the "Trump Endorsed Candidate for U.S. Senate," and he hasn't tweeted about Trump since May 17.
5. 💵 Greenback history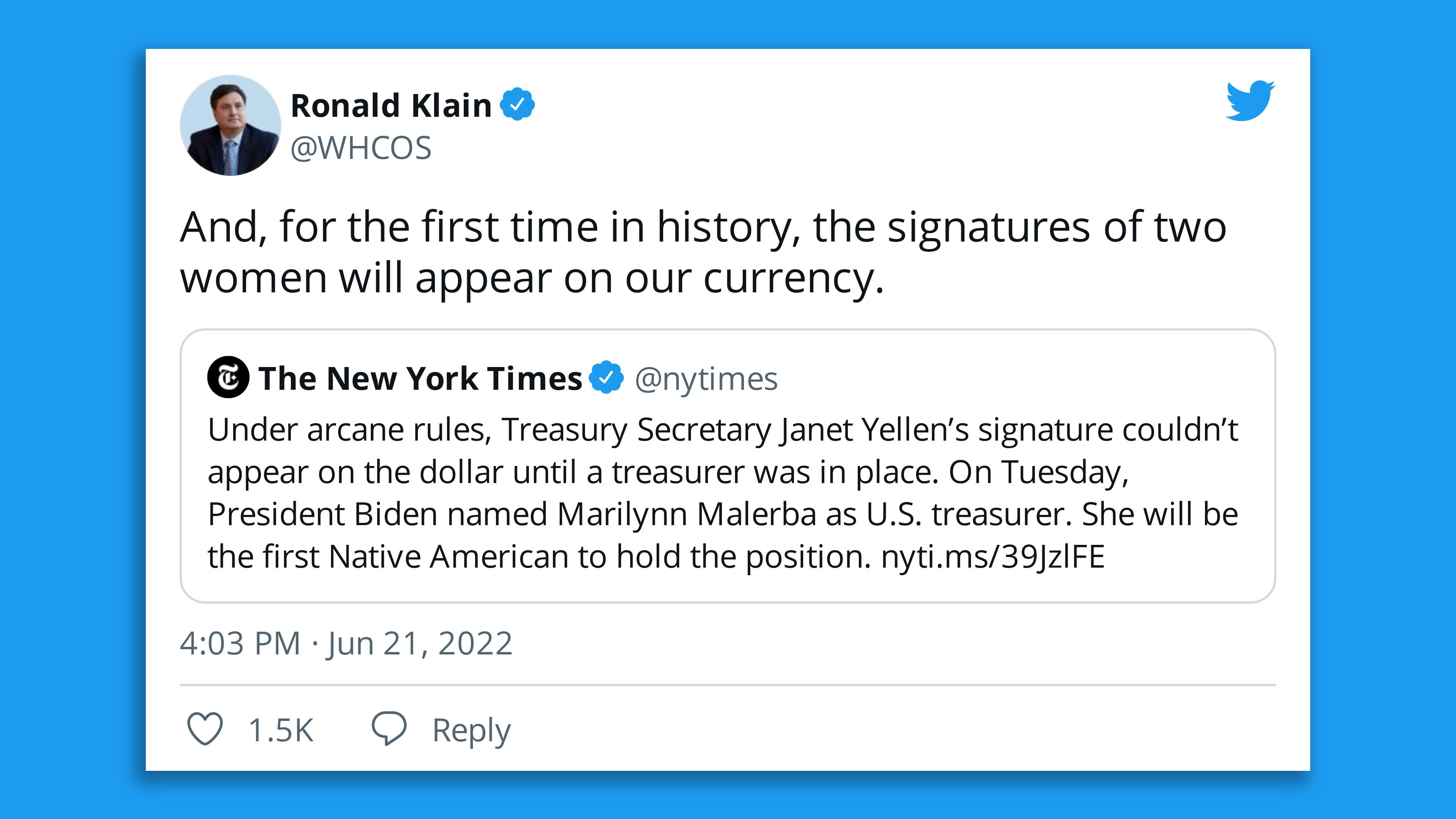 President Biden announced today he intends to appoint Marilynn Malerba as U.S. treasurer, making her the first Native American to hold the position.
📬 Thanks for reading! Send us feedback by replying to this newsletter or emailing us at [email protected]