Axios Sneak Peek
April 07, 2023
Welcome back to Sneak. Smart Brevity™ count: 1,022 words ... 4 minutes.
⚡Situational awareness: The Republican-led Tennessee House voted to expel one of three Democratic lawmakers who participated in gun control protests last week that brought the chamber to a halt.
1 big thing: Supreme Court fight reignites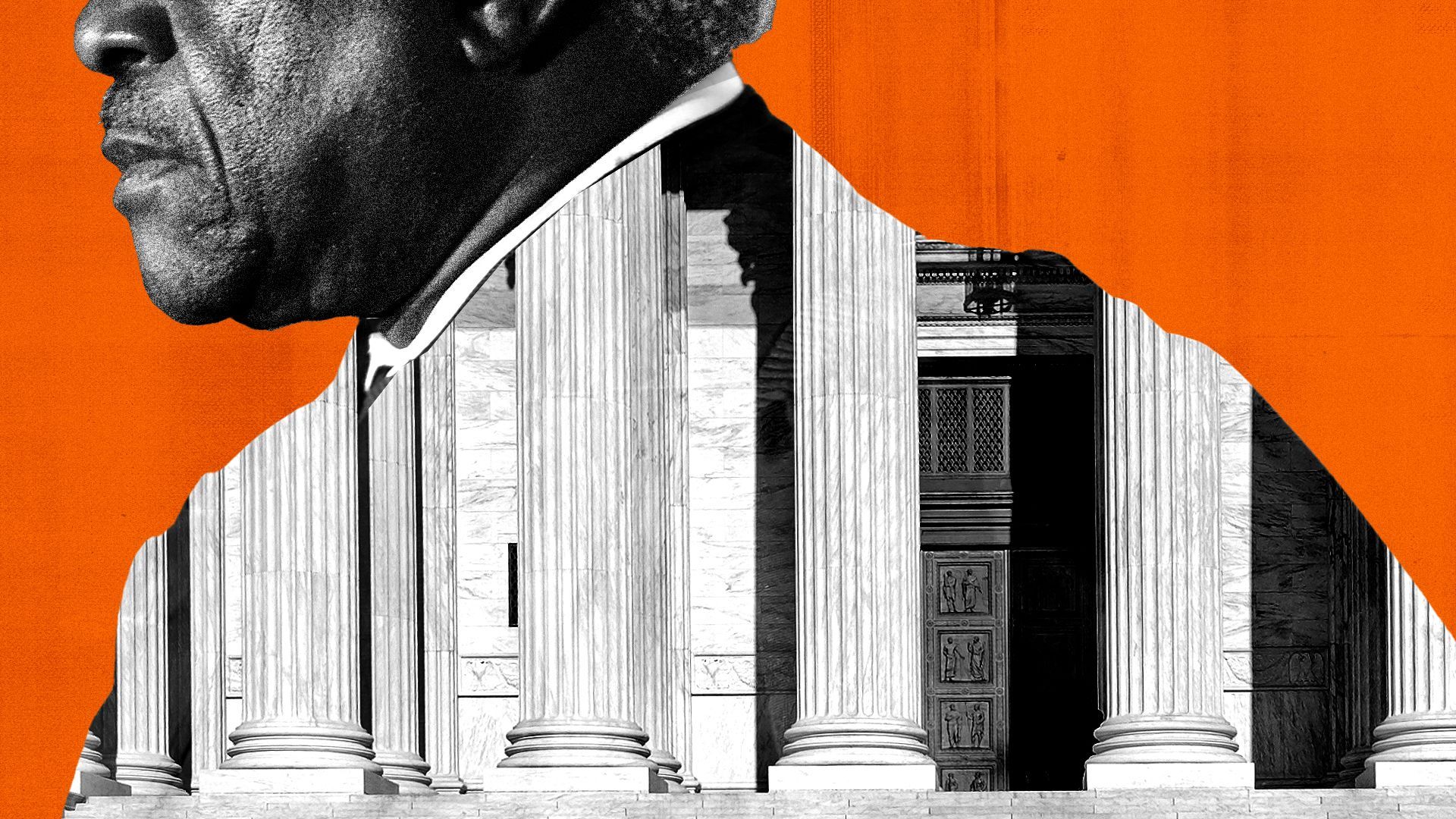 An explosive ProPublica investigation into Supreme Court Justice Clarence Thomas' ties to a billionaire GOP donor has triggered a furious response from Democrats, sparking calls for resignation, impeachment and sweeping reforms to the nation's highest court.
Driving the news: For more than two decades, the conservative justice has accepted luxury trips virtually every year from Dallas real estate magnate Harlan Crow without disclosing them, according to flight records, internal documents and interviews with staff.
Thomas and Crow are genuine friends, ProPublica reports, but the extent and frequency of the billionaire's gifts "have no known precedent in the modern history" of the Supreme Court.
By accepting the opulent trips on Crow's private jet and superyacht — and failing to report them on his financial disclosures — Thomas broke long-standing norms and potentially a post-Watergate ethics law.
Why it matters: The vast majority of Democrats already believe the Supreme Court is broken, unrepresentative of the views of most Americans, and captured by conservative and corporate interests.
That trend of distrust was accelerated by the overturning of Roe v. Wade last summer, a landmark decision that has transformed the political landscape.
A record-low 47% of Americans said they have "a great deal" or "a fair amount" of trust in the Supreme Court last year, down 20 points from 2020, according to Gallup polling.
Between the lines: Thomas, in particular, has become a top target of Democratic anger after it was revealed that his wife, conservative activist Ginni Thomas, participated in Trump-aligned efforts to overturn the 2020 election.
What we're hearing: Within hours of the report's publication, Sen. Dick Durbin (D-Ill.), chair of the Senate Judiciary Committee, referred to it as a "call to action" and promised his panel "will act."
Sen. Chris Van Hollen (D-Md.), a member of the Appropriations Committee, floated using the appropriations process to "ensure that the Supreme Court adopts a code of conduct."
Sen. Tina Smith (D-Minn.) revived a progressive call to "expand the court" — an idea that gained steam after Republicans quickly replaced the late Justice Ruth Bader Ginsburg in 2020, but which is opposed by President Biden.
Progressive Reps. Alexandria Ocasio-Cortez (D-N.Y.) and Rashida Tlaib (D-Mich.) called for Thomas to be impeached, while House Judiciary Committee member Rep. Hank Johnson (D-Ga.) suggested Thomas resign or be censured by his fellow justices.
Reality check: With Republicans in control of the House, any congressional action against the conservative jurist is likely to fall flat.
"Under Republican leadership, it's not going to happen, I'm afraid," Johnson told Axios of impeachment or congressional censure.
"Based on what I've seen so far from my House Republican colleagues, I think they're going to close their eyes, cover their ears and hope this goes away soon," Rep. Glenn Ivey (D-Md.), a House Judiciary member, told Axios.
2. 👀 McCarthy trashes GOP deputy, budget chief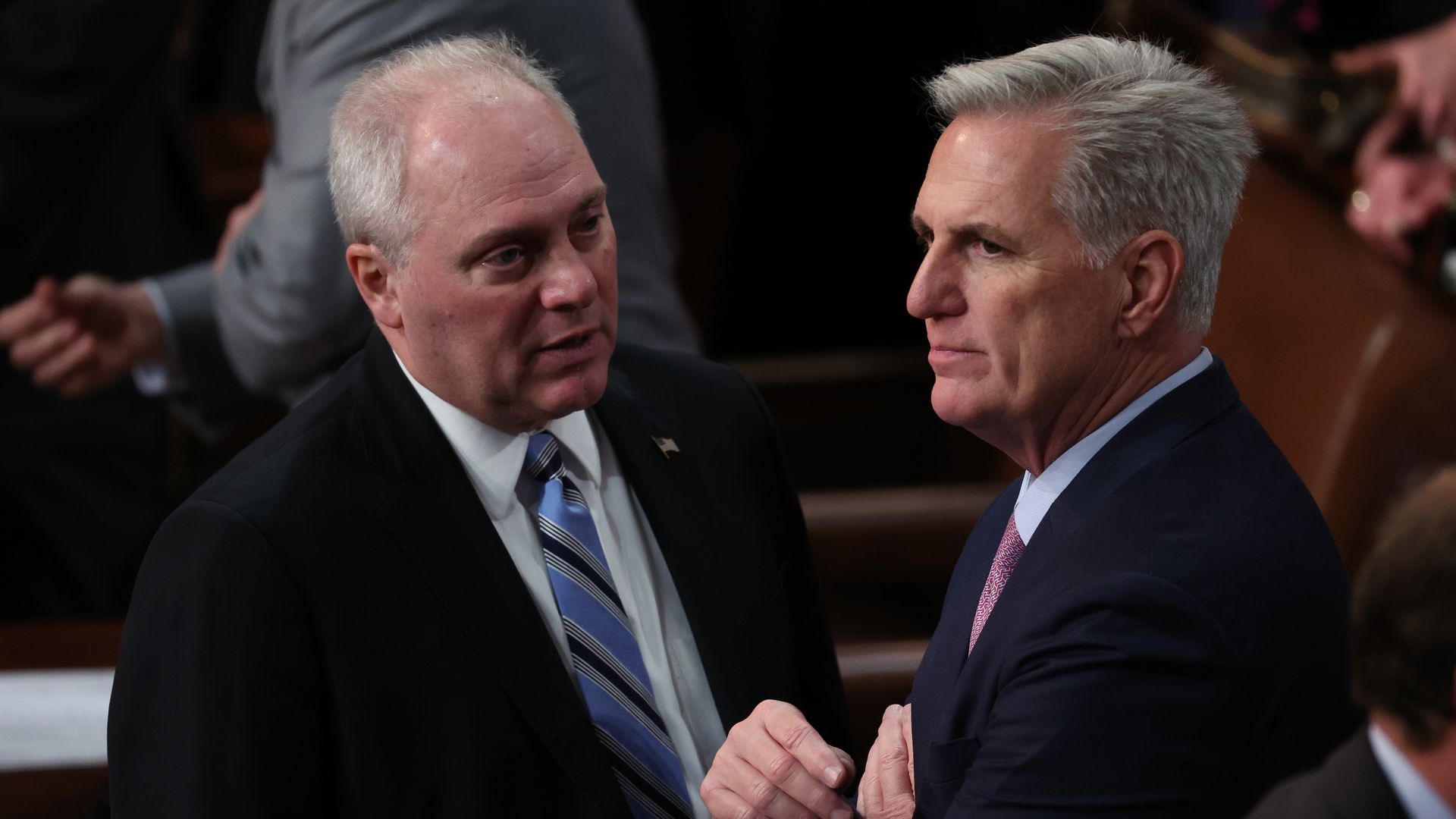 The New York Times' Jonathan Swan and Annie Karni are out with a newsy report exploring the "toxic dynamic" between House Speaker Kevin McCarthy (R-Calif.) and two of his top lieutenants: Majority Leader Steve Scalise (R-La.) and Budget Chair Jodey Arrington (R-Texas).
Why it matters: Congress is less than four months from a potentially catastrophic national debt default. Negotiations with the Biden administration are at a standstill, and fissures have erupted at the top echelons of House GOP leadership.
Driving the news: The Times reports that McCarthy views Scalise, whom Arrington privately floated as an alternative during the bitter speaker election, as unreliable, ineffective and reluctant to take a position on anything.
McCarthy privately has said he has no confidence in Arrington, mocking the budget chief's TV interviews and blasting him for floating dates for a budget rollout before Republicans had agreed on any substance.
The speaker has turned to loyalists instead of his leadership team for his most sensitive priorities, tapping Rep. Garret Graves (R-La.), for example, to lead debt ceiling negotiations with the conference's five ideological factions.
The intrigue: None of the players involved denied any of the specific episodes the Times reported. But McCarthy said "I flatly reject" the idea that there are divisions between him and his leadership team.
3. 🇦🇫 Biden blames Trump for Afghanistan debacle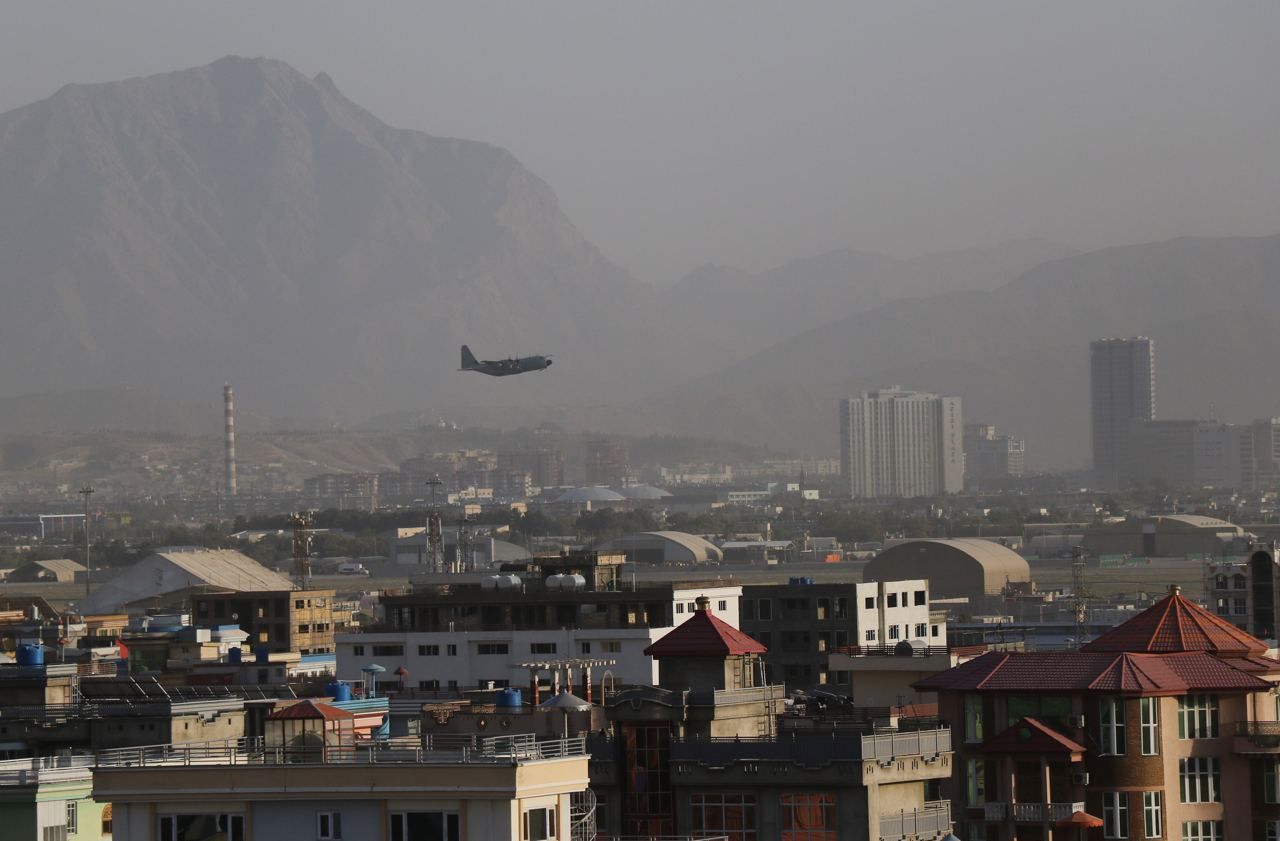 Following an extensive after-action review, the Biden administration has acknowledged its evacuations from Afghanistan after the Taliban's takeover in 2021 should have begun sooner, Axios' Stef Kight writes from a 12-page summary of the classified report.
But the report lays much of the blame for the rushed U.S. withdrawal on former President Trump — stating that Biden's choices were "severely constrained by conditions created by his predecessor."
Why it matters: Biden defended the withdrawal at the time as an "extraordinary success," despite the rapid collapse of the Afghan government and a suicide bombing that killed 13 U.S. service members at Kabul's airport.
The chaotic images and return of the Taliban's brutal regime led to bipartisan criticism and a decline in Biden's approval rating, from which he still has not recovered.
The Afghanistan withdrawal also has become a target of GOP-led congressional investigations.
4. 🗳️ Schiff's money machine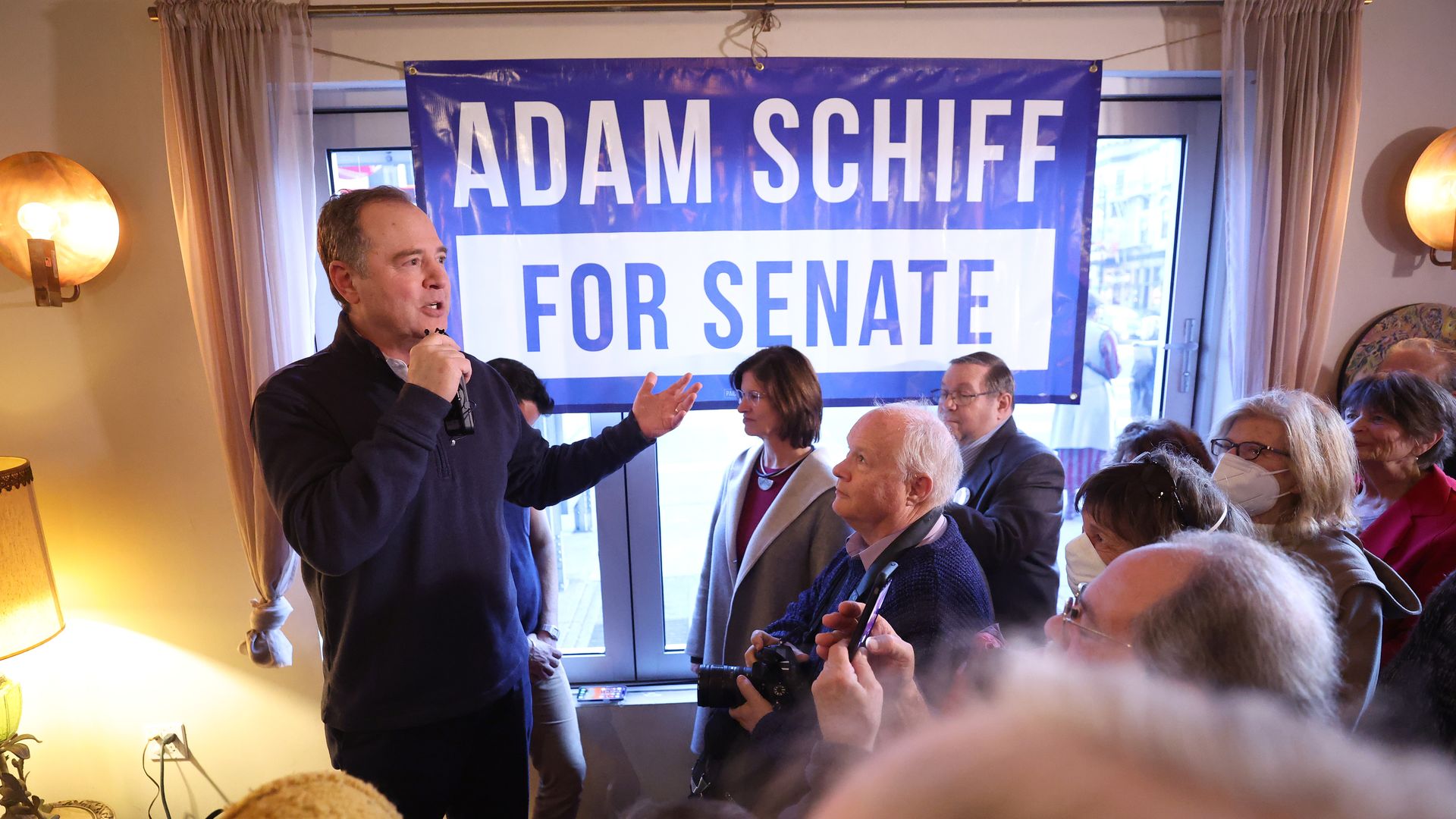 Rep. Adam Schiff (D-Calif.) raised $6.5 million in Q1 of 2023 — the most any Democrat has ever raised at this point in a Senate campaign.
Rep. Katie Porter (D-Calif.) raised $4.5 million, ahead of Rep. Barbara Lee ($1.4 million). Lee launched her campaign weeks after Democratic rivals.
Why it matters: The hotly contested California race is likely to be one of the most expensive elections in the country in 2024, as the candidates battle to replace retiring Sen. Dianne Feinstein in the deep-blue stronghold.
5. ⚖️ Visualized: Trump's prosecution web
For years leading up to Trump's arrest this week, many of his top associates have been ensnared by criminal investigations, indictments and convictions.
Several, including the hush money probe that led to Trump's indictment, were offshoots of the Russia investigation — viewed derisively by the former president as the "witch hunt" that started it all.
📬 Thanks for reading this week. This newsletter was copy edited by Kathie Bozanich.