Axios Sneak Peek
January 17, 2021
👋 Welcome back to Sneak Peek, anchored by Alayna Treene, Hans Nichols and Kadia Goba.
Today's newsletter — edited by Glen Johnson — is 1,278 words, a 5-minute read.
1 big thing ... "Off the rails," Ep. 3: Descent into madness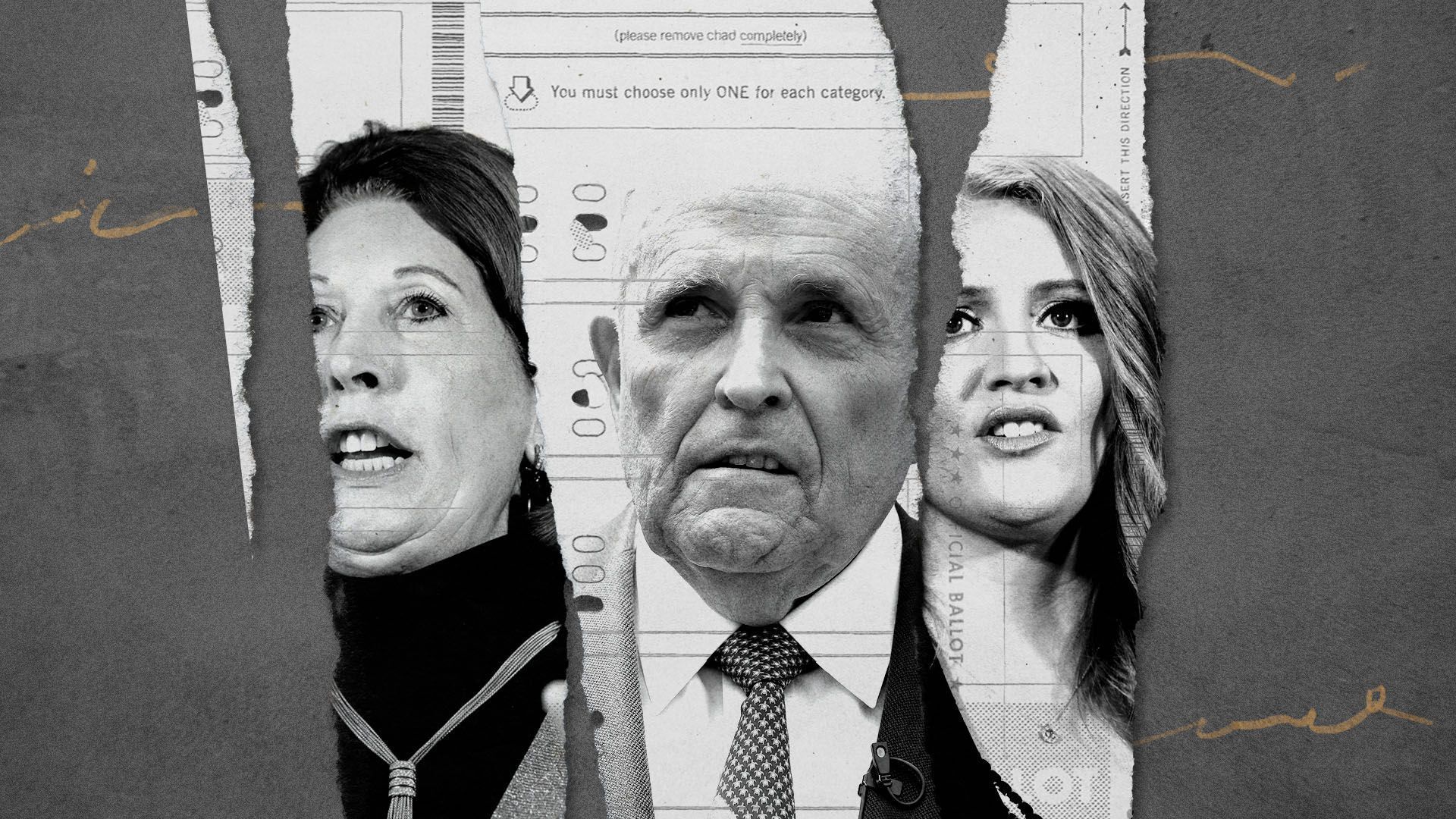 Beginning on election night and continuing through his final days in office, Donald Trump unraveled and dragged America with him, to the point that his followers sacked the U.S. Capitol. This Axios series by Jonathan Swan and Zachary Basu takes you inside the collapse of a president.
Episode 3: The conspiracy goes too far. Trump's outside lawyers plot to seize voting machines and spin theories about communists, spies and computer software.
President Trump was sitting in the Oval Office one day in late November when a call came in from lawyer Sidney Powell. "Ugh, Sidney," he told the staff in the room before he picked up. "She's getting a little crazy, isn't she? She's really gotta tone it down. No one believes this stuff. It's just too much."
He put the call on speakerphone for the benefit of his audience. Powell was raving about a national security crisis involving the Iranians flipping votes in battleground states. Trump pressed mute and laughed mockingly.
"So what are we gonna do about it, Sidney?" Trump would say every few seconds, whipping Powell more and more into a frenzy. He was having fun with it. "She really is crazy, huh?" he said, again with his finger on the mute button.
It was clear that Trump recognized how unhinged his outside legal advisers were. But he was becoming increasingly desperate about losing to Joe Biden, and Powell and her crew were willing to keep feeding the grand lie that the election could be overturned.
They were selling Trump a seductive but delusional vision: a clear and achievable path to victory.
The only catch: He'd have to stop listening to his government and campaign staffs, to cross the Rubicon and view them as liars, quitters and traitors.
Trump promoted Powell as part of his team, and even though he had privately admitted to aides that he thought she was "crazy," he still wanted to hear what she had to say.
"Sometimes you need a little crazy," Trump told one official.
2. Mainlining conspiracies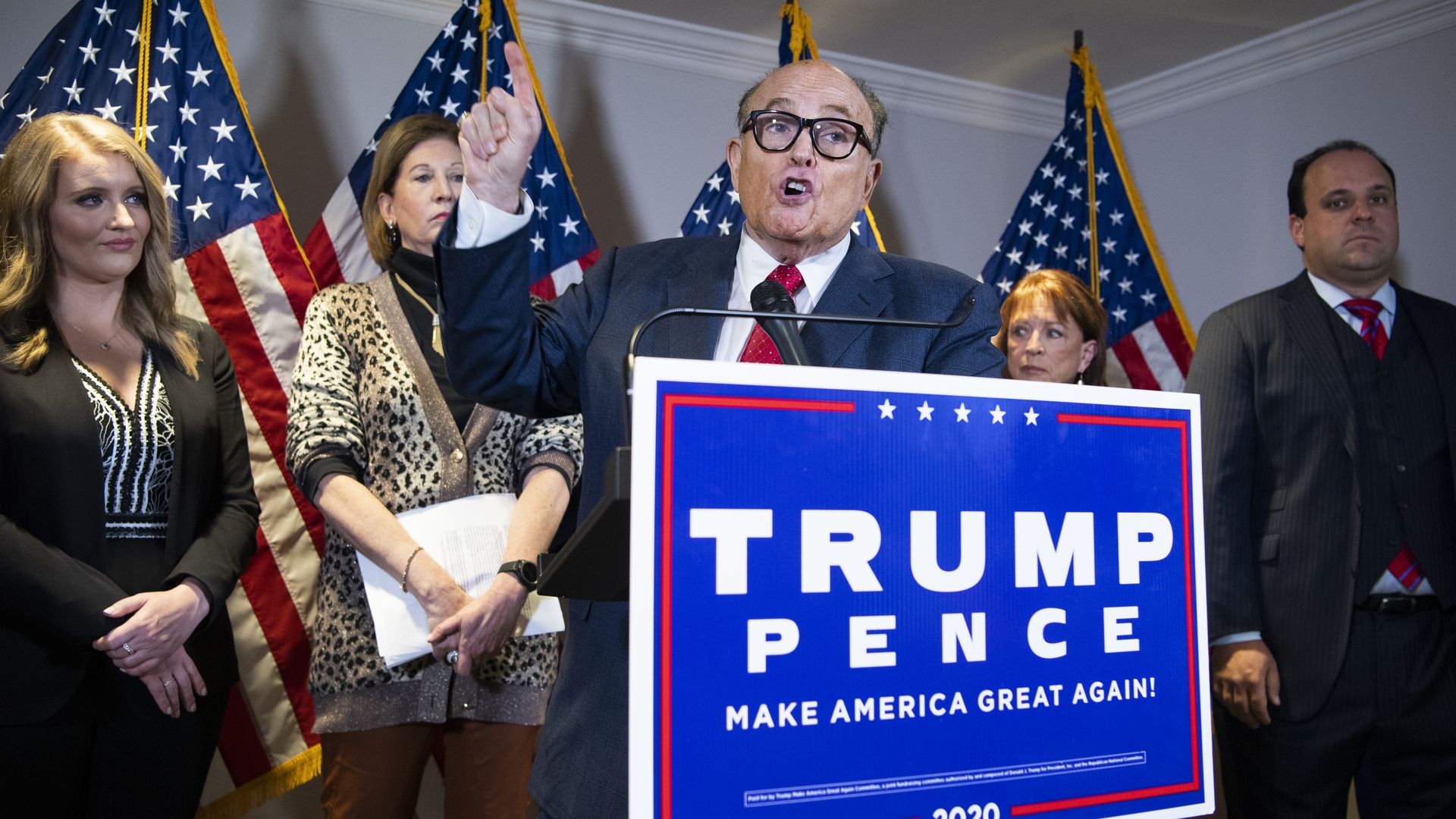 "Off the rails," Episode 3, continues:
Sidney Powell and Michael Flynn, the former national security adviser Trump had fired and then pardoned, told Trump he couldn't trust his team.
That appealed to a paranoid mentality that always lurked beneath his surface: The FBI was corrupt. His CIA was working against him, and his intelligence community was, too. Why else weren't they showing him the evidence that China, Venezuela, Iran and various other communists had stolen his election win?
Powell and Flynn sent Trump advisers documents they said contained the evidence of this far-reaching conspiracy. To the White House staff, it was gibberish — the rantings of a QAnon devotee.
But these documents — perhaps the most deranged materials to reach a modern U.S. president — found their way to the West Wing.
According to documents obtained by Axios, Powell and her crew advised Trump that a foreign conspiracy to steal the election involved a coordinated cyberwarfare attack from China, Russia, Iran, Iraq and North Korea.
By this point, Trump was mainlining conspiracies. Many of his longest-serving advisers had all but given up trying to reason with him.
His son-in-law, Jared Kushner, who'd been billed by Newsweek as the most influential presidential relative since Bobby Kennedy, receded from the discussions when it came to countering the crazies.
This frustrated some of his colleagues. Serious intervention was required on the domestic front.
Whether Trump was still in charge, or had ceded decision-making to the bottom feeders, was at least an open question.
Go deeper: Read the fly-on-the wall episodes in the Axios stream.
🎧 Listen to Jonathan Swan on Axios' new investigative podcast series, "How it happened: Trump's last stand."
3. The dark new reality in Congress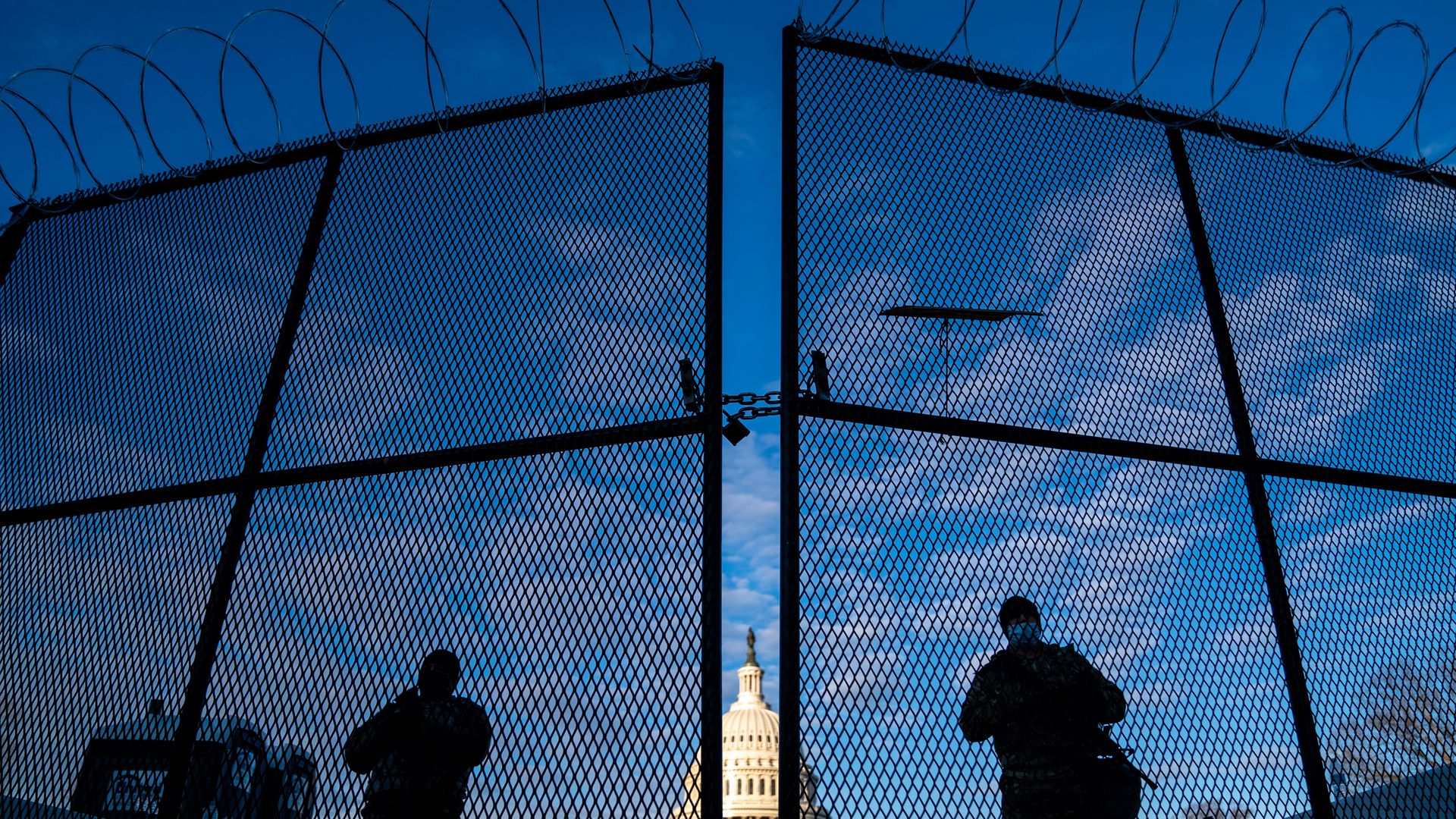 The Capitol is more secure but lawmakers are on edge and harbor concerns, Kadia Goba reports. This is how bad things are for elected officials and others working in a post-insurrection Congress:
Rep. Norma Torres (D-Calif.) said she had a panic attack while grocery shopping back home.
Rep. Jim McGovern (D-Mass.) said police may also have to be at his constituent meetings.
Rep. Adam Kinzinger (R-Ill.) told a podcaster he brought a gun to his office on Capitol Hill on Jan. 6 because he anticipated trouble with the proceedings that day.
Lawmakers aren't alone — congressional reporters were sharing tips over the weekend about the best place to buy helmets, body armor and gas masks, so they could cover the inauguration.
The consensus was Full Metal Jacket, a shop on South Dove Street in Alexandria, Virginia.
4. 💵 💵 Convicts turn to D.C. fixers for Trump pardons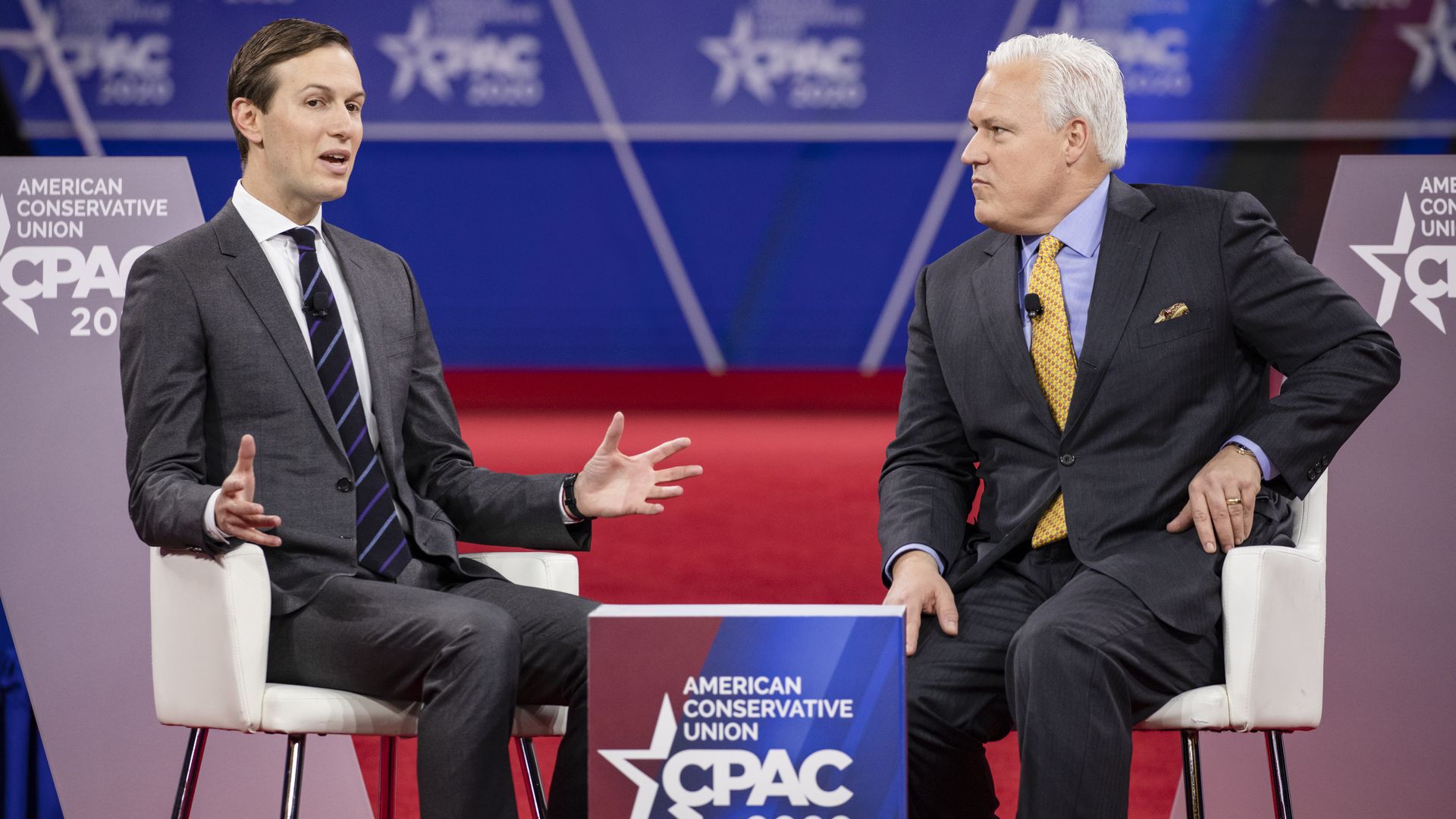 A flood of convicted criminals has retained lobbyists since November's presidential election to press Trump for pardons or commutations before he leaves office, Axios' Lachlan Markay reports.
What we're hearing: Among them is Nickie Lum Davis, a Hawaii woman who pleaded guilty last year to abetting an illicit foreign lobbying campaign on behalf of fugitive Malaysian businessman Jho Low. Trump confidant Matt Schlapp also is seeking a pardon for a former biopharmaceutical executive convicted of fraud less than two months ago.
Why it matters: With little in the way of remaining political capital, nullifying or curtailing sentences is one of the few official actions Trump still has at his disposal. And influence industry professionals have worked to ingratiate themselves with him to win clemency for paying clients.
Since November, at least 10 federal criminals have retained lobbyists whose description of their work in disclosure records included "pardon," "commutation" or "clemency."
5. "Field of Flags" takes root for Biden inaugural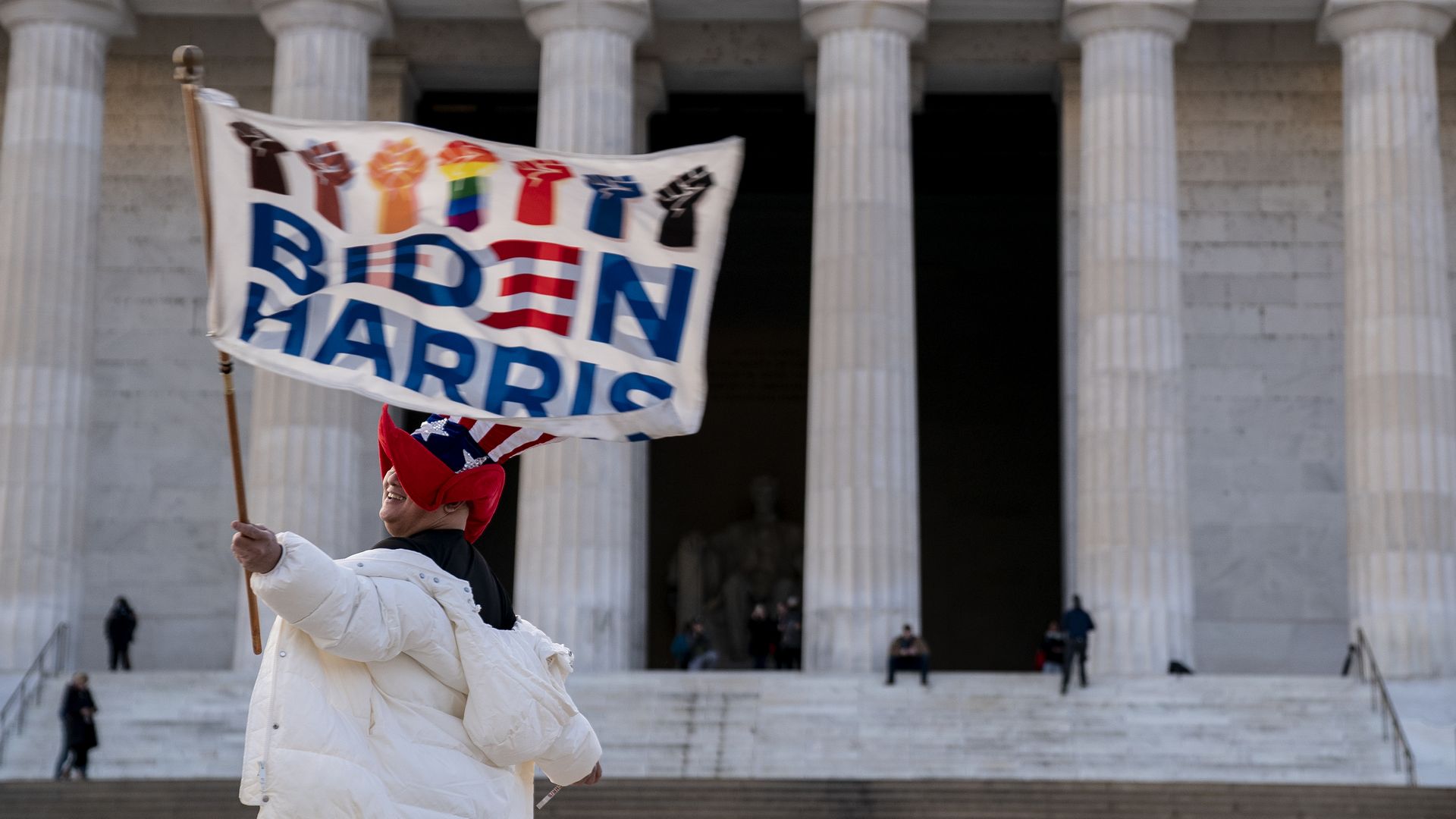 While most in the public can't travel to Joe Biden's inauguration, the Presidential Inaugural Committee will remember them Monday with an artistic 56 pillars of light illuminated on the National Mall, Axios' Glen Johnson reports.
The pillars represent all 50 states and U.S. territories. They're part of a large public art display that will include nearly 200,000 flags.
What they're saying: "The 'Field of Flags' represents the American people who are unable to travel to Washington and reflect the PIC's commitment to an inclusive and safe event that everyone can enjoy from their home," the committee said in a statement.
The lighting will take about 46 seconds, commemorating Biden's distinction as the 46th president of the United States.
6. Data: Congress holding back Biden Cabinet
Just five of Biden's Cabinet nominees are slated to have Senate confirmation hearings before Inauguration Day — far fewer than most recent presidents-elect, according to data from the U.S. Senate analyzed by Stef.
George H. W. Bush had only two nominees receive hearings before his inauguration in 1989.
The five hearings scheduled Tuesday for Biden — for State, Defense, Homeland Security, National Intelligence and Treasury — point to the importance of maintaining national security and economic confidence.
7. Sneak Peek Diary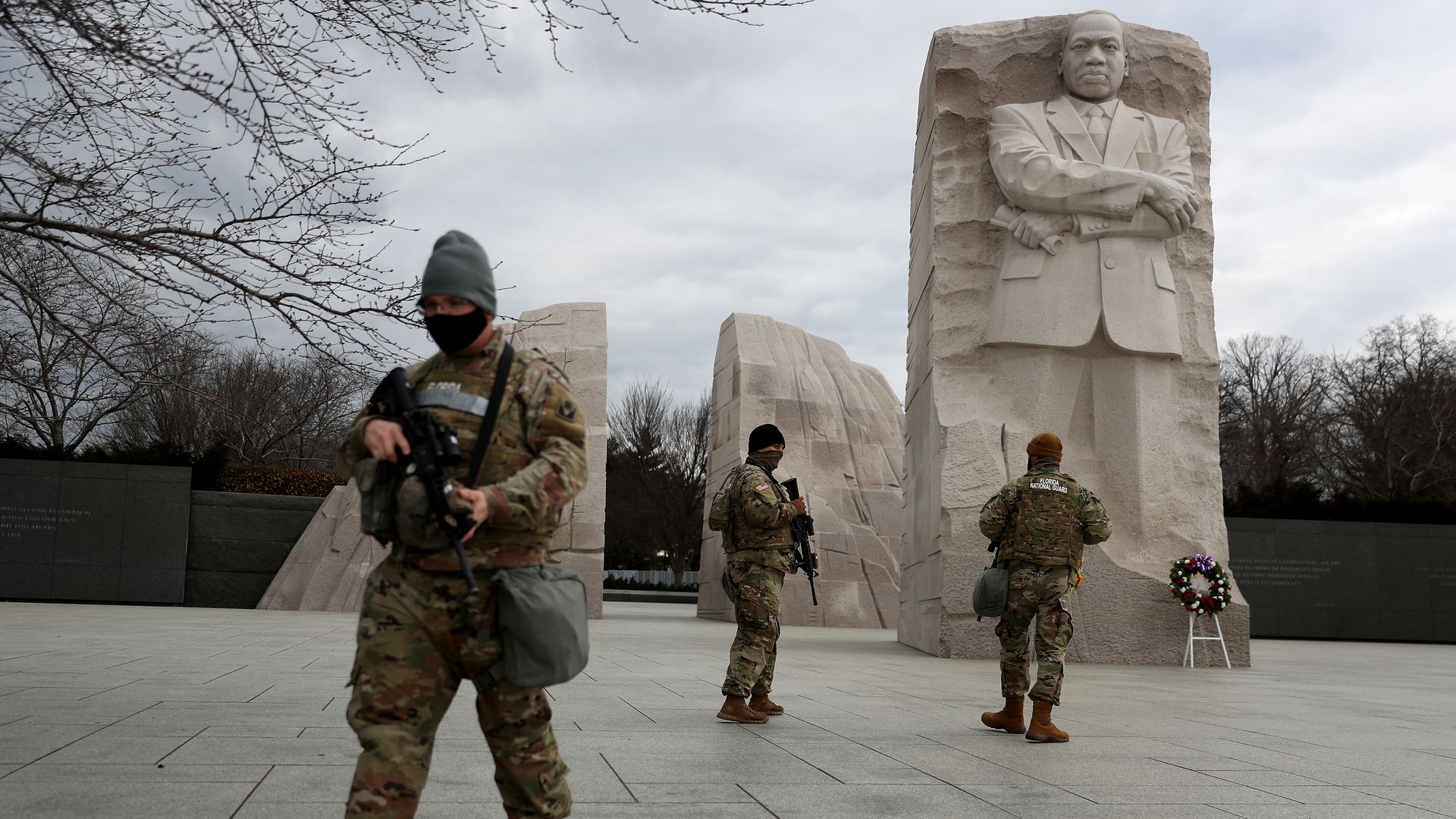 Biden will be sworn in as president of the United States at noon ET on Wednesday.
The House returns from recess Thursday.
The Senate returns from recess on Tuesday.
President Trump will leave Washington for Florida on Wednesday morning.
Vice President Mike Pence will attend the inauguration.
8. Raskin: Suicide "permanent answer to a temporary condition"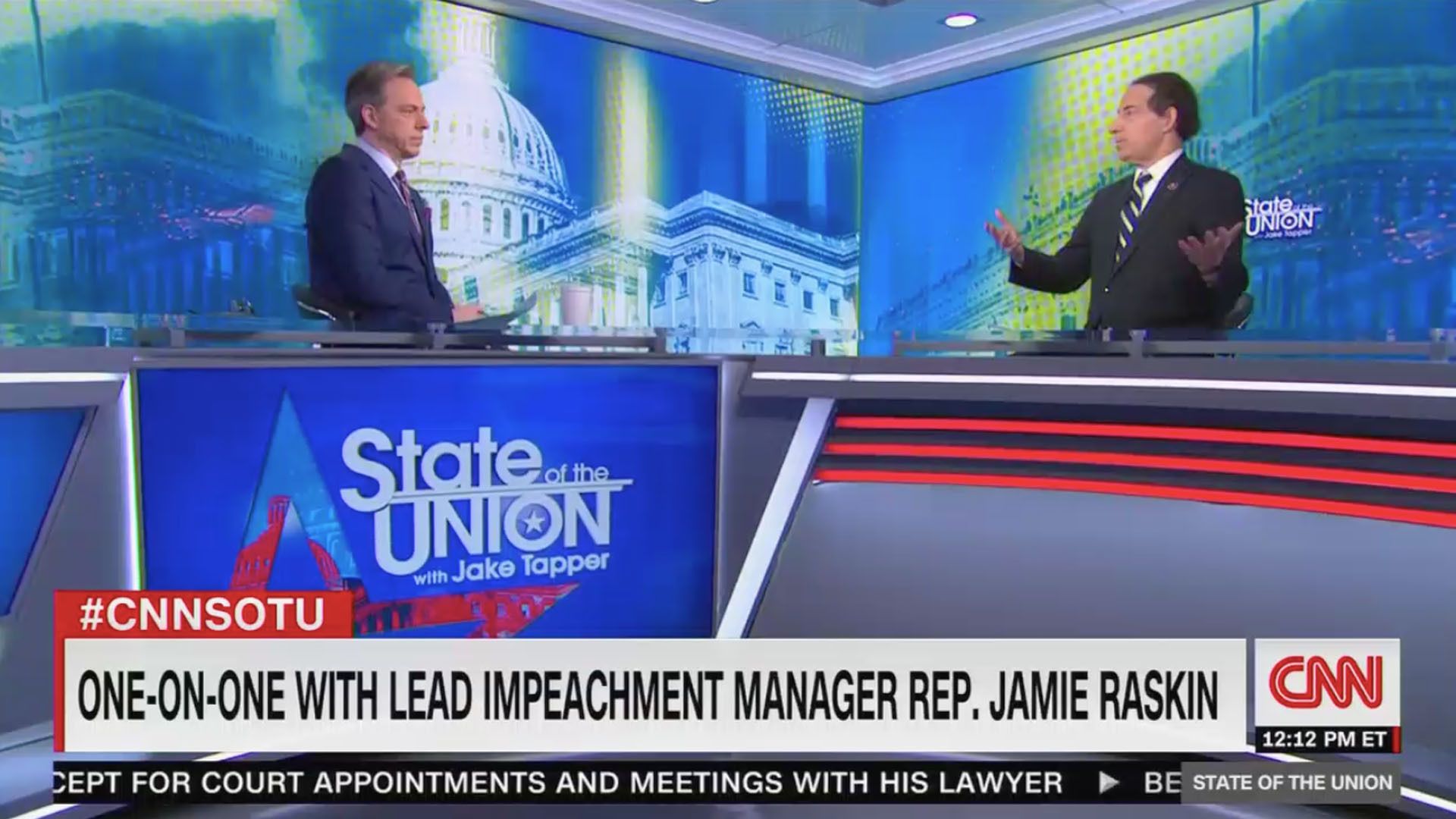 Rep. Jamie Raskin (D-Md.) opened up today about the death of his 25-year-old son, saying suicide is "a permanent answer to a temporary condition" and he hopes he can help other Americans avoid feeling or causing the pain felt by his son Tommy, Glen writes.
What they're saying: Appearing on CNN's "State of the Union With Jake Tapper," Raskin acknowledged he's not a medical expert but said to those contemplating suicide: "You must speak to people in your family. You must speak to your doctor. You must call 911, if you're alone and that's necessary. Don't go down that road."
Tommy Raskin was a second-year student at Harvard Law School when he died by suicide on Dec. 31. His parents later wrote about their son's battle with depression in an essay also celebrating his sunny disposition, devotion to others and the horrific note he left behind. It said, "My illness won today."
Today, Jamie Raskin is serving as an impeachment manager. The veteran constitutional law teacher will prosecute the case as a manager.
Raskin told Tapper he felt compelled to address the "insurrection tailgate party" on Jan. 6 because it was vital to maintaining democracy.
"I'm not going to lose my son at the end of 2020 and lose my country and my Republic in 2021," he said.
☎️ You can reach the National Suicide Prevention Lifeline at 800-273-8255.
🙇 Thanks for getting a line on this busy week from us. We'll be off tomorrow to mark the federal holiday but back Tuesday night. Remember, you can always sign up for Sneak here.