January 25, 2023
Welcome back to Sneak. Smart Brevity™ count: 1,060 words ... 4 minutes.
📅 Join Axios' Eugene Scott and Alexi McCammond on Wednesday, Feb. 1, at 8am ET in Washington, D.C., for a News Shapers event featuring Rep. Nanette Barragán (D-Calif.), Rep. Jim Clyburn (D-S.C.), Sen. Thom Tillis (R-N.C.), and Rep. Nancy Mace (R-S.C.). Register here to attend in person.
1 big thing: Pence rains on GOP parade
The discovery of classified documents at former Vice President Mike Pence's Indiana home has thrown yet another wrench in a bizarre saga that has now ensnared three of the top candidates for president in 2024.
Why it matters: Politically, this makes things a lot more complicated for the Republicans eager to weaponize President Biden's mishandling of classified documents.
Legally, it raises questions about over-classification — a long-running gripe from transparency advocates — as well as exactly how common this type of negligence is at the highest levels of government.
"We have an epidemic of senior leaders taking classified [documents] home. And we have to say categorically, whether it's Republican or Democrat, it's all wrong," Rep. Don Bacon (R-Neb.) told NBC News, expressing support for a third special counsel to investigate Pence.
Zoom in: House Oversight Chairman James Comer (R-Ky.) — who launched an investigation the day after the Biden documents were disclosed, blasting the president for "potentially violating the law" — is now facing a credibility test.
Comer issued a statement today praising Pence for his transparency, saying he reached out to the committee and pledged full cooperation.
Other Republicans are likely to adopt a similar defense, attempting to draw a contrast between the way Biden and Pence disclosed the discoveries.
But some have put themselves in the awkward position of previously attacking the underlying conduct that both VPs — as it currently stands — appear to have engaged in.
Rep. Marjorie Taylor Greene (R-Ga.), a new member of the Oversight Committee, said on Fox News on Jan. 9 that Biden "conceivably stole those documents" and did not have the power to declassify information as vice president.
Even Pence himself has criticized Biden for the act of taking classified documents, calling it "a very serious matter" and insisting that he took no such materials after the Trump administration ended.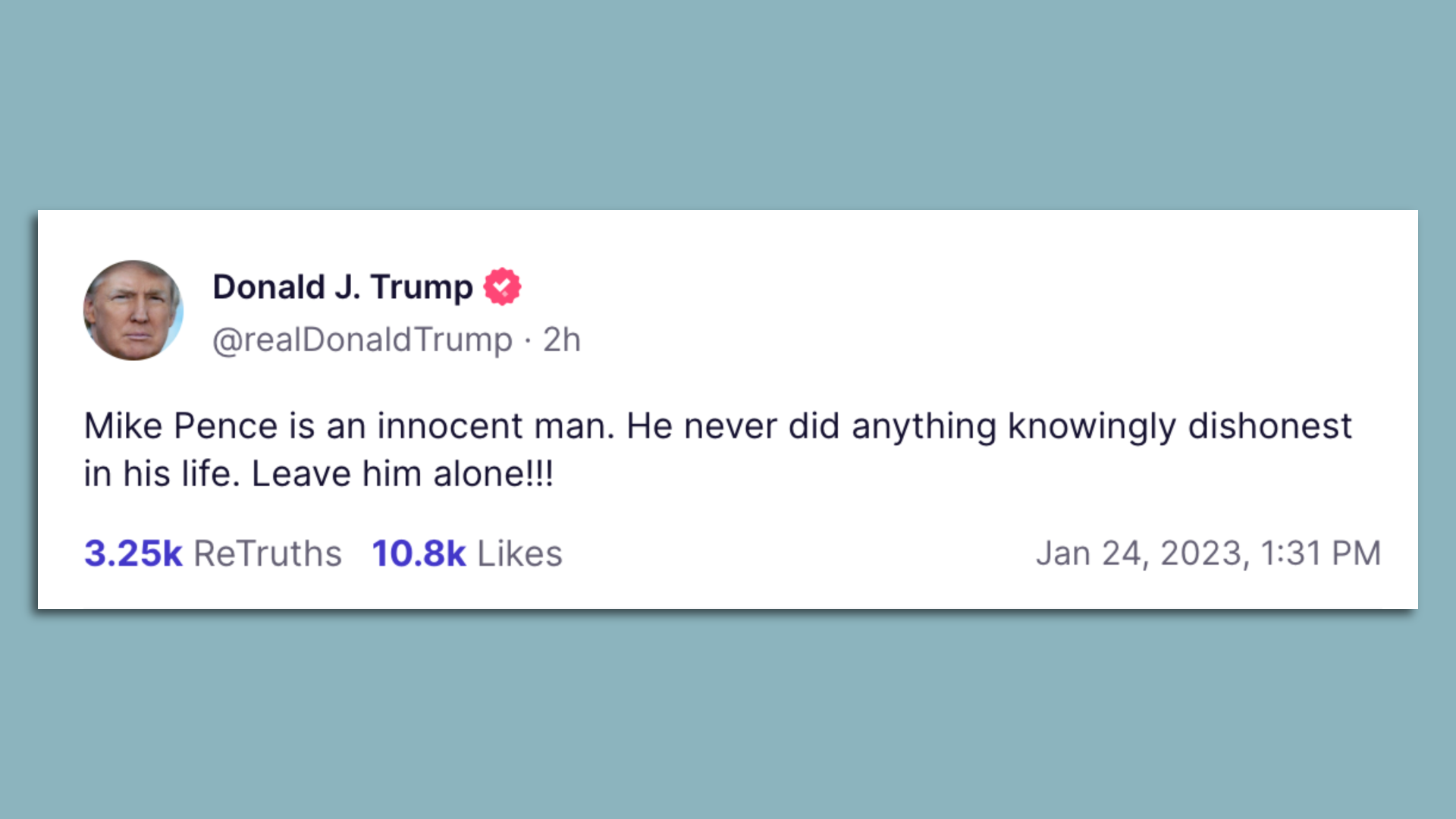 Between the lines: CNN reports that former President Trump's legal team views the discovery of the Pence documents as a positive development that could make it more difficult for the Justice Department to bring charges, citing linkage in the three cases.
But many legal experts say the opposite: Both Biden and Pence immediately contacted the National Archives and cooperated with the FBI after the documents were found.
Trump, on the other hand, is accused of failing to turn documents over for more than a year — even after facing a grand jury subpoena.
That distinction, which led to the FBI search of Mar-a-Lago, may further pave the way for the obstruction of justice charges already at the heart of the Trump investigation.
Editor's note: This story was corrected to note that Comer launched his investigation the day after the Biden documents were disclosed, not the day after they were found.
2. 🔥 Dems' fragile firewall
Initial Senate ratings from two of the industry's top forecasters — both released today — paint a brutal picture of the electoral landscape Democrats are facing in 2024.
Cook Political Report rates eight out of 20 Democratic-held Senate seats as competitive, with three toss-ups: Arizona, Ohio and West Virginia. Just one GOP seat — held by Florida Sen. Rick Scott — is viewed as remotely competitive but still sits in the "likely Republican" column.
Sabato's Crystal Ball sees an even worse map for Democrats, rating Sen. Joe Manchin's West Virginia seat as "lean Republican" and Sen. Jon Tester's Montana seat as a toss-up (in addition to Arizona and Ohio). Texas Sen. Ted Cruz's seat joins Florida in the "likely Republican" column for long-shot Democratic pickups.
Why it matters: Democrats are on defense virtually everywhere, and there's a good chance the landscape gets even worse in the coming months.
Manchin — who transforms from Democratic irritant to savior in election years — has yet to make a decision on whether he's running.
The same goes for Tester, who is expected to make an announcement as early as next month.
In Arizona, Sen. Kyrsten Sinema (I-Ariz.) could split the Democratic vote if she chooses to run against Rep. Ruben Gallego (D-Ariz.) or another challenger from her former party.
The bottom line: A great Democratic year could realistically see Biden win re-election, Democrats flip the House and Republicans take the Senate just by virtue of the brutal 2024 map.
3. 📈 Trump claws back
Trump is launching his comeback tour in New Hampshire and South Carolina this weekend with something his campaign has severely lacked arguably for the last two years: momentum.
What's happening: A trio of national polls released this month all show Trump holds a double-digit lead over Florida Gov. Ron DeSantis in a hypothetical GOP primary — reversing a slide that began after Republicans' disappointing performance in the midterms.
The "Lazarus of presidential politics," as Axios' Josh Kraushaar describes him, is even leading Biden in a head-to-head matchup in two of the three polls (Emerson College and Harvard-CAPS/Harris).
In South Carolina, where Trump will rally on Saturday, the former president has secured the endorsements of Sen. Lindsey Graham (R-S.C.) and Gov. Henry McMaster — even with former Gov. Nikki Haley and Sen. Tim Scott (R-S.C.) eyeing their own bids.
Between the lines: Trump's polling bump has coincided with a relatively quiet news period for the former president, after his November dinner with white nationalist Nick Fuentes damaged his fledgling comeback bid. Don't expect that to last.
4. 💪 McCarthy's committee power play
House Speaker Kevin McCarthy (R-Calif.) named 12 Republicans to the new Select Subcommittee on the Weaponization of the Federal Government, leaving only three spots for Democrats to fill — if they so choose — on the 15-member panel.
He also sent a letter tonight formally blocking Reps. Eric Swalwell (D-Calif.) and Adam Schiff (D-Calif.) from serving on the House Intelligence Committee.
The big picture: House Republicans say they want their investigative committees to be credible and substantive, but Democrats say their actions so far are undermining those claims.
House Oversight Chair James Comer (R-Ky.) says he's excited about the additions of firebrand Reps. Marjorie Taylor Greene, Paul Gosar and Lauren Boebert, telling Axios' Stef Kight "it's probably the most exciting committee" in congressional history.
5. 🐦 Tweet du jour
📬 Thanks for reading. This newsletter was edited by Zachary Basu and copy edited by Kathie Bozanich.