June 19, 2022
☀️ Welcome back to Sneak, and happy Father's Day. Smart Brevity™ count: 1,032 words ... 4 minutes.
⚡ Situational awareness: The Jan. 6 committee will show evidence at its hearing on Tuesday of former President Trump's involvement in the scheme to submit a fake slate of electors in battleground states he lost, Rep. Adam Schiff (D-Calif.) told CNN's "State of the Union."
1 big thing: Top cops' corporate cash cow
A rising organization of state attorneys general is drawing criticism for courting sponsorships for lavish conferences and foreign junkets from a stable of lobbyists and corporate patrons, Axios' Lachlan Markay reports.
Why it matters: State AGs have immense influence over public safety and consumer decisions with huge financial implications for corporate America.
Some companies are ponying up tens of thousands of dollars to get exclusive access to officials who might one day be asked to investigate or prosecute them.
Driving the news: Chris Toth, who stepped down as executive director of the National Association of Attorneys General on June 1, contended in his retirement letter that the AG Alliance — a competitor — is selling access to lobbyists and corporate patrons.
The AGA, which began as the Conference of Western Attorneys General, has grown from a regional group to one that represents AGs in 45 states, four U.S. territories and the District of Columbia.
The AGA "seems to exist for no other reason than to provide access by such actors to attorneys general" at regular meetings, where donors "essentially buy programming," Toth alleged in his letter.
Between the lines: AGA includes attorneys general from both major parties, but its influence has swelled in recent years as some Republican AGs — including in Alabama, Missouri, Montana and Texas — severed ties with NAAG over what they described as a leftward drift.
Texas AG Ken Paxton spoke at last week's AGA meeting. His panel on "evolving litigation trends" examined how "attorneys general and businesses can navigate these issues together."
It was one of a number of panels that brought together state AGs and executives at companies that support AGA financially.
Zoom in: Financial filings from the Conference of Western Attorneys General, which says it formed AGA to expand its mission beyond Western states, show a deep reliance on donor funds.
Access to AGA meetings, where company executives can meet state AGs and discuss major policy issues, is available only to the organization's donors, according to an internal report obtained by Axios.
Sources familiar with both AGA's and NAAG's work say the former has developed a reputation in AGs' offices as a more opulent competitor known to wine and dine state officials and their staffers.
The intrigue: In response to a request for comment, the AGA referred Axios to a statement from NAAG's president, Iowa AG Tom Miller, who distanced his own group from Toth's remarks.
"They were his statements alone and they were not made on behalf of NAAG," Miller said. "Both [AGA and NAAG] play important roles in supporting our nation's attorneys general, and our constituents benefit from the organizations' ongoing growth and strength."
2. 📉 New tagline: "Recession is not inevitable"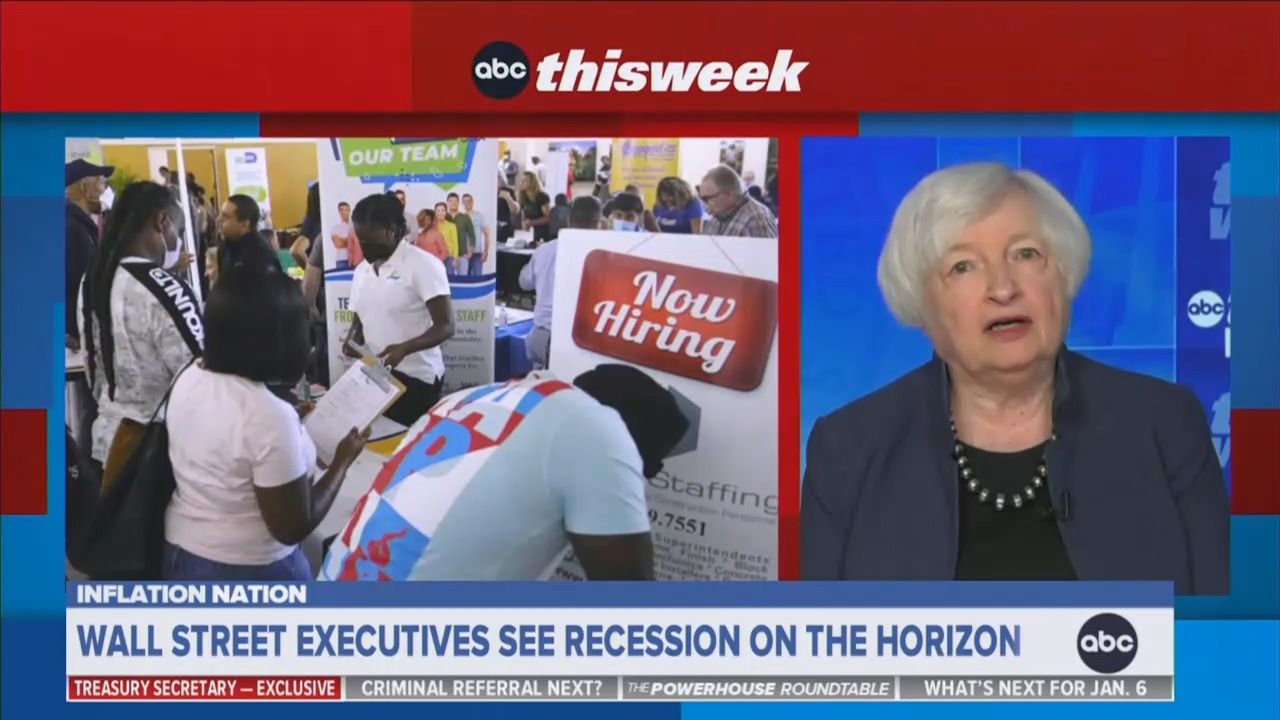 Three top Biden officials separately insisted today that a recession is "not inevitable," echoing a new position President Biden articulated in an interview with AP on Friday.
Why it matters: Treasury Secretary Janet Yellen, Energy Secretary Jennifer Granholm and National Economic Council director Brian Deese each used their Sunday show appearances to try to tamp down economic pessimism, days after the Fed slammed the brakes with its largest rate hike since 1994.
What they're saying: Yellen, who admitted last month she was "wrong" about the course inflation would take, said on ABC's "This Week" she expects the economy to "transition to slow and steady growth" in the coming months.
"We've had high inflation in the first half of this year and that locks in high inflation really for the entire year," Yellen warned, calling prices "unacceptably high."
"But I do expect in the months ahead that the pace of inflation is likely to come down, although remember there are so many uncertainties relating to global developments."
⛽ What to watch: Yellen and Granholm both said Biden is considering a gas tax holiday as one tool to ease the burden of high energy prices.
As Axios previously reported, Biden is also expected to make a decision on lifting some of the Trump-era tariffs on Chinese goods in the coming weeks.
3. 📈 Charted: Another border record
Border Patrol agents set an all-time monthly record in May with nearly 223,000 migrant apprehensions at the southwest border, according to new U.S. Customs and Border Protection data.
What's happening: Sustained Mexican migration, new flows from farther-flung nations like Ukraine and an increase in multiple attempted crossings are contributing to the unprecedented figures, Axios' Stef Kight writes.
By the numbers: With four months left, border officials have processed migrants 1.5 million times this fiscal year — putting the government on track to surpass last year's record high.
Migrants have now been rapidly expelled more than 2 million times since the Trump administration enacted the controversial Title 42 policy in March 2020 over COVID-19 public health concerns.
4. 👑 Kingmaker's '24 take
House Majority Whip Jim Clyburn (D-S.C.), who is widely credited with saving Biden's struggling 2020 campaign by endorsing him ahead of the South Carolina primary, says he'll back Vice President Kamala Harris in 2024 if Biden doesn't run again.
"Right now, I'm for Biden, and second I'm for Harris — that's one and two on the ticket, but that's one and two in my heart as well," Clyburn told the Wall Street Journal.
"So I don't care who goes to New Hampshire or Iowa, I'm for Biden and then I'm for Harris — either together or in that order."
👀 Meanwhile, Sen. Bernie Sanders (I-Vt.) — who said last week he would not run against Biden in 2024 — refused to rule out a primary challenge against Harris.
Editor's note: This story has been updated to credit the Wall Street Journal for the Clyburn interview.
5. Tweet du jour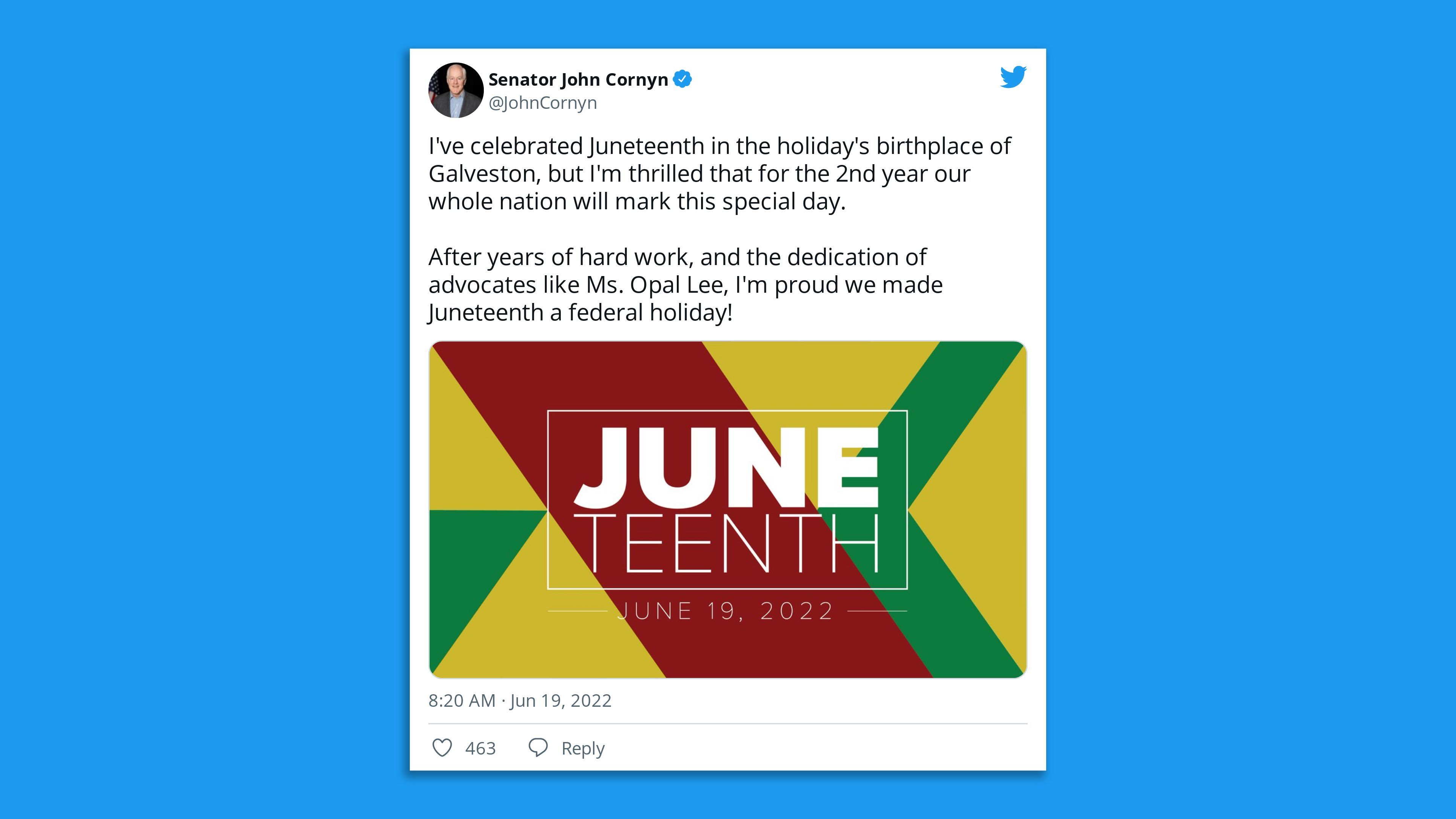 Sen. John Cornyn (R-Texas), who was booed at Friday's Texas GOP convention over his handling of bipartisan gun negotiations, today commemorated another bipartisan achievement: his bill to make Juneteenth a federal holiday, which President Biden signed last year.
📬 Thanks for reading! We're off tomorrow for Juneteenth but will be back in your inbox on Tuesday.