Axios Sneak Peek
June 18, 2021
Welcome back to Sneak. It's official: June 19 will now be federally recognized as "Juneteenth."
Smart Brevity™ count: 1,276 words ... 5 minutes. Edited by Glen Johnson.
1 big thing: Fed chief's second-term audition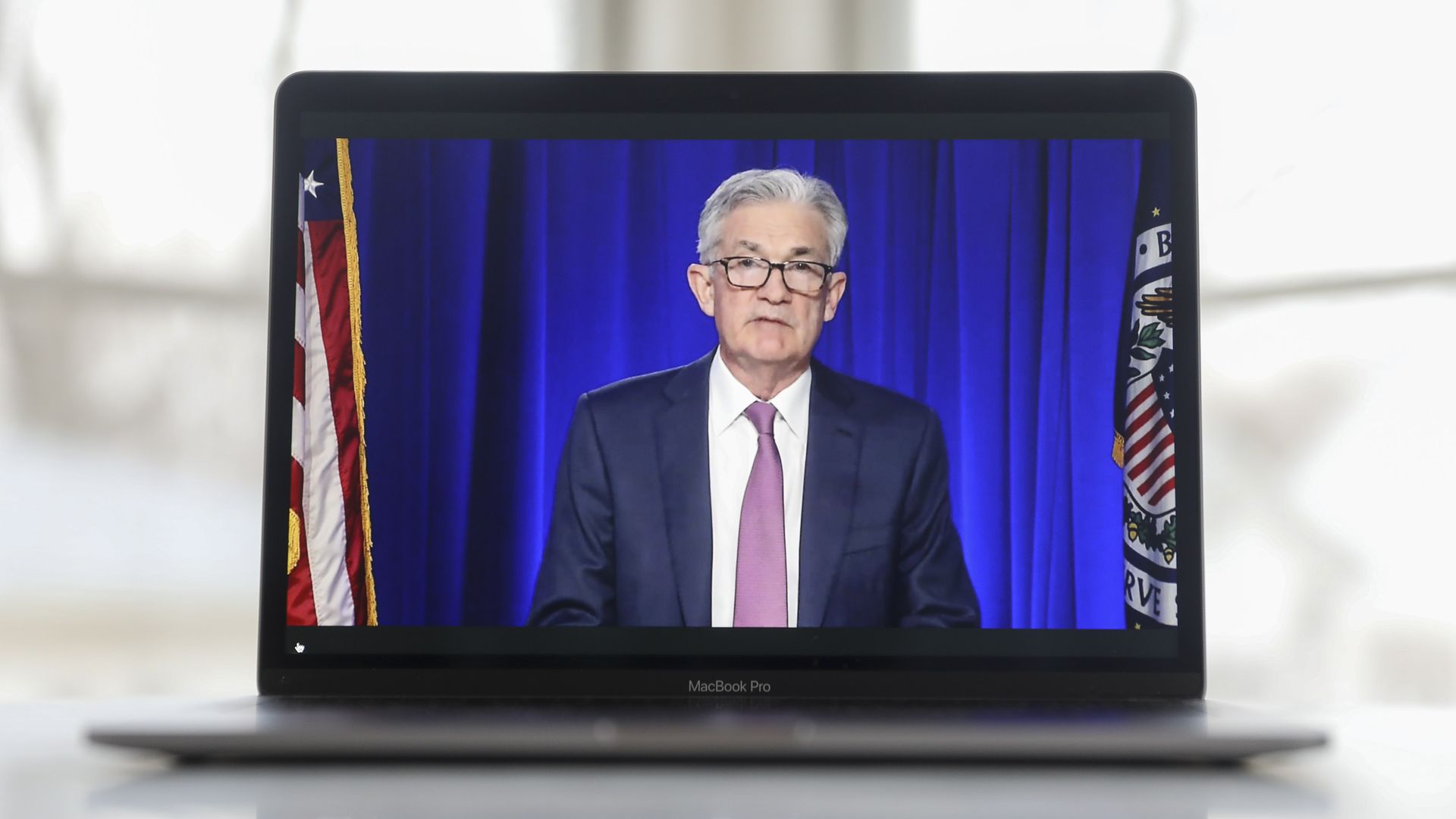 Federal Reserve Chairman Jerome Powell faces a long, hot summer audition for a second term, with senators watching and weighing his response to potential signs of inflation, Axios' Hans Nichols reports.
Why it matters: The financial system's chief is one of the most powerful in the world. President Biden hasn't given any public indication whether he'll renominate Powell, but Democrats close to the administration say there's a chance he'll make an announcement by Labor Day — well before Powell's term ends next February.
"Everybody's replaceable and there's good people out there," said Sen. Jon Tester (D-Mont.), a member of the Senate Banking Committee. "Biden could certainly pick somebody as good as Powell. But, you know, Powell is a proven guy."
Sen. John Kennedy (R-La.) told Axios: "He's placed a big bet right now on inflation and it worries me. And that's probably going to determine, to a large extent, whether he's reappointed."
The intrigue: Powell, a lawyer by training and former Republican Treasury official, stays in close contact with the senators who would confirm any nominee.
"I talked to him about a week ago; he called me up," Sen. Lindsey Graham (R-S.C.) told Axios. "We're going to try to put a dinner together with some other senators next week."
"He's extremely responsive," said Sen. Pat Toomey (R-Pa.), the senior Republican on the Banking Committee. "I think I am scheduled to meet with him next week."
The big picture: The chair of the Federal Reserve has enormous power to determine the pace of economic growth and must sometimes pursue policies that could hurt an incumbent president's re-election prospects.
Powell continues to argue the post-pandemic uptick in prices is temporary, though the Fed indicated Wednesday it expects interest rates will rise in 2023.
Investors have expressed confidence in Powell's approach to any potential inflation — and his ability to respond quickly, if warranted.
But congressional Republicans are seizing on last month's 5% jump in the Consumer Price Index as proof Biden is overspending and the Fed is buying too many bonds.
What they are saying: "There is a lot of inflation out there right now," said Sen. Richard Shelby (R-Ala.). "Let's see what the Fed does and what they can do."
"He's a nice man. I've known him and I have helped him," Shelby said. "I think he has a real challenge in the making."
Inflation "is something that he has to consider, but the chair has a great deal of respect among members of Congress," said Sen. Ben Cardin (D-Md.).
2. By the numbers: Fed tenures
Three of the last four Federal Reserve chairs have been reappointed by a president from a different party, with Janet Yellen proving the exception to the rule, Hans also writes.
Why it matters: The modern Fed has tried to remain above presidential politics, and presidents, for the most part, have obliged — with a few notable exceptions.
While President Trump praised Yellen on her way out — calling her "a wonderful woman who has done a terrific job" — he clearly wanted to install his own person at the central bank.
He did so, even though Jerome Powell wasn't that ideologically different from Yellen.
President Reagan didn't exactly believe in the Fed's total independence either: His chief of staff, James A. Baker III, ordered Paul Volcker not to raise interest rates before the 1984 election, Volcker recounted in his memoir.
"I was stunned," he wrote.
3. Health care ruling saves Republicans from themselves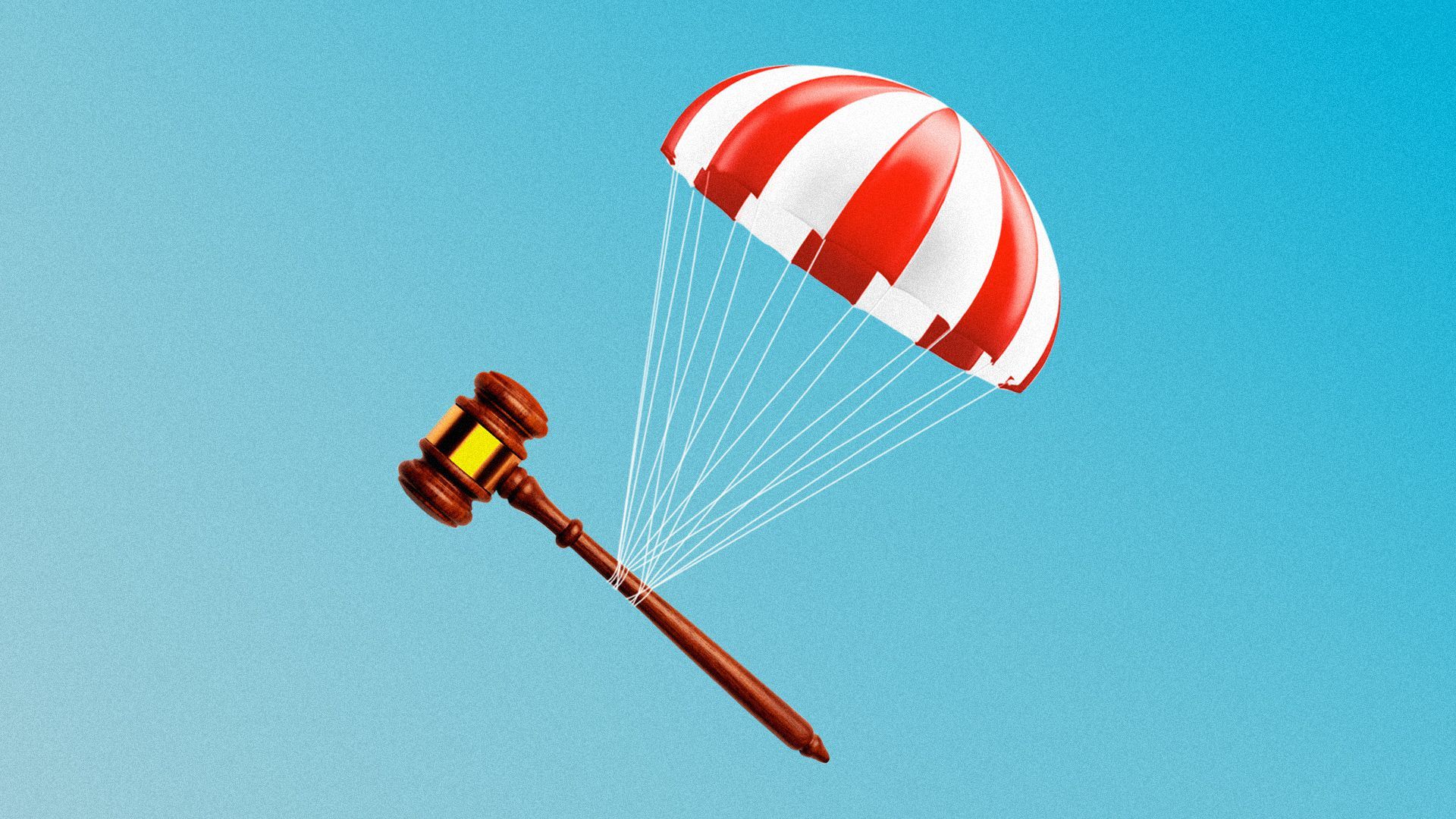 The Supreme Court saved the health care system from imploding today by dismissing a Republican challenge to the Affordable Care Act. But it also saved the GOP itself from another round of intraparty chaos, Axios' Alayna Treene, Caitlin Owens and Sarah Mucha write.
Why it matters: Most GOP lawmakers privately admit (and some will even say publicly) they don't want to deal with health care again. The issue generally isn't a good one for them with voters — as they learned the hard way after they failed to repeal the ACA in 2017.
Now they're happy instead to make Democrats own problems with the health care system and brand their ideas to improve it as "radical."
The big picture: Years on from their 2017 failure, Republicans haven't gotten any closer to rallying around any alternative health care proposal.
Along the way, they've also lost both chambers of Congress — and the White House.
Between the lines: If the Supreme Court had made the opposite ruling, and the ACA had been killed or mortally wounded in court, it would've created chaos not only for the public but within the party.
Heading toward the 2022 midterms, Republicans would be on the hook for any fallout, while having little sway over what Congress did to fix it.
"The prospect of having to do a 60-vote bill, with Democrats in the majority and Joe Biden in the White House, to save millions of people from being uninsured right before the midterms, would shred any chance of taking back the majority in either chamber," a senior Republican Senate aide told Axios.
What they're saying: Asked whether the SCOTUS ruling signals the end of his party's effort to repeal and replace the ACA, Sen. Mike Braun (R-Ind.) said: "It ought to be."
He added: "Forget about repealing it. That water's under the bridge anyway, and all you get with that is, the other side will say you're against covering pre-existing conditions."
"The reality is no, we don't have the power to repeal Obamacare in this current construct," Sen. Lindsey Graham (R-S.C.) also told Axios.
"We can still talk about how it doesn't work, we can make political arguments it's failing the public and it needs to change, and we can come up with alternatives, politically. But I don't see the court doing much more."
4. Senate holds hearings on "Dreamers" bill
The Senate has begun hearings on the American Dream and Promise Act of 2021, three months after the House passed the measure. And expectations are sky-high for the "Dreamers," Axios Latino co-author Marina E. Franco writes.
Details: HR 6 would set legal pathways so that some undocumented immigrants who have lived in the U.S. for decades can formally become residents, and later perhaps also citizens.
About 6 million people could benefit from the measure, half of them so-called Dreamers brought to the U.S. as children. Most know no other home, and many study or work, some as health care workers during the pandemic.
The bill would also facilitate green cards for farmworkers and recipients of TPS, the temporary status given to certain victims of climate disasters or conflict.
While 600,000 are protected by DACA, their status is unsettled. The executive action has had an uncertain future for several of its nine years and has significant backlogs.
Worth noting: Polls in the U.S. have shown at least two-thirds of respondents support giving permanent legal status to farmworkers, those who fled natural disasters and immigrants who came to the U.S. without authorization as children.
Driving the news: A group of "Dreamers" have undertaken a hunger strike to demand the bill's passage and further immigration relief.
A "fast for freedom" proponent tells Noticias Telemundo their action underscores the urgent need for the legislation, since many essential workers who continue to be exposed to COVID-19 are undocumented people.
Sign up for free email delivery of Axios Latino, out each Thursday, through this link.
5. Pic du jour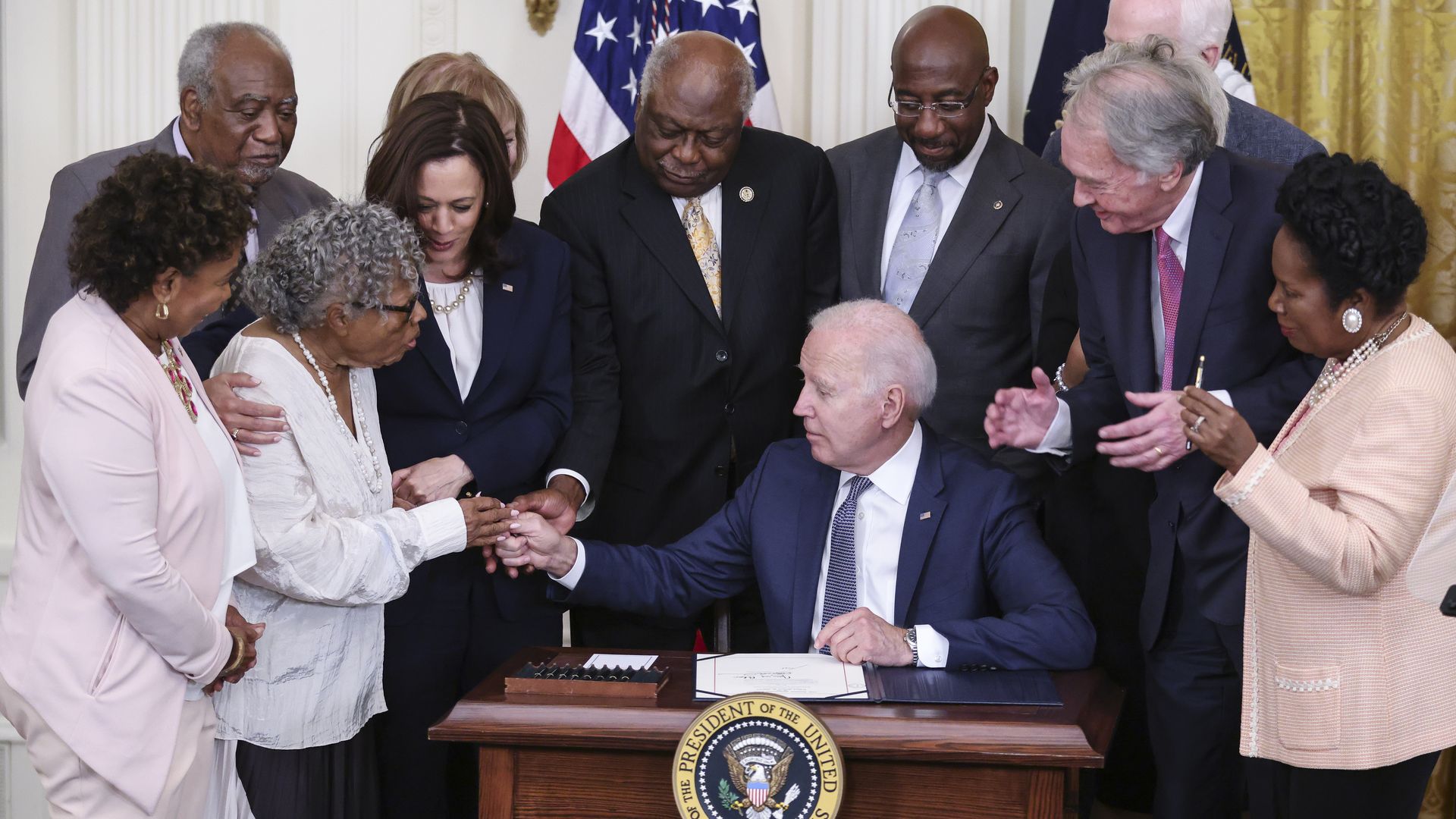 President Biden hands a pen to Opal Lee, a 94-year-old from Fort Worth, Texas, known as "the grandmother of Juneteenth," after he signed the bill making that occasion a federal holiday.
📬 Thanks for reading Sneak during this important and busy week. Please let your family, friends and colleagues know they can receive email delivery of this newsletter via this link.