Welcome to Sneak Peek, our weekly lookahead for both ends of Pennsylvania Avenue. I'd love your tips and feedback: jonathan@axios.com. And please urge your friends and colleagues to join the conversation by signing up for Sneak Peek.
https://www.axios.com/newsletters/axios-sneak-peek-95bfff26-6217-4468-ba68-b2117220caa6.html?chunk=0#story0
1 big thing: Trump, the "crazy guy"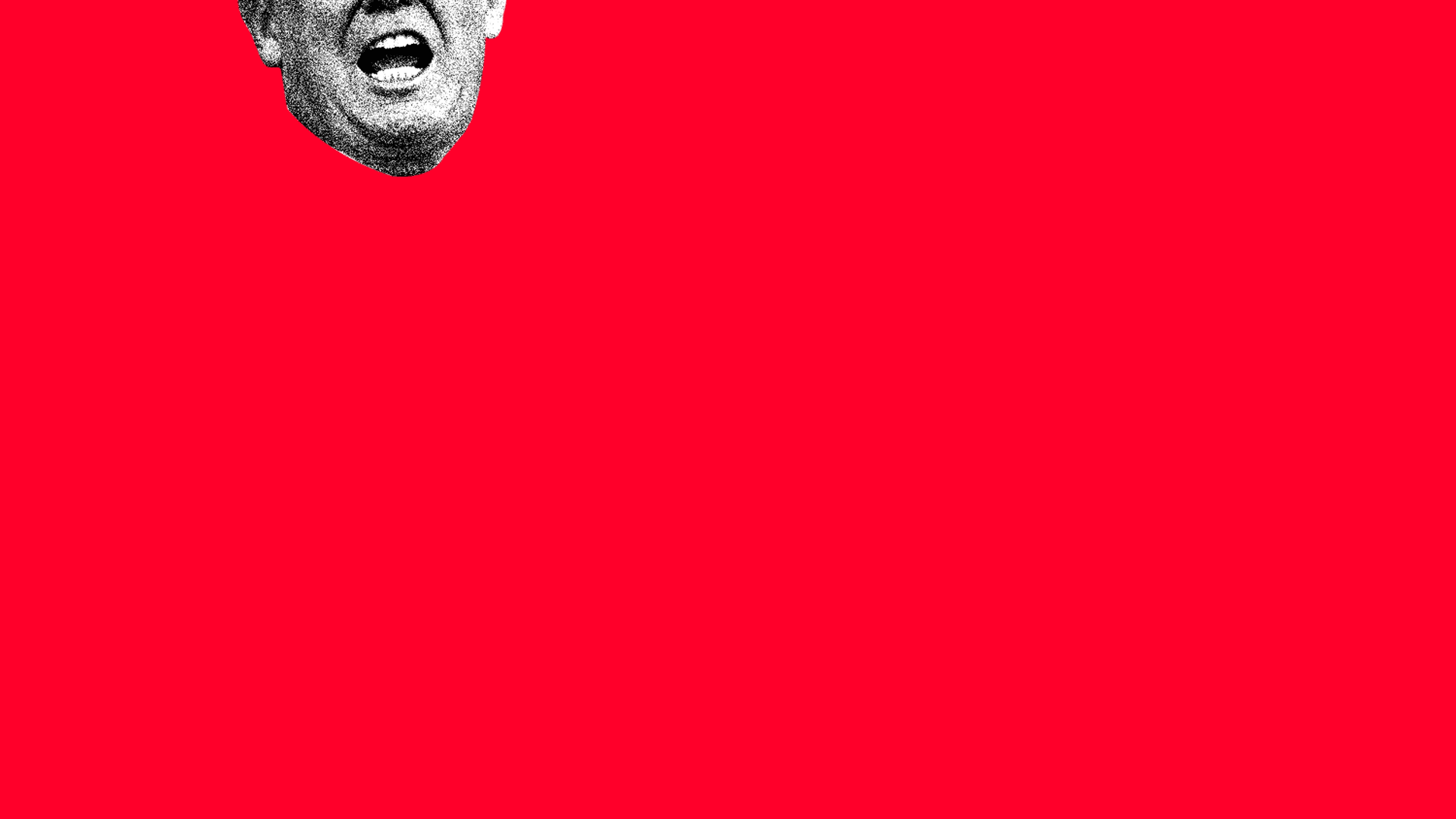 In an Oval Office meeting earlier this month, President Trump gave his top trade negotiator, Robert Lighthizer, an Art of the Deal-style coaching session on how to negotiate with the South Koreans.
Trump's impromptu coaching came in the middle of a pivotal conversation with top officials about whether or not to withdraw from the U.S.-Korean trade deal. Sources familiar with the conversation paraphrased the exchange for Axios, and the White House did not dispute this account.
A number of senior officials and cabinet secretaries were present for the conversation, including Defense Secretary Mattis, Agriculture Secretary Perdue, and Secretary of State Tillerson. At issue was whether the U.S. would withdraw from the Korean trade deal — an action Trump threatened but still hasn't taken.
"You've got 30 days, and if you don't get concessions then I'm pulling out," Trump told Lighthizer.
"Ok, well I'll tell the Koreans they've got 30 days," Lighthizer replied.
"No, no, no," Trump interjected. "That's not how you negotiate. You don't tell them they've got 30 days. You tell them, 'This guy's so crazy he could pull out any minute."'
"That's what you tell them: Any minute," Trump continued. "And by the way, I might. You guys all need to know I might. You don't tell them 30 days. If they take 30 days they'll stretch this out."
"You tell them if they don't give the concessions now, this crazy guy will pull out of the deal."
Why this matters: Plenty of world leaders think the president is crazy — and he seems to view that madman reputation as an asset. The downsides are obvious: the rhetoric can unnerve allies and has the potential to provoke enemies into needless, unintended war. But Trump keeps using the tactic, with varying degrees of success:
Just today, the president undercut his secretary of state by suggesting diplomacy with "Little Rocket Man" in North Korea was a waste of time — implying that only military action would resolve the conflict. "Save your energy Rex," Trump tweeted, "we'll do what has to be done!"
Later in the afternoon Trump tweeted: "Being nice to Rocket Man hasn't worked in 25 years, why would it work now? Clinton failed, Bush failed, and Obama failed. I won't fail."
We've never seen anything like this before with a president and his secretary of state. Trump's tweet, undercutting Tillerson's diplomatic efforts, comes a day after Tillerson acknowledged for the first time that the administration was in direct communication with North Korea.
Trump's tweet also undercuts a statement made Tuesday by Joint Chiefs Chairman General Dunford: "The military dimension today is in full support of the economic and diplomatic pressure campaign the secretary of state is leading in North Korea."
Trump's comments today belong to a pattern that fits the "madman" or "he might just be crazy enough to do that" theory of international relations:
Trump warned North Korean leaders in August that if they keep threatening the U.S., they "will be met with fire and fury like the world has never seen."
In his first speech to the U.N. General Assembly, Trump threatened to "totally destroy North Korea" and called Kim Jong-un "Rocket Man."
He threatened over Twitter to withdraw from the North American Free Trade Agreement: "We are in the NAFTA (worst trade deal ever made) renegotiation process with Mexico & Canada.Both being very difficult,may have to terminate?"
He unnerved America's allies during the campaign when he called NATO "obsolete" and refused to say whether he'd defend a treaty ally under attack from Russia. Trump has spoken more favorably of NATO since becoming president, but he still often complains about NATO members failing to pay their fair share, and he's urged Angela Merkel to increase Germany's military budget.
Go deeper: Insight on the president's "crazy" approach from senior administration officials and top national security personnel.
https://www.axios.com/newsletters/axios-sneak-peek-95bfff26-6217-4468-ba68-b2117220caa6.html?chunk=1#story1
2. Corker's red line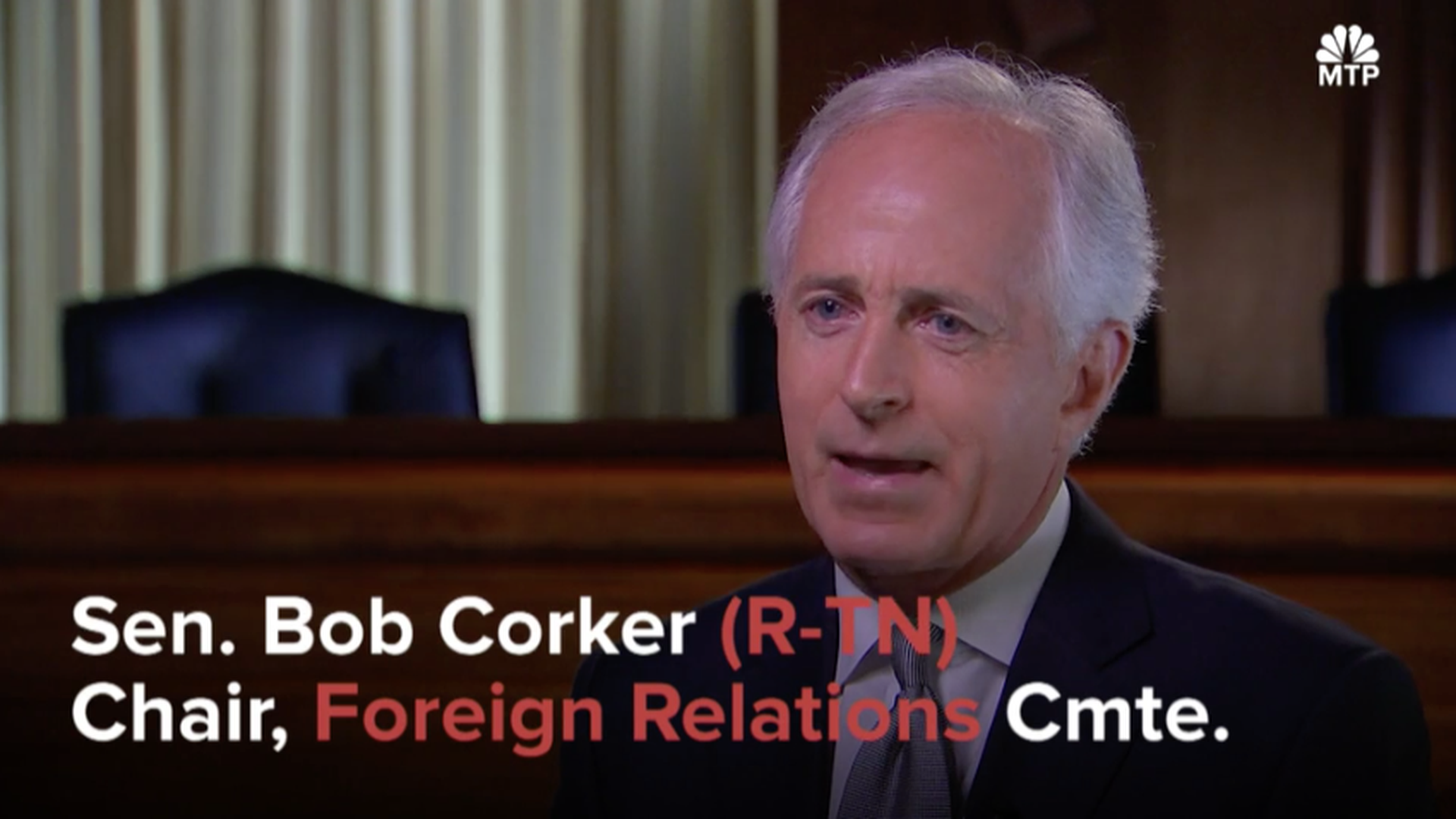 Republican Sen. Bob Corker, who announced last week that he won't seek re-election in 2018, made a comment to Chuck Todd today that will echo into the coming weeks as Republicans chase their most urgent legislative priority: tax reform.
Corker told the host of NBC's "Meet the Press": "If it looks like to me, Chuck, we're adding one penny to the deficit, I am not going to be for it, OK. I'm sorry. It [national debt] is the greatest threat to our nation..."
Why this matters: Corker will be a pivotal figure in the Senate for the next 15 months, and his vote could be one of a few that decides whether the tax reform bill passes. Plenty of Corker's colleagues would be happy to blow an even bigger hole in the deficit in order to get massive tax cuts, but Corker, who is now a free agent on account of his impending retirement, has laid down a marker. He plans to finish his career as a hardcore deficit hawk.
A source close to leadership summed it up this way: "Corker untethered to the electorate is a dangerous Corker."
Another senior Republican involved in tax reform told me this after watching the Corker clip: "He's just one vote but McCain voted against the 2001 and 2003 Bush tax cuts. So that is two problems." "Plus Collins, Roy Moore, and potentially Rand" could be additional problems. "Math could get tough depending on the score of the bill."
Watch the full Corker interview here.
https://www.axios.com/newsletters/axios-sneak-peek-95bfff26-6217-4468-ba68-b2117220caa6.html?chunk=2#story2
3. It's all about the Budget
Republicans on Capitol Hill are focused on one thing this week: the budget. The House and Senate need to pass budgets — and sign off on a single product in conference — in order to get a bill ready to pass tax reform.
House GOP leaders have the votes needed to pass their budget this week, according to sources throughout the conference.
Behind-the-scenes moves:
The House Freedom Caucus has told leadership it will vote for the budget, even though they hardly love it, because they want to get moving on tax cuts. Many of these ultra-conservative members are willing to suck it up and vote for a fairly moderate final budget deal to get tax moving. (The deal the House ultimately strikes with the Senate will have none of the steep mandatory spending cuts that are currently in the House bill.)
A Freedom Caucus source told me all but two of the roughly 35 members of the group are expected to vote for the House budget bill this week. Sources familiar with the deal told me that before agreeing to support the Budget, the Freedom Caucus chairman Mark Meadows presented a document to the White House with a set of demands for tax rates and other provisions that would be required to win the Freedom Caucus' support. The White House agreed with the document, which closely tracked the tax plan Trump announced.
Moderate members have been more difficult to appease. They resent having to take a tough vote for steep spending cuts that will never actually happen, simply to satisfy the conference's more conservative members.
The Senate will have a tougher time with its Budget, which is being marked up in committee this week. Senators Bob Corker and Pat Toomey struck a budget deal that pleasantly surprised tax reform advocates – but with 52 Republicans every vote is on a razor's edge. Republicans are paying close attention to the perennially-challenging senators: John McCain, Susan Collins, and Rand Paul.
https://www.axios.com/newsletters/axios-sneak-peek-95bfff26-6217-4468-ba68-b2117220caa6.html?chunk=3#story3
4. The Price replacement beat
Within hours of Trump firing Health and Human Services Secretary, Tom Price, the Washington speculation machine whirred into action. The NYT floated as possible replacements:
Scott Gottlieb, the commissioner of the Food and Drug Administration
Seema Verma, the administrator of the Centers for Medicare and Medicaid Services
David Shulkin, the secretary of veterans affairs
Former Louisiana Gov. Bobby Jindal. (Who I'm told has been added to the consideration list but would be an underdog for the job because of what he's said in the past about Trump. During the presidential campaign, Jindal described Trump as an "unserious and unstable narcissist.")
Another name to keep an eye on: Sen. John Barrasso, who chairs the Senate Republican Policy Committee. Sources close to the selection process tell me Trump thinks very highly of Barrasso and has told associates many times that he believes he's been one of the strongest and most effective advocates for the repeal and replace of Obamacare. But administration officials know it'd be tough to convince Barrasso to give up his post on Senate leadership.
https://www.axios.com/newsletters/axios-sneak-peek-95bfff26-6217-4468-ba68-b2117220caa6.html?chunk=4#story4
5. The shows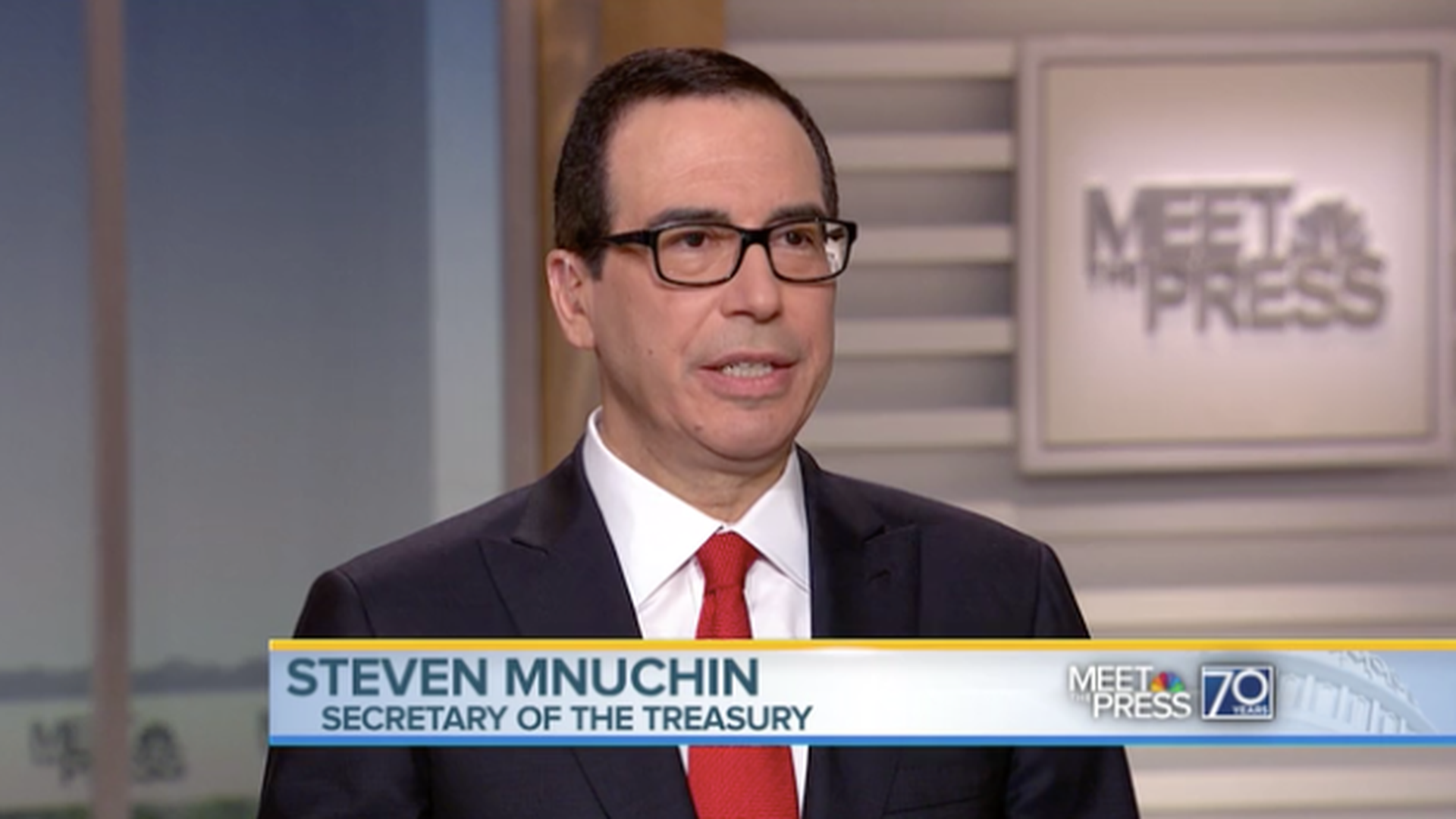 Sunday highlight reel, with officials responding to the humanitarian catastrophe unfolding in Puerto Rico:
San Juan Mayor Carmen Yulin Cruz to George Stephanopoulos on ABC's "This Week": "All I did last week, or event his week, was ask for help. It has to happen in a sustained manner, it has to happen quickly. And mayors all over Puerto Rico are getting to the supply areas and been told, look, call us a few days later."
Cruz, who has been in President Trump's crosshairs, added: "People are being told to register via Internet for FEMA relief, when we don't have any Internet or very little Internet, even in the San Juan metropolitan area. I recognize the good heart that the FEMA people have. They want to help. But they just don't have the resources, and it's not me who's saying it."
Treasury Secretary Steven Mnuchin to Chuck Todd on "Meet the Press": "I think, as you know, when the president gets attacked he attacks back. And I think the mayor's comments were unfair given what the federal government has done."
President Trump plans to visit Puerto Rico on Tuesday, according to White House officials.
https://www.axios.com/newsletters/axios-sneak-peek-95bfff26-6217-4468-ba68-b2117220caa6.html?chunk=5#story5
6. 1 relatable thing: Manafort's wrong turn
Paul Manafort experienced a different kind of legal trouble last week.
Alex Leary, Washington Bureau Chief at the Tampa Bay Times, tweeted: "Paul Manafort walked into our DC office building about 1:10 pm looking for law office. Security guy said he was at wrong address."