Axios Sneak Peek
March 15, 2023
Welcome back to Sneak. Smart Brevity™ count: 1,012 words ... 4 minutes.
1 big thing: Bank reforms flop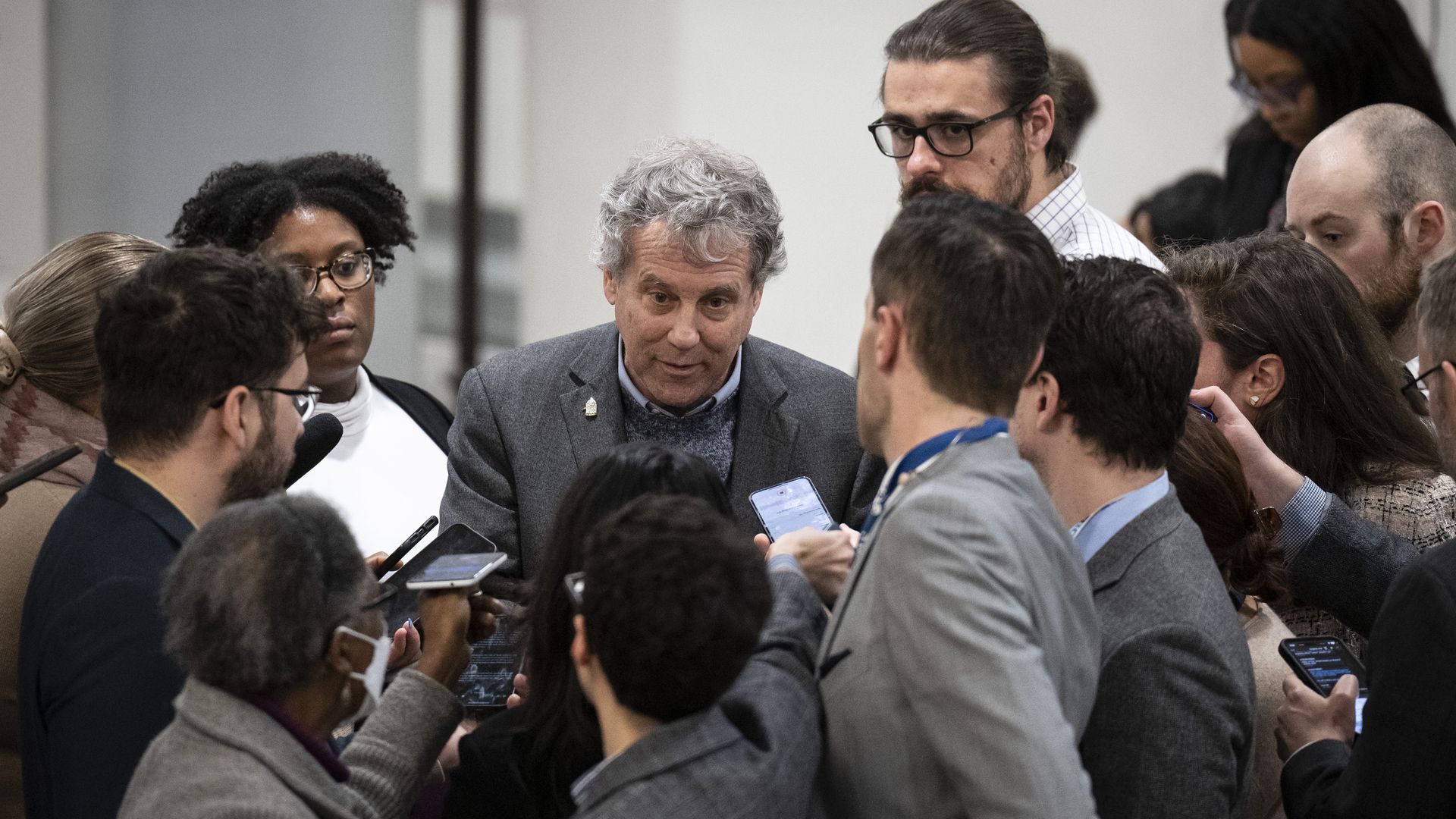 Both parties are drawing battle lines over the collapses of Silicon Valley Bank and Signature Bank, while acknowledging regulatory reform faces a steep — if not impossible — climb in Congress, Axios' Andrew Solender writes.
Why it matters: Democrats are preparing to introduce legislation that would reverse a GOP-led rollback of Dodd-Frank banking regulations in 2018 that many of them, including President Biden, see as a culprit for the bank's failure.
What they're saying: Top Democrats expressed early pessimism about the idea that any measure to tighten bank regulations could garner the 10 Republican votes needed to pass the Senate — let alone the GOP-controlled House.
Senate Majority Whip Dick Durbin (D-Ill.), asked whether there is any legislative response to the bank failures that could become law, told Axios: "Not that I know of."
Sen. Sherrod Brown (D-Ohio), chair of the Senate Banking Committee, told reporters he's "going to push hard on making sure these laws are tougher," but added: "I don't know how we do a legislative fix when Republicans ... all blame Biden. They all blame inflation."
The other side: Top Republicans told Axios it's far too early to even discuss new regulations, while casting doubt on the idea that any measure could get the necessary GOP support.
"There is no need for regulatory reform," said Sen. Mike Crapo (R-Idaho), who helped author the 2018 Dodd-Frank rollback as chair of the Senate Banking Committee.
Zoom in: Even some of the most moderate GOP lawmakers shied away from expressing openness to reform. Sen. Susan Collins (R-Maine) said it is "incredibly premature to be talking about rewriting the law."
Rep. Marc Molinaro (R-N.Y.), a self-described member of the GOP's "even-keeled" wing, told Axios, "I think the Democratic response is always, 'Let's just go find some new regulations.' "
"These banks did have some risk that may not be systemic," he said. "It's important for the system to truly know what the illness is, and then we can determine what the right medicine is."
Yes, but: There are faint possibilities for bipartisan collaboration on depositor safeguards and regulatory overhauls worth keeping an eye on.
Rep. Blaine Luetkemeyer (R-Mo.), a top Republican on the Financial Services Committee, told Politico that the Federal Deposit Insurance Corp. should temporarily guarantee all bank deposits.
That could portend GOP openness to a proposal some Democrats have rallied around to permanently raise the FDIC's deposit insurance limit above $250,000.
Sen. Josh Hawley (R-Mo.) also endorsed separating commercial and investment banks, a proposal long embraced by progressives — though there is little evidence for widespread GOP support for such profound government intervention.
2. 🧐 DeSantis record complicates MAGA pivot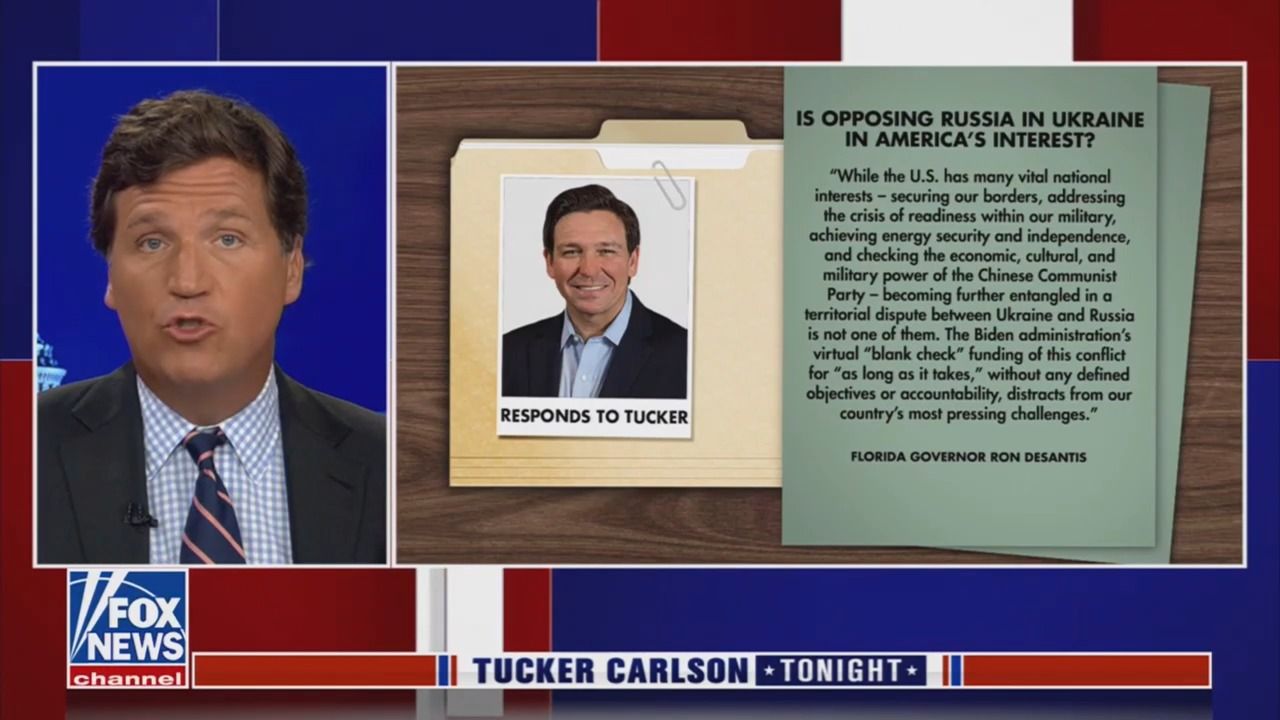 Florida Gov. Ron DeSantis' newly definitive position on the war in Ukraine is the latest example of his pivot away from views he held as a member of Congress.
Catch up quick: DeSantis told Fox News' Tucker Carlson in a lengthy statement that "becoming further entangled in a territorial dispute between Ukraine and Russia" is not a vital U.S. national interest.
As a congressman in 2014 and 2015, DeSantis urged then-President Obama to send "defensive and offensive" weapons to help Ukraine repel Russia's proxy forces in the east, according to CNN's KFile.
As recently as 2017, DeSantis criticized Obama for refusing to send lethal aid to Ukraine and described himself as part of "the Reagan school that's tough on Russia."
Why it matters: DeSantis' shift reflects a broader, MAGA-adjacent evolution that could serve him well in the 2024 GOP primary — while potentially hurting his appeal in the general election.
It also could make him susceptible to credibility attacks from rivals such as Trump, who previewed his strategy of exploiting DeSantis' congressional record at a campaign stop in Iowa yesterday.
DeSantis is "following what I am saying," Trump said in response to the Ukraine news. "It is a flip-flop. He was totally different. Whatever I want, he wants."
Driving the news: On stage in Davenport, Iowa, Trump attacked DeSantis for voting in Congress to raise the retirement age to 70 and cut spending on Social Security and Medicare — calling him "a disciple of Paul Ryan."
Trump also hammered DeSantis for co-sponsoring legislation to repeal the federal ethanol production mandate — an issue with particular salience for Iowa voters.
What to watch: As he positions himself as a MAGA alternative to Trump, expect DeSantis to focus on subjects in which he could try to outflank Trump with the former president's own base — including on opposition to COVID-19 vaccines and the cultural issues in education.
3. 🇺🇦 GOP's stubborn Ukraine divide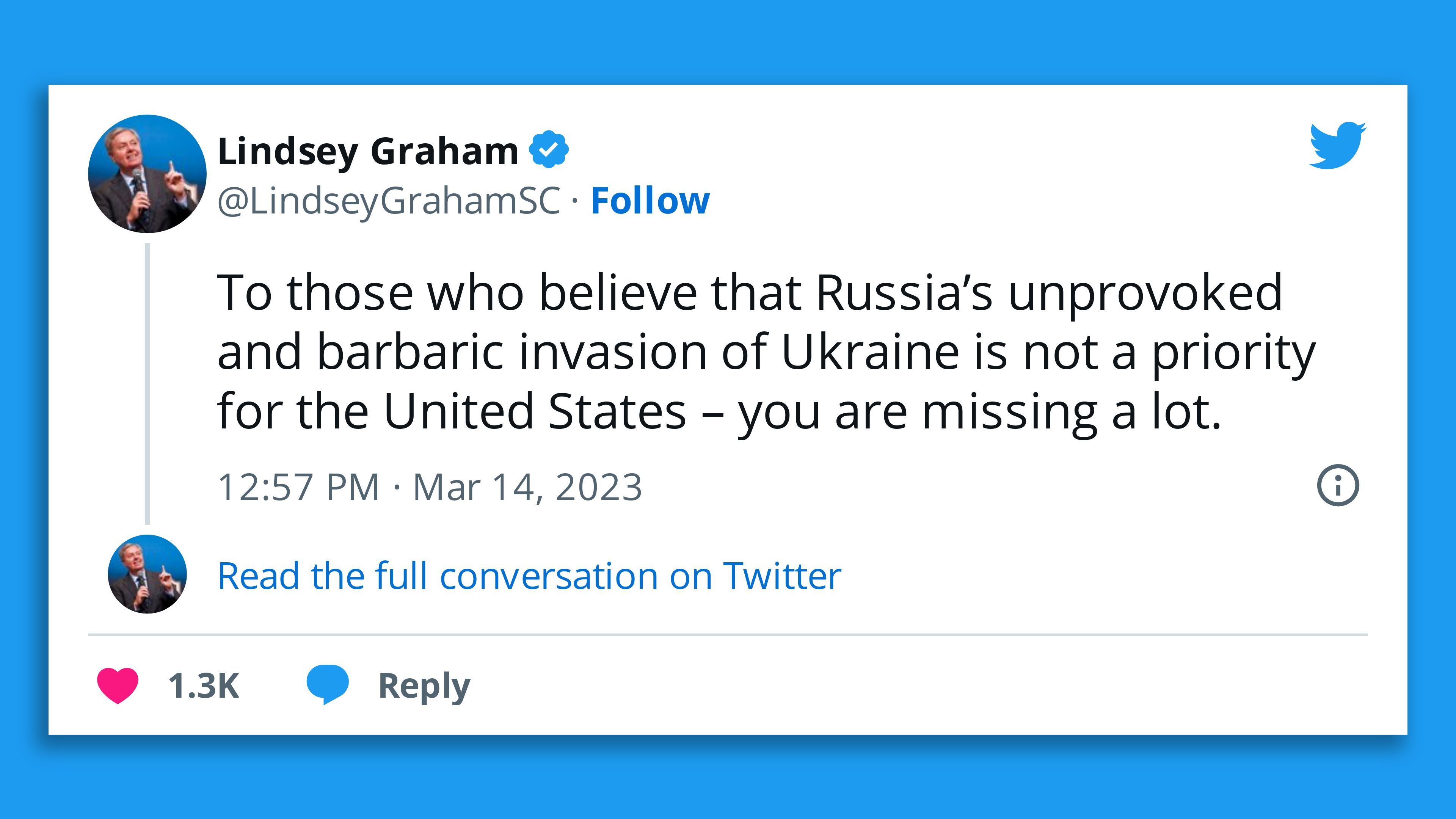 The pro-Ukraine wing of the Republican Party — mostly concentrated in the Senate — is refusing to yield to the views expressed by the GOP's two presidential front-runners:
Sen. John Cornyn (R-Texas) told Politico: "I'm disturbed by it. I think [DeSantis is] a smart guy. I want to find out more about it but I hope he feels like he doesn't need to take that Tucker Carlson line to be competitive in the primary."
Sen. Marco Rubio (R-Fla.) told Hugh Hewitt: "[I]t's not a territorial dispute ... any more than it would be a territorial dispute if the U.S. decided that it wanted to invade Canada or take over the Bahamas."
Sen. Roger Wicker (R-Miss.), responding to Russia's downing of a U.S. drone over the Black Sea today, said in a statement: "This incident should serve as a wake-up call to isolationists in the United States that it is in our national interest to treat Putin as the threat he truly is."
4. 🏛️ Senate nail-biters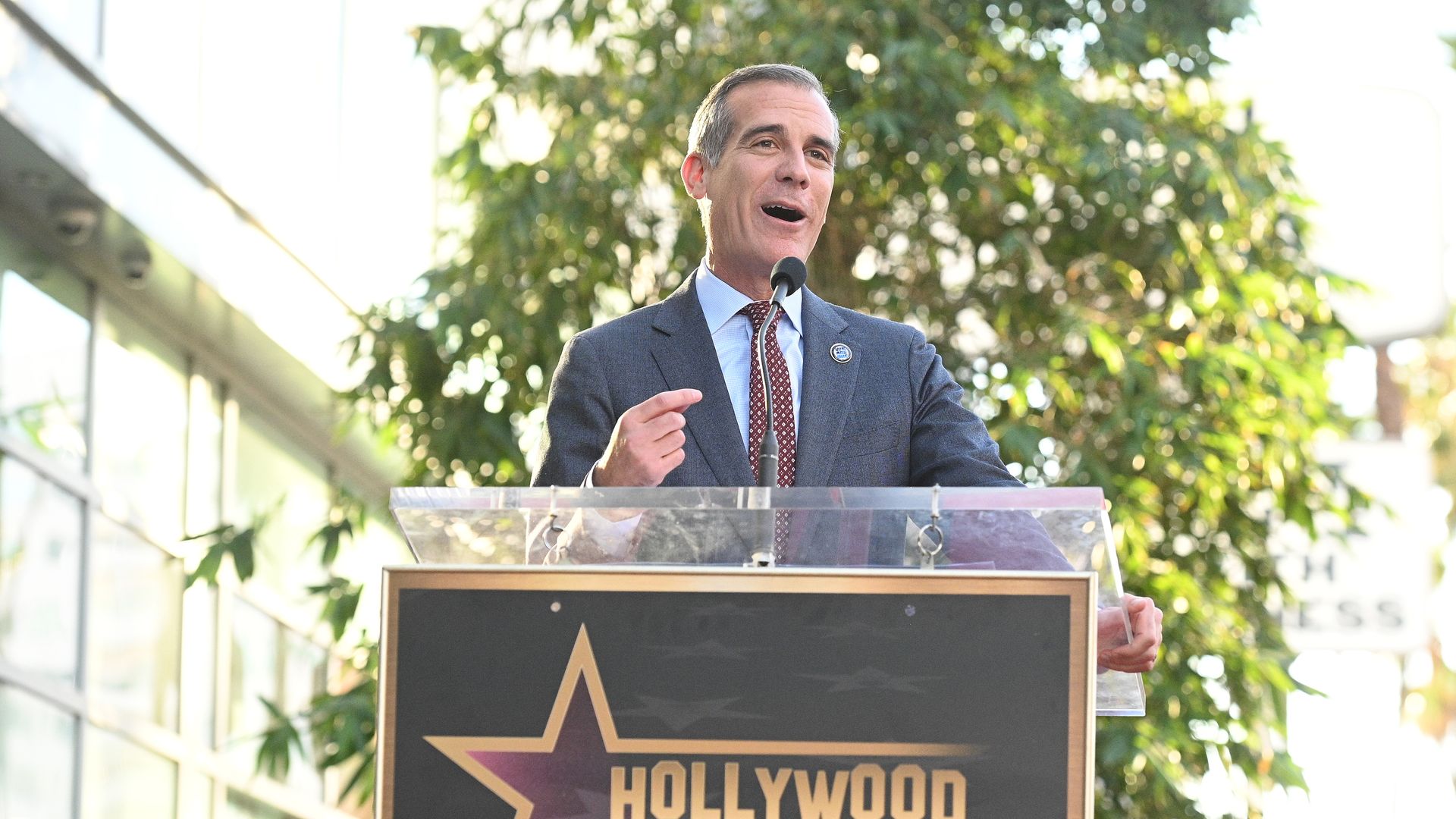 Two closely watched Senate votes expected this week, both long in the making:
📬 Thanks for reading tonight. This newsletter was copy edited by Kathie Bozanich.