Axios Sneak Peek
March 03, 2023
Welcome back to Sneak. Smart Brevity™ count: 961 words ... 3.5 minutes.
1 big thing: House GOP's first big win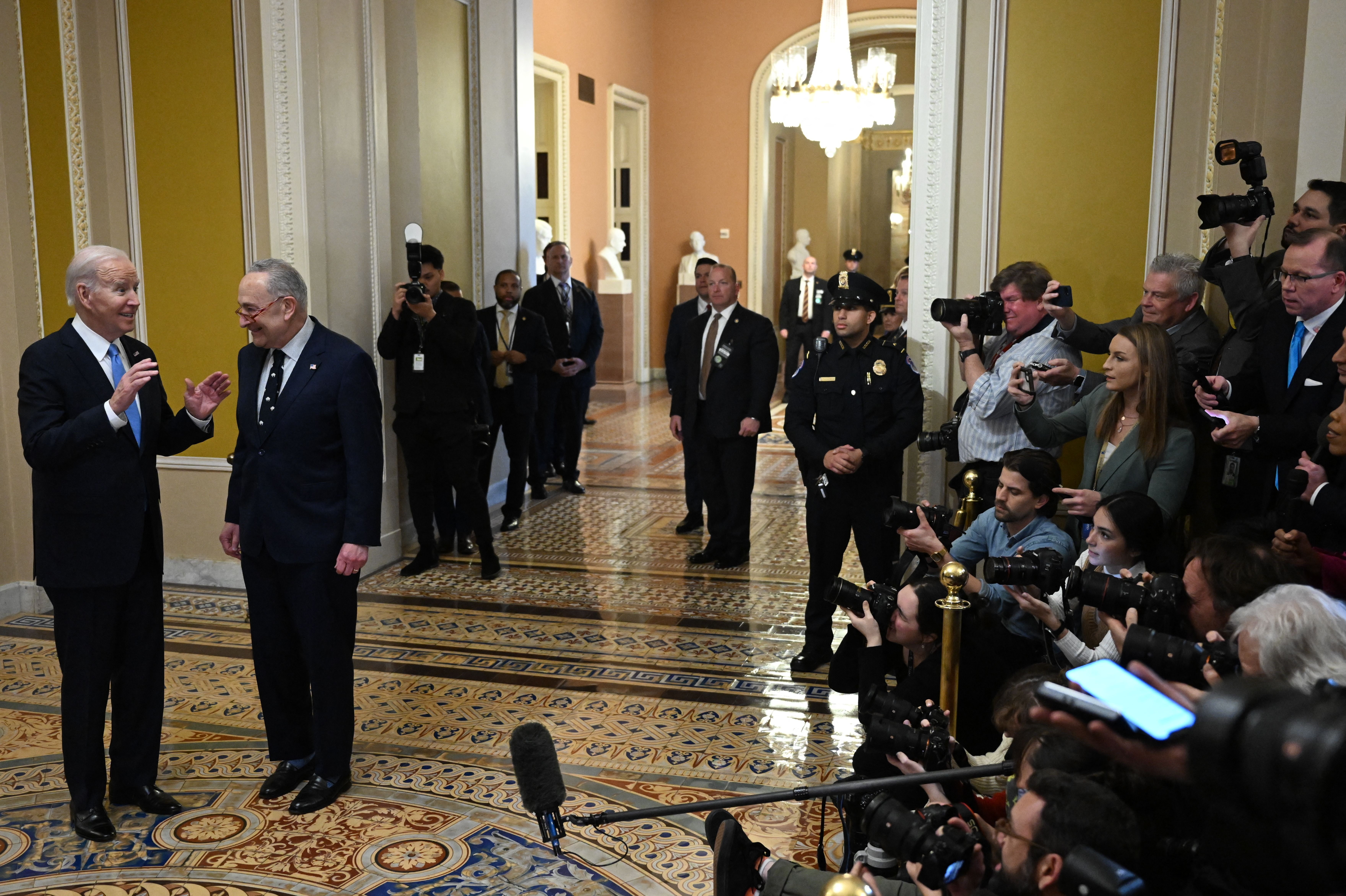 President Biden's refusal to veto a resolution blocking changes to D.C.'s criminal code has provided welcome cover to vulnerable Senate Democrats — while handing the House GOP an inaugural legislative win that few were expecting.
Why it matters: House Republicans had two top priorities when they took the gavel in January — blitzing the Biden administration with investigations and exacting deep spending cuts through negotiations over the debt ceiling.
The GOP's oversight hearings have been as chaotic as predicted, and so far they've done little to damage Biden or answer questions the American public cares about, according to recent polling.
In spending talks, Republicans remain divided and have yet to produce a budget plan — creating a vacuum that Democrats have exploited to accuse the GOP of wanting to cut Social Security and Medicare.
Driving the news: In the absence of progress on these two fronts, Republicans' next best bet — as we previewed yesterday — has been to force Democrats into difficult votes that can be weaponized on the campaign trail.
But instead of forcing Democrats to choose between embracing a potentially unpopular position and bucking their president, Biden made the surprise decision to keep his ink dry on the D.C. crime resolution.
The move opened the floodgates for Senate Democrats to acknowledge their support for the bill, which will mark the first time Congress overturns a D.C. law in more than three decades.
Between the lines: Senate Democrats' broad reluctance to discuss the new D.C. law — which reduces maximum penalties for some violent crimes — reflects how fraught the crime issue has become within the party, especially paired with the debate over D.C. statehood.
"I support D.C. statehood and home-rule — but I don't support some of the changes D.C. Council put forward over [D.C. Mayor Muriel Bowser's] objections — such as lowering penalties for carjackings," Biden said in a tweet confirming he would sign the GOP bill.
The tweet was flooded with replies from Democratic activists accusing Biden of hypocrisy and of undermining D.C. autonomy.
By the numbers: High-profile mayoral elections and recent polling confirm that crime has become a major wedge issue for Democrats, especially as many have sought to distance themselves from the "Defund the Police" movement.
A January survey from Pew Research Center indicated that roughly twice as many Black (66%) and Hispanic Democrats (63%) view crime as a top priority compared to white Democrats (33%).
2. 📊 Trump tries to juice CPAC straw poll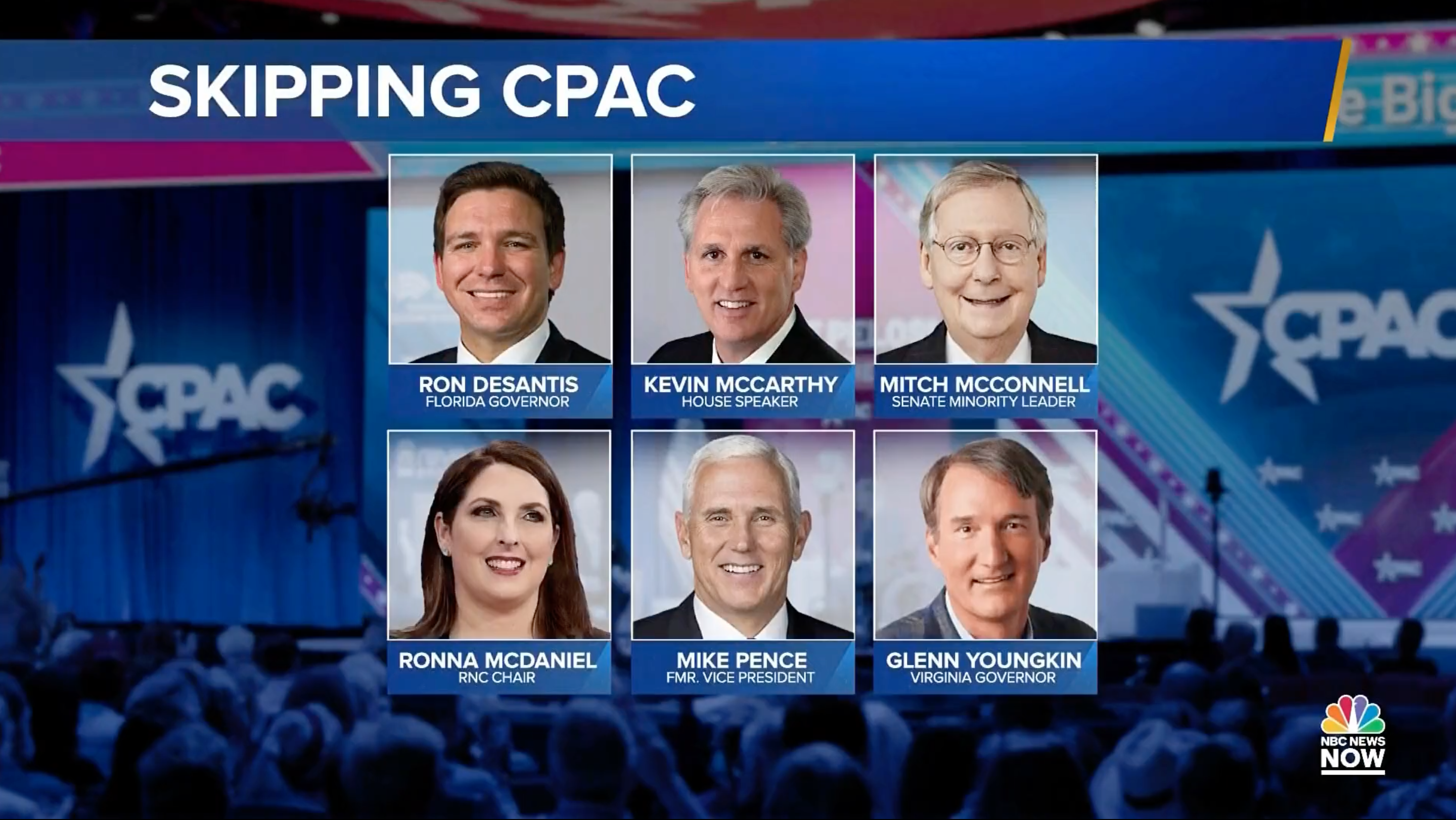 CPAC — the high-powered conservative conference that former President Trump has remade in his image — shrugged off the deluge of media speculation about its waning relevance as it kicked off in earnest this morning.
Why it matters: CPAC embodies a faction of the Republican Party that relishes the culture war and Trump-style confrontation — as reflected by the attendance of right-wing flamethrowers like Steve Bannon, Donald Trump Jr. and Rep. Jim Jordan (R-Ohio).
Some establishment Republicans are keeping their distance from the conference, knowing they'd likely receive a chilly reception from the pro-Trump audience.
The absence of Florida Gov. Ron DeSantis is far more intriguing, as his challenge to Trump's status as the 2024 GOP front-runner has produced mixed feelings from the MAGA faithful.
What they're saying: "There's a lot of chatter in the media about who's here and not here. I'm really proud to be standing alongside someone I think might just be the most powerful man in Washington, D.C," embattled CPAC head Matt Schlapp said as he introduced Jordan.
What we're watching: Trump dominated last year's CPAC straw poll, winning 59% of the vote as DeSantis trailed in distant second with 28%.
But DeSantis has gained serious ground on Trump over the last year — a threat the former president is keenly aware of.
"The only reason certain 'candidates' won't be going to CPAC is because the crowds have no interest in anything they have to say," Trump said in a post on Truth Social, promoting his "monster" speech on Saturday. "See you there, and don't forget to vote in the important Straw Poll!"
3. 💰 Scoop: GOP spends $2 million to flip script on Medicare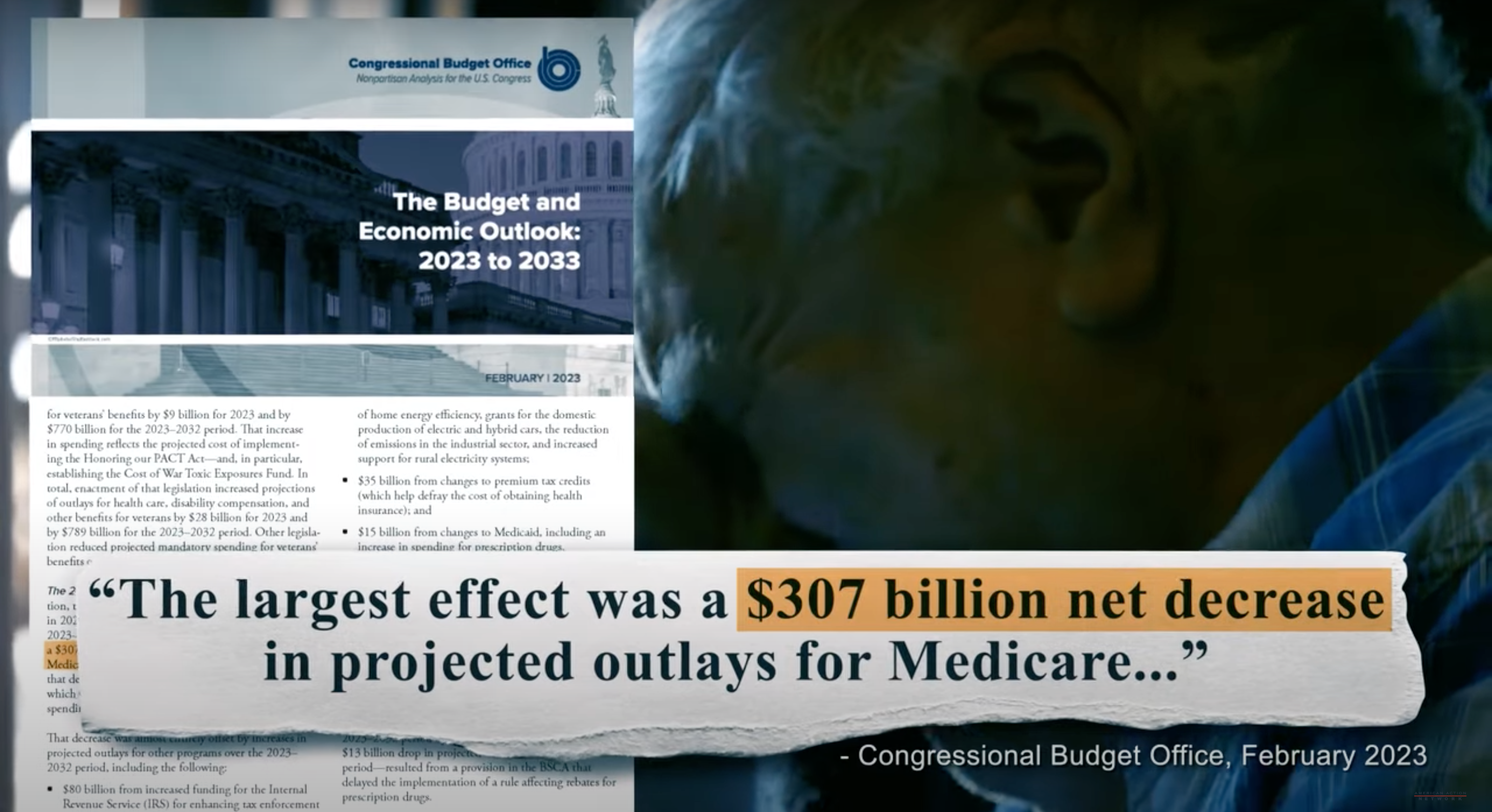 A group closely aligned with House Republican leadership is spending over $2 million to accuse Biden of being the one who truly wants to cut Medicare, Axios' Andrew Solender and Victoria Knight report.
Why it matters: The early spending signals that Republicans plan to go on offense on entitlements in 2024, rather than just defend against Biden's claims that the GOP wants to slice into Medicare and Social Security.
Driving the news: American Action Network, the nonprofit issue advocacy arm of the Kevin McCarthy-aligned Congressional Leadership Fund, is running TV and digital ads attacking the Biden administration's efforts to claw back $4.7 billion from Medicare Advantage plans.
Context: Medicare Advantage is a private health insurance alternative to Medicare, and it often offers extra benefits such as dental and vision coverage.
The other side: The Biden administration argues that the $4.7 billion in recovered funds were overpayments that shouldn't have been made in the first place.
An HHS spokesperson said the administration has proposed a nearly 10% increase in payments to Medicare Advantage over the span of two years, with a proposal this year that is projected to increase payments to Medicare Advantage plans by roughly $4 billion.
"Claims that this administration is cutting benefits or increasing premiums are a calculated mischaracterization," the spokesperson said. "Our proposals will ensure stability for people who choose Medicare Advantage."
4. 🚂 Biden backs rail reform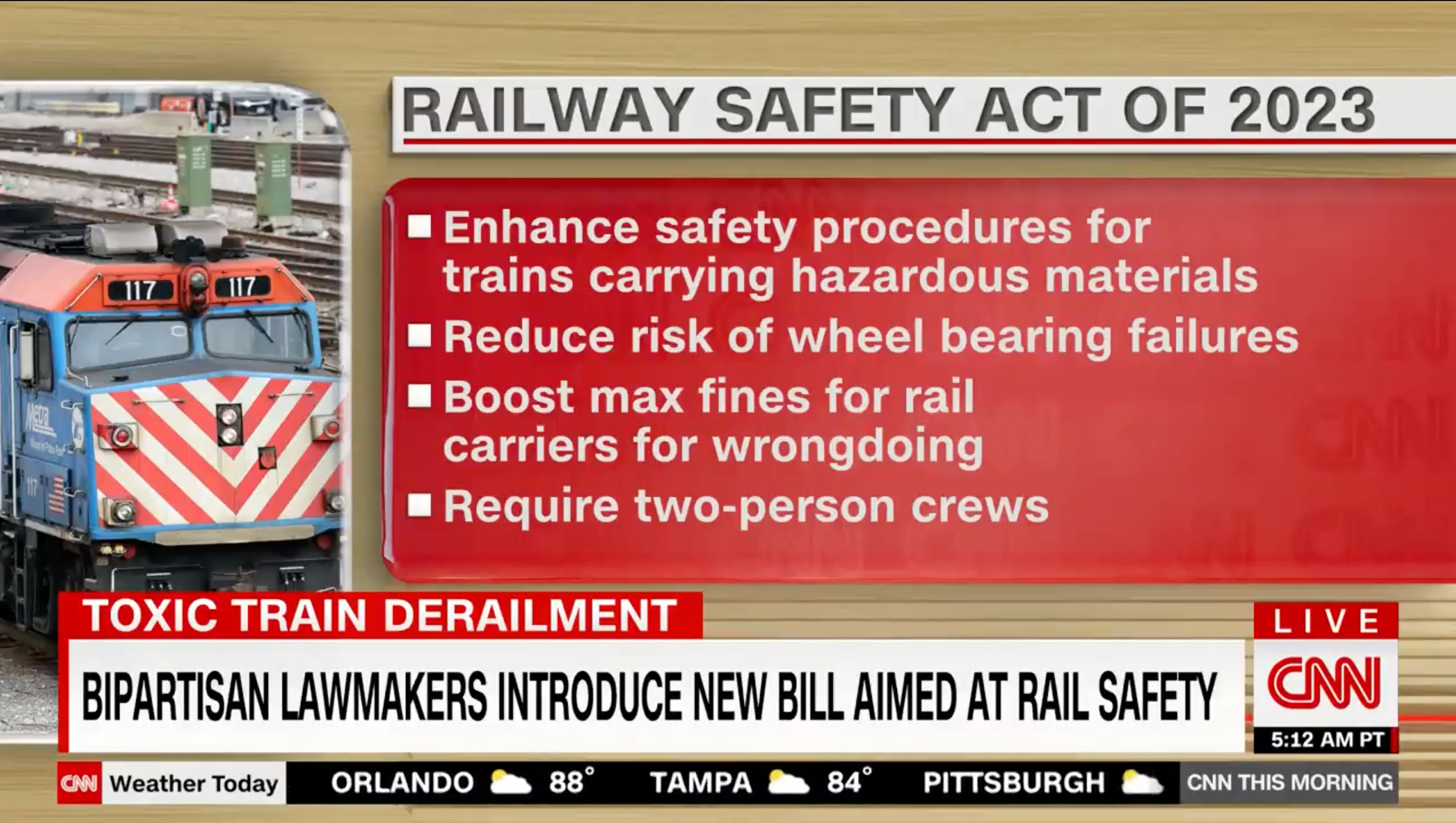 Biden today endorsed a bipartisan rail safety proposal introduced in the wake of the toxic derailment in East Palestine, Ohio.
Why it matters: While the legislation is co-sponsored by Republican Sens. J.D. Vance (Ohio), Marco Rubio (Fla.) and Josh Hawley (Mo.), it remains to be seen whether it will have the support of GOP leaders who broadly oppose more stringent regulations.
🧪 Latest: The EPA has ordered Norfolk Southern to test the East Palestine area for dioxins, a "dangerous and persistent class of pollutants created when plastic is burned," the Washington Post reports.
📬 Thanks for reading this week. This newsletter was edited by Zachary Basu and copy edited by Sheryl Miller.