May 24, 2022
Welcome back to Sneak. Smart Brevity™ count: 926 words ... 3½ minutes.
🗳️ Situational awareness: It's primary day tomorrow in Georgia, Texas, Alabama, Arkansas and Minnesota. 5 things to watch, from Axios' Andrew Solender.
⚡Breaking: The Biden administration has been quietly mediating on negotiations that, if successful, could be a first step on the road to the normalization of relations between Saudi Arabia and Israel, Axios' Barak Ravid scooped this evening.
1 big thing: Why Zelensky doubts he can deal with Putin
Volodymyr Zelensky is no longer so eager to meet with Vladimir Putin, Axios' Jonathan Swan writes from Davos:
Why it matters: In our interview tonight — our third in the past 18 months but first since the invasion — the Ukrainian president seemed less hopeful about diplomacy with the Russian president than I've heard from him previously.
Zelensky had repeatedly said in the past that he wanted to meet face-to-face with Putin.
But in his video call from Kyiv to Ukraine House Davos, on the sidelines of the World Economic Forum, he told me it's becoming "more and more difficult" to entertain high-level meetings with Russia as the war drags on and Putin commits more atrocities.
What they're saying: "It is difficult because there is the line that can hardly be crossed, after Bucha, Irpin, Mariupol and other towns and cities," Zelensky said, referring to Russian massacres of Ukrainian civilians.
"We cannot avoid this meeting with the president of the Russian Federation, but after the atrocities that they committed, I cannot be too excited about such a meeting or meetings with the intermediaries."
Between the lines: Top officials in Zelensky's administration and military have recently sounded more aggressive and less willing to concede anything to Russia in negotiations. Their confidence has grown as Ukraine's forces have achieved battlefield victories.
Zelensky's senior negotiator, Mykhailo Podolyak, told Reuters on Saturday that Ukraine must not make any concessions to Russia: "The (Russian) forces must leave the country and after that, the resumption of the peace process will be possible," he said.
Zelensky's military intelligence chief, Maj. Gen. Kyrylo Budanov, has gone even further, telling The Wall Street Journal: "Russia will lose in the end and Ukraine will recover all its temporarily lost territories. It will do so by force, exclusively by force, because no other way exists."
That even applies to Crimea — a goal that many U.S. and European officials consider unrealistic and potentially dangerous, as a desperate Putin might resort to even more extreme measures.
Those declarations are more strident and uncompromising than anything Zelensky has been saying. I pressed Zelensky on this, asking whether he agrees with Budanov's statement that Ukraine will recover all its territories "exclusively by force."
Zelensky seems not to agree. In a remarkable exchange, he tried dodging the question several times, praising Budanov's "spirit" and "confidence" as a military leader.
But Zelensky eventually acknowledged that the approach could incur "hundreds of thousands" of casualties: "The price matters. Everything has its price."
2. Zelensky to "America First": Read a history book
Zelensky appeared visibly frustrated when Swan pressed him on the "America First" view of the war, which contends that defending Ukraine's sovereignty is not worth the cost or potential risk to the U.S.
"Obviously, Ukraine is not a member of NATO," Swan said, laying out a position held by a growing number of Republicans. "What do you say to those in America who say this is Europe's problem?"
"And given how poorly Putin's army has performed so far in Ukraine, how does Russia's invasion threaten the United States?" Swan added.
"First of all, they have to start reading some memoirs of the Second World War," Zelensky responded, arguing that an emboldened aggressor will not stop at the borders of its first victim.
"If we fall, if we don't hold the line, Russia will proceed and attack the Baltic states," Zelensky said.
That's when American lives would come under threat, he suggested, as an attack on vulnerable NATO members like Latvia, Lithuania and Estonia would force the U.S. military to intervene.
"For your families not to have any losses, our families are suffering instead — and you have to support Ukraine because of that."
3. Bill Murray moment
Zelensky took gallows humor to a new level when Swan asked how close Russian assassins came to killing him in the early days of the invasion:
For any person, when it happens for the first time, you are afraid — and on the second, on the third, on the fourth time. But when it becomes repetitive — you remember that film "Groundhog Day" with Bill Murray? ...
I wake up in the morning, it's still the same. I'm still alive. And that's why it's me talking to you. It's not any kind of, you know, technology being used.
Why it matters: It's hard to think of a more brutal line of questioning than asking the president of Ukraine what planning he's done for emergency succession in case Putin succeeds in assassinating him.
Several people in the audience gasped at Swan's question, with some murmuring: "He doesn't have to answer that."
Zelensky, the comedian-turned-wartime president, was unfazed.
4. Tweet du jour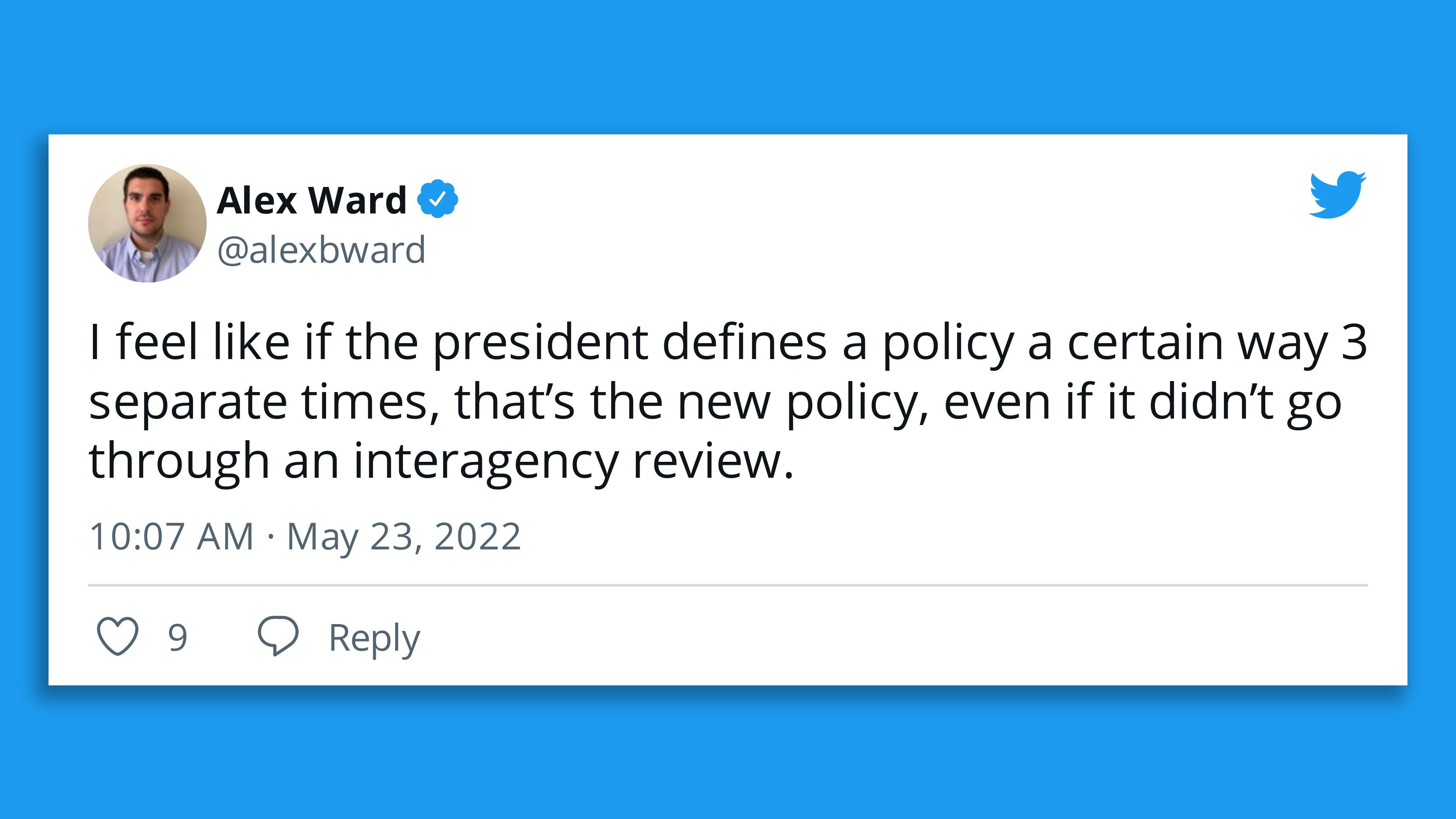 President Biden triggered an early-morning frenzy when he said in Tokyo that the U.S. would intervene "militarily" if China invaded Taiwan — forcing the White House to clarify for the third time in nine months that U.S. policy on Taiwan has not changed.
5. 💬 1 for the road: Jared on Kellyanne
Kellyanne Conway writes of Jared Kushner in her memoir out tomorrow, "Here's the Deal":
Jared was shrewd and calculating. There was no subject he considered beyond his expertise. Criminal justice reform. Middle East peace. The southern and northern borders. Veterans and opioids. Big Tech and small business.
If Martian attacks had come across the radar, he would have happily added them to his ever-bulging portfolio. He'd have made sure you knew he'd exiled the Martians to Uranus and insisted he did not care who got the credit for it.
When Mike Allen asked Kushner for his reaction, he texted this response: 🤷.
🚀 Thanks for starting your week with us! Please tell your family, friends and colleagues they can subscribe to Sneak or any of Axios' other free local and national newsletters through this link.