Axios Sneak Peek
February 18, 2018
Welcome to Sneak Peek, our weekly lookahead for both ends of Pennsylvania Avenue, plus my best scoops. I'd love your tips and feedback: [email protected]. And please urge your friends and colleagues to join the conversation by signing up for Sneak Peek.
1 big thing: Scoop — Skirmish over the nuclear football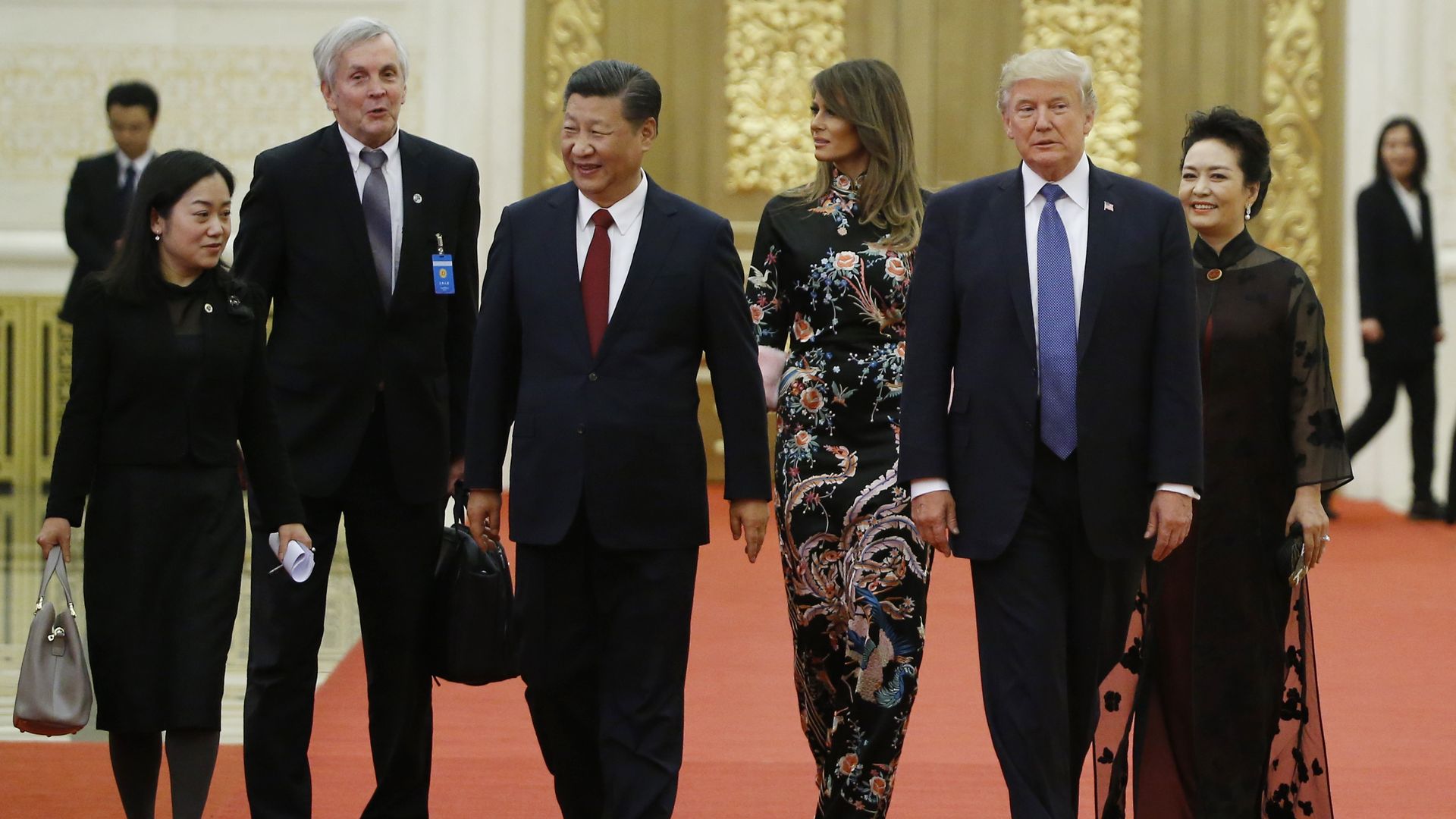 I can't believe this story hasn't gotten out, and neither can the very very few people who know about it.
On Thursday Nov. 9, when President Trump and his team visited Beijing's Great Hall of the People, Chief of Staff John Kelly and a U.S. Secret Service agent skirmished with Chinese security officials over the nuclear football.
I've spoken to five sources familiar with the events. Here's what happened, as they describe it:
When the U.S. military aide carrying the nuclear football entered the Great Hall, Chinese security officials blocked his entry. (The official who carries the nuclear football is supposed to stay close to the president at all times, along with a doctor.)
A U.S. official hurried into the adjoining room and told Kelly what was happening. Kelly rushed over and told the U.S. officials to keep walking — "We're moving in," he said — and the Americans all started moving.
Then there was a commotion. A Chinese security official grabbed Kelly, and Kelly shoved the man's hand off of his body. Then a U.S. Secret Service agent grabbed the Chinese security official and tackled him to the ground.
The whole scuffle was over in a flash, and the U.S. officials told about the incident were asked to keep quiet about it. Trump's team followed the normal security procedure to brief the Chinese before their visit to Beijing, according to a person familiar with the trip — but somebody at the Chinese end either didn't get the memo or decided to mess with the Americans anyway.
I'm told that at no point did the Chinese have the nuclear football in their possession or even touch the briefcase. I'm also told the head of the Chinese security detail apologized to the Americans afterwards for the misunderstanding.
2. The truths about Kelly
Anyone who claims to have gnostic wisdom about John Kelly's future in the White House should prepare to be embarrassed. Not even Donald Trump knows what will happen.
That said, I've chatted with people close to every part of this saga. And I've learned four facts that I hope will help you make sense of all the messy reporting, gossip, innuendo, and Beltway speculation about the president's chief of staff.
1. Privately, Trump is always looking for excuses to bash Kelly. Trump has long chafed at Kelly's efforts to control him. He genuinely resented Kelly's claim to Fox News' Bret Baier that Trump had "evolved" on immigration. So Kelly's bungling of the Rob Porter disaster just cemented a view the president would have held regardless.
"If he's so good, if he knows all this stuff, well how come the first time he gets a problem like this he doesn't know what to do?" Trump told one associate of Kelly. "He wants to handle me, but doesn't know how to handle problems like this."
2. Trump hasn't made an ask. People very close to Kevin McCarthy, Gary Cohn and Mick Mulvaney — the top three contenders to replace Kelly — tell me definitively that the president has not broached the subject with them. There's a sense among their allies that the president may want them to come to him and ask for the job, which would be in character for Trump. However, I doubt any of them would do so, because if they did they'd have to take the job on Trump's terms.
Trump has been asking third parties about these men: "What do you think about Kevin?", "What do you think about Mick?", "What should we do about Gary?" Trump values the advice of all three men. He views Cohn as "a total killer" who's "done it all on Wall Street" even though he's a "globalist." Trump regularly asks Mulvaney for his thoughts on matters ranging far beyond his Budget portfolio, including immigration, healthcare, and what he thinks of certain White House officials. Same with McCarthy.
3. Kelly has lots of enemies in the building. Many White House staff feel Kelly walked in the door with a condescending "daddy's here now" attitude. Based on leaks I've received from inside the building, the chief of staff has lost the support of a good number of his subordinates. Several senior staff have privately questioned his honesty. Several officials told me they believe he lied about how he handled the Rob Porter disaster (His story directly contradicts the story the White House press shop told the media in real time.)
Bottom line: Trump resents Kelly, and no longer gives him the benefit of the doubt. But he hasn't decided what to do about that.
3. What to watch on guns
A senior administration official tells me he expects Congress will "take another look" at background check legislation that John Cornyn pushed late last year.
Flashback — per the Texas Tribune:
"U.S. Sen. John Cornyn announced the release of bipartisan legislation Thursday aimed at strengthening the federal background check database following the recent mass shooting in Sutherland Springs.
"The Texas Republican's bill, known as the Fix NICS Act, tries to ensure federal and state authorities accurately report relevant information, including criminal history, to the National Instant Criminal Background Check System."
Bottom line: Cornyn's bill won't come close to satisfying gun control advocates, but it may be all that's politically possible under a Republican-controlled Congress.
4. Midterm migraines
Democrats have more midterm anxiety than you might think, given most pundits are confidently predicting Republicans will lose the House.
Two sources with direct knowledge tell me that at the recent Democratic Senate retreat at Mount Vernon, they invited a focus group of voters to discuss the issues they care about and the political landscape.
What the voters kept saying: "Republicans have the wrong agenda; Democrats have no agenda."
A Senate aide told me leadership is acutely aware of this problem, and hopes immigration will fill their agenda gap. Another top Senate aide, however, told me their messaging will highlight a broader set of issues, including pensions, opioid funding, child care, and student loans. They will boast that they moved the ball forward on these issues with the budget deal.
Their toughest challenge: keeping this message from being totally drowned out by coverage of the President's alleged affairs, the Russia probe, the Robert Porter domestic violence cover-up, and other wild stories. Democrats are aware that cable news producers would much rather air segments on Stormy Daniels than pension reform.
By the way: Hillary Clinton had this problem too. Her campaign staff always bemoaned the fact that the national media showed infinitely more interest in Trump's JFK conspiracy theories than her white papers on Alzheimer's.
On top of that: Several top Hill Democrats told me they worry too many of their colleagues think they can flip the House just by bashing Trump and talking about Russia. If the focus groups at the retreat showed them anything, it's that that won't be enough.
5. Headwinds for paid family leave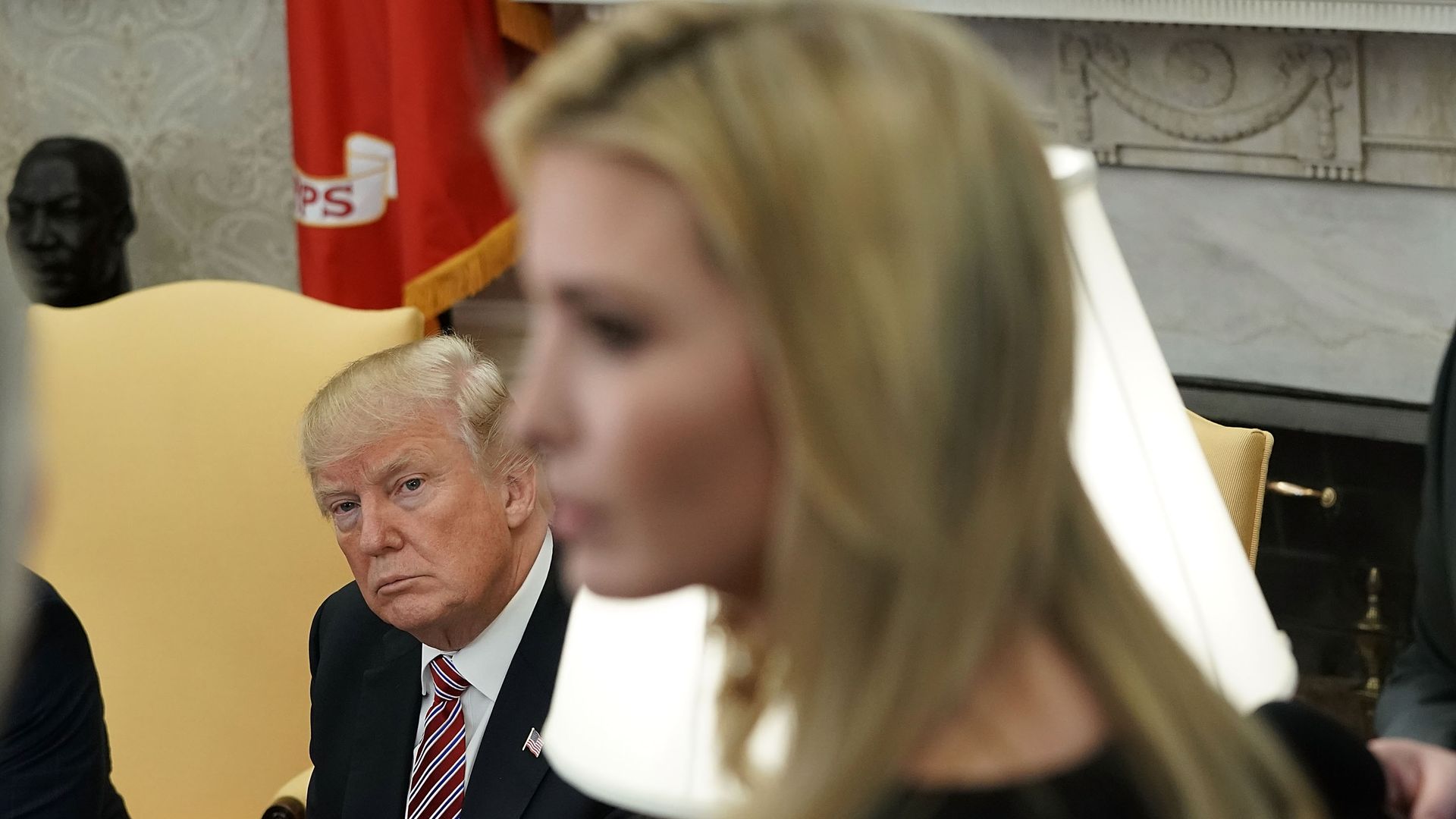 Ivanka Trump continues to advocate internally for a paid family leave policy — though conservatives inside the administration have told me she's getting some high-level blowback.
In conversations with associates, John Kelly has dismissively described paid family leave as one of Ivanka's "pet projects" and said he doesn't understand how it fits into the White House's agenda.
What's next: A White House official told me this tension came to a head a few weeks ago. The official told me the issue is being "hammered out internally" and Kelly approved a policy process to work through the issue.
To be fair to Ivanka, paid family leave is not a rogue endeavor, even though much of the White House considers it a non-starter. I'm told she coordinates any meeting she has on Capitol Hill with the White House's Office of Legislative Affairs.
And while the idea looks dead on arrival to me, some conservatives on the Hill have left the door ajar. When the ultra conservative House Freedom Caucus chairman, Mark Meadows, says he doesn't rule something out, then it's probably unwise to do so. Some other conservatives, including high-profile senators Mike Lee, Marco Rubio and Joni Ernst, have also come out in support of paid family leave.
6. Sneak Peek diary
The House and Senate are on recess this week. President Trump's schedule, per a WH official:
Monday: Trump expected to return to D.C. from Mar-a-Lago.
Tuesday: The president will receive his intelligence briefing, have lunch with Defense Secretary Mattis, and will host the public safety "Medal of Valor" awards ceremony.
Wednesday: Trump will receive his intelligence briefing and host a "listening session" with high school students and teachers.
Thursday: Trump will receive his intelligence briefing and meet with state and local officials on school safety.
Friday: Trump will make a speech to the Conservative Political Action Conference (CPAC). The president and the First Lady will host at the White House the Australian Prime Minister Malcolm Turnbull. Trump will also meet with Rex Tillerson.
7. 1 gun thing: Washington's new signs
Because of a court order, people with concealed-carry permits can now take their guns into D.C. restaurants, the Washington City Paper reports, unless those restaurants have "No Guns Allowed" signs.
Some D.C. restauranteurs are looking for tasteful ways to display these signs without frightening customers, according to the paper.
Quote of the year: "We're doing it on a chalkboard so it's integrated into our space," the Cork Wine Bar & Market co-owner, Diane Gross, told the paper. "There's a balance because you don't want people to be scared."