Axios Sneak Peek
July 27, 2022
Welcome back to Sneak. Smart Brevity™ count: 965 words ... 3.5 minutes.
⚡ Situational awareness: President Biden and Chinese President Xi Jinping are scheduled to hold a phone call on Thursday, as tensions simmer over a possible visit to Taiwan by House Speaker Nancy Pelosi, Axios' Hans Nichols reports.
1 big thing: New Jan. 6 divide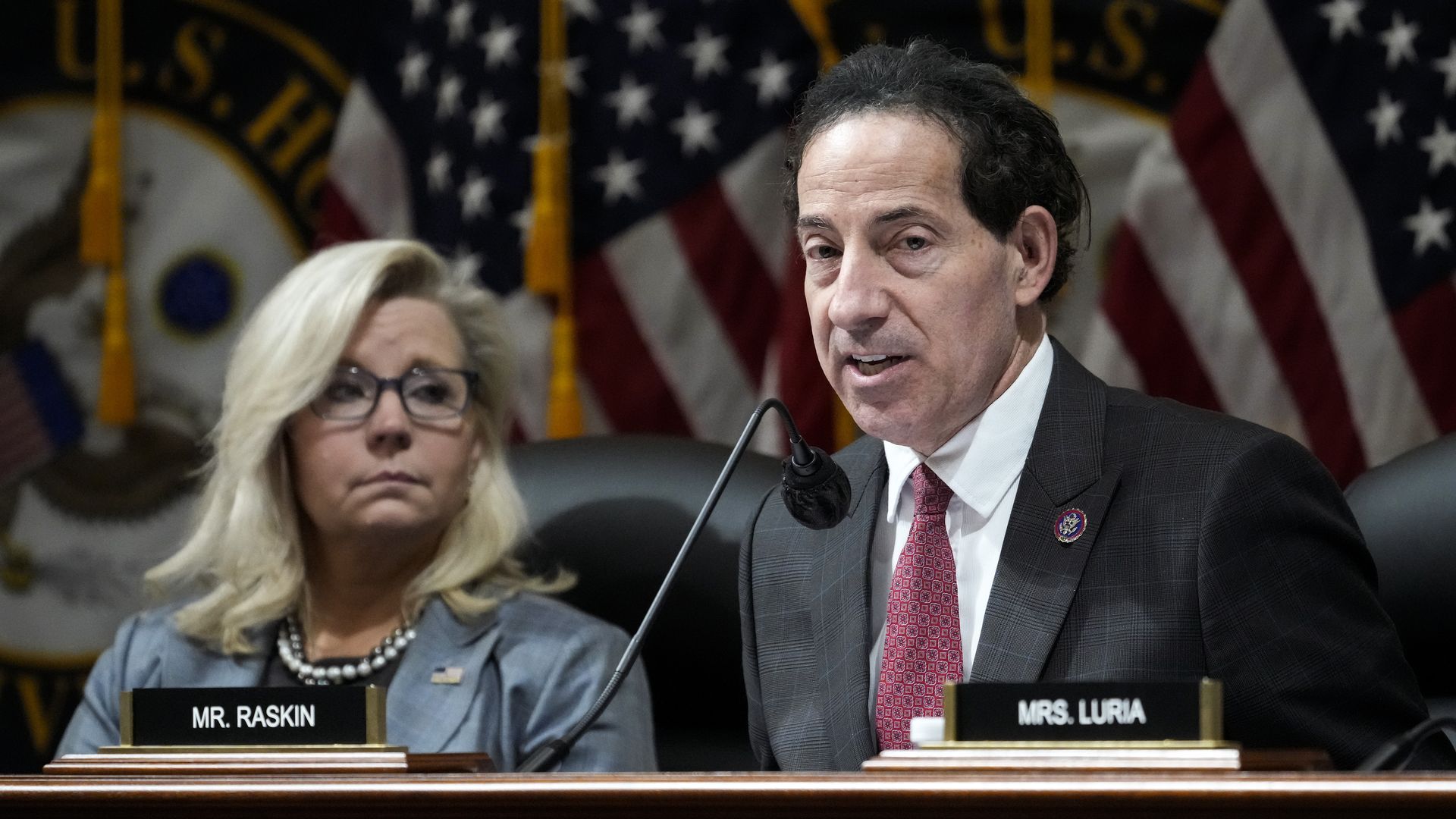 Members of the House Jan. 6 committee are split on whether to condemn the growing trend of Democrats meddling in GOP primaries to boost pro-Trump election deniers — a tactic designed to secure more favorable matchups in the general election, Axios' Alayna Treene reports.
Why it matters: The committee has spent the last year warning that former President Trump and his allies — including candidates running in this year's midterms — are endangering American democracy by attacking the legitimacy of the 2020 election.
Critics say the committee's message that "this is bigger than politics" and "country before before" — reinforced in its blockbuster summer hearings — is at risk of being undermined.
Between the lines: Public backlash intensified yesterday when it emerged that the Democratic Congressional Campaign Committee is boosting an election denier in his primary against Rep. Peter Meijer (R-Mich.) — one of 10 House Republicans who voted to impeach Trump for his role in the Jan. 6 Capitol riot.
Rep. Sean Patrick Maloney (D-N.Y.), the chair of the DCCC, said on MSNBC this morning: "If you're talking about trying to pick your opponent, you might see us do that, sure. And I think sometimes it does make sense."
Rep. Liz Cheney (R-Wyo.), vice chair of the Jan. 6 committee, told Axios: "No party, Democrat or Republican, should be promoting candidates who perpetuate lies about the 2020 election and try to undermine our democracy."
Rep Adam Kinzinger (R-Ill.) said on CNN: "I think it's disgusting. ... While I think a certain number of Democrats certainly understand that democracy is threatened, don't come to me after having spent money supporting an election denier in a primary ... and say, 'Where are all the good Republicans?'"
Rep. Stephanie Murphy (D-Fla.), who isn't seeking re-election, told Axios: "This is bigger than any one candidate or campaign. No one should be promoting election deniers and peddlers of the 'Big Lie.'"
Rep. Elaine Luria (D-Va.), meanwhile, appeared to support Democrats aggressively spotlighting which GOP candidates are election deniers — including those in her own competitive race.
"Voters deserve to know the truth about these candidates and just how dangerous they are to our democracy," she said in a statement to Axios.
Rep. Jamie Raskin (D-Md.) took a more nuanced approach to the question, telling Axios that he "can see both sides of the argument":
"One can certainly understand an argument that it's categorically wrong to do anything that would objectively help insurrectionist election deniers.
But in the real world of politics, one can also see an argument that if the pro-insurrectionist, election-denier wing of the Republican caucus is already dominant, then it might be worth it to take a small risk that another one of those people would be elected, in return for dramatically increasing the chances that Democrats will be able to hold the House against a pro-insurrectionist, election-denying GOP majority.
Jean-Paul Sartre said that in politics we all have dirty hands up to our elbows. Nobody's pure. And we are in desperate times to defend democratic institutions and practices."
2. 🎤 Trump's return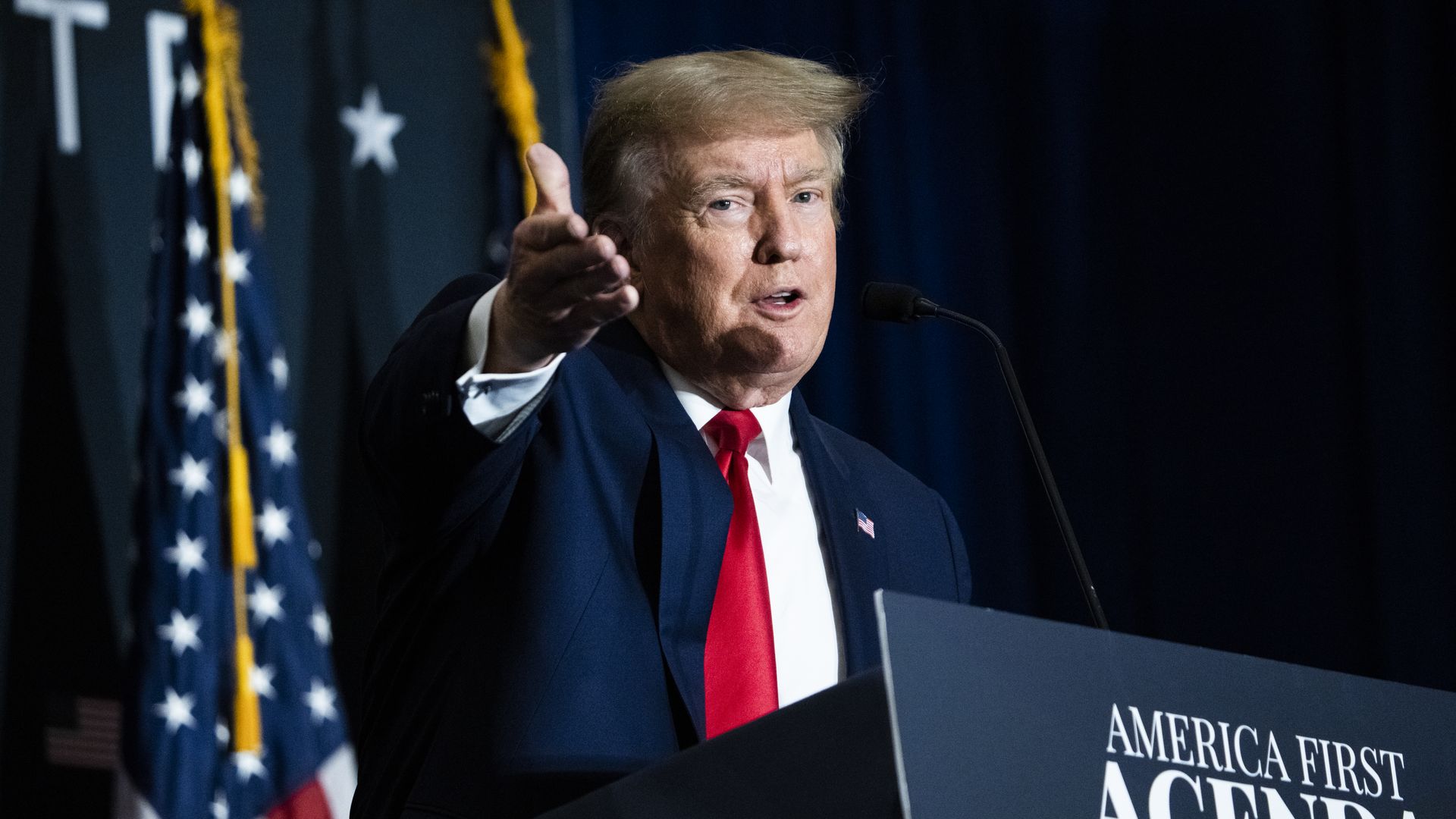 Trump's "policy speech" in D.C. today opened with a dark portrait of an America overrun by crime and migrants "stampeding" across the border, before devolving into his standard medley of grievance politics and false election claims.
Split-screen: Former Vice President Mike Pence, speaking this morning less than a mile away, told his conservative audience during a Q&A: "I don't know that the president and I differ on issues. But we may differ on focus. I truly do believe that elections are about the future."
Split screen No. 2: The Washington Post reported this evening the Justice Department is investigating Trump's conduct and conversations as part of its criminal probe of efforts to overturn the 2020 election.
3. 🐘 GOP oppo money sinking Greitens campaign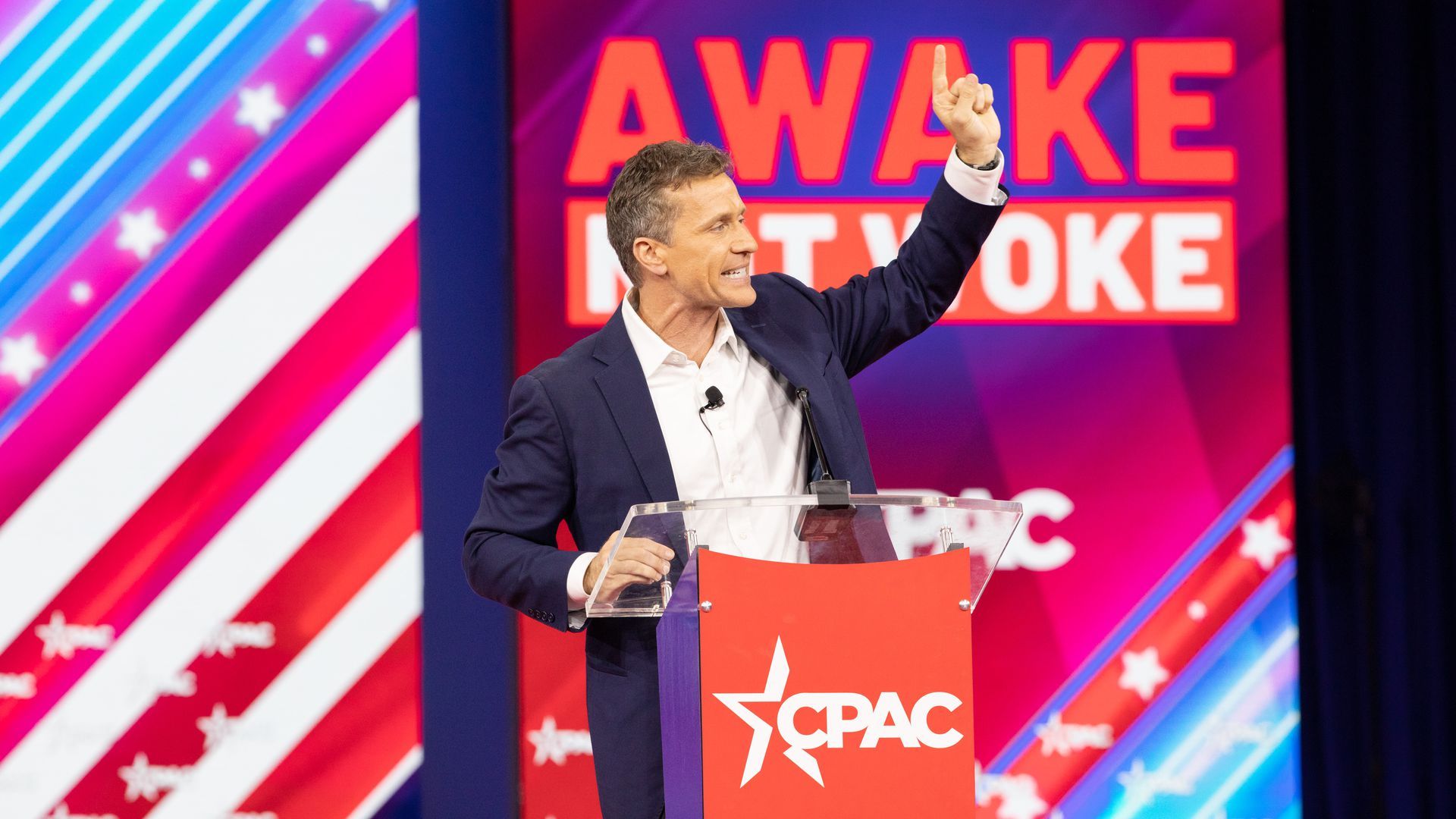 A Republican super PAC created to prevent disgraced former Missouri Gov. Eric Greitens from winning the Senate GOP primary has knocked him out of the lead in several new polls, Axios' Josh Kraushaar writes.
Why it matters: The effective Republican intervention in Missouri's wide-open primary proves that party leaders can successfully boost mainstream candidates, if they so choose.
But outside Republican groups have generally maintained a hands-off policy in open primaries this year, wary of alienating Trump or MAGA-aligned activists.
That's allowed Democrats to create havoc in Republican races, knowing they can interfere without drawing much pushback.
The big picture: So far, Democratic involvement has helped push three potentially winnable governors' races — Illinois, Maryland and Pennsylvania — into long-shot territory for Republicans.
4. 🌊 Wave watch: Rs run, Ds quit
Out of more than 3,000 candidates running for the House in 2022 — a record high — Republicans outnumber Democrats by 384 candidates, Axios' Stef Kight writes.
Why it matters: Lobbyist Bruce Mehlman notes in a new analysis that this kind of significant gap has in years past led to "wave" elections, likely because it reflects party enthusiasm.
"Republicans more eager to run" and "Democrats more eager to quit" are two of the nine "wave indicators" Mehlman highlights in his quarterly slide deck.
5. 🇺🇸 Tweet du jour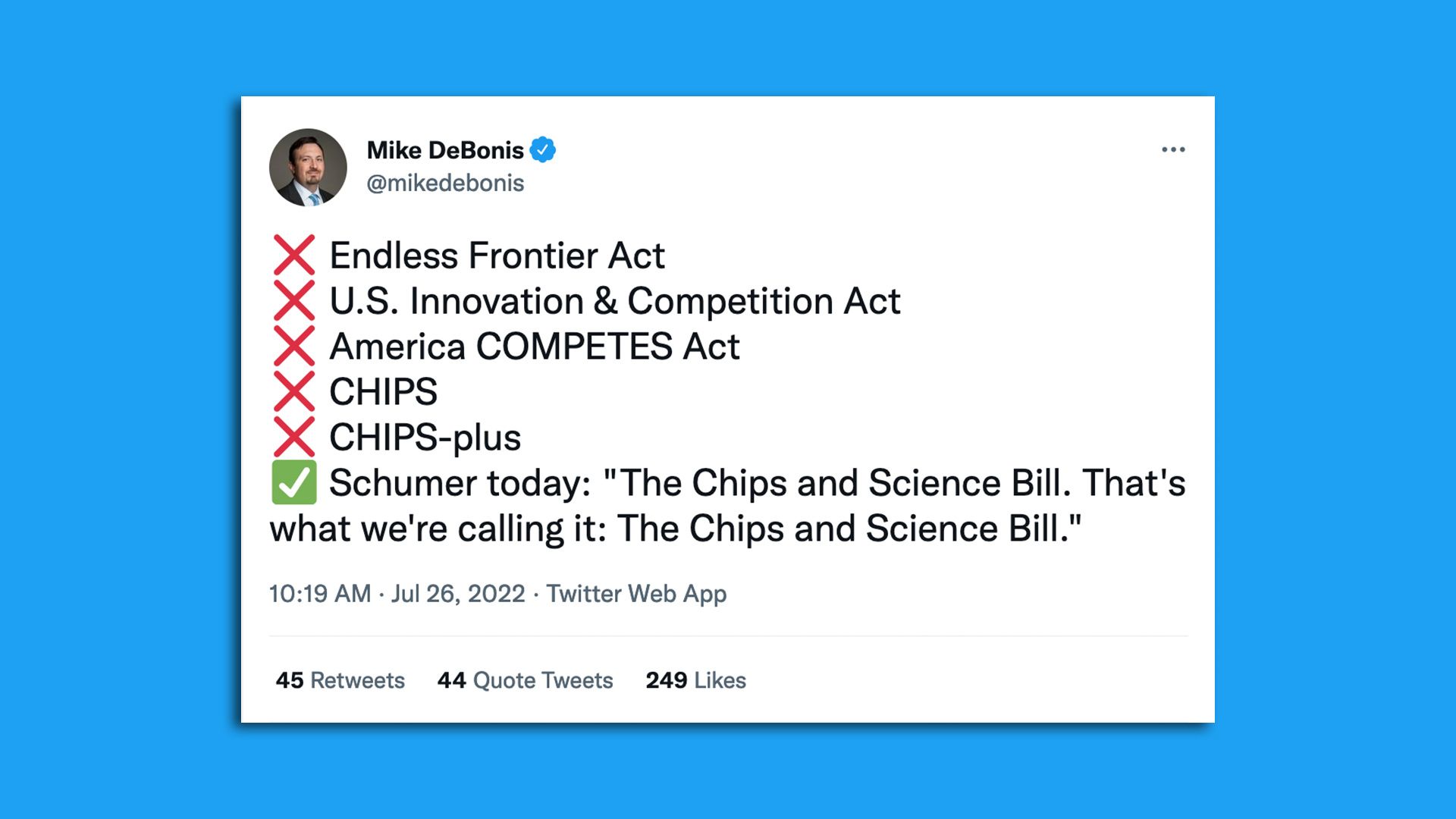 The Senate voted 64-32 today to advance a sweeping semiconductor package to a final vote, clearing a key procedural hurdle after months of bipartisan pleas, national security briefings, a hostage threat and one weather delay.
"They went with CHIPS & Science when CHIPS & SALSA (Sustaining American Leadership in Scientific Affairs) was right there," Rep. Peter Meijer (R-Mich.) quipped.
📬 Thanks for reading! Send us feedback by hitting reply to this newsletter or emailing [email protected].