Axios Sneak Peek
December 22, 2019
Welcome to Sneak Peek, our weekly lookahead for both ends of Pennsylvania Avenue, plus our best scoops.
חַג חֲנוּכָּה שַׂמֵחַ
📡 Tell a friend to sign up free for their weekly Sneak Peek!
🎅 Tonight's newsletter is the last Sneak for 2019. Thanks for your countless emails over the year. I am grateful for so many demanding readers. Merry Christmas. May you have a safe and happy holiday.
Tonight's newsletter is 1,537 words, 6 minutes.
1 big thing: Exclusive — Bolton hits Trump for bluffing about North Korea nukes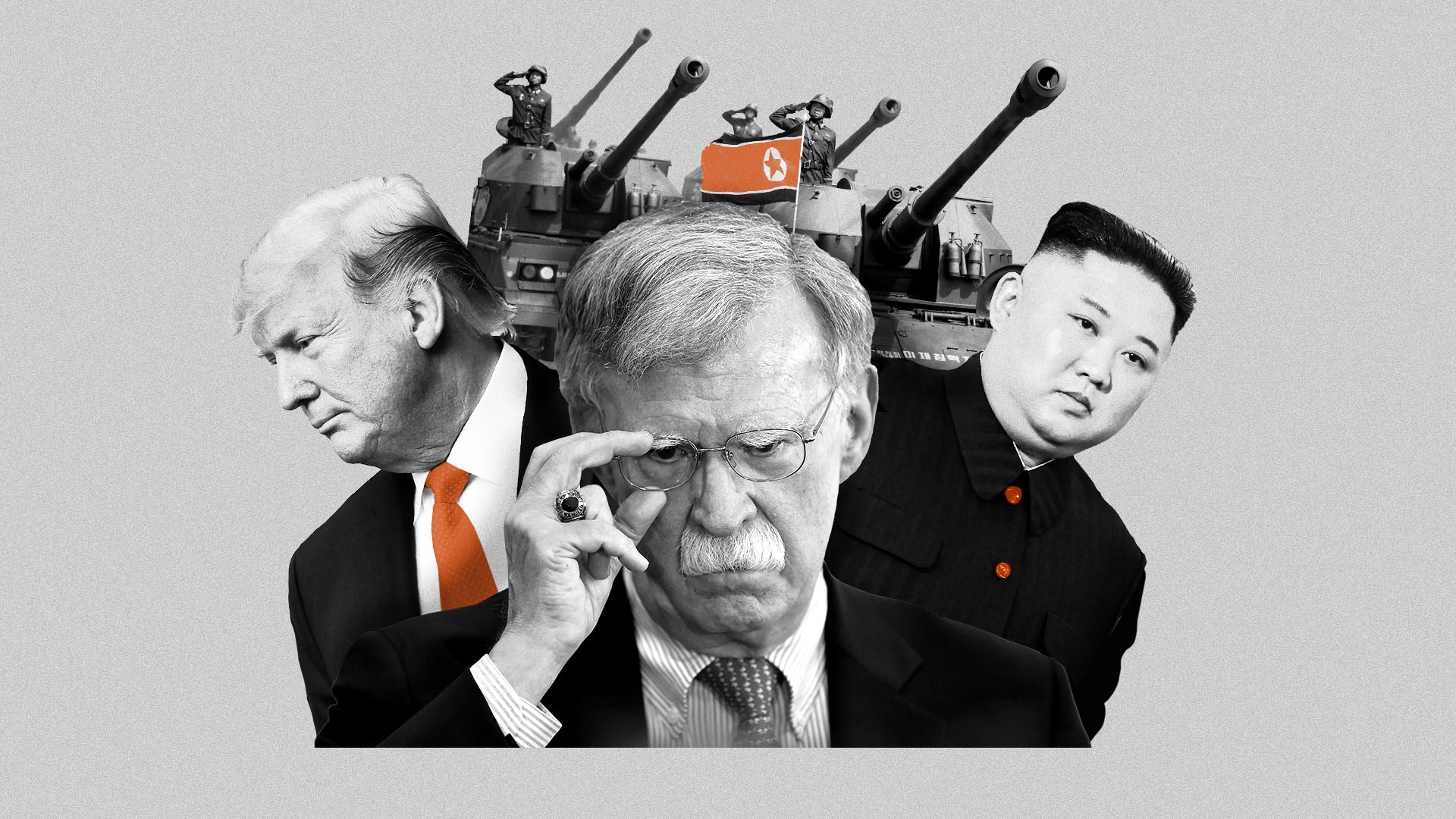 In his sharpest criticism yet of his old workplace, John Bolton suggested the Trump administration is bluffing about stopping North Korea's nuclear ambitions — and soon might need to admit publicly that its policy failed badly.
Bolton told me in an interview that he does not think the administration "really means it" when President Trump and top officials vow to stop North Korea from having deliverable nuclear weapons — "or it would be pursuing a different course."
Why now? The president's former national security adviser, who served until September, is speaking out ahead of an end-of-year timetable.
If Kim Jong-un follows through on his threatened Christmas provocation, Bolton says the White House should do something "that would be very unusual" for this administration: admit they got it wrong on North Korea.
"The idea that we are somehow exerting maximum pressure on North Korea is just unfortunately not true," Bolton said.
For example, he said, the U.S. Navy could start intercepting oil that is illegally being transferred to North Korea at sea.
As Bolton sees it, the administration now has more of a "rhetorical policy" that it's unacceptable for North Korea to have nuclear weapons that could hit America or its allies.
If Kim thumbs his nose at the U.S., Bolton said, he hopes the administration will say: "We've tried. The policy's failed. We're going to go back now and make it clear that in a variety of steps, together with our allies, when we say it's unacceptable, we're going to demonstrate we will not accept it."
Why it matters: Kim is back on his white horse, and the North Korean nuclear threat may be greater than ever, analysts say.
North Korea has intimated it will test some kind of advanced weapons in the coming weeks — weapons it's developed as Trump has tried to woo Kim.
Trump's top envoy to North Korea, Deputy Secretary of State Stephen Biegun, said recently that if North Korea follows through on that threat, it would be "most unhelpful in achieving a lasting peace on the Korean Peninsula."
Bolton called Biegun's statement "a late entry but a clear winner in the Understatement of the Year Award contest."
Bolton, who has advocated for a more aggressive North Korea strategy, also criticized Trump for saying earlier this year that Kim's short-range missile tests don't bother him.
"When the president says, 'Well, I'm not worried about short-range missiles,' he's saying, 'I'm not worried about the potential risk to American troops deployed in the region or our treaty allies, South Korea and Japan.'"
The big picture: The imminent threats from North Korea seem a world away from June 2018, when Trump returned from his Singapore summit with Kim to boast, "There is no longer a nuclear threat from North Korea."
In reality, Kim has expanded his nuclear arsenal since then, analysts say.
Using data from analysts and governments around the world, Japan's Nagasaki University estimated in June that Kim now has as many as 30 nuclear warheads. That's on the lower end of estimates, and it's up from as many as 20 warheads in the same study last year.
"Even though they're not testing right now, they're operating at full tempo," said Victor Cha, the National Security Council director for Asia under President George W. Bush and Korea chair at the Center for Strategic and International Studies.
The Trump administration declined to comment.
Go deeper: Read the full story about Trump's North Korea policy amid Kim Jong-un's fresh threats.
2. Scoop: Buttigieg fundraiser dangles influence for cash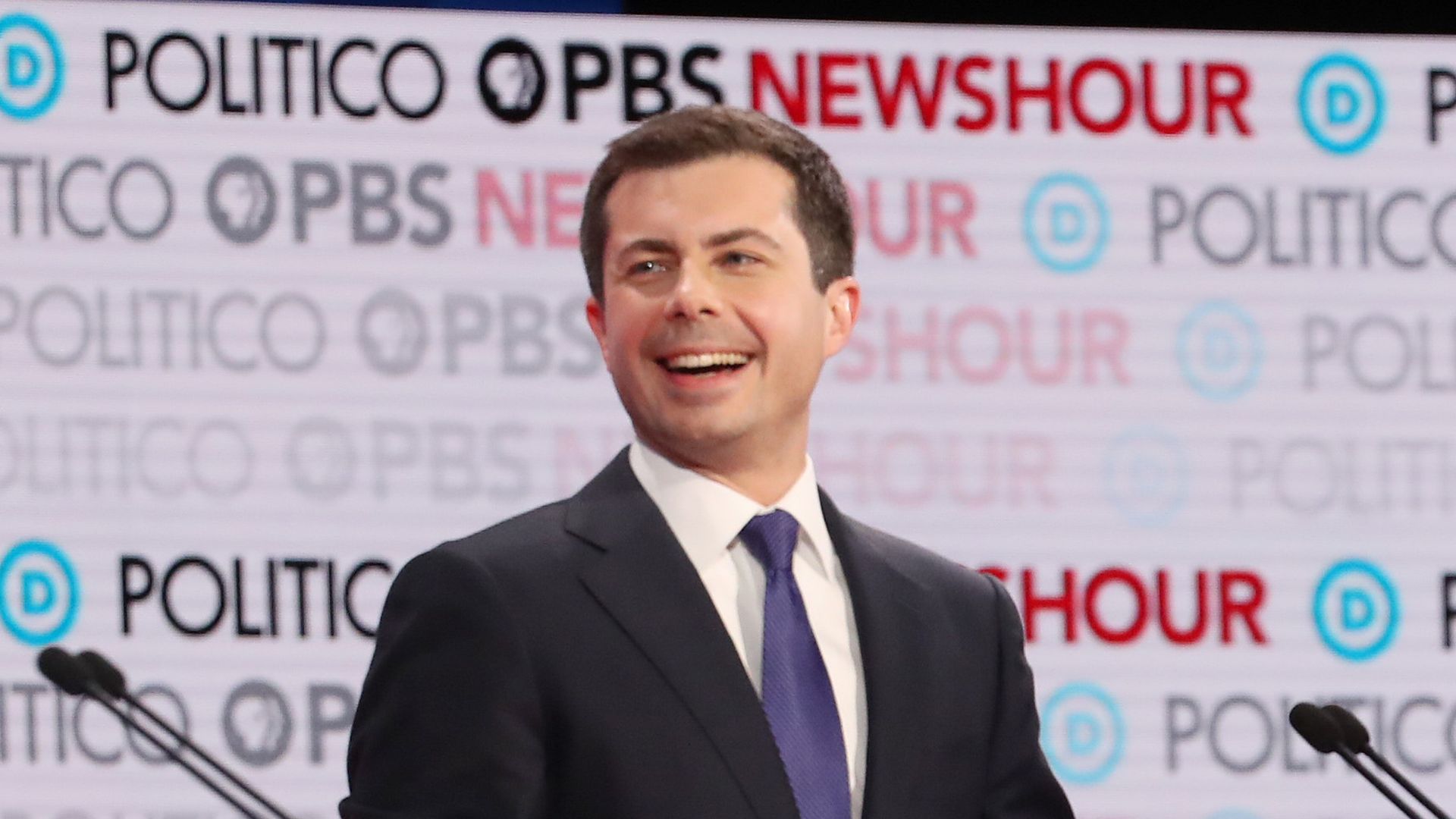 In a recent email exchange with a wealthy prospective donor, a top fundraiser for Democratic presidential candidate Pete Buttigieg made an offer that was unusually blunt — even by modern pay-to-play standards.
"If you want to get on the campaign's radar now before he is flooded with donations after winning Iowa and New Hampshire, you can use the link below for donations," the fundraiser, H.K. Park, wrote in an email to the donor, which was reviewed by Axios.
The Buttigieg campaign lists Park on its website as one of its top fundraisers — those who have raised at least $25,000 for the campaign.
Why it matters: Brendan Fischer at the campaign finance watchdog the Campaign Legal Center said the Buttigieg fundraiser's pitch "is an example of a campaign offering potential donors an opportunity to buy influence."
"It's rare that the public has an opportunity to see it in writing," Fischer added, "but this is not the only campaign that's offering big donors the opportunity to get on the radar of the candidate in exchange for large contributions."
The revelation comes days after Democratic presidential rival Elizabeth Warren went after Buttigieg for raising money from billionaires in a "wine cave."
The prospective donor was also disturbed by the solicitation. "It's very telling and concerning that one of the campaign's major bundlers would talk like that," said the donor, who asked not to be named.
"What would this suggest about the way he's going to interact with Silicon Valley if the implication is pay-for-play?"
"If that's the way he's operating," the donor added, "it's in the public interest for people to know what's being said."
Sean Savett, a Buttigieg campaign spokesperson responded: "The campaign did not see or authorize the language in this email. But it is ridiculous to interpret it as anything more than asking potential supporters who may be interested in Pete to join our campaign before caucusing and voting begins."
"We are proud to have more than 700,000 donors who have already donated to our campaign, and the only promise any donor will ever get from Pete is that he will use their donations to defeat Donald Trump."
The big picture: Buttigieg's fundraising tactics have emerged as a major issue in the 2020 Democratic primary. Left-wing rivals of the South Bend mayor, Warren and Bernie Sanders, have refused to attend private fundraisers with wealthy donors and have said Buttigieg's style of fundraising breeds corruption.
Buttigieg, who leads the Democratic field in recent polls of Iowa and New Hampshire, hit back against these charges in a tense portion of Thursday night's debate.
He said it would be self-defeating to turn away donations while engaged in "the fight of our lives" against President Trump, and he pointed out how Warren, in her senatorial career, had accepted money from similar donors.

His argument: Private fundraisers didn't corrupt her, and they aren't corrupting him. 

Buttigieg has insisted that raising money from wealthy donors does not and could not corrupt his campaign.
But the donor who received the Buttigieg fundraiser's email felt differently. "He's running on an image that may not be his reality."
Go deeper: Read the full story about the Buttigieg campaign's fundraising tactics.
3. Trump and McConnell wait on Pelosi's next move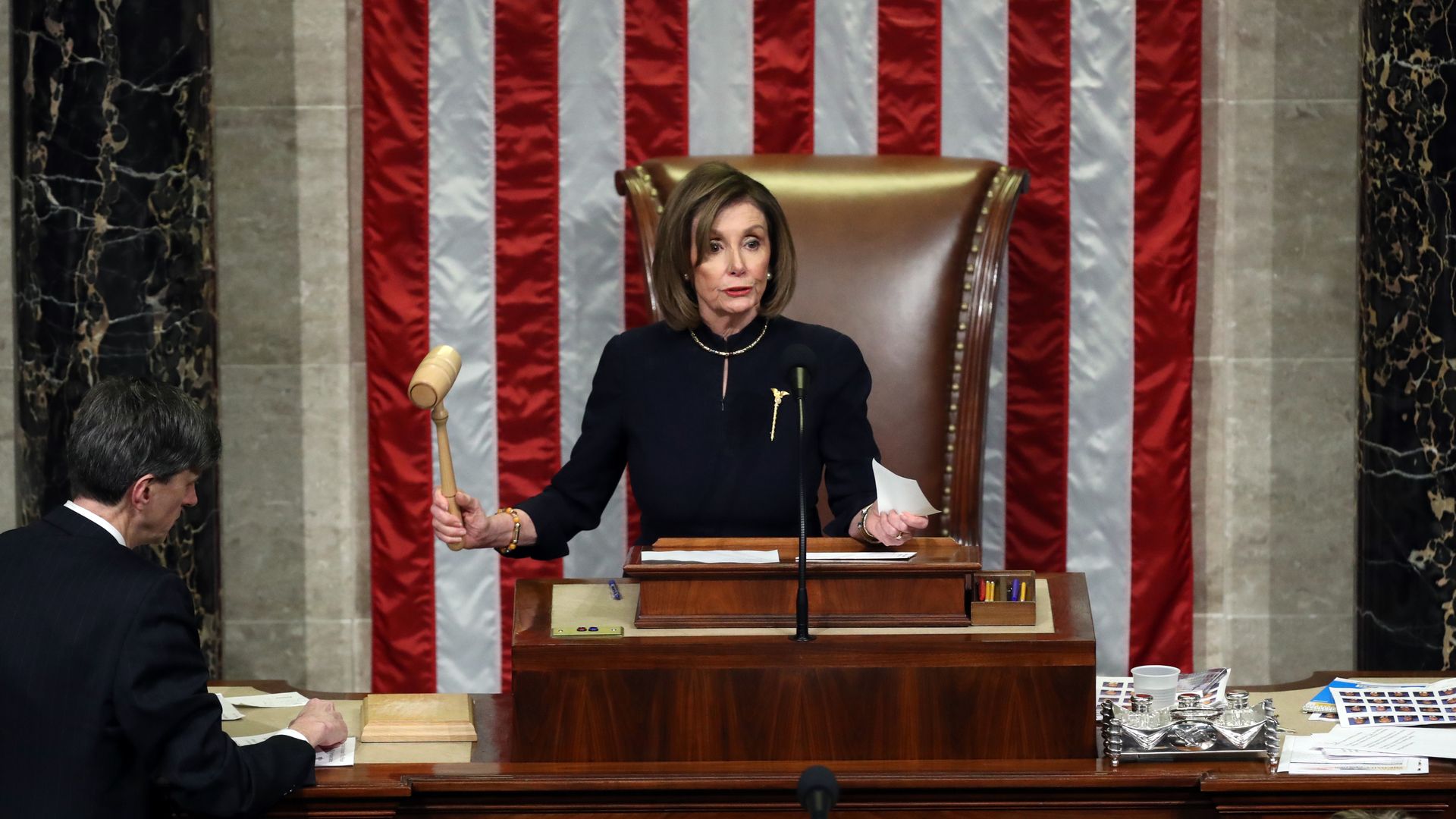 "Speaker Nancy Pelosi, who labeled Mr. McConnell a 'rogue' majority leader because of his openly hostile attitude toward the House impeachment proceedings, has held off on sending the House articles across the Capitol. First, she says, she wants to make certain fair ground rules are set for the Senate proceedings," per NYT.
Why it matters: "Democrats hope the procedural fight keeps the spotlight squarely on Mr. McConnell — who has already declared himself 'not an impartial juror' — and makes other Senate Republicans queasy about shutting down witnesses when many Americans would expect such testimony as a standard part of any trial."
"For now, however, Mr. McConnell — and many other Senate Republicans — seem unmoved by the House posture. He spent much of Thursday gleefully ridiculing Democrats' negotiating tactics.
"'Do you think this is leverage, to not send us something we'd rather not do?' he asked reporters this week as he cracked a broad smile outside the Senate chamber, in a departure from his usual dour expression."
Marc Short, the vice president's chief of staff, said on NBC's "Meet the Press" that Pelosi's position was "really untenable."
4. Sneak Peek diary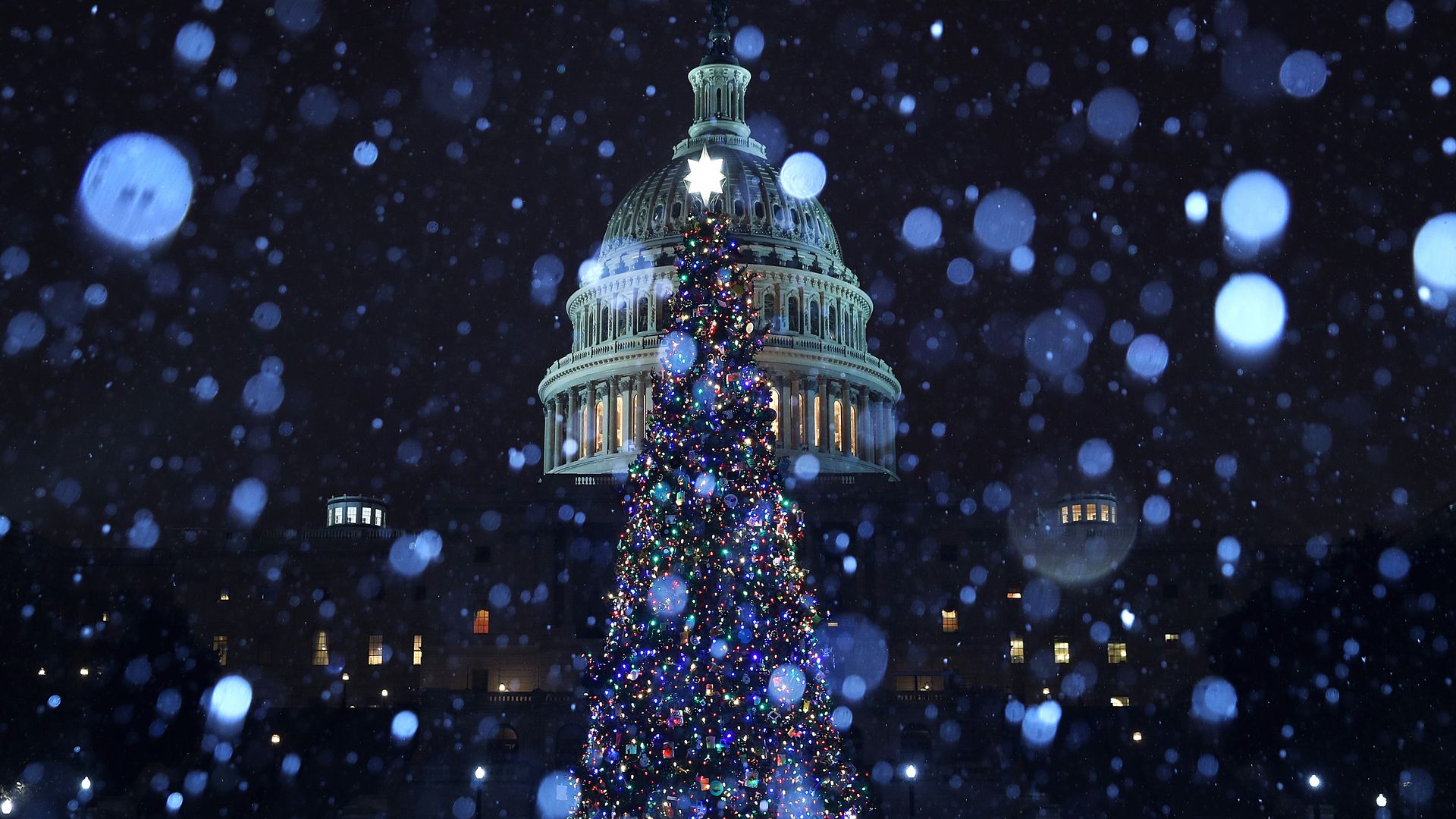 The House and Senate are out for Christmas.
President Trump will spend the Christmas period at his Mar-a-Lago club in Palm Beach, Florida.
The only event on Trump's public schedule, per a White House official, is that on Tuesday he will join "a video teleconference with members of the military."
5. Quote du jour
"We'll have an economy based on wind. I never understood wind. You know, I know windmills very much. I've studied it better than anybody I know. It's very expensive. They're made in China and Germany mostly — very few made here, almost none. But they're manufactured tremendous — if you're into this — tremendous fumes. Gases are spewing into the atmosphere. You know we have a world, right? So the world is tiny compared to the universe. So tremendous, tremendous amount of fumes and everything. You talk about the carbon footprint — fumes are spewing into the air. Right? Spewing. Whether it's in China, Germany, it's going into the air. It's our air, their air, everything — right?
— From the White House transcript of President Trump's speech to the Turning Point USA Student Action Summit in West Palm Beach on Saturday.
6. 1 censored thing: The Democratic debate on China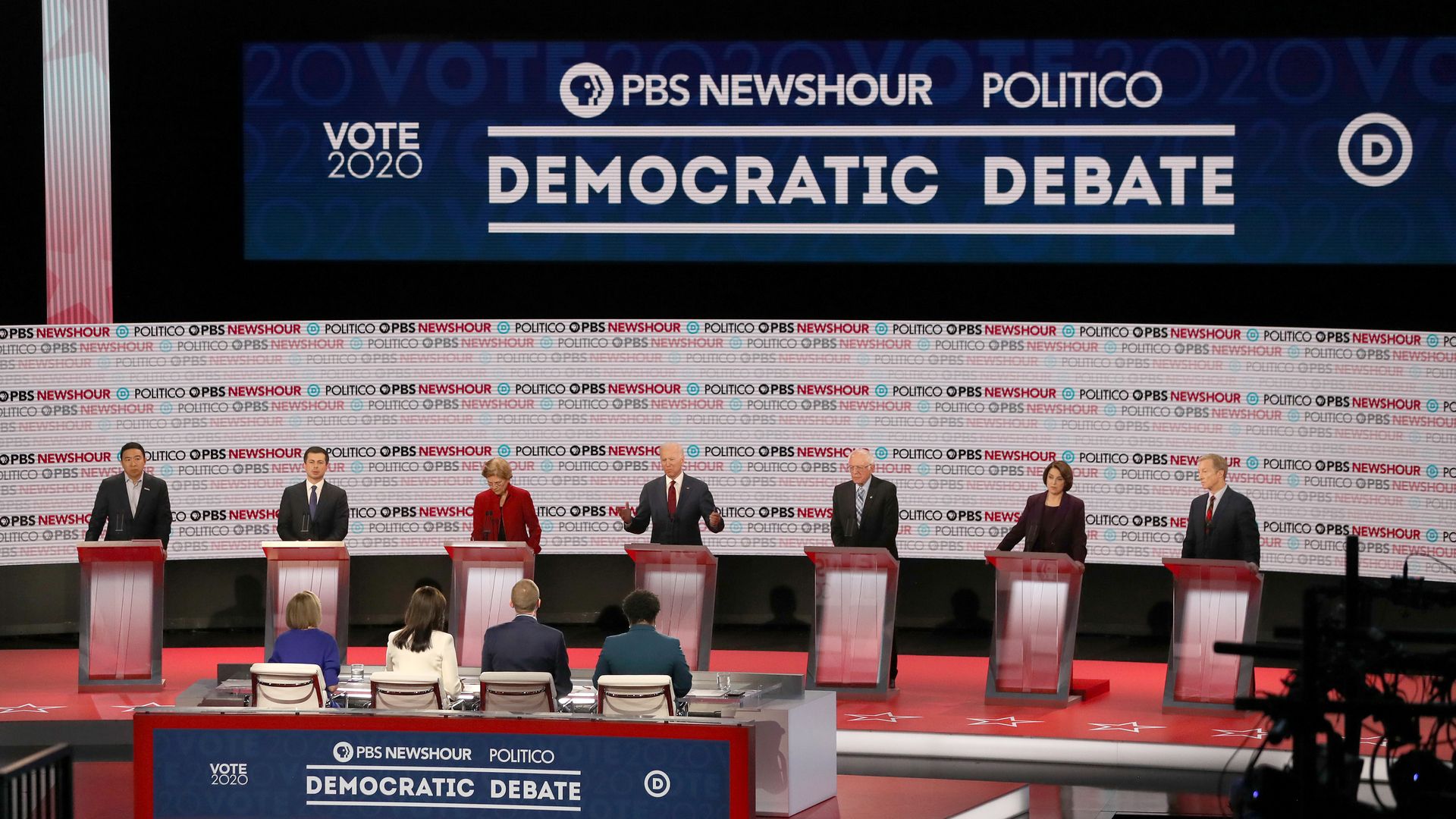 "The live feed of the sixth Democratic presidential debate was cut without warning in China Thursday night during a discussion on allegations of human rights abuses in the country's western region of Xinjiang," per CNN.
"The screen went black just before 9 p.m. ET after PBS moderator Judy Woodruff asked Mayor Pete Buttigieg if the US should boycott the 2022 Beijing Olympics over China's alleged mass detention of its Uyghur citizens."
"The feed from the PBS/Politico debate in Los Angeles remained cut for about nine minutes while candidates were asked about a range of China issues, including the Hong Kong protests and military tensions in the South China Sea."
The big picture: "Censors regularly screen live broadcasts on international media networks in China, ready to cut any segment from the air if it is deemed politically sensitive by the ruling Communist Party."