Axios Sneak Peek
April 03, 2022
Welcome back to Sneak.
📅 Pencil us in: The inaugural Axios What's Next Summit is being held Tuesday. Sign up to livestream conversations about the future with some of today's leading CEOs and thinkers through this link.
Smart Brevity™ count: 1,089 words ... 4 minutes. Edited by Glen Johnson.
1 big thing: Scoop - Garcetti comes up short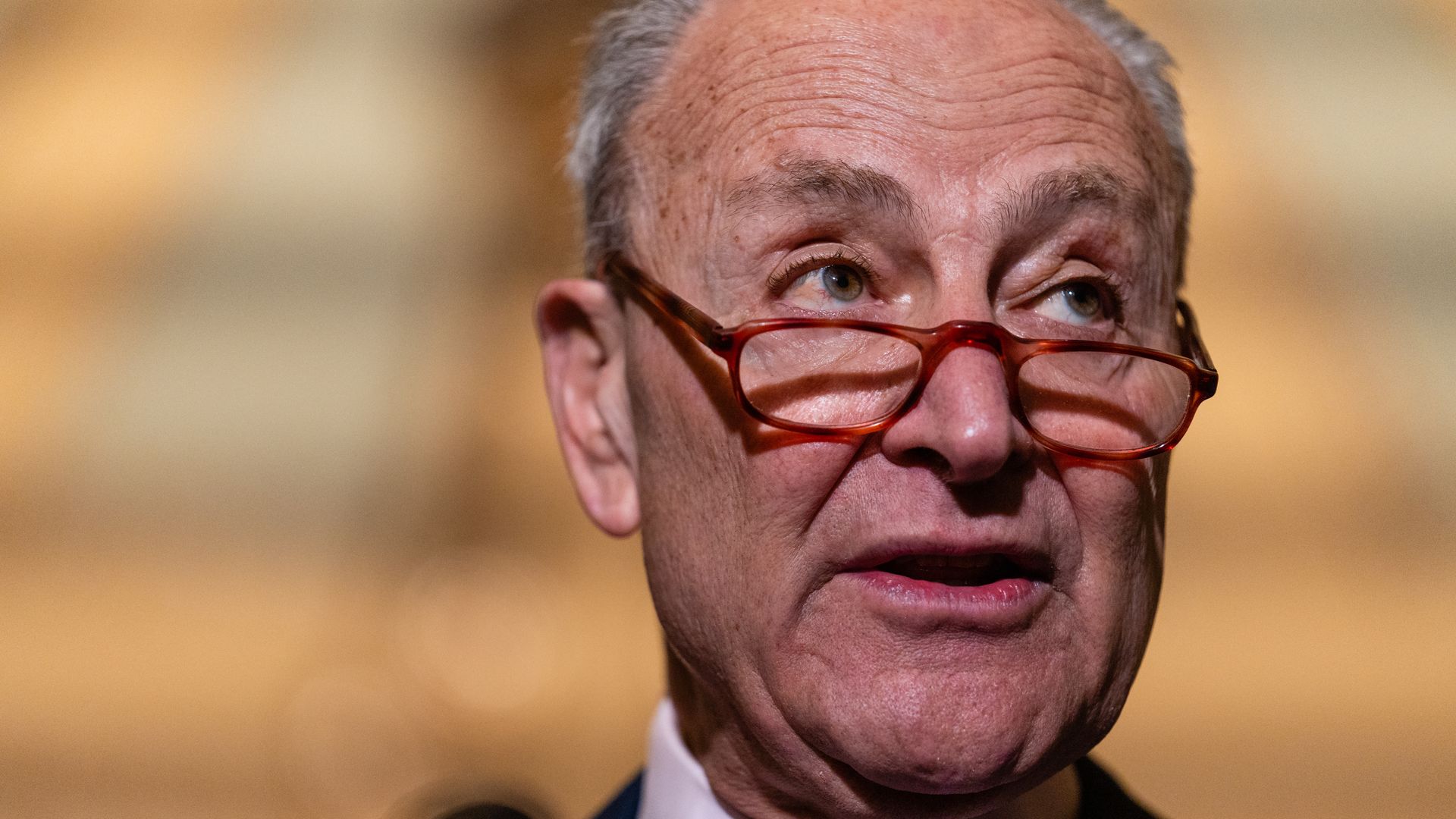 Chuck Schumer's team is privately acknowledging to Senate Democrats that Eric Garcetti doesn't currently have 50 votes within their caucus to be confirmed as ambassador to India, congressional aides tell Axios' Hans Nichols.
Why it matters: The comments by the Senate majority leader's office, delivered Wednesday through his legislative director during a call with other LDs, mean the Los Angeles mayor is unlikely to receive a floor vote any time soon. Garcetti was formally nominated eight months ago.
The comments also indicate the growing concern — and confusion — within the Democratic Party about the fate of President Biden's nominee to serve as ambassador to a crucial country resisting the administration's efforts to get tougher on Russia.
The cold math of a 50-50 Senate may force Biden to pull Garcetti's nomination and find another candidate who can be seated as his envoy to the world's largest democracy.
The delay has also created leadership uncertainty for the nation's second-largest city and its 4 million residents.
Driving the news: Schumer's team was asked about the timing of a possible Garcetti vote during a weekly call designed to provide a big-picture issues overview to Senate offices.
The staffer's comments were based on the public indications from some Democratic senators — a number of whom have said they want more information about allegations of workplace sexual harassment before supporting Garcetti.
At this time, Schumer's office is not formally "whipping" the vote — asking senators how they plan to vote.
A spokesperson for Schumer declined to comment to Axios about the call contents.
2. Biden's pledge runs short of workers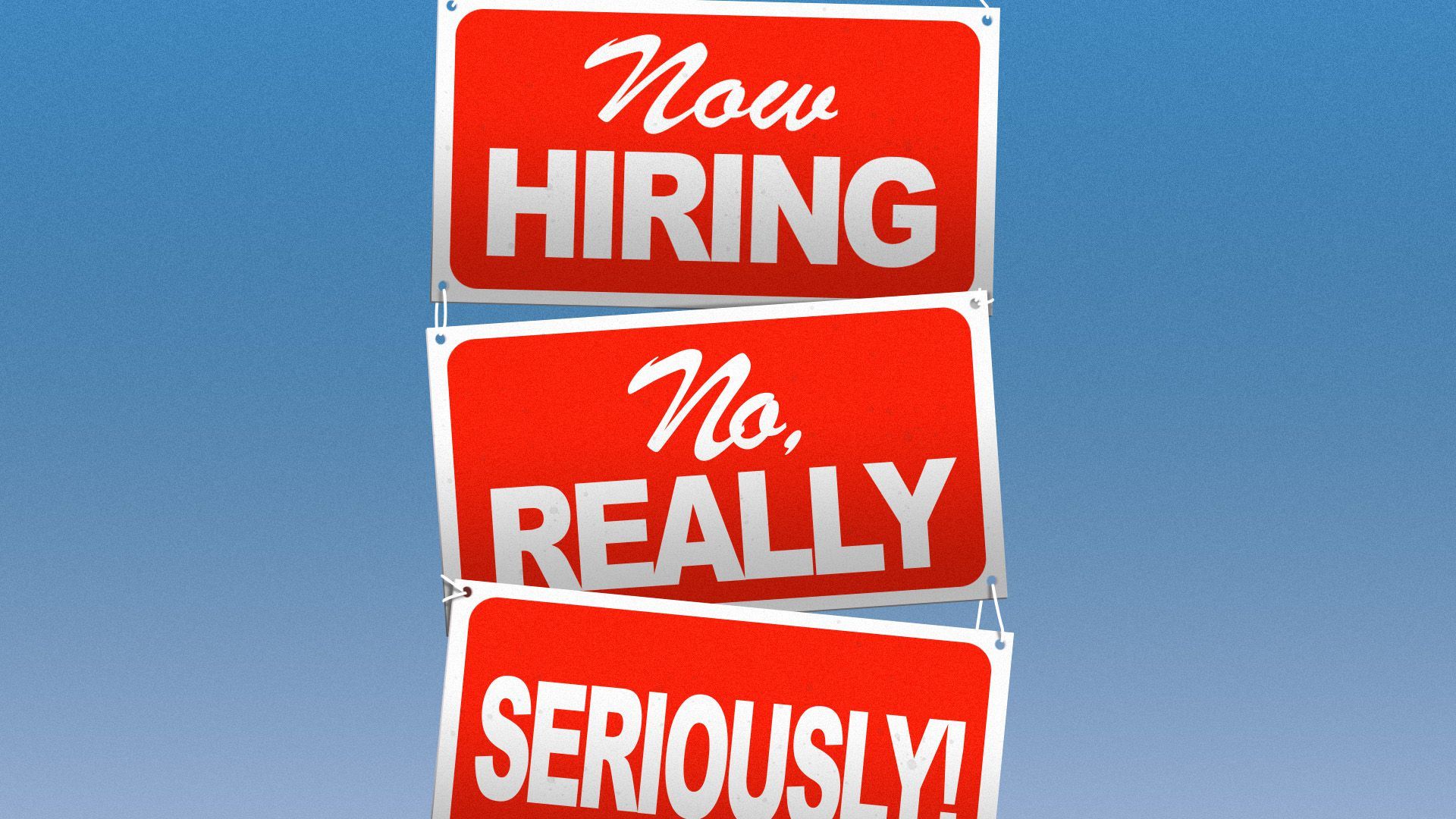 The president's campaign pledge to create "millions" of jobs has hit a challenge: finding workers.
Why it matters: Job potential from building out clean energy and "onshoring" — bringing home — overseas manufacturing hasn't panned out or has been overstated. His words have been more political statement than governing result, write Axios' Sarah Mucha and chief economic correspondent Neil Irwin.
Driving the news: Ten states recently hit the lowest unemployment rates they've seen since the Bureau of Labor and Statistics began keeping track of individual state data in 1976.
In February 2020, before the pandemic, unemployment was at 3.5%. The current rate is only slightly higher, at 3.8%.
The labor force is on track to grow only about 0.3% a year in the coming decade, according to the Congressional Budget Office, compared to over 1% as recently as 2005.
Higher immigration levels would increase the labor supply, but that's a politically fraught issue.
If the administration were to focus its attention on importing labor, it would surely face a domestic backlash that it doesn't value American workers.
Talk of the administration lifting Title 42 — the Trump-era public health order both administrations have used to stem the influx of immigrants — has already stirred opposition among Democrats arguing for continued border controls.
What they're saying: "It sounds good in political conversation, 'onshoring,' and how international corporations have somehow stolen jobs from American corporations," Gary Hufbauer, a senior fellow at the Peterson Institute for International Economics, told Axios in an interview.
"But, it's totally inconsistent with where we are now."
3. Charted: Party passion
Republican voters are signaling how they're thinking about the 2022 midterms, with a recent Pew Research survey showing they're much more motivated this cycle by which party controls Congress after November.
Why it matters: It's a significant shift from the 2018 elections, when there was only a narrow gap between the two parties on the same question, Axios' Alexi McCammond writes.
Between the lines: The overall share of voters saying which party controls Congress "really matters" to them is similar this cycle (63%) to the last midterm cycle (65%).
But of that group, 70% of Republicans agree party control on the Hill is an important factor to them, compared to just 60% of Democrats.
That's down from 67% of Democratic voters who said the same in 2018.
Independent voters are slightly more likely than Democratic ones to care about this (63%) —comparable to the last cycle.
4. Worthy of your time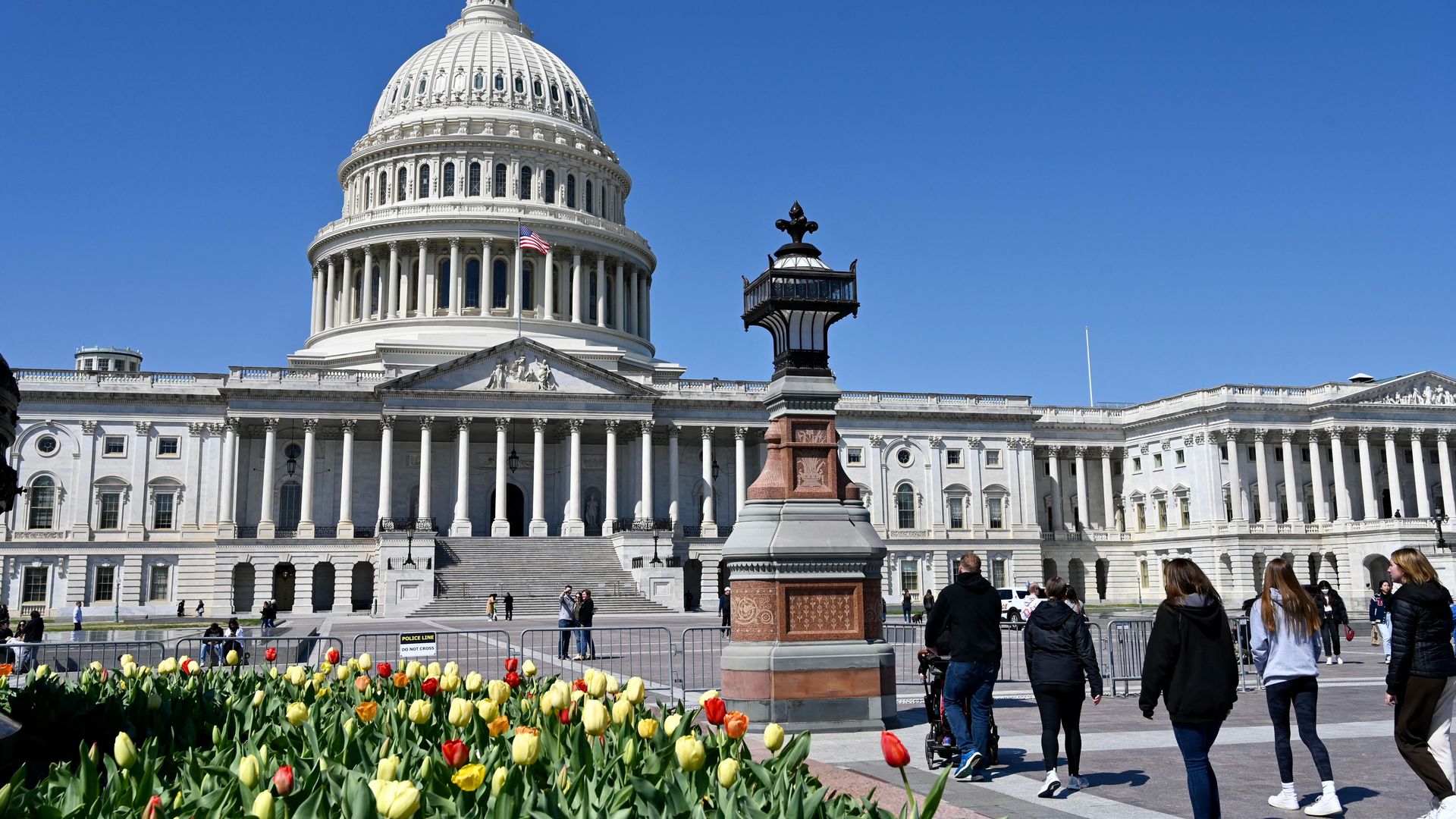 🐘 New Hampshire Gov. Chris Sununu, a Republican, called former President Trump "f---ing crazy" at the Gridiron Dinner last night, Rep. Jamie Raskin (D-Md.) said on CBS' "Face the Nation." He added that Sununu touched on the idea of a 2024 presidential run, Axios' Andrew Solender writes in today's Sneak roundup.
🔎 Raskin, a member of the Jan. 6 committee, also said on CBS that the panel has "intense interest" in piecing together Trump's actions on Jan. 6. He asserted that apparent gaps in the White House call logs from that day are "suspiciously tailored to the heart of the events."
🇺🇦 The Biden administration is considering even more stringent sanctions on Russia amid reports of mass deaths in the Kyiv suburb of Bucha as Russian troops retreat from the area, according to the Washington Post.
⚖️ Sen. Roy Blunt (R-Mo.) said on ABC's "This Week" he plans to vote against Judge Ketanji Brown Jackson's all-but-assured nomination to the Supreme Court, but added that despite their disagreements on judicial philosophy, her confirmation as the first Black woman on the Court would be a "high point for the country."
🗓 Jackson's nomination is set to be voted upon by the Judiciary Committee, which is likely to result in a party-line tie given uniform opposition from Republicans on the panel. Democrats can then vote to discharge her from Judiciary and put her nomination to the full Senate, likely by Thursday. She's expected to get some GOP support.
📨️ CISA director Jen Easterly will meet tomorrow evening with a bipartisan group of 22 senators to discuss Russian cybersecurity threats and address concerns they outlined in a letter, a person familiar with the meeting told Axios.
5. Tweet du jour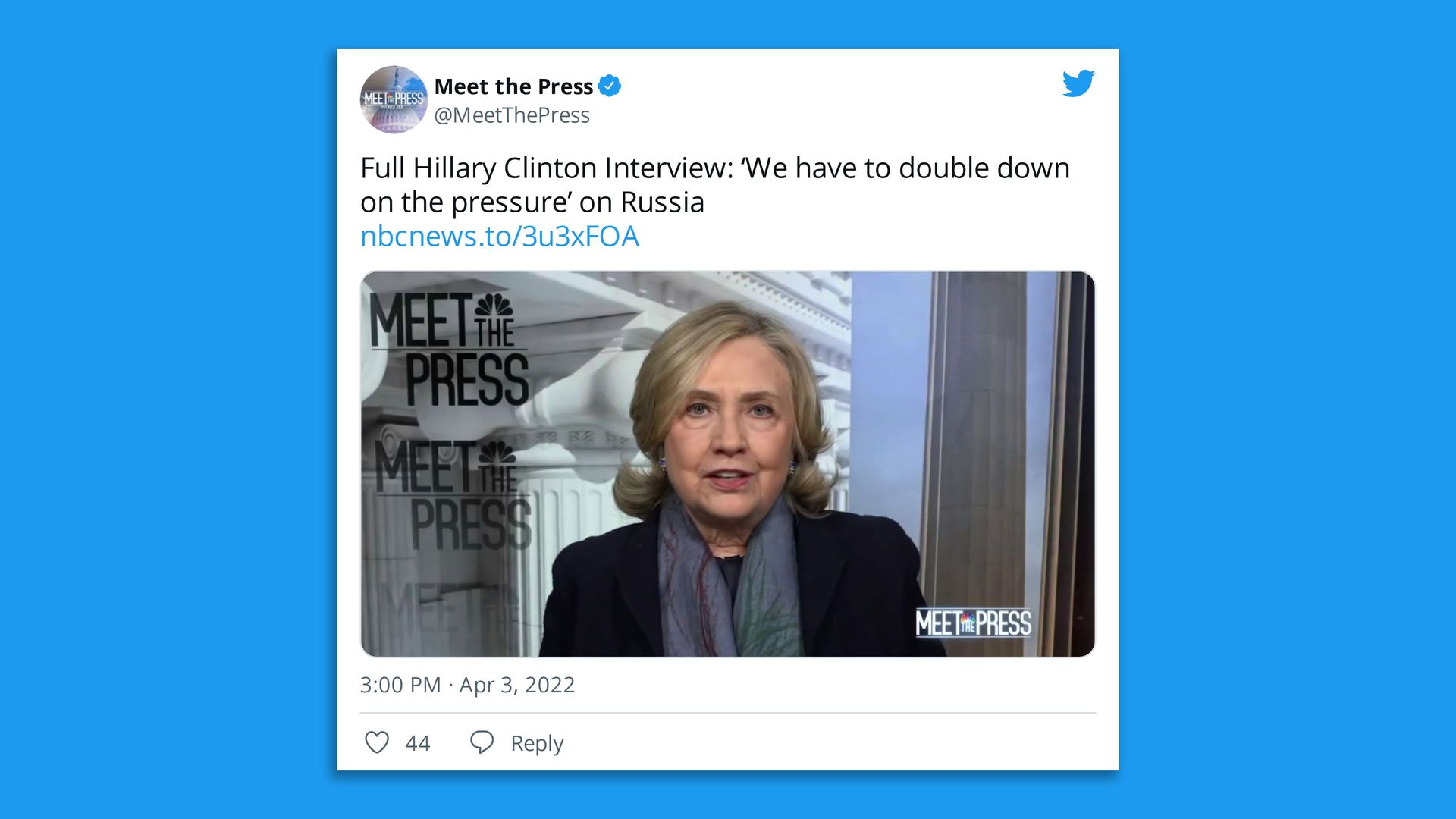 Hillary Rodham Clinton was back on the Sunday circuit, with the former secretary of State granting an interview to Chuck Todd for NBC's "Meet the Press."
"We have to double down [againt Russia]. There is more that can be done to increase pressure and stress: additional sanctions, more in the way of lethal aid, and now that there has been a pushback, thanks to the brave Ukrainian military offensive action, there is time to resupply the Ukrainians so that they can continue to defend their country."
"The only positive that comes out of this horrific, unjustified, unprovoked assault on Ukraine with the war crimes that are being committed on a daily basis by [Russian President Vladimir] Putin's military, is that the world is now, I think, awake — some are more awake than others, but everybody has to pay attention."
🚀 Thanks for starting your week with us! Please tell your family, friends and colleagues they can subscribe to Sneak or any of Axios' other free local and national newsletters through this link.