Axios Sneak Peek
December 01, 2020
🎉 Welcome to the inaugural daily edition of Sneak Peek, our lookahead from both ends of Pennsylvania Avenue, plus our best scoops.
We're now coming to you Sunday through Thursday nights, providing our final word on the day. Sign up here.
Situational awareness: Vice President Mike Pence announced tonight he will campaign in Georgia after visiting the CDC Friday. President Trump will be there Saturday, mounting a Republican one-two punch as the state prepares for crucial Senate special elections.
Today's newsletter — edited by Axios contributor Glen Johnson — is 1,194 words ... a 4½-minute read.
1 big thing ... Scoop: FDA chief called to West Wing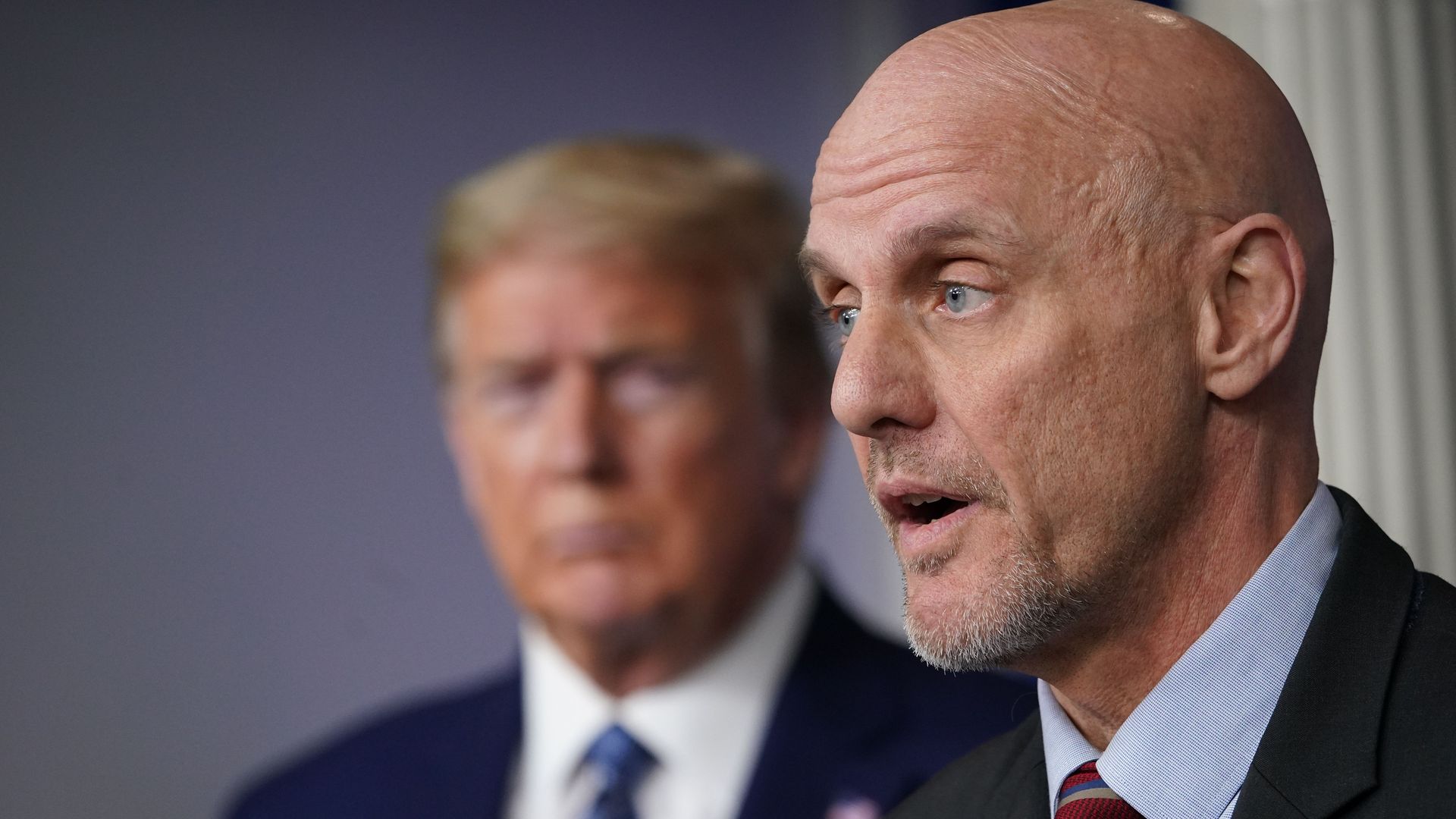 White House Chief of Staff Mark Meadows has summoned FDA commissioner Stephen Hahn to the West Wing for a 9:30am meeting Tuesday to explain why he hasn't moved faster to approve the Pfizer coronavirus vaccine, two senior administration officials tell Axios' Jonathan Swan.
Why it matters: The meeting is shaping up to be tense, with Hahn using what the White House will likely view as kamikaze language in a preemptive statement to Axios: "Let me be clear — our career scientists have to make the decision and they will take the time that's needed to make the right call on this important decision."
What they're saying: A senior administration official said that in mid-November, Hahn spent a week vacationing in the Outer Banks of North Carolina, and the official expected this subject would be discussed.
"There are some who are complaining the FDA is not working around the clock to get things approved and because of that, Meadows has asked Dr. Hahn for a briefing," a second administration official said.
Behind the scenes: The first official said Meadows wanted Hahn to explain why he was hearing that the FDA was not moving fast enough to greenlight the Pfizer vaccine, which was the first to be submitted for emergency agency approval.
An FDA spokesperson denied Hahn was vacationing and responded: "On the point about Dr. Hahn's recent remote work schedule, Dr. Hahn was recently exposed to COVID while working at the FDA's White Oak campus. Dr. Hahn chose a remote location to quarantine and he continued working, as he has done throughout the pandemic. Dr. Hahn has worked every single day of this pandemic, including weekends, holidays and more."
When Meadows requested the meeting, Hahn said he wanted to do it over the telephone. Meadows insisted it be in person.
The other side: When Axios gave the FDA visibility of this reporting and an opportunity to comment, Hahn responded, "We want to move quickly because this is a national emergency, but we will make sure that our scientists take the time they need to make an appropriate decision. It is our job to get this right and make the correct decision regarding vaccine safety and efficacy."
An agency spokesperson tells Axios, "The amount of data submitted to the FDA includes thousands of pages of technical information that must be divided up and reviewed by experts from different disciplines. Once the reviews by the various experts are completed, they are then integrated into an overall review.
"Completion of these reviews involves such things as ensuring that the manufacturing process and the controls on manufacturing are appropriate, checking statistical analyses performed to ensure that they were done properly and doing additional analyses, as necessary, to look at the effect of the vaccine on subsets of individuals who might be at greater risk of adverse effects."
Flashback: Trump piled pressure on the FDA to approve a vaccine before the election and baselessly accused the agency of slow-walking approvals to harm his electoral chances.
2. Scoop: Schumer's regrets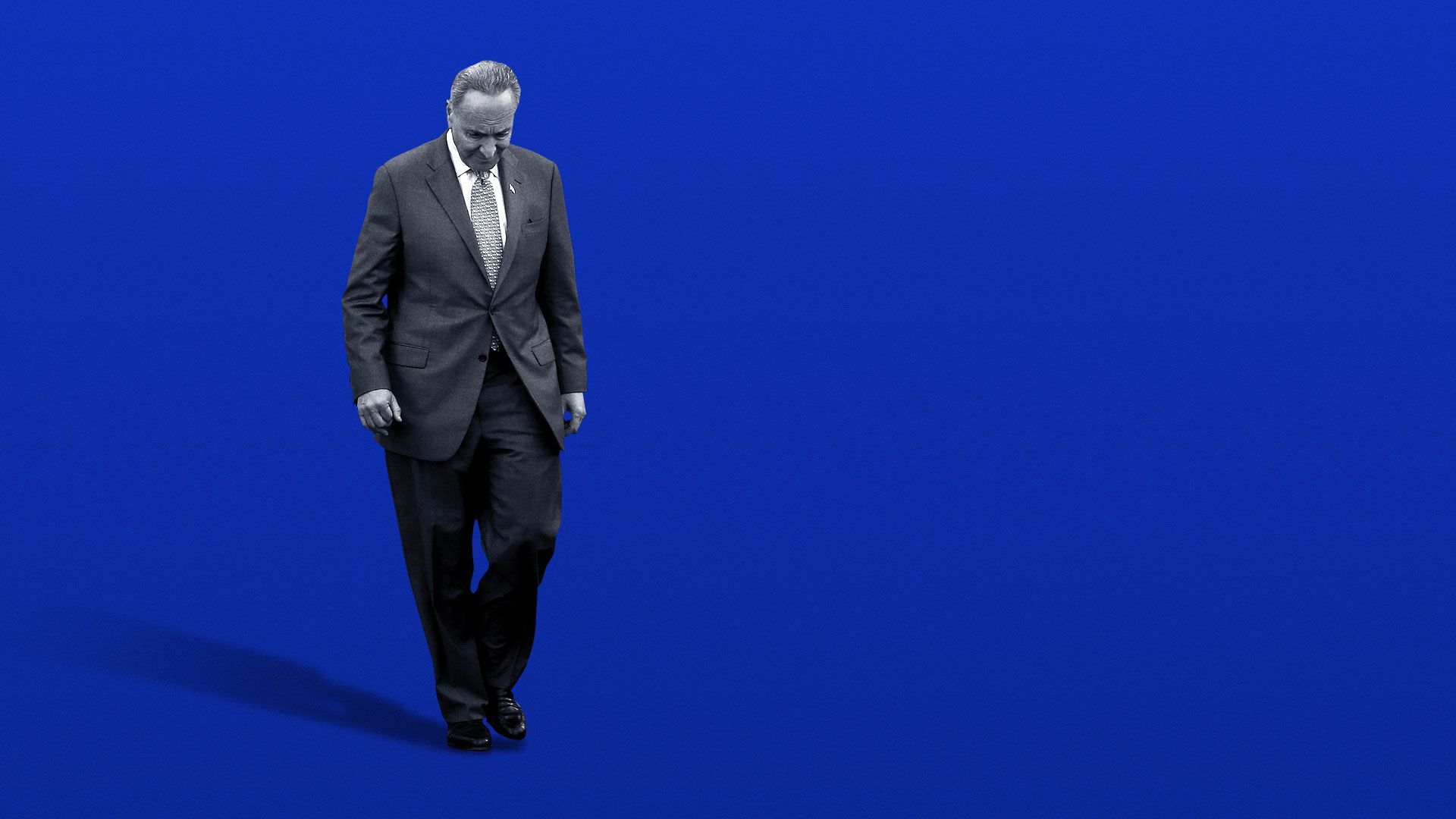 Chuck Schumer told party donors during recent calls that the death of Ruth Bader Ginsburg and the fact that Cal Cunningham "couldn't keep his zipper up" crushed Democrats' chances of regaining the Senate, sources with direct knowledge of the conversations tell Glen Johnson and me.
Why it matters: Democrats are hoping for a 50-50 split by winning two upcoming special elections in Georgia. But their best chance for an outright Senate majority ended when Cunningham lost in North Carolina and Sen. Susan Collins won in Maine.
During a recent donor call, the minority leader lamented being unable to successfully recruit Stacey Abrams to run for a Senate seat in Georgia, one of the sources said. He also said he regretted successfully recruiting Cunningham.
Schumer has made the zipper comment on numerous calls, the source added.
One source familiar with the private discussions told Axios that, when discussing the Georgia Senate races, Schumer acknowledged he tried to recruit Abrams but says she insisted Raphael Warnock was the right choice.
The backstory: Many thought North Carolina could go blue before news of Cunningham's affair surfaced. Ginsburg's death, meanwhile, let Collins reshape the debate about filling Supreme Court vacancies, Schumer said.
The Maine Republican was chastened for voting to confirm Brett Kavanaugh after he faced charges of sexual assault.
When Ginsburg died, Collins appealed to Democrats, independents and undecideds by opposing filling her seat until voters picked the next president.
The Senate still plowed ahead with confirming conservative Amy Coney Barrett, but Collins got political cover from her no vote. She went on to defeat Democrat Sara Gideon.
3. Transition diary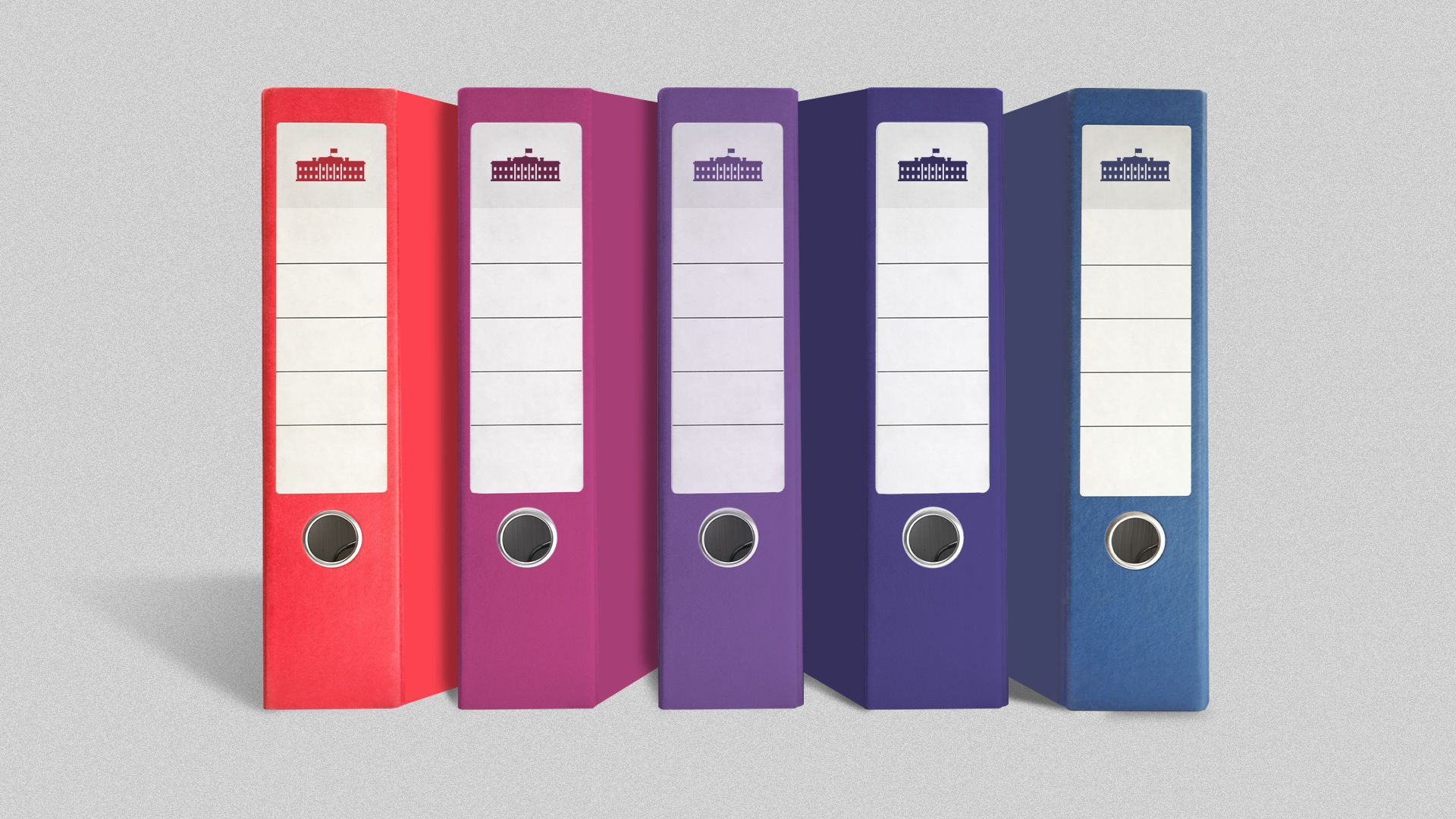 Biden and Kamala Harris received the President's Daily Brief for the first time today. Harris met with transition advisers afterward.
The transition called a lid at 10:23am, but Biden later spoke privately with the leaders of Argentina, Costa Rica and Kenya, as well as the U.N. secretary-general. 
Biden and Harris also met virtually with national security and climate policy staff and discussed rejoining the Paris Agreement on his first day in office.
The transition announced the Presidential Inaugural Committee, which will organize activities surrounding Biden's swearing-in on Jan. 20.
They also formally announced an economic team before a rollout Tuesday. It includes progressive Neera Tanden to run the Office of Management and Budget — a pick many Republicans immediately criticized.
Biden's choice of Tanden was described as "catnip" by one Republican aide, adding she must be "a distraction" from Biden's other nominees.
We reported last week that "some Democrats have discussed the idea of Biden choosing a 'sacrificial lamb' for Republicans to take down."
Several Democrats on and off the Hill told Axios that Tanden seems like she may be it.
Josh Holmes, Senate Majority Leader Mitch McConnell's former chief of staff, called her a "sacrifice to the confirmation gods."
When Joe Biden was accused of inappropriately touching women, a female staffer defended him in a first-person op-ed. On Sunday, that staffer, Elizabeth Alexander, was named communications director for incoming first lady Jill Biden.
4. Bite of the night: Split screen — Atlas resigns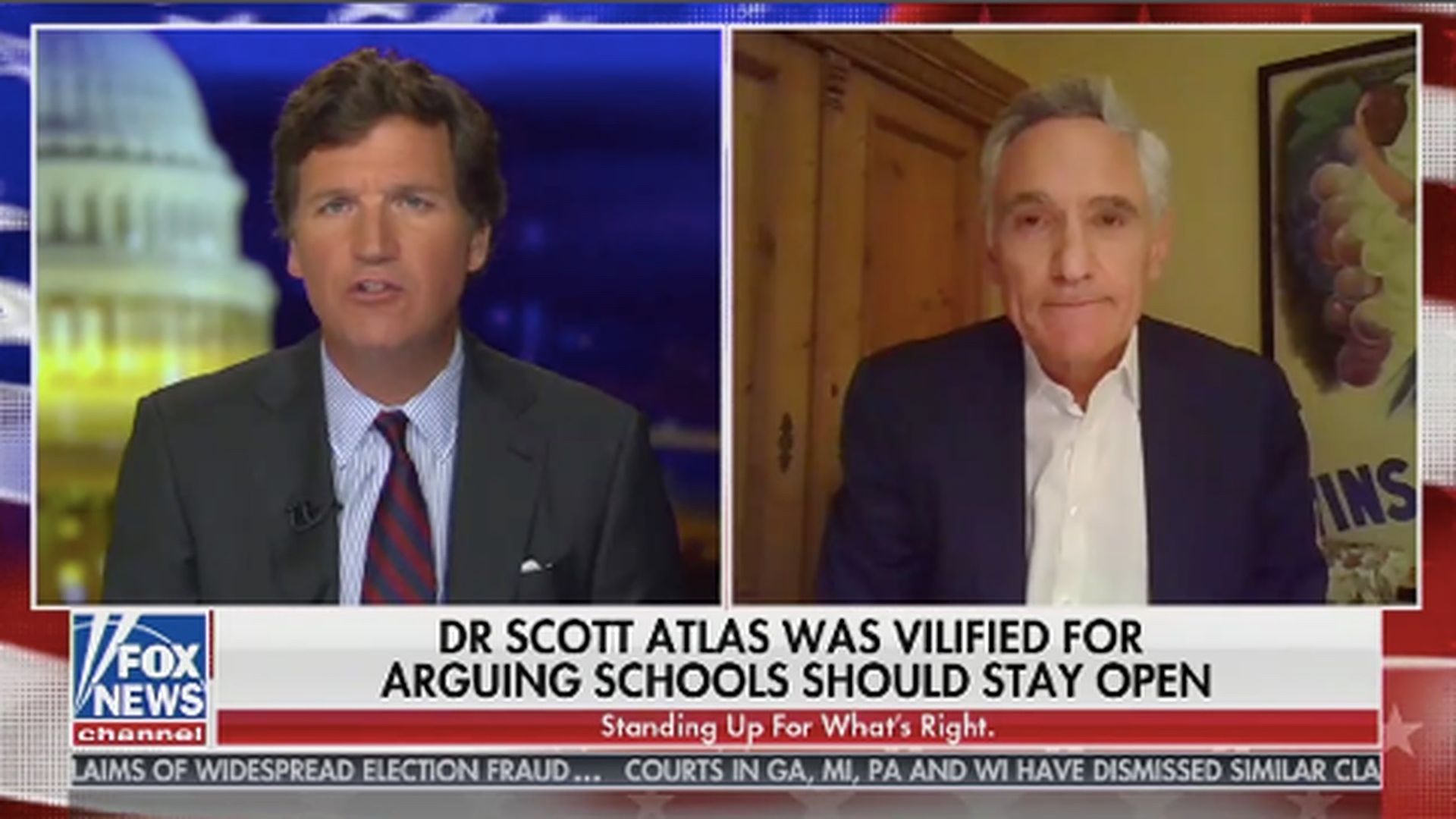 We'll be scanning the evening shows so you don't have to...
Scott Atlas resigned tonight as President Trump's top coronavirus adviser and immediately popped up on Tucker Carlson's Fox News show, setting off a split-screen moment in the 8pm ET hour.
Carlson briefly noted Atlas resigned from his advisory role in the administration but never asked the doctor about it — and he never addressed it.
Instead, Carlson used the interview to rail against NIAID director Anthony Fauci for advising early on that schools stay closed when the coronavirus was spiking, while Atlas was "attacked as a monster" for saying the opposite.
Atlas agreed and acknowledged "we are living in an extremely polarizing time."
On CNN, "New Day" co-anchor John Berman sat in for Anderson Cooper on "AC360" and led with Atlas' resignation. CNN chief medical correspondent Sanjay Gupta commented, "He just wasn't helpful; he was harmful."
Berman saved his tartest thoughts for the president's ongoing election challenges, even after Wisconsin and Arizona certified their results against him: "Seriously, he once said we'd get tired of all the winning. He clearly never gets tired of all the losing."
5. ICYMI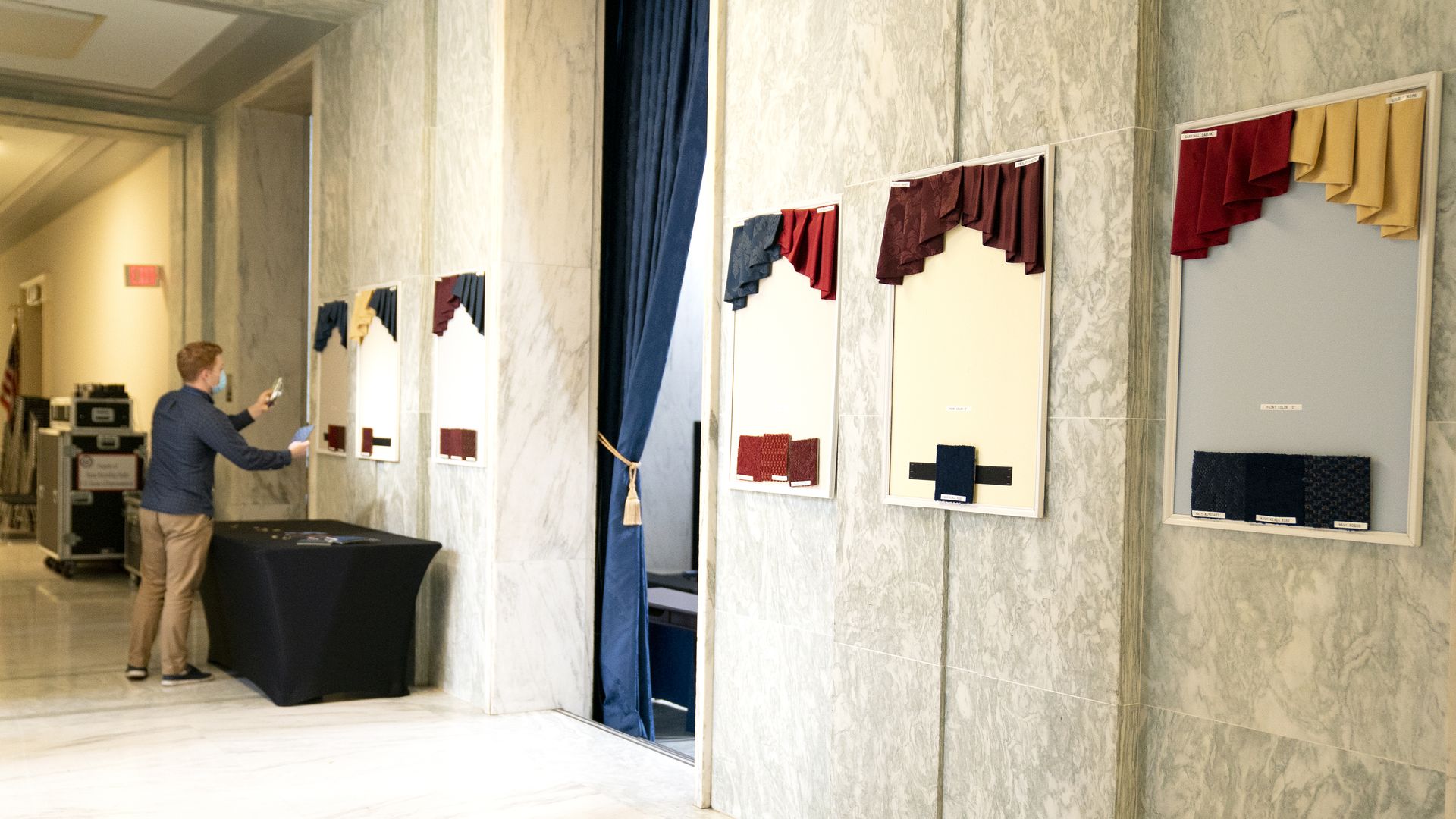 At least nine Republican and Democratic senators have formed an informal working group aimed at securing new coronavirus spending during the lame-duck session, a move favored by President-elect Biden, two sources familiar with the group tell me.
In his first comments since Biden's victory, Mark Zuckerberg told Anthony Fauci tonight that he's "personally encouraged about the selection of Ron Klain as chief of staff," given his involvement in the Obama administration's response to the Ebola crisis.
🙏 Thanks for ending your day with us.