Axios Sneak Peek
June 24, 2018
Welcome to Sneak Peek, our weekly lookahead for both ends of Pennsylvania Avenue, plus my best scoops. I'd love your tips and feedback: [email protected]. And please urge your friends and colleagues to join the conversation by signing up for Sneak Peek.
1 big thing: Peter Navarro's secret past... as a globalist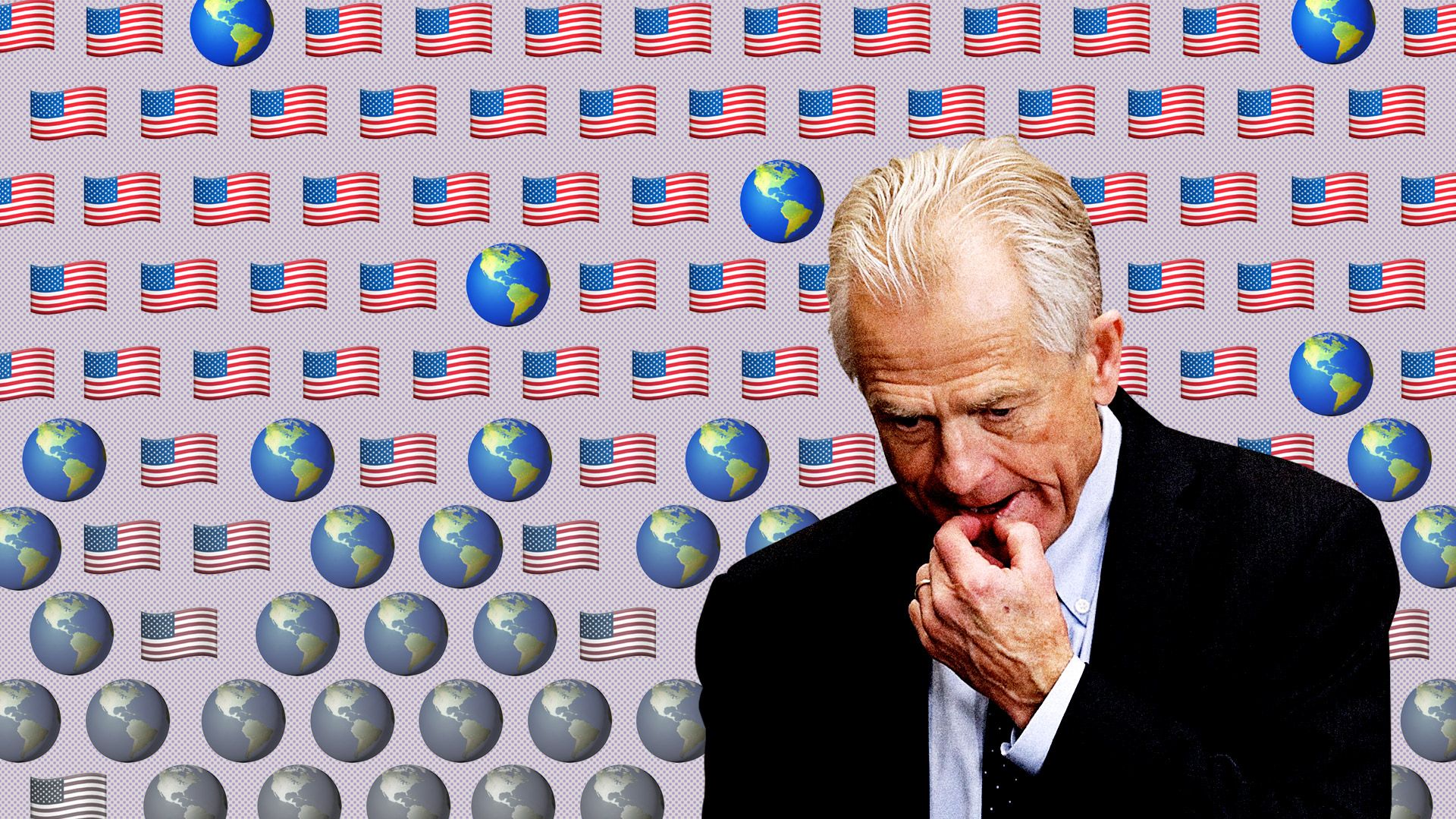 I've got a quiz for you: Who wrote these passages?
"The clear danger of this trend [protectionism] is an all-out global trade war; for when one country excludes others from its markets, the other countries inevitably retaliate with their own trade barriers. And as history has painfully taught, once protectionist wars begin, the likely result is a deadly and well-nigh unstoppable downward spiral by the entire world economy."

"On the benefit side, protectionism within certain basic industries like autos, steel, and electronics helps to create and sustain an industrial base that, in times of war or national peril, can be shifted to defense purposes. However, this national security argument — and the existence of any benefits resulting from protecting these industries — can be legitimately called into question for several reasons."
If you answered with any of the following "globalists" — (a). Gary Cohn, (b). Larry Summers, (c). George W. Bush, or (d). Paul Ryan — you'd be wrong.
The correct answer is (e.) Peter Navarro. Yes, that Peter Navarro. The Peter Navarro who has become the Trump administration's hardest-line protectionist and proponent of massive tariffs against the rest of the world — using the very national security justification he undercuts above.
The reason you've never read about this globalist, free-trader version of Peter Navarro, is because the book these quotes come from is long out of print. We got a tip about Navarro's 1984 book, "The Policy Game," and Axios' Erica Pandey found a copy of it in the George Washington University library.
Pandey says it was a weird experience reading the book because the arguments Navarro lays out are the very arguments his opponents — Steven Mnuchin, Gary Cohn, Rob Porter and Larry Kudlow among them — have been using in sometimes heated internal arguments against him.
Before we published this story, Pandey shared these passages with Navarro and asked him why he changed his views so radically, given the underlying economics have not changed since he, as a 35 year-old, wrote the book.
The bottom line: The rise of China — and the country's extraordinary trade abuses — and the implementation of NAFTA profoundly changed Navarro's views, he says.
"It borders on the comical that Axios would spend so much time on a book written 34 years ago and completely ignore the insights of my later works like the 2006 Coming China Wars, the 2011 Death By China, and the 2015 Crouching Tiger," Navarro said.
"Together, these books explain at length why the globalist Ricardian free trade model is broken and urgently needs fixing in the name of both the economic and national security of the United States."
Navarro gave us a much lengthier explanation of his evolution. There's no room for it in this newsletter item, but I wanted to give it the space it deserves. So here's Navarro in his own words, explaining how he transformed from an unapologetic globalist into a hardcore economic nationalist.
Go deeper with Pandey's report on what Navarro used to believe.
2. House Republicans eye new child separation law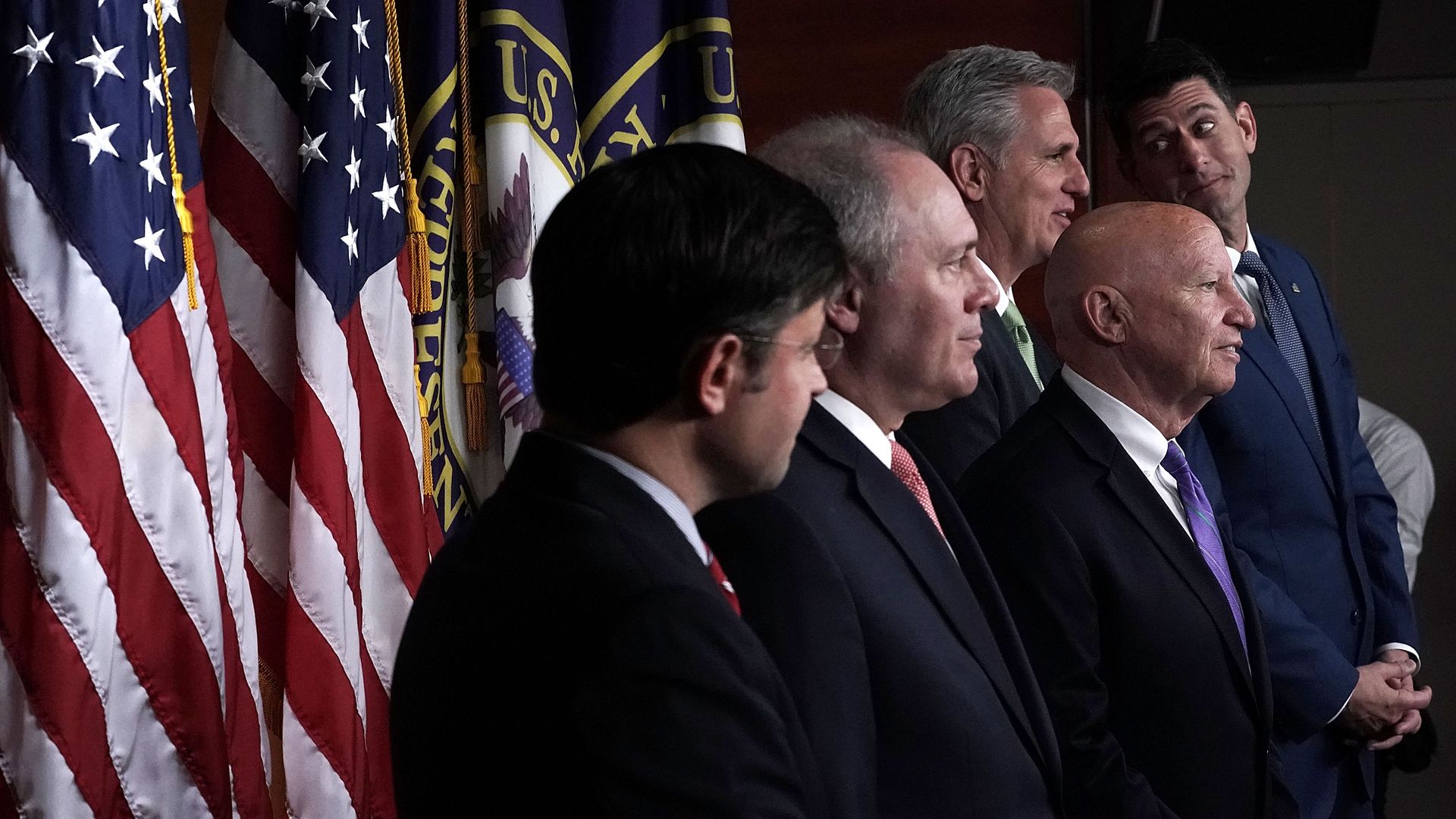 House Republicans are planning to vote on a narrow bill this week that they say would end the separation of children from their parents at the border, two sources with knowledge of the confidential conversations tell me. ABC News' Tara Palmeri was the first to report this new development.
The details: According to my sources, the bill would overrule the Flores settlement — the law that requires releasing children from detention after 20 days, thereby separating them from their parents.
The standalone bill would also likely provide for more judges and more detention beds, according to a source familiar with the planning.
A senior GOP source involved cautions: "We are discussing but no decisions have been made and there is no agreed upon plan yet."
Between the lines: House Republican leaders know they've got no chance of passing their immigration "compromise" bill, which would provide more money for border security, seek to end family separations and legalize some young illegal immigrants known as Dreamers.
But senior GOP sources tell me members have been rattled by the relentless imagery of children being separated from their parents at the border, as a result of the Trump administration's "zero tolerance" policy of prosecuting all illegal immigrants crossing the border.
Senior aides tell me Republican leaders are probably going to push ahead with the compromise vote, knowing it will fail and knowing the president has already dismissed their efforts as futile on Twitter.
Republican leaders promised these immigration votes to appease moderate Republicans who were threatening to team up with Democrats to pass a more liberal immigration bill.
The bottom line: A senior GOP House source summed up the dynamic: "While leaders were supportive of both bills, there was never an expectation that either bill would be able to pass. ... We expressly never pledged passage, just the process and effort."
3. The big picture: 2018's stormiest clouds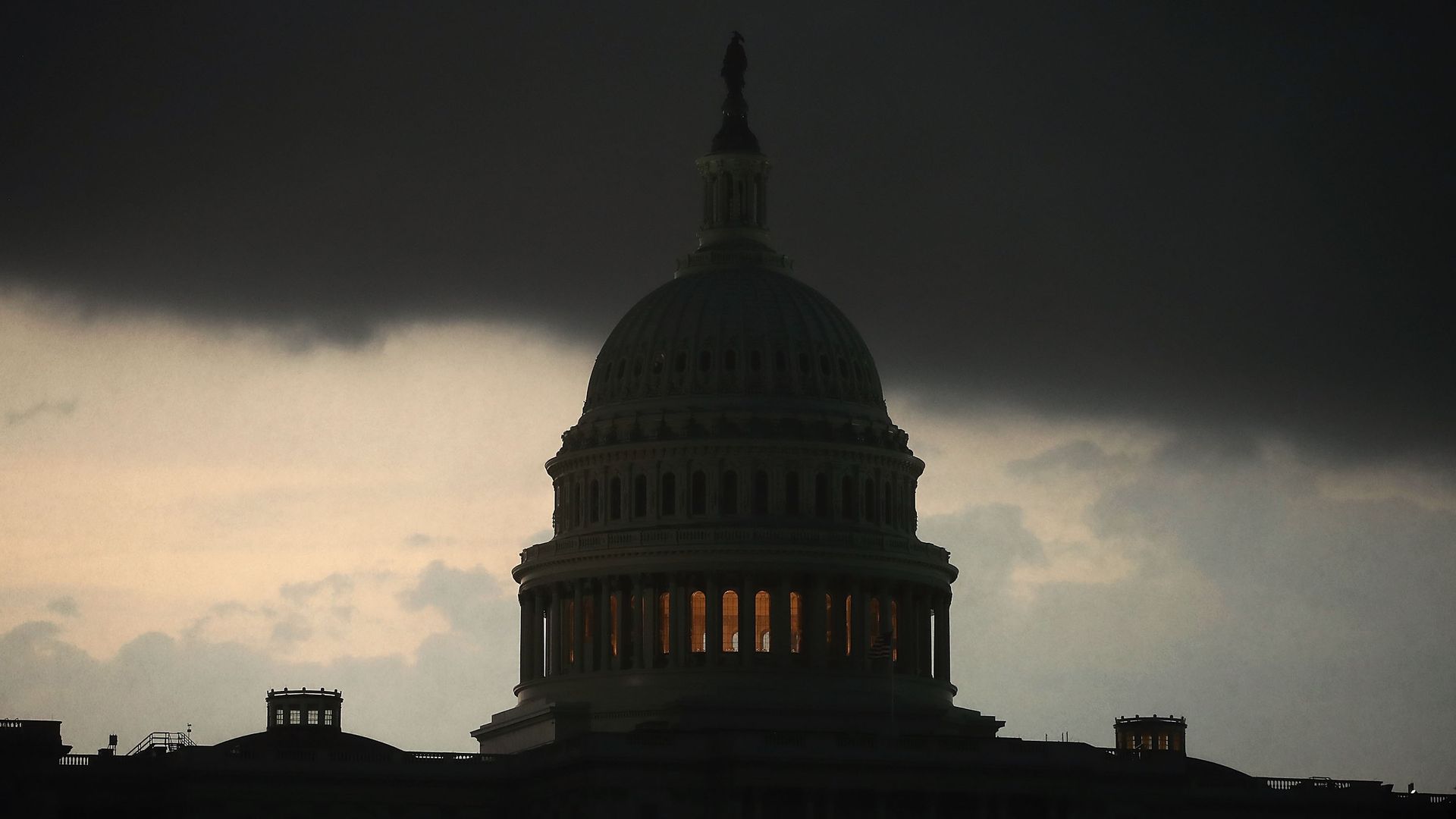 A source close to Republican leadership emails about the biggest political clouds hovering over the rest of the year:
"Only thing that matters now is a) how bad they get crushed on ACA premium increases; b) the final Mueller verdict; and c) how crazy Trump gets with the CR."
Between the lines: Republicans are worried about the potential for health insurance premiums to skyrocket in September, shortly before the midterms. Democrats are seizing on health care as their number one issue.
Senior Democratic sources say their polling shows voters are now blaming their dissatisfaction with health care on the party that controls the House, Senate and White House rather than the party that implemented the Affordable Care Act.
The final Mueller verdict speaks for itself: it would take a new revelation of the most explosive kind to persuade any Republican senators to vote to impeach Trump.
And the CR — or continuing resolution — refers to the government spending bill that's due to expire at the end of September. The unanswerable question is whether Trump decides to shut down the federal government if Congress doesn't give him enough money to build his wall (spoiler: it won't).
Sources close to Trump tell me they think he knows it'd be political suicide to shut down the government so close to an election, but given it's Trump, nobody is confident enough to rule it out.
4. Trump's week ahead
President Trump's schedule, per a White House official:
Monday: Trump meets with King Abdullah II bin Al-Hussein and Queen Rania Al Abdullah of Jordan. He then flies to South Carolina to rally for the state's Gov. Henry McMaster. (Between the lines: The president is repaying the loyalty of McMaster, an early campaign supporter.)
Tuesday: Trump meets with the Associated Builders and Contractors.
Wednesday: Trump receives his intelligence briefing; has lunch with Secretary of State Mike Pompeo; hosts the president of Portugal at the White House; and travels to North Dakota — a key Senate target for Republicans — for a political rally.
Thursday: Trump is expected to travel to Wisconsin for official business. (I've not learned what, yet.)
Friday: Trump receives his intelligence briefing and "celebrates the six month anniversary of the Tax Cuts and Jobs Act."
5. Congress' week ahead
Next week will be Congress' last week in session before the July 4th recess.
The House will spend lots of floor time on the 2019 Defense spending bill. The House will also take some immigration votes this coming week — as we previewed in item 2 above.
The House and Senate also expect to go to conference to iron out their different versions of the National Defense Authorization Act (the annual defense policy bill).
A senior Republican aide told me the most controversial debate will likely be the one over the Senate's vote to rebuke Trump and reimpose tough penalties on ZTE — a Chinese telecom company accused of spying and violating American sanctions.
The House didn't include any ZTE provision in its version of the bill. And the White House will be trying to avoid an embarrassing showdown with Republicans on the Hill who believe Trump has put national security at risk to get a sweeter trade deal with China. (Trump's Commerce Department effectively allowed ZTE to stay in business by imposing a fine and more rigorous oversight.)
Why this matters: If Congress forces Trump to reimpose the penalties on ZTE, his relationship with China's President Xi Jinping — already strained over their trade battles — will likely worsen. Xi made a personal request of Trump to ease up on ZTE, and Trump did Xi a big favor by directing Commerce Secretary Wilbur Ross to find a helpful solution.
The Senate will pass three spending bills on Monday night. Both House and Senate are trying to pass as many as they can because Trump hates omnibus spending bills and because members and leadership want a regular appropriations process. Then the Senate will turn to the bipartisan Farm Bill.
What to watch: Will other controversial and non-germane issues like immigration and child separation be debated as part of the Farm Bill?
Fun fact: A big priority for Mitch McConnell — given Kentucky has a lot of hemp production facilities — is the legalization of the growing of hemp in the U.S. That's in the Farm Bill.
6. 1 fun thing: Watching Hannity with Trump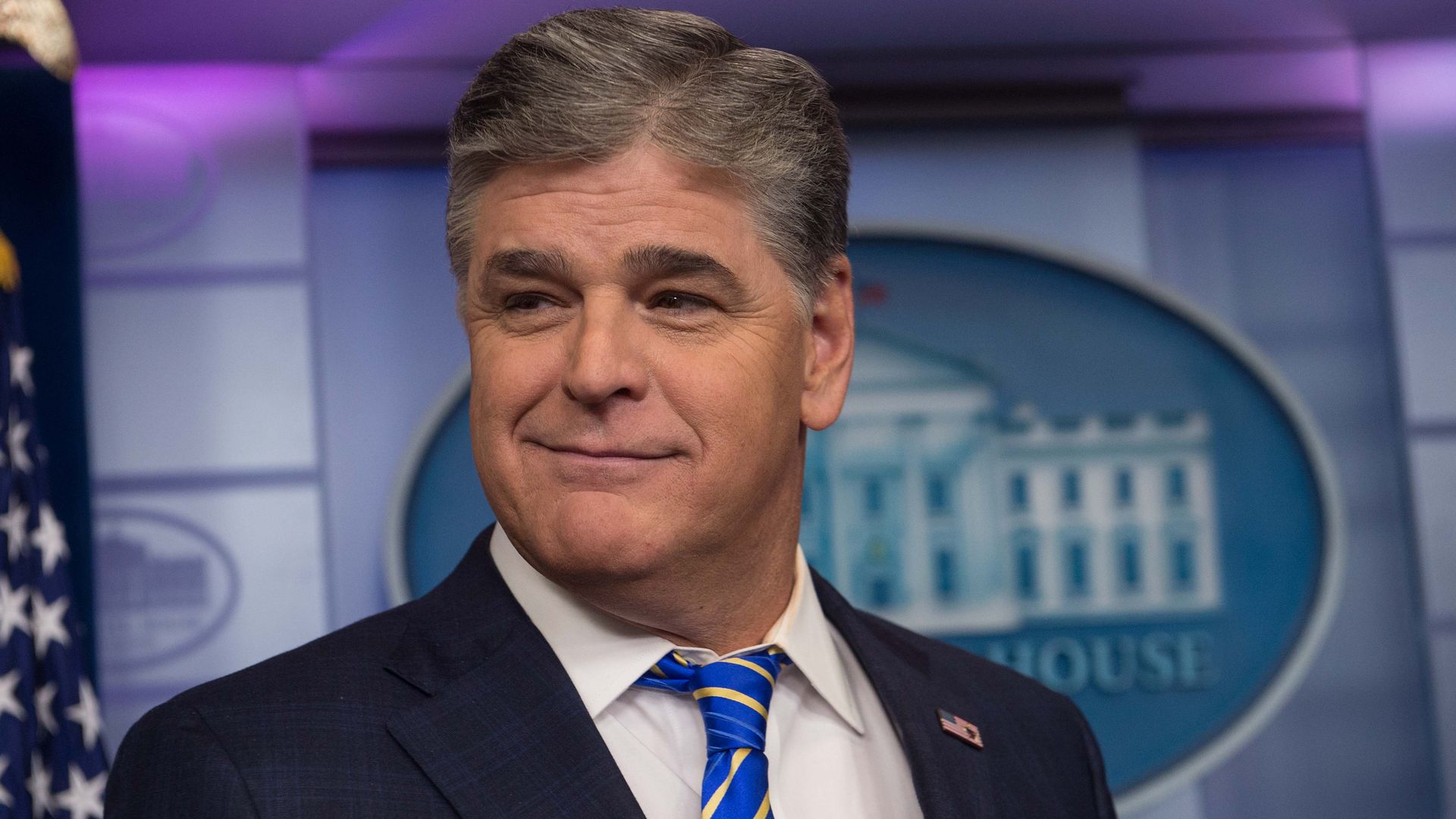 It's well-known that after his mornings of "Executive Time" in the White House residence, President Trump spends a good chunk of his workdays camped in the private dining room adjoining the Oval Office.
I asked a former senior administration official who spent plenty of time in that dining room to paint the scene — with some since-departed characters — to the best of their recollection:
"Sitting in the private dining room. Stack of newspapers on the table. Landline telephone sitting beside them. Briefing papers and/or documents to sign also there on the table."
"He's constantly referencing articles and columns in the Times, WSJ, or Post, watching TV and responding in real time — like, a good interview with an elected official might get them a phone call. Unexpected criticism might get them one too."
"[Rob] Porter would walk in to have him sign things. Madeleine [Westerhout] may come in with a phone call. [Johnny] McEntee might come in with whatever. [Dan] Scavino might come in with a proposed tweet."
"I remember one specific time when he was watching a Hannity replay and he interrupted the conversation and turned up the volume, 'Wait, wait for it...' (Hannity says whatever it was defending DJT.) 'So good,' Trump said. 'He's so good.'"