Axios Sneak Peek
September 26, 2021
Welcome back to Sneak.
🚨Breaking: Germany's center-left Social Democrats are set to claim victory in an extremely tight election, paving the way for Olaf Scholz to succeed Angela Merkel as chancellor, Axios' Zachary Basu reports from Berlin.
Smart Brevity™ count: 1,532 words ... 6 minutes. Edited by Glen Johnson.
1 big thing: Scoop - Centrists back $3.5T package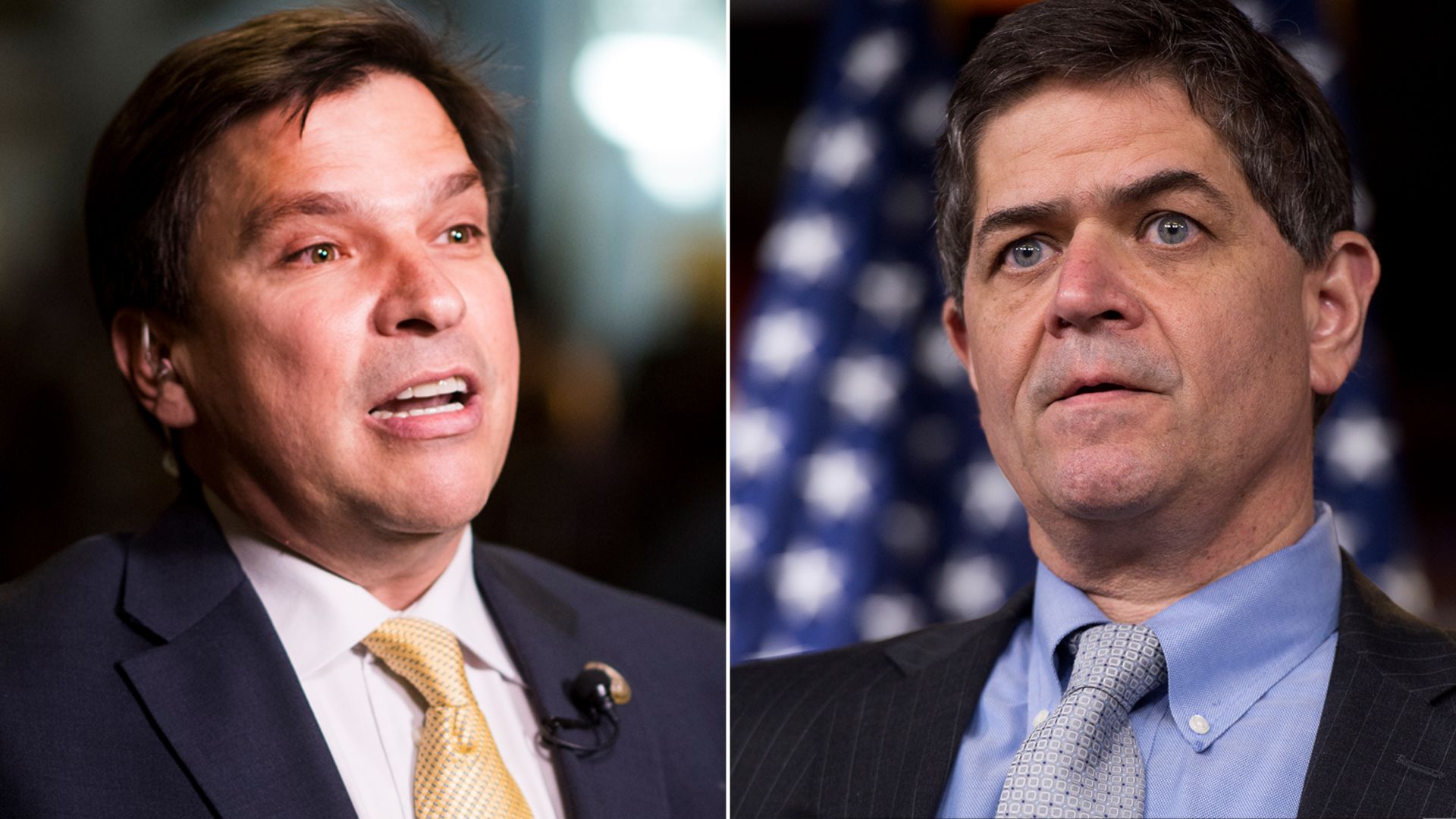 Two of the nine House centrists who demanded Speaker Nancy Pelosi (D-Calif.) bring the $1.2 trillion bipartisan infrastructure bill to the floor by tomorrow are now publicly promising to vote for the separate $3.5 trillion budget reconciliation package, Axios' Hans Nichols has learned.
Why it matters: By explicitly announcing their support for a big package targeting climate change and expanding the social safety net, Reps. Vicente Gonzalez (D-Texas) and Filemon Vela (D-Texas) are trying to convince progressives to vote for the infrastructure bill this week.
Nonetheless, the two lawmakers also make it clear the House needs to vote on the bipartisan infrastructure bill as soon as possible.
"We support swift passage of the president's $3.5 trillion reconciliation package," they write in a joint statement obtained by Axios. "The bipartisan infrastructure framework would, on average, deliver $1.2 billion per congressional district."
"However, the idea that denying passage of the Senate's Bipartisan Infrastructure bill [BIF] somehow exercises 'leverage' over some of our more fiscally conservative members is wholly misguided."
Between the lines: It's unclear how many of the nine centrists who forced Pelosi to schedule the vote by Sept. 27 are actually on board for a big spending bill.
On Friday night, five of them — Reps. Josh Gottheimer (D-N.J.), Ed Case (D-Hawaii), Kurt Schrader (D-Ore.), Jared Golden (D-Maine) and Carolyn Bourdeaux (D-Ga.) — met with the speaker.
Some of them have indicated privately and publicly they're opposed to a $3.5 trillion price tag.
Gottheimer, the group's leader, insists the Senate must move first and establish the bill's price tag, which can then be considered by the House: "Whatever we can get 51 in the Senate on, which we will, we will get done and it'll be coming into law," Gottheimer told NPR on Saturday.
Driving the news: Progressive lawmakers are still threatening to tank the bipartisan bill if the outlines of a reconciliation package aren't agreed to in the House and Senate — and insist they have the votes to kill the bipartisan package.
"I don't believe there is going to be a vote," Rep. Pramila Jayapal (D-Wash.) said today on CNN's "State of the Union." "The votes aren't there."
The big picture: House leaders promised all last week they will hold a vote on the bipartisan infrastructure package tomorrow or Tuesday.
Pelosi left open the possibility of reneging on her deal with the centrists.
"We will bring the bill to the floor tomorrow for consideration," she said on ABC's "This Week." "I'm never bringing a bill to the floor that doesn't have the votes."
"You cannot choose the date. You have to go when you have the votes, in a reasonable time," Pelosi also said. "It's an eventful week."
What's next: Pelosi will convene the House Democratic caucus at 5:30pm ET tomorrow to make her case before the vote.
2. Glenn Youngkin's play: Forever- and Never-Trumpers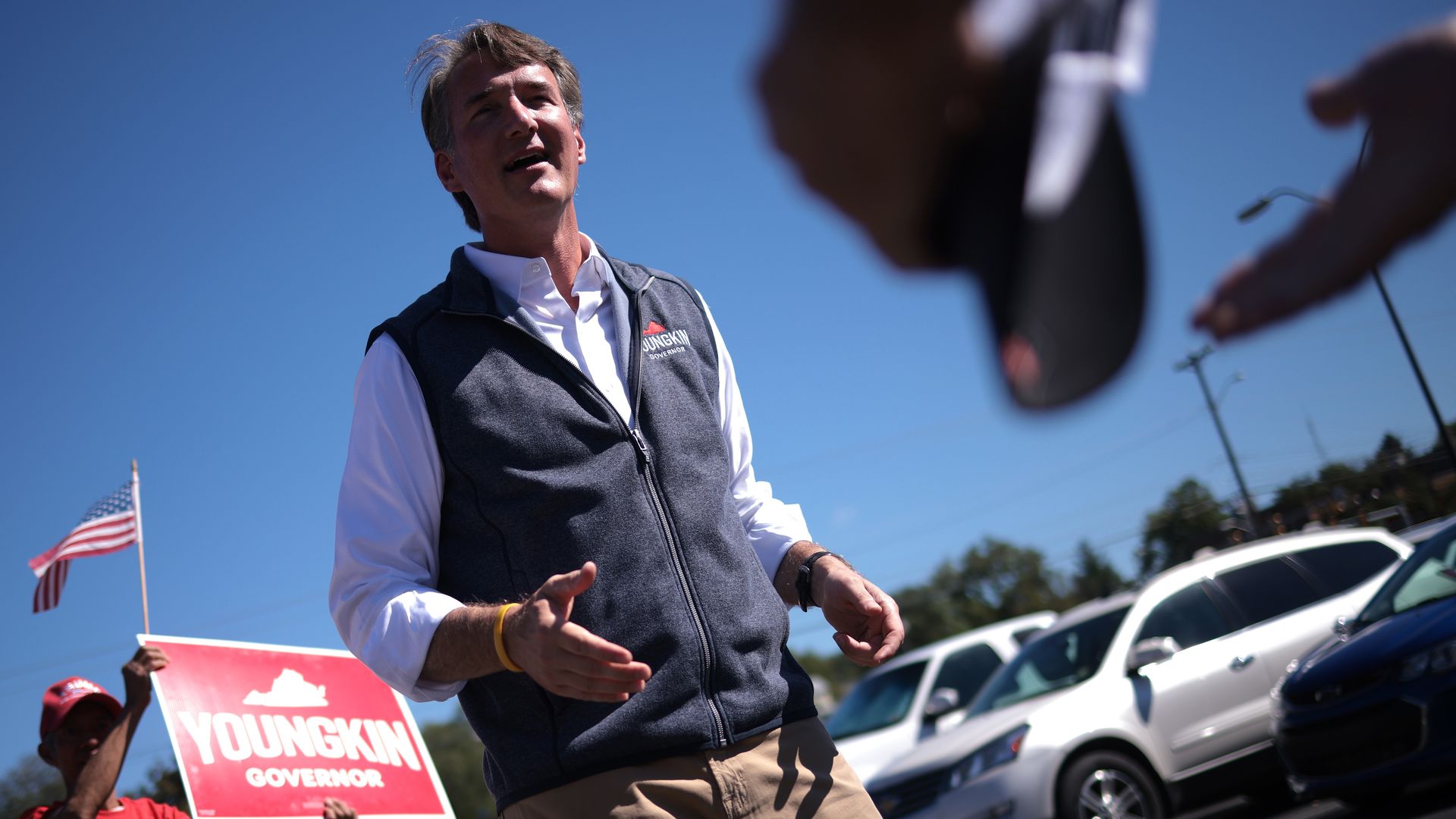 Standing on a flatbed hitched to a John Deere tractor in red Rockingham County, Virginia, Glenn Youngkin decried California liberalism and bashed his rival, Terry McAuliffe. He also encouraged early voting. Two words he avoided: Donald Trump.
Driving the news: Youngkin, the Virginia Republican gubernatorial nominee, is mounting a serious challenge to McAuliffe — a former governor and veteran of Democratic politics. Axios' Sarah Mucha caught up with him on Friday in Harrisonburg, Virginia.
Trump has been turning up the heat on Youngkin to fully embrace him, arguing Republicans who try to have it both ways can't win. Youngkin isn't taking the bait.
"I brought together Forever-Trumpers and Never-Trumpers, sitting in the same audience, excited about what we're doing," Youngkin told Axios.
"President Trump knows exactly where I stand," he said. "He knows that I stand completely for Virginia."
Why it matters: Off-year gubernatorial elections in this increasingly blue swing state often are seen as a bellwether.
The contest this Nov. 2 has the potential to reflect — at least partly — where persuadable voters come down on COVID-19 mandates.
The results also may show how Trump's absence from office and the ballot — and Democratic infighting as well as President Biden's recent drop in popularity — could impact turnout next year.
The big picture: Youngkin has walked a tightrope in the hope of making himself an appealing choice for both Trump supporters and independent voters. It appears to be working.
Cook Political Report last week shifted its categorization of the race to "toss-up" from "lean Democrat."
A recent Washington Post-Schar School poll found McAuliffe and Youngkin in a tight race, with McAuliffe at 50% to Youngkin's 47% among likely voters.
"I think we're able to make a real statement that a Republican candidate in a state like Virginia can win," Youngkin told Axios. "The issues that are on Americans' minds right now are very similar to the issues that are in Virginians' minds."
Renzo Oliveri, McAuliffe's press secretary, said in a statement: "Glenn Youngkin —who is proud to have been endorsed by Donald Trump four timea — has said Donald Trump represents why he's running for governor. His whole campaign has been predicated on Trump's election conspiracy theory and his plan to ban abortion in Virginia. Glenn is a Forever Trumper and Terry will not let Glenn do to Virginia what Trump did to our country."
3. Shutdown Plan B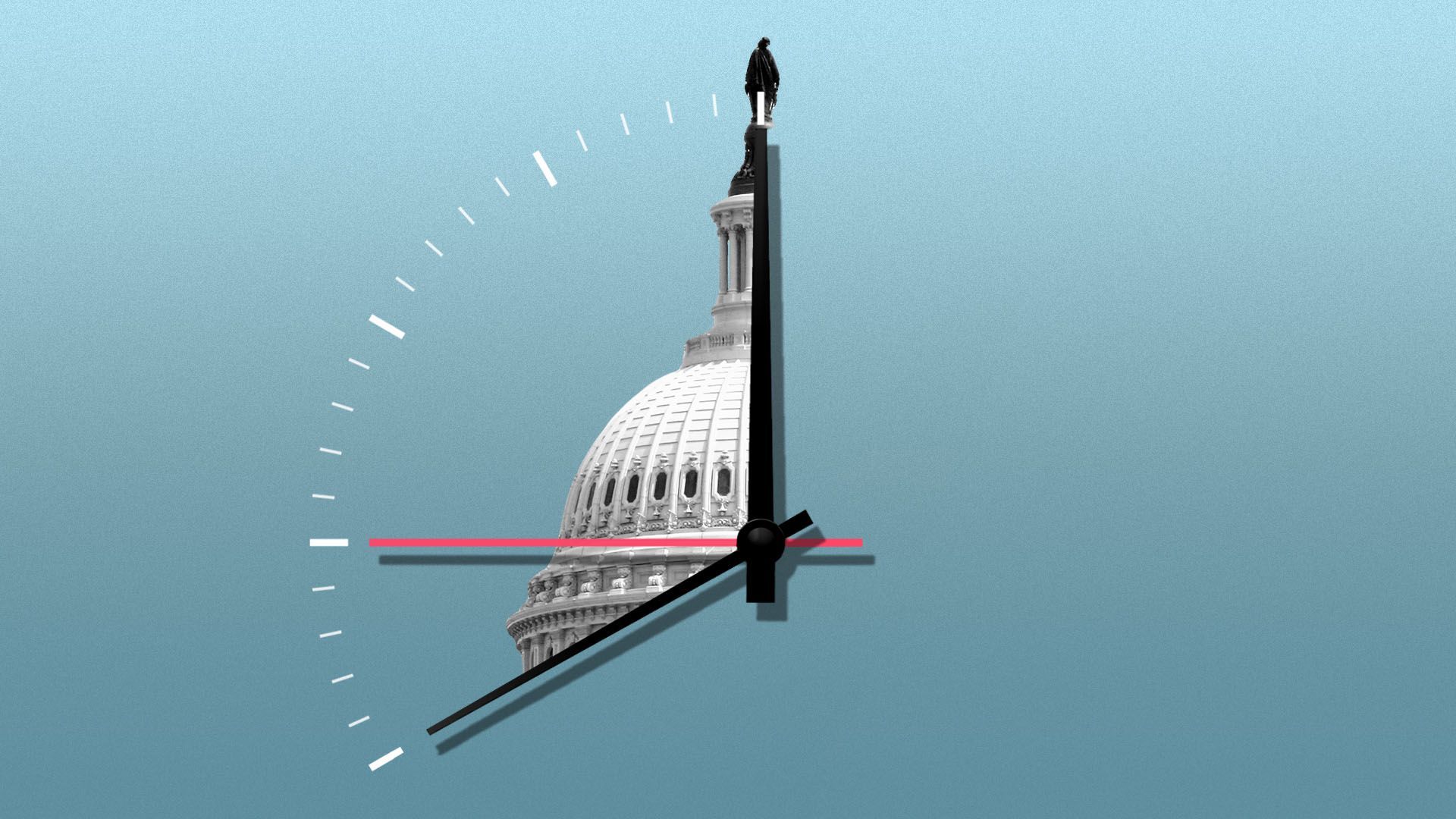 The Senate will hold a futile vote tomorrow night — just 72 hours before the government shuts down — on a House-passed bill to fund the government through Dec. 3 and raise the debt limit.
Why it matters: The bill is going to fail. Period. But then comes Plan B: A "clean" continuing resolution — stripped of language about raising the debt limit — that Democrats spent the past week preparing, Axios' Alayna Treene is told.
Absent passing a short-term funding bill, federal agencies will close down on Thursday. Pelosi and Senate Majority Leader Chuck Schumer (D-N.Y.) say that's not an option, so they'll get this done.
That means Democrats, namely leadership, will likely have to do what they've spent the last month vowing they wouldn't: attach legislation that would increase the debt ceiling to their partisan reconciliation package.
What's next: Tomorrow's vote is purely symbolic at this point, given Senate Minority Leader Mitch McConnell (R-Ky.) and Senate Republicans have declared for weeks they won't support raising the debt ceiling.
A reminder: This is not normal.
Democrats still plan to use the failed bill to shame Republicans for what they'll characterize as voting for a shutdown and "careening our country toward a default," as Schumer put it last week.
As we reported last week, the Republicans' refusal to join Democrats in dealing with the nation's debt isn't typical of Congress, and their arguments for why are largely nonsensical.
The debt they're facing was mostly racked up under the Trump administration and the former Republican president's predecessors.
But McConnell has successfully made this a key talking point for his party ahead of the midterms, and a political public relations nightmare for Democrats.
4. First look: The LCV's $4M ad buy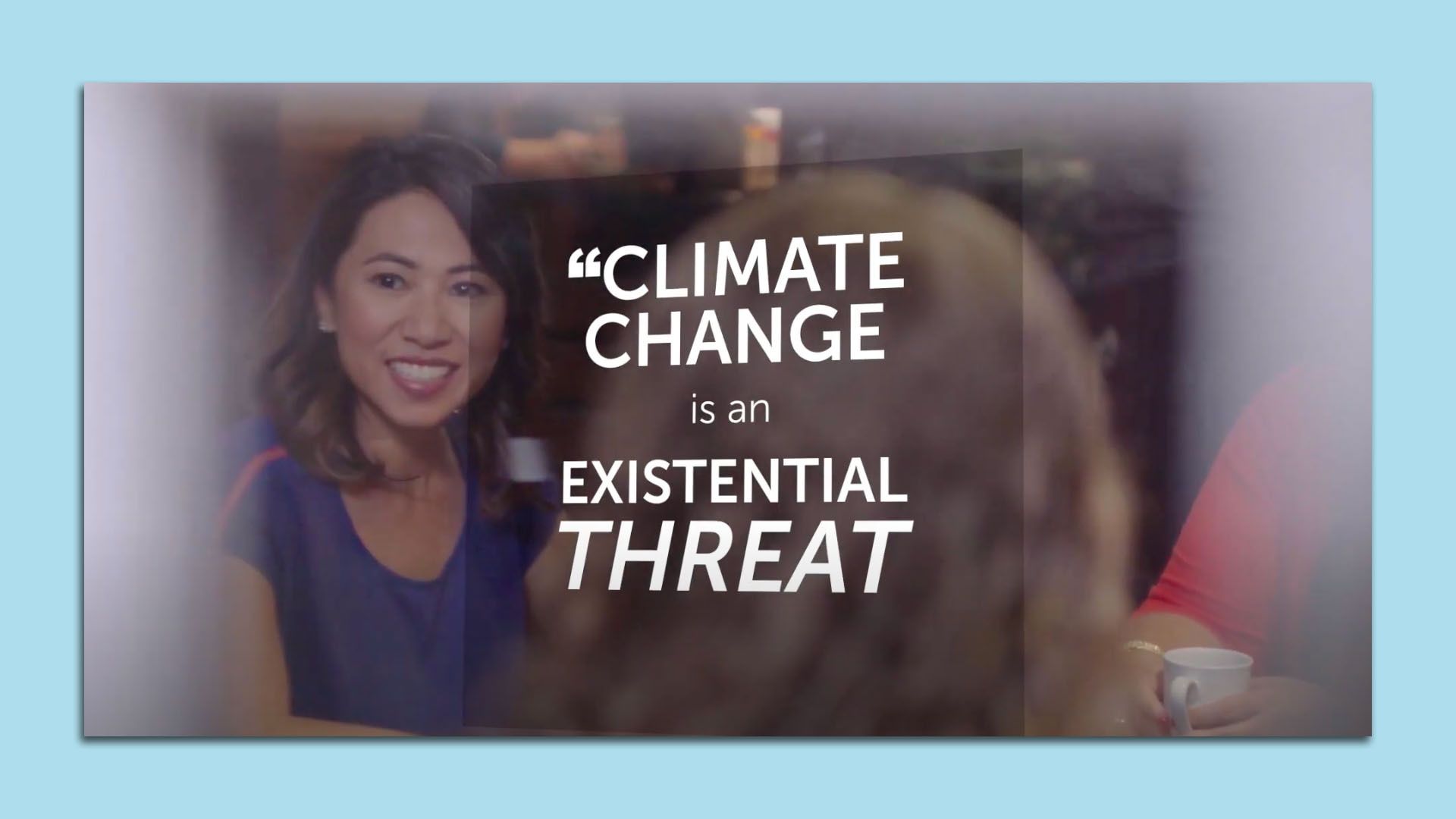 The League of Conservation Voters and Climate Power are aiming another $4 million of ads at centrist House Democrats, urging them to support the climate provisions in the budget reconciliation package, Hans also has learned.
Why it matters: Progressive groups are trying to counter the onslaught of conservative money pouring into swing districts. Both sides are trying to define Biden's Build Back Better Agenda and pressure lawmakers to support — or oppose — the legislation scheduled for a vote in the House this week.
"Here in Florida, we are on the front lines of climate change," the narrator says in an ad meant to bolster Rep. Stephanie Murphy (D-Fla.). "And we have the chance to take the challenge head-on with the Build Back Better Act."
The new ad buy comes on top of the $20 million the LCV and Climate Power already spent over the summer.
It will run in more than two dozen districts.
The big picture: For an off-election year, an unprecedented amount of money is pouring into competitive House seats — months before voters will head to the polls.
On Friday, Build Back Together, an outside group working with Biden officials to pass his agenda, announced some $5 million in TV and digital ads to support 13 House Democrats, according to Punchbowl News.
The other side: Last week, the American Action Network, a conservative group that can raise unlimited contributions from anonymous donors, announced a $7.5 million advertising campaign in 24 districts, for a total of $15 million this year.
The America First Policy Institute is leading an effort by former Trump administration officials to torpedo Biden's economic agenda, with plans to raise $10 million, according to the Washington Post.
Last week, the Common Sense Leadership Fund, a new Republican-aligned nonprofit group, launched what it says will be a $10 million ad campaign over 10 days, hitting 14 House Democrats over obscure tax provisions, Axios previously reported.
The Coalition to Protect American Workers, led by Marc Short, former Vice President Mike Pence's chief of staff, continues to target centrist Democrats for supporting increased funding the Internal Revenue Service, with a seven-figure ad buy.
Between the lines: The LCV ad buy is designed to give Democrats some air cover to support the president's agenda this fall.
It's also a hint of the kind of support Democrats can expect in 2022 from outside progressive groups to defend the Democratic majority in the House.
5. Tweet du jour: Payback time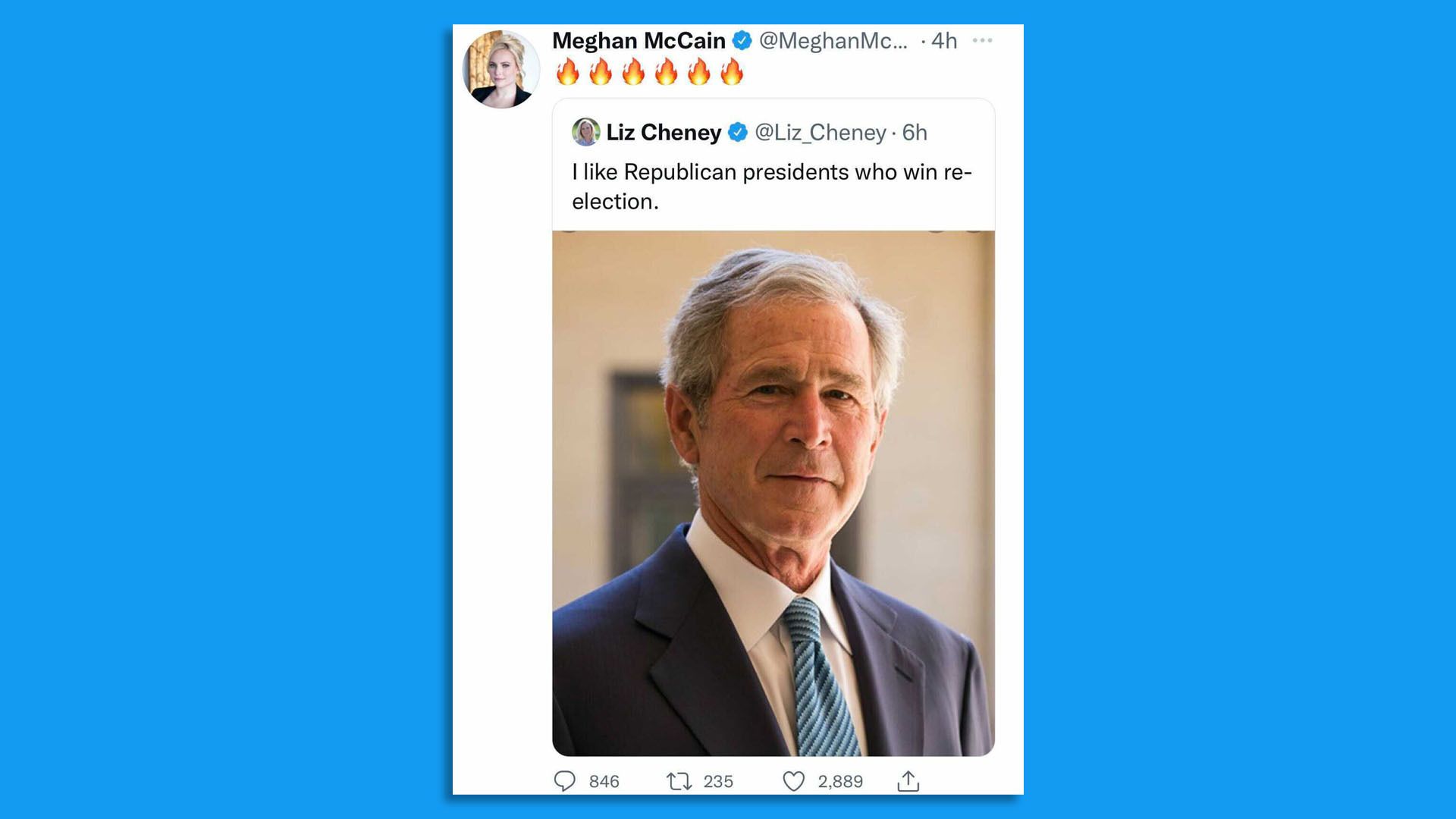 The daughters of former Vice President Dick Cheney and the late Sen. John McCain (R-Ariz.) perpetuate their family feuds with former President Donald Trump.
Editor's note: Updates Youngkin item with reaction from McAuliffe campaign.
📬 Thanks for reading. A reminder that your family, friends and colleagues can subscribe to Sneak or any of Axios' free newsletters through this link.