November 24, 2019
Welcome to Sneak Peek, our weekly lookahead for both ends of Pennsylvania Avenue, plus our best scoops.
Situational awareness: Defense Secretary Mark Esper asked for Navy secretary Richard Spencer's resignation today after losing confidence in him over his handling of the case of Navy SEAL Edward Gallagher. Go deeper.
Tonight's newsletter is 1,990 words, < 8 minutes.
1 big thing: Inside Sondland's pay-to-play power grab
When Gordon Sondland arrived at the Trump fundraising breakfast at Manhattan's Cipriani restaurant on Dec. 7, 2016, he had trouble getting in. Sondland hadn't sent his RSVP, he hadn't sent any money and the Secret Service had not cleared him to enter.
Trump transition team officials had no affection for the hotelier.
The last time Sondland had been on the campaign's radar was when, through a spokesperson, he publicly denounced Trump's character and canceled a fundraiser he was scheduled to co-host. 
That was August 2016, after Trump lambasted Gold Star father Khizr Khan. Key officials noted Sondland's denunciation, and they hadn't let it go.
Behind the scenes: Sondland had another problem that December morning. He was ready to spend big to get back into Trump's good graces and had brought with him checks totaling $1 million, made out from multiple LLCs. But donors at this breakfast were legally only allowed to give a maximum of $5,000 each.
Sondland's million-dollar contribution was made out to the Trump Inauguration, so the transition team — a legally separate entity, which was running the Cipriani breakfast — couldn't take it. 
Trump mockingly (and accurately) captured the motives of many in his audience that day — roughly 1,000 D.C. lobbyists and businesspeople eager to get back into Trump's good graces — when he said in his speech, per two sources present, that most of them hadn't supported him in the campaign but had no choice now.
"They said Never Trump, now they're Only Trump," said Trump, according to a recording of part of the remarks obtained by Politico.
Sondland, blocked from entering the breakfast, called Eli Miller, who had worked as a Trump campaign fundraiser and would go on to become chief of staff to Treasury Secretary Steve Mnuchin.
Miller, who wore the lapel pin that tells the Secret Service he's safe to pass through security, came out to fetch Sondland and ushered him into the breakfast, according to sources present.
The big picture: After contributing $1 million to Trump's inaugural committee, Sondland was still so alienated from key Republican officials that it took him more than a year to achieve his goal of becoming an ambassador.
A source familiar with the matter said Sondland's name was not on a list of potential ambassadors that circulated in early 2017 because of the negative comments he'd made about Trump. 
Mnuchin, Trump's first White House Chief of Staff Reince Priebus and others in the White House were involved in approving that list.
Priebus had no interest in helping Sondland. Nor did Republican National Committee chairperson Ronna Romney McDaniel, according to sources with direct knowledge.
For the next year, Sondland kept pushing. He rounded up prominent Republicans outside the White House and pressed administration officials to advocate for him. He eventually was entered into consideration for a diplomatic post.
As a result of Sondland's persistent lobbying effort, Mnuchin's office suggested his nomination be dealt with once and for all, per sources with direct knowledge. In May 2018, Trump finally nominated Sondland and the Senate confirmed him as EU ambassador the next month.
Sondland's attorney, Robert Luskin, declined to comment.
Miller said in a statement: "Gordon Sondland was one of thousands of contributors to President Trump's historic efforts. I didn't know Gordon Sondland prior to the campaign, and — in regard to the breakfast — I accompanied him in as I had for many others."
2. Scoop: White House directed block of Armenian genocide resolution
Many were perplexed and outraged when, right after clashing with Turkish President Recep Tayyip Erdoğan in a heated Oval Office meeting on Nov. 13, Republican Sen. Lindsey Graham hurried back to the Senate floor and did something that likely delighted Erdoğan. Graham blocked a resolution that would have formally recognized Turkey's genocide of the Armenian people.
Behind the scenes: Graham had just scolded Erdoğan over his invasion of Syria and attacks on the Kurds, according to sources in the room.
As we reported at the time, Erdogan pulled out his iPad and showed the Oval Office group a propaganda video depicting the leader of the primarily Kurdish Syrian Democratic Forces as a terrorist.
The South Carolina Republican then chided him over the clip. "Well, do you want me to go get the Kurds to make one about what you've done?" he said.
What happened next, which has not been previously reported: As Graham was leaving the Oval Office, senior White House staff asked him to return to the Senate and block the Armenian genocide resolution — a measure that would have infuriated Erdoğan.
Graham confirmed this in a phone interview on Saturday.
"After the meeting, we kind of huddled up and talked about what happened," he said. A White House legislative affairs official told Graham that Bob Menendez (D-N.J.) was going to bring up his Armenian genocide resolution and asked if Graham could "please object."
"I said sure," Graham said. "The only reason I did it is because he [Erdoğan] was still in town. ... That would've been poor timing. I'm trying to salvage the relationship if possible."
Asked whether he felt uncomfortable blocking the Armenian genocide resolution, Graham replied: "Yeah. Because I like Bob [Menendez]. He's been working on this for years, but I did think with the president of Turkey in town that was probably more than the market would bear."
"I'm not going to object next time," Graham added.
The "next time" happened last week. Menendez and his Republican Senate colleague Ted Cruz introduced the Armenian genocide resolution again. This time, the White House asked another Republican Senate ally, David Perdue, to block it.
"Senator Perdue objected due to concerns that passage of the resolution would jeopardize the sensitive negotiations going on in the region with Turkey and other allies," said a Perdue spokesperson.
The big picture: The Trump administration is pushing Turkey to give up its Russian-made S-400 air defense system. While they're negotiating, they're trying to block Congress from calling out Turkey's human rights atrocities.
Trump has also been reluctant to sign legislation — which Congress passed with overwhelming bipartisan majorities — to punish China for its repression of Hong Kong. Trump tells aides he wants to get a trade deal first.
But Trump will probably have no choice but to sign the Hong Kong Human Rights and Democracy Act. As Sen. Cruz said, Congress has enough votes to override a presidential veto.
3. Scoop: Trump admin pushing new drug spending cap
The Trump administration is pushing for a monthly cap on what seniors pay out-of-pocket for drugs through Medicare's pharmacy benefit to be added to a bipartisan drug pricing bill in the Senate, a senior administration official told Axios' Caitlin Owens and me.
The big picture: The cost of prescription drugs is still a top priority of the administration, even amidst all of the impeachment furor — and the president could very much use a big win on the subject heading into the 2020 election.
Most of the administration's major drug pricing policies have been tabled, are tied up in the courts or have yet to be implemented.
Between the lines: One unexpected side effect of impeachment is that it has dragged drug prices to the front of Trump's mind again, the official said.
Trump has been talking and meeting frequently with Republican lawmakers as part of his impeachment defense strategy.
But, the official said, after the members discuss impeachment for a brief while with the president they usually pivot quickly and use their time with Trump to push their priorities.
For many of these members of Congress, lowering drug prices is one of the most urgent demands they hear from their constituents. They want to be able to run on this issue in 2020 and they're urging Trump to lean on Senate Republicans to pass a bill.
Trump would not support Nancy Pelosi's bill, so the only chance is the bill sponsored by Sens. Chuck Grassley (R-Iowa) and Ron Wyden (D-Ore.), the official said.
Details: The Grassley-Wyden bill currently caps enrollee cost-sharing in Part D at $3,100 a year beginning in 2022. The official said the administration is working with members to spread that cap out on a monthly basis.
"Some seniors may max out in January, and that's a big hit. And rather than have them spend that [on a] credit card and be in debt for 12 months or even longer ... they could stagger that, and it would be a great benefit for them," the official said.
Grassley hinted at these changes last week, saying that the updated version of the bill "will improve the out-of-pocket cap by giving seniors and Americans with disabilities more flexibility when it comes to upfront costs."
Go deeper: Sign up for Vitals for much more on this tomorrow — including an update on the international pricing index.
4. Mayor Pete's looming advantage
Pete Buttigieg's term as mayor of South Bend, Indiana, ends in January — freeing up the rising 2020 competitor's schedule and opening the doors to new potential fundraising avenues just weeks before the Iowa caucuses, Axios' Ursula Perano reports.
What's happening: Buttigieg hasn't been tied to his desk, but hometown responsibilities have occasionally taken him off the trail. Most notably, he paused campaigning in June after an officer-involved shooting of a black man sparked protests throughout his town.
But with a free calendar, Buttigieg can go all-in in Iowa. Meanwhile, his competitors from the Senate will likely be caught up in impeachment trials, dragging them to Washington and away from early-state voters.
Buttigieg counts many fans on Wall Street. But policies at several financial institutions limit employees from donating to sitting politicians when the transaction could be interpreted as pay-to-play.
Towns like South Bend typically don't garner a lot of Wall Street business, meaning it's unlikely that a sweeping number of employees have been blocked from funding the mayor. Nonetheless, Buttigieg's departure from executive power could free up that financial outlet at a vital time for the campaign.
Of note: The mayor already has enjoyed success with fundraising, hauling in $19.1 million in Q3.
The bottom line: The transition comes at a great time for Buttigieg. His polling is up, his fundraising is strong and his calendar is about to be a whole lot easier.
What to watch: Buttigieg's hand-picked successor will be sworn in on Jan. 1. The Iowa caucuses are on Feb. 3.
5. A new adviser in Trump's orbit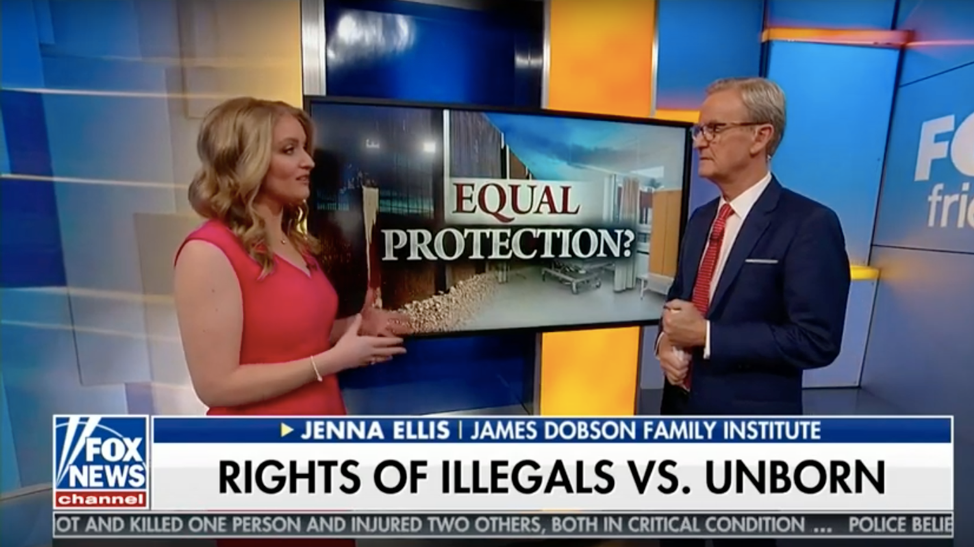 Around a month ago, President Trump started asking people about Jenna Ellis. The constitutional law attorney appears frequently on Fox and joined the Trump 2020 Advisory Board about a year ago. 
Trump has said he's impressed by Ellis' TV appearances, according to a person close to him. He indicated that he wanted to give her a bigger job, and his team briefly discussed bringing her into the White House.
Behind the scenes: About a month ago, Ellis and Trump spoke for the first time by phone. She met with Trump in the Oval Office the week of Veteran's Day, according to sources familiar with their interactions.
Trump invited her to his rally that Thursday, Nov. 14, in Louisiana, and she obliged. By that weekend, Ellis had a job — "senior legal adviser to the Trump 2020 campaign and to the president."
Ellis declined to comment for this story, but you'll be hearing a lot from her. She's likely to become one of the more prominent members of Trumpworld in the coming months.
Ellis has had a limited public profile. She has blogged for the Washington Examiner and spent a year as the head of the Dobson Policy Center, which is part of the James Dobson Family Institute. Dobson is a prominent evangelical Christian leader, and Ellis has written about the intersection of faith and politics.
6. Sneak Peek diary
The House and Senate are on recess until the week of Dec. 2.
President Trump's schedule, per a White House official:
Monday: Trump will have lunch with Mike Pence and meet with the Bulgarian Prime Minister.
Tuesday: Trump will have lunch with Mike Pompeo, he and the first lady will participate in the presentation of the National Thanksgiving Turkey, and he will hold a campaign rally in Sunrise, Florida.
Wednesday: Trump will travel to his Mar-a-Lago club in Palm Beach, Florida.
Thursday: Trump will hold a Thanksgiving video teleconference with members of the military.
7. 1 Russia thing: Putin's 20-year anniversary
Twenty years ago next month, a political novice and former KGB operative named Vladimir Putin assumed the Russian presidency.
In a special report launching tomorrow, my colleague Dave Lawler explores Putin's rise, his escalating hostility toward the West, the Russia he's built and what will happen to it once he's gone.
The report includes interviews with Mikhail Khodorkovsky — the oligarch whose imprisonment in 2003 revealed the true face of Putin's Russia to the world — as well as three former U.S. ambassadors to Moscow, top experts and former chiefs of the Pentagon and CIA.
These people have been in the room with Putin and watched him transform from a silent aide to more charismatic men in the 1990s to the bare-chested power player we know today, Lawler writes.
"He's able to be in your eyes what you want him to be," Khodorkovsky tells Axios of Putin. "The only thing I can say in my defense is that I wasn't the only person who was deceived by him."
Part 1 lands in inboxes tomorrow for subscribers of the Axios World newsletter. Sign up here to get it.