Axios Sneak Peek
October 20, 2019
Welcome to Sneak Peek, our weekly lookahead for both ends of Pennsylvania Avenue, plus our best scoops.
I'm Alayna Treene, in for Jonathan Swan, who is on assignment.
"Axios on HBO" is back! You can catch a reairing of the latest episode tonight at 11:05 pm ET/PT on HBO.
Tonight's newsletter is 1,604 words, a 6-minute read.
1 big thing: Trump's Rudy problem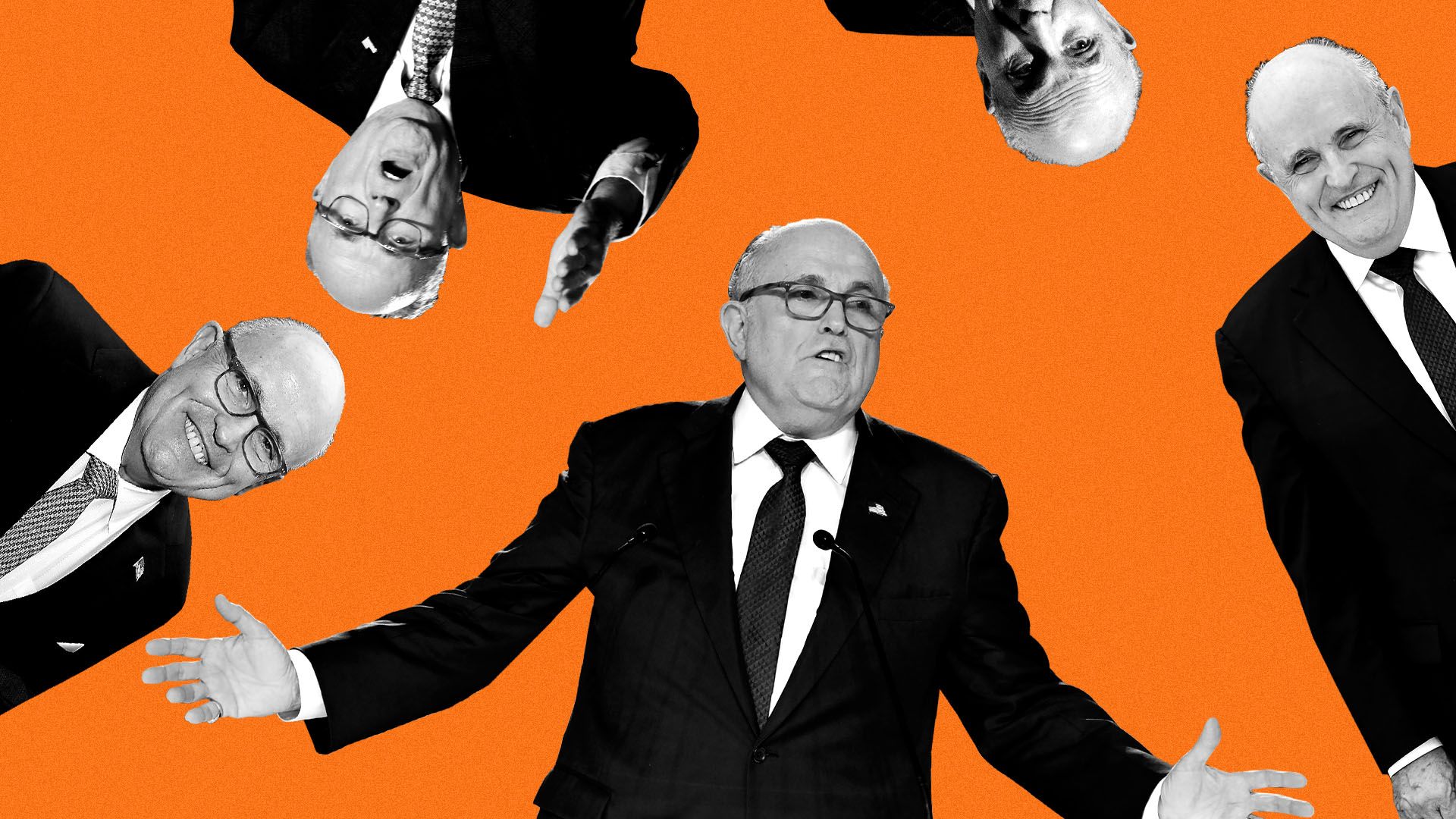 Amid near-daily revelations of Rudy Giuliani's "shadow" foreign policy, senior administration officials are worried that more information could surface connecting official Trump administration policy to Giuliani's personal financial gain.
The big picture: Several people close to the president are infuriated that Giuliani exerts what they see as unwarranted influence over Trump and U.S. foreign policy, with some going so far as to blame him outright for the Ukraine mess.
Giuliani has a wide range of foreign clients despite serving as Trump's personal attorney, which has put many on edge.
"There's this sense of paranoia here," one administration official tells me.
More alarm bells rang this week after the Washington Post reported that Giuliani had privately urged Trump to extradite Fethullah Gulen, a Turkish cleric living in exile in Pennsylvania, something Turkish President Recep Tayyip Erdogan has asked for repeatedly.
On Capitol Hill, those investigating Trump tell me they are still committed to keeping their investigation tightly focused on Ukraine in order to wrap up their impeachment inquiry as quickly and efficiently as possible.
However, that could change if more information about Giuliani emerges.
"I think Rudy has a lot to answer for," said Democratic Rep. Raja Krishnamoorthi, who sits on the House Oversight and Intelligence committees.
"We don't know who he was working on behalf of at any given time — it's not just President Trump."
Giuliani did not respond to requests for comment.
Meanwhile, some Trump officials say the only person who can rein in Giuliani is the president himself.
Trump's former special envoy to Ukraine, Kurt Volker, told members of Congress earlier this month that Secretary of State Mike Pompeo was helpless to stop Giuliani's involvement, according to sources with direct knowledge of his closed-door testimony.
"I'm sure [Pompeo] could have called Rudy Giuliani, but would Rudy Giuliani stop what he's doing because the secretary of state calls him? I'd be surprised," Volker said.
This morning on "ABC This Week," George Stephanopoulos asked Pompeo whether he gave Giuliani his blessing to act on behalf of the State Department.
Pompeo said it's his policy not to discuss internal deliberations publicly, despite the fact that Giuliani does not work for the administration.
Pompeo also refused to answer whether Giuliani was reviewed for potential conflicts of interest, amid revelations that he had business interests in Ukraine at the same time he was pushing officials to open an investigation into Joe Biden, Axios' Zach Basu notes.
2. Trump transition flagged Rudy concerns in 2016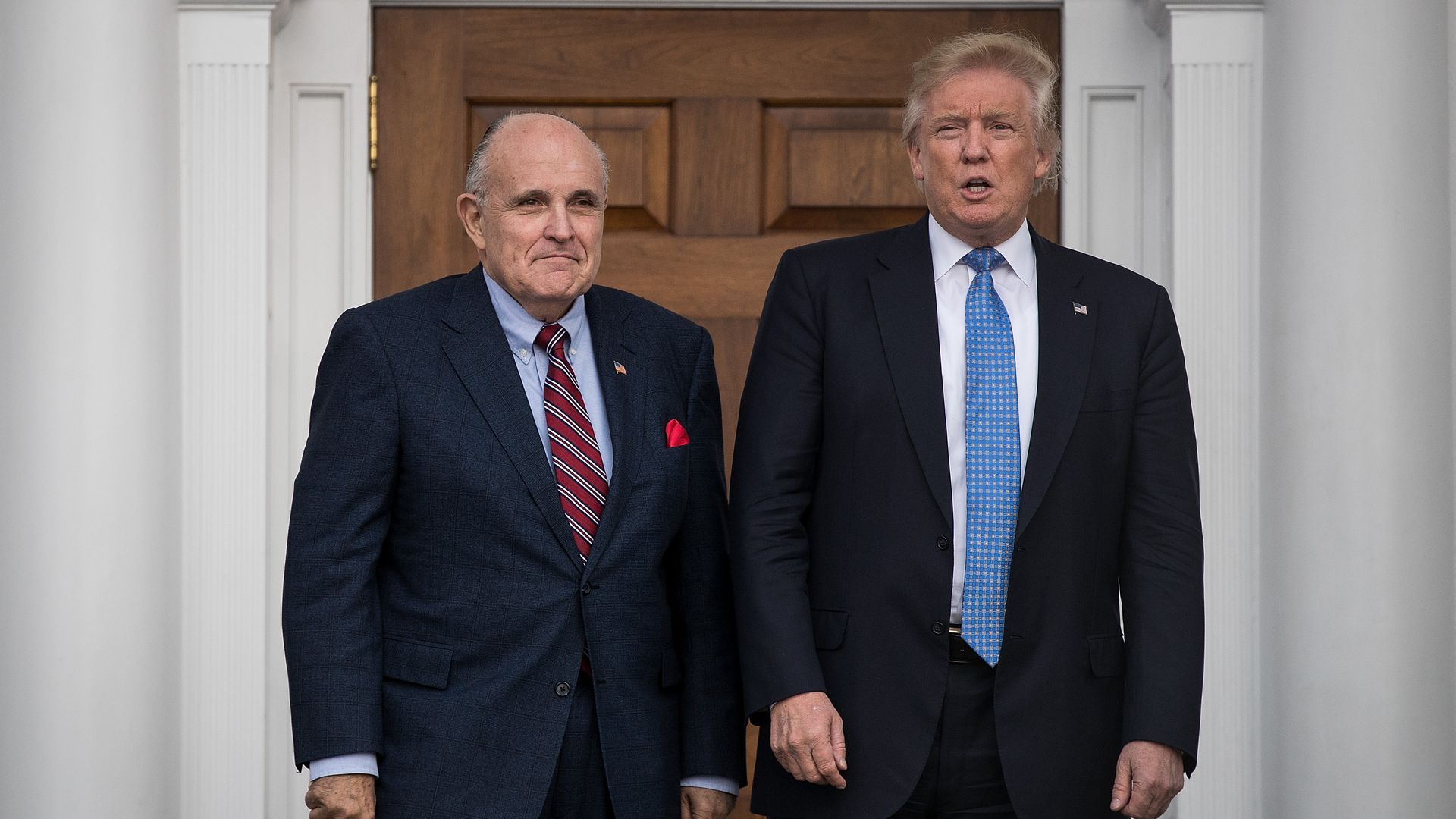 These concerns with Giuliani aren't new.
As far back as November 2016, a source who worked on the Trump transition team told Jonathan Swan, a colleague "walked back into the war room after an hour on the phone with Giuliani. He had a few pieces of notebook paper covered front and back with notes on red flags, and he looked like he'd just seen a ghost."
"Not good, guys. Not. Good," the colleague said, according to the source. A second source with direct knowledge confirmed the account.
In June, Axios broke a story about leaked vetting documents that the Trump transition team and the Republican National Committee compiled in the fall of 2016. While vetting Giuliani, they found so many red flags that he was ultimately prevented from serving at the State Department.
Giuliani's file was so thick, they took the rare step of producing a separate dossier to cover his extensive foreign business entanglements.
A former Trump transition team member said senior Trump aides made clear that Giuliani could not be confirmed as secretary of state because of his foreign business ties, and the job of the vetting team was to show Giuliani why "he really shouldn't put himself through a Senate confirmation."
"The extensive amount of work that I've done in the 80 or plus countries that I've been to in the last 17 years is what would've qualified me to be an excellent secretary of state," Giuliani said after Axios explained the contents of the documents to him in June. "Would you prefer someone who hasn't been overseas?"
3. Lindsey Graham open to changing his mind on impeachment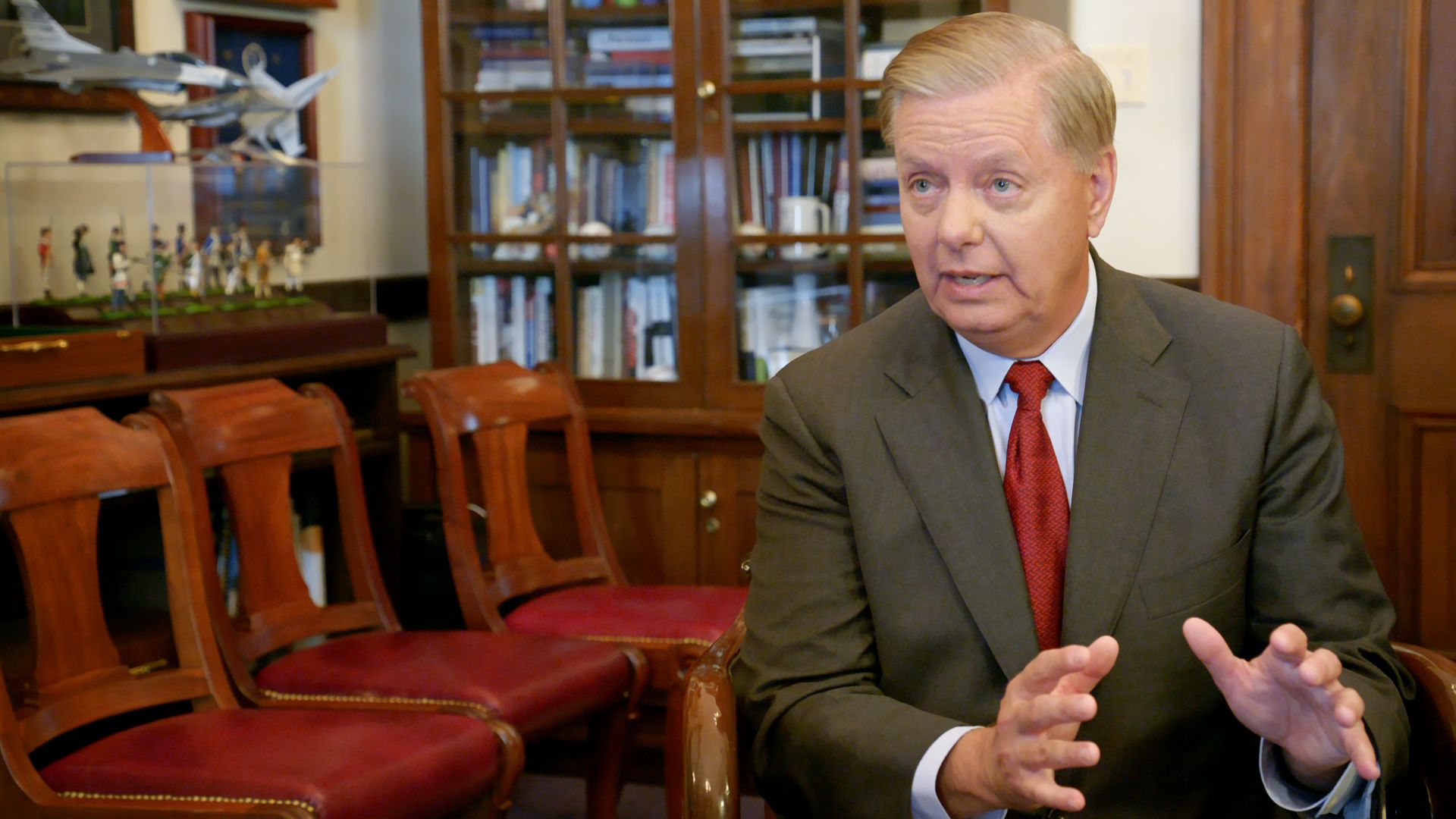 In an interview with "Axios on HBO," Sen. Lindsey Graham, one of President Trump's most vital allies on Capitol Hill, opened the door to changing his mind on impeachment if there turns out to be what he considers a quid pro quo.
"Sure. I mean ... show me something that ... is a crime," Graham told Jonathan Swan.
Why it matters: Graham was a fiery House prosecutor during the 1998 impeachment trial of President Clinton. Now that Graham is in the Senate, he'll vote to acquit — or remove — Trump if he's impeached by the House.
"If you could show me that, you know, Trump actually was engaging in a quid pro quo, outside the phone call, that would be very disturbing," Graham said.
"As to asking China to look into Biden, that was stupid. ... Bad idea. That didn't last very long. I think that's a frustrated Trump."
But Trump's Ukraine call isn't impeachable on its own, Graham said: "I've read the transcript of the Ukrainian phone call. That's not a quid pro quo to me."
The interview was Tuesday, before acting White House Chief of Staff Mick Mulvaney gave Thursday's "quid pro quo" briefing.
Graham's spokesperson, Kevin Bishop, said Friday that Graham still has not heard or seen anything that he deems impeachable.
The big picture: Trump's loosening hold on Graham reflects the mess the president has created for himself in the past two weeks.
At the very time he needs a Republican fortress against impeachment, GOP lawmakers are furious at him over his rash pullback in Syria.
In the interview, Graham called Trump's abandonment of the Kurds "dishonorable" and a "sh*tshow."
Graham said he's changed his view of Trump's character since opposing him during the 2016 primaries:
"I've got to know him, and I find him to be a handful," Graham said. "I find him to be an equal opportunity abuser of people. But at the end of the day, he can be very charming and be very gracious, and I'm judging him by his conduct."
Graham, a Trump golfing companion, said he continues to support Trump's presidency because he's "a Republican. I like his domestic policies. So you play the ball as it lies."
"If I spent all day analyzing every tweet he issued, I'd go nuts."
4. No definitive impeachment timeline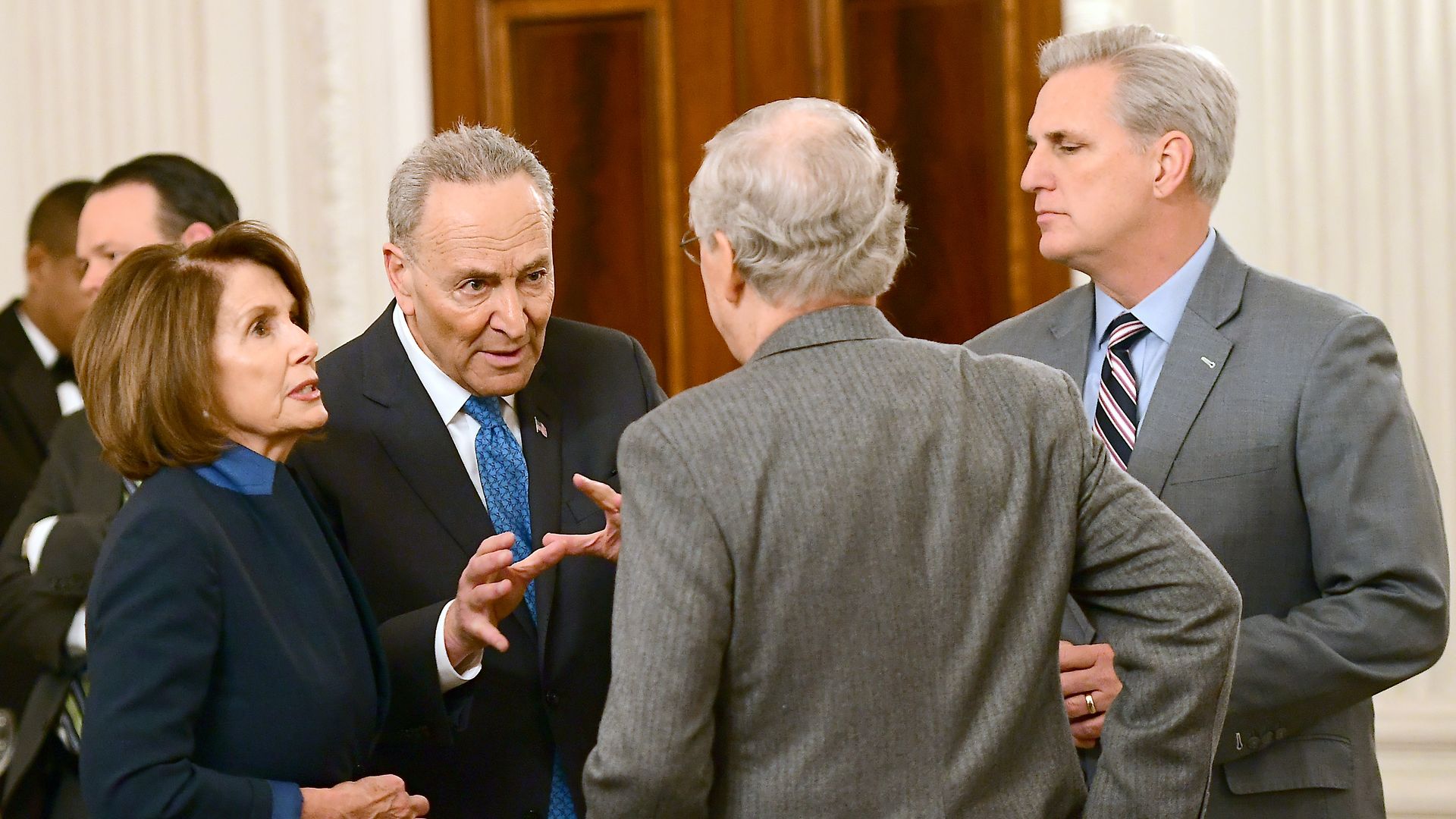 Mitch McConnell is prepping Senate Republicans for an impeachment trial to begin as early as Thanksgiving, but he has yet to even talk about impeachment with Nancy Pelosi or Chuck Schumer, McConnell's spokesperson David Popp tells me. "Right now it's way too early," he said.
But with House Democrats keeping their findings behind closed doors, "we have to assume that they're going to move faster than we expect them to," a senior GOP aide said. "Thanksgiving and Christmas just happen to be a good mile marker."
What we're hearing: If the House does vote to impeach, Senate leadership is hopeful McConnell and Schumer will strike some type of agreement on a definitive timeline for how long the trial will last, similar to how Sens. Trent Lott and Tom Daschle coordinated on Senate trial rules after Bill Clinton was impeached.
Otherwise, the timeline would be left to Supreme Court Chief Justice John Roberts, who would preside over the Senate trial, senior aides say.
Behind the scenes: Personally, no one wants to remain in Washington for an impeachment battle over the holidays. Members and staffers from both parties griped to me about this potential scenario this week.
"There's no way I'm missing my vacation," one Democratic committee aide said.
5. Sneak Peek diary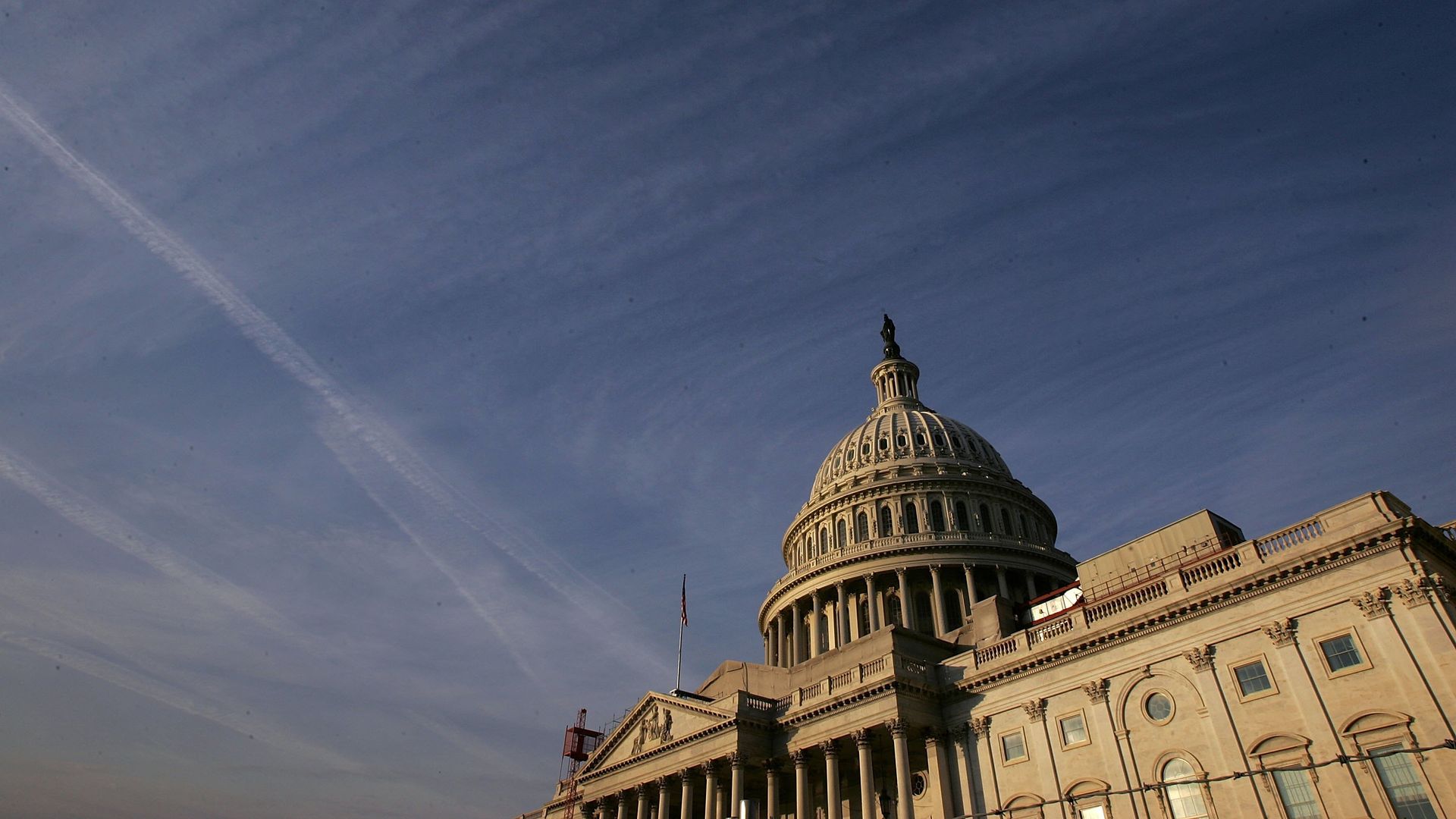 These officials are scheduled to appear for depositions before the House Intelligence, Foreign Affairs and Oversight committees this week in relation to the House impeachment inquiry, though it's unclear whether each official will show up:
Tuesday, 9:30 am: Acting Ukraine Ambassador Bill Taylor.
Wednesday, 9:30 am: Michael Duffey, associate director for national security programs at the Office of Management and Budget.
Thursday, 9:30 am: Acting Assistant Secretary for International Security Affairs Kathryn Wheelbarger.

Also on Thursday, time TBD: Deputy Assistant Secretary for Russia, Ukraine and Eurasia Laura Cooper.

Friday, 9:30 am: Acting Office of Management and Budget Director Russell Vought.
The House Financial Services Committee will hear from Facebook CEO Mark Zuckerberg on Wednesday.
The House Foreign Affairs and Oversight Committees will hold hearings on Wednesday on Turkey's invasion of Syria.
The Senate will vote on the following this week, per a Republican leadership aide:
A treaty that would allow North Macedonia to become a NATO member.
The nomination of Andrew Bremberg as Ambassador to the United Nations in Geneva.
9 of the 12 regular FY 2020 appropriations bills.
The Senate Foreign Relations Committee will also hold a hearing on Turkey and Syria on Tuesday.
President Trump's schedule, per a White House official:
Monday: Trump will hold a Cabinet meeting. He will also have lunch with Vice President Mike Pence.
Wednesday: Trump will deliver remarks at the 9th annual Shale Insight Conference in Pittsburgh.
Thursday: Trump will participate in the Diwali Ceremonial Lighting of the Diya. He will also present the Presidential Medal of Freedom to former race car driver Roger Penske.
Friday: Trump will deliver remarks at the 2019 Second Step Presidential Justice Forum in Columbia, South Carolina.
What we're watching: Congress has until Nov. 21 to pass a spending bill or risk a government shutdown.
6. Lanny Davis recalls Clinton impeachment strategy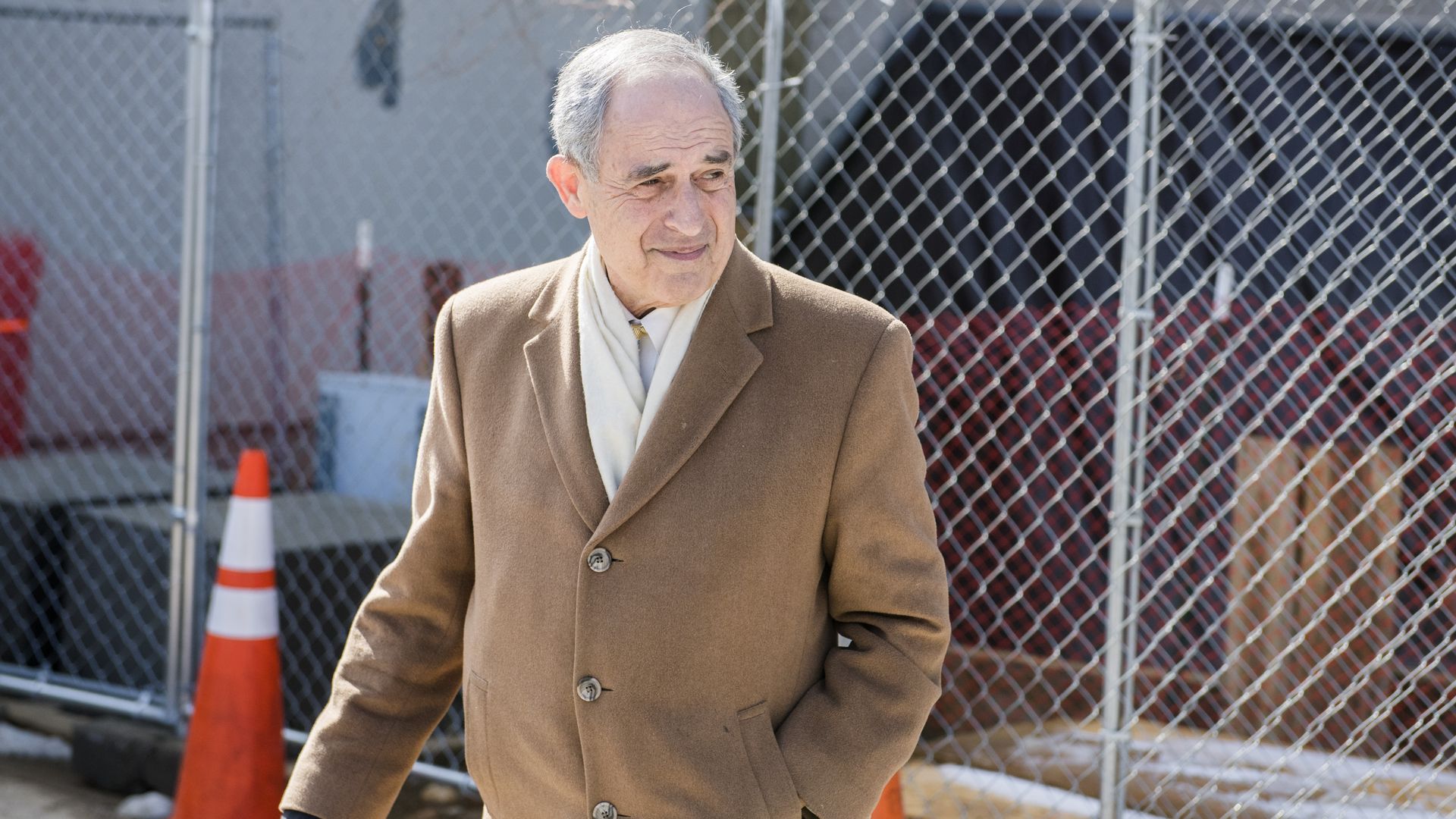 Lanny Davis, the face of Bill Clinton's war room during the impeachment battle of 1998–99, looks back on the way their team handled the saga.
Clinton's team had a "very defined," three-part strategy, Davis tells me:
They insisted that Clinton focus on doing his job as president and forbade him from speaking about the impeachment proceedings.
They leaned heavily on what Davis calls the "fact room" (his term for the Clinton war room), and every official was required to go through it and its array of lawyers before going on TV.
They had a rule that anyone who went on to TV must challenge directly anyone who tried to conflate the issue of "personal mistakes involving human weakness" (Clinton's intimate relationship with Monica Lewinsky) with the abuse of presidential power.
Their motto: Davis said every time he went on TV, Rahm Emanuel would call him on his way over and remind him of their guiding message: "Keep it simple, stupid."
Davis says one of the biggest differences between the Clinton and Trump strategies is the Trump administration's refusal to cooperate with Congress.
"We made the decision to allow Clinton to testify before a grand jury, a very dangerous decision to have made," Davis said.