May 25, 2022
Welcome back to Sneak. Smart Brevity™ count: 1,178 words ... 4.5 minutes.
Situational awareness: President Biden will deliver remarks on the horrific elementary school shooting in Uvalde, Texas, at 8:15pm ET. Get the latest.
🗳️ Polls have closed in Georgia (7pm ET) and Alabama (8pm ET). Next up are Arkansas (8:30pm ET), Texas (9pm ET) and Minnesota (9pm ET).
Sen. Raphael Warnock (D) and Herschel Walker (R) will face off in November for the U.S. Senate seat in Georgia.
Gov. Brian Kemp (R) will face Stacey Abrams (D) in the Georgia governor's race, after Kemp defeated Trump-backed former Sen. David Perdue in the GOP primary.
1 big thing: Again.
Parents' worst nightmare became reality again today. This time in Uvalde, Texas.
Texas Gov. Greg Abbott said the shooter, an 18-year-old male local to Uvalde, was dead.
The school is 85 miles west of San Antonio.
The big picture: This is the deadliest school shooting since a gunman killed 17 people at Marjory Stoneman Douglas High School in Parkland, Florida, in 2018.
It's the second time in two weeks the country has been forced to reckon with the horrors of a mass shooting, after a gunman targeting Black shoppers at a grocery store left 10 people dead in Buffalo, New York.
This December will mark 10 years since the Sandy Hook school massacre shook the country — and spurred a national debate about gun control that ultimately produced little change.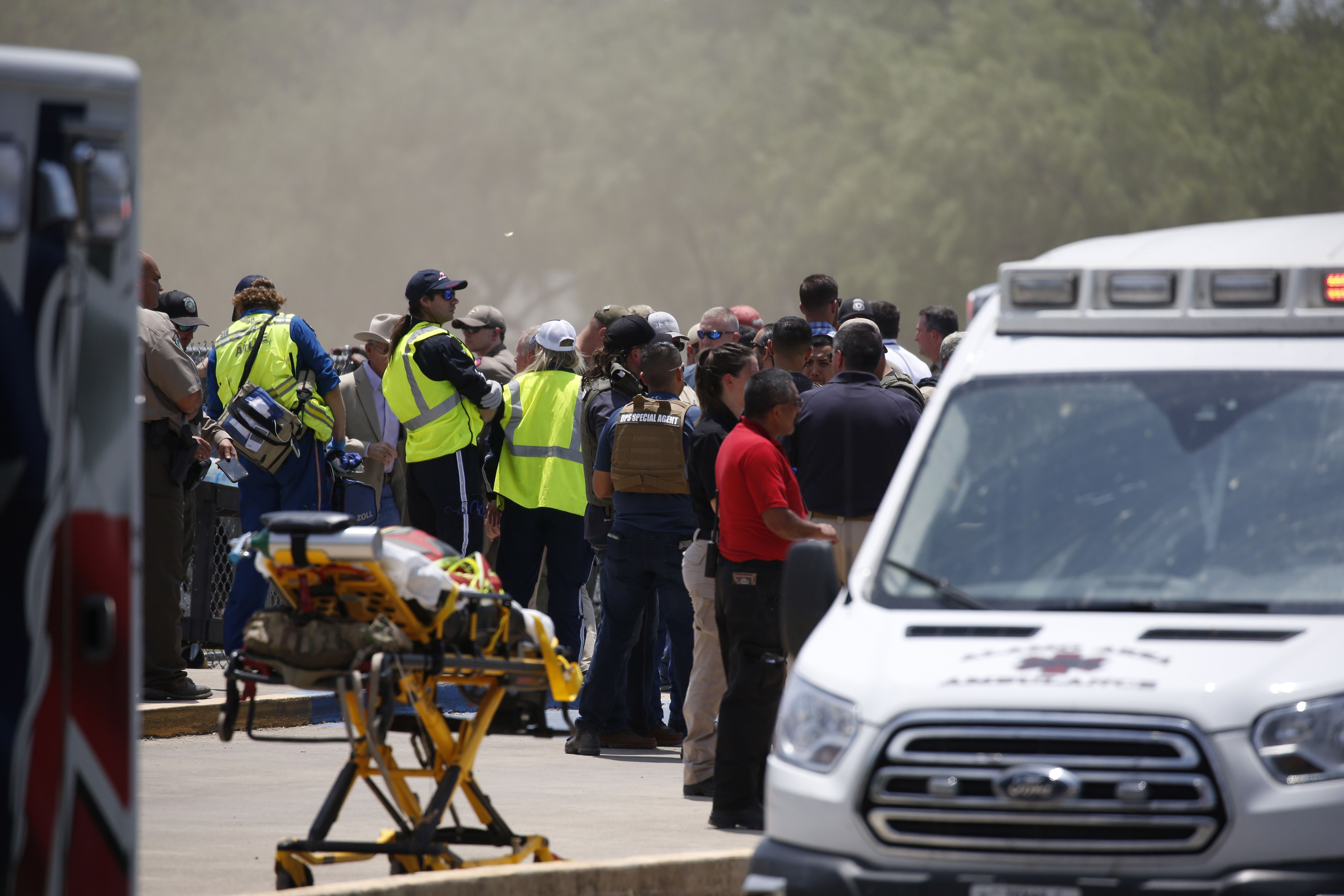 President Biden has ordered all flags to be flown at half-staff until sunset May 28 in honor of those who were killed.
On Capitol Hill, lawmakers were immediately flooded with questions about what kind of legislative action, if any, will be taken in the wake of yet another mass shooting.
Gun reform and policies for addressing mental illness will dominate the conversation in Congress over the next few weeks.
What they're saying: "For too long, some in Congress have offered hollow words after these shootings while opposing all efforts to save lives," Speaker Nancy Pelosi said in a statement.
"It is time for all in Congress to heed the will of the American people and join in enacting the House-passed bipartisan, common-sense, life-saving legislation into law."
Reality check: Sen. Joe Manchin (D-W.Va.) said tonight he supports moving forward with common-sense gun legislation but reiterated that he will not vote to eliminate the filibuster.
That makes any Senate action, barring a real compromise, highly unlikely.
Go deeper: Follow the Axios stream for breaking news on the shooting.
2. Sandy Hook senator speaks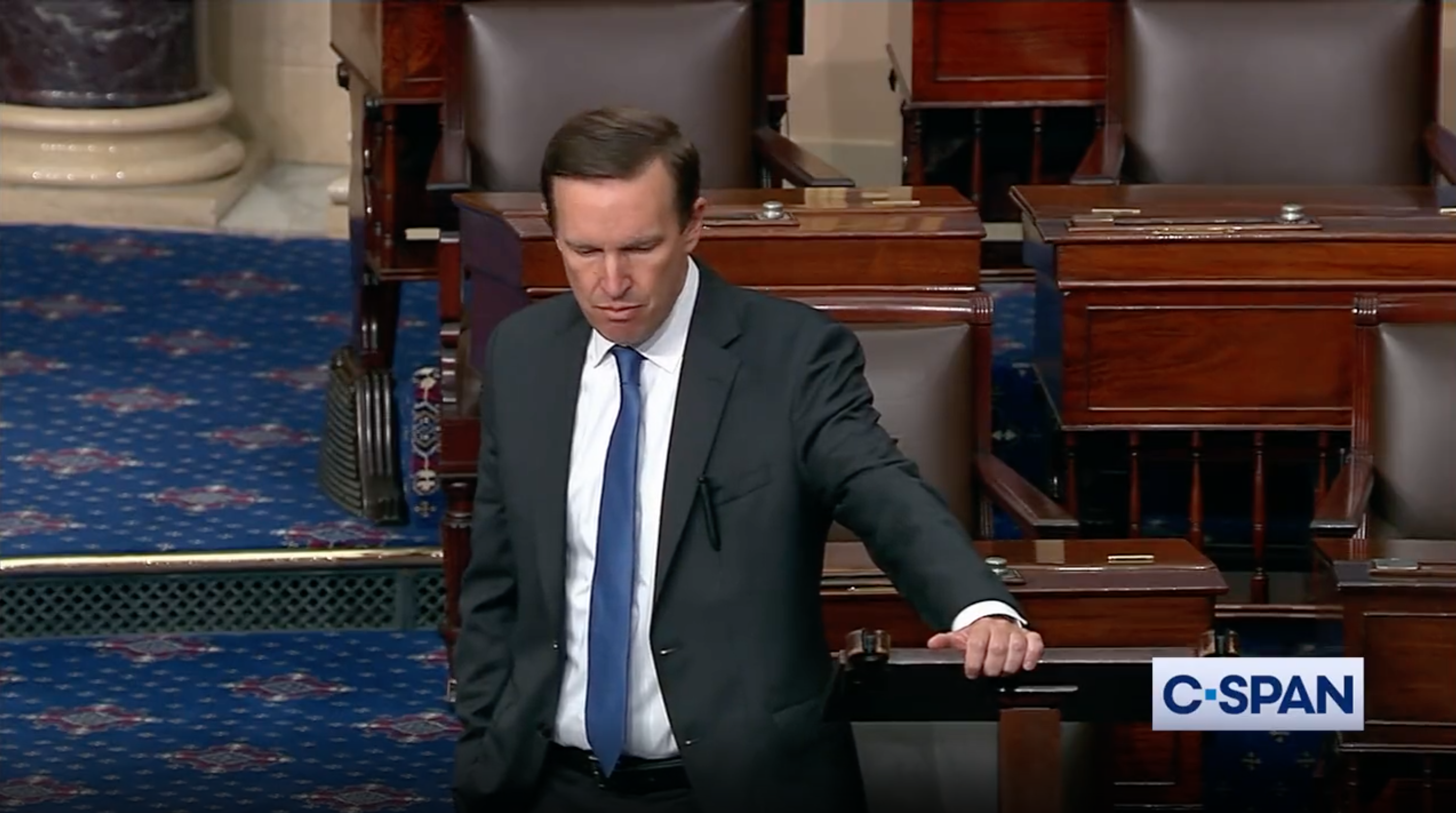 In an emotional speech on the Senate floor, Sen. Chris Murphy (D-Conn.), formerly a representative from a district that included Newtown, demanded to know why his colleagues "go through all the hassle" of running for office only to "do nothing" when tragedy strikes:
"There have been more mass shootings than days in the year. ... What are we doing? Why are you here!? If not to solve a problem as existential as this? This isn't inevitable. These kids weren't unlucky. This only happens in this country and nowhere else, nowhere else do little kids go to school thinking that they might be shot that day. ...
I'm here on this floor to beg, to literally get down on my hands and knees, to beg my colleagues: Find a path forward here. Work with us to find a way to pass laws that make this less likely."
3. GOP parades Georgia's early turnout
Emboldened Republicans plan to double down on a nationwide "election integrity" push after Georgia saw record early voting in today's primary, Axios' Andrew Solender, Alexi McCammond and Emma Hurt report.
Why it matters: President Biden and other Democrats had attacked the state's new ballot restrictions as "Jim Crow 2.0." But early voting came in at nearly triple Georgia's 2018 level.
What's happening: Republicans argue the results refute Democrats' claims that the 2021 election law signed by Gov. Brian Kemp (R) amounted to voter suppression.
Democrats contend the high early turnout is the result of energized efforts to educate voters and say the biggest changes from the law were related to absentee ballot access and rules — not early voting.
Reality check: Rejection rates for provisional ballots won't be available until after the election. So the complete picture won't be clear for weeks.
Georgia state Rep. Bee Nguyen, a Democratic candidate for secretary of state, told reporters that the 2021 municipal elections saw increased rates of absentee ballot rejections under the new law.
"The question here is: After this election cycle for the primary, how many voters were disenfranchised by the cutting down of absentee ballot voting?" she said. "And how many voters had to change the mechanism in which they were choosing to vote?"
What to watch: A Republican familiar with the party's plans told Axios the GOP will "continue to tout election integrity efforts through November" on top of the millions already spent — casting Georgia as a "victory."
Sen. Rick Scott (R-Fla.), chair of the Senate GOP's campaign arm, said companies like Delta look "foolish" for having criticized the Georgia law, telling Axios' Alayna Treene they "'ought to apologize."
Zoom out: Republicans are expected to launch a second wave of election reform bills in state legislatures — with GOP-led states, including Georgia and Arizona, taking "another pass" at additional changes, Heritage Action executive director Jessica Anderson told Axios.
Anderson signaled another push to overhaul election laws is also likely in states — including Wisconsin and Pennsylvania — where Democratic governors have vetoed GOP voting bills.
What they're saying: Senate Minority Leader Mitch McConnell co-opted the term "big lie" — used to describe former President Trump's false claims about the 2020 election — twice today to attack Democrats' "fake hysteria" about voter suppression.
"It was a big lie, and the big lie is in the process of being disproven," McConnell claimed on the Senate floor, later using similar language at a leadership press conference.
Stacey Abrams, the Democratic nominee for Georgia governor, countered that the Republican claims of vindication amount to "correlation without causation."
"We know that across the state voters are still facing difficulties," she told reporters. "And this is just the primary. Primary voters tend to be more active and engaged voters."
4. Charted: Cash floods election ref races
"Money is flow­ing into secret­ary of state races at a rate not seen in recent memory," the Brennan Center's Ian Vandewalker and Maya Kornberg write in a new analysis.
The big picture: Former President Trump's leadership PAC and others involved in challenging the results of the 2020 election are among those spending massively to install their own refs.
5. Biden calls Abbott
The White House said President Biden called Texas Gov. Greg Abbott on his flight home from Tokyo, with a stopover in Alaska, "to offer any and all assistance he needs."
📬 Thanks for reading tonight. Hit reply to this email to send us your feedback, and tell your friends and family they can subscribe to Sneak or any of Axios' other free newsletters through this link.
Editor's note: This story has been corrected to show at least 1 adult was killed in the shooting. The shooter was also killed.